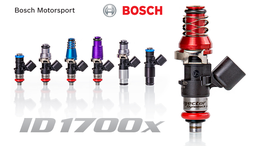 Injector Dynamics 1700x Injector Set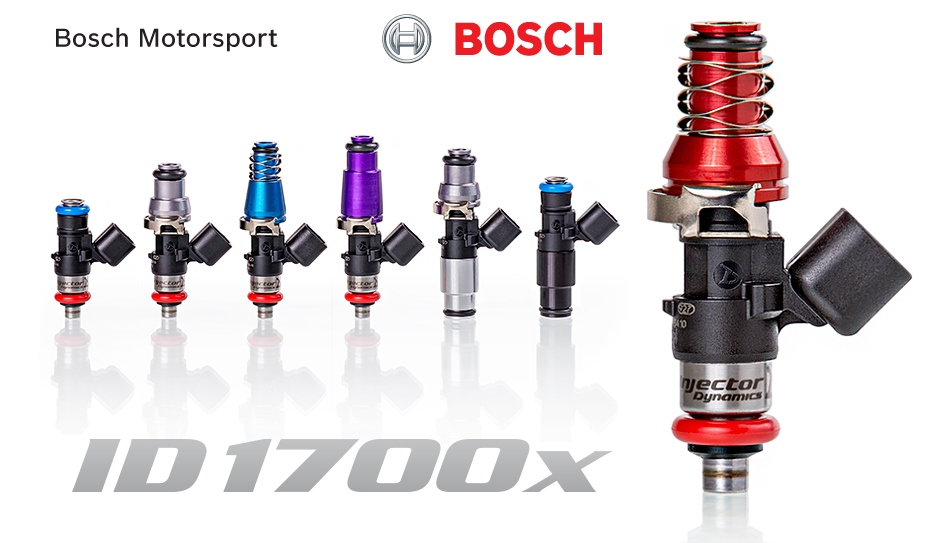 Injector Dynamics 1700x Injector Set
3
ID1700x Injector Set

The ID1700x is the most recent offering from the partnership of Injector Dynamics and Bosch Motorsport. The ID1700x was designed to fill the gap between the ID1300x and the ID2000, and like the ID1300x, it features corrosion resistant internals making it compatible with all known automotive fuels.
A unique magnetic circuit, resulting from a lengthy development program, makes the ID1700x immune to voltage and pressure sensitivity problems that plague other high impedance high flow injectors. The ID1700x excels at high pressures typical of current automotive systems, and will perform flawlessly in these applications.
The ID1700x was designed to be an all fuel compatible injector, capable of very high flow rates. As such, it will most often be used to deliver E85 to boosted engines, or occasionally, gasoline in extreme high horsepower applications. Neither of these applications requires extended linearity at low flow rates, and so this was given a proportionately lower priority during the design process.
The ID1700x will deliver flawless stoichiometric idle and cruise mixtures on E85, but like the ID2000, should not be expected to do so on gasoline.
If you need flawless drivability on gasoline, the ID1300x will provide this, and is capable of approximately 150hp per injector on E85.
For the GT-R, 370Z, G37 to have complete Plug and Play (no splicing of the factory injector harnesses) installation make sure to purchase the Plug & Play injector clips which are sold separately.

Exclusive Benefits
E85 Compatable


1725cc/min @ 3.0 Bar (43.5 psi)

Compatible with Methanol/Ethanol/All Known Hydrocarbon Fuels
Features
USCAR Electrical Connector


Made by Bosch Motorsports

Each set comes with 6 ID1700x Injectors


Installation Instructions

Installation Instructions can be downloaded here.
   
Financing
AAM Competition Financing!
Buy Now, Pay Later with Blispay
Blispay makes shopping at AAM Competition, LLC even easier.  It's the only payment option that gives you:
6 Months to Pay 
No Payments, No Interest on purchases over $199 if paid in full in 6 months.
+
2% Cash Back 
Blispay gives you 2% Cash Back on all purchases and works everywhere Visa is accepted.
How it works: 
Apply on your phone or computer at https://blispay.com/aamcompetition. 

If approved, you'll receive a digital Blispay Visa card which can be used to make purchases with us. 

You'll receive 6 months special financing on all purchases over $199 + 2% Cash Back. 
Interest will be charged to your account at your APR of 19.99% from the posting date if the purchase balance is not paid in full in six months.  Your account has a 3% foreign transaction fee and if you are charged interest it will be at least $2.00. 
For more info please visit blispay.com/faq.
The Blispay Visa® Card is issued by First Electronic Bank, Utah.
Learn more and apply now at blispay.com/aamcompetition.


To install this Web App in your iPhone/iPad press
and then Add to Home Screen.