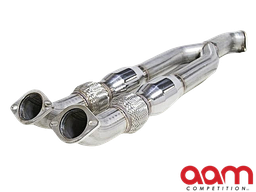 AAM Competition R35 GT-R High Flow Catted Midpipe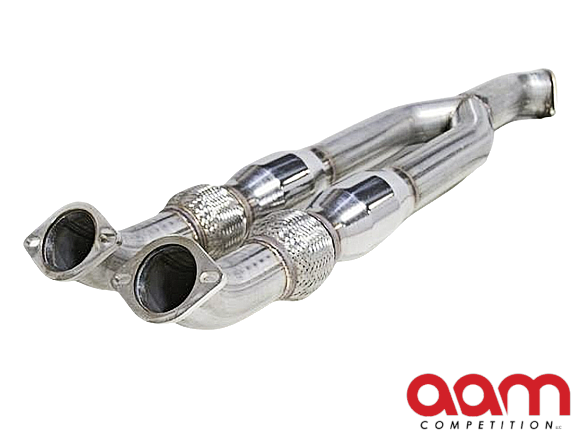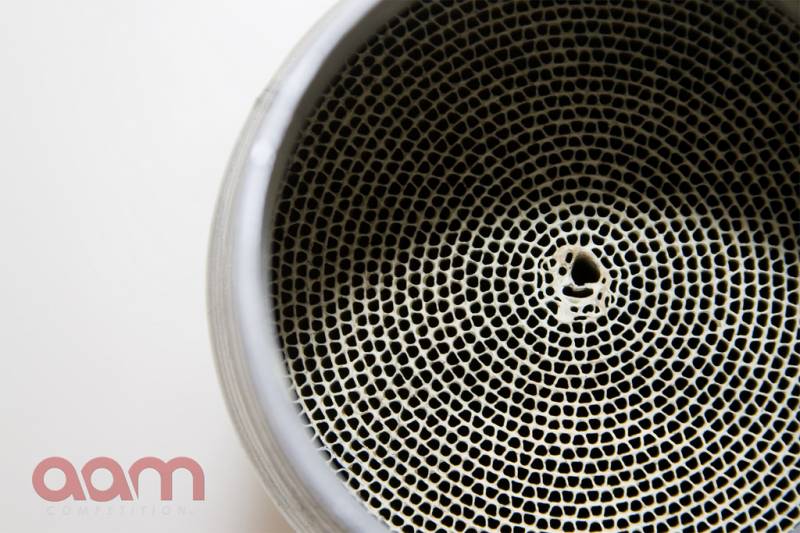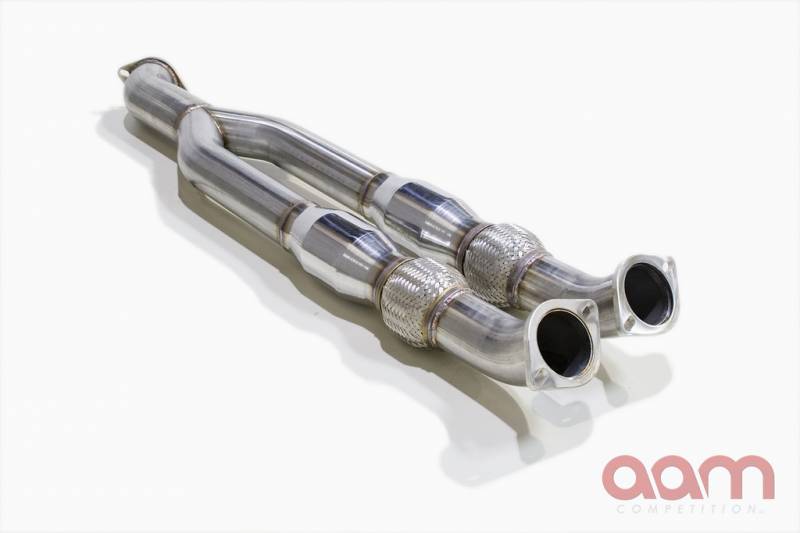 AAM Competition R35 GT-R High Flow Catted Midpipe
3
AAM Competition R35 GT-R 3" to 3.5" High Flow Cat Midpipe
The AAM Competition 3.5inch (90mm) High Flow Catted Midpipe for the Nissan GT-R is constructed and TIG-Welded in the USA at AAM Competition's facility from the highest quality T304 16-Gauge stainless steel. The high flow catalytic converters are made in USA and feature full metallic 200 cell count cores wrapped in stainless steel. Flanges are made in the USA, constructed of laser cut T304 stainless steel, and planed after construction to ensure a level mating surface. We took our time developing the AAM Competition High Flow Catted Midpipe to ensure perfect fitment and maximum performance.
From a design standpoint, the theory was simple - with a turbocharged vehicle power gains through exhaust flow is a basic concept - get the exhaust gases out as quickly as possible. The AAM Competition High Flow Catted Midpipe was engineered for maximum flow. The result is a noticeable power gain across the entire rpm range as well as the ability to support additional peak power. Not only will the AAM Competition High Flow Catted Midpipe allow you to max out the power potential of your stock and aftermarket turbochargers, they are also emissions and drone friendly. This means reduced exhaust gas smell and less overall drone.
Some catted midpipes available simply do not flow. By strategically placing the metallic catalytic elements further back in the pipe, exhaust gases are able to flow straight through the catalytic elements for maximum flow and efficiency. The AAM Competition High Flow Catted Midpipe flows so much we've been able to make over 800awhp on a GT-R equipped with our GT900-R Turbochargers and the AAM Competition High Flow Catted Midpipes.
Additionally, weighing in at only 18lbs, the AAM Competition GT-R High Flow Catted Midpipe trims 12lbs of weight from the factory midpipe! And with OEM fitment, it bolts-up to the factory downpipes and rear exhaust as well as most aftermarket downpipes and exhausts.
The benefits are clear: The AAM Competition High Flow Catted Midpipe is the only choice for high horsepower GT-R's looking to stay emissions friendly.
note:  The standard AAM Competition Resonated High Flow Catted Midpipe support up to 900hp.  The GESI HFC option is only necessary for GT-R's making in excess of 1000+hp or Nissan GT-R's that see constant track racing (car is used primarily to only race). 

Exclusive Benefits
Gain 15-25 WHP

Much Improved Exhaust Note - Your GT-R will finally sound like a sports car!

Quicker Turbocharger Response

Improved Engine Efficiency
Features
Precision TIG Welded
Aircraft Grade T-304 Stainless Steel
Laser Cut T-304" Stainless Steel Flanges
High Quality Stainless Inner-Locking Flex Sections
Made in the USA
Specifications
Converter Type

Standard Performance HFC

or

GESI HFC

To install this Web App in your iPhone/iPad press
and then Add to Home Screen.