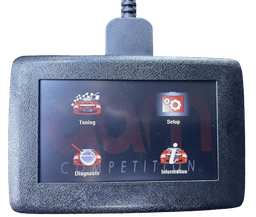 AAM Competition Nissan Maxima Pro Tuning (2016-2022 Gen8)
AAM Competition Nissan Maxima 8th Generation (2016-2022) Engine Management Software

ECM tuning is necessary to both optimize the factory Maxima as well as bring out the most power with your basic bolt ons. Depending on the application, the tune itself can net as much power as all your bolt ons combined (basic N/A bolt ons intake and exhaust).  The flat rate of $995 includes a full remote/street tuning session, as well as the touch screen display to connect to your Maxima for programming, and an added feature is the ability to use this hand held controller to read and reset diagnostic codes.  
We have several options which include standard remote tuning (our most popular option), street tuning here at our facility in Maryland as well as tuning on our in-house dyno for those who can travel to AAM Competition for their tuning session.
A properly tuned vehicle is key to top performance.  The factory ECU (computer) on the Maxima is very conservative, and overly rich.  Nissan left a lot of power on the table.  On a stock Nissan Maxima, gains of 10-15 horsepower and torque are common with the AAM Competition Nissan Maxima Tuning package.  Increased gains can be seen on modified Maxima's where gains of 15 to 25 horsepower are common.
Experience more power, greater efficiency, better drivability, and simply more fun.  The AAM Competition Maxima Tuning Package is the most easy way to unleash the potential of the VQ35 engine in the Nissan Maxima.
Flashing (commonly also called programming) the performance map to your Maxima's ECU only takes five minutes.  Making this the quickest, easiest power upgrade for your Mazima.







HOLY SH*T!  Night and day improvement in power and drivability.  This is legit.

Thanks to the team at AAM Competition for their professionalism with my Nismo tuning.  You fixed everything my prior shop wasn't able to.  Five thumbs up guys.

Car drives like an animal!  Thanks for getting my NA tune taken care of right away.  Next step will be your twin turbos.

Exclusive Benefits
More hp - gain 10 to 15 horsepower on average
More torque - gain 10 to 20 lbs. torque on average


Improved throttle response

Improved drivability

More efficiency - optimized timing and fuel
Features
Easy installation - less than a few minutes


Requires laptop computer (easy program interface and download that allows quick communication with your vehicle)

Key Tuning Improvements

AAM Competition Tuning Includes
Optimized Fueling Maps

The fueling maps and afr targets are optimized for greater efficiency, and greater power.  Offering the best of both worlds - improved fuel consumption as well as maximized horsepower and torque.

Optimized Timing Maps
The timing maps are optimized for maximum power and efficiency.  Offering a cleaner running engine that also produces more horsepower and torque.

Cam Phasing

The cam phasing is optimized for equipped vehicles, offering precision operation for best power.

Rev & Speed Limiter

The rev and speed limiter are modified for higher rpm and speed capabilities.  We can also add a speed limiter for those who would like to limit the maximum speed of their vehicle.

Torque Improvements
The torque tables and limiters are improved to allow less slop and more power to transfer from the engine to the wheels.

Burble
Optional "Burble" map can be added to add that "sexy" deceleration sound.  This option can be added at no additional cost when requested.  For best results / most amount of burble, a free flowing exhaust system is needed.

Electronic Throttle Control

The throttle maps are optimized to achieve wide open throttle at all speeds and increase the driving experience through improved logic.

Purchasing Note:  AAM Competition Maxima Pro Tuning is non-refundable and non-returnable.  A significant amount of time and effort goes into each purchase.  When you purchase tuning please keep in mind that you are purchasing a block of time where we will troubleshoot and/or make adjustments to your vehicle.  If you miss your appointment you are not entitled to a refund, but you may reschedule for a different time. 

How Remote Tuning Works:  AAM Competition Maxima Pro Tuning is a straight forward process.  A laptop is required to complete the tuning process.  We will send you an interface cable and handheld touch-screen display that connects your vehicle to your laptop.  A easy download of the software (free download) to your laptop computer is step number 1.  Once installed, you will connect your laptop via USB cable to the handheld touch-screen display devise and then connect the OBD cable to your vehicle.  The vehicle connector is very easy to get to, it is located right underneath the steering wheel.  Once the tuning program is opened, you will select your vehicle and then copy your vehicles information to the hand held controller.  You will then take the controller to a computer and follow the prompts on the hand held controller software to send AAM Competition your vehicles information.  Once received, we will send you (typically within one day - but it can take as long as 3 or 4 days) a file to upload to your handheld devise that is your vehicles new AAM Competition Maxima Pro Tuning File.  You will re-connect the handheld touch-screen controller to your Maxima and follow the prompts to flash your performance tune to your Maxima.  Once connected the entire process of flashing (programming) your Pro Tuning File to your vehicle takes less than 5 minutes.  That's it now you can go have fun with your Maxima's new tuning!
Installation Instructions

Installation Instructions can be downloaded here.
   
Fitment
Nissan Maxima 8th Generation (2016-2022)
Specifications
Tuning Method

Remote/Street Tuning

or

Dyno Tuning Tuning (at AAM Competition)

To install this Web App in your iPhone/iPad press
and then Add to Home Screen.