AAM Competition Q50 & Q60 S-Line / R-Line Cold Air Intake System
AAM Competition Infiniti Q50 & Q60 S-Line / R-Line Cold Air Intake System

Flexibility, Tunability, Performance! The AAM Competition Q50 & Q60 Intake System is the ONLY adjustable intake system for the Infiniti Q50 & Infiniti Q60– giving you the option to maximize your vehicle's performance depending on your Infiniti's current setup (stock, mildly modified, heavily modified).
Developed with upgradeability in mind, the variable design provides flexibility in engine tuning and greater air flow. Stock or near stock Infiniti Q50/Q60's will use the intake in S-Line configuration. In S-Line configuration the intake can be installed on the vehicle without any other adjustments and provides a clean, easy to install 10+ horsepower gain. Infiniti Q50's and Q60's equipped with more bolt-on upgrades and engine tuning will use the intake in R-Line configuration. R-Line configuration provides maximum air-flow to the engine allowing for up to 20 to 25+ horsepower gains when tuned.
How an intake works on the modern day Infiniti:
The MAF (Mass Airflow Sensor) is a critical component in running a modern day engine. The MAF reads the volume of air passing by it in a tube and translates this "mass" of air into an electronic signal. This signal is sent electronically to the Infiniti Q50 / Q60's ECM (Electronic Control Module – the cars computer) which uses this information as the main reference to run the Q50/Q60's engine. The diameter of the MAF housing (which is integrated into the factory intake) is critical as the sensor is calibrated to read a specific range of frequency (flow) in a specific size and shape MAF housing.  Aftermarket intakes most commonly use the small stock MAF housing or use a tube that is the same diameter of the MAF housing so that the MAF sensor reads the same (otherwise, tuning to recalibrate the MAF sensor would be necessary). 
So, even though most aftermarket intakes have larger filters and/or larger filter boxes, they either re-use the stock MAF housing or the size of the MAF housing remains the same as stock, therefore not allowing any more air to flow through the MAF than the factory intake and MAF housing already does.  This is where the AAM Competition Infiniti Q50 & Q60 S-Line / R-Line Cold Air Intake System shines by providing the option to utilize a significantly larger MAF housing and significantly increasing air flow.  
S-Line Configuration
The S-Line Tuning Inserts (colored in red) are installed in this rendering.  When the S-Line Tuning Inserts are installed in the included larger AAM Competition MAF Housings, the internal diameter closely matches the factory MAF housings 2.43" inner diameter, which allows the intakes to be ran on an Infiniti Q50 & Q60 without any tuning, while still taking advantage of the much improved intake design with significantly larger airboxes and large high-flow conical performance air filters.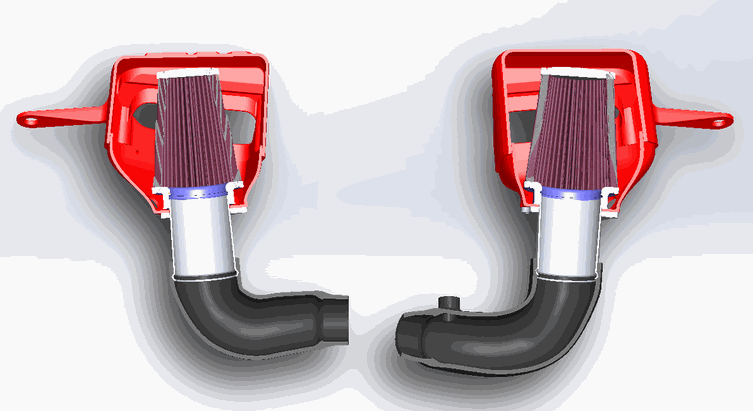 R-Line Configuration 
The S-Line Tuning Inserts in the AAM Competition MAF Housing are removed - allow for full 3" unrestricted maximum air flow!
Common intake mistakes - buyer beware:
The factory intakes utilize a well engineered completely sealed style intake box.  However, the design does not allow for a properly sized conical filter for best air flow.  Many aftermarket intake kits for the Q50 and Q60 have much larger air filters, but they do not utilize completely sealed intake boxes.  Instead they use easy to make and cheaper heat shields and/or partial heat shield boxes.  Why is this bad for the Q50 & Q60?  Even though these types of intake kits have a larger filter, they have shown reductions in power on the dyno.  This is because without a completely sealed air box, the air filters will draw in the hot air surrounding the engine compartment.   Utilizing completely sealed intake boxes, the AAM Competition Infiniti Q50 & Q60 S-Line / R-Line Cold Air Intake System is a true cold air style intake system that draws in cooler air from outside of the engine compartment.
HP and Torque Power Gains - AAM Competition Q50 & Q60 R-Line Intake Tuning vs. Stock Q50 & Q60 Intakes Tuning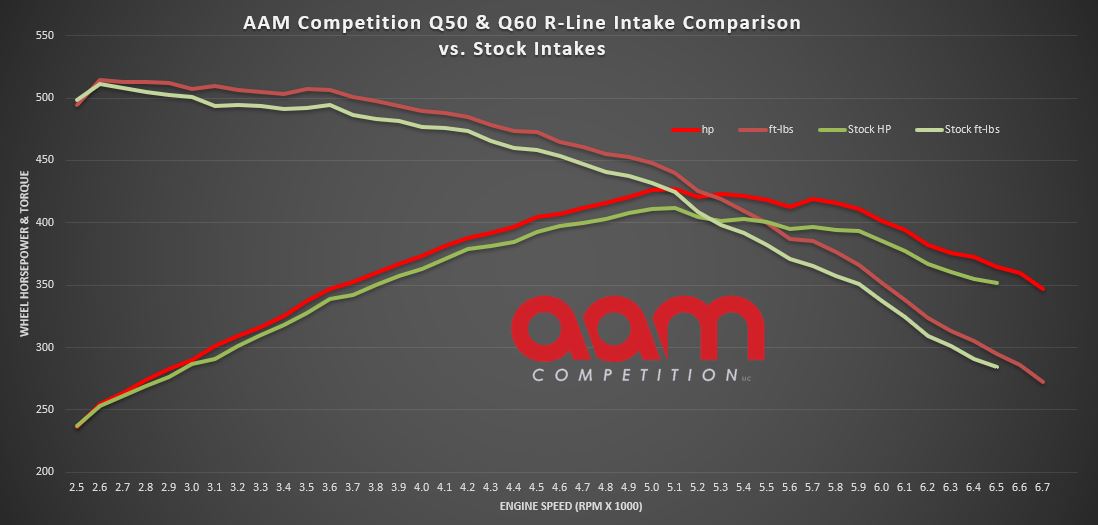 Horsepower and Torque Increase vs. Engine RPM 

S-Line Intake Configuration
AAM Competition engineered the intakes to use larger 3" MAF housings for maximum flow.  When running the intake on an Infiniti Q50 / Q60 with stock tuning, the intakes features a carefully engineered MAF (Mass Airflow Sensor) insert called the S-Line Tuning Insert.  By reverse engineering the OEM MAF sensor housing and after many hours of intense testing, AAM Competition determined the optimal shape and diameter for the S-Line Tuning Insert. The S-Line Tuning Insert affects the OEM ECU programming in a way that keeps everything within specifications for normal operation while taking advantage of smoother, less restrictive piping and filtering for impressive power gains.
R-Line Intake Configuration
For those wanting maximum power, simply remove the S-Line Tuning Insert and tune the car using aftermarket tuning software. Removing the S-Line Tuning Insert allows for maximum airflow to move unrestricted through the intake optimizing efficiency and performance.
 
R-Line Intake Configuration shown below!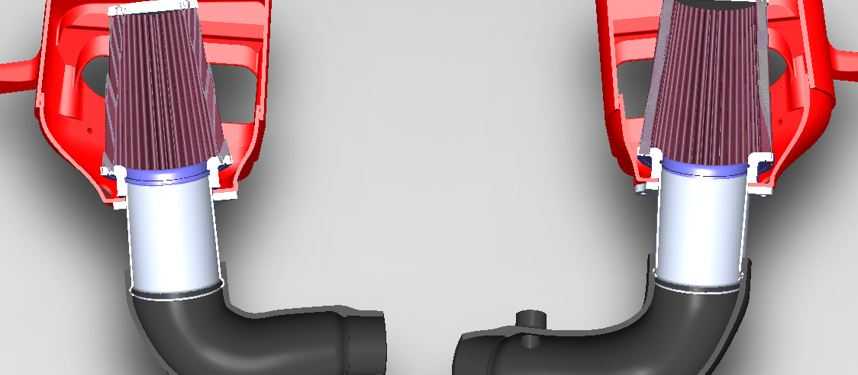 All hardware and install instructions are included with the kit.  Large wire enforced 4-ply silicone turbocharger inlet pipes ensure a snug fit, while allowing for engine movement and flex. The wire enforcement ensure the turbocharger inlet pipes will not collapse under high suction from the turbochargers.  The high flow air filters keep the air flow unrestricted, while efficiently protecting the engine from the elements.
Note: the S-LINE Tuning insert will come pre-installed, if you plan on running the stock tune, leave it installed. If you are getting a full tune, remove the insert for maximum flow.
Exclusive Benefits
Dyno proven up to 10 + hp in S-Line Configuration

Dyno proven up to 25 + hp in R-Line Configuration

The only adjustable intake system

The best 370Z & G37 intake system available
Features
3" MAF Housing (R-Line Configuration)

Fully Enclosed Air Boxes

Precision CNC S-Line Tuning Insert

4-Ply Silicone Couplers & Stainless Steel Clamps
Installation Instructions

Installation Instructions can be downloaded here.
   
Financing
AAM Competition Financing!
Buy Now, Pay Later with Blispay
Blispay makes shopping at AAM Competition, LLC even easier.  It's the only payment option that gives you:
6 Months to Pay 
No Payments, No Interest on purchases over $199 if paid in full in 6 months.
+
2% Cash Back 
Blispay gives you 2% Cash Back on all purchases and works everywhere Visa is accepted.
How it works: 
Apply on your phone or computer at https://blispay.com/aamcompetition. 

If approved, you'll receive a digital Blispay Visa card which can be used to make purchases with us. 

You'll receive 6 months special financing on all purchases over $199 + 2% Cash Back. 
Interest will be charged to your account at your APR of 19.99% from the posting date if the purchase balance is not paid in full in six months.  Your account has a 3% foreign transaction fee and if you are charged interest it will be at least $2.00. 
For more info please visit blispay.com/faq.
The Blispay Visa® Card is issued by First Electronic Bank, Utah.
Learn more and apply now at blispay.com/aamcompetition.

This is a preview of the recently viewed products by the user.
Once the user has seen at least one product this snippet will be visible.
Recently viewed Products