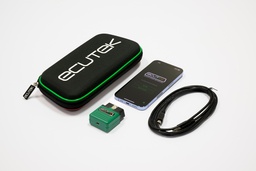 AAM Competition Q50 & Q60 3.0T EcuTek Tuning Package - ECU Connect
AAM Competition Q50 & Q60 3.0t EcuTek Tuning Package

The easiest and most powerful upgrade for your Infiniti 3.0TT Q50/Q60 - add up to 150hp in less than 20 minutes!
AAM Competition's Infiniti Q50 & Infiniti Q60 Tuning for the 3.0L Twin Turbocharged VR30 engine dramatically increases power - unleashing up to 450 wheel horsepower and 480 wheel torque! That is an astonishing 150+hp gain on the Silver Sport Infiniti Q50/Q60 and a 80+hp gain on the Red Sport models. 
The AAM Competition Infiniti Q50 & Infiniti Q60 Tuning combines years of knowledge tuning the Nissan 370Z and Nissan GT-R. Several of the proprietary improvements include optimized boost output, optimized engine timing, optimized engine fueling (air/fuel ratios), improved engine cooling, improved throttle response, improved torque management, and enhanced shifting.
No other modifications needed, simply load the AAM Competition Infiniti Q50/Q60 Tuning calibration file using the included EcuTek ECU Connect Bluetooth module and go. Immediately experience the untapped potential of your Infiniti Q50/Q60 3.0 Twin Turbo.
Have an Infiniti Q50 3.0t Lux or Sport 300hp edition or the Q60 Pure or Sport 300hp edition and simply want to upgrade to factory Red Sport power status?  After you place your order just let us know this is what you are looking for and we will customize your tuning package to this popular option for those who have the 300hp 3.0t.
Exclusive Benefits
Gain up to 150+hp & 180+torque (Silver Sport - 300hp models)


Gain up to 80+hp & 130+torque (Red Sport - 400hp models)

Adjustable Boost Control

Linear Throttle Control


Valet Decreased Power Mode

Features
Easy Load and Go Installation utilizing PhoneFlash


Check Engine Light Reading/Clearing


Advanced Data Logging


EcuConnect Bluetooth Module for iPhone/Android

No laptop required
Easy Load and Go Installation

Simply download the EcuTek ECU Connect app to your phone.  Then connect the included ECU Connect Bluetooth Module to your vehicles port (located beneath the steering wheel) and follow the prompts in the phone app to connect to your vehicle.

  Once connected, it takes just minutes to load and update the new optimized programming to your vehicle.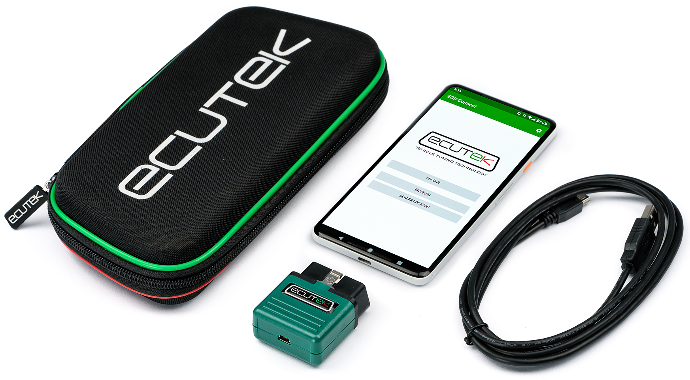 Power You Can Feel

The Adrenaline Rush That Makes the Q50 & Q60 Come Alive

Key Tuning Improvements
AAM Competition Performance Tuning Includes
​
Optimized Fueling Maps

The fueling maps and afr targets are optimized for greater efficiency, and greater power.  Offering the best of both worlds - improved fuel consumption as well as maximized horsepower and torque.
​
Optimized Timing Maps
The timing maps are optimized for maximum power and efficiency.  Offering a cleaner running engine that also produces more horsepower and torque.
​
Optimized Boost Maps

The turbocharger boost maps are optimized for quicker turbo response, broader power band with more torque, and user selectable higher boost levels for maximum performance.

​
Rev & Speed Limiter

The rev and speed limiter are modified for higher rpm and speed capabilities.  We can also add a speed limiter for those who would like to limit the maximum speed of their vehicle.
​
DTC's
The DTC's can be adjusted as needed to compensate for different aftermarket upgrades that require this feature.
​
Burble

Optional "Burble" map can be added to add that "sexy" deceleration sound.  This option can be added at no additional cost when requested.  For best results / most amount of burble, a free flowing exhaust system is needed.
​
Electronic Throttle Control

The throttle maps are optimized to achieve wide open throttle at all speeds and increase the driving experience through improved logic.
Standard AAM Competition Infiniti Q50 & Infiniti Q60 Tuning Includes
EcuTek Bluetooth Module - ECU Connect (iOS/Android)

EcuTek Programming License for your Infiniti Q50/Q60

AAM Competition Infiniti Q50/Q60 Performance Tuning Calibration File

Linear Throttle Control


Charge Air Fail-Safe Protection

Valet Mode

Optional:
 Advanced Tuning Service (Custom Tuning) - for Q50/Q60 with e85 flex fuel, larger fuel pump(s), injectors or larger turbochargers

Linear Throttle Control:
Fixes the factory "dead spot" in the throttle and more directly correlates the throttle body (throttle) opening with the position of the throttle pedal.  Allows you to have more control as the car directly responds to throttle adjustments linear to the throttle pedal.
Charge Air Fail-Safe Protection:
Prevent serious engine damage from occurring in the event of an air-lock in the charge cooler coolant system. This is a common known issue with this vehicle.
Valet Mode:
Allows you to reduce the power of the engine, great feature to use for valet parking or if somebody other than yourself needs to drive your Infiniti Q50/Q60. Valet mode is easily achieved through using the factory steering wheel controls - so you can engage Valet Mode at the flip of a switch whenever necessary and deactivate it just as easily when you are ready to unleash the full power of your Q50/60.
The included Bluetooth Module allows you to unleash the power of the EcuTek ECU Connect app that offers advanced features and functionality through your iPhone, iPad, or Android device. Control advanced features (boost control, valet mode), datalog engine performance (without your laptop), read and clear DTC's (check engine light codes), and do performance tests 0-60, 0-100, and 1/4 mile tests right on your mobile device!
Remote Tuning Service:
Have modifications done to your Infiniti Q50/Q60 3.0t such as exhaust upgrades, downpipes, intake system? AAM Competition offers remote tuning services to optimize the performance of your customized Infiniti. Our calibrators will send you a custom calibration file to optimize the performance of your exact setup. Once the file is loaded to your Infiniti Q50/Q60 via your laptop, you simply send a datalog of the data EcuTek data recording. AAM Competition's calibrators will review the engine's performance data recording and fine tune your tuning calibration for customized, optimal performance. For additional details and pricing regarding fully customized EcuTek remote E-tuning, please contact us.








​

I already though this car was fast, I had no idea it could improve so drastically more!  Everything the power, response, smoothness yet ballsiness all at the same time. My Infiniti turned into an AMG overnight.

I'm so happy with your customer service, your knowledge and professionalism. I would definitely give you 5 starts review and recommend you guys to the community.
I added the new tune last night and my initial thoughts are like night and day difference on the car.  Response, power etc. are all way better.

Wow, wow, wow.  Now we're talking.  ***** ******!  Now I can feel the improvement.  It's fast as lightning.

How Remote Tuning Works:  AAM Competition EcuTek Q50 & Q60 Pro Tuning is a straight forward process.  A laptop is no longer required to complete the tuning process with the release of EcuTek PhoneFlash.  We will send you a Bluetooth module that allows you to program your Q50/Q60 through your iPhone or Android style phone using the included EcuTek app.  Once connected to your vehicle via the EcuTek Connect app, it will walk you through the steps of sending your vehicles information right form your phone to AAM Competition.  Once received, we will send (typically within two days - but it can take as long as 4 or 5 days) your vehicles new AAM Competition Pro Tuning file to your EcuTek app and you will automatically be notified that your tuning is ready. You will then re-connect to your vehicle using the Bluetooth module and EcuTek app on your phone.  Once connected the entire process of flashing (programming) your Pro Tuning File to your vehicle takes less than 5 minutes!  In 99% of the cases (simple bolt-ons) this tune will be 100% perfect and this is the final step.  Those who have more upgrades done to their vehicle outside of simple/popular bolt ons we offer (at no additional charge to the remote tuning option selected above with this purchase) up to 6 revisions to your Pro Tuning rom file during this purchased remote tuning session.  These revisions are achieved through datalogs.  We will send you a list of parameters to datalog and then you email the datalog back to us, so that we can analyze your vehicles performance, and make adjustments (remotely tune your vehicle).  In the rare case more than 6 revisions are needed, we can offer additional revisions and support for $50/revision.

Purchasing Note:  AAM Competition EcuTek Q50 & Q60 Tuning Package is non-refundable and non-returnable.  A significant amount of time and effort goes into each purchase.  When you purchase tuning please keep in mind that you are purchasing a block of time where we will troubleshoot and/or make adjustments to your vehicle.  If you miss your appointment you are not entitled to a refund, but you may reschedule for a different time.  

Installation Instructions

Fitment
2015 to 2023 Infiniti Q50 3.0t (all versions - 3.0t, Pure, Lux, Sport, Red Sport, Sensory, Signature Edition)

2016 to 2023 Infiniti Q60 3.0t (all versions - 3.0t, Pure, Lux, Sport, Red Sport)


To install this Web App in your iPhone/iPad press
and then Add to Home Screen.