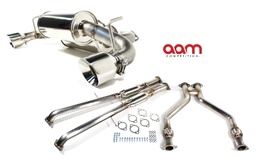 AAM Competition Axle Back Exhaust System and S-Line Midpipe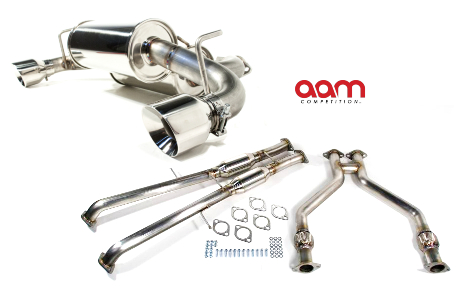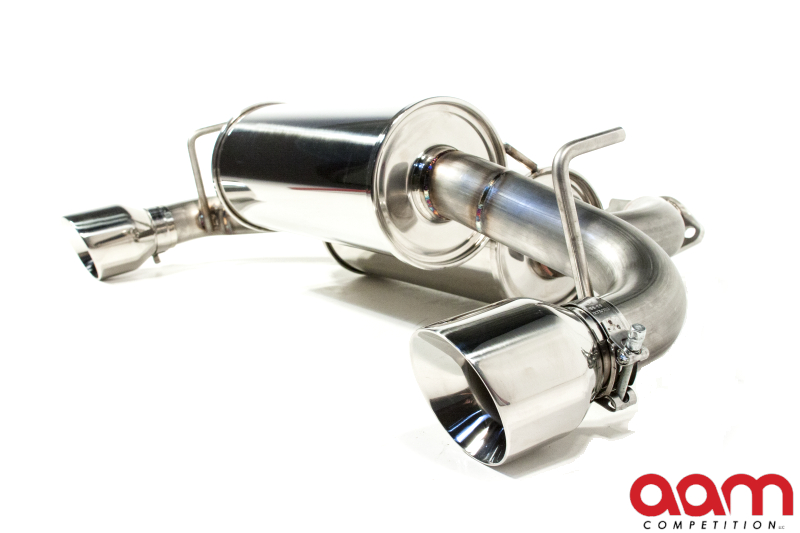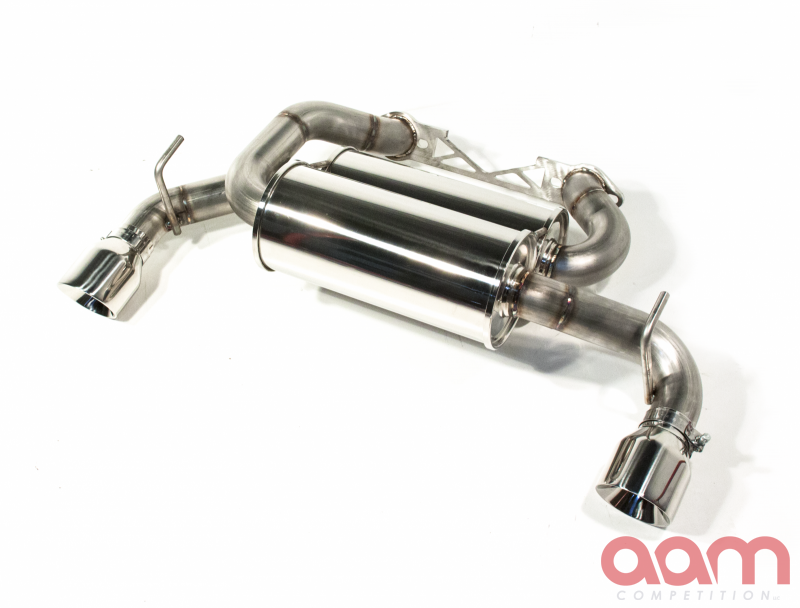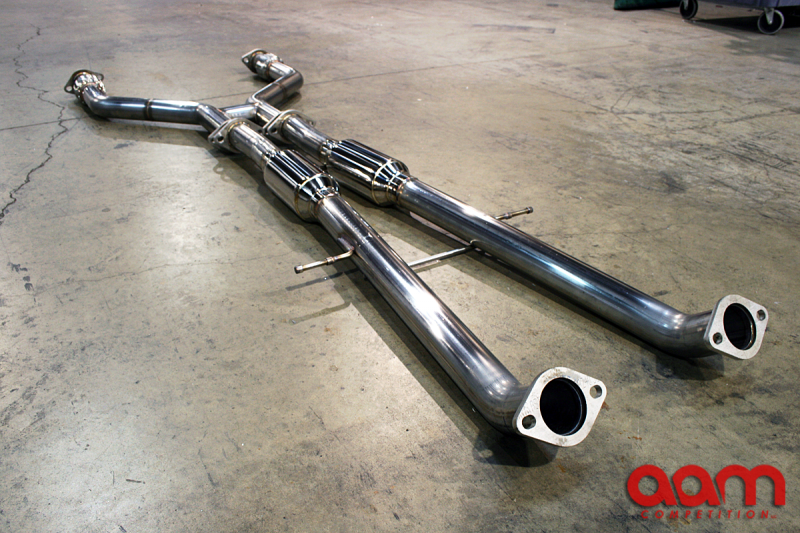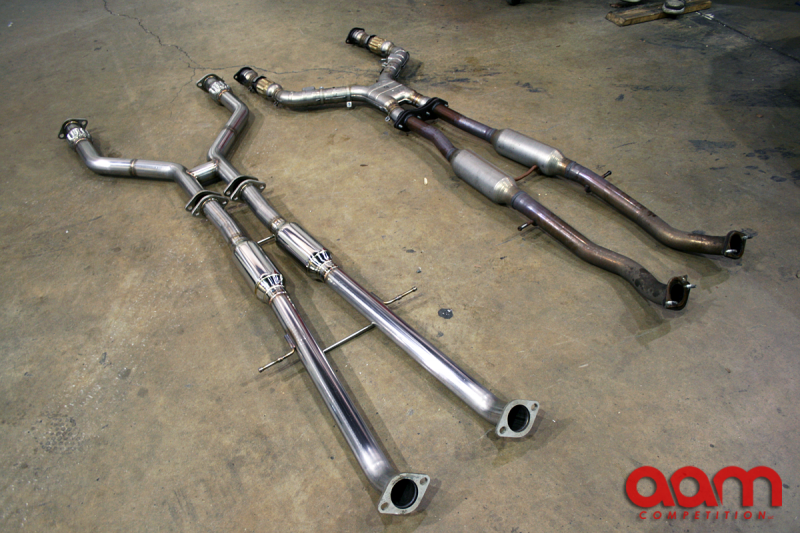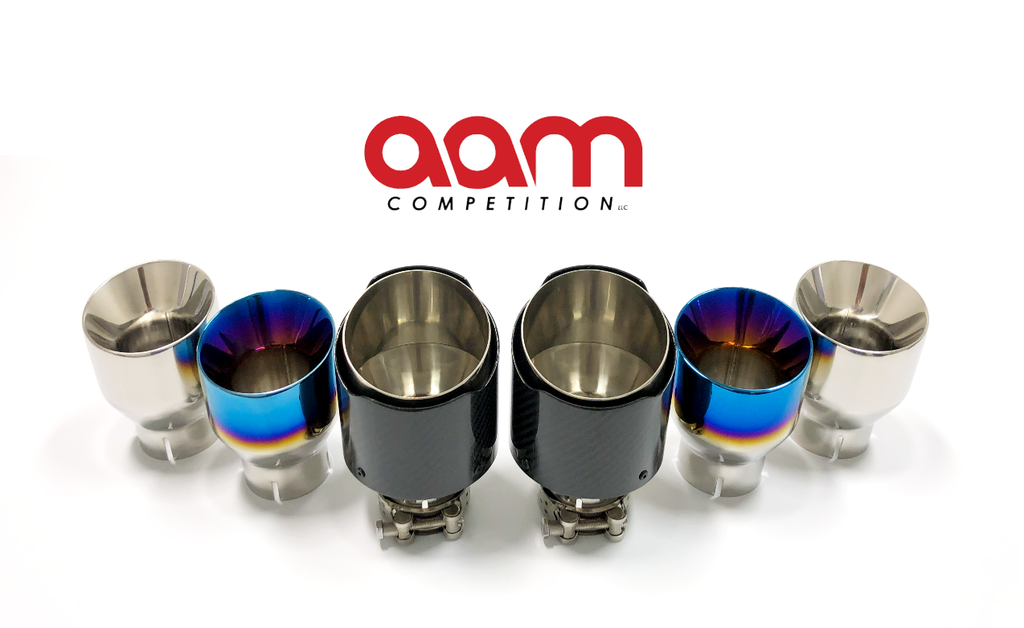 iVBORw0KGgoAAAANSUhEUgAAAIAAAABOCAYAAADo3B4PAAAvXklEQVR42u29eZRk113n+bn37bFH7nvWvpdUWkqyNku2ZWFjtzE2Bg/NAQ80TPsMHKCZhYbT9NBDA900nAOD8dhgGnA3tkFgxuBV1motJbRVqfYtq7KW3DNjjxdvu3f+eJFZiyVbkm2N5Kl7TpzMyIx47773+97f/f7WJ7TWmmvj/7dDXrsF1wBwbVwDwLVxDQDXxjUAXBvXAHBtXAPAtXENANfGNQBcG9cAcG1cA8C18f0+zDf7BegkAQ2I9L2QEoS46kMarVT6OXT6GfnN2NdKgVJrBxNG91hXfR8hEIbxfQEA8aYNBmn9zYJeHUpdEvDlv7/cZ77F8XSSvLSwV2/by83hmgZ4fYRff+Ahms88i+4EeDu3U3rfe5Gem35Ga5CSaHGJ+le+RnD2HEY+R+7uO8nesOdKIQpB4+l/pvX4U+hWG2tyguK778Ma6CdeqVD90lcIz0wjPZfsW24hf+ft3x6I1zTA90j4QFypMv0//xL1r36dpNFICU3GI7Pneib/9GN4WzYDUP3qA1z4lX9LeHYaFQQIw8DoKdP/r3+WkX/3q6km0Jrzv/rvWP70X6NqdXSSIG0bd9cOen/if2Dlc/fjv3AAFYYIKZGFPOUf/SATv/+7SNteA9A1ALwe8lcKIQRnfuajrHz2b7GHh8i//W6E69J4+DHC6XN4e65j24NfpnPyJCd+8IdRjSbujm1krttFeGGG9rPPkdTqjP6X32Hwoz/Lxd/8j8z/pz/A6CmTvXUv1uAAzX9+jujsNMhUsNboKLnbbiFeXqH51NPES0sM/tLPM/bb/yGdk3yT8mn9JhoqSbTWWreee0G/MLhO7x/frFf+7h/W/t984YA+eN1e/axb1tWvPKAXPvnn+hkzr4/9wPt0uLi0doxzv/Ef9POlIX341rfqcGFRH775Dv18eURf/J3fWztW59x5feSt79T7RzboQze8RfunT6/9b/aP/kS/MDipD2zYoTvT59I/duf2ZhtvLtiqVFm1Dh0mqdXwrttF+QM/hE4SdBiS3XMdxbe/DR0nrPzt35O/+06EbdH3Ex/G6utF+R2ElAz+65/FHBggOH6SzrFj5O64DeG5DP7CR9PTdDo442P0/cSHiZeWccbHcDdsQMcxaM3Az/009tgoyUqF4OTp1YX05vQDqDhKL0wloNUl8sQb94KEYaQMPggvvTdTPps0GxjFPM1HHkNkMmT33kxcqV4yEQEdBF3zUVP9py9Teu+7kZnM2j4uTBO0RmazICU6ikCp9DxCIJRCum7XNFRvckeQ6gpcXS74VeG/sUAguvtxds/1mKUS/pGjzP3hx9BRhJCSyhe+SP3rD2OWSkQLizQefpTen/xx5v/wY/jHTyAcm6ReZ/Z3fg/VbGGUitS+8gD2+DjOlk0ov3PZycSlqxfiSpOx6xu45gh63eEq0Urh7dxOz4//KAsf+7+Z/0+/T+0fv4i0HdoHD6N8H6NURHouK/d/nsk//H1mfu3fc+p9H8LdvZN4bp7g2HFwHIRtE06fxz9yhNJ7341q1KG35yrUvQzDfxMz/ytuqRACgVjzpMEb+8KEEKA0Y7/17xn46M+hhaDx5NPUH3mUpN2m+L73MPHJP0Z4Ho1HHydcXqb4wffjT52h9k9fpr3/RchlGfud/5PiB99PUquw8rm/I//Od4CXWdvLtdYQxyS+jwrDru9IXfp/GKZbiXpzawKhwlAL0QXAKqqF4DJEvAFNl0vTC48dp7X/RZIwJLt9G97emwDoHDuOozRicoLEkMRPPY0/fR7lufTc81YYHIB2G//YCaTn4mzb+k3AVysV4nPnkYUC5oZ1V5ii/rHjaN/H3bwJo1B40zqEpPimSYs35P5/9RS10qAUi329TN2wm76f/Jf4u3bw4Ne/ztLCAva2rewLOxw4M4XhujzuOVTe+y4KP/YjPHD0CFopHt+/n8bmDfjrJmn7PidOnODAgQMEYciFCxeICnmejkOm7dQV/Nhjj3Hq1CmElGR2bCd7042p8N/ELmGZBjcuX/1XA+GNqgRSN+/hZ5+lM7+IjmOOP/88F2dmqNRq1JZX+MyffYoDzz2H1pozBw7gBQEnDx/m9JEjCClp1evkhMGZI0eIoogoiiiXy8zPzdFsNlmam2Pq4EEWps+htWbfvn0cOnSIarVKrVJBX7YlvHldwXGkryA1b3T1f9UIgoD5+XkmJiaIoojZ2dm136MowrIsLMtCKYWUEt/36XQ6lMtlgiDAcRzCMMS27bXPR1GElBLDMDh37hwjIyMYhkEURQghiOMYwzCwbftNTwKFTmL9zaz2zc9uX8briRDfn9f2HWwBXLbqxZtWsN/u9zUL4lV67b7V8b4fRqoBrlD9+vtWA1wbL+UIEvKl7atXvQKv/m76/vVUuZev0O/Wea++ttfrel72nmq+q5FHoVXXk/Ea2P8r3VO/V3uv1hrVDQ/Ll7gpSZIAYLzK9K1v9b1vd87Xi6usgv07va+vDQBXOT2a9QrLCxcI/AZh4JMkCbZboH9ogr7Bke8JCFZZ/eoIo5hWs0XYZfKlUnE1lP+azx+GESuVCr7vY5oWuVyOcqlw2RwShJDfE3A3a8usLF6kE7TQSYJlOSANLMtjaGwDlu18V+6r+c0OoFcmfK0VF84e4+L0MZ55/HFGJ0cYHugjCAJqjQZ+oMjlyvQPDLDzhjvIFfu+5RajL0+4fAUrREpJrV7nySef4PDB/SzNX6BaXSFJFLl8hjC2GBoZ54477uKeu+9GSvFtb9bq/7/+4IM88vBDnD8/RdipE3QC0JJyTw+5Qg9bd1zHffe+k02bNr4ysGqN1jq9dd1Vm75e4rNJxFOPfZ3AryGSOkqB57gI0+D0kSPUlpfYevNb6B0YZ8uOvWTzxe+CBhCvDACrN6jZWOHgsw8ydeIYpVKBgy8eZXJynI0b1xF2OtSbLdpBgpfJ0Qk65LMet73tA+SLPWvHUFqzemop5RU3I1Hp/me8hIpN/fHw9NP7+Ku/+ATLixfIZkwKnkW93sYwTXZum+DA0bNMTS+ghcGmTbv5tV//DTZt2pCaPi+zXUgh+e3f/S0+//efI+uZDPRmGenvw28HNNoddmwepdXpcODoecLY5q577uWXfvGXKRTya0K9nAGpRCGFWItifvM5V7cSsaZRnnn8n5g6cYKe/lGymZh2q00hVwTL4MhTz2DaNr3jIySxxs6UuG7PzQxPbO2e+9VzOPnKV38qOL9V5dyJ5/AbFRzXxfcDPC9DdaVKEockKkGpmCROkAKCMOLZAwc4dODZNQEmKr0xpiExjFT4zSBgudEiUQmGFKnw9UuYYUIAis/8t49zfvo4UeCT8yyyWQ+NIIwVhmEw1N9DPmvjGJL9zz3Bpz75x13B65cUvmEYHHjxWb7w+b+mt+Dh2Cae41LIu2gUSSKwLINyKUMh65DzEr76xc/xiU/8CVJK9GV5AVprhNbptUnB6cU6X3nmJPc/cZIvPX2Cg1OztOMEw5BIKUiSBK3hwtmTPPboQygBjZZP2AmIww5JEhGHAZVKFTeXxzIsYiVQScjM2UNMH9tHHAWvicCbr8yHnSKrsnSR2sIZPMciX8hTa9SpVptkcxkqldqa8JVOsAwLv+Nz9NhRXDfLwux5EqXXiNX5aoN/fOIgj714gfNxjnPzFdqNKgOGYs/6Pj583x5+6NZtCC6pbqVS4f7Fpz7Ok088QblcxLBt8lmXfNbBNAVhoNFoeooZbMskjgJcx+aBr32Z9z/+fm678541ga8C0jAMFhZm+N//11+i1erQX8qiE4VrSYoFj9n5lVTAEizTQCUxnXYH1zF56vGvsvwzP0Nv30CXHKacIAE++eBRPvsP+3nmmWn8GqAcWHgIPIPJ3du592138DPv281tOyYBODs9Ravd5uLMBYpFTd4torVCSE3U6eA6DoVyiVqtSr0dsn2wjOt6tGrLnD6yj007b8cwrdfKAb71nt9u1Tl9cB+ZnEcmmyebyZHLuKwsLuPYDlGrjt/qYNlGyqINmyNHj+K3fZIEmu0OhhScnl3gdz79MPc/epLaieNQrcH4u8BR0F5hpVnn2MOn+OwXjnDfe2/kz3/xXkZLeeIkwTQMvvaVL/C7//m3GR7pJeuYaUImGscxEUKiVIjQCsM0SJTGNkwKeYe5xQq/9r/9G/7qM/czPrnhChYdBD7/8Td/ndMnp1g3OYAUCoVGSoFlmWidoLQiTjS2JbvaTeBZJlOnTvGLv/BR/utffgbDNBHAbNPnx3/973jkb05A7QI5N0ef0wc6pOG3iJsx00+f5VNP1/jUnz7Aj33kB/iDf3MvxYxFGEW4KuH8xSl6ilvIuKC1IPA7DI32E8Yd5paWWTcxRi7jIqRAK0Ft6QIXzx5mYtOeV0UM5StZ+wALM2eo15eJo4Ao9HEch1KhQC6bJQw77NlzMxMTmxifmKTU08fJqdNUqxUKxV6Wl2vcevMePv3oi9z0L/+IT/3Rg9SOLGI0IozmHM6FOfIXG7gzVbxKDTsCaynha3/yVf7Fb/4j9TD1zc/Pnuc///b/wchwDznPJl3rijhJyBcLuK5JomKkKbAdE4HANCWWKdmxYYhqdYE/+L3fouP7V6jrv/jUx3nk4YdYN95HKWvjmAZaK3J5l96BEmGkkIYgk3HIZi3QYFkCrRSjQ3089cRDfOLjf4SUko5K+Miv/j9840/+gfXBLBuNiP7OCkONRYZbSzhxh5wIGdIGvapJpqn53B/tZ++H/5op1UdvPkOr1cIyFYeOH6bearHz+hvYsmUHdqYHw3SYmFjH+OgIhrSQaLQKqNZrnD11EF6lVfCKM4IWF2Z49Kl9DPT2ccOe3QwNDZDN5ZGW4PY77mTzrr089+QDLC8ss//wIU5OXcBxbGZnT/DOe9/JU/4AP/nvH4AzCXYQYzYqyLBBJ6iQT6YYsQZpxnN0REhHGxgEKKPJC5/9Mv/1nnX84g+9hb/81MeYmZth7+71+H4EholpSjIZh80bhjl6bJpIJWRck4znkHFsoigkShT5rEtvX5F9zzzFF77weX70x34cgIcfeYQvffEfsWyDYs5N7XzAyTiYpomONYZpULAtevIOjiUxpMQ1TaphTNYz2LRumE/86f/Fj3zwAzxzrsPXPvHbbMqNYnYa5LRFohVFM8FEsKTrZPFwwgYtLSiJDMJoceGBZ/jpTshv/tQ9xPvu5/xyjVY7YPbCHHNzy6go4fqb9rJ95x5mLkwTx21c22JhYZ5DR06ysLTInj07ieMA03JfMSF8xQBI4phyPs/pqXOcOTPDuo3j+M0Wgoh61eeBBx5k3zMHCcOYVqvNyTMXiUKfH3jfB3jc282n/8t+5FSHYiAxGj5e3MAWPlUScmqaQUOTTxapaI0VZWjGS8yIGURnnse+tJs7R+HZp/eRz7p0ghhpGnSCiIyXY2GhyuEjZ7BMSTHrcnG2QpwIEhUTxDFKafxOiGeaqDjiy1/8Au+491309vbw95//e7ROyHkOcaLQWhFq8CybStXn7Ll5ygUXISQrdZ/l5TqWlWqIIArJYmLbknarwX//7H/n2LyHiE9xtrnIenOAHrcIdOjP+BhGwlSnwXjGJlQLZJWHiCW1cJGC9EmezvJb5kZ+6ra9HHzk45yfW+a2vTsJOoeJIsXp6fNEn/kMuazLyOgojWaHpaUVCoUsmzaMYZkOQhivyqw3XykBHBpdT6PeYKi/hGFazJyfY/rcBRaXahQKGW7as5Xrdmzk4sIC02fb3LhzI+WRTTw/tcjBmf2owxly9WNkwzp5EmLRoGC2MIVGGsuMlx0a0QoDGsIk5rGVKXzVxBAOc+dP8cBDIUkUUsy4hJ0IxzPQSrFUbdKHoNbwyWUcorwL0kSoBMsymVuuk3clHT8gjBOKhTxTZ6c4cuQwd911F88/t5/1QxmCpqQThhjSIAgiLGFi2wa2aaCVRhqCJNEorcl4DiuVJpZlEEYBSRTTmy/wz/v+mYMLBgYCkdQ5p1ps6R1mOK8oZSoomVCst+kvK3SSox10OF+fYzZssytzJ4gOxw4d4a/mz3Pv9XeybdcyWUuzUu0wOTnM1k2TnDwxxRNPvYD14hQ7tm9icqyfbNZlbmaOXXvuwjCt7y4HEN1YwbqNO7j19rdz7twctXqb2fkFnn3+aJqfN1ym0agzv7BEHJrccOPtjLzzp/jySoGjZ2YQF87Rv/Ai48qjnZwmsKZx3SaZTMjOnh4ydoOWPY12F6kwy4uNAzSTixTNGFPXiI02B17YT76QRRqCMEkII0Wl0cKUgsH+IkpDoxXSbIcEnRAtNKVSjkLWY7na5uJyi04QUyrlWVmuMb+whFIJU1NnMGwbx7Fp+TELK01c12NwoEg+5xFEEWEUEyeKJNYI0orhKE5IEmi1E5QWZFyTKGgRdOo4pqLHiDFVi+eXz3C4NksoF5noXWHbSMDOzXWEs8iJ5imOhUe5vb/EoNNhuvMo9YUv0Fyc5q8fnuEZ9z1kezaSyeQ5cOgkTz71LEEY0DfQw4HDx3l833OcOjnN9Ll5tu/Zy+6b7vhOPIHf1gvArXfex8DAEIcP7aflK3bv2s746ACFQg7HzTA0NsItN+2hGis+9LlzNBsm69Zt5+KLTzLfOoZ0rmPC1CypGZQFEsHm7DBnqLO/VkFowXyrTRAoiqaFrTtEmQxjGzdx4pHPc+fN25mdu0ArUizWahSLBUZHhoiUQduPaLc7+K0Y0zRwXA9Ek5GhHjzXYn6hRstvkcnnmVusYMjUXPM7LSq1FtJILYqtm8aYmBhCaDCkIAhjwlDjOQa5Yh7LsgjCkJVag4VKmhTqeAZeNkenXsca3o23UkGc3s9o0SZQiqYlOdIyOdrUGLZiJpCcbtU458dMFnK0jGUeWTqJn/g4cpL+vh4yCw1qT0xzw2+8nfvuXMfDjz3H/NwSHb9KpjBKsTSEkzG45aYbuXnvrYyOb8Zxsq86PvCKASCEQBgmY5ObmVy3kbff+wO0Gg2SJEYaJghJkgiKxSyFapUb5mY4dGQOa7KJrT3aaC4G+1gSFkXLAqmIcw4H7Wkybg4zTlBSMFb0WK4EVKtN2mjGd91KW3icn5nBtG7EtRyajTYb1w2xY9sWkgSiOMJzXdAKv93By3jkiyUuzizS9iMGegsM92ZZqjTpxBZLi0v09vUghKSvp4cDh07wkR+9m5nz0/T296YtArTC81y0loRRjGGmjqFOyydRUC7nyWZdjp+ZodUKGB8Z5/SJs/hZSe9dH6S5PE3Dr9A3MUDGc/ENAUqh0Rz1TTKDHhtUlZVKm5O1JiYwZuVoCcHWzQXecf0U+czT7N3+TkyvxJ133kq1Vse1DJqtDo5nMzjQh2l5xJFGWA6GaXzvNACA42ZoN+rEKkQaNvly76UUUq1I4ji9OT1lfvrmaV6oPEJjYgtfXBYkywLTytAJO3R0QrmQJ1vIUS7lSJIYOjFIQb5gIUUDrUKKO27hwumTlK97C5HSvHD4JNfv3Ipz7gQ7No3TaftYrodjG9iWiVHIMzezSBhE5PJ5clmXoBMQJzE6Drlhz/X8zZeexstmKRQKgGZkZIjHH3+SWlMzMjrMwkodx/HoLXkUCjn8TpDOT0Aul2NxaYlOJ0ArGOwrkUSa6elZ8oUyR09/g4ldA5x/9nm2vePHaBz7KkbUIJvNYhiaME6wDEEpl6UdhHRCaAbLDAlF3nGo1JuU7ngbt980yca8TWlkK7neAaIgwDAtBgb6AEGpV4CGOBbEcYgWklzee01BoVcVz7RsG9NaZZpp1wzVfWkNCIkQGsNw2Xbnzdz2/vXcuivP2973Vjq6TRj5mKZJoZQlW8jieA6ZjMvQYC/9fSUKOY+enMXo2BAb7343s2cu0pw/QyuSTKzbyMPfeJKJ9VvZs2snczML+EFAlCRIw2DL5kk2b1yP4xq4nsveW27CNC18v4MKEyY3b+Ebzx5j+uw5BvrKhEFIHCd0woBMxuMvP/cVDLtETzFHvdmm2miza8dWJsZGMU2DXD7HwMgocRQSRSGu4xAGMTIJuPuet/Dc4VNoDZnyOPVTz3Do65+neN0PU9i4h8FihoGeMuVymXy+SCZXwLJdTCeLkXFYDmLO1Vtk997LW3/2Fxl2NYXBG8j3XI9lumvBpCiKUYkijmLiuBuJlBJpmDiO+x2khL3SD0vZDUNKBHLN7Zn+lN2gjgQVUxq8nr7NP0Ss89x2y02885d/C+FlCOMQzxRkPZecazE+2sP6DUNsGuth09ggm+9+P8bNH+LpfSeozc2AECxeXKZvbCe5rMPH/+yvWb/1RtZt2oRA0aq3abQ6DA4PsmP3HhIgly/TNzBBs92mWCowNjHJQ08c4YFHn6avv49qrZlG55RiZmaBXCFPs9ngDz/5t1RbsG5slCSB0bF1bNy0g1zGZGLdRnbuvolGO6TtB4SdAB1HXH/jDUzPN3numf1M7LiRxmKMMCXt2jz7/u5veX4uw5HR+/Czw+SyWUb7exjqyeNYEtsSDPX18ZY7386eX/h9hn/544wYbarVDnZ+mHLvGFIYaUAJgWGYSGkipYWU1pqNZloW5qt0Ab+mLQDA8Tw6rRpoiSDpegr1FXRRqQTPy6CtAdqqiFi+wO0f/ldkdtzKzMN/T2bpFH0ZSU8+w8D6UXKlYZZHitRyI8xtfQsH7v8sUaOJ4dgkHR9naorliV7GrruNY089zP/0K7/JdTu3cv32cUb6y2TyLtlsgcl1W/Acj7HREXpKIxRLPbx4aIrPf/FpGu2AXK7AwnKVWrWG7dhESUynE1CpVCiWyuTzGe7/x2+wbfMYt928jTAKMcw0FjE+PozSGsfJMDkxgU4S5isN/vL+hzh85BSDExMYxe2IE8fQbR8pJSoJaNZCDuz5V5zwZymdf5Fy9SI9pkk4FtMcshnadSeVwW2c1gb32G2yF6bwQ0GQ2BSKPal2FRKBRq5lb4m1hacB28285pyAVw8A18VyXEK/mUbBVNK1EVLhawRagOd6LFeaKOlid2qo5TkY30HxI9ehmhVqfpUgCDgdQV1ZRIO9OFmXILLwlQBDonVKarZ4Z2gLEPkN/PzPb+TQsTNMTR3nmedeZHykn+1b11OphFjyAU5PLXD2L+7nD/740xw9Pg3CZPuu3ZR7e3nyiSeoVRsg0nyCJI5JkhgB+B2fG266nuHBQZ5/7gX+2988zKNPvMiG9cMY0uUf/uGrPPjg45y/uMDiUo0TU+epNToMj47wgQ+9H8Md4eTUPLv7znFYtcC0QYHI94Gy8LOT+DvWMdtqQRykutdyOGLYMN+k5AgGvAYF3aGTyxMESRr/kAZSpy7vS4QcpBAorTBsl0wm991ICPk2AaHuS6AplnqoJIoo7GAYBkKrbkmhRGpFGPgs15ZI4phSbz9Zt8j8yjIql+diWxFYLsobo5RV6CShqTVNLQibMU07geIIUmlQaah4eINB0/C4cP4cQ6N3Iu0CGzet5+KFi5w5fZbHnz7MAw8/Q6IUjutiGiaFcpGtO3czMjqM63rUajWiOAYt1tK9ojAiiZMudxFpkMcwuX7PdbQabWZmL/KNp4/T7oSEYQetFK7j4mYyjI1NsHdyknJPmZGRYU4cPMn6osn23QV4qA0UECqC3g3otomI62AaqZPKtFKdGSqkitBCM2ka9M3PsnPXRmYXM0ydPoGUko0bNlEqlrFMO41IdquWw1hhWjbFct9aPsH3BgBKoVWSRs+6ETTDMOgbHKJWreA3GwhpINC0Wg2mp6c5e3aKtt9CGILhwRFsw8CemqMzvI65WNEMI4RIWBQaS2j8WBEomQq800F7Y2Dlke0ltAavZyubh4bRjdNEsSCKQuJI0dfbT2+5lziK6EQBYZiWiXueh2WaaA2JSoiiCKUVQsu1rCPDMAijiDgJEUKBFtgy7QvQCSMsz2bjls2s37QRv9MhiUJAYDsWjuNhGiZCppHPTifGMpvcetN6dt+8E/g8Ku6A7IfsDbDsI0yNNhSg0OJSFl5CghELbmo22D00Q7Y0waTnEUURp04eYW5ujh07djI8NIxtuyRKE8QKz/MolHoxDIMkjruJJcarLlH7lgDQcYxKYpS+NGHZbZKgkoRsJotl2UxPn+bZZ57i4nxaUiWVpt1qMz4+yIXzp7Fdlw1CUJ/awD6zjyiTIIQiNNIZiEghY4XSEr2gkIdcvMgkMpoIw+B9P/xjCBVzauoYpkhDtKkAQ5IoBqUxTRvDTCuAkiTp9hLqElMpkEJ2+0FphBRYpkUYhqkGQCMkCMsEAYYh0VoTBiFKp5lJlumg0EAaDhaAZRiYpok0BLEw2bhrN3e89Qf5F+++mYP7X6S27OPsrzBXb6KGJeRFescloECH4DUU76bCh24/hh4OOHL0MK1mDcfOUK/5LK1Mc+7COYaGRti1aw8DAyMUimUK+RxxHKGVwrSsbrpZjGlZCGl85wDQcUwchVfElISU3X0/tfk1YFlpsuTo2DiGZRCFIagYCZhSc+7CObIYFIdKvK/xGPY/b+GvauPMlzxwJdgCHWr0coI932HHxZO8u+/LPFw+QVwe4Z33vYsffM97U1u9bWAaImXFQmAg0FKsNelYNUellOmWJLtpWhpMy8SyJaqlkSIVnFIKxGp5pMBx7PT7QqJ0N+lUK1Si0xwHeencQkqEITGkgTAk9VZIb/8oxVI/H/mpj/Kl0qdoLpzhtuKfc+jwMfafuo55e5B2xgFDkFcRG8wqbx2Z4r0/XENsG+PCXIE4vMDyygrDQxl27N6JZVokicIwTQyZOpOy2QyJUqkGSZJUowmDWCVpQq7jpgv1NQNAJcRRin7R3XPEKvsQAhWnWsE0DS7OnOf8ubNs2bSJ7Vs20Ww0WF5ZolGrUKlWyGTzuI5JLjeANwb/49BzXP/Vx3j0QD/nmkV8JZFxhyE9y00TJ7jpQ2fovXkE56n7qLTyvONdHwBMHNeh3fGJowTLtLCEJJIS3c25E5cHQJQAQ6d9D0jJkm1Z5PM5FucWKPf0UiwWaDYbWJaN77dxXQfXdVNQrCVMXhZUlSnrXgOASNPWTCsFkmNZ9JSKJFGHPXvvouFHzJ4/yLoNLW75oQMEZw+wOC2pVSykZVEsa4a2WgzduI649xZiNjGozrM4fwHHcdE6IZvNMDE2SS6bI1GKRquNtIwugVVpoxJScErTQJAS20D7uF7mFdUPvCQAVJykwr8qBXz1fQoMTRxHLM7Pcvz4EU4dP0ahmGFocIx22+fFw4fTfVJpDCEpFkvYXg+LyuPWn1tk7+wR2rMvoAMfaUmskoEq9dI0bufEXIZC/zIbdg5TLvdTq1awTAPXNqnW6ziZTFe1GwgRo6Xs9jhKEyO1UMjVqjckUhpEcYQEHMfippv3kM1miKKITZs2cuTIYSxLkiQJjutCHCERJFqjdar4hZSpGdZFhBACUxoYtk2n4+NZBj3lElEY0qitsGXzFlDw4tQMw4Pb2P22MrcPC4iqqESgzCLKXs/coknrok+pVCNb7GNwcJQo6OC3W5w4foxWs41jSkzLphMl9PQN0tMzgGkYKL3arUanHEem2i7pLmDLcb5tWNh8KdKXAl5cSsjUGn1Zz5zubSaOYoQ0yOcKzM5c5PTUSQYH5tm2czeLSytkMx59fQMMj28GTBbnzxGHMVG0jnVb30puY5V6bZ66HzA7W+Hsc/O0G8tI5nEzLs3GMtNnTlLu6SWbzSG0ZqWyzHihgDZSbSSE6BpIAiH0FaZS2vhCIaVJHEWEUYhlWxQLOeI4JpPxWLdunJOnT6bkKgzI5rLpMYVGSxBKrC0CIUB3+YTsBpMc06RaqaDihGyuQBBG1FaWOHX6KEli0GnVOXxogZmLDbxMjomJSdZv3EQ+X2Zm6iytxgyGFMzMVLAdh3L/EGGiOHt2mk7bp1qrc376FLaT+gX6B0ZS07u7z2shLlV1akALJOk2rRP1bXsamy8b+JGyG7xYS9pfK8aQhoGKU8ugVCpR7uklUTHZXJ4ojGg26mzavAXHcSmWevBcl2azThzFZDJZchmLysIyK8tLPP/iCywtLeE6Jo1GBa0EQ/0DhFGLudkVcpk8zXqNcm+Jnt5eqpUa6zYY6R4sRMqotLrU9bWr8vVlGcUCmbpPE0Wr3WLHtu0IAaYheMc73s6Xv/YAjusQR4okTjul6W6zLCHEquVIIsDsmoxSCEzTJJ/PM3vhIqWeHgzDoNlq4vstlpYWaTRaOI5LJlsGoZiZO02ifHr6ioSxTxA2yeXy+O02SoU0GjWCTodiXz/rDZcoikiSiOHRCVzPY3R0nL6+ge78urDXVxamXKo5kK+okdXLAsAQBspIC0B0V7WiNUkcIw0D07BRpqaQK7NucgP5XIFarUqz1aATdujrG8A2bXL5AtmMi2GaOD0e2VyRfC5HtbbC+vWj9PfnWVlZIgx9qpUqpmnTarU4P3t+zTYXQrIwP8fd99zNX336bzh88BBjE2O0mu1U7Yu0vlWpy3SUuHQtWqWma5zE3PKWW3nPe97FuTOnEVLwoQ+8n0OHD/HZv7m/m/mUXJZPs0owLyOXl7nFtVYcPXwE13V5+9vuobKyTJQoYqWxLBspfTKey4YNG9i6dSu2nSGMEuIoph0GbN22kygIqdcqdDo+URQQxzG2adPT20sQJRQKBTzHRgiJm8mSy+a7yaepj0QaEtOw1gpfDEMi6C7gV5YSdlXuWJfoCUmqSrS45Oy9DFBCShzXQ0qJ43n09PbTaNRpNuokKkZ3U8AzmWx68+MYy7JxXY8oDjk9dZqRgT76+4rkPYtYwZw1w8zsBYKgg2VaxFFErBPm5i7QbjeYmBjhhz/wHva/cJiw42MYsisc3V3tqbo2hECsvkWDUIRRxN69N/JzP/0RGvUqlZUFCoUSHd/n3/4vv8LI0DCPPvkUCL1mVaRFK6C0WKvoWb1VpmkRhjFBEHD3XbfS21vgwoVzeJk8juMihMC2LaIooN6oU681yOYEYRR3Yycmju1hWw6245LE8dqKXzVz40RQLOTJ5/NIaaTzMY01LnJ5MYruOulW//atClK+tQZY7YnXLW64tK+KK6vIUmqM7XkYlk0YdFBd5KeOoxSdjm0jpEhNGWlg2TaqlRAEPt944gn6enK4jsvI6DqOHD9GZbmCbdlESUQ2X6JY7qPRrGJiEHYidm3fwsjQAC8ePEanvYzj2iR+jEpSEAil0EojDBOjy5iXl5fZsnmS++69Bx1Dq9nAMCXV6gqtVot2u82HP/h+oqjNl776CDt37qQThGhi4iQ1raQUSMPAMAxMyyKKY8bHhrl+150UcxmqlVpazVStYjo22VIvjWabVqPJuJ3jyNHjtNo1coUipmnR3z/G2Ngktu1gmGZXwaZgNg0DQ0qSRGM7Nq7jYdnWVU6eVCMr1b3urpZOV38XGPK1JoWu9gu4ukT5JUvIBIYlsbTCSxSmaayZUlKm+6RhmKgkSZHZvYm9Pb1UaxVm5hdptRrkiv0srVRp1Jt4GZdCuZd16zZhmzaxitKLURB0Qvp6ern99ht56ol9PLHvBcp9fTiWhYoVQnZtfK2oLC8xO3MRzzUZvHUn9VoDKSS2aaFijSIm6qa5z8xdpJh36TRWeP7ZZ9i2ZQPSMukpF7Esh04QUK83UHFEdXmRu+68ldtuuZkkjuh0QtAGiYroBAFGaFIq9iKlTb26gmO7nDl9kijs0Gz69Az0UyyVMAwDwzDXilR01/Iyul1PTVL/xdqDK6667wiQhriyt+ea/F6VI0jzkkWir6JfkGlaCE9gxRaq6zpOlYmBYZporUmSGK0VlmUzNDhKu9XCczI0mw3qtTrDoxOUen2yXp6+nl4czyNOYkgEidJYtkGhWAIE1WqFsdEBdm7q4/TJaQpDA1Sbdd5x732Ue/r4y7/4U1ptH0nE5OQmWu02cRRgWg5xF4yr9kwUtgnjiFqtzlv27mR2bhkZ1BnqHeRHfvQDPPTg16g3fWrzs6g4YrhvkMmJUbxsmTDw0bTpBJ10K+rWBAopyWY9ekobSKKIdevWg0pwMnkGh0fo6e2/olRttdx8tTfR6t9Mw/wWEhBXaeTXEgvokqjvvNNAt17eMpFaopVeY+Fr1oM0UApM06Sntw+lFQsLc7T8Nn7Lx7EcbNslk8nguA6maWFbNrZl4zoOuWyeXKGA7/sks4pmo8PkxHrCMGRq6gymafD0448ghMHMxXmy+Rwqjgg6HQzTSusGZYyiy5JFauHESUySJJiWgwZGhgY4dXwKP+zwZ5/8GGdOnydfzNJoNDAk6AQqK3XyN5SJ4xxR2CHs+PgdnzAK0sRRKdFJ6oDq6e3rNp8KMS2PTDZDJptPBX3Zni2lxDTNtX1dCrmWu/i9Gt/FVrHp3iOVTEPCUl9ZMNkNIsmu2pMyTdzsHxyi0wmoVyvUqxUSrbAsC9t2sK20OAOREkrLcnE9F9NKWW+tXuHUyRM0GzXyuQILS1VOTx2ht6fA2NgoWzdv4LrrdjJ9cRbHdYniBNu0ECIGYaBllyxqTRzHlEpFTocxp06dZnx8BNc1mTp9Dj8I8BdTt/i977yDcrGXoaEBXM9FJw6R4+B5OfJJQqxjpJBdL6TGsR1KpTLZXK7rW+lGTQ1jTeWvmt2r8X7dDRcI2dUKQr6eAHiNPYJENyWMlDxqNGiBvupwsptcapgWluMSxzFhGOC5HsVCkagbdTNME7P7AolCYRkmlmXh2DYDvQOYWpB1LN56271s2LyRv7v/82zdEuI5LrWGz8JSBdOyCIKQQtnCMo01Zrzq4Nakdfu5bI44iJgcn6SnlOOmm29Ca7DlN7BsgzCM8f2A4aExRsfGyBfLZDI5kjjBUqkGWS13Nw1zjQM5jkPG88hkMpiGtaYtV3sM6m7bF31ZjwS5Zs/L1P8vv9ca4Ju2gdfaKKo72a5JstqD8mrikmoLsLr73aqKM0yDOIq7DSDS/U8aBsZl0S0pJRrN2PgG7n7HfRw/9iLL83McfOEFpi8sECSacqkHaTpkMy7nZxbIl/ooFHvIuF4XUKt9CFIhOHaG3r4Benv6aTebZPJ5jhw+RqPVZrbSwvM84lgTRJoz0+colHrZdv1GzC6B09pGqRQA8jLTzDQNbMvCtGykNK/wzQvDSB063cYRXYP10lpaPc73uCeReWW7l+/SyVYJlngFvMEwsR2xZjEkcZr4uOrKNbqeR2kYoNMmColK6B3o5+z0KVp+TKAF84sVdu/ZTbl3ENtxyGZyFEtlspkclmkRxQFCXTqu7rq6DZn6KkrlMrlcjunz02hppomvZoO7Nm7Fcb01klbIFdmxYzc95d7LyJvo9jkQV+7fprGmtV4yaWPVa8f/d6PbI0hc6hC3GgZ7naelu4JVSYJKug9iuNytmXYK6DZ0SLXE4tICc/Nz+H6L8xfP02o2kUKSyRfo6xukvy8NmrRaLTqBn6Z3A4ZI1bRjO5i2hW2nDqpsNkcYdIiiiOWVJeZmZ1iuVtK4gZehv3+IgcERCqUSrut2kzUvhclX4wNSyNSWN1PtZXRN3zfE0C8HgDXBv4yp8TqBQHWfwqEuy0Ba83GnDGMt8VQrTScMaLWa+G0fv9MmASzTxnZcTCON8IVBRBQFKJ10hSMxTQPTsLDs1MowLavrgbOI4wjfb+P7Hdp+m0TFmIaNaZo4XgbHcVPHkFhNNrkUIkZKjC57l0b6M93m5BtM+N02fjpRl1rFviQIxOs6Q61U+uoWm1xSSJeif5eXP2mtiZOIOE7S4k3UWhxfaY1KktSlnKRby5qz05CYholpmFimgWXZqY+9ew69+t2kC0YuPWNQXdGiTXSJ26U9W4pLWsGQxvesndx3BwAq0WvhLiFef5m/ZA7qpWcXaa7sibeamHJlsEOvPcxBKY3SyZofYjUvUCXJZcke+rKkDiPVBqa1psIvJ1+XRxV1N8qoruoSrteyoi91/pJr28Ib5RGz3VVxxeMAVgHwUu4k8QaB6yX76LLctJcnrVqrNQFd/vSP1GeuLrlcRcoq1rxvUl5i6S+rrnUXEGrN67cK0iunt7o9yDeO8Fdn900cIFGaKwI+4g0CgO/CdnIZCODyjmOr6WJcavQoXt1Fr7Zyfan2tOIN1XL/KnjqK23zSxyAq1cX13pGv5YV9oacG5ep/ysBIF9W+JeDR18T8bd3g74ZpyqucgXrb86ouTa+38B55TOh5Ld1NV57fMD3NTD+XzRCsKtleXbUAAAAAElFTkSuQmCC

iVBORw0KGgoAAAANSUhEUgAAAIAAAABOCAYAAADo3B4PAAAvXklEQVR42u29eZRk113n+bn37bFH7nvWvpdUWkqyNku2ZWFjtzE2Bg/NAQ80TPsMHKCZhYbT9NBDA900nAOD8dhgGnA3tkFgxuBV1motJbRVqfYtq7KW3DNjjxdvu3f+eJFZiyVbkm2N5Kl7TpzMyIx47773+97f/f7WJ7TWmmvj/7dDXrsF1wBwbVwDwLVxDQDXxjUAXBvXAHBtXAPAtXENANfGNQBcG9cAcG1cA8C18f0+zDf7BegkAQ2I9L2QEoS46kMarVT6OXT6GfnN2NdKgVJrBxNG91hXfR8hEIbxfQEA8aYNBmn9zYJeHUpdEvDlv7/cZ77F8XSSvLSwV2/by83hmgZ4fYRff+Ahms88i+4EeDu3U3rfe5Gem35Ga5CSaHGJ+le+RnD2HEY+R+7uO8nesOdKIQpB4+l/pvX4U+hWG2tyguK778Ma6CdeqVD90lcIz0wjPZfsW24hf+ft3x6I1zTA90j4QFypMv0//xL1r36dpNFICU3GI7Pneib/9GN4WzYDUP3qA1z4lX9LeHYaFQQIw8DoKdP/r3+WkX/3q6km0Jrzv/rvWP70X6NqdXSSIG0bd9cOen/if2Dlc/fjv3AAFYYIKZGFPOUf/SATv/+7SNteA9A1ALwe8lcKIQRnfuajrHz2b7GHh8i//W6E69J4+DHC6XN4e65j24NfpnPyJCd+8IdRjSbujm1krttFeGGG9rPPkdTqjP6X32Hwoz/Lxd/8j8z/pz/A6CmTvXUv1uAAzX9+jujsNMhUsNboKLnbbiFeXqH51NPES0sM/tLPM/bb/yGdk3yT8mn9JhoqSbTWWreee0G/MLhO7x/frFf+7h/W/t984YA+eN1e/axb1tWvPKAXPvnn+hkzr4/9wPt0uLi0doxzv/Ef9POlIX341rfqcGFRH775Dv18eURf/J3fWztW59x5feSt79T7RzboQze8RfunT6/9b/aP/kS/MDipD2zYoTvT59I/duf2ZhtvLtiqVFm1Dh0mqdXwrttF+QM/hE4SdBiS3XMdxbe/DR0nrPzt35O/+06EbdH3Ex/G6utF+R2ElAz+65/FHBggOH6SzrFj5O64DeG5DP7CR9PTdDo442P0/cSHiZeWccbHcDdsQMcxaM3Az/009tgoyUqF4OTp1YX05vQDqDhKL0wloNUl8sQb94KEYaQMPggvvTdTPps0GxjFPM1HHkNkMmT33kxcqV4yEQEdBF3zUVP9py9Teu+7kZnM2j4uTBO0RmazICU6ikCp9DxCIJRCum7XNFRvckeQ6gpcXS74VeG/sUAguvtxds/1mKUS/pGjzP3hx9BRhJCSyhe+SP3rD2OWSkQLizQefpTen/xx5v/wY/jHTyAcm6ReZ/Z3fg/VbGGUitS+8gD2+DjOlk0ov3PZycSlqxfiSpOx6xu45gh63eEq0Urh7dxOz4//KAsf+7+Z/0+/T+0fv4i0HdoHD6N8H6NURHouK/d/nsk//H1mfu3fc+p9H8LdvZN4bp7g2HFwHIRtE06fxz9yhNJ7341q1KG35yrUvQzDfxMz/ytuqRACgVjzpMEb+8KEEKA0Y7/17xn46M+hhaDx5NPUH3mUpN2m+L73MPHJP0Z4Ho1HHydcXqb4wffjT52h9k9fpr3/RchlGfud/5PiB99PUquw8rm/I//Od4CXWdvLtdYQxyS+jwrDru9IXfp/GKZbiXpzawKhwlAL0QXAKqqF4DJEvAFNl0vTC48dp7X/RZIwJLt9G97emwDoHDuOozRicoLEkMRPPY0/fR7lufTc81YYHIB2G//YCaTn4mzb+k3AVysV4nPnkYUC5oZ1V5ii/rHjaN/H3bwJo1B40zqEpPimSYs35P5/9RS10qAUi329TN2wm76f/Jf4u3bw4Ne/ztLCAva2rewLOxw4M4XhujzuOVTe+y4KP/YjPHD0CFopHt+/n8bmDfjrJmn7PidOnODAgQMEYciFCxeICnmejkOm7dQV/Nhjj3Hq1CmElGR2bCd7042p8N/ELmGZBjcuX/1XA+GNqgRSN+/hZ5+lM7+IjmOOP/88F2dmqNRq1JZX+MyffYoDzz2H1pozBw7gBQEnDx/m9JEjCClp1evkhMGZI0eIoogoiiiXy8zPzdFsNlmam2Pq4EEWps+htWbfvn0cOnSIarVKrVJBX7YlvHldwXGkryA1b3T1f9UIgoD5+XkmJiaIoojZ2dm136MowrIsLMtCKYWUEt/36XQ6lMtlgiDAcRzCMMS27bXPR1GElBLDMDh37hwjIyMYhkEURQghiOMYwzCwbftNTwKFTmL9zaz2zc9uX8briRDfn9f2HWwBXLbqxZtWsN/u9zUL4lV67b7V8b4fRqoBrlD9+vtWA1wbL+UIEvKl7atXvQKv/m76/vVUuZev0O/Wea++ttfrel72nmq+q5FHoVXXk/Ea2P8r3VO/V3uv1hrVDQ/Ll7gpSZIAYLzK9K1v9b1vd87Xi6usgv07va+vDQBXOT2a9QrLCxcI/AZh4JMkCbZboH9ogr7Bke8JCFZZ/eoIo5hWs0XYZfKlUnE1lP+azx+GESuVCr7vY5oWuVyOcqlw2RwShJDfE3A3a8usLF6kE7TQSYJlOSANLMtjaGwDlu18V+6r+c0OoFcmfK0VF84e4+L0MZ55/HFGJ0cYHugjCAJqjQZ+oMjlyvQPDLDzhjvIFfu+5RajL0+4fAUrREpJrV7nySef4PDB/SzNX6BaXSFJFLl8hjC2GBoZ54477uKeu+9GSvFtb9bq/7/+4IM88vBDnD8/RdipE3QC0JJyTw+5Qg9bd1zHffe+k02bNr4ysGqN1jq9dd1Vm75e4rNJxFOPfZ3AryGSOkqB57gI0+D0kSPUlpfYevNb6B0YZ8uOvWTzxe+CBhCvDACrN6jZWOHgsw8ydeIYpVKBgy8eZXJynI0b1xF2OtSbLdpBgpfJ0Qk65LMet73tA+SLPWvHUFqzemop5RU3I1Hp/me8hIpN/fHw9NP7+Ku/+ATLixfIZkwKnkW93sYwTXZum+DA0bNMTS+ghcGmTbv5tV//DTZt2pCaPi+zXUgh+e3f/S0+//efI+uZDPRmGenvw28HNNoddmwepdXpcODoecLY5q577uWXfvGXKRTya0K9nAGpRCGFWItifvM5V7cSsaZRnnn8n5g6cYKe/lGymZh2q00hVwTL4MhTz2DaNr3jIySxxs6UuG7PzQxPbO2e+9VzOPnKV38qOL9V5dyJ5/AbFRzXxfcDPC9DdaVKEockKkGpmCROkAKCMOLZAwc4dODZNQEmKr0xpiExjFT4zSBgudEiUQmGFKnw9UuYYUIAis/8t49zfvo4UeCT8yyyWQ+NIIwVhmEw1N9DPmvjGJL9zz3Bpz75x13B65cUvmEYHHjxWb7w+b+mt+Dh2Cae41LIu2gUSSKwLINyKUMh65DzEr76xc/xiU/8CVJK9GV5AVprhNbptUnB6cU6X3nmJPc/cZIvPX2Cg1OztOMEw5BIKUiSBK3hwtmTPPboQygBjZZP2AmIww5JEhGHAZVKFTeXxzIsYiVQScjM2UNMH9tHHAWvicCbr8yHnSKrsnSR2sIZPMciX8hTa9SpVptkcxkqldqa8JVOsAwLv+Nz9NhRXDfLwux5EqXXiNX5aoN/fOIgj714gfNxjnPzFdqNKgOGYs/6Pj583x5+6NZtCC6pbqVS4f7Fpz7Ok088QblcxLBt8lmXfNbBNAVhoNFoeooZbMskjgJcx+aBr32Z9z/+fm678541ga8C0jAMFhZm+N//11+i1erQX8qiE4VrSYoFj9n5lVTAEizTQCUxnXYH1zF56vGvsvwzP0Nv30CXHKacIAE++eBRPvsP+3nmmWn8GqAcWHgIPIPJ3du592138DPv281tOyYBODs9Ravd5uLMBYpFTd4torVCSE3U6eA6DoVyiVqtSr0dsn2wjOt6tGrLnD6yj007b8cwrdfKAb71nt9u1Tl9cB+ZnEcmmyebyZHLuKwsLuPYDlGrjt/qYNlGyqINmyNHj+K3fZIEmu0OhhScnl3gdz79MPc/epLaieNQrcH4u8BR0F5hpVnn2MOn+OwXjnDfe2/kz3/xXkZLeeIkwTQMvvaVL/C7//m3GR7pJeuYaUImGscxEUKiVIjQCsM0SJTGNkwKeYe5xQq/9r/9G/7qM/czPrnhChYdBD7/8Td/ndMnp1g3OYAUCoVGSoFlmWidoLQiTjS2JbvaTeBZJlOnTvGLv/BR/utffgbDNBHAbNPnx3/973jkb05A7QI5N0ef0wc6pOG3iJsx00+f5VNP1/jUnz7Aj33kB/iDf3MvxYxFGEW4KuH8xSl6ilvIuKC1IPA7DI32E8Yd5paWWTcxRi7jIqRAK0Ft6QIXzx5mYtOeV0UM5StZ+wALM2eo15eJo4Ao9HEch1KhQC6bJQw77NlzMxMTmxifmKTU08fJqdNUqxUKxV6Wl2vcevMePv3oi9z0L/+IT/3Rg9SOLGI0IozmHM6FOfIXG7gzVbxKDTsCaynha3/yVf7Fb/4j9TD1zc/Pnuc///b/wchwDznPJl3rijhJyBcLuK5JomKkKbAdE4HANCWWKdmxYYhqdYE/+L3fouP7V6jrv/jUx3nk4YdYN95HKWvjmAZaK3J5l96BEmGkkIYgk3HIZi3QYFkCrRSjQ3089cRDfOLjf4SUko5K+Miv/j9840/+gfXBLBuNiP7OCkONRYZbSzhxh5wIGdIGvapJpqn53B/tZ++H/5op1UdvPkOr1cIyFYeOH6bearHz+hvYsmUHdqYHw3SYmFjH+OgIhrSQaLQKqNZrnD11EF6lVfCKM4IWF2Z49Kl9DPT2ccOe3QwNDZDN5ZGW4PY77mTzrr089+QDLC8ss//wIU5OXcBxbGZnT/DOe9/JU/4AP/nvH4AzCXYQYzYqyLBBJ6iQT6YYsQZpxnN0REhHGxgEKKPJC5/9Mv/1nnX84g+9hb/81MeYmZth7+71+H4EholpSjIZh80bhjl6bJpIJWRck4znkHFsoigkShT5rEtvX5F9zzzFF77weX70x34cgIcfeYQvffEfsWyDYs5N7XzAyTiYpomONYZpULAtevIOjiUxpMQ1TaphTNYz2LRumE/86f/Fj3zwAzxzrsPXPvHbbMqNYnYa5LRFohVFM8FEsKTrZPFwwgYtLSiJDMJoceGBZ/jpTshv/tQ9xPvu5/xyjVY7YPbCHHNzy6go4fqb9rJ95x5mLkwTx21c22JhYZ5DR06ysLTInj07ieMA03JfMSF8xQBI4phyPs/pqXOcOTPDuo3j+M0Wgoh61eeBBx5k3zMHCcOYVqvNyTMXiUKfH3jfB3jc282n/8t+5FSHYiAxGj5e3MAWPlUScmqaQUOTTxapaI0VZWjGS8yIGURnnse+tJs7R+HZp/eRz7p0ghhpGnSCiIyXY2GhyuEjZ7BMSTHrcnG2QpwIEhUTxDFKafxOiGeaqDjiy1/8Au+491309vbw95//e7ROyHkOcaLQWhFq8CybStXn7Ll5ygUXISQrdZ/l5TqWlWqIIArJYmLbknarwX//7H/n2LyHiE9xtrnIenOAHrcIdOjP+BhGwlSnwXjGJlQLZJWHiCW1cJGC9EmezvJb5kZ+6ra9HHzk45yfW+a2vTsJOoeJIsXp6fNEn/kMuazLyOgojWaHpaUVCoUsmzaMYZkOQhivyqw3XykBHBpdT6PeYKi/hGFazJyfY/rcBRaXahQKGW7as5Xrdmzk4sIC02fb3LhzI+WRTTw/tcjBmf2owxly9WNkwzp5EmLRoGC2MIVGGsuMlx0a0QoDGsIk5rGVKXzVxBAOc+dP8cBDIUkUUsy4hJ0IxzPQSrFUbdKHoNbwyWUcorwL0kSoBMsymVuuk3clHT8gjBOKhTxTZ6c4cuQwd911F88/t5/1QxmCpqQThhjSIAgiLGFi2wa2aaCVRhqCJNEorcl4DiuVJpZlEEYBSRTTmy/wz/v+mYMLBgYCkdQ5p1ps6R1mOK8oZSoomVCst+kvK3SSox10OF+fYzZssytzJ4gOxw4d4a/mz3Pv9XeybdcyWUuzUu0wOTnM1k2TnDwxxRNPvYD14hQ7tm9icqyfbNZlbmaOXXvuwjCt7y4HEN1YwbqNO7j19rdz7twctXqb2fkFnn3+aJqfN1ym0agzv7BEHJrccOPtjLzzp/jySoGjZ2YQF87Rv/Ai48qjnZwmsKZx3SaZTMjOnh4ydoOWPY12F6kwy4uNAzSTixTNGFPXiI02B17YT76QRRqCMEkII0Wl0cKUgsH+IkpDoxXSbIcEnRAtNKVSjkLWY7na5uJyi04QUyrlWVmuMb+whFIJU1NnMGwbx7Fp+TELK01c12NwoEg+5xFEEWEUEyeKJNYI0orhKE5IEmi1E5QWZFyTKGgRdOo4pqLHiDFVi+eXz3C4NksoF5noXWHbSMDOzXWEs8iJ5imOhUe5vb/EoNNhuvMo9YUv0Fyc5q8fnuEZ9z1kezaSyeQ5cOgkTz71LEEY0DfQw4HDx3l833OcOjnN9Ll5tu/Zy+6b7vhOPIHf1gvArXfex8DAEIcP7aflK3bv2s746ACFQg7HzTA0NsItN+2hGis+9LlzNBsm69Zt5+KLTzLfOoZ0rmPC1CypGZQFEsHm7DBnqLO/VkFowXyrTRAoiqaFrTtEmQxjGzdx4pHPc+fN25mdu0ArUizWahSLBUZHhoiUQduPaLc7+K0Y0zRwXA9Ek5GhHjzXYn6hRstvkcnnmVusYMjUXPM7LSq1FtJILYqtm8aYmBhCaDCkIAhjwlDjOQa5Yh7LsgjCkJVag4VKmhTqeAZeNkenXsca3o23UkGc3s9o0SZQiqYlOdIyOdrUGLZiJpCcbtU458dMFnK0jGUeWTqJn/g4cpL+vh4yCw1qT0xzw2+8nfvuXMfDjz3H/NwSHb9KpjBKsTSEkzG45aYbuXnvrYyOb8Zxsq86PvCKASCEQBgmY5ObmVy3kbff+wO0Gg2SJEYaJghJkgiKxSyFapUb5mY4dGQOa7KJrT3aaC4G+1gSFkXLAqmIcw4H7Wkybg4zTlBSMFb0WK4EVKtN2mjGd91KW3icn5nBtG7EtRyajTYb1w2xY9sWkgSiOMJzXdAKv93By3jkiyUuzizS9iMGegsM92ZZqjTpxBZLi0v09vUghKSvp4cDh07wkR+9m5nz0/T296YtArTC81y0loRRjGGmjqFOyydRUC7nyWZdjp+ZodUKGB8Z5/SJs/hZSe9dH6S5PE3Dr9A3MUDGc/ENAUqh0Rz1TTKDHhtUlZVKm5O1JiYwZuVoCcHWzQXecf0U+czT7N3+TkyvxJ133kq1Vse1DJqtDo5nMzjQh2l5xJFGWA6GaXzvNACA42ZoN+rEKkQaNvly76UUUq1I4ji9OT1lfvrmaV6oPEJjYgtfXBYkywLTytAJO3R0QrmQJ1vIUS7lSJIYOjFIQb5gIUUDrUKKO27hwumTlK97C5HSvHD4JNfv3Ipz7gQ7No3TaftYrodjG9iWiVHIMzezSBhE5PJ5clmXoBMQJzE6Drlhz/X8zZeexstmKRQKgGZkZIjHH3+SWlMzMjrMwkodx/HoLXkUCjn8TpDOT0Aul2NxaYlOJ0ArGOwrkUSa6elZ8oUyR09/g4ldA5x/9nm2vePHaBz7KkbUIJvNYhiaME6wDEEpl6UdhHRCaAbLDAlF3nGo1JuU7ngbt980yca8TWlkK7neAaIgwDAtBgb6AEGpV4CGOBbEcYgWklzee01BoVcVz7RsG9NaZZpp1wzVfWkNCIkQGsNw2Xbnzdz2/vXcuivP2973Vjq6TRj5mKZJoZQlW8jieA6ZjMvQYC/9fSUKOY+enMXo2BAb7343s2cu0pw/QyuSTKzbyMPfeJKJ9VvZs2snczML+EFAlCRIw2DL5kk2b1yP4xq4nsveW27CNC18v4MKEyY3b+Ebzx5j+uw5BvrKhEFIHCd0woBMxuMvP/cVDLtETzFHvdmm2miza8dWJsZGMU2DXD7HwMgocRQSRSGu4xAGMTIJuPuet/Dc4VNoDZnyOPVTz3Do65+neN0PU9i4h8FihoGeMuVymXy+SCZXwLJdTCeLkXFYDmLO1Vtk997LW3/2Fxl2NYXBG8j3XI9lumvBpCiKUYkijmLiuBuJlBJpmDiO+x2khL3SD0vZDUNKBHLN7Zn+lN2gjgQVUxq8nr7NP0Ss89x2y02885d/C+FlCOMQzxRkPZecazE+2sP6DUNsGuth09ggm+9+P8bNH+LpfSeozc2AECxeXKZvbCe5rMPH/+yvWb/1RtZt2oRA0aq3abQ6DA4PsmP3HhIgly/TNzBBs92mWCowNjHJQ08c4YFHn6avv49qrZlG55RiZmaBXCFPs9ngDz/5t1RbsG5slCSB0bF1bNy0g1zGZGLdRnbuvolGO6TtB4SdAB1HXH/jDUzPN3numf1M7LiRxmKMMCXt2jz7/u5veX4uw5HR+/Czw+SyWUb7exjqyeNYEtsSDPX18ZY7386eX/h9hn/544wYbarVDnZ+mHLvGFIYaUAJgWGYSGkipYWU1pqNZloW5qt0Ab+mLQDA8Tw6rRpoiSDpegr1FXRRqQTPy6CtAdqqiFi+wO0f/ldkdtzKzMN/T2bpFH0ZSU8+w8D6UXKlYZZHitRyI8xtfQsH7v8sUaOJ4dgkHR9naorliV7GrruNY089zP/0K7/JdTu3cv32cUb6y2TyLtlsgcl1W/Acj7HREXpKIxRLPbx4aIrPf/FpGu2AXK7AwnKVWrWG7dhESUynE1CpVCiWyuTzGe7/x2+wbfMYt928jTAKMcw0FjE+PozSGsfJMDkxgU4S5isN/vL+hzh85BSDExMYxe2IE8fQbR8pJSoJaNZCDuz5V5zwZymdf5Fy9SI9pkk4FtMcshnadSeVwW2c1gb32G2yF6bwQ0GQ2BSKPal2FRKBRq5lb4m1hacB28285pyAVw8A18VyXEK/mUbBVNK1EVLhawRagOd6LFeaKOlid2qo5TkY30HxI9ehmhVqfpUgCDgdQV1ZRIO9OFmXILLwlQBDonVKarZ4Z2gLEPkN/PzPb+TQsTNMTR3nmedeZHykn+1b11OphFjyAU5PLXD2L+7nD/740xw9Pg3CZPuu3ZR7e3nyiSeoVRsg0nyCJI5JkhgB+B2fG266nuHBQZ5/7gX+2988zKNPvMiG9cMY0uUf/uGrPPjg45y/uMDiUo0TU+epNToMj47wgQ+9H8Md4eTUPLv7znFYtcC0QYHI94Gy8LOT+DvWMdtqQRykutdyOGLYMN+k5AgGvAYF3aGTyxMESRr/kAZSpy7vS4QcpBAorTBsl0wm991ICPk2AaHuS6AplnqoJIoo7GAYBkKrbkmhRGpFGPgs15ZI4phSbz9Zt8j8yjIql+diWxFYLsobo5RV6CShqTVNLQibMU07geIIUmlQaah4eINB0/C4cP4cQ6N3Iu0CGzet5+KFi5w5fZbHnz7MAw8/Q6IUjutiGiaFcpGtO3czMjqM63rUajWiOAYt1tK9ojAiiZMudxFpkMcwuX7PdbQabWZmL/KNp4/T7oSEYQetFK7j4mYyjI1NsHdyknJPmZGRYU4cPMn6osn23QV4qA0UECqC3g3otomI62AaqZPKtFKdGSqkitBCM2ka9M3PsnPXRmYXM0ydPoGUko0bNlEqlrFMO41IdquWw1hhWjbFct9aPsH3BgBKoVWSRs+6ETTDMOgbHKJWreA3GwhpINC0Wg2mp6c5e3aKtt9CGILhwRFsw8CemqMzvI65WNEMI4RIWBQaS2j8WBEomQq800F7Y2Dlke0ltAavZyubh4bRjdNEsSCKQuJI0dfbT2+5lziK6EQBYZiWiXueh2WaaA2JSoiiCKUVQsu1rCPDMAijiDgJEUKBFtgy7QvQCSMsz2bjls2s37QRv9MhiUJAYDsWjuNhGiZCppHPTifGMpvcetN6dt+8E/g8Ku6A7IfsDbDsI0yNNhSg0OJSFl5CghELbmo22D00Q7Y0waTnEUURp04eYW5ujh07djI8NIxtuyRKE8QKz/MolHoxDIMkjruJJcarLlH7lgDQcYxKYpS+NGHZbZKgkoRsJotl2UxPn+bZZ57i4nxaUiWVpt1qMz4+yIXzp7Fdlw1CUJ/awD6zjyiTIIQiNNIZiEghY4XSEr2gkIdcvMgkMpoIw+B9P/xjCBVzauoYpkhDtKkAQ5IoBqUxTRvDTCuAkiTp9hLqElMpkEJ2+0FphBRYpkUYhqkGQCMkCMsEAYYh0VoTBiFKp5lJlumg0EAaDhaAZRiYpok0BLEw2bhrN3e89Qf5F+++mYP7X6S27OPsrzBXb6KGJeRFescloECH4DUU76bCh24/hh4OOHL0MK1mDcfOUK/5LK1Mc+7COYaGRti1aw8DAyMUimUK+RxxHKGVwrSsbrpZjGlZCGl85wDQcUwchVfElISU3X0/tfk1YFlpsuTo2DiGZRCFIagYCZhSc+7CObIYFIdKvK/xGPY/b+GvauPMlzxwJdgCHWr0coI932HHxZO8u+/LPFw+QVwe4Z33vYsffM97U1u9bWAaImXFQmAg0FKsNelYNUellOmWJLtpWhpMy8SyJaqlkSIVnFIKxGp5pMBx7PT7QqJ0N+lUK1Si0xwHeencQkqEITGkgTAk9VZIb/8oxVI/H/mpj/Kl0qdoLpzhtuKfc+jwMfafuo55e5B2xgFDkFcRG8wqbx2Z4r0/XENsG+PCXIE4vMDyygrDQxl27N6JZVokicIwTQyZOpOy2QyJUqkGSZJUowmDWCVpQq7jpgv1NQNAJcRRin7R3XPEKvsQAhWnWsE0DS7OnOf8ubNs2bSJ7Vs20Ww0WF5ZolGrUKlWyGTzuI5JLjeANwb/49BzXP/Vx3j0QD/nmkV8JZFxhyE9y00TJ7jpQ2fovXkE56n7qLTyvONdHwBMHNeh3fGJowTLtLCEJJIS3c25E5cHQJQAQ6d9D0jJkm1Z5PM5FucWKPf0UiwWaDYbWJaN77dxXQfXdVNQrCVMXhZUlSnrXgOASNPWTCsFkmNZ9JSKJFGHPXvvouFHzJ4/yLoNLW75oQMEZw+wOC2pVSykZVEsa4a2WgzduI649xZiNjGozrM4fwHHcdE6IZvNMDE2SS6bI1GKRquNtIwugVVpoxJScErTQJAS20D7uF7mFdUPvCQAVJykwr8qBXz1fQoMTRxHLM7Pcvz4EU4dP0ahmGFocIx22+fFw4fTfVJpDCEpFkvYXg+LyuPWn1tk7+wR2rMvoAMfaUmskoEq9dI0bufEXIZC/zIbdg5TLvdTq1awTAPXNqnW6ziZTFe1GwgRo6Xs9jhKEyO1UMjVqjckUhpEcYQEHMfippv3kM1miKKITZs2cuTIYSxLkiQJjutCHCERJFqjdar4hZSpGdZFhBACUxoYtk2n4+NZBj3lElEY0qitsGXzFlDw4tQMw4Pb2P22MrcPC4iqqESgzCLKXs/coknrok+pVCNb7GNwcJQo6OC3W5w4foxWs41jSkzLphMl9PQN0tMzgGkYKL3arUanHEem2i7pLmDLcb5tWNh8KdKXAl5cSsjUGn1Zz5zubSaOYoQ0yOcKzM5c5PTUSQYH5tm2czeLSytkMx59fQMMj28GTBbnzxGHMVG0jnVb30puY5V6bZ66HzA7W+Hsc/O0G8tI5nEzLs3GMtNnTlLu6SWbzSG0ZqWyzHihgDZSbSSE6BpIAiH0FaZS2vhCIaVJHEWEUYhlWxQLOeI4JpPxWLdunJOnT6bkKgzI5rLpMYVGSxBKrC0CIUB3+YTsBpMc06RaqaDihGyuQBBG1FaWOHX6KEli0GnVOXxogZmLDbxMjomJSdZv3EQ+X2Zm6iytxgyGFMzMVLAdh3L/EGGiOHt2mk7bp1qrc376FLaT+gX6B0ZS07u7z2shLlV1akALJOk2rRP1bXsamy8b+JGyG7xYS9pfK8aQhoGKU8ugVCpR7uklUTHZXJ4ojGg26mzavAXHcSmWevBcl2azThzFZDJZchmLysIyK8tLPP/iCywtLeE6Jo1GBa0EQ/0DhFGLudkVcpk8zXqNcm+Jnt5eqpUa6zYY6R4sRMqotLrU9bWr8vVlGcUCmbpPE0Wr3WLHtu0IAaYheMc73s6Xv/YAjusQR4okTjul6W6zLCHEquVIIsDsmoxSCEzTJJ/PM3vhIqWeHgzDoNlq4vstlpYWaTRaOI5LJlsGoZiZO02ifHr6ioSxTxA2yeXy+O02SoU0GjWCTodiXz/rDZcoikiSiOHRCVzPY3R0nL6+ge78urDXVxamXKo5kK+okdXLAsAQBspIC0B0V7WiNUkcIw0D07BRpqaQK7NucgP5XIFarUqz1aATdujrG8A2bXL5AtmMi2GaOD0e2VyRfC5HtbbC+vWj9PfnWVlZIgx9qpUqpmnTarU4P3t+zTYXQrIwP8fd99zNX336bzh88BBjE2O0mu1U7Yu0vlWpy3SUuHQtWqWma5zE3PKWW3nPe97FuTOnEVLwoQ+8n0OHD/HZv7m/m/mUXJZPs0owLyOXl7nFtVYcPXwE13V5+9vuobKyTJQoYqWxLBspfTKey4YNG9i6dSu2nSGMEuIoph0GbN22kygIqdcqdDo+URQQxzG2adPT20sQJRQKBTzHRgiJm8mSy+a7yaepj0QaEtOw1gpfDEMi6C7gV5YSdlXuWJfoCUmqSrS45Oy9DFBCShzXQ0qJ43n09PbTaNRpNuokKkZ3U8AzmWx68+MYy7JxXY8oDjk9dZqRgT76+4rkPYtYwZw1w8zsBYKgg2VaxFFErBPm5i7QbjeYmBjhhz/wHva/cJiw42MYsisc3V3tqbo2hECsvkWDUIRRxN69N/JzP/0RGvUqlZUFCoUSHd/n3/4vv8LI0DCPPvkUCL1mVaRFK6C0WKvoWb1VpmkRhjFBEHD3XbfS21vgwoVzeJk8juMihMC2LaIooN6oU681yOYEYRR3Yycmju1hWw6245LE8dqKXzVz40RQLOTJ5/NIaaTzMY01LnJ5MYruOulW//atClK+tQZY7YnXLW64tK+KK6vIUmqM7XkYlk0YdFBd5KeOoxSdjm0jpEhNGWlg2TaqlRAEPt944gn6enK4jsvI6DqOHD9GZbmCbdlESUQ2X6JY7qPRrGJiEHYidm3fwsjQAC8ePEanvYzj2iR+jEpSEAil0EojDBOjy5iXl5fZsnmS++69Bx1Dq9nAMCXV6gqtVot2u82HP/h+oqjNl776CDt37qQThGhi4iQ1raQUSMPAMAxMyyKKY8bHhrl+150UcxmqlVpazVStYjo22VIvjWabVqPJuJ3jyNHjtNo1coUipmnR3z/G2Ngktu1gmGZXwaZgNg0DQ0qSRGM7Nq7jYdnWVU6eVCMr1b3urpZOV38XGPK1JoWu9gu4ukT5JUvIBIYlsbTCSxSmaayZUlKm+6RhmKgkSZHZvYm9Pb1UaxVm5hdptRrkiv0srVRp1Jt4GZdCuZd16zZhmzaxitKLURB0Qvp6ern99ht56ol9PLHvBcp9fTiWhYoVQnZtfK2oLC8xO3MRzzUZvHUn9VoDKSS2aaFijSIm6qa5z8xdpJh36TRWeP7ZZ9i2ZQPSMukpF7Esh04QUK83UHFEdXmRu+68ldtuuZkkjuh0QtAGiYroBAFGaFIq9iKlTb26gmO7nDl9kijs0Gz69Az0UyyVMAwDwzDXilR01/Iyul1PTVL/xdqDK6667wiQhriyt+ea/F6VI0jzkkWir6JfkGlaCE9gxRaq6zpOlYmBYZporUmSGK0VlmUzNDhKu9XCczI0mw3qtTrDoxOUen2yXp6+nl4czyNOYkgEidJYtkGhWAIE1WqFsdEBdm7q4/TJaQpDA1Sbdd5x732Ue/r4y7/4U1ptH0nE5OQmWu02cRRgWg5xF4yr9kwUtgnjiFqtzlv27mR2bhkZ1BnqHeRHfvQDPPTg16g3fWrzs6g4YrhvkMmJUbxsmTDw0bTpBJ10K+rWBAopyWY9ekobSKKIdevWg0pwMnkGh0fo6e2/olRttdx8tTfR6t9Mw/wWEhBXaeTXEgvokqjvvNNAt17eMpFaopVeY+Fr1oM0UApM06Sntw+lFQsLc7T8Nn7Lx7EcbNslk8nguA6maWFbNrZl4zoOuWyeXKGA7/sks4pmo8PkxHrCMGRq6gymafD0448ghMHMxXmy+Rwqjgg6HQzTSusGZYyiy5JFauHESUySJJiWgwZGhgY4dXwKP+zwZ5/8GGdOnydfzNJoNDAk6AQqK3XyN5SJ4xxR2CHs+PgdnzAK0sRRKdFJ6oDq6e3rNp8KMS2PTDZDJptPBX3Zni2lxDTNtX1dCrmWu/i9Gt/FVrHp3iOVTEPCUl9ZMNkNIsmu2pMyTdzsHxyi0wmoVyvUqxUSrbAsC9t2sK20OAOREkrLcnE9F9NKWW+tXuHUyRM0GzXyuQILS1VOTx2ht6fA2NgoWzdv4LrrdjJ9cRbHdYniBNu0ECIGYaBllyxqTRzHlEpFTocxp06dZnx8BNc1mTp9Dj8I8BdTt/i977yDcrGXoaEBXM9FJw6R4+B5OfJJQqxjpJBdL6TGsR1KpTLZXK7rW+lGTQ1jTeWvmt2r8X7dDRcI2dUKQr6eAHiNPYJENyWMlDxqNGiBvupwsptcapgWluMSxzFhGOC5HsVCkagbdTNME7P7AolCYRkmlmXh2DYDvQOYWpB1LN56271s2LyRv7v/82zdEuI5LrWGz8JSBdOyCIKQQtnCMo01Zrzq4Nakdfu5bI44iJgcn6SnlOOmm29Ca7DlN7BsgzCM8f2A4aExRsfGyBfLZDI5kjjBUqkGWS13Nw1zjQM5jkPG88hkMpiGtaYtV3sM6m7bF31ZjwS5Zs/L1P8vv9ca4Ju2gdfaKKo72a5JstqD8mrikmoLsLr73aqKM0yDOIq7DSDS/U8aBsZl0S0pJRrN2PgG7n7HfRw/9iLL83McfOEFpi8sECSacqkHaTpkMy7nZxbIl/ooFHvIuF4XUKt9CFIhOHaG3r4Benv6aTebZPJ5jhw+RqPVZrbSwvM84lgTRJoz0+colHrZdv1GzC6B09pGqRQA8jLTzDQNbMvCtGykNK/wzQvDSB063cYRXYP10lpaPc73uCeReWW7l+/SyVYJlngFvMEwsR2xZjEkcZr4uOrKNbqeR2kYoNMmColK6B3o5+z0KVp+TKAF84sVdu/ZTbl3ENtxyGZyFEtlspkclmkRxQFCXTqu7rq6DZn6KkrlMrlcjunz02hppomvZoO7Nm7Fcb01klbIFdmxYzc95d7LyJvo9jkQV+7fprGmtV4yaWPVa8f/d6PbI0hc6hC3GgZ7naelu4JVSYJKug9iuNytmXYK6DZ0SLXE4tICc/Nz+H6L8xfP02o2kUKSyRfo6xukvy8NmrRaLTqBn6Z3A4ZI1bRjO5i2hW2nDqpsNkcYdIiiiOWVJeZmZ1iuVtK4gZehv3+IgcERCqUSrut2kzUvhclX4wNSyNSWN1PtZXRN3zfE0C8HgDXBv4yp8TqBQHWfwqEuy0Ba83GnDGMt8VQrTScMaLWa+G0fv9MmASzTxnZcTCON8IVBRBQFKJ10hSMxTQPTsLDs1MowLavrgbOI4wjfb+P7Hdp+m0TFmIaNaZo4XgbHcVPHkFhNNrkUIkZKjC57l0b6M93m5BtM+N02fjpRl1rFviQIxOs6Q61U+uoWm1xSSJeif5eXP2mtiZOIOE7S4k3UWhxfaY1KktSlnKRby5qz05CYholpmFimgWXZqY+9ew69+t2kC0YuPWNQXdGiTXSJ26U9W4pLWsGQxvesndx3BwAq0WvhLiFef5m/ZA7qpWcXaa7sibeamHJlsEOvPcxBKY3SyZofYjUvUCXJZcke+rKkDiPVBqa1psIvJ1+XRxV1N8qoruoSrteyoi91/pJr28Ib5RGz3VVxxeMAVgHwUu4k8QaB6yX76LLctJcnrVqrNQFd/vSP1GeuLrlcRcoq1rxvUl5i6S+rrnUXEGrN67cK0iunt7o9yDeO8Fdn900cIFGaKwI+4g0CgO/CdnIZCODyjmOr6WJcavQoXt1Fr7Zyfan2tOIN1XL/KnjqK23zSxyAq1cX13pGv5YV9oacG5ep/ysBIF9W+JeDR18T8bd3g74ZpyqucgXrb86ouTa+38B55TOh5Ld1NV57fMD3NTD+XzRCsKtleXbUAAAAAElFTkSuQmCC

iVBORw0KGgoAAAANSUhEUgAAAIAAAABOCAYAAADo3B4PAAAvXklEQVR42u29eZRk113n+bn37bFH7nvWvpdUWkqyNku2ZWFjtzE2Bg/NAQ80TPsMHKCZhYbT9NBDA900nAOD8dhgGnA3tkFgxuBV1motJbRVqfYtq7KW3DNjjxdvu3f+eJFZiyVbkm2N5Kl7TpzMyIx47773+97f/f7WJ7TWmmvj/7dDXrsF1wBwbVwDwLVxDQDXxjUAXBvXAHBtXAPAtXENANfGNQBcG9cAcG1cA8C18f0+zDf7BegkAQ2I9L2QEoS46kMarVT6OXT6GfnN2NdKgVJrBxNG91hXfR8hEIbxfQEA8aYNBmn9zYJeHUpdEvDlv7/cZ77F8XSSvLSwV2/by83hmgZ4fYRff+Ahms88i+4EeDu3U3rfe5Gem35Ga5CSaHGJ+le+RnD2HEY+R+7uO8nesOdKIQpB4+l/pvX4U+hWG2tyguK778Ma6CdeqVD90lcIz0wjPZfsW24hf+ft3x6I1zTA90j4QFypMv0//xL1r36dpNFICU3GI7Pneib/9GN4WzYDUP3qA1z4lX9LeHYaFQQIw8DoKdP/r3+WkX/3q6km0Jrzv/rvWP70X6NqdXSSIG0bd9cOen/if2Dlc/fjv3AAFYYIKZGFPOUf/SATv/+7SNteA9A1ALwe8lcKIQRnfuajrHz2b7GHh8i//W6E69J4+DHC6XN4e65j24NfpnPyJCd+8IdRjSbujm1krttFeGGG9rPPkdTqjP6X32Hwoz/Lxd/8j8z/pz/A6CmTvXUv1uAAzX9+jujsNMhUsNboKLnbbiFeXqH51NPES0sM/tLPM/bb/yGdk3yT8mn9JhoqSbTWWreee0G/MLhO7x/frFf+7h/W/t984YA+eN1e/axb1tWvPKAXPvnn+hkzr4/9wPt0uLi0doxzv/Ef9POlIX341rfqcGFRH775Dv18eURf/J3fWztW59x5feSt79T7RzboQze8RfunT6/9b/aP/kS/MDipD2zYoTvT59I/duf2ZhtvLtiqVFm1Dh0mqdXwrttF+QM/hE4SdBiS3XMdxbe/DR0nrPzt35O/+06EbdH3Ex/G6utF+R2ElAz+65/FHBggOH6SzrFj5O64DeG5DP7CR9PTdDo442P0/cSHiZeWccbHcDdsQMcxaM3Az/009tgoyUqF4OTp1YX05vQDqDhKL0wloNUl8sQb94KEYaQMPggvvTdTPps0GxjFPM1HHkNkMmT33kxcqV4yEQEdBF3zUVP9py9Teu+7kZnM2j4uTBO0RmazICU6ikCp9DxCIJRCum7XNFRvckeQ6gpcXS74VeG/sUAguvtxds/1mKUS/pGjzP3hx9BRhJCSyhe+SP3rD2OWSkQLizQefpTen/xx5v/wY/jHTyAcm6ReZ/Z3fg/VbGGUitS+8gD2+DjOlk0ov3PZycSlqxfiSpOx6xu45gh63eEq0Urh7dxOz4//KAsf+7+Z/0+/T+0fv4i0HdoHD6N8H6NURHouK/d/nsk//H1mfu3fc+p9H8LdvZN4bp7g2HFwHIRtE06fxz9yhNJ7341q1KG35yrUvQzDfxMz/ytuqRACgVjzpMEb+8KEEKA0Y7/17xn46M+hhaDx5NPUH3mUpN2m+L73MPHJP0Z4Ho1HHydcXqb4wffjT52h9k9fpr3/RchlGfud/5PiB99PUquw8rm/I//Od4CXWdvLtdYQxyS+jwrDru9IXfp/GKZbiXpzawKhwlAL0QXAKqqF4DJEvAFNl0vTC48dp7X/RZIwJLt9G97emwDoHDuOozRicoLEkMRPPY0/fR7lufTc81YYHIB2G//YCaTn4mzb+k3AVysV4nPnkYUC5oZ1V5ii/rHjaN/H3bwJo1B40zqEpPimSYs35P5/9RS10qAUi329TN2wm76f/Jf4u3bw4Ne/ztLCAva2rewLOxw4M4XhujzuOVTe+y4KP/YjPHD0CFopHt+/n8bmDfjrJmn7PidOnODAgQMEYciFCxeICnmejkOm7dQV/Nhjj3Hq1CmElGR2bCd7042p8N/ELmGZBjcuX/1XA+GNqgRSN+/hZ5+lM7+IjmOOP/88F2dmqNRq1JZX+MyffYoDzz2H1pozBw7gBQEnDx/m9JEjCClp1evkhMGZI0eIoogoiiiXy8zPzdFsNlmam2Pq4EEWps+htWbfvn0cOnSIarVKrVJBX7YlvHldwXGkryA1b3T1f9UIgoD5+XkmJiaIoojZ2dm136MowrIsLMtCKYWUEt/36XQ6lMtlgiDAcRzCMMS27bXPR1GElBLDMDh37hwjIyMYhkEURQghiOMYwzCwbftNTwKFTmL9zaz2zc9uX8briRDfn9f2HWwBXLbqxZtWsN/u9zUL4lV67b7V8b4fRqoBrlD9+vtWA1wbL+UIEvKl7atXvQKv/m76/vVUuZev0O/Wea++ttfrel72nmq+q5FHoVXXk/Ea2P8r3VO/V3uv1hrVDQ/Ll7gpSZIAYLzK9K1v9b1vd87Xi6usgv07va+vDQBXOT2a9QrLCxcI/AZh4JMkCbZboH9ogr7Bke8JCFZZ/eoIo5hWs0XYZfKlUnE1lP+azx+GESuVCr7vY5oWuVyOcqlw2RwShJDfE3A3a8usLF6kE7TQSYJlOSANLMtjaGwDlu18V+6r+c0OoFcmfK0VF84e4+L0MZ55/HFGJ0cYHugjCAJqjQZ+oMjlyvQPDLDzhjvIFfu+5RajL0+4fAUrREpJrV7nySef4PDB/SzNX6BaXSFJFLl8hjC2GBoZ54477uKeu+9GSvFtb9bq/7/+4IM88vBDnD8/RdipE3QC0JJyTw+5Qg9bd1zHffe+k02bNr4ysGqN1jq9dd1Vm75e4rNJxFOPfZ3AryGSOkqB57gI0+D0kSPUlpfYevNb6B0YZ8uOvWTzxe+CBhCvDACrN6jZWOHgsw8ydeIYpVKBgy8eZXJynI0b1xF2OtSbLdpBgpfJ0Qk65LMet73tA+SLPWvHUFqzemop5RU3I1Hp/me8hIpN/fHw9NP7+Ku/+ATLixfIZkwKnkW93sYwTXZum+DA0bNMTS+ghcGmTbv5tV//DTZt2pCaPi+zXUgh+e3f/S0+//efI+uZDPRmGenvw28HNNoddmwepdXpcODoecLY5q577uWXfvGXKRTya0K9nAGpRCGFWItifvM5V7cSsaZRnnn8n5g6cYKe/lGymZh2q00hVwTL4MhTz2DaNr3jIySxxs6UuG7PzQxPbO2e+9VzOPnKV38qOL9V5dyJ5/AbFRzXxfcDPC9DdaVKEockKkGpmCROkAKCMOLZAwc4dODZNQEmKr0xpiExjFT4zSBgudEiUQmGFKnw9UuYYUIAis/8t49zfvo4UeCT8yyyWQ+NIIwVhmEw1N9DPmvjGJL9zz3Bpz75x13B65cUvmEYHHjxWb7w+b+mt+Dh2Cae41LIu2gUSSKwLINyKUMh65DzEr76xc/xiU/8CVJK9GV5AVprhNbptUnB6cU6X3nmJPc/cZIvPX2Cg1OztOMEw5BIKUiSBK3hwtmTPPboQygBjZZP2AmIww5JEhGHAZVKFTeXxzIsYiVQScjM2UNMH9tHHAWvicCbr8yHnSKrsnSR2sIZPMciX8hTa9SpVptkcxkqldqa8JVOsAwLv+Nz9NhRXDfLwux5EqXXiNX5aoN/fOIgj714gfNxjnPzFdqNKgOGYs/6Pj583x5+6NZtCC6pbqVS4f7Fpz7Ok088QblcxLBt8lmXfNbBNAVhoNFoeooZbMskjgJcx+aBr32Z9z/+fm678541ga8C0jAMFhZm+N//11+i1erQX8qiE4VrSYoFj9n5lVTAEizTQCUxnXYH1zF56vGvsvwzP0Nv30CXHKacIAE++eBRPvsP+3nmmWn8GqAcWHgIPIPJ3du592138DPv281tOyYBODs9Ravd5uLMBYpFTd4torVCSE3U6eA6DoVyiVqtSr0dsn2wjOt6tGrLnD6yj007b8cwrdfKAb71nt9u1Tl9cB+ZnEcmmyebyZHLuKwsLuPYDlGrjt/qYNlGyqINmyNHj+K3fZIEmu0OhhScnl3gdz79MPc/epLaieNQrcH4u8BR0F5hpVnn2MOn+OwXjnDfe2/kz3/xXkZLeeIkwTQMvvaVL/C7//m3GR7pJeuYaUImGscxEUKiVIjQCsM0SJTGNkwKeYe5xQq/9r/9G/7qM/czPrnhChYdBD7/8Td/ndMnp1g3OYAUCoVGSoFlmWidoLQiTjS2JbvaTeBZJlOnTvGLv/BR/utffgbDNBHAbNPnx3/973jkb05A7QI5N0ef0wc6pOG3iJsx00+f5VNP1/jUnz7Aj33kB/iDf3MvxYxFGEW4KuH8xSl6ilvIuKC1IPA7DI32E8Yd5paWWTcxRi7jIqRAK0Ft6QIXzx5mYtOeV0UM5StZ+wALM2eo15eJo4Ao9HEch1KhQC6bJQw77NlzMxMTmxifmKTU08fJqdNUqxUKxV6Wl2vcevMePv3oi9z0L/+IT/3Rg9SOLGI0IozmHM6FOfIXG7gzVbxKDTsCaynha3/yVf7Fb/4j9TD1zc/Pnuc///b/wchwDznPJl3rijhJyBcLuK5JomKkKbAdE4HANCWWKdmxYYhqdYE/+L3fouP7V6jrv/jUx3nk4YdYN95HKWvjmAZaK3J5l96BEmGkkIYgk3HIZi3QYFkCrRSjQ3089cRDfOLjf4SUko5K+Miv/j9840/+gfXBLBuNiP7OCkONRYZbSzhxh5wIGdIGvapJpqn53B/tZ++H/5op1UdvPkOr1cIyFYeOH6bearHz+hvYsmUHdqYHw3SYmFjH+OgIhrSQaLQKqNZrnD11EF6lVfCKM4IWF2Z49Kl9DPT2ccOe3QwNDZDN5ZGW4PY77mTzrr089+QDLC8ss//wIU5OXcBxbGZnT/DOe9/JU/4AP/nvH4AzCXYQYzYqyLBBJ6iQT6YYsQZpxnN0REhHGxgEKKPJC5/9Mv/1nnX84g+9hb/81MeYmZth7+71+H4EholpSjIZh80bhjl6bJpIJWRck4znkHFsoigkShT5rEtvX5F9zzzFF77weX70x34cgIcfeYQvffEfsWyDYs5N7XzAyTiYpomONYZpULAtevIOjiUxpMQ1TaphTNYz2LRumE/86f/Fj3zwAzxzrsPXPvHbbMqNYnYa5LRFohVFM8FEsKTrZPFwwgYtLSiJDMJoceGBZ/jpTshv/tQ9xPvu5/xyjVY7YPbCHHNzy6go4fqb9rJ95x5mLkwTx21c22JhYZ5DR06ysLTInj07ieMA03JfMSF8xQBI4phyPs/pqXOcOTPDuo3j+M0Wgoh61eeBBx5k3zMHCcOYVqvNyTMXiUKfH3jfB3jc282n/8t+5FSHYiAxGj5e3MAWPlUScmqaQUOTTxapaI0VZWjGS8yIGURnnse+tJs7R+HZp/eRz7p0ghhpGnSCiIyXY2GhyuEjZ7BMSTHrcnG2QpwIEhUTxDFKafxOiGeaqDjiy1/8Au+491309vbw95//e7ROyHkOcaLQWhFq8CybStXn7Ll5ygUXISQrdZ/l5TqWlWqIIArJYmLbknarwX//7H/n2LyHiE9xtrnIenOAHrcIdOjP+BhGwlSnwXjGJlQLZJWHiCW1cJGC9EmezvJb5kZ+6ra9HHzk45yfW+a2vTsJOoeJIsXp6fNEn/kMuazLyOgojWaHpaUVCoUsmzaMYZkOQhivyqw3XykBHBpdT6PeYKi/hGFazJyfY/rcBRaXahQKGW7as5Xrdmzk4sIC02fb3LhzI+WRTTw/tcjBmf2owxly9WNkwzp5EmLRoGC2MIVGGsuMlx0a0QoDGsIk5rGVKXzVxBAOc+dP8cBDIUkUUsy4hJ0IxzPQSrFUbdKHoNbwyWUcorwL0kSoBMsymVuuk3clHT8gjBOKhTxTZ6c4cuQwd911F88/t5/1QxmCpqQThhjSIAgiLGFi2wa2aaCVRhqCJNEorcl4DiuVJpZlEEYBSRTTmy/wz/v+mYMLBgYCkdQ5p1ps6R1mOK8oZSoomVCst+kvK3SSox10OF+fYzZssytzJ4gOxw4d4a/mz3Pv9XeybdcyWUuzUu0wOTnM1k2TnDwxxRNPvYD14hQ7tm9icqyfbNZlbmaOXXvuwjCt7y4HEN1YwbqNO7j19rdz7twctXqb2fkFnn3+aJqfN1ym0agzv7BEHJrccOPtjLzzp/jySoGjZ2YQF87Rv/Ai48qjnZwmsKZx3SaZTMjOnh4ydoOWPY12F6kwy4uNAzSTixTNGFPXiI02B17YT76QRRqCMEkII0Wl0cKUgsH+IkpDoxXSbIcEnRAtNKVSjkLWY7na5uJyi04QUyrlWVmuMb+whFIJU1NnMGwbx7Fp+TELK01c12NwoEg+5xFEEWEUEyeKJNYI0orhKE5IEmi1E5QWZFyTKGgRdOo4pqLHiDFVi+eXz3C4NksoF5noXWHbSMDOzXWEs8iJ5imOhUe5vb/EoNNhuvMo9YUv0Fyc5q8fnuEZ9z1kezaSyeQ5cOgkTz71LEEY0DfQw4HDx3l833OcOjnN9Ll5tu/Zy+6b7vhOPIHf1gvArXfex8DAEIcP7aflK3bv2s746ACFQg7HzTA0NsItN+2hGis+9LlzNBsm69Zt5+KLTzLfOoZ0rmPC1CypGZQFEsHm7DBnqLO/VkFowXyrTRAoiqaFrTtEmQxjGzdx4pHPc+fN25mdu0ArUizWahSLBUZHhoiUQduPaLc7+K0Y0zRwXA9Ek5GhHjzXYn6hRstvkcnnmVusYMjUXPM7LSq1FtJILYqtm8aYmBhCaDCkIAhjwlDjOQa5Yh7LsgjCkJVag4VKmhTqeAZeNkenXsca3o23UkGc3s9o0SZQiqYlOdIyOdrUGLZiJpCcbtU458dMFnK0jGUeWTqJn/g4cpL+vh4yCw1qT0xzw2+8nfvuXMfDjz3H/NwSHb9KpjBKsTSEkzG45aYbuXnvrYyOb8Zxsq86PvCKASCEQBgmY5ObmVy3kbff+wO0Gg2SJEYaJghJkgiKxSyFapUb5mY4dGQOa7KJrT3aaC4G+1gSFkXLAqmIcw4H7Wkybg4zTlBSMFb0WK4EVKtN2mjGd91KW3icn5nBtG7EtRyajTYb1w2xY9sWkgSiOMJzXdAKv93By3jkiyUuzizS9iMGegsM92ZZqjTpxBZLi0v09vUghKSvp4cDh07wkR+9m5nz0/T296YtArTC81y0loRRjGGmjqFOyydRUC7nyWZdjp+ZodUKGB8Z5/SJs/hZSe9dH6S5PE3Dr9A3MUDGc/ENAUqh0Rz1TTKDHhtUlZVKm5O1JiYwZuVoCcHWzQXecf0U+czT7N3+TkyvxJ133kq1Vse1DJqtDo5nMzjQh2l5xJFGWA6GaXzvNACA42ZoN+rEKkQaNvly76UUUq1I4ji9OT1lfvrmaV6oPEJjYgtfXBYkywLTytAJO3R0QrmQJ1vIUS7lSJIYOjFIQb5gIUUDrUKKO27hwumTlK97C5HSvHD4JNfv3Ipz7gQ7No3TaftYrodjG9iWiVHIMzezSBhE5PJ5clmXoBMQJzE6Drlhz/X8zZeexstmKRQKgGZkZIjHH3+SWlMzMjrMwkodx/HoLXkUCjn8TpDOT0Aul2NxaYlOJ0ArGOwrkUSa6elZ8oUyR09/g4ldA5x/9nm2vePHaBz7KkbUIJvNYhiaME6wDEEpl6UdhHRCaAbLDAlF3nGo1JuU7ngbt980yca8TWlkK7neAaIgwDAtBgb6AEGpV4CGOBbEcYgWklzee01BoVcVz7RsG9NaZZpp1wzVfWkNCIkQGsNw2Xbnzdz2/vXcuivP2973Vjq6TRj5mKZJoZQlW8jieA6ZjMvQYC/9fSUKOY+enMXo2BAb7343s2cu0pw/QyuSTKzbyMPfeJKJ9VvZs2snczML+EFAlCRIw2DL5kk2b1yP4xq4nsveW27CNC18v4MKEyY3b+Ebzx5j+uw5BvrKhEFIHCd0woBMxuMvP/cVDLtETzFHvdmm2miza8dWJsZGMU2DXD7HwMgocRQSRSGu4xAGMTIJuPuet/Dc4VNoDZnyOPVTz3Do65+neN0PU9i4h8FihoGeMuVymXy+SCZXwLJdTCeLkXFYDmLO1Vtk997LW3/2Fxl2NYXBG8j3XI9lumvBpCiKUYkijmLiuBuJlBJpmDiO+x2khL3SD0vZDUNKBHLN7Zn+lN2gjgQVUxq8nr7NP0Ss89x2y02885d/C+FlCOMQzxRkPZecazE+2sP6DUNsGuth09ggm+9+P8bNH+LpfSeozc2AECxeXKZvbCe5rMPH/+yvWb/1RtZt2oRA0aq3abQ6DA4PsmP3HhIgly/TNzBBs92mWCowNjHJQ08c4YFHn6avv49qrZlG55RiZmaBXCFPs9ngDz/5t1RbsG5slCSB0bF1bNy0g1zGZGLdRnbuvolGO6TtB4SdAB1HXH/jDUzPN3numf1M7LiRxmKMMCXt2jz7/u5veX4uw5HR+/Czw+SyWUb7exjqyeNYEtsSDPX18ZY7386eX/h9hn/544wYbarVDnZ+mHLvGFIYaUAJgWGYSGkipYWU1pqNZloW5qt0Ab+mLQDA8Tw6rRpoiSDpegr1FXRRqQTPy6CtAdqqiFi+wO0f/ldkdtzKzMN/T2bpFH0ZSU8+w8D6UXKlYZZHitRyI8xtfQsH7v8sUaOJ4dgkHR9naorliV7GrruNY089zP/0K7/JdTu3cv32cUb6y2TyLtlsgcl1W/Acj7HREXpKIxRLPbx4aIrPf/FpGu2AXK7AwnKVWrWG7dhESUynE1CpVCiWyuTzGe7/x2+wbfMYt928jTAKMcw0FjE+PozSGsfJMDkxgU4S5isN/vL+hzh85BSDExMYxe2IE8fQbR8pJSoJaNZCDuz5V5zwZymdf5Fy9SI9pkk4FtMcshnadSeVwW2c1gb32G2yF6bwQ0GQ2BSKPal2FRKBRq5lb4m1hacB28285pyAVw8A18VyXEK/mUbBVNK1EVLhawRagOd6LFeaKOlid2qo5TkY30HxI9ehmhVqfpUgCDgdQV1ZRIO9OFmXILLwlQBDonVKarZ4Z2gLEPkN/PzPb+TQsTNMTR3nmedeZHykn+1b11OphFjyAU5PLXD2L+7nD/740xw9Pg3CZPuu3ZR7e3nyiSeoVRsg0nyCJI5JkhgB+B2fG266nuHBQZ5/7gX+2988zKNPvMiG9cMY0uUf/uGrPPjg45y/uMDiUo0TU+epNToMj47wgQ+9H8Md4eTUPLv7znFYtcC0QYHI94Gy8LOT+DvWMdtqQRykutdyOGLYMN+k5AgGvAYF3aGTyxMESRr/kAZSpy7vS4QcpBAorTBsl0wm991ICPk2AaHuS6AplnqoJIoo7GAYBkKrbkmhRGpFGPgs15ZI4phSbz9Zt8j8yjIql+diWxFYLsobo5RV6CShqTVNLQibMU07geIIUmlQaah4eINB0/C4cP4cQ6N3Iu0CGzet5+KFi5w5fZbHnz7MAw8/Q6IUjutiGiaFcpGtO3czMjqM63rUajWiOAYt1tK9ojAiiZMudxFpkMcwuX7PdbQabWZmL/KNp4/T7oSEYQetFK7j4mYyjI1NsHdyknJPmZGRYU4cPMn6osn23QV4qA0UECqC3g3otomI62AaqZPKtFKdGSqkitBCM2ka9M3PsnPXRmYXM0ydPoGUko0bNlEqlrFMO41IdquWw1hhWjbFct9aPsH3BgBKoVWSRs+6ETTDMOgbHKJWreA3GwhpINC0Wg2mp6c5e3aKtt9CGILhwRFsw8CemqMzvI65WNEMI4RIWBQaS2j8WBEomQq800F7Y2Dlke0ltAavZyubh4bRjdNEsSCKQuJI0dfbT2+5lziK6EQBYZiWiXueh2WaaA2JSoiiCKUVQsu1rCPDMAijiDgJEUKBFtgy7QvQCSMsz2bjls2s37QRv9MhiUJAYDsWjuNhGiZCppHPTifGMpvcetN6dt+8E/g8Ku6A7IfsDbDsI0yNNhSg0OJSFl5CghELbmo22D00Q7Y0waTnEUURp04eYW5ujh07djI8NIxtuyRKE8QKz/MolHoxDIMkjruJJcarLlH7lgDQcYxKYpS+NGHZbZKgkoRsJotl2UxPn+bZZ57i4nxaUiWVpt1qMz4+yIXzp7Fdlw1CUJ/awD6zjyiTIIQiNNIZiEghY4XSEr2gkIdcvMgkMpoIw+B9P/xjCBVzauoYpkhDtKkAQ5IoBqUxTRvDTCuAkiTp9hLqElMpkEJ2+0FphBRYpkUYhqkGQCMkCMsEAYYh0VoTBiFKp5lJlumg0EAaDhaAZRiYpok0BLEw2bhrN3e89Qf5F+++mYP7X6S27OPsrzBXb6KGJeRFescloECH4DUU76bCh24/hh4OOHL0MK1mDcfOUK/5LK1Mc+7COYaGRti1aw8DAyMUimUK+RxxHKGVwrSsbrpZjGlZCGl85wDQcUwchVfElISU3X0/tfk1YFlpsuTo2DiGZRCFIagYCZhSc+7CObIYFIdKvK/xGPY/b+GvauPMlzxwJdgCHWr0coI932HHxZO8u+/LPFw+QVwe4Z33vYsffM97U1u9bWAaImXFQmAg0FKsNelYNUellOmWJLtpWhpMy8SyJaqlkSIVnFIKxGp5pMBx7PT7QqJ0N+lUK1Si0xwHeencQkqEITGkgTAk9VZIb/8oxVI/H/mpj/Kl0qdoLpzhtuKfc+jwMfafuo55e5B2xgFDkFcRG8wqbx2Z4r0/XENsG+PCXIE4vMDyygrDQxl27N6JZVokicIwTQyZOpOy2QyJUqkGSZJUowmDWCVpQq7jpgv1NQNAJcRRin7R3XPEKvsQAhWnWsE0DS7OnOf8ubNs2bSJ7Vs20Ww0WF5ZolGrUKlWyGTzuI5JLjeANwb/49BzXP/Vx3j0QD/nmkV8JZFxhyE9y00TJ7jpQ2fovXkE56n7qLTyvONdHwBMHNeh3fGJowTLtLCEJJIS3c25E5cHQJQAQ6d9D0jJkm1Z5PM5FucWKPf0UiwWaDYbWJaN77dxXQfXdVNQrCVMXhZUlSnrXgOASNPWTCsFkmNZ9JSKJFGHPXvvouFHzJ4/yLoNLW75oQMEZw+wOC2pVSykZVEsa4a2WgzduI649xZiNjGozrM4fwHHcdE6IZvNMDE2SS6bI1GKRquNtIwugVVpoxJScErTQJAS20D7uF7mFdUPvCQAVJykwr8qBXz1fQoMTRxHLM7Pcvz4EU4dP0ahmGFocIx22+fFw4fTfVJpDCEpFkvYXg+LyuPWn1tk7+wR2rMvoAMfaUmskoEq9dI0bufEXIZC/zIbdg5TLvdTq1awTAPXNqnW6ziZTFe1GwgRo6Xs9jhKEyO1UMjVqjckUhpEcYQEHMfippv3kM1miKKITZs2cuTIYSxLkiQJjutCHCERJFqjdar4hZSpGdZFhBACUxoYtk2n4+NZBj3lElEY0qitsGXzFlDw4tQMw4Pb2P22MrcPC4iqqESgzCLKXs/coknrok+pVCNb7GNwcJQo6OC3W5w4foxWs41jSkzLphMl9PQN0tMzgGkYKL3arUanHEem2i7pLmDLcb5tWNh8KdKXAl5cSsjUGn1Zz5zubSaOYoQ0yOcKzM5c5PTUSQYH5tm2czeLSytkMx59fQMMj28GTBbnzxGHMVG0jnVb30puY5V6bZ66HzA7W+Hsc/O0G8tI5nEzLs3GMtNnTlLu6SWbzSG0ZqWyzHihgDZSbSSE6BpIAiH0FaZS2vhCIaVJHEWEUYhlWxQLOeI4JpPxWLdunJOnT6bkKgzI5rLpMYVGSxBKrC0CIUB3+YTsBpMc06RaqaDihGyuQBBG1FaWOHX6KEli0GnVOXxogZmLDbxMjomJSdZv3EQ+X2Zm6iytxgyGFMzMVLAdh3L/EGGiOHt2mk7bp1qrc376FLaT+gX6B0ZS07u7z2shLlV1akALJOk2rRP1bXsamy8b+JGyG7xYS9pfK8aQhoGKU8ugVCpR7uklUTHZXJ4ojGg26mzavAXHcSmWevBcl2azThzFZDJZchmLysIyK8tLPP/iCywtLeE6Jo1GBa0EQ/0DhFGLudkVcpk8zXqNcm+Jnt5eqpUa6zYY6R4sRMqotLrU9bWr8vVlGcUCmbpPE0Wr3WLHtu0IAaYheMc73s6Xv/YAjusQR4okTjul6W6zLCHEquVIIsDsmoxSCEzTJJ/PM3vhIqWeHgzDoNlq4vstlpYWaTRaOI5LJlsGoZiZO02ifHr6ioSxTxA2yeXy+O02SoU0GjWCTodiXz/rDZcoikiSiOHRCVzPY3R0nL6+ge78urDXVxamXKo5kK+okdXLAsAQBspIC0B0V7WiNUkcIw0D07BRpqaQK7NucgP5XIFarUqz1aATdujrG8A2bXL5AtmMi2GaOD0e2VyRfC5HtbbC+vWj9PfnWVlZIgx9qpUqpmnTarU4P3t+zTYXQrIwP8fd99zNX336bzh88BBjE2O0mu1U7Yu0vlWpy3SUuHQtWqWma5zE3PKWW3nPe97FuTOnEVLwoQ+8n0OHD/HZv7m/m/mUXJZPs0owLyOXl7nFtVYcPXwE13V5+9vuobKyTJQoYqWxLBspfTKey4YNG9i6dSu2nSGMEuIoph0GbN22kygIqdcqdDo+URQQxzG2adPT20sQJRQKBTzHRgiJm8mSy+a7yaepj0QaEtOw1gpfDEMi6C7gV5YSdlXuWJfoCUmqSrS45Oy9DFBCShzXQ0qJ43n09PbTaNRpNuokKkZ3U8AzmWx68+MYy7JxXY8oDjk9dZqRgT76+4rkPYtYwZw1w8zsBYKgg2VaxFFErBPm5i7QbjeYmBjhhz/wHva/cJiw42MYsisc3V3tqbo2hECsvkWDUIRRxN69N/JzP/0RGvUqlZUFCoUSHd/n3/4vv8LI0DCPPvkUCL1mVaRFK6C0WKvoWb1VpmkRhjFBEHD3XbfS21vgwoVzeJk8juMihMC2LaIooN6oU681yOYEYRR3Yycmju1hWw6245LE8dqKXzVz40RQLOTJ5/NIaaTzMY01LnJ5MYruOulW//atClK+tQZY7YnXLW64tK+KK6vIUmqM7XkYlk0YdFBd5KeOoxSdjm0jpEhNGWlg2TaqlRAEPt944gn6enK4jsvI6DqOHD9GZbmCbdlESUQ2X6JY7qPRrGJiEHYidm3fwsjQAC8ePEanvYzj2iR+jEpSEAil0EojDBOjy5iXl5fZsnmS++69Bx1Dq9nAMCXV6gqtVot2u82HP/h+oqjNl776CDt37qQThGhi4iQ1raQUSMPAMAxMyyKKY8bHhrl+150UcxmqlVpazVStYjo22VIvjWabVqPJuJ3jyNHjtNo1coUipmnR3z/G2Ngktu1gmGZXwaZgNg0DQ0qSRGM7Nq7jYdnWVU6eVCMr1b3urpZOV38XGPK1JoWu9gu4ukT5JUvIBIYlsbTCSxSmaayZUlKm+6RhmKgkSZHZvYm9Pb1UaxVm5hdptRrkiv0srVRp1Jt4GZdCuZd16zZhmzaxitKLURB0Qvp6ern99ht56ol9PLHvBcp9fTiWhYoVQnZtfK2oLC8xO3MRzzUZvHUn9VoDKSS2aaFijSIm6qa5z8xdpJh36TRWeP7ZZ9i2ZQPSMukpF7Esh04QUK83UHFEdXmRu+68ldtuuZkkjuh0QtAGiYroBAFGaFIq9iKlTb26gmO7nDl9kijs0Gz69Az0UyyVMAwDwzDXilR01/Iyul1PTVL/xdqDK6667wiQhriyt+ea/F6VI0jzkkWir6JfkGlaCE9gxRaq6zpOlYmBYZporUmSGK0VlmUzNDhKu9XCczI0mw3qtTrDoxOUen2yXp6+nl4czyNOYkgEidJYtkGhWAIE1WqFsdEBdm7q4/TJaQpDA1Sbdd5x732Ue/r4y7/4U1ptH0nE5OQmWu02cRRgWg5xF4yr9kwUtgnjiFqtzlv27mR2bhkZ1BnqHeRHfvQDPPTg16g3fWrzs6g4YrhvkMmJUbxsmTDw0bTpBJ10K+rWBAopyWY9ekobSKKIdevWg0pwMnkGh0fo6e2/olRttdx8tTfR6t9Mw/wWEhBXaeTXEgvokqjvvNNAt17eMpFaopVeY+Fr1oM0UApM06Sntw+lFQsLc7T8Nn7Lx7EcbNslk8nguA6maWFbNrZl4zoOuWyeXKGA7/sks4pmo8PkxHrCMGRq6gymafD0448ghMHMxXmy+Rwqjgg6HQzTSusGZYyiy5JFauHESUySJJiWgwZGhgY4dXwKP+zwZ5/8GGdOnydfzNJoNDAk6AQqK3XyN5SJ4xxR2CHs+PgdnzAK0sRRKdFJ6oDq6e3rNp8KMS2PTDZDJptPBX3Zni2lxDTNtX1dCrmWu/i9Gt/FVrHp3iOVTEPCUl9ZMNkNIsmu2pMyTdzsHxyi0wmoVyvUqxUSrbAsC9t2sK20OAOREkrLcnE9F9NKWW+tXuHUyRM0GzXyuQILS1VOTx2ht6fA2NgoWzdv4LrrdjJ9cRbHdYniBNu0ECIGYaBllyxqTRzHlEpFTocxp06dZnx8BNc1mTp9Dj8I8BdTt/i977yDcrGXoaEBXM9FJw6R4+B5OfJJQqxjpJBdL6TGsR1KpTLZXK7rW+lGTQ1jTeWvmt2r8X7dDRcI2dUKQr6eAHiNPYJENyWMlDxqNGiBvupwsptcapgWluMSxzFhGOC5HsVCkagbdTNME7P7AolCYRkmlmXh2DYDvQOYWpB1LN56271s2LyRv7v/82zdEuI5LrWGz8JSBdOyCIKQQtnCMo01Zrzq4Nakdfu5bI44iJgcn6SnlOOmm29Ca7DlN7BsgzCM8f2A4aExRsfGyBfLZDI5kjjBUqkGWS13Nw1zjQM5jkPG88hkMpiGtaYtV3sM6m7bF31ZjwS5Zs/L1P8vv9ca4Ju2gdfaKKo72a5JstqD8mrikmoLsLr73aqKM0yDOIq7DSDS/U8aBsZl0S0pJRrN2PgG7n7HfRw/9iLL83McfOEFpi8sECSacqkHaTpkMy7nZxbIl/ooFHvIuF4XUKt9CFIhOHaG3r4Benv6aTebZPJ5jhw+RqPVZrbSwvM84lgTRJoz0+colHrZdv1GzC6B09pGqRQA8jLTzDQNbMvCtGykNK/wzQvDSB063cYRXYP10lpaPc73uCeReWW7l+/SyVYJlngFvMEwsR2xZjEkcZr4uOrKNbqeR2kYoNMmColK6B3o5+z0KVp+TKAF84sVdu/ZTbl3ENtxyGZyFEtlspkclmkRxQFCXTqu7rq6DZn6KkrlMrlcjunz02hppomvZoO7Nm7Fcb01klbIFdmxYzc95d7LyJvo9jkQV+7fprGmtV4yaWPVa8f/d6PbI0hc6hC3GgZ7naelu4JVSYJKug9iuNytmXYK6DZ0SLXE4tICc/Nz+H6L8xfP02o2kUKSyRfo6xukvy8NmrRaLTqBn6Z3A4ZI1bRjO5i2hW2nDqpsNkcYdIiiiOWVJeZmZ1iuVtK4gZehv3+IgcERCqUSrut2kzUvhclX4wNSyNSWN1PtZXRN3zfE0C8HgDXBv4yp8TqBQHWfwqEuy0Ba83GnDGMt8VQrTScMaLWa+G0fv9MmASzTxnZcTCON8IVBRBQFKJ10hSMxTQPTsLDs1MowLavrgbOI4wjfb+P7Hdp+m0TFmIaNaZo4XgbHcVPHkFhNNrkUIkZKjC57l0b6M93m5BtM+N02fjpRl1rFviQIxOs6Q61U+uoWm1xSSJeif5eXP2mtiZOIOE7S4k3UWhxfaY1KktSlnKRby5qz05CYholpmFimgWXZqY+9ew69+t2kC0YuPWNQXdGiTXSJ26U9W4pLWsGQxvesndx3BwAq0WvhLiFef5m/ZA7qpWcXaa7sibeamHJlsEOvPcxBKY3SyZofYjUvUCXJZcke+rKkDiPVBqa1psIvJ1+XRxV1N8qoruoSrteyoi91/pJr28Ib5RGz3VVxxeMAVgHwUu4k8QaB6yX76LLctJcnrVqrNQFd/vSP1GeuLrlcRcoq1rxvUl5i6S+rrnUXEGrN67cK0iunt7o9yDeO8Fdn900cIFGaKwI+4g0CgO/CdnIZCODyjmOr6WJcavQoXt1Fr7Zyfan2tOIN1XL/KnjqK23zSxyAq1cX13pGv5YV9oacG5ep/ysBIF9W+JeDR18T8bd3g74ZpyqucgXrb86ouTa+38B55TOh5Ld1NV57fMD3NTD+XzRCsKtleXbUAAAAAElFTkSuQmCC

iVBORw0KGgoAAAANSUhEUgAAAIAAAABOCAYAAADo3B4PAAAvXklEQVR42u29eZRk113n+bn37bFH7nvWvpdUWkqyNku2ZWFjtzE2Bg/NAQ80TPsMHKCZhYbT9NBDA900nAOD8dhgGnA3tkFgxuBV1motJbRVqfYtq7KW3DNjjxdvu3f+eJFZiyVbkm2N5Kl7TpzMyIx47773+97f/f7WJ7TWmmvj/7dDXrsF1wBwbVwDwLVxDQDXxjUAXBvXAHBtXAPAtXENANfGNQBcG9cAcG1cA8C18f0+zDf7BegkAQ2I9L2QEoS46kMarVT6OXT6GfnN2NdKgVJrBxNG91hXfR8hEIbxfQEA8aYNBmn9zYJeHUpdEvDlv7/cZ77F8XSSvLSwV2/by83hmgZ4fYRff+Ahms88i+4EeDu3U3rfe5Gem35Ga5CSaHGJ+le+RnD2HEY+R+7uO8nesOdKIQpB4+l/pvX4U+hWG2tyguK778Ma6CdeqVD90lcIz0wjPZfsW24hf+ft3x6I1zTA90j4QFypMv0//xL1r36dpNFICU3GI7Pneib/9GN4WzYDUP3qA1z4lX9LeHYaFQQIw8DoKdP/r3+WkX/3q6km0Jrzv/rvWP70X6NqdXSSIG0bd9cOen/if2Dlc/fjv3AAFYYIKZGFPOUf/SATv/+7SNteA9A1ALwe8lcKIQRnfuajrHz2b7GHh8i//W6E69J4+DHC6XN4e65j24NfpnPyJCd+8IdRjSbujm1krttFeGGG9rPPkdTqjP6X32Hwoz/Lxd/8j8z/pz/A6CmTvXUv1uAAzX9+jujsNMhUsNboKLnbbiFeXqH51NPES0sM/tLPM/bb/yGdk3yT8mn9JhoqSbTWWreee0G/MLhO7x/frFf+7h/W/t984YA+eN1e/axb1tWvPKAXPvnn+hkzr4/9wPt0uLi0doxzv/Ef9POlIX341rfqcGFRH775Dv18eURf/J3fWztW59x5feSt79T7RzboQze8RfunT6/9b/aP/kS/MDipD2zYoTvT59I/duf2ZhtvLtiqVFm1Dh0mqdXwrttF+QM/hE4SdBiS3XMdxbe/DR0nrPzt35O/+06EbdH3Ex/G6utF+R2ElAz+65/FHBggOH6SzrFj5O64DeG5DP7CR9PTdDo442P0/cSHiZeWccbHcDdsQMcxaM3Az/009tgoyUqF4OTp1YX05vQDqDhKL0wloNUl8sQb94KEYaQMPggvvTdTPps0GxjFPM1HHkNkMmT33kxcqV4yEQEdBF3zUVP9py9Teu+7kZnM2j4uTBO0RmazICU6ikCp9DxCIJRCum7XNFRvckeQ6gpcXS74VeG/sUAguvtxds/1mKUS/pGjzP3hx9BRhJCSyhe+SP3rD2OWSkQLizQefpTen/xx5v/wY/jHTyAcm6ReZ/Z3fg/VbGGUitS+8gD2+DjOlk0ov3PZycSlqxfiSpOx6xu45gh63eEq0Urh7dxOz4//KAsf+7+Z/0+/T+0fv4i0HdoHD6N8H6NURHouK/d/nsk//H1mfu3fc+p9H8LdvZN4bp7g2HFwHIRtE06fxz9yhNJ7341q1KG35yrUvQzDfxMz/ytuqRACgVjzpMEb+8KEEKA0Y7/17xn46M+hhaDx5NPUH3mUpN2m+L73MPHJP0Z4Ho1HHydcXqb4wffjT52h9k9fpr3/RchlGfud/5PiB99PUquw8rm/I//Od4CXWdvLtdYQxyS+jwrDru9IXfp/GKZbiXpzawKhwlAL0QXAKqqF4DJEvAFNl0vTC48dp7X/RZIwJLt9G97emwDoHDuOozRicoLEkMRPPY0/fR7lufTc81YYHIB2G//YCaTn4mzb+k3AVysV4nPnkYUC5oZ1V5ii/rHjaN/H3bwJo1B40zqEpPimSYs35P5/9RS10qAUi329TN2wm76f/Jf4u3bw4Ne/ztLCAva2rewLOxw4M4XhujzuOVTe+y4KP/YjPHD0CFopHt+/n8bmDfjrJmn7PidOnODAgQMEYciFCxeICnmejkOm7dQV/Nhjj3Hq1CmElGR2bCd7042p8N/ELmGZBjcuX/1XA+GNqgRSN+/hZ5+lM7+IjmOOP/88F2dmqNRq1JZX+MyffYoDzz2H1pozBw7gBQEnDx/m9JEjCClp1evkhMGZI0eIoogoiiiXy8zPzdFsNlmam2Pq4EEWps+htWbfvn0cOnSIarVKrVJBX7YlvHldwXGkryA1b3T1f9UIgoD5+XkmJiaIoojZ2dm136MowrIsLMtCKYWUEt/36XQ6lMtlgiDAcRzCMMS27bXPR1GElBLDMDh37hwjIyMYhkEURQghiOMYwzCwbftNTwKFTmL9zaz2zc9uX8briRDfn9f2HWwBXLbqxZtWsN/u9zUL4lV67b7V8b4fRqoBrlD9+vtWA1wbL+UIEvKl7atXvQKv/m76/vVUuZev0O/Wea++ttfrel72nmq+q5FHoVXXk/Ea2P8r3VO/V3uv1hrVDQ/Ll7gpSZIAYLzK9K1v9b1vd87Xi6usgv07va+vDQBXOT2a9QrLCxcI/AZh4JMkCbZboH9ogr7Bke8JCFZZ/eoIo5hWs0XYZfKlUnE1lP+azx+GESuVCr7vY5oWuVyOcqlw2RwShJDfE3A3a8usLF6kE7TQSYJlOSANLMtjaGwDlu18V+6r+c0OoFcmfK0VF84e4+L0MZ55/HFGJ0cYHugjCAJqjQZ+oMjlyvQPDLDzhjvIFfu+5RajL0+4fAUrREpJrV7nySef4PDB/SzNX6BaXSFJFLl8hjC2GBoZ54477uKeu+9GSvFtb9bq/7/+4IM88vBDnD8/RdipE3QC0JJyTw+5Qg9bd1zHffe+k02bNr4ysGqN1jq9dd1Vm75e4rNJxFOPfZ3AryGSOkqB57gI0+D0kSPUlpfYevNb6B0YZ8uOvWTzxe+CBhCvDACrN6jZWOHgsw8ydeIYpVKBgy8eZXJynI0b1xF2OtSbLdpBgpfJ0Qk65LMet73tA+SLPWvHUFqzemop5RU3I1Hp/me8hIpN/fHw9NP7+Ku/+ATLixfIZkwKnkW93sYwTXZum+DA0bNMTS+ghcGmTbv5tV//DTZt2pCaPi+zXUgh+e3f/S0+//efI+uZDPRmGenvw28HNNoddmwepdXpcODoecLY5q577uWXfvGXKRTya0K9nAGpRCGFWItifvM5V7cSsaZRnnn8n5g6cYKe/lGymZh2q00hVwTL4MhTz2DaNr3jIySxxs6UuG7PzQxPbO2e+9VzOPnKV38qOL9V5dyJ5/AbFRzXxfcDPC9DdaVKEockKkGpmCROkAKCMOLZAwc4dODZNQEmKr0xpiExjFT4zSBgudEiUQmGFKnw9UuYYUIAis/8t49zfvo4UeCT8yyyWQ+NIIwVhmEw1N9DPmvjGJL9zz3Bpz75x13B65cUvmEYHHjxWb7w+b+mt+Dh2Cae41LIu2gUSSKwLINyKUMh65DzEr76xc/xiU/8CVJK9GV5AVprhNbptUnB6cU6X3nmJPc/cZIvPX2Cg1OztOMEw5BIKUiSBK3hwtmTPPboQygBjZZP2AmIww5JEhGHAZVKFTeXxzIsYiVQScjM2UNMH9tHHAWvicCbr8yHnSKrsnSR2sIZPMciX8hTa9SpVptkcxkqldqa8JVOsAwLv+Nz9NhRXDfLwux5EqXXiNX5aoN/fOIgj714gfNxjnPzFdqNKgOGYs/6Pj583x5+6NZtCC6pbqVS4f7Fpz7Ok088QblcxLBt8lmXfNbBNAVhoNFoeooZbMskjgJcx+aBr32Z9z/+fm678541ga8C0jAMFhZm+N//11+i1erQX8qiE4VrSYoFj9n5lVTAEizTQCUxnXYH1zF56vGvsvwzP0Nv30CXHKacIAE++eBRPvsP+3nmmWn8GqAcWHgIPIPJ3du592138DPv281tOyYBODs9Ravd5uLMBYpFTd4torVCSE3U6eA6DoVyiVqtSr0dsn2wjOt6tGrLnD6yj007b8cwrdfKAb71nt9u1Tl9cB+ZnEcmmyebyZHLuKwsLuPYDlGrjt/qYNlGyqINmyNHj+K3fZIEmu0OhhScnl3gdz79MPc/epLaieNQrcH4u8BR0F5hpVnn2MOn+OwXjnDfe2/kz3/xXkZLeeIkwTQMvvaVL/C7//m3GR7pJeuYaUImGscxEUKiVIjQCsM0SJTGNkwKeYe5xQq/9r/9G/7qM/czPrnhChYdBD7/8Td/ndMnp1g3OYAUCoVGSoFlmWidoLQiTjS2JbvaTeBZJlOnTvGLv/BR/utffgbDNBHAbNPnx3/973jkb05A7QI5N0ef0wc6pOG3iJsx00+f5VNP1/jUnz7Aj33kB/iDf3MvxYxFGEW4KuH8xSl6ilvIuKC1IPA7DI32E8Yd5paWWTcxRi7jIqRAK0Ft6QIXzx5mYtOeV0UM5StZ+wALM2eo15eJo4Ao9HEch1KhQC6bJQw77NlzMxMTmxifmKTU08fJqdNUqxUKxV6Wl2vcevMePv3oi9z0L/+IT/3Rg9SOLGI0IozmHM6FOfIXG7gzVbxKDTsCaynha3/yVf7Fb/4j9TD1zc/Pnuc///b/wchwDznPJl3rijhJyBcLuK5JomKkKbAdE4HANCWWKdmxYYhqdYE/+L3fouP7V6jrv/jUx3nk4YdYN95HKWvjmAZaK3J5l96BEmGkkIYgk3HIZi3QYFkCrRSjQ3089cRDfOLjf4SUko5K+Miv/j9840/+gfXBLBuNiP7OCkONRYZbSzhxh5wIGdIGvapJpqn53B/tZ++H/5op1UdvPkOr1cIyFYeOH6bearHz+hvYsmUHdqYHw3SYmFjH+OgIhrSQaLQKqNZrnD11EF6lVfCKM4IWF2Z49Kl9DPT2ccOe3QwNDZDN5ZGW4PY77mTzrr089+QDLC8ss//wIU5OXcBxbGZnT/DOe9/JU/4AP/nvH4AzCXYQYzYqyLBBJ6iQT6YYsQZpxnN0REhHGxgEKKPJC5/9Mv/1nnX84g+9hb/81MeYmZth7+71+H4EholpSjIZh80bhjl6bJpIJWRck4znkHFsoigkShT5rEtvX5F9zzzFF77weX70x34cgIcfeYQvffEfsWyDYs5N7XzAyTiYpomONYZpULAtevIOjiUxpMQ1TaphTNYz2LRumE/86f/Fj3zwAzxzrsPXPvHbbMqNYnYa5LRFohVFM8FEsKTrZPFwwgYtLSiJDMJoceGBZ/jpTshv/tQ9xPvu5/xyjVY7YPbCHHNzy6go4fqb9rJ95x5mLkwTx21c22JhYZ5DR06ysLTInj07ieMA03JfMSF8xQBI4phyPs/pqXOcOTPDuo3j+M0Wgoh61eeBBx5k3zMHCcOYVqvNyTMXiUKfH3jfB3jc282n/8t+5FSHYiAxGj5e3MAWPlUScmqaQUOTTxapaI0VZWjGS8yIGURnnse+tJs7R+HZp/eRz7p0ghhpGnSCiIyXY2GhyuEjZ7BMSTHrcnG2QpwIEhUTxDFKafxOiGeaqDjiy1/8Au+491309vbw95//e7ROyHkOcaLQWhFq8CybStXn7Ll5ygUXISQrdZ/l5TqWlWqIIArJYmLbknarwX//7H/n2LyHiE9xtrnIenOAHrcIdOjP+BhGwlSnwXjGJlQLZJWHiCW1cJGC9EmezvJb5kZ+6ra9HHzk45yfW+a2vTsJOoeJIsXp6fNEn/kMuazLyOgojWaHpaUVCoUsmzaMYZkOQhivyqw3XykBHBpdT6PeYKi/hGFazJyfY/rcBRaXahQKGW7as5Xrdmzk4sIC02fb3LhzI+WRTTw/tcjBmf2owxly9WNkwzp5EmLRoGC2MIVGGsuMlx0a0QoDGsIk5rGVKXzVxBAOc+dP8cBDIUkUUsy4hJ0IxzPQSrFUbdKHoNbwyWUcorwL0kSoBMsymVuuk3clHT8gjBOKhTxTZ6c4cuQwd911F88/t5/1QxmCpqQThhjSIAgiLGFi2wa2aaCVRhqCJNEorcl4DiuVJpZlEEYBSRTTmy/wz/v+mYMLBgYCkdQ5p1ps6R1mOK8oZSoomVCst+kvK3SSox10OF+fYzZssytzJ4gOxw4d4a/mz3Pv9XeybdcyWUuzUu0wOTnM1k2TnDwxxRNPvYD14hQ7tm9icqyfbNZlbmaOXXvuwjCt7y4HEN1YwbqNO7j19rdz7twctXqb2fkFnn3+aJqfN1ym0agzv7BEHJrccOPtjLzzp/jySoGjZ2YQF87Rv/Ai48qjnZwmsKZx3SaZTMjOnh4ydoOWPY12F6kwy4uNAzSTixTNGFPXiI02B17YT76QRRqCMEkII0Wl0cKUgsH+IkpDoxXSbIcEnRAtNKVSjkLWY7na5uJyi04QUyrlWVmuMb+whFIJU1NnMGwbx7Fp+TELK01c12NwoEg+5xFEEWEUEyeKJNYI0orhKE5IEmi1E5QWZFyTKGgRdOo4pqLHiDFVi+eXz3C4NksoF5noXWHbSMDOzXWEs8iJ5imOhUe5vb/EoNNhuvMo9YUv0Fyc5q8fnuEZ9z1kezaSyeQ5cOgkTz71LEEY0DfQw4HDx3l833OcOjnN9Ll5tu/Zy+6b7vhOPIHf1gvArXfex8DAEIcP7aflK3bv2s746ACFQg7HzTA0NsItN+2hGis+9LlzNBsm69Zt5+KLTzLfOoZ0rmPC1CypGZQFEsHm7DBnqLO/VkFowXyrTRAoiqaFrTtEmQxjGzdx4pHPc+fN25mdu0ArUizWahSLBUZHhoiUQduPaLc7+K0Y0zRwXA9Ek5GhHjzXYn6hRstvkcnnmVusYMjUXPM7LSq1FtJILYqtm8aYmBhCaDCkIAhjwlDjOQa5Yh7LsgjCkJVag4VKmhTqeAZeNkenXsca3o23UkGc3s9o0SZQiqYlOdIyOdrUGLZiJpCcbtU458dMFnK0jGUeWTqJn/g4cpL+vh4yCw1qT0xzw2+8nfvuXMfDjz3H/NwSHb9KpjBKsTSEkzG45aYbuXnvrYyOb8Zxsq86PvCKASCEQBgmY5ObmVy3kbff+wO0Gg2SJEYaJghJkgiKxSyFapUb5mY4dGQOa7KJrT3aaC4G+1gSFkXLAqmIcw4H7Wkybg4zTlBSMFb0WK4EVKtN2mjGd91KW3icn5nBtG7EtRyajTYb1w2xY9sWkgSiOMJzXdAKv93By3jkiyUuzizS9iMGegsM92ZZqjTpxBZLi0v09vUghKSvp4cDh07wkR+9m5nz0/T296YtArTC81y0loRRjGGmjqFOyydRUC7nyWZdjp+ZodUKGB8Z5/SJs/hZSe9dH6S5PE3Dr9A3MUDGc/ENAUqh0Rz1TTKDHhtUlZVKm5O1JiYwZuVoCcHWzQXecf0U+czT7N3+TkyvxJ133kq1Vse1DJqtDo5nMzjQh2l5xJFGWA6GaXzvNACA42ZoN+rEKkQaNvly76UUUq1I4ji9OT1lfvrmaV6oPEJjYgtfXBYkywLTytAJO3R0QrmQJ1vIUS7lSJIYOjFIQb5gIUUDrUKKO27hwumTlK97C5HSvHD4JNfv3Ipz7gQ7No3TaftYrodjG9iWiVHIMzezSBhE5PJ5clmXoBMQJzE6Drlhz/X8zZeexstmKRQKgGZkZIjHH3+SWlMzMjrMwkodx/HoLXkUCjn8TpDOT0Aul2NxaYlOJ0ArGOwrkUSa6elZ8oUyR09/g4ldA5x/9nm2vePHaBz7KkbUIJvNYhiaME6wDEEpl6UdhHRCaAbLDAlF3nGo1JuU7ngbt980yca8TWlkK7neAaIgwDAtBgb6AEGpV4CGOBbEcYgWklzee01BoVcVz7RsG9NaZZpp1wzVfWkNCIkQGsNw2Xbnzdz2/vXcuivP2973Vjq6TRj5mKZJoZQlW8jieA6ZjMvQYC/9fSUKOY+enMXo2BAb7343s2cu0pw/QyuSTKzbyMPfeJKJ9VvZs2snczML+EFAlCRIw2DL5kk2b1yP4xq4nsveW27CNC18v4MKEyY3b+Ebzx5j+uw5BvrKhEFIHCd0woBMxuMvP/cVDLtETzFHvdmm2miza8dWJsZGMU2DXD7HwMgocRQSRSGu4xAGMTIJuPuet/Dc4VNoDZnyOPVTz3Do65+neN0PU9i4h8FihoGeMuVymXy+SCZXwLJdTCeLkXFYDmLO1Vtk997LW3/2Fxl2NYXBG8j3XI9lumvBpCiKUYkijmLiuBuJlBJpmDiO+x2khL3SD0vZDUNKBHLN7Zn+lN2gjgQVUxq8nr7NP0Ss89x2y02885d/C+FlCOMQzxRkPZecazE+2sP6DUNsGuth09ggm+9+P8bNH+LpfSeozc2AECxeXKZvbCe5rMPH/+yvWb/1RtZt2oRA0aq3abQ6DA4PsmP3HhIgly/TNzBBs92mWCowNjHJQ08c4YFHn6avv49qrZlG55RiZmaBXCFPs9ngDz/5t1RbsG5slCSB0bF1bNy0g1zGZGLdRnbuvolGO6TtB4SdAB1HXH/jDUzPN3numf1M7LiRxmKMMCXt2jz7/u5veX4uw5HR+/Czw+SyWUb7exjqyeNYEtsSDPX18ZY7386eX/h9hn/544wYbarVDnZ+mHLvGFIYaUAJgWGYSGkipYWU1pqNZloW5qt0Ab+mLQDA8Tw6rRpoiSDpegr1FXRRqQTPy6CtAdqqiFi+wO0f/ldkdtzKzMN/T2bpFH0ZSU8+w8D6UXKlYZZHitRyI8xtfQsH7v8sUaOJ4dgkHR9naorliV7GrruNY089zP/0K7/JdTu3cv32cUb6y2TyLtlsgcl1W/Acj7HREXpKIxRLPbx4aIrPf/FpGu2AXK7AwnKVWrWG7dhESUynE1CpVCiWyuTzGe7/x2+wbfMYt928jTAKMcw0FjE+PozSGsfJMDkxgU4S5isN/vL+hzh85BSDExMYxe2IE8fQbR8pJSoJaNZCDuz5V5zwZymdf5Fy9SI9pkk4FtMcshnadSeVwW2c1gb32G2yF6bwQ0GQ2BSKPal2FRKBRq5lb4m1hacB28285pyAVw8A18VyXEK/mUbBVNK1EVLhawRagOd6LFeaKOlid2qo5TkY30HxI9ehmhVqfpUgCDgdQV1ZRIO9OFmXILLwlQBDonVKarZ4Z2gLEPkN/PzPb+TQsTNMTR3nmedeZHykn+1b11OphFjyAU5PLXD2L+7nD/740xw9Pg3CZPuu3ZR7e3nyiSeoVRsg0nyCJI5JkhgB+B2fG266nuHBQZ5/7gX+2988zKNPvMiG9cMY0uUf/uGrPPjg45y/uMDiUo0TU+epNToMj47wgQ+9H8Md4eTUPLv7znFYtcC0QYHI94Gy8LOT+DvWMdtqQRykutdyOGLYMN+k5AgGvAYF3aGTyxMESRr/kAZSpy7vS4QcpBAorTBsl0wm991ICPk2AaHuS6AplnqoJIoo7GAYBkKrbkmhRGpFGPgs15ZI4phSbz9Zt8j8yjIql+diWxFYLsobo5RV6CShqTVNLQibMU07geIIUmlQaah4eINB0/C4cP4cQ6N3Iu0CGzet5+KFi5w5fZbHnz7MAw8/Q6IUjutiGiaFcpGtO3czMjqM63rUajWiOAYt1tK9ojAiiZMudxFpkMcwuX7PdbQabWZmL/KNp4/T7oSEYQetFK7j4mYyjI1NsHdyknJPmZGRYU4cPMn6osn23QV4qA0UECqC3g3otomI62AaqZPKtFKdGSqkitBCM2ka9M3PsnPXRmYXM0ydPoGUko0bNlEqlrFMO41IdquWw1hhWjbFct9aPsH3BgBKoVWSRs+6ETTDMOgbHKJWreA3GwhpINC0Wg2mp6c5e3aKtt9CGILhwRFsw8CemqMzvI65WNEMI4RIWBQaS2j8WBEomQq800F7Y2Dlke0ltAavZyubh4bRjdNEsSCKQuJI0dfbT2+5lziK6EQBYZiWiXueh2WaaA2JSoiiCKUVQsu1rCPDMAijiDgJEUKBFtgy7QvQCSMsz2bjls2s37QRv9MhiUJAYDsWjuNhGiZCppHPTifGMpvcetN6dt+8E/g8Ku6A7IfsDbDsI0yNNhSg0OJSFl5CghELbmo22D00Q7Y0waTnEUURp04eYW5ujh07djI8NIxtuyRKE8QKz/MolHoxDIMkjruJJcarLlH7lgDQcYxKYpS+NGHZbZKgkoRsJotl2UxPn+bZZ57i4nxaUiWVpt1qMz4+yIXzp7Fdlw1CUJ/awD6zjyiTIIQiNNIZiEghY4XSEr2gkIdcvMgkMpoIw+B9P/xjCBVzauoYpkhDtKkAQ5IoBqUxTRvDTCuAkiTp9hLqElMpkEJ2+0FphBRYpkUYhqkGQCMkCMsEAYYh0VoTBiFKp5lJlumg0EAaDhaAZRiYpok0BLEw2bhrN3e89Qf5F+++mYP7X6S27OPsrzBXb6KGJeRFescloECH4DUU76bCh24/hh4OOHL0MK1mDcfOUK/5LK1Mc+7COYaGRti1aw8DAyMUimUK+RxxHKGVwrSsbrpZjGlZCGl85wDQcUwchVfElISU3X0/tfk1YFlpsuTo2DiGZRCFIagYCZhSc+7CObIYFIdKvK/xGPY/b+GvauPMlzxwJdgCHWr0coI932HHxZO8u+/LPFw+QVwe4Z33vYsffM97U1u9bWAaImXFQmAg0FKsNelYNUellOmWJLtpWhpMy8SyJaqlkSIVnFIKxGp5pMBx7PT7QqJ0N+lUK1Si0xwHeencQkqEITGkgTAk9VZIb/8oxVI/H/mpj/Kl0qdoLpzhtuKfc+jwMfafuo55e5B2xgFDkFcRG8wqbx2Z4r0/XENsG+PCXIE4vMDyygrDQxl27N6JZVokicIwTQyZOpOy2QyJUqkGSZJUowmDWCVpQq7jpgv1NQNAJcRRin7R3XPEKvsQAhWnWsE0DS7OnOf8ubNs2bSJ7Vs20Ww0WF5ZolGrUKlWyGTzuI5JLjeANwb/49BzXP/Vx3j0QD/nmkV8JZFxhyE9y00TJ7jpQ2fovXkE56n7qLTyvONdHwBMHNeh3fGJowTLtLCEJJIS3c25E5cHQJQAQ6d9D0jJkm1Z5PM5FucWKPf0UiwWaDYbWJaN77dxXQfXdVNQrCVMXhZUlSnrXgOASNPWTCsFkmNZ9JSKJFGHPXvvouFHzJ4/yLoNLW75oQMEZw+wOC2pVSykZVEsa4a2WgzduI649xZiNjGozrM4fwHHcdE6IZvNMDE2SS6bI1GKRquNtIwugVVpoxJScErTQJAS20D7uF7mFdUPvCQAVJykwr8qBXz1fQoMTRxHLM7Pcvz4EU4dP0ahmGFocIx22+fFw4fTfVJpDCEpFkvYXg+LyuPWn1tk7+wR2rMvoAMfaUmskoEq9dI0bufEXIZC/zIbdg5TLvdTq1awTAPXNqnW6ziZTFe1GwgRo6Xs9jhKEyO1UMjVqjckUhpEcYQEHMfippv3kM1miKKITZs2cuTIYSxLkiQJjutCHCERJFqjdar4hZSpGdZFhBACUxoYtk2n4+NZBj3lElEY0qitsGXzFlDw4tQMw4Pb2P22MrcPC4iqqESgzCLKXs/coknrok+pVCNb7GNwcJQo6OC3W5w4foxWs41jSkzLphMl9PQN0tMzgGkYKL3arUanHEem2i7pLmDLcb5tWNh8KdKXAl5cSsjUGn1Zz5zubSaOYoQ0yOcKzM5c5PTUSQYH5tm2czeLSytkMx59fQMMj28GTBbnzxGHMVG0jnVb30puY5V6bZ66HzA7W+Hsc/O0G8tI5nEzLs3GMtNnTlLu6SWbzSG0ZqWyzHihgDZSbSSE6BpIAiH0FaZS2vhCIaVJHEWEUYhlWxQLOeI4JpPxWLdunJOnT6bkKgzI5rLpMYVGSxBKrC0CIUB3+YTsBpMc06RaqaDihGyuQBBG1FaWOHX6KEli0GnVOXxogZmLDbxMjomJSdZv3EQ+X2Zm6iytxgyGFMzMVLAdh3L/EGGiOHt2mk7bp1qrc376FLaT+gX6B0ZS07u7z2shLlV1akALJOk2rRP1bXsamy8b+JGyG7xYS9pfK8aQhoGKU8ugVCpR7uklUTHZXJ4ojGg26mzavAXHcSmWevBcl2azThzFZDJZchmLysIyK8tLPP/iCywtLeE6Jo1GBa0EQ/0DhFGLudkVcpk8zXqNcm+Jnt5eqpUa6zYY6R4sRMqotLrU9bWr8vVlGcUCmbpPE0Wr3WLHtu0IAaYheMc73s6Xv/YAjusQR4okTjul6W6zLCHEquVIIsDsmoxSCEzTJJ/PM3vhIqWeHgzDoNlq4vstlpYWaTRaOI5LJlsGoZiZO02ifHr6ioSxTxA2yeXy+O02SoU0GjWCTodiXz/rDZcoikiSiOHRCVzPY3R0nL6+ge78urDXVxamXKo5kK+okdXLAsAQBspIC0B0V7WiNUkcIw0D07BRpqaQK7NucgP5XIFarUqz1aATdujrG8A2bXL5AtmMi2GaOD0e2VyRfC5HtbbC+vWj9PfnWVlZIgx9qpUqpmnTarU4P3t+zTYXQrIwP8fd99zNX336bzh88BBjE2O0mu1U7Yu0vlWpy3SUuHQtWqWma5zE3PKWW3nPe97FuTOnEVLwoQ+8n0OHD/HZv7m/m/mUXJZPs0owLyOXl7nFtVYcPXwE13V5+9vuobKyTJQoYqWxLBspfTKey4YNG9i6dSu2nSGMEuIoph0GbN22kygIqdcqdDo+URQQxzG2adPT20sQJRQKBTzHRgiJm8mSy+a7yaepj0QaEtOw1gpfDEMi6C7gV5YSdlXuWJfoCUmqSrS45Oy9DFBCShzXQ0qJ43n09PbTaNRpNuokKkZ3U8AzmWx68+MYy7JxXY8oDjk9dZqRgT76+4rkPYtYwZw1w8zsBYKgg2VaxFFErBPm5i7QbjeYmBjhhz/wHva/cJiw42MYsisc3V3tqbo2hECsvkWDUIRRxN69N/JzP/0RGvUqlZUFCoUSHd/n3/4vv8LI0DCPPvkUCL1mVaRFK6C0WKvoWb1VpmkRhjFBEHD3XbfS21vgwoVzeJk8juMihMC2LaIooN6oU681yOYEYRR3Yycmju1hWw6245LE8dqKXzVz40RQLOTJ5/NIaaTzMY01LnJ5MYruOulW//atClK+tQZY7YnXLW64tK+KK6vIUmqM7XkYlk0YdFBd5KeOoxSdjm0jpEhNGWlg2TaqlRAEPt944gn6enK4jsvI6DqOHD9GZbmCbdlESUQ2X6JY7qPRrGJiEHYidm3fwsjQAC8ePEanvYzj2iR+jEpSEAil0EojDBOjy5iXl5fZsnmS++69Bx1Dq9nAMCXV6gqtVot2u82HP/h+oqjNl776CDt37qQThGhi4iQ1raQUSMPAMAxMyyKKY8bHhrl+150UcxmqlVpazVStYjo22VIvjWabVqPJuJ3jyNHjtNo1coUipmnR3z/G2Ngktu1gmGZXwaZgNg0DQ0qSRGM7Nq7jYdnWVU6eVCMr1b3urpZOV38XGPK1JoWu9gu4ukT5JUvIBIYlsbTCSxSmaayZUlKm+6RhmKgkSZHZvYm9Pb1UaxVm5hdptRrkiv0srVRp1Jt4GZdCuZd16zZhmzaxitKLURB0Qvp6ern99ht56ol9PLHvBcp9fTiWhYoVQnZtfK2oLC8xO3MRzzUZvHUn9VoDKSS2aaFijSIm6qa5z8xdpJh36TRWeP7ZZ9i2ZQPSMukpF7Esh04QUK83UHFEdXmRu+68ldtuuZkkjuh0QtAGiYroBAFGaFIq9iKlTb26gmO7nDl9kijs0Gz69Az0UyyVMAwDwzDXilR01/Iyul1PTVL/xdqDK6667wiQhriyt+ea/F6VI0jzkkWir6JfkGlaCE9gxRaq6zpOlYmBYZporUmSGK0VlmUzNDhKu9XCczI0mw3qtTrDoxOUen2yXp6+nl4czyNOYkgEidJYtkGhWAIE1WqFsdEBdm7q4/TJaQpDA1Sbdd5x732Ue/r4y7/4U1ptH0nE5OQmWu02cRRgWg5xF4yr9kwUtgnjiFqtzlv27mR2bhkZ1BnqHeRHfvQDPPTg16g3fWrzs6g4YrhvkMmJUbxsmTDw0bTpBJ10K+rWBAopyWY9ekobSKKIdevWg0pwMnkGh0fo6e2/olRttdx8tTfR6t9Mw/wWEhBXaeTXEgvokqjvvNNAt17eMpFaopVeY+Fr1oM0UApM06Sntw+lFQsLc7T8Nn7Lx7EcbNslk8nguA6maWFbNrZl4zoOuWyeXKGA7/sks4pmo8PkxHrCMGRq6gymafD0448ghMHMxXmy+Rwqjgg6HQzTSusGZYyiy5JFauHESUySJJiWgwZGhgY4dXwKP+zwZ5/8GGdOnydfzNJoNDAk6AQqK3XyN5SJ4xxR2CHs+PgdnzAK0sRRKdFJ6oDq6e3rNp8KMS2PTDZDJptPBX3Zni2lxDTNtX1dCrmWu/i9Gt/FVrHp3iOVTEPCUl9ZMNkNIsmu2pMyTdzsHxyi0wmoVyvUqxUSrbAsC9t2sK20OAOREkrLcnE9F9NKWW+tXuHUyRM0GzXyuQILS1VOTx2ht6fA2NgoWzdv4LrrdjJ9cRbHdYniBNu0ECIGYaBllyxqTRzHlEpFTocxp06dZnx8BNc1mTp9Dj8I8BdTt/i977yDcrGXoaEBXM9FJw6R4+B5OfJJQqxjpJBdL6TGsR1KpTLZXK7rW+lGTQ1jTeWvmt2r8X7dDRcI2dUKQr6eAHiNPYJENyWMlDxqNGiBvupwsptcapgWluMSxzFhGOC5HsVCkagbdTNME7P7AolCYRkmlmXh2DYDvQOYWpB1LN56271s2LyRv7v/82zdEuI5LrWGz8JSBdOyCIKQQtnCMo01Zrzq4Nakdfu5bI44iJgcn6SnlOOmm29Ca7DlN7BsgzCM8f2A4aExRsfGyBfLZDI5kjjBUqkGWS13Nw1zjQM5jkPG88hkMpiGtaYtV3sM6m7bF31ZjwS5Zs/L1P8vv9ca4Ju2gdfaKKo72a5JstqD8mrikmoLsLr73aqKM0yDOIq7DSDS/U8aBsZl0S0pJRrN2PgG7n7HfRw/9iLL83McfOEFpi8sECSacqkHaTpkMy7nZxbIl/ooFHvIuF4XUKt9CFIhOHaG3r4Benv6aTebZPJ5jhw+RqPVZrbSwvM84lgTRJoz0+colHrZdv1GzC6B09pGqRQA8jLTzDQNbMvCtGykNK/wzQvDSB063cYRXYP10lpaPc73uCeReWW7l+/SyVYJlngFvMEwsR2xZjEkcZr4uOrKNbqeR2kYoNMmColK6B3o5+z0KVp+TKAF84sVdu/ZTbl3ENtxyGZyFEtlspkclmkRxQFCXTqu7rq6DZn6KkrlMrlcjunz02hppomvZoO7Nm7Fcb01klbIFdmxYzc95d7LyJvo9jkQV+7fprGmtV4yaWPVa8f/d6PbI0hc6hC3GgZ7naelu4JVSYJKug9iuNytmXYK6DZ0SLXE4tICc/Nz+H6L8xfP02o2kUKSyRfo6xukvy8NmrRaLTqBn6Z3A4ZI1bRjO5i2hW2nDqpsNkcYdIiiiOWVJeZmZ1iuVtK4gZehv3+IgcERCqUSrut2kzUvhclX4wNSyNSWN1PtZXRN3zfE0C8HgDXBv4yp8TqBQHWfwqEuy0Ba83GnDGMt8VQrTScMaLWa+G0fv9MmASzTxnZcTCON8IVBRBQFKJ10hSMxTQPTsLDs1MowLavrgbOI4wjfb+P7Hdp+m0TFmIaNaZo4XgbHcVPHkFhNNrkUIkZKjC57l0b6M93m5BtM+N02fjpRl1rFviQIxOs6Q61U+uoWm1xSSJeif5eXP2mtiZOIOE7S4k3UWhxfaY1KktSlnKRby5qz05CYholpmFimgWXZqY+9ew69+t2kC0YuPWNQXdGiTXSJ26U9W4pLWsGQxvesndx3BwAq0WvhLiFef5m/ZA7qpWcXaa7sibeamHJlsEOvPcxBKY3SyZofYjUvUCXJZcke+rKkDiPVBqa1psIvJ1+XRxV1N8qoruoSrteyoi91/pJr28Ib5RGz3VVxxeMAVgHwUu4k8QaB6yX76LLctJcnrVqrNQFd/vSP1GeuLrlcRcoq1rxvUl5i6S+rrnUXEGrN67cK0iunt7o9yDeO8Fdn900cIFGaKwI+4g0CgO/CdnIZCODyjmOr6WJcavQoXt1Fr7Zyfan2tOIN1XL/KnjqK23zSxyAq1cX13pGv5YV9oacG5ep/ysBIF9W+JeDR18T8bd3g74ZpyqucgXrb86ouTa+38B55TOh5Ld1NV57fMD3NTD+XzRCsKtleXbUAAAAAElFTkSuQmCC

iVBORw0KGgoAAAANSUhEUgAAAIAAAABOCAYAAADo3B4PAAAvXklEQVR42u29eZRk113n+bn37bFH7nvWvpdUWkqyNku2ZWFjtzE2Bg/NAQ80TPsMHKCZhYbT9NBDA900nAOD8dhgGnA3tkFgxuBV1motJbRVqfYtq7KW3DNjjxdvu3f+eJFZiyVbkm2N5Kl7TpzMyIx47773+97f/f7WJ7TWmmvj/7dDXrsF1wBwbVwDwLVxDQDXxjUAXBvXAHBtXAPAtXENANfGNQBcG9cAcG1cA8C18f0+zDf7BegkAQ2I9L2QEoS46kMarVT6OXT6GfnN2NdKgVJrBxNG91hXfR8hEIbxfQEA8aYNBmn9zYJeHUpdEvDlv7/cZ77F8XSSvLSwV2/by83hmgZ4fYRff+Ahms88i+4EeDu3U3rfe5Gem35Ga5CSaHGJ+le+RnD2HEY+R+7uO8nesOdKIQpB4+l/pvX4U+hWG2tyguK778Ma6CdeqVD90lcIz0wjPZfsW24hf+ft3x6I1zTA90j4QFypMv0//xL1r36dpNFICU3GI7Pneib/9GN4WzYDUP3qA1z4lX9LeHYaFQQIw8DoKdP/r3+WkX/3q6km0Jrzv/rvWP70X6NqdXSSIG0bd9cOen/if2Dlc/fjv3AAFYYIKZGFPOUf/SATv/+7SNteA9A1ALwe8lcKIQRnfuajrHz2b7GHh8i//W6E69J4+DHC6XN4e65j24NfpnPyJCd+8IdRjSbujm1krttFeGGG9rPPkdTqjP6X32Hwoz/Lxd/8j8z/pz/A6CmTvXUv1uAAzX9+jujsNMhUsNboKLnbbiFeXqH51NPES0sM/tLPM/bb/yGdk3yT8mn9JhoqSbTWWreee0G/MLhO7x/frFf+7h/W/t984YA+eN1e/axb1tWvPKAXPvnn+hkzr4/9wPt0uLi0doxzv/Ef9POlIX341rfqcGFRH775Dv18eURf/J3fWztW59x5feSt79T7RzboQze8RfunT6/9b/aP/kS/MDipD2zYoTvT59I/duf2ZhtvLtiqVFm1Dh0mqdXwrttF+QM/hE4SdBiS3XMdxbe/DR0nrPzt35O/+06EbdH3Ex/G6utF+R2ElAz+65/FHBggOH6SzrFj5O64DeG5DP7CR9PTdDo442P0/cSHiZeWccbHcDdsQMcxaM3Az/009tgoyUqF4OTp1YX05vQDqDhKL0wloNUl8sQb94KEYaQMPggvvTdTPps0GxjFPM1HHkNkMmT33kxcqV4yEQEdBF3zUVP9py9Teu+7kZnM2j4uTBO0RmazICU6ikCp9DxCIJRCum7XNFRvckeQ6gpcXS74VeG/sUAguvtxds/1mKUS/pGjzP3hx9BRhJCSyhe+SP3rD2OWSkQLizQefpTen/xx5v/wY/jHTyAcm6ReZ/Z3fg/VbGGUitS+8gD2+DjOlk0ov3PZycSlqxfiSpOx6xu45gh63eEq0Urh7dxOz4//KAsf+7+Z/0+/T+0fv4i0HdoHD6N8H6NURHouK/d/nsk//H1mfu3fc+p9H8LdvZN4bp7g2HFwHIRtE06fxz9yhNJ7341q1KG35yrUvQzDfxMz/ytuqRACgVjzpMEb+8KEEKA0Y7/17xn46M+hhaDx5NPUH3mUpN2m+L73MPHJP0Z4Ho1HHydcXqb4wffjT52h9k9fpr3/RchlGfud/5PiB99PUquw8rm/I//Od4CXWdvLtdYQxyS+jwrDru9IXfp/GKZbiXpzawKhwlAL0QXAKqqF4DJEvAFNl0vTC48dp7X/RZIwJLt9G97emwDoHDuOozRicoLEkMRPPY0/fR7lufTc81YYHIB2G//YCaTn4mzb+k3AVysV4nPnkYUC5oZ1V5ii/rHjaN/H3bwJo1B40zqEpPimSYs35P5/9RS10qAUi329TN2wm76f/Jf4u3bw4Ne/ztLCAva2rewLOxw4M4XhujzuOVTe+y4KP/YjPHD0CFopHt+/n8bmDfjrJmn7PidOnODAgQMEYciFCxeICnmejkOm7dQV/Nhjj3Hq1CmElGR2bCd7042p8N/ELmGZBjcuX/1XA+GNqgRSN+/hZ5+lM7+IjmOOP/88F2dmqNRq1JZX+MyffYoDzz2H1pozBw7gBQEnDx/m9JEjCClp1evkhMGZI0eIoogoiiiXy8zPzdFsNlmam2Pq4EEWps+htWbfvn0cOnSIarVKrVJBX7YlvHldwXGkryA1b3T1f9UIgoD5+XkmJiaIoojZ2dm136MowrIsLMtCKYWUEt/36XQ6lMtlgiDAcRzCMMS27bXPR1GElBLDMDh37hwjIyMYhkEURQghiOMYwzCwbftNTwKFTmL9zaz2zc9uX8briRDfn9f2HWwBXLbqxZtWsN/u9zUL4lV67b7V8b4fRqoBrlD9+vtWA1wbL+UIEvKl7atXvQKv/m76/vVUuZev0O/Wea++ttfrel72nmq+q5FHoVXXk/Ea2P8r3VO/V3uv1hrVDQ/Ll7gpSZIAYLzK9K1v9b1vd87Xi6usgv07va+vDQBXOT2a9QrLCxcI/AZh4JMkCbZboH9ogr7Bke8JCFZZ/eoIo5hWs0XYZfKlUnE1lP+azx+GESuVCr7vY5oWuVyOcqlw2RwShJDfE3A3a8usLF6kE7TQSYJlOSANLMtjaGwDlu18V+6r+c0OoFcmfK0VF84e4+L0MZ55/HFGJ0cYHugjCAJqjQZ+oMjlyvQPDLDzhjvIFfu+5RajL0+4fAUrREpJrV7nySef4PDB/SzNX6BaXSFJFLl8hjC2GBoZ54477uKeu+9GSvFtb9bq/7/+4IM88vBDnD8/RdipE3QC0JJyTw+5Qg9bd1zHffe+k02bNr4ysGqN1jq9dd1Vm75e4rNJxFOPfZ3AryGSOkqB57gI0+D0kSPUlpfYevNb6B0YZ8uOvWTzxe+CBhCvDACrN6jZWOHgsw8ydeIYpVKBgy8eZXJynI0b1xF2OtSbLdpBgpfJ0Qk65LMet73tA+SLPWvHUFqzemop5RU3I1Hp/me8hIpN/fHw9NP7+Ku/+ATLixfIZkwKnkW93sYwTXZum+DA0bNMTS+ghcGmTbv5tV//DTZt2pCaPi+zXUgh+e3f/S0+//efI+uZDPRmGenvw28HNNoddmwepdXpcODoecLY5q577uWXfvGXKRTya0K9nAGpRCGFWItifvM5V7cSsaZRnnn8n5g6cYKe/lGymZh2q00hVwTL4MhTz2DaNr3jIySxxs6UuG7PzQxPbO2e+9VzOPnKV38qOL9V5dyJ5/AbFRzXxfcDPC9DdaVKEockKkGpmCROkAKCMOLZAwc4dODZNQEmKr0xpiExjFT4zSBgudEiUQmGFKnw9UuYYUIAis/8t49zfvo4UeCT8yyyWQ+NIIwVhmEw1N9DPmvjGJL9zz3Bpz75x13B65cUvmEYHHjxWb7w+b+mt+Dh2Cae41LIu2gUSSKwLINyKUMh65DzEr76xc/xiU/8CVJK9GV5AVprhNbptUnB6cU6X3nmJPc/cZIvPX2Cg1OztOMEw5BIKUiSBK3hwtmTPPboQygBjZZP2AmIww5JEhGHAZVKFTeXxzIsYiVQScjM2UNMH9tHHAWvicCbr8yHnSKrsnSR2sIZPMciX8hTa9SpVptkcxkqldqa8JVOsAwLv+Nz9NhRXDfLwux5EqXXiNX5aoN/fOIgj714gfNxjnPzFdqNKgOGYs/6Pj583x5+6NZtCC6pbqVS4f7Fpz7Ok088QblcxLBt8lmXfNbBNAVhoNFoeooZbMskjgJcx+aBr32Z9z/+fm678541ga8C0jAMFhZm+N//11+i1erQX8qiE4VrSYoFj9n5lVTAEizTQCUxnXYH1zF56vGvsvwzP0Nv30CXHKacIAE++eBRPvsP+3nmmWn8GqAcWHgIPIPJ3du592138DPv281tOyYBODs9Ravd5uLMBYpFTd4torVCSE3U6eA6DoVyiVqtSr0dsn2wjOt6tGrLnD6yj007b8cwrdfKAb71nt9u1Tl9cB+ZnEcmmyebyZHLuKwsLuPYDlGrjt/qYNlGyqINmyNHj+K3fZIEmu0OhhScnl3gdz79MPc/epLaieNQrcH4u8BR0F5hpVnn2MOn+OwXjnDfe2/kz3/xXkZLeeIkwTQMvvaVL/C7//m3GR7pJeuYaUImGscxEUKiVIjQCsM0SJTGNkwKeYe5xQq/9r/9G/7qM/czPrnhChYdBD7/8Td/ndMnp1g3OYAUCoVGSoFlmWidoLQiTjS2JbvaTeBZJlOnTvGLv/BR/utffgbDNBHAbNPnx3/973jkb05A7QI5N0ef0wc6pOG3iJsx00+f5VNP1/jUnz7Aj33kB/iDf3MvxYxFGEW4KuH8xSl6ilvIuKC1IPA7DI32E8Yd5paWWTcxRi7jIqRAK0Ft6QIXzx5mYtOeV0UM5StZ+wALM2eo15eJo4Ao9HEch1KhQC6bJQw77NlzMxMTmxifmKTU08fJqdNUqxUKxV6Wl2vcevMePv3oi9z0L/+IT/3Rg9SOLGI0IozmHM6FOfIXG7gzVbxKDTsCaynha3/yVf7Fb/4j9TD1zc/Pnuc///b/wchwDznPJl3rijhJyBcLuK5JomKkKbAdE4HANCWWKdmxYYhqdYE/+L3fouP7V6jrv/jUx3nk4YdYN95HKWvjmAZaK3J5l96BEmGkkIYgk3HIZi3QYFkCrRSjQ3089cRDfOLjf4SUko5K+Miv/j9840/+gfXBLBuNiP7OCkONRYZbSzhxh5wIGdIGvapJpqn53B/tZ++H/5op1UdvPkOr1cIyFYeOH6bearHz+hvYsmUHdqYHw3SYmFjH+OgIhrSQaLQKqNZrnD11EF6lVfCKM4IWF2Z49Kl9DPT2ccOe3QwNDZDN5ZGW4PY77mTzrr089+QDLC8ss//wIU5OXcBxbGZnT/DOe9/JU/4AP/nvH4AzCXYQYzYqyLBBJ6iQT6YYsQZpxnN0REhHGxgEKKPJC5/9Mv/1nnX84g+9hb/81MeYmZth7+71+H4EholpSjIZh80bhjl6bJpIJWRck4znkHFsoigkShT5rEtvX5F9zzzFF77weX70x34cgIcfeYQvffEfsWyDYs5N7XzAyTiYpomONYZpULAtevIOjiUxpMQ1TaphTNYz2LRumE/86f/Fj3zwAzxzrsPXPvHbbMqNYnYa5LRFohVFM8FEsKTrZPFwwgYtLSiJDMJoceGBZ/jpTshv/tQ9xPvu5/xyjVY7YPbCHHNzy6go4fqb9rJ95x5mLkwTx21c22JhYZ5DR06ysLTInj07ieMA03JfMSF8xQBI4phyPs/pqXOcOTPDuo3j+M0Wgoh61eeBBx5k3zMHCcOYVqvNyTMXiUKfH3jfB3jc282n/8t+5FSHYiAxGj5e3MAWPlUScmqaQUOTTxapaI0VZWjGS8yIGURnnse+tJs7R+HZp/eRz7p0ghhpGnSCiIyXY2GhyuEjZ7BMSTHrcnG2QpwIEhUTxDFKafxOiGeaqDjiy1/8Au+491309vbw95//e7ROyHkOcaLQWhFq8CybStXn7Ll5ygUXISQrdZ/l5TqWlWqIIArJYmLbknarwX//7H/n2LyHiE9xtrnIenOAHrcIdOjP+BhGwlSnwXjGJlQLZJWHiCW1cJGC9EmezvJb5kZ+6ra9HHzk45yfW+a2vTsJOoeJIsXp6fNEn/kMuazLyOgojWaHpaUVCoUsmzaMYZkOQhivyqw3XykBHBpdT6PeYKi/hGFazJyfY/rcBRaXahQKGW7as5Xrdmzk4sIC02fb3LhzI+WRTTw/tcjBmf2owxly9WNkwzp5EmLRoGC2MIVGGsuMlx0a0QoDGsIk5rGVKXzVxBAOc+dP8cBDIUkUUsy4hJ0IxzPQSrFUbdKHoNbwyWUcorwL0kSoBMsymVuuk3clHT8gjBOKhTxTZ6c4cuQwd911F88/t5/1QxmCpqQThhjSIAgiLGFi2wa2aaCVRhqCJNEorcl4DiuVJpZlEEYBSRTTmy/wz/v+mYMLBgYCkdQ5p1ps6R1mOK8oZSoomVCst+kvK3SSox10OF+fYzZssytzJ4gOxw4d4a/mz3Pv9XeybdcyWUuzUu0wOTnM1k2TnDwxxRNPvYD14hQ7tm9icqyfbNZlbmaOXXvuwjCt7y4HEN1YwbqNO7j19rdz7twctXqb2fkFnn3+aJqfN1ym0agzv7BEHJrccOPtjLzzp/jySoGjZ2YQF87Rv/Ai48qjnZwmsKZx3SaZTMjOnh4ydoOWPY12F6kwy4uNAzSTixTNGFPXiI02B17YT76QRRqCMEkII0Wl0cKUgsH+IkpDoxXSbIcEnRAtNKVSjkLWY7na5uJyi04QUyrlWVmuMb+whFIJU1NnMGwbx7Fp+TELK01c12NwoEg+5xFEEWEUEyeKJNYI0orhKE5IEmi1E5QWZFyTKGgRdOo4pqLHiDFVi+eXz3C4NksoF5noXWHbSMDOzXWEs8iJ5imOhUe5vb/EoNNhuvMo9YUv0Fyc5q8fnuEZ9z1kezaSyeQ5cOgkTz71LEEY0DfQw4HDx3l833OcOjnN9Ll5tu/Zy+6b7vhOPIHf1gvArXfex8DAEIcP7aflK3bv2s746ACFQg7HzTA0NsItN+2hGis+9LlzNBsm69Zt5+KLTzLfOoZ0rmPC1CypGZQFEsHm7DBnqLO/VkFowXyrTRAoiqaFrTtEmQxjGzdx4pHPc+fN25mdu0ArUizWahSLBUZHhoiUQduPaLc7+K0Y0zRwXA9Ek5GhHjzXYn6hRstvkcnnmVusYMjUXPM7LSq1FtJILYqtm8aYmBhCaDCkIAhjwlDjOQa5Yh7LsgjCkJVag4VKmhTqeAZeNkenXsca3o23UkGc3s9o0SZQiqYlOdIyOdrUGLZiJpCcbtU458dMFnK0jGUeWTqJn/g4cpL+vh4yCw1qT0xzw2+8nfvuXMfDjz3H/NwSHb9KpjBKsTSEkzG45aYbuXnvrYyOb8Zxsq86PvCKASCEQBgmY5ObmVy3kbff+wO0Gg2SJEYaJghJkgiKxSyFapUb5mY4dGQOa7KJrT3aaC4G+1gSFkXLAqmIcw4H7Wkybg4zTlBSMFb0WK4EVKtN2mjGd91KW3icn5nBtG7EtRyajTYb1w2xY9sWkgSiOMJzXdAKv93By3jkiyUuzizS9iMGegsM92ZZqjTpxBZLi0v09vUghKSvp4cDh07wkR+9m5nz0/T296YtArTC81y0loRRjGGmjqFOyydRUC7nyWZdjp+ZodUKGB8Z5/SJs/hZSe9dH6S5PE3Dr9A3MUDGc/ENAUqh0Rz1TTKDHhtUlZVKm5O1JiYwZuVoCcHWzQXecf0U+czT7N3+TkyvxJ133kq1Vse1DJqtDo5nMzjQh2l5xJFGWA6GaXzvNACA42ZoN+rEKkQaNvly76UUUq1I4ji9OT1lfvrmaV6oPEJjYgtfXBYkywLTytAJO3R0QrmQJ1vIUS7lSJIYOjFIQb5gIUUDrUKKO27hwumTlK97C5HSvHD4JNfv3Ipz7gQ7No3TaftYrodjG9iWiVHIMzezSBhE5PJ5clmXoBMQJzE6Drlhz/X8zZeexstmKRQKgGZkZIjHH3+SWlMzMjrMwkodx/HoLXkUCjn8TpDOT0Aul2NxaYlOJ0ArGOwrkUSa6elZ8oUyR09/g4ldA5x/9nm2vePHaBz7KkbUIJvNYhiaME6wDEEpl6UdhHRCaAbLDAlF3nGo1JuU7ngbt980yca8TWlkK7neAaIgwDAtBgb6AEGpV4CGOBbEcYgWklzee01BoVcVz7RsG9NaZZpp1wzVfWkNCIkQGsNw2Xbnzdz2/vXcuivP2973Vjq6TRj5mKZJoZQlW8jieA6ZjMvQYC/9fSUKOY+enMXo2BAb7343s2cu0pw/QyuSTKzbyMPfeJKJ9VvZs2snczML+EFAlCRIw2DL5kk2b1yP4xq4nsveW27CNC18v4MKEyY3b+Ebzx5j+uw5BvrKhEFIHCd0woBMxuMvP/cVDLtETzFHvdmm2miza8dWJsZGMU2DXD7HwMgocRQSRSGu4xAGMTIJuPuet/Dc4VNoDZnyOPVTz3Do65+neN0PU9i4h8FihoGeMuVymXy+SCZXwLJdTCeLkXFYDmLO1Vtk997LW3/2Fxl2NYXBG8j3XI9lumvBpCiKUYkijmLiuBuJlBJpmDiO+x2khL3SD0vZDUNKBHLN7Zn+lN2gjgQVUxq8nr7NP0Ss89x2y02885d/C+FlCOMQzxRkPZecazE+2sP6DUNsGuth09ggm+9+P8bNH+LpfSeozc2AECxeXKZvbCe5rMPH/+yvWb/1RtZt2oRA0aq3abQ6DA4PsmP3HhIgly/TNzBBs92mWCowNjHJQ08c4YFHn6avv49qrZlG55RiZmaBXCFPs9ngDz/5t1RbsG5slCSB0bF1bNy0g1zGZGLdRnbuvolGO6TtB4SdAB1HXH/jDUzPN3numf1M7LiRxmKMMCXt2jz7/u5veX4uw5HR+/Czw+SyWUb7exjqyeNYEtsSDPX18ZY7386eX/h9hn/544wYbarVDnZ+mHLvGFIYaUAJgWGYSGkipYWU1pqNZloW5qt0Ab+mLQDA8Tw6rRpoiSDpegr1FXRRqQTPy6CtAdqqiFi+wO0f/ldkdtzKzMN/T2bpFH0ZSU8+w8D6UXKlYZZHitRyI8xtfQsH7v8sUaOJ4dgkHR9naorliV7GrruNY089zP/0K7/JdTu3cv32cUb6y2TyLtlsgcl1W/Acj7HREXpKIxRLPbx4aIrPf/FpGu2AXK7AwnKVWrWG7dhESUynE1CpVCiWyuTzGe7/x2+wbfMYt928jTAKMcw0FjE+PozSGsfJMDkxgU4S5isN/vL+hzh85BSDExMYxe2IE8fQbR8pJSoJaNZCDuz5V5zwZymdf5Fy9SI9pkk4FtMcshnadSeVwW2c1gb32G2yF6bwQ0GQ2BSKPal2FRKBRq5lb4m1hacB28285pyAVw8A18VyXEK/mUbBVNK1EVLhawRagOd6LFeaKOlid2qo5TkY30HxI9ehmhVqfpUgCDgdQV1ZRIO9OFmXILLwlQBDonVKarZ4Z2gLEPkN/PzPb+TQsTNMTR3nmedeZHykn+1b11OphFjyAU5PLXD2L+7nD/740xw9Pg3CZPuu3ZR7e3nyiSeoVRsg0nyCJI5JkhgB+B2fG266nuHBQZ5/7gX+2988zKNPvMiG9cMY0uUf/uGrPPjg45y/uMDiUo0TU+epNToMj47wgQ+9H8Md4eTUPLv7znFYtcC0QYHI94Gy8LOT+DvWMdtqQRykutdyOGLYMN+k5AgGvAYF3aGTyxMESRr/kAZSpy7vS4QcpBAorTBsl0wm991ICPk2AaHuS6AplnqoJIoo7GAYBkKrbkmhRGpFGPgs15ZI4phSbz9Zt8j8yjIql+diWxFYLsobo5RV6CShqTVNLQibMU07geIIUmlQaah4eINB0/C4cP4cQ6N3Iu0CGzet5+KFi5w5fZbHnz7MAw8/Q6IUjutiGiaFcpGtO3czMjqM63rUajWiOAYt1tK9ojAiiZMudxFpkMcwuX7PdbQabWZmL/KNp4/T7oSEYQetFK7j4mYyjI1NsHdyknJPmZGRYU4cPMn6osn23QV4qA0UECqC3g3otomI62AaqZPKtFKdGSqkitBCM2ka9M3PsnPXRmYXM0ydPoGUko0bNlEqlrFMO41IdquWw1hhWjbFct9aPsH3BgBKoVWSRs+6ETTDMOgbHKJWreA3GwhpINC0Wg2mp6c5e3aKtt9CGILhwRFsw8CemqMzvI65WNEMI4RIWBQaS2j8WBEomQq800F7Y2Dlke0ltAavZyubh4bRjdNEsSCKQuJI0dfbT2+5lziK6EQBYZiWiXueh2WaaA2JSoiiCKUVQsu1rCPDMAijiDgJEUKBFtgy7QvQCSMsz2bjls2s37QRv9MhiUJAYDsWjuNhGiZCppHPTifGMpvcetN6dt+8E/g8Ku6A7IfsDbDsI0yNNhSg0OJSFl5CghELbmo22D00Q7Y0waTnEUURp04eYW5ujh07djI8NIxtuyRKE8QKz/MolHoxDIMkjruJJcarLlH7lgDQcYxKYpS+NGHZbZKgkoRsJotl2UxPn+bZZ57i4nxaUiWVpt1qMz4+yIXzp7Fdlw1CUJ/awD6zjyiTIIQiNNIZiEghY4XSEr2gkIdcvMgkMpoIw+B9P/xjCBVzauoYpkhDtKkAQ5IoBqUxTRvDTCuAkiTp9hLqElMpkEJ2+0FphBRYpkUYhqkGQCMkCMsEAYYh0VoTBiFKp5lJlumg0EAaDhaAZRiYpok0BLEw2bhrN3e89Qf5F+++mYP7X6S27OPsrzBXb6KGJeRFescloECH4DUU76bCh24/hh4OOHL0MK1mDcfOUK/5LK1Mc+7COYaGRti1aw8DAyMUimUK+RxxHKGVwrSsbrpZjGlZCGl85wDQcUwchVfElISU3X0/tfk1YFlpsuTo2DiGZRCFIagYCZhSc+7CObIYFIdKvK/xGPY/b+GvauPMlzxwJdgCHWr0coI932HHxZO8u+/LPFw+QVwe4Z33vYsffM97U1u9bWAaImXFQmAg0FKsNelYNUellOmWJLtpWhpMy8SyJaqlkSIVnFIKxGp5pMBx7PT7QqJ0N+lUK1Si0xwHeencQkqEITGkgTAk9VZIb/8oxVI/H/mpj/Kl0qdoLpzhtuKfc+jwMfafuo55e5B2xgFDkFcRG8wqbx2Z4r0/XENsG+PCXIE4vMDyygrDQxl27N6JZVokicIwTQyZOpOy2QyJUqkGSZJUowmDWCVpQq7jpgv1NQNAJcRRin7R3XPEKvsQAhWnWsE0DS7OnOf8ubNs2bSJ7Vs20Ww0WF5ZolGrUKlWyGTzuI5JLjeANwb/49BzXP/Vx3j0QD/nmkV8JZFxhyE9y00TJ7jpQ2fovXkE56n7qLTyvONdHwBMHNeh3fGJowTLtLCEJJIS3c25E5cHQJQAQ6d9D0jJkm1Z5PM5FucWKPf0UiwWaDYbWJaN77dxXQfXdVNQrCVMXhZUlSnrXgOASNPWTCsFkmNZ9JSKJFGHPXvvouFHzJ4/yLoNLW75oQMEZw+wOC2pVSykZVEsa4a2WgzduI649xZiNjGozrM4fwHHcdE6IZvNMDE2SS6bI1GKRquNtIwugVVpoxJScErTQJAS20D7uF7mFdUPvCQAVJykwr8qBXz1fQoMTRxHLM7Pcvz4EU4dP0ahmGFocIx22+fFw4fTfVJpDCEpFkvYXg+LyuPWn1tk7+wR2rMvoAMfaUmskoEq9dI0bufEXIZC/zIbdg5TLvdTq1awTAPXNqnW6ziZTFe1GwgRo6Xs9jhKEyO1UMjVqjckUhpEcYQEHMfippv3kM1miKKITZs2cuTIYSxLkiQJjutCHCERJFqjdar4hZSpGdZFhBACUxoYtk2n4+NZBj3lElEY0qitsGXzFlDw4tQMw4Pb2P22MrcPC4iqqESgzCLKXs/coknrok+pVCNb7GNwcJQo6OC3W5w4foxWs41jSkzLphMl9PQN0tMzgGkYKL3arUanHEem2i7pLmDLcb5tWNh8KdKXAl5cSsjUGn1Zz5zubSaOYoQ0yOcKzM5c5PTUSQYH5tm2czeLSytkMx59fQMMj28GTBbnzxGHMVG0jnVb30puY5V6bZ66HzA7W+Hsc/O0G8tI5nEzLs3GMtNnTlLu6SWbzSG0ZqWyzHihgDZSbSSE6BpIAiH0FaZS2vhCIaVJHEWEUYhlWxQLOeI4JpPxWLdunJOnT6bkKgzI5rLpMYVGSxBKrC0CIUB3+YTsBpMc06RaqaDihGyuQBBG1FaWOHX6KEli0GnVOXxogZmLDbxMjomJSdZv3EQ+X2Zm6iytxgyGFMzMVLAdh3L/EGGiOHt2mk7bp1qrc376FLaT+gX6B0ZS07u7z2shLlV1akALJOk2rRP1bXsamy8b+JGyG7xYS9pfK8aQhoGKU8ugVCpR7uklUTHZXJ4ojGg26mzavAXHcSmWevBcl2azThzFZDJZchmLysIyK8tLPP/iCywtLeE6Jo1GBa0EQ/0DhFGLudkVcpk8zXqNcm+Jnt5eqpUa6zYY6R4sRMqotLrU9bWr8vVlGcUCmbpPE0Wr3WLHtu0IAaYheMc73s6Xv/YAjusQR4okTjul6W6zLCHEquVIIsDsmoxSCEzTJJ/PM3vhIqWeHgzDoNlq4vstlpYWaTRaOI5LJlsGoZiZO02ifHr6ioSxTxA2yeXy+O02SoU0GjWCTodiXz/rDZcoikiSiOHRCVzPY3R0nL6+ge78urDXVxamXKo5kK+okdXLAsAQBspIC0B0V7WiNUkcIw0D07BRpqaQK7NucgP5XIFarUqz1aATdujrG8A2bXL5AtmMi2GaOD0e2VyRfC5HtbbC+vWj9PfnWVlZIgx9qpUqpmnTarU4P3t+zTYXQrIwP8fd99zNX336bzh88BBjE2O0mu1U7Yu0vlWpy3SUuHQtWqWma5zE3PKWW3nPe97FuTOnEVLwoQ+8n0OHD/HZv7m/m/mUXJZPs0owLyOXl7nFtVYcPXwE13V5+9vuobKyTJQoYqWxLBspfTKey4YNG9i6dSu2nSGMEuIoph0GbN22kygIqdcqdDo+URQQxzG2adPT20sQJRQKBTzHRgiJm8mSy+a7yaepj0QaEtOw1gpfDEMi6C7gV5YSdlXuWJfoCUmqSrS45Oy9DFBCShzXQ0qJ43n09PbTaNRpNuokKkZ3U8AzmWx68+MYy7JxXY8oDjk9dZqRgT76+4rkPYtYwZw1w8zsBYKgg2VaxFFErBPm5i7QbjeYmBjhhz/wHva/cJiw42MYsisc3V3tqbo2hECsvkWDUIRRxN69N/JzP/0RGvUqlZUFCoUSHd/n3/4vv8LI0DCPPvkUCL1mVaRFK6C0WKvoWb1VpmkRhjFBEHD3XbfS21vgwoVzeJk8juMihMC2LaIooN6oU681yOYEYRR3Yycmju1hWw6245LE8dqKXzVz40RQLOTJ5/NIaaTzMY01LnJ5MYruOulW//atClK+tQZY7YnXLW64tK+KK6vIUmqM7XkYlk0YdFBd5KeOoxSdjm0jpEhNGWlg2TaqlRAEPt944gn6enK4jsvI6DqOHD9GZbmCbdlESUQ2X6JY7qPRrGJiEHYidm3fwsjQAC8ePEanvYzj2iR+jEpSEAil0EojDBOjy5iXl5fZsnmS++69Bx1Dq9nAMCXV6gqtVot2u82HP/h+oqjNl776CDt37qQThGhi4iQ1raQUSMPAMAxMyyKKY8bHhrl+150UcxmqlVpazVStYjo22VIvjWabVqPJuJ3jyNHjtNo1coUipmnR3z/G2Ngktu1gmGZXwaZgNg0DQ0qSRGM7Nq7jYdnWVU6eVCMr1b3urpZOV38XGPK1JoWu9gu4ukT5JUvIBIYlsbTCSxSmaayZUlKm+6RhmKgkSZHZvYm9Pb1UaxVm5hdptRrkiv0srVRp1Jt4GZdCuZd16zZhmzaxitKLURB0Qvp6ern99ht56ol9PLHvBcp9fTiWhYoVQnZtfK2oLC8xO3MRzzUZvHUn9VoDKSS2aaFijSIm6qa5z8xdpJh36TRWeP7ZZ9i2ZQPSMukpF7Esh04QUK83UHFEdXmRu+68ldtuuZkkjuh0QtAGiYroBAFGaFIq9iKlTb26gmO7nDl9kijs0Gz69Az0UyyVMAwDwzDXilR01/Iyul1PTVL/xdqDK6667wiQhriyt+ea/F6VI0jzkkWir6JfkGlaCE9gxRaq6zpOlYmBYZporUmSGK0VlmUzNDhKu9XCczI0mw3qtTrDoxOUen2yXp6+nl4czyNOYkgEidJYtkGhWAIE1WqFsdEBdm7q4/TJaQpDA1Sbdd5x732Ue/r4y7/4U1ptH0nE5OQmWu02cRRgWg5xF4yr9kwUtgnjiFqtzlv27mR2bhkZ1BnqHeRHfvQDPPTg16g3fWrzs6g4YrhvkMmJUbxsmTDw0bTpBJ10K+rWBAopyWY9ekobSKKIdevWg0pwMnkGh0fo6e2/olRttdx8tTfR6t9Mw/wWEhBXaeTXEgvokqjvvNNAt17eMpFaopVeY+Fr1oM0UApM06Sntw+lFQsLc7T8Nn7Lx7EcbNslk8nguA6maWFbNrZl4zoOuWyeXKGA7/sks4pmo8PkxHrCMGRq6gymafD0448ghMHMxXmy+Rwqjgg6HQzTSusGZYyiy5JFauHESUySJJiWgwZGhgY4dXwKP+zwZ5/8GGdOnydfzNJoNDAk6AQqK3XyN5SJ4xxR2CHs+PgdnzAK0sRRKdFJ6oDq6e3rNp8KMS2PTDZDJptPBX3Zni2lxDTNtX1dCrmWu/i9Gt/FVrHp3iOVTEPCUl9ZMNkNIsmu2pMyTdzsHxyi0wmoVyvUqxUSrbAsC9t2sK20OAOREkrLcnE9F9NKWW+tXuHUyRM0GzXyuQILS1VOTx2ht6fA2NgoWzdv4LrrdjJ9cRbHdYniBNu0ECIGYaBllyxqTRzHlEpFTocxp06dZnx8BNc1mTp9Dj8I8BdTt/i977yDcrGXoaEBXM9FJw6R4+B5OfJJQqxjpJBdL6TGsR1KpTLZXK7rW+lGTQ1jTeWvmt2r8X7dDRcI2dUKQr6eAHiNPYJENyWMlDxqNGiBvupwsptcapgWluMSxzFhGOC5HsVCkagbdTNME7P7AolCYRkmlmXh2DYDvQOYWpB1LN56271s2LyRv7v/82zdEuI5LrWGz8JSBdOyCIKQQtnCMo01Zrzq4Nakdfu5bI44iJgcn6SnlOOmm29Ca7DlN7BsgzCM8f2A4aExRsfGyBfLZDI5kjjBUqkGWS13Nw1zjQM5jkPG88hkMpiGtaYtV3sM6m7bF31ZjwS5Zs/L1P8vv9ca4Ju2gdfaKKo72a5JstqD8mrikmoLsLr73aqKM0yDOIq7DSDS/U8aBsZl0S0pJRrN2PgG7n7HfRw/9iLL83McfOEFpi8sECSacqkHaTpkMy7nZxbIl/ooFHvIuF4XUKt9CFIhOHaG3r4Benv6aTebZPJ5jhw+RqPVZrbSwvM84lgTRJoz0+colHrZdv1GzC6B09pGqRQA8jLTzDQNbMvCtGykNK/wzQvDSB063cYRXYP10lpaPc73uCeReWW7l+/SyVYJlngFvMEwsR2xZjEkcZr4uOrKNbqeR2kYoNMmColK6B3o5+z0KVp+TKAF84sVdu/ZTbl3ENtxyGZyFEtlspkclmkRxQFCXTqu7rq6DZn6KkrlMrlcjunz02hppomvZoO7Nm7Fcb01klbIFdmxYzc95d7LyJvo9jkQV+7fprGmtV4yaWPVa8f/d6PbI0hc6hC3GgZ7naelu4JVSYJKug9iuNytmXYK6DZ0SLXE4tICc/Nz+H6L8xfP02o2kUKSyRfo6xukvy8NmrRaLTqBn6Z3A4ZI1bRjO5i2hW2nDqpsNkcYdIiiiOWVJeZmZ1iuVtK4gZehv3+IgcERCqUSrut2kzUvhclX4wNSyNSWN1PtZXRN3zfE0C8HgDXBv4yp8TqBQHWfwqEuy0Ba83GnDGMt8VQrTScMaLWa+G0fv9MmASzTxnZcTCON8IVBRBQFKJ10hSMxTQPTsLDs1MowLavrgbOI4wjfb+P7Hdp+m0TFmIaNaZo4XgbHcVPHkFhNNrkUIkZKjC57l0b6M93m5BtM+N02fjpRl1rFviQIxOs6Q61U+uoWm1xSSJeif5eXP2mtiZOIOE7S4k3UWhxfaY1KktSlnKRby5qz05CYholpmFimgWXZqY+9ew69+t2kC0YuPWNQXdGiTXSJ26U9W4pLWsGQxvesndx3BwAq0WvhLiFef5m/ZA7qpWcXaa7sibeamHJlsEOvPcxBKY3SyZofYjUvUCXJZcke+rKkDiPVBqa1psIvJ1+XRxV1N8qoruoSrteyoi91/pJr28Ib5RGz3VVxxeMAVgHwUu4k8QaB6yX76LLctJcnrVqrNQFd/vSP1GeuLrlcRcoq1rxvUl5i6S+rrnUXEGrN67cK0iunt7o9yDeO8Fdn900cIFGaKwI+4g0CgO/CdnIZCODyjmOr6WJcavQoXt1Fr7Zyfan2tOIN1XL/KnjqK23zSxyAq1cX13pGv5YV9oacG5ep/ysBIF9W+JeDR18T8bd3g74ZpyqucgXrb86ouTa+38B55TOh5Ld1NV57fMD3NTD+XzRCsKtleXbUAAAAAElFTkSuQmCC

iVBORw0KGgoAAAANSUhEUgAAAIAAAABOCAYAAADo3B4PAAAvXklEQVR42u29eZRk113n+bn37bFH7nvWvpdUWkqyNku2ZWFjtzE2Bg/NAQ80TPsMHKCZhYbT9NBDA900nAOD8dhgGnA3tkFgxuBV1motJbRVqfYtq7KW3DNjjxdvu3f+eJFZiyVbkm2N5Kl7TpzMyIx47773+97f/f7WJ7TWmmvj/7dDXrsF1wBwbVwDwLVxDQDXxjUAXBvXAHBtXAPAtXENANfGNQBcG9cAcG1cA8C18f0+zDf7BegkAQ2I9L2QEoS46kMarVT6OXT6GfnN2NdKgVJrBxNG91hXfR8hEIbxfQEA8aYNBmn9zYJeHUpdEvDlv7/cZ77F8XSSvLSwV2/by83hmgZ4fYRff+Ahms88i+4EeDu3U3rfe5Gem35Ga5CSaHGJ+le+RnD2HEY+R+7uO8nesOdKIQpB4+l/pvX4U+hWG2tyguK778Ma6CdeqVD90lcIz0wjPZfsW24hf+ft3x6I1zTA90j4QFypMv0//xL1r36dpNFICU3GI7Pneib/9GN4WzYDUP3qA1z4lX9LeHYaFQQIw8DoKdP/r3+WkX/3q6km0Jrzv/rvWP70X6NqdXSSIG0bd9cOen/if2Dlc/fjv3AAFYYIKZGFPOUf/SATv/+7SNteA9A1ALwe8lcKIQRnfuajrHz2b7GHh8i//W6E69J4+DHC6XN4e65j24NfpnPyJCd+8IdRjSbujm1krttFeGGG9rPPkdTqjP6X32Hwoz/Lxd/8j8z/pz/A6CmTvXUv1uAAzX9+jujsNMhUsNboKLnbbiFeXqH51NPES0sM/tLPM/bb/yGdk3yT8mn9JhoqSbTWWreee0G/MLhO7x/frFf+7h/W/t984YA+eN1e/axb1tWvPKAXPvnn+hkzr4/9wPt0uLi0doxzv/Ef9POlIX341rfqcGFRH775Dv18eURf/J3fWztW59x5feSt79T7RzboQze8RfunT6/9b/aP/kS/MDipD2zYoTvT59I/duf2ZhtvLtiqVFm1Dh0mqdXwrttF+QM/hE4SdBiS3XMdxbe/DR0nrPzt35O/+06EbdH3Ex/G6utF+R2ElAz+65/FHBggOH6SzrFj5O64DeG5DP7CR9PTdDo442P0/cSHiZeWccbHcDdsQMcxaM3Az/009tgoyUqF4OTp1YX05vQDqDhKL0wloNUl8sQb94KEYaQMPggvvTdTPps0GxjFPM1HHkNkMmT33kxcqV4yEQEdBF3zUVP9py9Teu+7kZnM2j4uTBO0RmazICU6ikCp9DxCIJRCum7XNFRvckeQ6gpcXS74VeG/sUAguvtxds/1mKUS/pGjzP3hx9BRhJCSyhe+SP3rD2OWSkQLizQefpTen/xx5v/wY/jHTyAcm6ReZ/Z3fg/VbGGUitS+8gD2+DjOlk0ov3PZycSlqxfiSpOx6xu45gh63eEq0Urh7dxOz4//KAsf+7+Z/0+/T+0fv4i0HdoHD6N8H6NURHouK/d/nsk//H1mfu3fc+p9H8LdvZN4bp7g2HFwHIRtE06fxz9yhNJ7341q1KG35yrUvQzDfxMz/ytuqRACgVjzpMEb+8KEEKA0Y7/17xn46M+hhaDx5NPUH3mUpN2m+L73MPHJP0Z4Ho1HHydcXqb4wffjT52h9k9fpr3/RchlGfud/5PiB99PUquw8rm/I//Od4CXWdvLtdYQxyS+jwrDru9IXfp/GKZbiXpzawKhwlAL0QXAKqqF4DJEvAFNl0vTC48dp7X/RZIwJLt9G97emwDoHDuOozRicoLEkMRPPY0/fR7lufTc81YYHIB2G//YCaTn4mzb+k3AVysV4nPnkYUC5oZ1V5ii/rHjaN/H3bwJo1B40zqEpPimSYs35P5/9RS10qAUi329TN2wm76f/Jf4u3bw4Ne/ztLCAva2rewLOxw4M4XhujzuOVTe+y4KP/YjPHD0CFopHt+/n8bmDfjrJmn7PidOnODAgQMEYciFCxeICnmejkOm7dQV/Nhjj3Hq1CmElGR2bCd7042p8N/ELmGZBjcuX/1XA+GNqgRSN+/hZ5+lM7+IjmOOP/88F2dmqNRq1JZX+MyffYoDzz2H1pozBw7gBQEnDx/m9JEjCClp1evkhMGZI0eIoogoiiiXy8zPzdFsNlmam2Pq4EEWps+htWbfvn0cOnSIarVKrVJBX7YlvHldwXGkryA1b3T1f9UIgoD5+XkmJiaIoojZ2dm136MowrIsLMtCKYWUEt/36XQ6lMtlgiDAcRzCMMS27bXPR1GElBLDMDh37hwjIyMYhkEURQghiOMYwzCwbftNTwKFTmL9zaz2zc9uX8briRDfn9f2HWwBXLbqxZtWsN/u9zUL4lV67b7V8b4fRqoBrlD9+vtWA1wbL+UIEvKl7atXvQKv/m76/vVUuZev0O/Wea++ttfrel72nmq+q5FHoVXXk/Ea2P8r3VO/V3uv1hrVDQ/Ll7gpSZIAYLzK9K1v9b1vd87Xi6usgv07va+vDQBXOT2a9QrLCxcI/AZh4JMkCbZboH9ogr7Bke8JCFZZ/eoIo5hWs0XYZfKlUnE1lP+azx+GESuVCr7vY5oWuVyOcqlw2RwShJDfE3A3a8usLF6kE7TQSYJlOSANLMtjaGwDlu18V+6r+c0OoFcmfK0VF84e4+L0MZ55/HFGJ0cYHugjCAJqjQZ+oMjlyvQPDLDzhjvIFfu+5RajL0+4fAUrREpJrV7nySef4PDB/SzNX6BaXSFJFLl8hjC2GBoZ54477uKeu+9GSvFtb9bq/7/+4IM88vBDnD8/RdipE3QC0JJyTw+5Qg9bd1zHffe+k02bNr4ysGqN1jq9dd1Vm75e4rNJxFOPfZ3AryGSOkqB57gI0+D0kSPUlpfYevNb6B0YZ8uOvWTzxe+CBhCvDACrN6jZWOHgsw8ydeIYpVKBgy8eZXJynI0b1xF2OtSbLdpBgpfJ0Qk65LMet73tA+SLPWvHUFqzemop5RU3I1Hp/me8hIpN/fHw9NP7+Ku/+ATLixfIZkwKnkW93sYwTXZum+DA0bNMTS+ghcGmTbv5tV//DTZt2pCaPi+zXUgh+e3f/S0+//efI+uZDPRmGenvw28HNNoddmwepdXpcODoecLY5q577uWXfvGXKRTya0K9nAGpRCGFWItifvM5V7cSsaZRnnn8n5g6cYKe/lGymZh2q00hVwTL4MhTz2DaNr3jIySxxs6UuG7PzQxPbO2e+9VzOPnKV38qOL9V5dyJ5/AbFRzXxfcDPC9DdaVKEockKkGpmCROkAKCMOLZAwc4dODZNQEmKr0xpiExjFT4zSBgudEiUQmGFKnw9UuYYUIAis/8t49zfvo4UeCT8yyyWQ+NIIwVhmEw1N9DPmvjGJL9zz3Bpz75x13B65cUvmEYHHjxWb7w+b+mt+Dh2Cae41LIu2gUSSKwLINyKUMh65DzEr76xc/xiU/8CVJK9GV5AVprhNbptUnB6cU6X3nmJPc/cZIvPX2Cg1OztOMEw5BIKUiSBK3hwtmTPPboQygBjZZP2AmIww5JEhGHAZVKFTeXxzIsYiVQScjM2UNMH9tHHAWvicCbr8yHnSKrsnSR2sIZPMciX8hTa9SpVptkcxkqldqa8JVOsAwLv+Nz9NhRXDfLwux5EqXXiNX5aoN/fOIgj714gfNxjnPzFdqNKgOGYs/6Pj583x5+6NZtCC6pbqVS4f7Fpz7Ok088QblcxLBt8lmXfNbBNAVhoNFoeooZbMskjgJcx+aBr32Z9z/+fm678541ga8C0jAMFhZm+N//11+i1erQX8qiE4VrSYoFj9n5lVTAEizTQCUxnXYH1zF56vGvsvwzP0Nv30CXHKacIAE++eBRPvsP+3nmmWn8GqAcWHgIPIPJ3du592138DPv281tOyYBODs9Ravd5uLMBYpFTd4torVCSE3U6eA6DoVyiVqtSr0dsn2wjOt6tGrLnD6yj007b8cwrdfKAb71nt9u1Tl9cB+ZnEcmmyebyZHLuKwsLuPYDlGrjt/qYNlGyqINmyNHj+K3fZIEmu0OhhScnl3gdz79MPc/epLaieNQrcH4u8BR0F5hpVnn2MOn+OwXjnDfe2/kz3/xXkZLeeIkwTQMvvaVL/C7//m3GR7pJeuYaUImGscxEUKiVIjQCsM0SJTGNkwKeYe5xQq/9r/9G/7qM/czPrnhChYdBD7/8Td/ndMnp1g3OYAUCoVGSoFlmWidoLQiTjS2JbvaTeBZJlOnTvGLv/BR/utffgbDNBHAbNPnx3/973jkb05A7QI5N0ef0wc6pOG3iJsx00+f5VNP1/jUnz7Aj33kB/iDf3MvxYxFGEW4KuH8xSl6ilvIuKC1IPA7DI32E8Yd5paWWTcxRi7jIqRAK0Ft6QIXzx5mYtOeV0UM5StZ+wALM2eo15eJo4Ao9HEch1KhQC6bJQw77NlzMxMTmxifmKTU08fJqdNUqxUKxV6Wl2vcevMePv3oi9z0L/+IT/3Rg9SOLGI0IozmHM6FOfIXG7gzVbxKDTsCaynha3/yVf7Fb/4j9TD1zc/Pnuc///b/wchwDznPJl3rijhJyBcLuK5JomKkKbAdE4HANCWWKdmxYYhqdYE/+L3fouP7V6jrv/jUx3nk4YdYN95HKWvjmAZaK3J5l96BEmGkkIYgk3HIZi3QYFkCrRSjQ3089cRDfOLjf4SUko5K+Miv/j9840/+gfXBLBuNiP7OCkONRYZbSzhxh5wIGdIGvapJpqn53B/tZ++H/5op1UdvPkOr1cIyFYeOH6bearHz+hvYsmUHdqYHw3SYmFjH+OgIhrSQaLQKqNZrnD11EF6lVfCKM4IWF2Z49Kl9DPT2ccOe3QwNDZDN5ZGW4PY77mTzrr089+QDLC8ss//wIU5OXcBxbGZnT/DOe9/JU/4AP/nvH4AzCXYQYzYqyLBBJ6iQT6YYsQZpxnN0REhHGxgEKKPJC5/9Mv/1nnX84g+9hb/81MeYmZth7+71+H4EholpSjIZh80bhjl6bJpIJWRck4znkHFsoigkShT5rEtvX5F9zzzFF77weX70x34cgIcfeYQvffEfsWyDYs5N7XzAyTiYpomONYZpULAtevIOjiUxpMQ1TaphTNYz2LRumE/86f/Fj3zwAzxzrsPXPvHbbMqNYnYa5LRFohVFM8FEsKTrZPFwwgYtLSiJDMJoceGBZ/jpTshv/tQ9xPvu5/xyjVY7YPbCHHNzy6go4fqb9rJ95x5mLkwTx21c22JhYZ5DR06ysLTInj07ieMA03JfMSF8xQBI4phyPs/pqXOcOTPDuo3j+M0Wgoh61eeBBx5k3zMHCcOYVqvNyTMXiUKfH3jfB3jc282n/8t+5FSHYiAxGj5e3MAWPlUScmqaQUOTTxapaI0VZWjGS8yIGURnnse+tJs7R+HZp/eRz7p0ghhpGnSCiIyXY2GhyuEjZ7BMSTHrcnG2QpwIEhUTxDFKafxOiGeaqDjiy1/8Au+491309vbw95//e7ROyHkOcaLQWhFq8CybStXn7Ll5ygUXISQrdZ/l5TqWlWqIIArJYmLbknarwX//7H/n2LyHiE9xtrnIenOAHrcIdOjP+BhGwlSnwXjGJlQLZJWHiCW1cJGC9EmezvJb5kZ+6ra9HHzk45yfW+a2vTsJOoeJIsXp6fNEn/kMuazLyOgojWaHpaUVCoUsmzaMYZkOQhivyqw3XykBHBpdT6PeYKi/hGFazJyfY/rcBRaXahQKGW7as5Xrdmzk4sIC02fb3LhzI+WRTTw/tcjBmf2owxly9WNkwzp5EmLRoGC2MIVGGsuMlx0a0QoDGsIk5rGVKXzVxBAOc+dP8cBDIUkUUsy4hJ0IxzPQSrFUbdKHoNbwyWUcorwL0kSoBMsymVuuk3clHT8gjBOKhTxTZ6c4cuQwd911F88/t5/1QxmCpqQThhjSIAgiLGFi2wa2aaCVRhqCJNEorcl4DiuVJpZlEEYBSRTTmy/wz/v+mYMLBgYCkdQ5p1ps6R1mOK8oZSoomVCst+kvK3SSox10OF+fYzZssytzJ4gOxw4d4a/mz3Pv9XeybdcyWUuzUu0wOTnM1k2TnDwxxRNPvYD14hQ7tm9icqyfbNZlbmaOXXvuwjCt7y4HEN1YwbqNO7j19rdz7twctXqb2fkFnn3+aJqfN1ym0agzv7BEHJrccOPtjLzzp/jySoGjZ2YQF87Rv/Ai48qjnZwmsKZx3SaZTMjOnh4ydoOWPY12F6kwy4uNAzSTixTNGFPXiI02B17YT76QRRqCMEkII0Wl0cKUgsH+IkpDoxXSbIcEnRAtNKVSjkLWY7na5uJyi04QUyrlWVmuMb+whFIJU1NnMGwbx7Fp+TELK01c12NwoEg+5xFEEWEUEyeKJNYI0orhKE5IEmi1E5QWZFyTKGgRdOo4pqLHiDFVi+eXz3C4NksoF5noXWHbSMDOzXWEs8iJ5imOhUe5vb/EoNNhuvMo9YUv0Fyc5q8fnuEZ9z1kezaSyeQ5cOgkTz71LEEY0DfQw4HDx3l833OcOjnN9Ll5tu/Zy+6b7vhOPIHf1gvArXfex8DAEIcP7aflK3bv2s746ACFQg7HzTA0NsItN+2hGis+9LlzNBsm69Zt5+KLTzLfOoZ0rmPC1CypGZQFEsHm7DBnqLO/VkFowXyrTRAoiqaFrTtEmQxjGzdx4pHPc+fN25mdu0ArUizWahSLBUZHhoiUQduPaLc7+K0Y0zRwXA9Ek5GhHjzXYn6hRstvkcnnmVusYMjUXPM7LSq1FtJILYqtm8aYmBhCaDCkIAhjwlDjOQa5Yh7LsgjCkJVag4VKmhTqeAZeNkenXsca3o23UkGc3s9o0SZQiqYlOdIyOdrUGLZiJpCcbtU458dMFnK0jGUeWTqJn/g4cpL+vh4yCw1qT0xzw2+8nfvuXMfDjz3H/NwSHb9KpjBKsTSEkzG45aYbuXnvrYyOb8Zxsq86PvCKASCEQBgmY5ObmVy3kbff+wO0Gg2SJEYaJghJkgiKxSyFapUb5mY4dGQOa7KJrT3aaC4G+1gSFkXLAqmIcw4H7Wkybg4zTlBSMFb0WK4EVKtN2mjGd91KW3icn5nBtG7EtRyajTYb1w2xY9sWkgSiOMJzXdAKv93By3jkiyUuzizS9iMGegsM92ZZqjTpxBZLi0v09vUghKSvp4cDh07wkR+9m5nz0/T296YtArTC81y0loRRjGGmjqFOyydRUC7nyWZdjp+ZodUKGB8Z5/SJs/hZSe9dH6S5PE3Dr9A3MUDGc/ENAUqh0Rz1TTKDHhtUlZVKm5O1JiYwZuVoCcHWzQXecf0U+czT7N3+TkyvxJ133kq1Vse1DJqtDo5nMzjQh2l5xJFGWA6GaXzvNACA42ZoN+rEKkQaNvly76UUUq1I4ji9OT1lfvrmaV6oPEJjYgtfXBYkywLTytAJO3R0QrmQJ1vIUS7lSJIYOjFIQb5gIUUDrUKKO27hwumTlK97C5HSvHD4JNfv3Ipz7gQ7No3TaftYrodjG9iWiVHIMzezSBhE5PJ5clmXoBMQJzE6Drlhz/X8zZeexstmKRQKgGZkZIjHH3+SWlMzMjrMwkodx/HoLXkUCjn8TpDOT0Aul2NxaYlOJ0ArGOwrkUSa6elZ8oUyR09/g4ldA5x/9nm2vePHaBz7KkbUIJvNYhiaME6wDEEpl6UdhHRCaAbLDAlF3nGo1JuU7ngbt980yca8TWlkK7neAaIgwDAtBgb6AEGpV4CGOBbEcYgWklzee01BoVcVz7RsG9NaZZpp1wzVfWkNCIkQGsNw2Xbnzdz2/vXcuivP2973Vjq6TRj5mKZJoZQlW8jieA6ZjMvQYC/9fSUKOY+enMXo2BAb7343s2cu0pw/QyuSTKzbyMPfeJKJ9VvZs2snczML+EFAlCRIw2DL5kk2b1yP4xq4nsveW27CNC18v4MKEyY3b+Ebzx5j+uw5BvrKhEFIHCd0woBMxuMvP/cVDLtETzFHvdmm2miza8dWJsZGMU2DXD7HwMgocRQSRSGu4xAGMTIJuPuet/Dc4VNoDZnyOPVTz3Do65+neN0PU9i4h8FihoGeMuVymXy+SCZXwLJdTCeLkXFYDmLO1Vtk997LW3/2Fxl2NYXBG8j3XI9lumvBpCiKUYkijmLiuBuJlBJpmDiO+x2khL3SD0vZDUNKBHLN7Zn+lN2gjgQVUxq8nr7NP0Ss89x2y02885d/C+FlCOMQzxRkPZecazE+2sP6DUNsGuth09ggm+9+P8bNH+LpfSeozc2AECxeXKZvbCe5rMPH/+yvWb/1RtZt2oRA0aq3abQ6DA4PsmP3HhIgly/TNzBBs92mWCowNjHJQ08c4YFHn6avv49qrZlG55RiZmaBXCFPs9ngDz/5t1RbsG5slCSB0bF1bNy0g1zGZGLdRnbuvolGO6TtB4SdAB1HXH/jDUzPN3numf1M7LiRxmKMMCXt2jz7/u5veX4uw5HR+/Czw+SyWUb7exjqyeNYEtsSDPX18ZY7386eX/h9hn/544wYbarVDnZ+mHLvGFIYaUAJgWGYSGkipYWU1pqNZloW5qt0Ab+mLQDA8Tw6rRpoiSDpegr1FXRRqQTPy6CtAdqqiFi+wO0f/ldkdtzKzMN/T2bpFH0ZSU8+w8D6UXKlYZZHitRyI8xtfQsH7v8sUaOJ4dgkHR9naorliV7GrruNY089zP/0K7/JdTu3cv32cUb6y2TyLtlsgcl1W/Acj7HREXpKIxRLPbx4aIrPf/FpGu2AXK7AwnKVWrWG7dhESUynE1CpVCiWyuTzGe7/x2+wbfMYt928jTAKMcw0FjE+PozSGsfJMDkxgU4S5isN/vL+hzh85BSDExMYxe2IE8fQbR8pJSoJaNZCDuz5V5zwZymdf5Fy9SI9pkk4FtMcshnadSeVwW2c1gb32G2yF6bwQ0GQ2BSKPal2FRKBRq5lb4m1hacB28285pyAVw8A18VyXEK/mUbBVNK1EVLhawRagOd6LFeaKOlid2qo5TkY30HxI9ehmhVqfpUgCDgdQV1ZRIO9OFmXILLwlQBDonVKarZ4Z2gLEPkN/PzPb+TQsTNMTR3nmedeZHykn+1b11OphFjyAU5PLXD2L+7nD/740xw9Pg3CZPuu3ZR7e3nyiSeoVRsg0nyCJI5JkhgB+B2fG266nuHBQZ5/7gX+2988zKNPvMiG9cMY0uUf/uGrPPjg45y/uMDiUo0TU+epNToMj47wgQ+9H8Md4eTUPLv7znFYtcC0QYHI94Gy8LOT+DvWMdtqQRykutdyOGLYMN+k5AgGvAYF3aGTyxMESRr/kAZSpy7vS4QcpBAorTBsl0wm991ICPk2AaHuS6AplnqoJIoo7GAYBkKrbkmhRGpFGPgs15ZI4phSbz9Zt8j8yjIql+diWxFYLsobo5RV6CShqTVNLQibMU07geIIUmlQaah4eINB0/C4cP4cQ6N3Iu0CGzet5+KFi5w5fZbHnz7MAw8/Q6IUjutiGiaFcpGtO3czMjqM63rUajWiOAYt1tK9ojAiiZMudxFpkMcwuX7PdbQabWZmL/KNp4/T7oSEYQetFK7j4mYyjI1NsHdyknJPmZGRYU4cPMn6osn23QV4qA0UECqC3g3otomI62AaqZPKtFKdGSqkitBCM2ka9M3PsnPXRmYXM0ydPoGUko0bNlEqlrFMO41IdquWw1hhWjbFct9aPsH3BgBKoVWSRs+6ETTDMOgbHKJWreA3GwhpINC0Wg2mp6c5e3aKtt9CGILhwRFsw8CemqMzvI65WNEMI4RIWBQaS2j8WBEomQq800F7Y2Dlke0ltAavZyubh4bRjdNEsSCKQuJI0dfbT2+5lziK6EQBYZiWiXueh2WaaA2JSoiiCKUVQsu1rCPDMAijiDgJEUKBFtgy7QvQCSMsz2bjls2s37QRv9MhiUJAYDsWjuNhGiZCppHPTifGMpvcetN6dt+8E/g8Ku6A7IfsDbDsI0yNNhSg0OJSFl5CghELbmo22D00Q7Y0waTnEUURp04eYW5ujh07djI8NIxtuyRKE8QKz/MolHoxDIMkjruJJcarLlH7lgDQcYxKYpS+NGHZbZKgkoRsJotl2UxPn+bZZ57i4nxaUiWVpt1qMz4+yIXzp7Fdlw1CUJ/awD6zjyiTIIQiNNIZiEghY4XSEr2gkIdcvMgkMpoIw+B9P/xjCBVzauoYpkhDtKkAQ5IoBqUxTRvDTCuAkiTp9hLqElMpkEJ2+0FphBRYpkUYhqkGQCMkCMsEAYYh0VoTBiFKp5lJlumg0EAaDhaAZRiYpok0BLEw2bhrN3e89Qf5F+++mYP7X6S27OPsrzBXb6KGJeRFescloECH4DUU76bCh24/hh4OOHL0MK1mDcfOUK/5LK1Mc+7COYaGRti1aw8DAyMUimUK+RxxHKGVwrSsbrpZjGlZCGl85wDQcUwchVfElISU3X0/tfk1YFlpsuTo2DiGZRCFIagYCZhSc+7CObIYFIdKvK/xGPY/b+GvauPMlzxwJdgCHWr0coI932HHxZO8u+/LPFw+QVwe4Z33vYsffM97U1u9bWAaImXFQmAg0FKsNelYNUellOmWJLtpWhpMy8SyJaqlkSIVnFIKxGp5pMBx7PT7QqJ0N+lUK1Si0xwHeencQkqEITGkgTAk9VZIb/8oxVI/H/mpj/Kl0qdoLpzhtuKfc+jwMfafuo55e5B2xgFDkFcRG8wqbx2Z4r0/XENsG+PCXIE4vMDyygrDQxl27N6JZVokicIwTQyZOpOy2QyJUqkGSZJUowmDWCVpQq7jpgv1NQNAJcRRin7R3XPEKvsQAhWnWsE0DS7OnOf8ubNs2bSJ7Vs20Ww0WF5ZolGrUKlWyGTzuI5JLjeANwb/49BzXP/Vx3j0QD/nmkV8JZFxhyE9y00TJ7jpQ2fovXkE56n7qLTyvONdHwBMHNeh3fGJowTLtLCEJJIS3c25E5cHQJQAQ6d9D0jJkm1Z5PM5FucWKPf0UiwWaDYbWJaN77dxXQfXdVNQrCVMXhZUlSnrXgOASNPWTCsFkmNZ9JSKJFGHPXvvouFHzJ4/yLoNLW75oQMEZw+wOC2pVSykZVEsa4a2WgzduI649xZiNjGozrM4fwHHcdE6IZvNMDE2SS6bI1GKRquNtIwugVVpoxJScErTQJAS20D7uF7mFdUPvCQAVJykwr8qBXz1fQoMTRxHLM7Pcvz4EU4dP0ahmGFocIx22+fFw4fTfVJpDCEpFkvYXg+LyuPWn1tk7+wR2rMvoAMfaUmskoEq9dI0bufEXIZC/zIbdg5TLvdTq1awTAPXNqnW6ziZTFe1GwgRo6Xs9jhKEyO1UMjVqjckUhpEcYQEHMfippv3kM1miKKITZs2cuTIYSxLkiQJjutCHCERJFqjdar4hZSpGdZFhBACUxoYtk2n4+NZBj3lElEY0qitsGXzFlDw4tQMw4Pb2P22MrcPC4iqqESgzCLKXs/coknrok+pVCNb7GNwcJQo6OC3W5w4foxWs41jSkzLphMl9PQN0tMzgGkYKL3arUanHEem2i7pLmDLcb5tWNh8KdKXAl5cSsjUGn1Zz5zubSaOYoQ0yOcKzM5c5PTUSQYH5tm2czeLSytkMx59fQMMj28GTBbnzxGHMVG0jnVb30puY5V6bZ66HzA7W+Hsc/O0G8tI5nEzLs3GMtNnTlLu6SWbzSG0ZqWyzHihgDZSbSSE6BpIAiH0FaZS2vhCIaVJHEWEUYhlWxQLOeI4JpPxWLdunJOnT6bkKgzI5rLpMYVGSxBKrC0CIUB3+YTsBpMc06RaqaDihGyuQBBG1FaWOHX6KEli0GnVOXxogZmLDbxMjomJSdZv3EQ+X2Zm6iytxgyGFMzMVLAdh3L/EGGiOHt2mk7bp1qrc376FLaT+gX6B0ZS07u7z2shLlV1akALJOk2rRP1bXsamy8b+JGyG7xYS9pfK8aQhoGKU8ugVCpR7uklUTHZXJ4ojGg26mzavAXHcSmWevBcl2azThzFZDJZchmLysIyK8tLPP/iCywtLeE6Jo1GBa0EQ/0DhFGLudkVcpk8zXqNcm+Jnt5eqpUa6zYY6R4sRMqotLrU9bWr8vVlGcUCmbpPE0Wr3WLHtu0IAaYheMc73s6Xv/YAjusQR4okTjul6W6zLCHEquVIIsDsmoxSCEzTJJ/PM3vhIqWeHgzDoNlq4vstlpYWaTRaOI5LJlsGoZiZO02ifHr6ioSxTxA2yeXy+O02SoU0GjWCTodiXz/rDZcoikiSiOHRCVzPY3R0nL6+ge78urDXVxamXKo5kK+okdXLAsAQBspIC0B0V7WiNUkcIw0D07BRpqaQK7NucgP5XIFarUqz1aATdujrG8A2bXL5AtmMi2GaOD0e2VyRfC5HtbbC+vWj9PfnWVlZIgx9qpUqpmnTarU4P3t+zTYXQrIwP8fd99zNX336bzh88BBjE2O0mu1U7Yu0vlWpy3SUuHQtWqWma5zE3PKWW3nPe97FuTOnEVLwoQ+8n0OHD/HZv7m/m/mUXJZPs0owLyOXl7nFtVYcPXwE13V5+9vuobKyTJQoYqWxLBspfTKey4YNG9i6dSu2nSGMEuIoph0GbN22kygIqdcqdDo+URQQxzG2adPT20sQJRQKBTzHRgiJm8mSy+a7yaepj0QaEtOw1gpfDEMi6C7gV5YSdlXuWJfoCUmqSrS45Oy9DFBCShzXQ0qJ43n09PbTaNRpNuokKkZ3U8AzmWx68+MYy7JxXY8oDjk9dZqRgT76+4rkPYtYwZw1w8zsBYKgg2VaxFFErBPm5i7QbjeYmBjhhz/wHva/cJiw42MYsisc3V3tqbo2hECsvkWDUIRRxN69N/JzP/0RGvUqlZUFCoUSHd/n3/4vv8LI0DCPPvkUCL1mVaRFK6C0WKvoWb1VpmkRhjFBEHD3XbfS21vgwoVzeJk8juMihMC2LaIooN6oU681yOYEYRR3Yycmju1hWw6245LE8dqKXzVz40RQLOTJ5/NIaaTzMY01LnJ5MYruOulW//atClK+tQZY7YnXLW64tK+KK6vIUmqM7XkYlk0YdFBd5KeOoxSdjm0jpEhNGWlg2TaqlRAEPt944gn6enK4jsvI6DqOHD9GZbmCbdlESUQ2X6JY7qPRrGJiEHYidm3fwsjQAC8ePEanvYzj2iR+jEpSEAil0EojDBOjy5iXl5fZsnmS++69Bx1Dq9nAMCXV6gqtVot2u82HP/h+oqjNl776CDt37qQThGhi4iQ1raQUSMPAMAxMyyKKY8bHhrl+150UcxmqlVpazVStYjo22VIvjWabVqPJuJ3jyNHjtNo1coUipmnR3z/G2Ngktu1gmGZXwaZgNg0DQ0qSRGM7Nq7jYdnWVU6eVCMr1b3urpZOV38XGPK1JoWu9gu4ukT5JUvIBIYlsbTCSxSmaayZUlKm+6RhmKgkSZHZvYm9Pb1UaxVm5hdptRrkiv0srVRp1Jt4GZdCuZd16zZhmzaxitKLURB0Qvp6ern99ht56ol9PLHvBcp9fTiWhYoVQnZtfK2oLC8xO3MRzzUZvHUn9VoDKSS2aaFijSIm6qa5z8xdpJh36TRWeP7ZZ9i2ZQPSMukpF7Esh04QUK83UHFEdXmRu+68ldtuuZkkjuh0QtAGiYroBAFGaFIq9iKlTb26gmO7nDl9kijs0Gz69Az0UyyVMAwDwzDXilR01/Iyul1PTVL/xdqDK6667wiQhriyt+ea/F6VI0jzkkWir6JfkGlaCE9gxRaq6zpOlYmBYZporUmSGK0VlmUzNDhKu9XCczI0mw3qtTrDoxOUen2yXp6+nl4czyNOYkgEidJYtkGhWAIE1WqFsdEBdm7q4/TJaQpDA1Sbdd5x732Ue/r4y7/4U1ptH0nE5OQmWu02cRRgWg5xF4yr9kwUtgnjiFqtzlv27mR2bhkZ1BnqHeRHfvQDPPTg16g3fWrzs6g4YrhvkMmJUbxsmTDw0bTpBJ10K+rWBAopyWY9ekobSKKIdevWg0pwMnkGh0fo6e2/olRttdx8tTfR6t9Mw/wWEhBXaeTXEgvokqjvvNNAt17eMpFaopVeY+Fr1oM0UApM06Sntw+lFQsLc7T8Nn7Lx7EcbNslk8nguA6maWFbNrZl4zoOuWyeXKGA7/sks4pmo8PkxHrCMGRq6gymafD0448ghMHMxXmy+Rwqjgg6HQzTSusGZYyiy5JFauHESUySJJiWgwZGhgY4dXwKP+zwZ5/8GGdOnydfzNJoNDAk6AQqK3XyN5SJ4xxR2CHs+PgdnzAK0sRRKdFJ6oDq6e3rNp8KMS2PTDZDJptPBX3Zni2lxDTNtX1dCrmWu/i9Gt/FVrHp3iOVTEPCUl9ZMNkNIsmu2pMyTdzsHxyi0wmoVyvUqxUSrbAsC9t2sK20OAOREkrLcnE9F9NKWW+tXuHUyRM0GzXyuQILS1VOTx2ht6fA2NgoWzdv4LrrdjJ9cRbHdYniBNu0ECIGYaBllyxqTRzHlEpFTocxp06dZnx8BNc1mTp9Dj8I8BdTt/i977yDcrGXoaEBXM9FJw6R4+B5OfJJQqxjpJBdL6TGsR1KpTLZXK7rW+lGTQ1jTeWvmt2r8X7dDRcI2dUKQr6eAHiNPYJENyWMlDxqNGiBvupwsptcapgWluMSxzFhGOC5HsVCkagbdTNME7P7AolCYRkmlmXh2DYDvQOYWpB1LN56271s2LyRv7v/82zdEuI5LrWGz8JSBdOyCIKQQtnCMo01Zrzq4Nakdfu5bI44iJgcn6SnlOOmm29Ca7DlN7BsgzCM8f2A4aExRsfGyBfLZDI5kjjBUqkGWS13Nw1zjQM5jkPG88hkMpiGtaYtV3sM6m7bF31ZjwS5Zs/L1P8vv9ca4Ju2gdfaKKo72a5JstqD8mrikmoLsLr73aqKM0yDOIq7DSDS/U8aBsZl0S0pJRrN2PgG7n7HfRw/9iLL83McfOEFpi8sECSacqkHaTpkMy7nZxbIl/ooFHvIuF4XUKt9CFIhOHaG3r4Benv6aTebZPJ5jhw+RqPVZrbSwvM84lgTRJoz0+colHrZdv1GzC6B09pGqRQA8jLTzDQNbMvCtGykNK/wzQvDSB063cYRXYP10lpaPc73uCeReWW7l+/SyVYJlngFvMEwsR2xZjEkcZr4uOrKNbqeR2kYoNMmColK6B3o5+z0KVp+TKAF84sVdu/ZTbl3ENtxyGZyFEtlspkclmkRxQFCXTqu7rq6DZn6KkrlMrlcjunz02hppomvZoO7Nm7Fcb01klbIFdmxYzc95d7LyJvo9jkQV+7fprGmtV4yaWPVa8f/d6PbI0hc6hC3GgZ7naelu4JVSYJKug9iuNytmXYK6DZ0SLXE4tICc/Nz+H6L8xfP02o2kUKSyRfo6xukvy8NmrRaLTqBn6Z3A4ZI1bRjO5i2hW2nDqpsNkcYdIiiiOWVJeZmZ1iuVtK4gZehv3+IgcERCqUSrut2kzUvhclX4wNSyNSWN1PtZXRN3zfE0C8HgDXBv4yp8TqBQHWfwqEuy0Ba83GnDGMt8VQrTScMaLWa+G0fv9MmASzTxnZcTCON8IVBRBQFKJ10hSMxTQPTsLDs1MowLavrgbOI4wjfb+P7Hdp+m0TFmIaNaZo4XgbHcVPHkFhNNrkUIkZKjC57l0b6M93m5BtM+N02fjpRl1rFviQIxOs6Q61U+uoWm1xSSJeif5eXP2mtiZOIOE7S4k3UWhxfaY1KktSlnKRby5qz05CYholpmFimgWXZqY+9ew69+t2kC0YuPWNQXdGiTXSJ26U9W4pLWsGQxvesndx3BwAq0WvhLiFef5m/ZA7qpWcXaa7sibeamHJlsEOvPcxBKY3SyZofYjUvUCXJZcke+rKkDiPVBqa1psIvJ1+XRxV1N8qoruoSrteyoi91/pJr28Ib5RGz3VVxxeMAVgHwUu4k8QaB6yX76LLctJcnrVqrNQFd/vSP1GeuLrlcRcoq1rxvUl5i6S+rrnUXEGrN67cK0iunt7o9yDeO8Fdn900cIFGaKwI+4g0CgO/CdnIZCODyjmOr6WJcavQoXt1Fr7Zyfan2tOIN1XL/KnjqK23zSxyAq1cX13pGv5YV9oacG5ep/ysBIF9W+JeDR18T8bd3g74ZpyqucgXrb86ouTa+38B55TOh5Ld1NV57fMD3NTD+XzRCsKtleXbUAAAAAElFTkSuQmCC

iVBORw0KGgoAAAANSUhEUgAAAIAAAABOCAYAAADo3B4PAAAvXklEQVR42u29eZRk113n+bn37bFH7nvWvpdUWkqyNku2ZWFjtzE2Bg/NAQ80TPsMHKCZhYbT9NBDA900nAOD8dhgGnA3tkFgxuBV1motJbRVqfYtq7KW3DNjjxdvu3f+eJFZiyVbkm2N5Kl7TpzMyIx47773+97f/f7WJ7TWmmvj/7dDXrsF1wBwbVwDwLVxDQDXxjUAXBvXAHBtXAPAtXENANfGNQBcG9cAcG1cA8C18f0+zDf7BegkAQ2I9L2QEoS46kMarVT6OXT6GfnN2NdKgVJrBxNG91hXfR8hEIbxfQEA8aYNBmn9zYJeHUpdEvDlv7/cZ77F8XSSvLSwV2/by83hmgZ4fYRff+Ahms88i+4EeDu3U3rfe5Gem35Ga5CSaHGJ+le+RnD2HEY+R+7uO8nesOdKIQpB4+l/pvX4U+hWG2tyguK778Ma6CdeqVD90lcIz0wjPZfsW24hf+ft3x6I1zTA90j4QFypMv0//xL1r36dpNFICU3GI7Pneib/9GN4WzYDUP3qA1z4lX9LeHYaFQQIw8DoKdP/r3+WkX/3q6km0Jrzv/rvWP70X6NqdXSSIG0bd9cOen/if2Dlc/fjv3AAFYYIKZGFPOUf/SATv/+7SNteA9A1ALwe8lcKIQRnfuajrHz2b7GHh8i//W6E69J4+DHC6XN4e65j24NfpnPyJCd+8IdRjSbujm1krttFeGGG9rPPkdTqjP6X32Hwoz/Lxd/8j8z/pz/A6CmTvXUv1uAAzX9+jujsNMhUsNboKLnbbiFeXqH51NPES0sM/tLPM/bb/yGdk3yT8mn9JhoqSbTWWreee0G/MLhO7x/frFf+7h/W/t984YA+eN1e/axb1tWvPKAXPvnn+hkzr4/9wPt0uLi0doxzv/Ef9POlIX341rfqcGFRH775Dv18eURf/J3fWztW59x5feSt79T7RzboQze8RfunT6/9b/aP/kS/MDipD2zYoTvT59I/duf2ZhtvLtiqVFm1Dh0mqdXwrttF+QM/hE4SdBiS3XMdxbe/DR0nrPzt35O/+06EbdH3Ex/G6utF+R2ElAz+65/FHBggOH6SzrFj5O64DeG5DP7CR9PTdDo442P0/cSHiZeWccbHcDdsQMcxaM3Az/009tgoyUqF4OTp1YX05vQDqDhKL0wloNUl8sQb94KEYaQMPggvvTdTPps0GxjFPM1HHkNkMmT33kxcqV4yEQEdBF3zUVP9py9Teu+7kZnM2j4uTBO0RmazICU6ikCp9DxCIJRCum7XNFRvckeQ6gpcXS74VeG/sUAguvtxds/1mKUS/pGjzP3hx9BRhJCSyhe+SP3rD2OWSkQLizQefpTen/xx5v/wY/jHTyAcm6ReZ/Z3fg/VbGGUitS+8gD2+DjOlk0ov3PZycSlqxfiSpOx6xu45gh63eEq0Urh7dxOz4//KAsf+7+Z/0+/T+0fv4i0HdoHD6N8H6NURHouK/d/nsk//H1mfu3fc+p9H8LdvZN4bp7g2HFwHIRtE06fxz9yhNJ7341q1KG35yrUvQzDfxMz/ytuqRACgVjzpMEb+8KEEKA0Y7/17xn46M+hhaDx5NPUH3mUpN2m+L73MPHJP0Z4Ho1HHydcXqb4wffjT52h9k9fpr3/RchlGfud/5PiB99PUquw8rm/I//Od4CXWdvLtdYQxyS+jwrDru9IXfp/GKZbiXpzawKhwlAL0QXAKqqF4DJEvAFNl0vTC48dp7X/RZIwJLt9G97emwDoHDuOozRicoLEkMRPPY0/fR7lufTc81YYHIB2G//YCaTn4mzb+k3AVysV4nPnkYUC5oZ1V5ii/rHjaN/H3bwJo1B40zqEpPimSYs35P5/9RS10qAUi329TN2wm76f/Jf4u3bw4Ne/ztLCAva2rewLOxw4M4XhujzuOVTe+y4KP/YjPHD0CFopHt+/n8bmDfjrJmn7PidOnODAgQMEYciFCxeICnmejkOm7dQV/Nhjj3Hq1CmElGR2bCd7042p8N/ELmGZBjcuX/1XA+GNqgRSN+/hZ5+lM7+IjmOOP/88F2dmqNRq1JZX+MyffYoDzz2H1pozBw7gBQEnDx/m9JEjCClp1evkhMGZI0eIoogoiiiXy8zPzdFsNlmam2Pq4EEWps+htWbfvn0cOnSIarVKrVJBX7YlvHldwXGkryA1b3T1f9UIgoD5+XkmJiaIoojZ2dm136MowrIsLMtCKYWUEt/36XQ6lMtlgiDAcRzCMMS27bXPR1GElBLDMDh37hwjIyMYhkEURQghiOMYwzCwbftNTwKFTmL9zaz2zc9uX8briRDfn9f2HWwBXLbqxZtWsN/u9zUL4lV67b7V8b4fRqoBrlD9+vtWA1wbL+UIEvKl7atXvQKv/m76/vVUuZev0O/Wea++ttfrel72nmq+q5FHoVXXk/Ea2P8r3VO/V3uv1hrVDQ/Ll7gpSZIAYLzK9K1v9b1vd87Xi6usgv07va+vDQBXOT2a9QrLCxcI/AZh4JMkCbZboH9ogr7Bke8JCFZZ/eoIo5hWs0XYZfKlUnE1lP+azx+GESuVCr7vY5oWuVyOcqlw2RwShJDfE3A3a8usLF6kE7TQSYJlOSANLMtjaGwDlu18V+6r+c0OoFcmfK0VF84e4+L0MZ55/HFGJ0cYHugjCAJqjQZ+oMjlyvQPDLDzhjvIFfu+5RajL0+4fAUrREpJrV7nySef4PDB/SzNX6BaXSFJFLl8hjC2GBoZ54477uKeu+9GSvFtb9bq/7/+4IM88vBDnD8/RdipE3QC0JJyTw+5Qg9bd1zHffe+k02bNr4ysGqN1jq9dd1Vm75e4rNJxFOPfZ3AryGSOkqB57gI0+D0kSPUlpfYevNb6B0YZ8uOvWTzxe+CBhCvDACrN6jZWOHgsw8ydeIYpVKBgy8eZXJynI0b1xF2OtSbLdpBgpfJ0Qk65LMet73tA+SLPWvHUFqzemop5RU3I1Hp/me8hIpN/fHw9NP7+Ku/+ATLixfIZkwKnkW93sYwTXZum+DA0bNMTS+ghcGmTbv5tV//DTZt2pCaPi+zXUgh+e3f/S0+//efI+uZDPRmGenvw28HNNoddmwepdXpcODoecLY5q577uWXfvGXKRTya0K9nAGpRCGFWItifvM5V7cSsaZRnnn8n5g6cYKe/lGymZh2q00hVwTL4MhTz2DaNr3jIySxxs6UuG7PzQxPbO2e+9VzOPnKV38qOL9V5dyJ5/AbFRzXxfcDPC9DdaVKEockKkGpmCROkAKCMOLZAwc4dODZNQEmKr0xpiExjFT4zSBgudEiUQmGFKnw9UuYYUIAis/8t49zfvo4UeCT8yyyWQ+NIIwVhmEw1N9DPmvjGJL9zz3Bpz75x13B65cUvmEYHHjxWb7w+b+mt+Dh2Cae41LIu2gUSSKwLINyKUMh65DzEr76xc/xiU/8CVJK9GV5AVprhNbptUnB6cU6X3nmJPc/cZIvPX2Cg1OztOMEw5BIKUiSBK3hwtmTPPboQygBjZZP2AmIww5JEhGHAZVKFTeXxzIsYiVQScjM2UNMH9tHHAWvicCbr8yHnSKrsnSR2sIZPMciX8hTa9SpVptkcxkqldqa8JVOsAwLv+Nz9NhRXDfLwux5EqXXiNX5aoN/fOIgj714gfNxjnPzFdqNKgOGYs/6Pj583x5+6NZtCC6pbqVS4f7Fpz7Ok088QblcxLBt8lmXfNbBNAVhoNFoeooZbMskjgJcx+aBr32Z9z/+fm678541ga8C0jAMFhZm+N//11+i1erQX8qiE4VrSYoFj9n5lVTAEizTQCUxnXYH1zF56vGvsvwzP0Nv30CXHKacIAE++eBRPvsP+3nmmWn8GqAcWHgIPIPJ3du592138DPv281tOyYBODs9Ravd5uLMBYpFTd4torVCSE3U6eA6DoVyiVqtSr0dsn2wjOt6tGrLnD6yj007b8cwrdfKAb71nt9u1Tl9cB+ZnEcmmyebyZHLuKwsLuPYDlGrjt/qYNlGyqINmyNHj+K3fZIEmu0OhhScnl3gdz79MPc/epLaieNQrcH4u8BR0F5hpVnn2MOn+OwXjnDfe2/kz3/xXkZLeeIkwTQMvvaVL/C7//m3GR7pJeuYaUImGscxEUKiVIjQCsM0SJTGNkwKeYe5xQq/9r/9G/7qM/czPrnhChYdBD7/8Td/ndMnp1g3OYAUCoVGSoFlmWidoLQiTjS2JbvaTeBZJlOnTvGLv/BR/utffgbDNBHAbNPnx3/973jkb05A7QI5N0ef0wc6pOG3iJsx00+f5VNP1/jUnz7Aj33kB/iDf3MvxYxFGEW4KuH8xSl6ilvIuKC1IPA7DI32E8Yd5paWWTcxRi7jIqRAK0Ft6QIXzx5mYtOeV0UM5StZ+wALM2eo15eJo4Ao9HEch1KhQC6bJQw77NlzMxMTmxifmKTU08fJqdNUqxUKxV6Wl2vcevMePv3oi9z0L/+IT/3Rg9SOLGI0IozmHM6FOfIXG7gzVbxKDTsCaynha3/yVf7Fb/4j9TD1zc/Pnuc///b/wchwDznPJl3rijhJyBcLuK5JomKkKbAdE4HANCWWKdmxYYhqdYE/+L3fouP7V6jrv/jUx3nk4YdYN95HKWvjmAZaK3J5l96BEmGkkIYgk3HIZi3QYFkCrRSjQ3089cRDfOLjf4SUko5K+Miv/j9840/+gfXBLBuNiP7OCkONRYZbSzhxh5wIGdIGvapJpqn53B/tZ++H/5op1UdvPkOr1cIyFYeOH6bearHz+hvYsmUHdqYHw3SYmFjH+OgIhrSQaLQKqNZrnD11EF6lVfCKM4IWF2Z49Kl9DPT2ccOe3QwNDZDN5ZGW4PY77mTzrr089+QDLC8ss//wIU5OXcBxbGZnT/DOe9/JU/4AP/nvH4AzCXYQYzYqyLBBJ6iQT6YYsQZpxnN0REhHGxgEKKPJC5/9Mv/1nnX84g+9hb/81MeYmZth7+71+H4EholpSjIZh80bhjl6bJpIJWRck4znkHFsoigkShT5rEtvX5F9zzzFF77weX70x34cgIcfeYQvffEfsWyDYs5N7XzAyTiYpomONYZpULAtevIOjiUxpMQ1TaphTNYz2LRumE/86f/Fj3zwAzxzrsPXPvHbbMqNYnYa5LRFohVFM8FEsKTrZPFwwgYtLSiJDMJoceGBZ/jpTshv/tQ9xPvu5/xyjVY7YPbCHHNzy6go4fqb9rJ95x5mLkwTx21c22JhYZ5DR06ysLTInj07ieMA03JfMSF8xQBI4phyPs/pqXOcOTPDuo3j+M0Wgoh61eeBBx5k3zMHCcOYVqvNyTMXiUKfH3jfB3jc282n/8t+5FSHYiAxGj5e3MAWPlUScmqaQUOTTxapaI0VZWjGS8yIGURnnse+tJs7R+HZp/eRz7p0ghhpGnSCiIyXY2GhyuEjZ7BMSTHrcnG2QpwIEhUTxDFKafxOiGeaqDjiy1/8Au+491309vbw95//e7ROyHkOcaLQWhFq8CybStXn7Ll5ygUXISQrdZ/l5TqWlWqIIArJYmLbknarwX//7H/n2LyHiE9xtrnIenOAHrcIdOjP+BhGwlSnwXjGJlQLZJWHiCW1cJGC9EmezvJb5kZ+6ra9HHzk45yfW+a2vTsJOoeJIsXp6fNEn/kMuazLyOgojWaHpaUVCoUsmzaMYZkOQhivyqw3XykBHBpdT6PeYKi/hGFazJyfY/rcBRaXahQKGW7as5Xrdmzk4sIC02fb3LhzI+WRTTw/tcjBmf2owxly9WNkwzp5EmLRoGC2MIVGGsuMlx0a0QoDGsIk5rGVKXzVxBAOc+dP8cBDIUkUUsy4hJ0IxzPQSrFUbdKHoNbwyWUcorwL0kSoBMsymVuuk3clHT8gjBOKhTxTZ6c4cuQwd911F88/t5/1QxmCpqQThhjSIAgiLGFi2wa2aaCVRhqCJNEorcl4DiuVJpZlEEYBSRTTmy/wz/v+mYMLBgYCkdQ5p1ps6R1mOK8oZSoomVCst+kvK3SSox10OF+fYzZssytzJ4gOxw4d4a/mz3Pv9XeybdcyWUuzUu0wOTnM1k2TnDwxxRNPvYD14hQ7tm9icqyfbNZlbmaOXXvuwjCt7y4HEN1YwbqNO7j19rdz7twctXqb2fkFnn3+aJqfN1ym0agzv7BEHJrccOPtjLzzp/jySoGjZ2YQF87Rv/Ai48qjnZwmsKZx3SaZTMjOnh4ydoOWPY12F6kwy4uNAzSTixTNGFPXiI02B17YT76QRRqCMEkII0Wl0cKUgsH+IkpDoxXSbIcEnRAtNKVSjkLWY7na5uJyi04QUyrlWVmuMb+whFIJU1NnMGwbx7Fp+TELK01c12NwoEg+5xFEEWEUEyeKJNYI0orhKE5IEmi1E5QWZFyTKGgRdOo4pqLHiDFVi+eXz3C4NksoF5noXWHbSMDOzXWEs8iJ5imOhUe5vb/EoNNhuvMo9YUv0Fyc5q8fnuEZ9z1kezaSyeQ5cOgkTz71LEEY0DfQw4HDx3l833OcOjnN9Ll5tu/Zy+6b7vhOPIHf1gvArXfex8DAEIcP7aflK3bv2s746ACFQg7HzTA0NsItN+2hGis+9LlzNBsm69Zt5+KLTzLfOoZ0rmPC1CypGZQFEsHm7DBnqLO/VkFowXyrTRAoiqaFrTtEmQxjGzdx4pHPc+fN25mdu0ArUizWahSLBUZHhoiUQduPaLc7+K0Y0zRwXA9Ek5GhHjzXYn6hRstvkcnnmVusYMjUXPM7LSq1FtJILYqtm8aYmBhCaDCkIAhjwlDjOQa5Yh7LsgjCkJVag4VKmhTqeAZeNkenXsca3o23UkGc3s9o0SZQiqYlOdIyOdrUGLZiJpCcbtU458dMFnK0jGUeWTqJn/g4cpL+vh4yCw1qT0xzw2+8nfvuXMfDjz3H/NwSHb9KpjBKsTSEkzG45aYbuXnvrYyOb8Zxsq86PvCKASCEQBgmY5ObmVy3kbff+wO0Gg2SJEYaJghJkgiKxSyFapUb5mY4dGQOa7KJrT3aaC4G+1gSFkXLAqmIcw4H7Wkybg4zTlBSMFb0WK4EVKtN2mjGd91KW3icn5nBtG7EtRyajTYb1w2xY9sWkgSiOMJzXdAKv93By3jkiyUuzizS9iMGegsM92ZZqjTpxBZLi0v09vUghKSvp4cDh07wkR+9m5nz0/T296YtArTC81y0loRRjGGmjqFOyydRUC7nyWZdjp+ZodUKGB8Z5/SJs/hZSe9dH6S5PE3Dr9A3MUDGc/ENAUqh0Rz1TTKDHhtUlZVKm5O1JiYwZuVoCcHWzQXecf0U+czT7N3+TkyvxJ133kq1Vse1DJqtDo5nMzjQh2l5xJFGWA6GaXzvNACA42ZoN+rEKkQaNvly76UUUq1I4ji9OT1lfvrmaV6oPEJjYgtfXBYkywLTytAJO3R0QrmQJ1vIUS7lSJIYOjFIQb5gIUUDrUKKO27hwumTlK97C5HSvHD4JNfv3Ipz7gQ7No3TaftYrodjG9iWiVHIMzezSBhE5PJ5clmXoBMQJzE6Drlhz/X8zZeexstmKRQKgGZkZIjHH3+SWlMzMjrMwkodx/HoLXkUCjn8TpDOT0Aul2NxaYlOJ0ArGOwrkUSa6elZ8oUyR09/g4ldA5x/9nm2vePHaBz7KkbUIJvNYhiaME6wDEEpl6UdhHRCaAbLDAlF3nGo1JuU7ngbt980yca8TWlkK7neAaIgwDAtBgb6AEGpV4CGOBbEcYgWklzee01BoVcVz7RsG9NaZZpp1wzVfWkNCIkQGsNw2Xbnzdz2/vXcuivP2973Vjq6TRj5mKZJoZQlW8jieA6ZjMvQYC/9fSUKOY+enMXo2BAb7343s2cu0pw/QyuSTKzbyMPfeJKJ9VvZs2snczML+EFAlCRIw2DL5kk2b1yP4xq4nsveW27CNC18v4MKEyY3b+Ebzx5j+uw5BvrKhEFIHCd0woBMxuMvP/cVDLtETzFHvdmm2miza8dWJsZGMU2DXD7HwMgocRQSRSGu4xAGMTIJuPuet/Dc4VNoDZnyOPVTz3Do65+neN0PU9i4h8FihoGeMuVymXy+SCZXwLJdTCeLkXFYDmLO1Vtk997LW3/2Fxl2NYXBG8j3XI9lumvBpCiKUYkijmLiuBuJlBJpmDiO+x2khL3SD0vZDUNKBHLN7Zn+lN2gjgQVUxq8nr7NP0Ss89x2y02885d/C+FlCOMQzxRkPZecazE+2sP6DUNsGuth09ggm+9+P8bNH+LpfSeozc2AECxeXKZvbCe5rMPH/+yvWb/1RtZt2oRA0aq3abQ6DA4PsmP3HhIgly/TNzBBs92mWCowNjHJQ08c4YFHn6avv49qrZlG55RiZmaBXCFPs9ngDz/5t1RbsG5slCSB0bF1bNy0g1zGZGLdRnbuvolGO6TtB4SdAB1HXH/jDUzPN3numf1M7LiRxmKMMCXt2jz7/u5veX4uw5HR+/Czw+SyWUb7exjqyeNYEtsSDPX18ZY7386eX/h9hn/544wYbarVDnZ+mHLvGFIYaUAJgWGYSGkipYWU1pqNZloW5qt0Ab+mLQDA8Tw6rRpoiSDpegr1FXRRqQTPy6CtAdqqiFi+wO0f/ldkdtzKzMN/T2bpFH0ZSU8+w8D6UXKlYZZHitRyI8xtfQsH7v8sUaOJ4dgkHR9naorliV7GrruNY089zP/0K7/JdTu3cv32cUb6y2TyLtlsgcl1W/Acj7HREXpKIxRLPbx4aIrPf/FpGu2AXK7AwnKVWrWG7dhESUynE1CpVCiWyuTzGe7/x2+wbfMYt928jTAKMcw0FjE+PozSGsfJMDkxgU4S5isN/vL+hzh85BSDExMYxe2IE8fQbR8pJSoJaNZCDuz5V5zwZymdf5Fy9SI9pkk4FtMcshnadSeVwW2c1gb32G2yF6bwQ0GQ2BSKPal2FRKBRq5lb4m1hacB28285pyAVw8A18VyXEK/mUbBVNK1EVLhawRagOd6LFeaKOlid2qo5TkY30HxI9ehmhVqfpUgCDgdQV1ZRIO9OFmXILLwlQBDonVKarZ4Z2gLEPkN/PzPb+TQsTNMTR3nmedeZHykn+1b11OphFjyAU5PLXD2L+7nD/740xw9Pg3CZPuu3ZR7e3nyiSeoVRsg0nyCJI5JkhgB+B2fG266nuHBQZ5/7gX+2988zKNPvMiG9cMY0uUf/uGrPPjg45y/uMDiUo0TU+epNToMj47wgQ+9H8Md4eTUPLv7znFYtcC0QYHI94Gy8LOT+DvWMdtqQRykutdyOGLYMN+k5AgGvAYF3aGTyxMESRr/kAZSpy7vS4QcpBAorTBsl0wm991ICPk2AaHuS6AplnqoJIoo7GAYBkKrbkmhRGpFGPgs15ZI4phSbz9Zt8j8yjIql+diWxFYLsobo5RV6CShqTVNLQibMU07geIIUmlQaah4eINB0/C4cP4cQ6N3Iu0CGzet5+KFi5w5fZbHnz7MAw8/Q6IUjutiGiaFcpGtO3czMjqM63rUajWiOAYt1tK9ojAiiZMudxFpkMcwuX7PdbQabWZmL/KNp4/T7oSEYQetFK7j4mYyjI1NsHdyknJPmZGRYU4cPMn6osn23QV4qA0UECqC3g3otomI62AaqZPKtFKdGSqkitBCM2ka9M3PsnPXRmYXM0ydPoGUko0bNlEqlrFMO41IdquWw1hhWjbFct9aPsH3BgBKoVWSRs+6ETTDMOgbHKJWreA3GwhpINC0Wg2mp6c5e3aKtt9CGILhwRFsw8CemqMzvI65WNEMI4RIWBQaS2j8WBEomQq800F7Y2Dlke0ltAavZyubh4bRjdNEsSCKQuJI0dfbT2+5lziK6EQBYZiWiXueh2WaaA2JSoiiCKUVQsu1rCPDMAijiDgJEUKBFtgy7QvQCSMsz2bjls2s37QRv9MhiUJAYDsWjuNhGiZCppHPTifGMpvcetN6dt+8E/g8Ku6A7IfsDbDsI0yNNhSg0OJSFl5CghELbmo22D00Q7Y0waTnEUURp04eYW5ujh07djI8NIxtuyRKE8QKz/MolHoxDIMkjruJJcarLlH7lgDQcYxKYpS+NGHZbZKgkoRsJotl2UxPn+bZZ57i4nxaUiWVpt1qMz4+yIXzp7Fdlw1CUJ/awD6zjyiTIIQiNNIZiEghY4XSEr2gkIdcvMgkMpoIw+B9P/xjCBVzauoYpkhDtKkAQ5IoBqUxTRvDTCuAkiTp9hLqElMpkEJ2+0FphBRYpkUYhqkGQCMkCMsEAYYh0VoTBiFKp5lJlumg0EAaDhaAZRiYpok0BLEw2bhrN3e89Qf5F+++mYP7X6S27OPsrzBXb6KGJeRFescloECH4DUU76bCh24/hh4OOHL0MK1mDcfOUK/5LK1Mc+7COYaGRti1aw8DAyMUimUK+RxxHKGVwrSsbrpZjGlZCGl85wDQcUwchVfElISU3X0/tfk1YFlpsuTo2DiGZRCFIagYCZhSc+7CObIYFIdKvK/xGPY/b+GvauPMlzxwJdgCHWr0coI932HHxZO8u+/LPFw+QVwe4Z33vYsffM97U1u9bWAaImXFQmAg0FKsNelYNUellOmWJLtpWhpMy8SyJaqlkSIVnFIKxGp5pMBx7PT7QqJ0N+lUK1Si0xwHeencQkqEITGkgTAk9VZIb/8oxVI/H/mpj/Kl0qdoLpzhtuKfc+jwMfafuo55e5B2xgFDkFcRG8wqbx2Z4r0/XENsG+PCXIE4vMDyygrDQxl27N6JZVokicIwTQyZOpOy2QyJUqkGSZJUowmDWCVpQq7jpgv1NQNAJcRRin7R3XPEKvsQAhWnWsE0DS7OnOf8ubNs2bSJ7Vs20Ww0WF5ZolGrUKlWyGTzuI5JLjeANwb/49BzXP/Vx3j0QD/nmkV8JZFxhyE9y00TJ7jpQ2fovXkE56n7qLTyvONdHwBMHNeh3fGJowTLtLCEJJIS3c25E5cHQJQAQ6d9D0jJkm1Z5PM5FucWKPf0UiwWaDYbWJaN77dxXQfXdVNQrCVMXhZUlSnrXgOASNPWTCsFkmNZ9JSKJFGHPXvvouFHzJ4/yLoNLW75oQMEZw+wOC2pVSykZVEsa4a2WgzduI649xZiNjGozrM4fwHHcdE6IZvNMDE2SS6bI1GKRquNtIwugVVpoxJScErTQJAS20D7uF7mFdUPvCQAVJykwr8qBXz1fQoMTRxHLM7Pcvz4EU4dP0ahmGFocIx22+fFw4fTfVJpDCEpFkvYXg+LyuPWn1tk7+wR2rMvoAMfaUmskoEq9dI0bufEXIZC/zIbdg5TLvdTq1awTAPXNqnW6ziZTFe1GwgRo6Xs9jhKEyO1UMjVqjckUhpEcYQEHMfippv3kM1miKKITZs2cuTIYSxLkiQJjutCHCERJFqjdar4hZSpGdZFhBACUxoYtk2n4+NZBj3lElEY0qitsGXzFlDw4tQMw4Pb2P22MrcPC4iqqESgzCLKXs/coknrok+pVCNb7GNwcJQo6OC3W5w4foxWs41jSkzLphMl9PQN0tMzgGkYKL3arUanHEem2i7pLmDLcb5tWNh8KdKXAl5cSsjUGn1Zz5zubSaOYoQ0yOcKzM5c5PTUSQYH5tm2czeLSytkMx59fQMMj28GTBbnzxGHMVG0jnVb30puY5V6bZ66HzA7W+Hsc/O0G8tI5nEzLs3GMtNnTlLu6SWbzSG0ZqWyzHihgDZSbSSE6BpIAiH0FaZS2vhCIaVJHEWEUYhlWxQLOeI4JpPxWLdunJOnT6bkKgzI5rLpMYVGSxBKrC0CIUB3+YTsBpMc06RaqaDihGyuQBBG1FaWOHX6KEli0GnVOXxogZmLDbxMjomJSdZv3EQ+X2Zm6iytxgyGFMzMVLAdh3L/EGGiOHt2mk7bp1qrc376FLaT+gX6B0ZS07u7z2shLlV1akALJOk2rRP1bXsamy8b+JGyG7xYS9pfK8aQhoGKU8ugVCpR7uklUTHZXJ4ojGg26mzavAXHcSmWevBcl2azThzFZDJZchmLysIyK8tLPP/iCywtLeE6Jo1GBa0EQ/0DhFGLudkVcpk8zXqNcm+Jnt5eqpUa6zYY6R4sRMqotLrU9bWr8vVlGcUCmbpPE0Wr3WLHtu0IAaYheMc73s6Xv/YAjusQR4okTjul6W6zLCHEquVIIsDsmoxSCEzTJJ/PM3vhIqWeHgzDoNlq4vstlpYWaTRaOI5LJlsGoZiZO02ifHr6ioSxTxA2yeXy+O02SoU0GjWCTodiXz/rDZcoikiSiOHRCVzPY3R0nL6+ge78urDXVxamXKo5kK+okdXLAsAQBspIC0B0V7WiNUkcIw0D07BRpqaQK7NucgP5XIFarUqz1aATdujrG8A2bXL5AtmMi2GaOD0e2VyRfC5HtbbC+vWj9PfnWVlZIgx9qpUqpmnTarU4P3t+zTYXQrIwP8fd99zNX336bzh88BBjE2O0mu1U7Yu0vlWpy3SUuHQtWqWma5zE3PKWW3nPe97FuTOnEVLwoQ+8n0OHD/HZv7m/m/mUXJZPs0owLyOXl7nFtVYcPXwE13V5+9vuobKyTJQoYqWxLBspfTKey4YNG9i6dSu2nSGMEuIoph0GbN22kygIqdcqdDo+URQQxzG2adPT20sQJRQKBTzHRgiJm8mSy+a7yaepj0QaEtOw1gpfDEMi6C7gV5YSdlXuWJfoCUmqSrS45Oy9DFBCShzXQ0qJ43n09PbTaNRpNuokKkZ3U8AzmWx68+MYy7JxXY8oDjk9dZqRgT76+4rkPYtYwZw1w8zsBYKgg2VaxFFErBPm5i7QbjeYmBjhhz/wHva/cJiw42MYsisc3V3tqbo2hECsvkWDUIRRxN69N/JzP/0RGvUqlZUFCoUSHd/n3/4vv8LI0DCPPvkUCL1mVaRFK6C0WKvoWb1VpmkRhjFBEHD3XbfS21vgwoVzeJk8juMihMC2LaIooN6oU681yOYEYRR3Yycmju1hWw6245LE8dqKXzVz40RQLOTJ5/NIaaTzMY01LnJ5MYruOulW//atClK+tQZY7YnXLW64tK+KK6vIUmqM7XkYlk0YdFBd5KeOoxSdjm0jpEhNGWlg2TaqlRAEPt944gn6enK4jsvI6DqOHD9GZbmCbdlESUQ2X6JY7qPRrGJiEHYidm3fwsjQAC8ePEanvYzj2iR+jEpSEAil0EojDBOjy5iXl5fZsnmS++69Bx1Dq9nAMCXV6gqtVot2u82HP/h+oqjNl776CDt37qQThGhi4iQ1raQUSMPAMAxMyyKKY8bHhrl+150UcxmqlVpazVStYjo22VIvjWabVqPJuJ3jyNHjtNo1coUipmnR3z/G2Ngktu1gmGZXwaZgNg0DQ0qSRGM7Nq7jYdnWVU6eVCMr1b3urpZOV38XGPK1JoWu9gu4ukT5JUvIBIYlsbTCSxSmaayZUlKm+6RhmKgkSZHZvYm9Pb1UaxVm5hdptRrkiv0srVRp1Jt4GZdCuZd16zZhmzaxitKLURB0Qvp6ern99ht56ol9PLHvBcp9fTiWhYoVQnZtfK2oLC8xO3MRzzUZvHUn9VoDKSS2aaFijSIm6qa5z8xdpJh36TRWeP7ZZ9i2ZQPSMukpF7Esh04QUK83UHFEdXmRu+68ldtuuZkkjuh0QtAGiYroBAFGaFIq9iKlTb26gmO7nDl9kijs0Gz69Az0UyyVMAwDwzDXilR01/Iyul1PTVL/xdqDK6667wiQhriyt+ea/F6VI0jzkkWir6JfkGlaCE9gxRaq6zpOlYmBYZporUmSGK0VlmUzNDhKu9XCczI0mw3qtTrDoxOUen2yXp6+nl4czyNOYkgEidJYtkGhWAIE1WqFsdEBdm7q4/TJaQpDA1Sbdd5x732Ue/r4y7/4U1ptH0nE5OQmWu02cRRgWg5xF4yr9kwUtgnjiFqtzlv27mR2bhkZ1BnqHeRHfvQDPPTg16g3fWrzs6g4YrhvkMmJUbxsmTDw0bTpBJ10K+rWBAopyWY9ekobSKKIdevWg0pwMnkGh0fo6e2/olRttdx8tTfR6t9Mw/wWEhBXaeTXEgvokqjvvNNAt17eMpFaopVeY+Fr1oM0UApM06Sntw+lFQsLc7T8Nn7Lx7EcbNslk8nguA6maWFbNrZl4zoOuWyeXKGA7/sks4pmo8PkxHrCMGRq6gymafD0448ghMHMxXmy+Rwqjgg6HQzTSusGZYyiy5JFauHESUySJJiWgwZGhgY4dXwKP+zwZ5/8GGdOnydfzNJoNDAk6AQqK3XyN5SJ4xxR2CHs+PgdnzAK0sRRKdFJ6oDq6e3rNp8KMS2PTDZDJptPBX3Zni2lxDTNtX1dCrmWu/i9Gt/FVrHp3iOVTEPCUl9ZMNkNIsmu2pMyTdzsHxyi0wmoVyvUqxUSrbAsC9t2sK20OAOREkrLcnE9F9NKWW+tXuHUyRM0GzXyuQILS1VOTx2ht6fA2NgoWzdv4LrrdjJ9cRbHdYniBNu0ECIGYaBllyxqTRzHlEpFTocxp06dZnx8BNc1mTp9Dj8I8BdTt/i977yDcrGXoaEBXM9FJw6R4+B5OfJJQqxjpJBdL6TGsR1KpTLZXK7rW+lGTQ1jTeWvmt2r8X7dDRcI2dUKQr6eAHiNPYJENyWMlDxqNGiBvupwsptcapgWluMSxzFhGOC5HsVCkagbdTNME7P7AolCYRkmlmXh2DYDvQOYWpB1LN56271s2LyRv7v/82zdEuI5LrWGz8JSBdOyCIKQQtnCMo01Zrzq4Nakdfu5bI44iJgcn6SnlOOmm29Ca7DlN7BsgzCM8f2A4aExRsfGyBfLZDI5kjjBUqkGWS13Nw1zjQM5jkPG88hkMpiGtaYtV3sM6m7bF31ZjwS5Zs/L1P8vv9ca4Ju2gdfaKKo72a5JstqD8mrikmoLsLr73aqKM0yDOIq7DSDS/U8aBsZl0S0pJRrN2PgG7n7HfRw/9iLL83McfOEFpi8sECSacqkHaTpkMy7nZxbIl/ooFHvIuF4XUKt9CFIhOHaG3r4Benv6aTebZPJ5jhw+RqPVZrbSwvM84lgTRJoz0+colHrZdv1GzC6B09pGqRQA8jLTzDQNbMvCtGykNK/wzQvDSB063cYRXYP10lpaPc73uCeReWW7l+/SyVYJlngFvMEwsR2xZjEkcZr4uOrKNbqeR2kYoNMmColK6B3o5+z0KVp+TKAF84sVdu/ZTbl3ENtxyGZyFEtlspkclmkRxQFCXTqu7rq6DZn6KkrlMrlcjunz02hppomvZoO7Nm7Fcb01klbIFdmxYzc95d7LyJvo9jkQV+7fprGmtV4yaWPVa8f/d6PbI0hc6hC3GgZ7naelu4JVSYJKug9iuNytmXYK6DZ0SLXE4tICc/Nz+H6L8xfP02o2kUKSyRfo6xukvy8NmrRaLTqBn6Z3A4ZI1bRjO5i2hW2nDqpsNkcYdIiiiOWVJeZmZ1iuVtK4gZehv3+IgcERCqUSrut2kzUvhclX4wNSyNSWN1PtZXRN3zfE0C8HgDXBv4yp8TqBQHWfwqEuy0Ba83GnDGMt8VQrTScMaLWa+G0fv9MmASzTxnZcTCON8IVBRBQFKJ10hSMxTQPTsLDs1MowLavrgbOI4wjfb+P7Hdp+m0TFmIaNaZo4XgbHcVPHkFhNNrkUIkZKjC57l0b6M93m5BtM+N02fjpRl1rFviQIxOs6Q61U+uoWm1xSSJeif5eXP2mtiZOIOE7S4k3UWhxfaY1KktSlnKRby5qz05CYholpmFimgWXZqY+9ew69+t2kC0YuPWNQXdGiTXSJ26U9W4pLWsGQxvesndx3BwAq0WvhLiFef5m/ZA7qpWcXaa7sibeamHJlsEOvPcxBKY3SyZofYjUvUCXJZcke+rKkDiPVBqa1psIvJ1+XRxV1N8qoruoSrteyoi91/pJr28Ib5RGz3VVxxeMAVgHwUu4k8QaB6yX76LLctJcnrVqrNQFd/vSP1GeuLrlcRcoq1rxvUl5i6S+rrnUXEGrN67cK0iunt7o9yDeO8Fdn900cIFGaKwI+4g0CgO/CdnIZCODyjmOr6WJcavQoXt1Fr7Zyfan2tOIN1XL/KnjqK23zSxyAq1cX13pGv5YV9oacG5ep/ysBIF9W+JeDR18T8bd3g74ZpyqucgXrb86ouTa+38B55TOh5Ld1NV57fMD3NTD+XzRCsKtleXbUAAAAAElFTkSuQmCC

iVBORw0KGgoAAAANSUhEUgAAAIAAAABOCAYAAADo3B4PAAAvXklEQVR42u29eZRk113n+bn37bFH7nvWvpdUWkqyNku2ZWFjtzE2Bg/NAQ80TPsMHKCZhYbT9NBDA900nAOD8dhgGnA3tkFgxuBV1motJbRVqfYtq7KW3DNjjxdvu3f+eJFZiyVbkm2N5Kl7TpzMyIx47773+97f/f7WJ7TWmmvj/7dDXrsF1wBwbVwDwLVxDQDXxjUAXBvXAHBtXAPAtXENANfGNQBcG9cAcG1cA8C18f0+zDf7BegkAQ2I9L2QEoS46kMarVT6OXT6GfnN2NdKgVJrBxNG91hXfR8hEIbxfQEA8aYNBmn9zYJeHUpdEvDlv7/cZ77F8XSSvLSwV2/by83hmgZ4fYRff+Ahms88i+4EeDu3U3rfe5Gem35Ga5CSaHGJ+le+RnD2HEY+R+7uO8nesOdKIQpB4+l/pvX4U+hWG2tyguK778Ma6CdeqVD90lcIz0wjPZfsW24hf+ft3x6I1zTA90j4QFypMv0//xL1r36dpNFICU3GI7Pneib/9GN4WzYDUP3qA1z4lX9LeHYaFQQIw8DoKdP/r3+WkX/3q6km0Jrzv/rvWP70X6NqdXSSIG0bd9cOen/if2Dlc/fjv3AAFYYIKZGFPOUf/SATv/+7SNteA9A1ALwe8lcKIQRnfuajrHz2b7GHh8i//W6E69J4+DHC6XN4e65j24NfpnPyJCd+8IdRjSbujm1krttFeGGG9rPPkdTqjP6X32Hwoz/Lxd/8j8z/pz/A6CmTvXUv1uAAzX9+jujsNMhUsNboKLnbbiFeXqH51NPES0sM/tLPM/bb/yGdk3yT8mn9JhoqSbTWWreee0G/MLhO7x/frFf+7h/W/t984YA+eN1e/axb1tWvPKAXPvnn+hkzr4/9wPt0uLi0doxzv/Ef9POlIX341rfqcGFRH775Dv18eURf/J3fWztW59x5feSt79T7RzboQze8RfunT6/9b/aP/kS/MDipD2zYoTvT59I/duf2ZhtvLtiqVFm1Dh0mqdXwrttF+QM/hE4SdBiS3XMdxbe/DR0nrPzt35O/+06EbdH3Ex/G6utF+R2ElAz+65/FHBggOH6SzrFj5O64DeG5DP7CR9PTdDo442P0/cSHiZeWccbHcDdsQMcxaM3Az/009tgoyUqF4OTp1YX05vQDqDhKL0wloNUl8sQb94KEYaQMPggvvTdTPps0GxjFPM1HHkNkMmT33kxcqV4yEQEdBF3zUVP9py9Teu+7kZnM2j4uTBO0RmazICU6ikCp9DxCIJRCum7XNFRvckeQ6gpcXS74VeG/sUAguvtxds/1mKUS/pGjzP3hx9BRhJCSyhe+SP3rD2OWSkQLizQefpTen/xx5v/wY/jHTyAcm6ReZ/Z3fg/VbGGUitS+8gD2+DjOlk0ov3PZycSlqxfiSpOx6xu45gh63eEq0Urh7dxOz4//KAsf+7+Z/0+/T+0fv4i0HdoHD6N8H6NURHouK/d/nsk//H1mfu3fc+p9H8LdvZN4bp7g2HFwHIRtE06fxz9yhNJ7341q1KG35yrUvQzDfxMz/ytuqRACgVjzpMEb+8KEEKA0Y7/17xn46M+hhaDx5NPUH3mUpN2m+L73MPHJP0Z4Ho1HHydcXqb4wffjT52h9k9fpr3/RchlGfud/5PiB99PUquw8rm/I//Od4CXWdvLtdYQxyS+jwrDru9IXfp/GKZbiXpzawKhwlAL0QXAKqqF4DJEvAFNl0vTC48dp7X/RZIwJLt9G97emwDoHDuOozRicoLEkMRPPY0/fR7lufTc81YYHIB2G//YCaTn4mzb+k3AVysV4nPnkYUC5oZ1V5ii/rHjaN/H3bwJo1B40zqEpPimSYs35P5/9RS10qAUi329TN2wm76f/Jf4u3bw4Ne/ztLCAva2rewLOxw4M4XhujzuOVTe+y4KP/YjPHD0CFopHt+/n8bmDfjrJmn7PidOnODAgQMEYciFCxeICnmejkOm7dQV/Nhjj3Hq1CmElGR2bCd7042p8N/ELmGZBjcuX/1XA+GNqgRSN+/hZ5+lM7+IjmOOP/88F2dmqNRq1JZX+MyffYoDzz2H1pozBw7gBQEnDx/m9JEjCClp1evkhMGZI0eIoogoiiiXy8zPzdFsNlmam2Pq4EEWps+htWbfvn0cOnSIarVKrVJBX7YlvHldwXGkryA1b3T1f9UIgoD5+XkmJiaIoojZ2dm136MowrIsLMtCKYWUEt/36XQ6lMtlgiDAcRzCMMS27bXPR1GElBLDMDh37hwjIyMYhkEURQghiOMYwzCwbftNTwKFTmL9zaz2zc9uX8briRDfn9f2HWwBXLbqxZtWsN/u9zUL4lV67b7V8b4fRqoBrlD9+vtWA1wbL+UIEvKl7atXvQKv/m76/vVUuZev0O/Wea++ttfrel72nmq+q5FHoVXXk/Ea2P8r3VO/V3uv1hrVDQ/Ll7gpSZIAYLzK9K1v9b1vd87Xi6usgv07va+vDQBXOT2a9QrLCxcI/AZh4JMkCbZboH9ogr7Bke8JCFZZ/eoIo5hWs0XYZfKlUnE1lP+azx+GESuVCr7vY5oWuVyOcqlw2RwShJDfE3A3a8usLF6kE7TQSYJlOSANLMtjaGwDlu18V+6r+c0OoFcmfK0VF84e4+L0MZ55/HFGJ0cYHugjCAJqjQZ+oMjlyvQPDLDzhjvIFfu+5RajL0+4fAUrREpJrV7nySef4PDB/SzNX6BaXSFJFLl8hjC2GBoZ54477uKeu+9GSvFtb9bq/7/+4IM88vBDnD8/RdipE3QC0JJyTw+5Qg9bd1zHffe+k02bNr4ysGqN1jq9dd1Vm75e4rNJxFOPfZ3AryGSOkqB57gI0+D0kSPUlpfYevNb6B0YZ8uOvWTzxe+CBhCvDACrN6jZWOHgsw8ydeIYpVKBgy8eZXJynI0b1xF2OtSbLdpBgpfJ0Qk65LMet73tA+SLPWvHUFqzemop5RU3I1Hp/me8hIpN/fHw9NP7+Ku/+ATLixfIZkwKnkW93sYwTXZum+DA0bNMTS+ghcGmTbv5tV//DTZt2pCaPi+zXUgh+e3f/S0+//efI+uZDPRmGenvw28HNNoddmwepdXpcODoecLY5q577uWXfvGXKRTya0K9nAGpRCGFWItifvM5V7cSsaZRnnn8n5g6cYKe/lGymZh2q00hVwTL4MhTz2DaNr3jIySxxs6UuG7PzQxPbO2e+9VzOPnKV38qOL9V5dyJ5/AbFRzXxfcDPC9DdaVKEockKkGpmCROkAKCMOLZAwc4dODZNQEmKr0xpiExjFT4zSBgudEiUQmGFKnw9UuYYUIAis/8t49zfvo4UeCT8yyyWQ+NIIwVhmEw1N9DPmvjGJL9zz3Bpz75x13B65cUvmEYHHjxWb7w+b+mt+Dh2Cae41LIu2gUSSKwLINyKUMh65DzEr76xc/xiU/8CVJK9GV5AVprhNbptUnB6cU6X3nmJPc/cZIvPX2Cg1OztOMEw5BIKUiSBK3hwtmTPPboQygBjZZP2AmIww5JEhGHAZVKFTeXxzIsYiVQScjM2UNMH9tHHAWvicCbr8yHnSKrsnSR2sIZPMciX8hTa9SpVptkcxkqldqa8JVOsAwLv+Nz9NhRXDfLwux5EqXXiNX5aoN/fOIgj714gfNxjnPzFdqNKgOGYs/6Pj583x5+6NZtCC6pbqVS4f7Fpz7Ok088QblcxLBt8lmXfNbBNAVhoNFoeooZbMskjgJcx+aBr32Z9z/+fm678541ga8C0jAMFhZm+N//11+i1erQX8qiE4VrSYoFj9n5lVTAEizTQCUxnXYH1zF56vGvsvwzP0Nv30CXHKacIAE++eBRPvsP+3nmmWn8GqAcWHgIPIPJ3du592138DPv281tOyYBODs9Ravd5uLMBYpFTd4torVCSE3U6eA6DoVyiVqtSr0dsn2wjOt6tGrLnD6yj007b8cwrdfKAb71nt9u1Tl9cB+ZnEcmmyebyZHLuKwsLuPYDlGrjt/qYNlGyqINmyNHj+K3fZIEmu0OhhScnl3gdz79MPc/epLaieNQrcH4u8BR0F5hpVnn2MOn+OwXjnDfe2/kz3/xXkZLeeIkwTQMvvaVL/C7//m3GR7pJeuYaUImGscxEUKiVIjQCsM0SJTGNkwKeYe5xQq/9r/9G/7qM/czPrnhChYdBD7/8Td/ndMnp1g3OYAUCoVGSoFlmWidoLQiTjS2JbvaTeBZJlOnTvGLv/BR/utffgbDNBHAbNPnx3/973jkb05A7QI5N0ef0wc6pOG3iJsx00+f5VNP1/jUnz7Aj33kB/iDf3MvxYxFGEW4KuH8xSl6ilvIuKC1IPA7DI32E8Yd5paWWTcxRi7jIqRAK0Ft6QIXzx5mYtOeV0UM5StZ+wALM2eo15eJo4Ao9HEch1KhQC6bJQw77NlzMxMTmxifmKTU08fJqdNUqxUKxV6Wl2vcevMePv3oi9z0L/+IT/3Rg9SOLGI0IozmHM6FOfIXG7gzVbxKDTsCaynha3/yVf7Fb/4j9TD1zc/Pnuc///b/wchwDznPJl3rijhJyBcLuK5JomKkKbAdE4HANCWWKdmxYYhqdYE/+L3fouP7V6jrv/jUx3nk4YdYN95HKWvjmAZaK3J5l96BEmGkkIYgk3HIZi3QYFkCrRSjQ3089cRDfOLjf4SUko5K+Miv/j9840/+gfXBLBuNiP7OCkONRYZbSzhxh5wIGdIGvapJpqn53B/tZ++H/5op1UdvPkOr1cIyFYeOH6bearHz+hvYsmUHdqYHw3SYmFjH+OgIhrSQaLQKqNZrnD11EF6lVfCKM4IWF2Z49Kl9DPT2ccOe3QwNDZDN5ZGW4PY77mTzrr089+QDLC8ss//wIU5OXcBxbGZnT/DOe9/JU/4AP/nvH4AzCXYQYzYqyLBBJ6iQT6YYsQZpxnN0REhHGxgEKKPJC5/9Mv/1nnX84g+9hb/81MeYmZth7+71+H4EholpSjIZh80bhjl6bJpIJWRck4znkHFsoigkShT5rEtvX5F9zzzFF77weX70x34cgIcfeYQvffEfsWyDYs5N7XzAyTiYpomONYZpULAtevIOjiUxpMQ1TaphTNYz2LRumE/86f/Fj3zwAzxzrsPXPvHbbMqNYnYa5LRFohVFM8FEsKTrZPFwwgYtLSiJDMJoceGBZ/jpTshv/tQ9xPvu5/xyjVY7YPbCHHNzy6go4fqb9rJ95x5mLkwTx21c22JhYZ5DR06ysLTInj07ieMA03JfMSF8xQBI4phyPs/pqXOcOTPDuo3j+M0Wgoh61eeBBx5k3zMHCcOYVqvNyTMXiUKfH3jfB3jc282n/8t+5FSHYiAxGj5e3MAWPlUScmqaQUOTTxapaI0VZWjGS8yIGURnnse+tJs7R+HZp/eRz7p0ghhpGnSCiIyXY2GhyuEjZ7BMSTHrcnG2QpwIEhUTxDFKafxOiGeaqDjiy1/8Au+491309vbw95//e7ROyHkOcaLQWhFq8CybStXn7Ll5ygUXISQrdZ/l5TqWlWqIIArJYmLbknarwX//7H/n2LyHiE9xtrnIenOAHrcIdOjP+BhGwlSnwXjGJlQLZJWHiCW1cJGC9EmezvJb5kZ+6ra9HHzk45yfW+a2vTsJOoeJIsXp6fNEn/kMuazLyOgojWaHpaUVCoUsmzaMYZkOQhivyqw3XykBHBpdT6PeYKi/hGFazJyfY/rcBRaXahQKGW7as5Xrdmzk4sIC02fb3LhzI+WRTTw/tcjBmf2owxly9WNkwzp5EmLRoGC2MIVGGsuMlx0a0QoDGsIk5rGVKXzVxBAOc+dP8cBDIUkUUsy4hJ0IxzPQSrFUbdKHoNbwyWUcorwL0kSoBMsymVuuk3clHT8gjBOKhTxTZ6c4cuQwd911F88/t5/1QxmCpqQThhjSIAgiLGFi2wa2aaCVRhqCJNEorcl4DiuVJpZlEEYBSRTTmy/wz/v+mYMLBgYCkdQ5p1ps6R1mOK8oZSoomVCst+kvK3SSox10OF+fYzZssytzJ4gOxw4d4a/mz3Pv9XeybdcyWUuzUu0wOTnM1k2TnDwxxRNPvYD14hQ7tm9icqyfbNZlbmaOXXvuwjCt7y4HEN1YwbqNO7j19rdz7twctXqb2fkFnn3+aJqfN1ym0agzv7BEHJrccOPtjLzzp/jySoGjZ2YQF87Rv/Ai48qjnZwmsKZx3SaZTMjOnh4ydoOWPY12F6kwy4uNAzSTixTNGFPXiI02B17YT76QRRqCMEkII0Wl0cKUgsH+IkpDoxXSbIcEnRAtNKVSjkLWY7na5uJyi04QUyrlWVmuMb+whFIJU1NnMGwbx7Fp+TELK01c12NwoEg+5xFEEWEUEyeKJNYI0orhKE5IEmi1E5QWZFyTKGgRdOo4pqLHiDFVi+eXz3C4NksoF5noXWHbSMDOzXWEs8iJ5imOhUe5vb/EoNNhuvMo9YUv0Fyc5q8fnuEZ9z1kezaSyeQ5cOgkTz71LEEY0DfQw4HDx3l833OcOjnN9Ll5tu/Zy+6b7vhOPIHf1gvArXfex8DAEIcP7aflK3bv2s746ACFQg7HzTA0NsItN+2hGis+9LlzNBsm69Zt5+KLTzLfOoZ0rmPC1CypGZQFEsHm7DBnqLO/VkFowXyrTRAoiqaFrTtEmQxjGzdx4pHPc+fN25mdu0ArUizWahSLBUZHhoiUQduPaLc7+K0Y0zRwXA9Ek5GhHjzXYn6hRstvkcnnmVusYMjUXPM7LSq1FtJILYqtm8aYmBhCaDCkIAhjwlDjOQa5Yh7LsgjCkJVag4VKmhTqeAZeNkenXsca3o23UkGc3s9o0SZQiqYlOdIyOdrUGLZiJpCcbtU458dMFnK0jGUeWTqJn/g4cpL+vh4yCw1qT0xzw2+8nfvuXMfDjz3H/NwSHb9KpjBKsTSEkzG45aYbuXnvrYyOb8Zxsq86PvCKASCEQBgmY5ObmVy3kbff+wO0Gg2SJEYaJghJkgiKxSyFapUb5mY4dGQOa7KJrT3aaC4G+1gSFkXLAqmIcw4H7Wkybg4zTlBSMFb0WK4EVKtN2mjGd91KW3icn5nBtG7EtRyajTYb1w2xY9sWkgSiOMJzXdAKv93By3jkiyUuzizS9iMGegsM92ZZqjTpxBZLi0v09vUghKSvp4cDh07wkR+9m5nz0/T296YtArTC81y0loRRjGGmjqFOyydRUC7nyWZdjp+ZodUKGB8Z5/SJs/hZSe9dH6S5PE3Dr9A3MUDGc/ENAUqh0Rz1TTKDHhtUlZVKm5O1JiYwZuVoCcHWzQXecf0U+czT7N3+TkyvxJ133kq1Vse1DJqtDo5nMzjQh2l5xJFGWA6GaXzvNACA42ZoN+rEKkQaNvly76UUUq1I4ji9OT1lfvrmaV6oPEJjYgtfXBYkywLTytAJO3R0QrmQJ1vIUS7lSJIYOjFIQb5gIUUDrUKKO27hwumTlK97C5HSvHD4JNfv3Ipz7gQ7No3TaftYrodjG9iWiVHIMzezSBhE5PJ5clmXoBMQJzE6Drlhz/X8zZeexstmKRQKgGZkZIjHH3+SWlMzMjrMwkodx/HoLXkUCjn8TpDOT0Aul2NxaYlOJ0ArGOwrkUSa6elZ8oUyR09/g4ldA5x/9nm2vePHaBz7KkbUIJvNYhiaME6wDEEpl6UdhHRCaAbLDAlF3nGo1JuU7ngbt980yca8TWlkK7neAaIgwDAtBgb6AEGpV4CGOBbEcYgWklzee01BoVcVz7RsG9NaZZpp1wzVfWkNCIkQGsNw2Xbnzdz2/vXcuivP2973Vjq6TRj5mKZJoZQlW8jieA6ZjMvQYC/9fSUKOY+enMXo2BAb7343s2cu0pw/QyuSTKzbyMPfeJKJ9VvZs2snczML+EFAlCRIw2DL5kk2b1yP4xq4nsveW27CNC18v4MKEyY3b+Ebzx5j+uw5BvrKhEFIHCd0woBMxuMvP/cVDLtETzFHvdmm2miza8dWJsZGMU2DXD7HwMgocRQSRSGu4xAGMTIJuPuet/Dc4VNoDZnyOPVTz3Do65+neN0PU9i4h8FihoGeMuVymXy+SCZXwLJdTCeLkXFYDmLO1Vtk997LW3/2Fxl2NYXBG8j3XI9lumvBpCiKUYkijmLiuBuJlBJpmDiO+x2khL3SD0vZDUNKBHLN7Zn+lN2gjgQVUxq8nr7NP0Ss89x2y02885d/C+FlCOMQzxRkPZecazE+2sP6DUNsGuth09ggm+9+P8bNH+LpfSeozc2AECxeXKZvbCe5rMPH/+yvWb/1RtZt2oRA0aq3abQ6DA4PsmP3HhIgly/TNzBBs92mWCowNjHJQ08c4YFHn6avv49qrZlG55RiZmaBXCFPs9ngDz/5t1RbsG5slCSB0bF1bNy0g1zGZGLdRnbuvolGO6TtB4SdAB1HXH/jDUzPN3numf1M7LiRxmKMMCXt2jz7/u5veX4uw5HR+/Czw+SyWUb7exjqyeNYEtsSDPX18ZY7386eX/h9hn/544wYbarVDnZ+mHLvGFIYaUAJgWGYSGkipYWU1pqNZloW5qt0Ab+mLQDA8Tw6rRpoiSDpegr1FXRRqQTPy6CtAdqqiFi+wO0f/ldkdtzKzMN/T2bpFH0ZSU8+w8D6UXKlYZZHitRyI8xtfQsH7v8sUaOJ4dgkHR9naorliV7GrruNY089zP/0K7/JdTu3cv32cUb6y2TyLtlsgcl1W/Acj7HREXpKIxRLPbx4aIrPf/FpGu2AXK7AwnKVWrWG7dhESUynE1CpVCiWyuTzGe7/x2+wbfMYt928jTAKMcw0FjE+PozSGsfJMDkxgU4S5isN/vL+hzh85BSDExMYxe2IE8fQbR8pJSoJaNZCDuz5V5zwZymdf5Fy9SI9pkk4FtMcshnadSeVwW2c1gb32G2yF6bwQ0GQ2BSKPal2FRKBRq5lb4m1hacB28285pyAVw8A18VyXEK/mUbBVNK1EVLhawRagOd6LFeaKOlid2qo5TkY30HxI9ehmhVqfpUgCDgdQV1ZRIO9OFmXILLwlQBDonVKarZ4Z2gLEPkN/PzPb+TQsTNMTR3nmedeZHykn+1b11OphFjyAU5PLXD2L+7nD/740xw9Pg3CZPuu3ZR7e3nyiSeoVRsg0nyCJI5JkhgB+B2fG266nuHBQZ5/7gX+2988zKNPvMiG9cMY0uUf/uGrPPjg45y/uMDiUo0TU+epNToMj47wgQ+9H8Md4eTUPLv7znFYtcC0QYHI94Gy8LOT+DvWMdtqQRykutdyOGLYMN+k5AgGvAYF3aGTyxMESRr/kAZSpy7vS4QcpBAorTBsl0wm991ICPk2AaHuS6AplnqoJIoo7GAYBkKrbkmhRGpFGPgs15ZI4phSbz9Zt8j8yjIql+diWxFYLsobo5RV6CShqTVNLQibMU07geIIUmlQaah4eINB0/C4cP4cQ6N3Iu0CGzet5+KFi5w5fZbHnz7MAw8/Q6IUjutiGiaFcpGtO3czMjqM63rUajWiOAYt1tK9ojAiiZMudxFpkMcwuX7PdbQabWZmL/KNp4/T7oSEYQetFK7j4mYyjI1NsHdyknJPmZGRYU4cPMn6osn23QV4qA0UECqC3g3otomI62AaqZPKtFKdGSqkitBCM2ka9M3PsnPXRmYXM0ydPoGUko0bNlEqlrFMO41IdquWw1hhWjbFct9aPsH3BgBKoVWSRs+6ETTDMOgbHKJWreA3GwhpINC0Wg2mp6c5e3aKtt9CGILhwRFsw8CemqMzvI65WNEMI4RIWBQaS2j8WBEomQq800F7Y2Dlke0ltAavZyubh4bRjdNEsSCKQuJI0dfbT2+5lziK6EQBYZiWiXueh2WaaA2JSoiiCKUVQsu1rCPDMAijiDgJEUKBFtgy7QvQCSMsz2bjls2s37QRv9MhiUJAYDsWjuNhGiZCppHPTifGMpvcetN6dt+8E/g8Ku6A7IfsDbDsI0yNNhSg0OJSFl5CghELbmo22D00Q7Y0waTnEUURp04eYW5ujh07djI8NIxtuyRKE8QKz/MolHoxDIMkjruJJcarLlH7lgDQcYxKYpS+NGHZbZKgkoRsJotl2UxPn+bZZ57i4nxaUiWVpt1qMz4+yIXzp7Fdlw1CUJ/awD6zjyiTIIQiNNIZiEghY4XSEr2gkIdcvMgkMpoIw+B9P/xjCBVzauoYpkhDtKkAQ5IoBqUxTRvDTCuAkiTp9hLqElMpkEJ2+0FphBRYpkUYhqkGQCMkCMsEAYYh0VoTBiFKp5lJlumg0EAaDhaAZRiYpok0BLEw2bhrN3e89Qf5F+++mYP7X6S27OPsrzBXb6KGJeRFescloECH4DUU76bCh24/hh4OOHL0MK1mDcfOUK/5LK1Mc+7COYaGRti1aw8DAyMUimUK+RxxHKGVwrSsbrpZjGlZCGl85wDQcUwchVfElISU3X0/tfk1YFlpsuTo2DiGZRCFIagYCZhSc+7CObIYFIdKvK/xGPY/b+GvauPMlzxwJdgCHWr0coI932HHxZO8u+/LPFw+QVwe4Z33vYsffM97U1u9bWAaImXFQmAg0FKsNelYNUellOmWJLtpWhpMy8SyJaqlkSIVnFIKxGp5pMBx7PT7QqJ0N+lUK1Si0xwHeencQkqEITGkgTAk9VZIb/8oxVI/H/mpj/Kl0qdoLpzhtuKfc+jwMfafuo55e5B2xgFDkFcRG8wqbx2Z4r0/XENsG+PCXIE4vMDyygrDQxl27N6JZVokicIwTQyZOpOy2QyJUqkGSZJUowmDWCVpQq7jpgv1NQNAJcRRin7R3XPEKvsQAhWnWsE0DS7OnOf8ubNs2bSJ7Vs20Ww0WF5ZolGrUKlWyGTzuI5JLjeANwb/49BzXP/Vx3j0QD/nmkV8JZFxhyE9y00TJ7jpQ2fovXkE56n7qLTyvONdHwBMHNeh3fGJowTLtLCEJJIS3c25E5cHQJQAQ6d9D0jJkm1Z5PM5FucWKPf0UiwWaDYbWJaN77dxXQfXdVNQrCVMXhZUlSnrXgOASNPWTCsFkmNZ9JSKJFGHPXvvouFHzJ4/yLoNLW75oQMEZw+wOC2pVSykZVEsa4a2WgzduI649xZiNjGozrM4fwHHcdE6IZvNMDE2SS6bI1GKRquNtIwugVVpoxJScErTQJAS20D7uF7mFdUPvCQAVJykwr8qBXz1fQoMTRxHLM7Pcvz4EU4dP0ahmGFocIx22+fFw4fTfVJpDCEpFkvYXg+LyuPWn1tk7+wR2rMvoAMfaUmskoEq9dI0bufEXIZC/zIbdg5TLvdTq1awTAPXNqnW6ziZTFe1GwgRo6Xs9jhKEyO1UMjVqjckUhpEcYQEHMfippv3kM1miKKITZs2cuTIYSxLkiQJjutCHCERJFqjdar4hZSpGdZFhBACUxoYtk2n4+NZBj3lElEY0qitsGXzFlDw4tQMw4Pb2P22MrcPC4iqqESgzCLKXs/coknrok+pVCNb7GNwcJQo6OC3W5w4foxWs41jSkzLphMl9PQN0tMzgGkYKL3arUanHEem2i7pLmDLcb5tWNh8KdKXAl5cSsjUGn1Zz5zubSaOYoQ0yOcKzM5c5PTUSQYH5tm2czeLSytkMx59fQMMj28GTBbnzxGHMVG0jnVb30puY5V6bZ66HzA7W+Hsc/O0G8tI5nEzLs3GMtNnTlLu6SWbzSG0ZqWyzHihgDZSbSSE6BpIAiH0FaZS2vhCIaVJHEWEUYhlWxQLOeI4JpPxWLdunJOnT6bkKgzI5rLpMYVGSxBKrC0CIUB3+YTsBpMc06RaqaDihGyuQBBG1FaWOHX6KEli0GnVOXxogZmLDbxMjomJSdZv3EQ+X2Zm6iytxgyGFMzMVLAdh3L/EGGiOHt2mk7bp1qrc376FLaT+gX6B0ZS07u7z2shLlV1akALJOk2rRP1bXsamy8b+JGyG7xYS9pfK8aQhoGKU8ugVCpR7uklUTHZXJ4ojGg26mzavAXHcSmWevBcl2azThzFZDJZchmLysIyK8tLPP/iCywtLeE6Jo1GBa0EQ/0DhFGLudkVcpk8zXqNcm+Jnt5eqpUa6zYY6R4sRMqotLrU9bWr8vVlGcUCmbpPE0Wr3WLHtu0IAaYheMc73s6Xv/YAjusQR4okTjul6W6zLCHEquVIIsDsmoxSCEzTJJ/PM3vhIqWeHgzDoNlq4vstlpYWaTRaOI5LJlsGoZiZO02ifHr6ioSxTxA2yeXy+O02SoU0GjWCTodiXz/rDZcoikiSiOHRCVzPY3R0nL6+ge78urDXVxamXKo5kK+okdXLAsAQBspIC0B0V7WiNUkcIw0D07BRpqaQK7NucgP5XIFarUqz1aATdujrG8A2bXL5AtmMi2GaOD0e2VyRfC5HtbbC+vWj9PfnWVlZIgx9qpUqpmnTarU4P3t+zTYXQrIwP8fd99zNX336bzh88BBjE2O0mu1U7Yu0vlWpy3SUuHQtWqWma5zE3PKWW3nPe97FuTOnEVLwoQ+8n0OHD/HZv7m/m/mUXJZPs0owLyOXl7nFtVYcPXwE13V5+9vuobKyTJQoYqWxLBspfTKey4YNG9i6dSu2nSGMEuIoph0GbN22kygIqdcqdDo+URQQxzG2adPT20sQJRQKBTzHRgiJm8mSy+a7yaepj0QaEtOw1gpfDEMi6C7gV5YSdlXuWJfoCUmqSrS45Oy9DFBCShzXQ0qJ43n09PbTaNRpNuokKkZ3U8AzmWx68+MYy7JxXY8oDjk9dZqRgT76+4rkPYtYwZw1w8zsBYKgg2VaxFFErBPm5i7QbjeYmBjhhz/wHva/cJiw42MYsisc3V3tqbo2hECsvkWDUIRRxN69N/JzP/0RGvUqlZUFCoUSHd/n3/4vv8LI0DCPPvkUCL1mVaRFK6C0WKvoWb1VpmkRhjFBEHD3XbfS21vgwoVzeJk8juMihMC2LaIooN6oU681yOYEYRR3Yycmju1hWw6245LE8dqKXzVz40RQLOTJ5/NIaaTzMY01LnJ5MYruOulW//atClK+tQZY7YnXLW64tK+KK6vIUmqM7XkYlk0YdFBd5KeOoxSdjm0jpEhNGWlg2TaqlRAEPt944gn6enK4jsvI6DqOHD9GZbmCbdlESUQ2X6JY7qPRrGJiEHYidm3fwsjQAC8ePEanvYzj2iR+jEpSEAil0EojDBOjy5iXl5fZsnmS++69Bx1Dq9nAMCXV6gqtVot2u82HP/h+oqjNl776CDt37qQThGhi4iQ1raQUSMPAMAxMyyKKY8bHhrl+150UcxmqlVpazVStYjo22VIvjWabVqPJuJ3jyNHjtNo1coUipmnR3z/G2Ngktu1gmGZXwaZgNg0DQ0qSRGM7Nq7jYdnWVU6eVCMr1b3urpZOV38XGPK1JoWu9gu4ukT5JUvIBIYlsbTCSxSmaayZUlKm+6RhmKgkSZHZvYm9Pb1UaxVm5hdptRrkiv0srVRp1Jt4GZdCuZd16zZhmzaxitKLURB0Qvp6ern99ht56ol9PLHvBcp9fTiWhYoVQnZtfK2oLC8xO3MRzzUZvHUn9VoDKSS2aaFijSIm6qa5z8xdpJh36TRWeP7ZZ9i2ZQPSMukpF7Esh04QUK83UHFEdXmRu+68ldtuuZkkjuh0QtAGiYroBAFGaFIq9iKlTb26gmO7nDl9kijs0Gz69Az0UyyVMAwDwzDXilR01/Iyul1PTVL/xdqDK6667wiQhriyt+ea/F6VI0jzkkWir6JfkGlaCE9gxRaq6zpOlYmBYZporUmSGK0VlmUzNDhKu9XCczI0mw3qtTrDoxOUen2yXp6+nl4czyNOYkgEidJYtkGhWAIE1WqFsdEBdm7q4/TJaQpDA1Sbdd5x732Ue/r4y7/4U1ptH0nE5OQmWu02cRRgWg5xF4yr9kwUtgnjiFqtzlv27mR2bhkZ1BnqHeRHfvQDPPTg16g3fWrzs6g4YrhvkMmJUbxsmTDw0bTpBJ10K+rWBAopyWY9ekobSKKIdevWg0pwMnkGh0fo6e2/olRttdx8tTfR6t9Mw/wWEhBXaeTXEgvokqjvvNNAt17eMpFaopVeY+Fr1oM0UApM06Sntw+lFQsLc7T8Nn7Lx7EcbNslk8nguA6maWFbNrZl4zoOuWyeXKGA7/sks4pmo8PkxHrCMGRq6gymafD0448ghMHMxXmy+Rwqjgg6HQzTSusGZYyiy5JFauHESUySJJiWgwZGhgY4dXwKP+zwZ5/8GGdOnydfzNJoNDAk6AQqK3XyN5SJ4xxR2CHs+PgdnzAK0sRRKdFJ6oDq6e3rNp8KMS2PTDZDJptPBX3Zni2lxDTNtX1dCrmWu/i9Gt/FVrHp3iOVTEPCUl9ZMNkNIsmu2pMyTdzsHxyi0wmoVyvUqxUSrbAsC9t2sK20OAOREkrLcnE9F9NKWW+tXuHUyRM0GzXyuQILS1VOTx2ht6fA2NgoWzdv4LrrdjJ9cRbHdYniBNu0ECIGYaBllyxqTRzHlEpFTocxp06dZnx8BNc1mTp9Dj8I8BdTt/i977yDcrGXoaEBXM9FJw6R4+B5OfJJQqxjpJBdL6TGsR1KpTLZXK7rW+lGTQ1jTeWvmt2r8X7dDRcI2dUKQr6eAHiNPYJENyWMlDxqNGiBvupwsptcapgWluMSxzFhGOC5HsVCkagbdTNME7P7AolCYRkmlmXh2DYDvQOYWpB1LN56271s2LyRv7v/82zdEuI5LrWGz8JSBdOyCIKQQtnCMo01Zrzq4Nakdfu5bI44iJgcn6SnlOOmm29Ca7DlN7BsgzCM8f2A4aExRsfGyBfLZDI5kjjBUqkGWS13Nw1zjQM5jkPG88hkMpiGtaYtV3sM6m7bF31ZjwS5Zs/L1P8vv9ca4Ju2gdfaKKo72a5JstqD8mrikmoLsLr73aqKM0yDOIq7DSDS/U8aBsZl0S0pJRrN2PgG7n7HfRw/9iLL83McfOEFpi8sECSacqkHaTpkMy7nZxbIl/ooFHvIuF4XUKt9CFIhOHaG3r4Benv6aTebZPJ5jhw+RqPVZrbSwvM84lgTRJoz0+colHrZdv1GzC6B09pGqRQA8jLTzDQNbMvCtGykNK/wzQvDSB063cYRXYP10lpaPc73uCeReWW7l+/SyVYJlngFvMEwsR2xZjEkcZr4uOrKNbqeR2kYoNMmColK6B3o5+z0KVp+TKAF84sVdu/ZTbl3ENtxyGZyFEtlspkclmkRxQFCXTqu7rq6DZn6KkrlMrlcjunz02hppomvZoO7Nm7Fcb01klbIFdmxYzc95d7LyJvo9jkQV+7fprGmtV4yaWPVa8f/d6PbI0hc6hC3GgZ7naelu4JVSYJKug9iuNytmXYK6DZ0SLXE4tICc/Nz+H6L8xfP02o2kUKSyRfo6xukvy8NmrRaLTqBn6Z3A4ZI1bRjO5i2hW2nDqpsNkcYdIiiiOWVJeZmZ1iuVtK4gZehv3+IgcERCqUSrut2kzUvhclX4wNSyNSWN1PtZXRN3zfE0C8HgDXBv4yp8TqBQHWfwqEuy0Ba83GnDGMt8VQrTScMaLWa+G0fv9MmASzTxnZcTCON8IVBRBQFKJ10hSMxTQPTsLDs1MowLavrgbOI4wjfb+P7Hdp+m0TFmIaNaZo4XgbHcVPHkFhNNrkUIkZKjC57l0b6M93m5BtM+N02fjpRl1rFviQIxOs6Q61U+uoWm1xSSJeif5eXP2mtiZOIOE7S4k3UWhxfaY1KktSlnKRby5qz05CYholpmFimgWXZqY+9ew69+t2kC0YuPWNQXdGiTXSJ26U9W4pLWsGQxvesndx3BwAq0WvhLiFef5m/ZA7qpWcXaa7sibeamHJlsEOvPcxBKY3SyZofYjUvUCXJZcke+rKkDiPVBqa1psIvJ1+XRxV1N8qoruoSrteyoi91/pJr28Ib5RGz3VVxxeMAVgHwUu4k8QaB6yX76LLctJcnrVqrNQFd/vSP1GeuLrlcRcoq1rxvUl5i6S+rrnUXEGrN67cK0iunt7o9yDeO8Fdn900cIFGaKwI+4g0CgO/CdnIZCODyjmOr6WJcavQoXt1Fr7Zyfan2tOIN1XL/KnjqK23zSxyAq1cX13pGv5YV9oacG5ep/ysBIF9W+JeDR18T8bd3g74ZpyqucgXrb86ouTa+38B55TOh5Ld1NV57fMD3NTD+XzRCsKtleXbUAAAAAElFTkSuQmCC

iVBORw0KGgoAAAANSUhEUgAAAIAAAABOCAYAAADo3B4PAAAvXklEQVR42u29eZRk113n+bn37bFH7nvWvpdUWkqyNku2ZWFjtzE2Bg/NAQ80TPsMHKCZhYbT9NBDA900nAOD8dhgGnA3tkFgxuBV1motJbRVqfYtq7KW3DNjjxdvu3f+eJFZiyVbkm2N5Kl7TpzMyIx47773+97f/f7WJ7TWmmvj/7dDXrsF1wBwbVwDwLVxDQDXxjUAXBvXAHBtXAPAtXENANfGNQBcG9cAcG1cA8C18f0+zDf7BegkAQ2I9L2QEoS46kMarVT6OXT6GfnN2NdKgVJrBxNG91hXfR8hEIbxfQEA8aYNBmn9zYJeHUpdEvDlv7/cZ77F8XSSvLSwV2/by83hmgZ4fYRff+Ahms88i+4EeDu3U3rfe5Gem35Ga5CSaHGJ+le+RnD2HEY+R+7uO8nesOdKIQpB4+l/pvX4U+hWG2tyguK778Ma6CdeqVD90lcIz0wjPZfsW24hf+ft3x6I1zTA90j4QFypMv0//xL1r36dpNFICU3GI7Pneib/9GN4WzYDUP3qA1z4lX9LeHYaFQQIw8DoKdP/r3+WkX/3q6km0Jrzv/rvWP70X6NqdXSSIG0bd9cOen/if2Dlc/fjv3AAFYYIKZGFPOUf/SATv/+7SNteA9A1ALwe8lcKIQRnfuajrHz2b7GHh8i//W6E69J4+DHC6XN4e65j24NfpnPyJCd+8IdRjSbujm1krttFeGGG9rPPkdTqjP6X32Hwoz/Lxd/8j8z/pz/A6CmTvXUv1uAAzX9+jujsNMhUsNboKLnbbiFeXqH51NPES0sM/tLPM/bb/yGdk3yT8mn9JhoqSbTWWreee0G/MLhO7x/frFf+7h/W/t984YA+eN1e/axb1tWvPKAXPvnn+hkzr4/9wPt0uLi0doxzv/Ef9POlIX341rfqcGFRH775Dv18eURf/J3fWztW59x5feSt79T7RzboQze8RfunT6/9b/aP/kS/MDipD2zYoTvT59I/duf2ZhtvLtiqVFm1Dh0mqdXwrttF+QM/hE4SdBiS3XMdxbe/DR0nrPzt35O/+06EbdH3Ex/G6utF+R2ElAz+65/FHBggOH6SzrFj5O64DeG5DP7CR9PTdDo442P0/cSHiZeWccbHcDdsQMcxaM3Az/009tgoyUqF4OTp1YX05vQDqDhKL0wloNUl8sQb94KEYaQMPggvvTdTPps0GxjFPM1HHkNkMmT33kxcqV4yEQEdBF3zUVP9py9Teu+7kZnM2j4uTBO0RmazICU6ikCp9DxCIJRCum7XNFRvckeQ6gpcXS74VeG/sUAguvtxds/1mKUS/pGjzP3hx9BRhJCSyhe+SP3rD2OWSkQLizQefpTen/xx5v/wY/jHTyAcm6ReZ/Z3fg/VbGGUitS+8gD2+DjOlk0ov3PZycSlqxfiSpOx6xu45gh63eEq0Urh7dxOz4//KAsf+7+Z/0+/T+0fv4i0HdoHD6N8H6NURHouK/d/nsk//H1mfu3fc+p9H8LdvZN4bp7g2HFwHIRtE06fxz9yhNJ7341q1KG35yrUvQzDfxMz/ytuqRACgVjzpMEb+8KEEKA0Y7/17xn46M+hhaDx5NPUH3mUpN2m+L73MPHJP0Z4Ho1HHydcXqb4wffjT52h9k9fpr3/RchlGfud/5PiB99PUquw8rm/I//Od4CXWdvLtdYQxyS+jwrDru9IXfp/GKZbiXpzawKhwlAL0QXAKqqF4DJEvAFNl0vTC48dp7X/RZIwJLt9G97emwDoHDuOozRicoLEkMRPPY0/fR7lufTc81YYHIB2G//YCaTn4mzb+k3AVysV4nPnkYUC5oZ1V5ii/rHjaN/H3bwJo1B40zqEpPimSYs35P5/9RS10qAUi329TN2wm76f/Jf4u3bw4Ne/ztLCAva2rewLOxw4M4XhujzuOVTe+y4KP/YjPHD0CFopHt+/n8bmDfjrJmn7PidOnODAgQMEYciFCxeICnmejkOm7dQV/Nhjj3Hq1CmElGR2bCd7042p8N/ELmGZBjcuX/1XA+GNqgRSN+/hZ5+lM7+IjmOOP/88F2dmqNRq1JZX+MyffYoDzz2H1pozBw7gBQEnDx/m9JEjCClp1evkhMGZI0eIoogoiiiXy8zPzdFsNlmam2Pq4EEWps+htWbfvn0cOnSIarVKrVJBX7YlvHldwXGkryA1b3T1f9UIgoD5+XkmJiaIoojZ2dm136MowrIsLMtCKYWUEt/36XQ6lMtlgiDAcRzCMMS27bXPR1GElBLDMDh37hwjIyMYhkEURQghiOMYwzCwbftNTwKFTmL9zaz2zc9uX8briRDfn9f2HWwBXLbqxZtWsN/u9zUL4lV67b7V8b4fRqoBrlD9+vtWA1wbL+UIEvKl7atXvQKv/m76/vVUuZev0O/Wea++ttfrel72nmq+q5FHoVXXk/Ea2P8r3VO/V3uv1hrVDQ/Ll7gpSZIAYLzK9K1v9b1vd87Xi6usgv07va+vDQBXOT2a9QrLCxcI/AZh4JMkCbZboH9ogr7Bke8JCFZZ/eoIo5hWs0XYZfKlUnE1lP+azx+GESuVCr7vY5oWuVyOcqlw2RwShJDfE3A3a8usLF6kE7TQSYJlOSANLMtjaGwDlu18V+6r+c0OoFcmfK0VF84e4+L0MZ55/HFGJ0cYHugjCAJqjQZ+oMjlyvQPDLDzhjvIFfu+5RajL0+4fAUrREpJrV7nySef4PDB/SzNX6BaXSFJFLl8hjC2GBoZ54477uKeu+9GSvFtb9bq/7/+4IM88vBDnD8/RdipE3QC0JJyTw+5Qg9bd1zHffe+k02bNr4ysGqN1jq9dd1Vm75e4rNJxFOPfZ3AryGSOkqB57gI0+D0kSPUlpfYevNb6B0YZ8uOvWTzxe+CBhCvDACrN6jZWOHgsw8ydeIYpVKBgy8eZXJynI0b1xF2OtSbLdpBgpfJ0Qk65LMet73tA+SLPWvHUFqzemop5RU3I1Hp/me8hIpN/fHw9NP7+Ku/+ATLixfIZkwKnkW93sYwTXZum+DA0bNMTS+ghcGmTbv5tV//DTZt2pCaPi+zXUgh+e3f/S0+//efI+uZDPRmGenvw28HNNoddmwepdXpcODoecLY5q577uWXfvGXKRTya0K9nAGpRCGFWItifvM5V7cSsaZRnnn8n5g6cYKe/lGymZh2q00hVwTL4MhTz2DaNr3jIySxxs6UuG7PzQxPbO2e+9VzOPnKV38qOL9V5dyJ5/AbFRzXxfcDPC9DdaVKEockKkGpmCROkAKCMOLZAwc4dODZNQEmKr0xpiExjFT4zSBgudEiUQmGFKnw9UuYYUIAis/8t49zfvo4UeCT8yyyWQ+NIIwVhmEw1N9DPmvjGJL9zz3Bpz75x13B65cUvmEYHHjxWb7w+b+mt+Dh2Cae41LIu2gUSSKwLINyKUMh65DzEr76xc/xiU/8CVJK9GV5AVprhNbptUnB6cU6X3nmJPc/cZIvPX2Cg1OztOMEw5BIKUiSBK3hwtmTPPboQygBjZZP2AmIww5JEhGHAZVKFTeXxzIsYiVQScjM2UNMH9tHHAWvicCbr8yHnSKrsnSR2sIZPMciX8hTa9SpVptkcxkqldqa8JVOsAwLv+Nz9NhRXDfLwux5EqXXiNX5aoN/fOIgj714gfNxjnPzFdqNKgOGYs/6Pj583x5+6NZtCC6pbqVS4f7Fpz7Ok088QblcxLBt8lmXfNbBNAVhoNFoeooZbMskjgJcx+aBr32Z9z/+fm678541ga8C0jAMFhZm+N//11+i1erQX8qiE4VrSYoFj9n5lVTAEizTQCUxnXYH1zF56vGvsvwzP0Nv30CXHKacIAE++eBRPvsP+3nmmWn8GqAcWHgIPIPJ3du592138DPv281tOyYBODs9Ravd5uLMBYpFTd4torVCSE3U6eA6DoVyiVqtSr0dsn2wjOt6tGrLnD6yj007b8cwrdfKAb71nt9u1Tl9cB+ZnEcmmyebyZHLuKwsLuPYDlGrjt/qYNlGyqINmyNHj+K3fZIEmu0OhhScnl3gdz79MPc/epLaieNQrcH4u8BR0F5hpVnn2MOn+OwXjnDfe2/kz3/xXkZLeeIkwTQMvvaVL/C7//m3GR7pJeuYaUImGscxEUKiVIjQCsM0SJTGNkwKeYe5xQq/9r/9G/7qM/czPrnhChYdBD7/8Td/ndMnp1g3OYAUCoVGSoFlmWidoLQiTjS2JbvaTeBZJlOnTvGLv/BR/utffgbDNBHAbNPnx3/973jkb05A7QI5N0ef0wc6pOG3iJsx00+f5VNP1/jUnz7Aj33kB/iDf3MvxYxFGEW4KuH8xSl6ilvIuKC1IPA7DI32E8Yd5paWWTcxRi7jIqRAK0Ft6QIXzx5mYtOeV0UM5StZ+wALM2eo15eJo4Ao9HEch1KhQC6bJQw77NlzMxMTmxifmKTU08fJqdNUqxUKxV6Wl2vcevMePv3oi9z0L/+IT/3Rg9SOLGI0IozmHM6FOfIXG7gzVbxKDTsCaynha3/yVf7Fb/4j9TD1zc/Pnuc///b/wchwDznPJl3rijhJyBcLuK5JomKkKbAdE4HANCWWKdmxYYhqdYE/+L3fouP7V6jrv/jUx3nk4YdYN95HKWvjmAZaK3J5l96BEmGkkIYgk3HIZi3QYFkCrRSjQ3089cRDfOLjf4SUko5K+Miv/j9840/+gfXBLBuNiP7OCkONRYZbSzhxh5wIGdIGvapJpqn53B/tZ++H/5op1UdvPkOr1cIyFYeOH6bearHz+hvYsmUHdqYHw3SYmFjH+OgIhrSQaLQKqNZrnD11EF6lVfCKM4IWF2Z49Kl9DPT2ccOe3QwNDZDN5ZGW4PY77mTzrr089+QDLC8ss//wIU5OXcBxbGZnT/DOe9/JU/4AP/nvH4AzCXYQYzYqyLBBJ6iQT6YYsQZpxnN0REhHGxgEKKPJC5/9Mv/1nnX84g+9hb/81MeYmZth7+71+H4EholpSjIZh80bhjl6bJpIJWRck4znkHFsoigkShT5rEtvX5F9zzzFF77weX70x34cgIcfeYQvffEfsWyDYs5N7XzAyTiYpomONYZpULAtevIOjiUxpMQ1TaphTNYz2LRumE/86f/Fj3zwAzxzrsPXPvHbbMqNYnYa5LRFohVFM8FEsKTrZPFwwgYtLSiJDMJoceGBZ/jpTshv/tQ9xPvu5/xyjVY7YPbCHHNzy6go4fqb9rJ95x5mLkwTx21c22JhYZ5DR06ysLTInj07ieMA03JfMSF8xQBI4phyPs/pqXOcOTPDuo3j+M0Wgoh61eeBBx5k3zMHCcOYVqvNyTMXiUKfH3jfB3jc282n/8t+5FSHYiAxGj5e3MAWPlUScmqaQUOTTxapaI0VZWjGS8yIGURnnse+tJs7R+HZp/eRz7p0ghhpGnSCiIyXY2GhyuEjZ7BMSTHrcnG2QpwIEhUTxDFKafxOiGeaqDjiy1/8Au+491309vbw95//e7ROyHkOcaLQWhFq8CybStXn7Ll5ygUXISQrdZ/l5TqWlWqIIArJYmLbknarwX//7H/n2LyHiE9xtrnIenOAHrcIdOjP+BhGwlSnwXjGJlQLZJWHiCW1cJGC9EmezvJb5kZ+6ra9HHzk45yfW+a2vTsJOoeJIsXp6fNEn/kMuazLyOgojWaHpaUVCoUsmzaMYZkOQhivyqw3XykBHBpdT6PeYKi/hGFazJyfY/rcBRaXahQKGW7as5Xrdmzk4sIC02fb3LhzI+WRTTw/tcjBmf2owxly9WNkwzp5EmLRoGC2MIVGGsuMlx0a0QoDGsIk5rGVKXzVxBAOc+dP8cBDIUkUUsy4hJ0IxzPQSrFUbdKHoNbwyWUcorwL0kSoBMsymVuuk3clHT8gjBOKhTxTZ6c4cuQwd911F88/t5/1QxmCpqQThhjSIAgiLGFi2wa2aaCVRhqCJNEorcl4DiuVJpZlEEYBSRTTmy/wz/v+mYMLBgYCkdQ5p1ps6R1mOK8oZSoomVCst+kvK3SSox10OF+fYzZssytzJ4gOxw4d4a/mz3Pv9XeybdcyWUuzUu0wOTnM1k2TnDwxxRNPvYD14hQ7tm9icqyfbNZlbmaOXXvuwjCt7y4HEN1YwbqNO7j19rdz7twctXqb2fkFnn3+aJqfN1ym0agzv7BEHJrccOPtjLzzp/jySoGjZ2YQF87Rv/Ai48qjnZwmsKZx3SaZTMjOnh4ydoOWPY12F6kwy4uNAzSTixTNGFPXiI02B17YT76QRRqCMEkII0Wl0cKUgsH+IkpDoxXSbIcEnRAtNKVSjkLWY7na5uJyi04QUyrlWVmuMb+whFIJU1NnMGwbx7Fp+TELK01c12NwoEg+5xFEEWEUEyeKJNYI0orhKE5IEmi1E5QWZFyTKGgRdOo4pqLHiDFVi+eXz3C4NksoF5noXWHbSMDOzXWEs8iJ5imOhUe5vb/EoNNhuvMo9YUv0Fyc5q8fnuEZ9z1kezaSyeQ5cOgkTz71LEEY0DfQw4HDx3l833OcOjnN9Ll5tu/Zy+6b7vhOPIHf1gvArXfex8DAEIcP7aflK3bv2s746ACFQg7HzTA0NsItN+2hGis+9LlzNBsm69Zt5+KLTzLfOoZ0rmPC1CypGZQFEsHm7DBnqLO/VkFowXyrTRAoiqaFrTtEmQxjGzdx4pHPc+fN25mdu0ArUizWahSLBUZHhoiUQduPaLc7+K0Y0zRwXA9Ek5GhHjzXYn6hRstvkcnnmVusYMjUXPM7LSq1FtJILYqtm8aYmBhCaDCkIAhjwlDjOQa5Yh7LsgjCkJVag4VKmhTqeAZeNkenXsca3o23UkGc3s9o0SZQiqYlOdIyOdrUGLZiJpCcbtU458dMFnK0jGUeWTqJn/g4cpL+vh4yCw1qT0xzw2+8nfvuXMfDjz3H/NwSHb9KpjBKsTSEkzG45aYbuXnvrYyOb8Zxsq86PvCKASCEQBgmY5ObmVy3kbff+wO0Gg2SJEYaJghJkgiKxSyFapUb5mY4dGQOa7KJrT3aaC4G+1gSFkXLAqmIcw4H7Wkybg4zTlBSMFb0WK4EVKtN2mjGd91KW3icn5nBtG7EtRyajTYb1w2xY9sWkgSiOMJzXdAKv93By3jkiyUuzizS9iMGegsM92ZZqjTpxBZLi0v09vUghKSvp4cDh07wkR+9m5nz0/T296YtArTC81y0loRRjGGmjqFOyydRUC7nyWZdjp+ZodUKGB8Z5/SJs/hZSe9dH6S5PE3Dr9A3MUDGc/ENAUqh0Rz1TTKDHhtUlZVKm5O1JiYwZuVoCcHWzQXecf0U+czT7N3+TkyvxJ133kq1Vse1DJqtDo5nMzjQh2l5xJFGWA6GaXzvNACA42ZoN+rEKkQaNvly76UUUq1I4ji9OT1lfvrmaV6oPEJjYgtfXBYkywLTytAJO3R0QrmQJ1vIUS7lSJIYOjFIQb5gIUUDrUKKO27hwumTlK97C5HSvHD4JNfv3Ipz7gQ7No3TaftYrodjG9iWiVHIMzezSBhE5PJ5clmXoBMQJzE6Drlhz/X8zZeexstmKRQKgGZkZIjHH3+SWlMzMjrMwkodx/HoLXkUCjn8TpDOT0Aul2NxaYlOJ0ArGOwrkUSa6elZ8oUyR09/g4ldA5x/9nm2vePHaBz7KkbUIJvNYhiaME6wDEEpl6UdhHRCaAbLDAlF3nGo1JuU7ngbt980yca8TWlkK7neAaIgwDAtBgb6AEGpV4CGOBbEcYgWklzee01BoVcVz7RsG9NaZZpp1wzVfWkNCIkQGsNw2Xbnzdz2/vXcuivP2973Vjq6TRj5mKZJoZQlW8jieA6ZjMvQYC/9fSUKOY+enMXo2BAb7343s2cu0pw/QyuSTKzbyMPfeJKJ9VvZs2snczML+EFAlCRIw2DL5kk2b1yP4xq4nsveW27CNC18v4MKEyY3b+Ebzx5j+uw5BvrKhEFIHCd0woBMxuMvP/cVDLtETzFHvdmm2miza8dWJsZGMU2DXD7HwMgocRQSRSGu4xAGMTIJuPuet/Dc4VNoDZnyOPVTz3Do65+neN0PU9i4h8FihoGeMuVymXy+SCZXwLJdTCeLkXFYDmLO1Vtk997LW3/2Fxl2NYXBG8j3XI9lumvBpCiKUYkijmLiuBuJlBJpmDiO+x2khL3SD0vZDUNKBHLN7Zn+lN2gjgQVUxq8nr7NP0Ss89x2y02885d/C+FlCOMQzxRkPZecazE+2sP6DUNsGuth09ggm+9+P8bNH+LpfSeozc2AECxeXKZvbCe5rMPH/+yvWb/1RtZt2oRA0aq3abQ6DA4PsmP3HhIgly/TNzBBs92mWCowNjHJQ08c4YFHn6avv49qrZlG55RiZmaBXCFPs9ngDz/5t1RbsG5slCSB0bF1bNy0g1zGZGLdRnbuvolGO6TtB4SdAB1HXH/jDUzPN3numf1M7LiRxmKMMCXt2jz7/u5veX4uw5HR+/Czw+SyWUb7exjqyeNYEtsSDPX18ZY7386eX/h9hn/544wYbarVDnZ+mHLvGFIYaUAJgWGYSGkipYWU1pqNZloW5qt0Ab+mLQDA8Tw6rRpoiSDpegr1FXRRqQTPy6CtAdqqiFi+wO0f/ldkdtzKzMN/T2bpFH0ZSU8+w8D6UXKlYZZHitRyI8xtfQsH7v8sUaOJ4dgkHR9naorliV7GrruNY089zP/0K7/JdTu3cv32cUb6y2TyLtlsgcl1W/Acj7HREXpKIxRLPbx4aIrPf/FpGu2AXK7AwnKVWrWG7dhESUynE1CpVCiWyuTzGe7/x2+wbfMYt928jTAKMcw0FjE+PozSGsfJMDkxgU4S5isN/vL+hzh85BSDExMYxe2IE8fQbR8pJSoJaNZCDuz5V5zwZymdf5Fy9SI9pkk4FtMcshnadSeVwW2c1gb32G2yF6bwQ0GQ2BSKPal2FRKBRq5lb4m1hacB28285pyAVw8A18VyXEK/mUbBVNK1EVLhawRagOd6LFeaKOlid2qo5TkY30HxI9ehmhVqfpUgCDgdQV1ZRIO9OFmXILLwlQBDonVKarZ4Z2gLEPkN/PzPb+TQsTNMTR3nmedeZHykn+1b11OphFjyAU5PLXD2L+7nD/740xw9Pg3CZPuu3ZR7e3nyiSeoVRsg0nyCJI5JkhgB+B2fG266nuHBQZ5/7gX+2988zKNPvMiG9cMY0uUf/uGrPPjg45y/uMDiUo0TU+epNToMj47wgQ+9H8Md4eTUPLv7znFYtcC0QYHI94Gy8LOT+DvWMdtqQRykutdyOGLYMN+k5AgGvAYF3aGTyxMESRr/kAZSpy7vS4QcpBAorTBsl0wm991ICPk2AaHuS6AplnqoJIoo7GAYBkKrbkmhRGpFGPgs15ZI4phSbz9Zt8j8yjIql+diWxFYLsobo5RV6CShqTVNLQibMU07geIIUmlQaah4eINB0/C4cP4cQ6N3Iu0CGzet5+KFi5w5fZbHnz7MAw8/Q6IUjutiGiaFcpGtO3czMjqM63rUajWiOAYt1tK9ojAiiZMudxFpkMcwuX7PdbQabWZmL/KNp4/T7oSEYQetFK7j4mYyjI1NsHdyknJPmZGRYU4cPMn6osn23QV4qA0UECqC3g3otomI62AaqZPKtFKdGSqkitBCM2ka9M3PsnPXRmYXM0ydPoGUko0bNlEqlrFMO41IdquWw1hhWjbFct9aPsH3BgBKoVWSRs+6ETTDMOgbHKJWreA3GwhpINC0Wg2mp6c5e3aKtt9CGILhwRFsw8CemqMzvI65WNEMI4RIWBQaS2j8WBEomQq800F7Y2Dlke0ltAavZyubh4bRjdNEsSCKQuJI0dfbT2+5lziK6EQBYZiWiXueh2WaaA2JSoiiCKUVQsu1rCPDMAijiDgJEUKBFtgy7QvQCSMsz2bjls2s37QRv9MhiUJAYDsWjuNhGiZCppHPTifGMpvcetN6dt+8E/g8Ku6A7IfsDbDsI0yNNhSg0OJSFl5CghELbmo22D00Q7Y0waTnEUURp04eYW5ujh07djI8NIxtuyRKE8QKz/MolHoxDIMkjruJJcarLlH7lgDQcYxKYpS+NGHZbZKgkoRsJotl2UxPn+bZZ57i4nxaUiWVpt1qMz4+yIXzp7Fdlw1CUJ/awD6zjyiTIIQiNNIZiEghY4XSEr2gkIdcvMgkMpoIw+B9P/xjCBVzauoYpkhDtKkAQ5IoBqUxTRvDTCuAkiTp9hLqElMpkEJ2+0FphBRYpkUYhqkGQCMkCMsEAYYh0VoTBiFKp5lJlumg0EAaDhaAZRiYpok0BLEw2bhrN3e89Qf5F+++mYP7X6S27OPsrzBXb6KGJeRFescloECH4DUU76bCh24/hh4OOHL0MK1mDcfOUK/5LK1Mc+7COYaGRti1aw8DAyMUimUK+RxxHKGVwrSsbrpZjGlZCGl85wDQcUwchVfElISU3X0/tfk1YFlpsuTo2DiGZRCFIagYCZhSc+7CObIYFIdKvK/xGPY/b+GvauPMlzxwJdgCHWr0coI932HHxZO8u+/LPFw+QVwe4Z33vYsffM97U1u9bWAaImXFQmAg0FKsNelYNUellOmWJLtpWhpMy8SyJaqlkSIVnFIKxGp5pMBx7PT7QqJ0N+lUK1Si0xwHeencQkqEITGkgTAk9VZIb/8oxVI/H/mpj/Kl0qdoLpzhtuKfc+jwMfafuo55e5B2xgFDkFcRG8wqbx2Z4r0/XENsG+PCXIE4vMDyygrDQxl27N6JZVokicIwTQyZOpOy2QyJUqkGSZJUowmDWCVpQq7jpgv1NQNAJcRRin7R3XPEKvsQAhWnWsE0DS7OnOf8ubNs2bSJ7Vs20Ww0WF5ZolGrUKlWyGTzuI5JLjeANwb/49BzXP/Vx3j0QD/nmkV8JZFxhyE9y00TJ7jpQ2fovXkE56n7qLTyvONdHwBMHNeh3fGJowTLtLCEJJIS3c25E5cHQJQAQ6d9D0jJkm1Z5PM5FucWKPf0UiwWaDYbWJaN77dxXQfXdVNQrCVMXhZUlSnrXgOASNPWTCsFkmNZ9JSKJFGHPXvvouFHzJ4/yLoNLW75oQMEZw+wOC2pVSykZVEsa4a2WgzduI649xZiNjGozrM4fwHHcdE6IZvNMDE2SS6bI1GKRquNtIwugVVpoxJScErTQJAS20D7uF7mFdUPvCQAVJykwr8qBXz1fQoMTRxHLM7Pcvz4EU4dP0ahmGFocIx22+fFw4fTfVJpDCEpFkvYXg+LyuPWn1tk7+wR2rMvoAMfaUmskoEq9dI0bufEXIZC/zIbdg5TLvdTq1awTAPXNqnW6ziZTFe1GwgRo6Xs9jhKEyO1UMjVqjckUhpEcYQEHMfippv3kM1miKKITZs2cuTIYSxLkiQJjutCHCERJFqjdar4hZSpGdZFhBACUxoYtk2n4+NZBj3lElEY0qitsGXzFlDw4tQMw4Pb2P22MrcPC4iqqESgzCLKXs/coknrok+pVCNb7GNwcJQo6OC3W5w4foxWs41jSkzLphMl9PQN0tMzgGkYKL3arUanHEem2i7pLmDLcb5tWNh8KdKXAl5cSsjUGn1Zz5zubSaOYoQ0yOcKzM5c5PTUSQYH5tm2czeLSytkMx59fQMMj28GTBbnzxGHMVG0jnVb30puY5V6bZ66HzA7W+Hsc/O0G8tI5nEzLs3GMtNnTlLu6SWbzSG0ZqWyzHihgDZSbSSE6BpIAiH0FaZS2vhCIaVJHEWEUYhlWxQLOeI4JpPxWLdunJOnT6bkKgzI5rLpMYVGSxBKrC0CIUB3+YTsBpMc06RaqaDihGyuQBBG1FaWOHX6KEli0GnVOXxogZmLDbxMjomJSdZv3EQ+X2Zm6iytxgyGFMzMVLAdh3L/EGGiOHt2mk7bp1qrc376FLaT+gX6B0ZS07u7z2shLlV1akALJOk2rRP1bXsamy8b+JGyG7xYS9pfK8aQhoGKU8ugVCpR7uklUTHZXJ4ojGg26mzavAXHcSmWevBcl2azThzFZDJZchmLysIyK8tLPP/iCywtLeE6Jo1GBa0EQ/0DhFGLudkVcpk8zXqNcm+Jnt5eqpUa6zYY6R4sRMqotLrU9bWr8vVlGcUCmbpPE0Wr3WLHtu0IAaYheMc73s6Xv/YAjusQR4okTjul6W6zLCHEquVIIsDsmoxSCEzTJJ/PM3vhIqWeHgzDoNlq4vstlpYWaTRaOI5LJlsGoZiZO02ifHr6ioSxTxA2yeXy+O02SoU0GjWCTodiXz/rDZcoikiSiOHRCVzPY3R0nL6+ge78urDXVxamXKo5kK+okdXLAsAQBspIC0B0V7WiNUkcIw0D07BRpqaQK7NucgP5XIFarUqz1aATdujrG8A2bXL5AtmMi2GaOD0e2VyRfC5HtbbC+vWj9PfnWVlZIgx9qpUqpmnTarU4P3t+zTYXQrIwP8fd99zNX336bzh88BBjE2O0mu1U7Yu0vlWpy3SUuHQtWqWma5zE3PKWW3nPe97FuTOnEVLwoQ+8n0OHD/HZv7m/m/mUXJZPs0owLyOXl7nFtVYcPXwE13V5+9vuobKyTJQoYqWxLBspfTKey4YNG9i6dSu2nSGMEuIoph0GbN22kygIqdcqdDo+URQQxzG2adPT20sQJRQKBTzHRgiJm8mSy+a7yaepj0QaEtOw1gpfDEMi6C7gV5YSdlXuWJfoCUmqSrS45Oy9DFBCShzXQ0qJ43n09PbTaNRpNuokKkZ3U8AzmWx68+MYy7JxXY8oDjk9dZqRgT76+4rkPYtYwZw1w8zsBYKgg2VaxFFErBPm5i7QbjeYmBjhhz/wHva/cJiw42MYsisc3V3tqbo2hECsvkWDUIRRxN69N/JzP/0RGvUqlZUFCoUSHd/n3/4vv8LI0DCPPvkUCL1mVaRFK6C0WKvoWb1VpmkRhjFBEHD3XbfS21vgwoVzeJk8juMihMC2LaIooN6oU681yOYEYRR3Yycmju1hWw6245LE8dqKXzVz40RQLOTJ5/NIaaTzMY01LnJ5MYruOulW//atClK+tQZY7YnXLW64tK+KK6vIUmqM7XkYlk0YdFBd5KeOoxSdjm0jpEhNGWlg2TaqlRAEPt944gn6enK4jsvI6DqOHD9GZbmCbdlESUQ2X6JY7qPRrGJiEHYidm3fwsjQAC8ePEanvYzj2iR+jEpSEAil0EojDBOjy5iXl5fZsnmS++69Bx1Dq9nAMCXV6gqtVot2u82HP/h+oqjNl776CDt37qQThGhi4iQ1raQUSMPAMAxMyyKKY8bHhrl+150UcxmqlVpazVStYjo22VIvjWabVqPJuJ3jyNHjtNo1coUipmnR3z/G2Ngktu1gmGZXwaZgNg0DQ0qSRGM7Nq7jYdnWVU6eVCMr1b3urpZOV38XGPK1JoWu9gu4ukT5JUvIBIYlsbTCSxSmaayZUlKm+6RhmKgkSZHZvYm9Pb1UaxVm5hdptRrkiv0srVRp1Jt4GZdCuZd16zZhmzaxitKLURB0Qvp6ern99ht56ol9PLHvBcp9fTiWhYoVQnZtfK2oLC8xO3MRzzUZvHUn9VoDKSS2aaFijSIm6qa5z8xdpJh36TRWeP7ZZ9i2ZQPSMukpF7Esh04QUK83UHFEdXmRu+68ldtuuZkkjuh0QtAGiYroBAFGaFIq9iKlTb26gmO7nDl9kijs0Gz69Az0UyyVMAwDwzDXilR01/Iyul1PTVL/xdqDK6667wiQhriyt+ea/F6VI0jzkkWir6JfkGlaCE9gxRaq6zpOlYmBYZporUmSGK0VlmUzNDhKu9XCczI0mw3qtTrDoxOUen2yXp6+nl4czyNOYkgEidJYtkGhWAIE1WqFsdEBdm7q4/TJaQpDA1Sbdd5x732Ue/r4y7/4U1ptH0nE5OQmWu02cRRgWg5xF4yr9kwUtgnjiFqtzlv27mR2bhkZ1BnqHeRHfvQDPPTg16g3fWrzs6g4YrhvkMmJUbxsmTDw0bTpBJ10K+rWBAopyWY9ekobSKKIdevWg0pwMnkGh0fo6e2/olRttdx8tTfR6t9Mw/wWEhBXaeTXEgvokqjvvNNAt17eMpFaopVeY+Fr1oM0UApM06Sntw+lFQsLc7T8Nn7Lx7EcbNslk8nguA6maWFbNrZl4zoOuWyeXKGA7/sks4pmo8PkxHrCMGRq6gymafD0448ghMHMxXmy+Rwqjgg6HQzTSusGZYyiy5JFauHESUySJJiWgwZGhgY4dXwKP+zwZ5/8GGdOnydfzNJoNDAk6AQqK3XyN5SJ4xxR2CHs+PgdnzAK0sRRKdFJ6oDq6e3rNp8KMS2PTDZDJptPBX3Zni2lxDTNtX1dCrmWu/i9Gt/FVrHp3iOVTEPCUl9ZMNkNIsmu2pMyTdzsHxyi0wmoVyvUqxUSrbAsC9t2sK20OAOREkrLcnE9F9NKWW+tXuHUyRM0GzXyuQILS1VOTx2ht6fA2NgoWzdv4LrrdjJ9cRbHdYniBNu0ECIGYaBllyxqTRzHlEpFTocxp06dZnx8BNc1mTp9Dj8I8BdTt/i977yDcrGXoaEBXM9FJw6R4+B5OfJJQqxjpJBdL6TGsR1KpTLZXK7rW+lGTQ1jTeWvmt2r8X7dDRcI2dUKQr6eAHiNPYJENyWMlDxqNGiBvupwsptcapgWluMSxzFhGOC5HsVCkagbdTNME7P7AolCYRkmlmXh2DYDvQOYWpB1LN56271s2LyRv7v/82zdEuI5LrWGz8JSBdOyCIKQQtnCMo01Zrzq4Nakdfu5bI44iJgcn6SnlOOmm29Ca7DlN7BsgzCM8f2A4aExRsfGyBfLZDI5kjjBUqkGWS13Nw1zjQM5jkPG88hkMpiGtaYtV3sM6m7bF31ZjwS5Zs/L1P8vv9ca4Ju2gdfaKKo72a5JstqD8mrikmoLsLr73aqKM0yDOIq7DSDS/U8aBsZl0S0pJRrN2PgG7n7HfRw/9iLL83McfOEFpi8sECSacqkHaTpkMy7nZxbIl/ooFHvIuF4XUKt9CFIhOHaG3r4Benv6aTebZPJ5jhw+RqPVZrbSwvM84lgTRJoz0+colHrZdv1GzC6B09pGqRQA8jLTzDQNbMvCtGykNK/wzQvDSB063cYRXYP10lpaPc73uCeReWW7l+/SyVYJlngFvMEwsR2xZjEkcZr4uOrKNbqeR2kYoNMmColK6B3o5+z0KVp+TKAF84sVdu/ZTbl3ENtxyGZyFEtlspkclmkRxQFCXTqu7rq6DZn6KkrlMrlcjunz02hppomvZoO7Nm7Fcb01klbIFdmxYzc95d7LyJvo9jkQV+7fprGmtV4yaWPVa8f/d6PbI0hc6hC3GgZ7naelu4JVSYJKug9iuNytmXYK6DZ0SLXE4tICc/Nz+H6L8xfP02o2kUKSyRfo6xukvy8NmrRaLTqBn6Z3A4ZI1bRjO5i2hW2nDqpsNkcYdIiiiOWVJeZmZ1iuVtK4gZehv3+IgcERCqUSrut2kzUvhclX4wNSyNSWN1PtZXRN3zfE0C8HgDXBv4yp8TqBQHWfwqEuy0Ba83GnDGMt8VQrTScMaLWa+G0fv9MmASzTxnZcTCON8IVBRBQFKJ10hSMxTQPTsLDs1MowLavrgbOI4wjfb+P7Hdp+m0TFmIaNaZo4XgbHcVPHkFhNNrkUIkZKjC57l0b6M93m5BtM+N02fjpRl1rFviQIxOs6Q61U+uoWm1xSSJeif5eXP2mtiZOIOE7S4k3UWhxfaY1KktSlnKRby5qz05CYholpmFimgWXZqY+9ew69+t2kC0YuPWNQXdGiTXSJ26U9W4pLWsGQxvesndx3BwAq0WvhLiFef5m/ZA7qpWcXaa7sibeamHJlsEOvPcxBKY3SyZofYjUvUCXJZcke+rKkDiPVBqa1psIvJ1+XRxV1N8qoruoSrteyoi91/pJr28Ib5RGz3VVxxeMAVgHwUu4k8QaB6yX76LLctJcnrVqrNQFd/vSP1GeuLrlcRcoq1rxvUl5i6S+rrnUXEGrN67cK0iunt7o9yDeO8Fdn900cIFGaKwI+4g0CgO/CdnIZCODyjmOr6WJcavQoXt1Fr7Zyfan2tOIN1XL/KnjqK23zSxyAq1cX13pGv5YV9oacG5ep/ysBIF9W+JeDR18T8bd3g74ZpyqucgXrb86ouTa+38B55TOh5Ld1NV57fMD3NTD+XzRCsKtleXbUAAAAAElFTkSuQmCC

iVBORw0KGgoAAAANSUhEUgAAAIAAAABOCAYAAADo3B4PAAAvXklEQVR42u29eZRk113n+bn37bFH7nvWvpdUWkqyNku2ZWFjtzE2Bg/NAQ80TPsMHKCZhYbT9NBDA900nAOD8dhgGnA3tkFgxuBV1motJbRVqfYtq7KW3DNjjxdvu3f+eJFZiyVbkm2N5Kl7TpzMyIx47773+97f/f7WJ7TWmmvj/7dDXrsF1wBwbVwDwLVxDQDXxjUAXBvXAHBtXAPAtXENANfGNQBcG9cAcG1cA8C18f0+zDf7BegkAQ2I9L2QEoS46kMarVT6OXT6GfnN2NdKgVJrBxNG91hXfR8hEIbxfQEA8aYNBmn9zYJeHUpdEvDlv7/cZ77F8XSSvLSwV2/by83hmgZ4fYRff+Ahms88i+4EeDu3U3rfe5Gem35Ga5CSaHGJ+le+RnD2HEY+R+7uO8nesOdKIQpB4+l/pvX4U+hWG2tyguK778Ma6CdeqVD90lcIz0wjPZfsW24hf+ft3x6I1zTA90j4QFypMv0//xL1r36dpNFICU3GI7Pneib/9GN4WzYDUP3qA1z4lX9LeHYaFQQIw8DoKdP/r3+WkX/3q6km0Jrzv/rvWP70X6NqdXSSIG0bd9cOen/if2Dlc/fjv3AAFYYIKZGFPOUf/SATv/+7SNteA9A1ALwe8lcKIQRnfuajrHz2b7GHh8i//W6E69J4+DHC6XN4e65j24NfpnPyJCd+8IdRjSbujm1krttFeGGG9rPPkdTqjP6X32Hwoz/Lxd/8j8z/pz/A6CmTvXUv1uAAzX9+jujsNMhUsNboKLnbbiFeXqH51NPES0sM/tLPM/bb/yGdk3yT8mn9JhoqSbTWWreee0G/MLhO7x/frFf+7h/W/t984YA+eN1e/axb1tWvPKAXPvnn+hkzr4/9wPt0uLi0doxzv/Ef9POlIX341rfqcGFRH775Dv18eURf/J3fWztW59x5feSt79T7RzboQze8RfunT6/9b/aP/kS/MDipD2zYoTvT59I/duf2ZhtvLtiqVFm1Dh0mqdXwrttF+QM/hE4SdBiS3XMdxbe/DR0nrPzt35O/+06EbdH3Ex/G6utF+R2ElAz+65/FHBggOH6SzrFj5O64DeG5DP7CR9PTdDo442P0/cSHiZeWccbHcDdsQMcxaM3Az/009tgoyUqF4OTp1YX05vQDqDhKL0wloNUl8sQb94KEYaQMPggvvTdTPps0GxjFPM1HHkNkMmT33kxcqV4yEQEdBF3zUVP9py9Teu+7kZnM2j4uTBO0RmazICU6ikCp9DxCIJRCum7XNFRvckeQ6gpcXS74VeG/sUAguvtxds/1mKUS/pGjzP3hx9BRhJCSyhe+SP3rD2OWSkQLizQefpTen/xx5v/wY/jHTyAcm6ReZ/Z3fg/VbGGUitS+8gD2+DjOlk0ov3PZycSlqxfiSpOx6xu45gh63eEq0Urh7dxOz4//KAsf+7+Z/0+/T+0fv4i0HdoHD6N8H6NURHouK/d/nsk//H1mfu3fc+p9H8LdvZN4bp7g2HFwHIRtE06fxz9yhNJ7341q1KG35yrUvQzDfxMz/ytuqRACgVjzpMEb+8KEEKA0Y7/17xn46M+hhaDx5NPUH3mUpN2m+L73MPHJP0Z4Ho1HHydcXqb4wffjT52h9k9fpr3/RchlGfud/5PiB99PUquw8rm/I//Od4CXWdvLtdYQxyS+jwrDru9IXfp/GKZbiXpzawKhwlAL0QXAKqqF4DJEvAFNl0vTC48dp7X/RZIwJLt9G97emwDoHDuOozRicoLEkMRPPY0/fR7lufTc81YYHIB2G//YCaTn4mzb+k3AVysV4nPnkYUC5oZ1V5ii/rHjaN/H3bwJo1B40zqEpPimSYs35P5/9RS10qAUi329TN2wm76f/Jf4u3bw4Ne/ztLCAva2rewLOxw4M4XhujzuOVTe+y4KP/YjPHD0CFopHt+/n8bmDfjrJmn7PidOnODAgQMEYciFCxeICnmejkOm7dQV/Nhjj3Hq1CmElGR2bCd7042p8N/ELmGZBjcuX/1XA+GNqgRSN+/hZ5+lM7+IjmOOP/88F2dmqNRq1JZX+MyffYoDzz2H1pozBw7gBQEnDx/m9JEjCClp1evkhMGZI0eIoogoiiiXy8zPzdFsNlmam2Pq4EEWps+htWbfvn0cOnSIarVKrVJBX7YlvHldwXGkryA1b3T1f9UIgoD5+XkmJiaIoojZ2dm136MowrIsLMtCKYWUEt/36XQ6lMtlgiDAcRzCMMS27bXPR1GElBLDMDh37hwjIyMYhkEURQghiOMYwzCwbftNTwKFTmL9zaz2zc9uX8briRDfn9f2HWwBXLbqxZtWsN/u9zUL4lV67b7V8b4fRqoBrlD9+vtWA1wbL+UIEvKl7atXvQKv/m76/vVUuZev0O/Wea++ttfrel72nmq+q5FHoVXXk/Ea2P8r3VO/V3uv1hrVDQ/Ll7gpSZIAYLzK9K1v9b1vd87Xi6usgv07va+vDQBXOT2a9QrLCxcI/AZh4JMkCbZboH9ogr7Bke8JCFZZ/eoIo5hWs0XYZfKlUnE1lP+azx+GESuVCr7vY5oWuVyOcqlw2RwShJDfE3A3a8usLF6kE7TQSYJlOSANLMtjaGwDlu18V+6r+c0OoFcmfK0VF84e4+L0MZ55/HFGJ0cYHugjCAJqjQZ+oMjlyvQPDLDzhjvIFfu+5RajL0+4fAUrREpJrV7nySef4PDB/SzNX6BaXSFJFLl8hjC2GBoZ54477uKeu+9GSvFtb9bq/7/+4IM88vBDnD8/RdipE3QC0JJyTw+5Qg9bd1zHffe+k02bNr4ysGqN1jq9dd1Vm75e4rNJxFOPfZ3AryGSOkqB57gI0+D0kSPUlpfYevNb6B0YZ8uOvWTzxe+CBhCvDACrN6jZWOHgsw8ydeIYpVKBgy8eZXJynI0b1xF2OtSbLdpBgpfJ0Qk65LMet73tA+SLPWvHUFqzemop5RU3I1Hp/me8hIpN/fHw9NP7+Ku/+ATLixfIZkwKnkW93sYwTXZum+DA0bNMTS+ghcGmTbv5tV//DTZt2pCaPi+zXUgh+e3f/S0+//efI+uZDPRmGenvw28HNNoddmwepdXpcODoecLY5q577uWXfvGXKRTya0K9nAGpRCGFWItifvM5V7cSsaZRnnn8n5g6cYKe/lGymZh2q00hVwTL4MhTz2DaNr3jIySxxs6UuG7PzQxPbO2e+9VzOPnKV38qOL9V5dyJ5/AbFRzXxfcDPC9DdaVKEockKkGpmCROkAKCMOLZAwc4dODZNQEmKr0xpiExjFT4zSBgudEiUQmGFKnw9UuYYUIAis/8t49zfvo4UeCT8yyyWQ+NIIwVhmEw1N9DPmvjGJL9zz3Bpz75x13B65cUvmEYHHjxWb7w+b+mt+Dh2Cae41LIu2gUSSKwLINyKUMh65DzEr76xc/xiU/8CVJK9GV5AVprhNbptUnB6cU6X3nmJPc/cZIvPX2Cg1OztOMEw5BIKUiSBK3hwtmTPPboQygBjZZP2AmIww5JEhGHAZVKFTeXxzIsYiVQScjM2UNMH9tHHAWvicCbr8yHnSKrsnSR2sIZPMciX8hTa9SpVptkcxkqldqa8JVOsAwLv+Nz9NhRXDfLwux5EqXXiNX5aoN/fOIgj714gfNxjnPzFdqNKgOGYs/6Pj583x5+6NZtCC6pbqVS4f7Fpz7Ok088QblcxLBt8lmXfNbBNAVhoNFoeooZbMskjgJcx+aBr32Z9z/+fm678541ga8C0jAMFhZm+N//11+i1erQX8qiE4VrSYoFj9n5lVTAEizTQCUxnXYH1zF56vGvsvwzP0Nv30CXHKacIAE++eBRPvsP+3nmmWn8GqAcWHgIPIPJ3du592138DPv281tOyYBODs9Ravd5uLMBYpFTd4torVCSE3U6eA6DoVyiVqtSr0dsn2wjOt6tGrLnD6yj007b8cwrdfKAb71nt9u1Tl9cB+ZnEcmmyebyZHLuKwsLuPYDlGrjt/qYNlGyqINmyNHj+K3fZIEmu0OhhScnl3gdz79MPc/epLaieNQrcH4u8BR0F5hpVnn2MOn+OwXjnDfe2/kz3/xXkZLeeIkwTQMvvaVL/C7//m3GR7pJeuYaUImGscxEUKiVIjQCsM0SJTGNkwKeYe5xQq/9r/9G/7qM/czPrnhChYdBD7/8Td/ndMnp1g3OYAUCoVGSoFlmWidoLQiTjS2JbvaTeBZJlOnTvGLv/BR/utffgbDNBHAbNPnx3/973jkb05A7QI5N0ef0wc6pOG3iJsx00+f5VNP1/jUnz7Aj33kB/iDf3MvxYxFGEW4KuH8xSl6ilvIuKC1IPA7DI32E8Yd5paWWTcxRi7jIqRAK0Ft6QIXzx5mYtOeV0UM5StZ+wALM2eo15eJo4Ao9HEch1KhQC6bJQw77NlzMxMTmxifmKTU08fJqdNUqxUKxV6Wl2vcevMePv3oi9z0L/+IT/3Rg9SOLGI0IozmHM6FOfIXG7gzVbxKDTsCaynha3/yVf7Fb/4j9TD1zc/Pnuc///b/wchwDznPJl3rijhJyBcLuK5JomKkKbAdE4HANCWWKdmxYYhqdYE/+L3fouP7V6jrv/jUx3nk4YdYN95HKWvjmAZaK3J5l96BEmGkkIYgk3HIZi3QYFkCrRSjQ3089cRDfOLjf4SUko5K+Miv/j9840/+gfXBLBuNiP7OCkONRYZbSzhxh5wIGdIGvapJpqn53B/tZ++H/5op1UdvPkOr1cIyFYeOH6bearHz+hvYsmUHdqYHw3SYmFjH+OgIhrSQaLQKqNZrnD11EF6lVfCKM4IWF2Z49Kl9DPT2ccOe3QwNDZDN5ZGW4PY77mTzrr089+QDLC8ss//wIU5OXcBxbGZnT/DOe9/JU/4AP/nvH4AzCXYQYzYqyLBBJ6iQT6YYsQZpxnN0REhHGxgEKKPJC5/9Mv/1nnX84g+9hb/81MeYmZth7+71+H4EholpSjIZh80bhjl6bJpIJWRck4znkHFsoigkShT5rEtvX5F9zzzFF77weX70x34cgIcfeYQvffEfsWyDYs5N7XzAyTiYpomONYZpULAtevIOjiUxpMQ1TaphTNYz2LRumE/86f/Fj3zwAzxzrsPXPvHbbMqNYnYa5LRFohVFM8FEsKTrZPFwwgYtLSiJDMJoceGBZ/jpTshv/tQ9xPvu5/xyjVY7YPbCHHNzy6go4fqb9rJ95x5mLkwTx21c22JhYZ5DR06ysLTInj07ieMA03JfMSF8xQBI4phyPs/pqXOcOTPDuo3j+M0Wgoh61eeBBx5k3zMHCcOYVqvNyTMXiUKfH3jfB3jc282n/8t+5FSHYiAxGj5e3MAWPlUScmqaQUOTTxapaI0VZWjGS8yIGURnnse+tJs7R+HZp/eRz7p0ghhpGnSCiIyXY2GhyuEjZ7BMSTHrcnG2QpwIEhUTxDFKafxOiGeaqDjiy1/8Au+491309vbw95//e7ROyHkOcaLQWhFq8CybStXn7Ll5ygUXISQrdZ/l5TqWlWqIIArJYmLbknarwX//7H/n2LyHiE9xtrnIenOAHrcIdOjP+BhGwlSnwXjGJlQLZJWHiCW1cJGC9EmezvJb5kZ+6ra9HHzk45yfW+a2vTsJOoeJIsXp6fNEn/kMuazLyOgojWaHpaUVCoUsmzaMYZkOQhivyqw3XykBHBpdT6PeYKi/hGFazJyfY/rcBRaXahQKGW7as5Xrdmzk4sIC02fb3LhzI+WRTTw/tcjBmf2owxly9WNkwzp5EmLRoGC2MIVGGsuMlx0a0QoDGsIk5rGVKXzVxBAOc+dP8cBDIUkUUsy4hJ0IxzPQSrFUbdKHoNbwyWUcorwL0kSoBMsymVuuk3clHT8gjBOKhTxTZ6c4cuQwd911F88/t5/1QxmCpqQThhjSIAgiLGFi2wa2aaCVRhqCJNEorcl4DiuVJpZlEEYBSRTTmy/wz/v+mYMLBgYCkdQ5p1ps6R1mOK8oZSoomVCst+kvK3SSox10OF+fYzZssytzJ4gOxw4d4a/mz3Pv9XeybdcyWUuzUu0wOTnM1k2TnDwxxRNPvYD14hQ7tm9icqyfbNZlbmaOXXvuwjCt7y4HEN1YwbqNO7j19rdz7twctXqb2fkFnn3+aJqfN1ym0agzv7BEHJrccOPtjLzzp/jySoGjZ2YQF87Rv/Ai48qjnZwmsKZx3SaZTMjOnh4ydoOWPY12F6kwy4uNAzSTixTNGFPXiI02B17YT76QRRqCMEkII0Wl0cKUgsH+IkpDoxXSbIcEnRAtNKVSjkLWY7na5uJyi04QUyrlWVmuMb+whFIJU1NnMGwbx7Fp+TELK01c12NwoEg+5xFEEWEUEyeKJNYI0orhKE5IEmi1E5QWZFyTKGgRdOo4pqLHiDFVi+eXz3C4NksoF5noXWHbSMDOzXWEs8iJ5imOhUe5vb/EoNNhuvMo9YUv0Fyc5q8fnuEZ9z1kezaSyeQ5cOgkTz71LEEY0DfQw4HDx3l833OcOjnN9Ll5tu/Zy+6b7vhOPIHf1gvArXfex8DAEIcP7aflK3bv2s746ACFQg7HzTA0NsItN+2hGis+9LlzNBsm69Zt5+KLTzLfOoZ0rmPC1CypGZQFEsHm7DBnqLO/VkFowXyrTRAoiqaFrTtEmQxjGzdx4pHPc+fN25mdu0ArUizWahSLBUZHhoiUQduPaLc7+K0Y0zRwXA9Ek5GhHjzXYn6hRstvkcnnmVusYMjUXPM7LSq1FtJILYqtm8aYmBhCaDCkIAhjwlDjOQa5Yh7LsgjCkJVag4VKmhTqeAZeNkenXsca3o23UkGc3s9o0SZQiqYlOdIyOdrUGLZiJpCcbtU458dMFnK0jGUeWTqJn/g4cpL+vh4yCw1qT0xzw2+8nfvuXMfDjz3H/NwSHb9KpjBKsTSEkzG45aYbuXnvrYyOb8Zxsq86PvCKASCEQBgmY5ObmVy3kbff+wO0Gg2SJEYaJghJkgiKxSyFapUb5mY4dGQOa7KJrT3aaC4G+1gSFkXLAqmIcw4H7Wkybg4zTlBSMFb0WK4EVKtN2mjGd91KW3icn5nBtG7EtRyajTYb1w2xY9sWkgSiOMJzXdAKv93By3jkiyUuzizS9iMGegsM92ZZqjTpxBZLi0v09vUghKSvp4cDh07wkR+9m5nz0/T296YtArTC81y0loRRjGGmjqFOyydRUC7nyWZdjp+ZodUKGB8Z5/SJs/hZSe9dH6S5PE3Dr9A3MUDGc/ENAUqh0Rz1TTKDHhtUlZVKm5O1JiYwZuVoCcHWzQXecf0U+czT7N3+TkyvxJ133kq1Vse1DJqtDo5nMzjQh2l5xJFGWA6GaXzvNACA42ZoN+rEKkQaNvly76UUUq1I4ji9OT1lfvrmaV6oPEJjYgtfXBYkywLTytAJO3R0QrmQJ1vIUS7lSJIYOjFIQb5gIUUDrUKKO27hwumTlK97C5HSvHD4JNfv3Ipz7gQ7No3TaftYrodjG9iWiVHIMzezSBhE5PJ5clmXoBMQJzE6Drlhz/X8zZeexstmKRQKgGZkZIjHH3+SWlMzMjrMwkodx/HoLXkUCjn8TpDOT0Aul2NxaYlOJ0ArGOwrkUSa6elZ8oUyR09/g4ldA5x/9nm2vePHaBz7KkbUIJvNYhiaME6wDEEpl6UdhHRCaAbLDAlF3nGo1JuU7ngbt980yca8TWlkK7neAaIgwDAtBgb6AEGpV4CGOBbEcYgWklzee01BoVcVz7RsG9NaZZpp1wzVfWkNCIkQGsNw2Xbnzdz2/vXcuivP2973Vjq6TRj5mKZJoZQlW8jieA6ZjMvQYC/9fSUKOY+enMXo2BAb7343s2cu0pw/QyuSTKzbyMPfeJKJ9VvZs2snczML+EFAlCRIw2DL5kk2b1yP4xq4nsveW27CNC18v4MKEyY3b+Ebzx5j+uw5BvrKhEFIHCd0woBMxuMvP/cVDLtETzFHvdmm2miza8dWJsZGMU2DXD7HwMgocRQSRSGu4xAGMTIJuPuet/Dc4VNoDZnyOPVTz3Do65+neN0PU9i4h8FihoGeMuVymXy+SCZXwLJdTCeLkXFYDmLO1Vtk997LW3/2Fxl2NYXBG8j3XI9lumvBpCiKUYkijmLiuBuJlBJpmDiO+x2khL3SD0vZDUNKBHLN7Zn+lN2gjgQVUxq8nr7NP0Ss89x2y02885d/C+FlCOMQzxRkPZecazE+2sP6DUNsGuth09ggm+9+P8bNH+LpfSeozc2AECxeXKZvbCe5rMPH/+yvWb/1RtZt2oRA0aq3abQ6DA4PsmP3HhIgly/TNzBBs92mWCowNjHJQ08c4YFHn6avv49qrZlG55RiZmaBXCFPs9ngDz/5t1RbsG5slCSB0bF1bNy0g1zGZGLdRnbuvolGO6TtB4SdAB1HXH/jDUzPN3numf1M7LiRxmKMMCXt2jz7/u5veX4uw5HR+/Czw+SyWUb7exjqyeNYEtsSDPX18ZY7386eX/h9hn/544wYbarVDnZ+mHLvGFIYaUAJgWGYSGkipYWU1pqNZloW5qt0Ab+mLQDA8Tw6rRpoiSDpegr1FXRRqQTPy6CtAdqqiFi+wO0f/ldkdtzKzMN/T2bpFH0ZSU8+w8D6UXKlYZZHitRyI8xtfQsH7v8sUaOJ4dgkHR9naorliV7GrruNY089zP/0K7/JdTu3cv32cUb6y2TyLtlsgcl1W/Acj7HREXpKIxRLPbx4aIrPf/FpGu2AXK7AwnKVWrWG7dhESUynE1CpVCiWyuTzGe7/x2+wbfMYt928jTAKMcw0FjE+PozSGsfJMDkxgU4S5isN/vL+hzh85BSDExMYxe2IE8fQbR8pJSoJaNZCDuz5V5zwZymdf5Fy9SI9pkk4FtMcshnadSeVwW2c1gb32G2yF6bwQ0GQ2BSKPal2FRKBRq5lb4m1hacB28285pyAVw8A18VyXEK/mUbBVNK1EVLhawRagOd6LFeaKOlid2qo5TkY30HxI9ehmhVqfpUgCDgdQV1ZRIO9OFmXILLwlQBDonVKarZ4Z2gLEPkN/PzPb+TQsTNMTR3nmedeZHykn+1b11OphFjyAU5PLXD2L+7nD/740xw9Pg3CZPuu3ZR7e3nyiSeoVRsg0nyCJI5JkhgB+B2fG266nuHBQZ5/7gX+2988zKNPvMiG9cMY0uUf/uGrPPjg45y/uMDiUo0TU+epNToMj47wgQ+9H8Md4eTUPLv7znFYtcC0QYHI94Gy8LOT+DvWMdtqQRykutdyOGLYMN+k5AgGvAYF3aGTyxMESRr/kAZSpy7vS4QcpBAorTBsl0wm991ICPk2AaHuS6AplnqoJIoo7GAYBkKrbkmhRGpFGPgs15ZI4phSbz9Zt8j8yjIql+diWxFYLsobo5RV6CShqTVNLQibMU07geIIUmlQaah4eINB0/C4cP4cQ6N3Iu0CGzet5+KFi5w5fZbHnz7MAw8/Q6IUjutiGiaFcpGtO3czMjqM63rUajWiOAYt1tK9ojAiiZMudxFpkMcwuX7PdbQabWZmL/KNp4/T7oSEYQetFK7j4mYyjI1NsHdyknJPmZGRYU4cPMn6osn23QV4qA0UECqC3g3otomI62AaqZPKtFKdGSqkitBCM2ka9M3PsnPXRmYXM0ydPoGUko0bNlEqlrFMO41IdquWw1hhWjbFct9aPsH3BgBKoVWSRs+6ETTDMOgbHKJWreA3GwhpINC0Wg2mp6c5e3aKtt9CGILhwRFsw8CemqMzvI65WNEMI4RIWBQaS2j8WBEomQq800F7Y2Dlke0ltAavZyubh4bRjdNEsSCKQuJI0dfbT2+5lziK6EQBYZiWiXueh2WaaA2JSoiiCKUVQsu1rCPDMAijiDgJEUKBFtgy7QvQCSMsz2bjls2s37QRv9MhiUJAYDsWjuNhGiZCppHPTifGMpvcetN6dt+8E/g8Ku6A7IfsDbDsI0yNNhSg0OJSFl5CghELbmo22D00Q7Y0waTnEUURp04eYW5ujh07djI8NIxtuyRKE8QKz/MolHoxDIMkjruJJcarLlH7lgDQcYxKYpS+NGHZbZKgkoRsJotl2UxPn+bZZ57i4nxaUiWVpt1qMz4+yIXzp7Fdlw1CUJ/awD6zjyiTIIQiNNIZiEghY4XSEr2gkIdcvMgkMpoIw+B9P/xjCBVzauoYpkhDtKkAQ5IoBqUxTRvDTCuAkiTp9hLqElMpkEJ2+0FphBRYpkUYhqkGQCMkCMsEAYYh0VoTBiFKp5lJlumg0EAaDhaAZRiYpok0BLEw2bhrN3e89Qf5F+++mYP7X6S27OPsrzBXb6KGJeRFescloECH4DUU76bCh24/hh4OOHL0MK1mDcfOUK/5LK1Mc+7COYaGRti1aw8DAyMUimUK+RxxHKGVwrSsbrpZjGlZCGl85wDQcUwchVfElISU3X0/tfk1YFlpsuTo2DiGZRCFIagYCZhSc+7CObIYFIdKvK/xGPY/b+GvauPMlzxwJdgCHWr0coI932HHxZO8u+/LPFw+QVwe4Z33vYsffM97U1u9bWAaImXFQmAg0FKsNelYNUellOmWJLtpWhpMy8SyJaqlkSIVnFIKxGp5pMBx7PT7QqJ0N+lUK1Si0xwHeencQkqEITGkgTAk9VZIb/8oxVI/H/mpj/Kl0qdoLpzhtuKfc+jwMfafuo55e5B2xgFDkFcRG8wqbx2Z4r0/XENsG+PCXIE4vMDyygrDQxl27N6JZVokicIwTQyZOpOy2QyJUqkGSZJUowmDWCVpQq7jpgv1NQNAJcRRin7R3XPEKvsQAhWnWsE0DS7OnOf8ubNs2bSJ7Vs20Ww0WF5ZolGrUKlWyGTzuI5JLjeANwb/49BzXP/Vx3j0QD/nmkV8JZFxhyE9y00TJ7jpQ2fovXkE56n7qLTyvONdHwBMHNeh3fGJowTLtLCEJJIS3c25E5cHQJQAQ6d9D0jJkm1Z5PM5FucWKPf0UiwWaDYbWJaN77dxXQfXdVNQrCVMXhZUlSnrXgOASNPWTCsFkmNZ9JSKJFGHPXvvouFHzJ4/yLoNLW75oQMEZw+wOC2pVSykZVEsa4a2WgzduI649xZiNjGozrM4fwHHcdE6IZvNMDE2SS6bI1GKRquNtIwugVVpoxJScErTQJAS20D7uF7mFdUPvCQAVJykwr8qBXz1fQoMTRxHLM7Pcvz4EU4dP0ahmGFocIx22+fFw4fTfVJpDCEpFkvYXg+LyuPWn1tk7+wR2rMvoAMfaUmskoEq9dI0bufEXIZC/zIbdg5TLvdTq1awTAPXNqnW6ziZTFe1GwgRo6Xs9jhKEyO1UMjVqjckUhpEcYQEHMfippv3kM1miKKITZs2cuTIYSxLkiQJjutCHCERJFqjdar4hZSpGdZFhBACUxoYtk2n4+NZBj3lElEY0qitsGXzFlDw4tQMw4Pb2P22MrcPC4iqqESgzCLKXs/coknrok+pVCNb7GNwcJQo6OC3W5w4foxWs41jSkzLphMl9PQN0tMzgGkYKL3arUanHEem2i7pLmDLcb5tWNh8KdKXAl5cSsjUGn1Zz5zubSaOYoQ0yOcKzM5c5PTUSQYH5tm2czeLSytkMx59fQMMj28GTBbnzxGHMVG0jnVb30puY5V6bZ66HzA7W+Hsc/O0G8tI5nEzLs3GMtNnTlLu6SWbzSG0ZqWyzHihgDZSbSSE6BpIAiH0FaZS2vhCIaVJHEWEUYhlWxQLOeI4JpPxWLdunJOnT6bkKgzI5rLpMYVGSxBKrC0CIUB3+YTsBpMc06RaqaDihGyuQBBG1FaWOHX6KEli0GnVOXxogZmLDbxMjomJSdZv3EQ+X2Zm6iytxgyGFMzMVLAdh3L/EGGiOHt2mk7bp1qrc376FLaT+gX6B0ZS07u7z2shLlV1akALJOk2rRP1bXsamy8b+JGyG7xYS9pfK8aQhoGKU8ugVCpR7uklUTHZXJ4ojGg26mzavAXHcSmWevBcl2azThzFZDJZchmLysIyK8tLPP/iCywtLeE6Jo1GBa0EQ/0DhFGLudkVcpk8zXqNcm+Jnt5eqpUa6zYY6R4sRMqotLrU9bWr8vVlGcUCmbpPE0Wr3WLHtu0IAaYheMc73s6Xv/YAjusQR4okTjul6W6zLCHEquVIIsDsmoxSCEzTJJ/PM3vhIqWeHgzDoNlq4vstlpYWaTRaOI5LJlsGoZiZO02ifHr6ioSxTxA2yeXy+O02SoU0GjWCTodiXz/rDZcoikiSiOHRCVzPY3R0nL6+ge78urDXVxamXKo5kK+okdXLAsAQBspIC0B0V7WiNUkcIw0D07BRpqaQK7NucgP5XIFarUqz1aATdujrG8A2bXL5AtmMi2GaOD0e2VyRfC5HtbbC+vWj9PfnWVlZIgx9qpUqpmnTarU4P3t+zTYXQrIwP8fd99zNX336bzh88BBjE2O0mu1U7Yu0vlWpy3SUuHQtWqWma5zE3PKWW3nPe97FuTOnEVLwoQ+8n0OHD/HZv7m/m/mUXJZPs0owLyOXl7nFtVYcPXwE13V5+9vuobKyTJQoYqWxLBspfTKey4YNG9i6dSu2nSGMEuIoph0GbN22kygIqdcqdDo+URQQxzG2adPT20sQJRQKBTzHRgiJm8mSy+a7yaepj0QaEtOw1gpfDEMi6C7gV5YSdlXuWJfoCUmqSrS45Oy9DFBCShzXQ0qJ43n09PbTaNRpNuokKkZ3U8AzmWx68+MYy7JxXY8oDjk9dZqRgT76+4rkPYtYwZw1w8zsBYKgg2VaxFFErBPm5i7QbjeYmBjhhz/wHva/cJiw42MYsisc3V3tqbo2hECsvkWDUIRRxN69N/JzP/0RGvUqlZUFCoUSHd/n3/4vv8LI0DCPPvkUCL1mVaRFK6C0WKvoWb1VpmkRhjFBEHD3XbfS21vgwoVzeJk8juMihMC2LaIooN6oU681yOYEYRR3Yycmju1hWw6245LE8dqKXzVz40RQLOTJ5/NIaaTzMY01LnJ5MYruOulW//atClK+tQZY7YnXLW64tK+KK6vIUmqM7XkYlk0YdFBd5KeOoxSdjm0jpEhNGWlg2TaqlRAEPt944gn6enK4jsvI6DqOHD9GZbmCbdlESUQ2X6JY7qPRrGJiEHYidm3fwsjQAC8ePEanvYzj2iR+jEpSEAil0EojDBOjy5iXl5fZsnmS++69Bx1Dq9nAMCXV6gqtVot2u82HP/h+oqjNl776CDt37qQThGhi4iQ1raQUSMPAMAxMyyKKY8bHhrl+150UcxmqlVpazVStYjo22VIvjWabVqPJuJ3jyNHjtNo1coUipmnR3z/G2Ngktu1gmGZXwaZgNg0DQ0qSRGM7Nq7jYdnWVU6eVCMr1b3urpZOV38XGPK1JoWu9gu4ukT5JUvIBIYlsbTCSxSmaayZUlKm+6RhmKgkSZHZvYm9Pb1UaxVm5hdptRrkiv0srVRp1Jt4GZdCuZd16zZhmzaxitKLURB0Qvp6ern99ht56ol9PLHvBcp9fTiWhYoVQnZtfK2oLC8xO3MRzzUZvHUn9VoDKSS2aaFijSIm6qa5z8xdpJh36TRWeP7ZZ9i2ZQPSMukpF7Esh04QUK83UHFEdXmRu+68ldtuuZkkjuh0QtAGiYroBAFGaFIq9iKlTb26gmO7nDl9kijs0Gz69Az0UyyVMAwDwzDXilR01/Iyul1PTVL/xdqDK6667wiQhriyt+ea/F6VI0jzkkWir6JfkGlaCE9gxRaq6zpOlYmBYZporUmSGK0VlmUzNDhKu9XCczI0mw3qtTrDoxOUen2yXp6+nl4czyNOYkgEidJYtkGhWAIE1WqFsdEBdm7q4/TJaQpDA1Sbdd5x732Ue/r4y7/4U1ptH0nE5OQmWu02cRRgWg5xF4yr9kwUtgnjiFqtzlv27mR2bhkZ1BnqHeRHfvQDPPTg16g3fWrzs6g4YrhvkMmJUbxsmTDw0bTpBJ10K+rWBAopyWY9ekobSKKIdevWg0pwMnkGh0fo6e2/olRttdx8tTfR6t9Mw/wWEhBXaeTXEgvokqjvvNNAt17eMpFaopVeY+Fr1oM0UApM06Sntw+lFQsLc7T8Nn7Lx7EcbNslk8nguA6maWFbNrZl4zoOuWyeXKGA7/sks4pmo8PkxHrCMGRq6gymafD0448ghMHMxXmy+Rwqjgg6HQzTSusGZYyiy5JFauHESUySJJiWgwZGhgY4dXwKP+zwZ5/8GGdOnydfzNJoNDAk6AQqK3XyN5SJ4xxR2CHs+PgdnzAK0sRRKdFJ6oDq6e3rNp8KMS2PTDZDJptPBX3Zni2lxDTNtX1dCrmWu/i9Gt/FVrHp3iOVTEPCUl9ZMNkNIsmu2pMyTdzsHxyi0wmoVyvUqxUSrbAsC9t2sK20OAOREkrLcnE9F9NKWW+tXuHUyRM0GzXyuQILS1VOTx2ht6fA2NgoWzdv4LrrdjJ9cRbHdYniBNu0ECIGYaBllyxqTRzHlEpFTocxp06dZnx8BNc1mTp9Dj8I8BdTt/i977yDcrGXoaEBXM9FJw6R4+B5OfJJQqxjpJBdL6TGsR1KpTLZXK7rW+lGTQ1jTeWvmt2r8X7dDRcI2dUKQr6eAHiNPYJENyWMlDxqNGiBvupwsptcapgWluMSxzFhGOC5HsVCkagbdTNME7P7AolCYRkmlmXh2DYDvQOYWpB1LN56271s2LyRv7v/82zdEuI5LrWGz8JSBdOyCIKQQtnCMo01Zrzq4Nakdfu5bI44iJgcn6SnlOOmm29Ca7DlN7BsgzCM8f2A4aExRsfGyBfLZDI5kjjBUqkGWS13Nw1zjQM5jkPG88hkMpiGtaYtV3sM6m7bF31ZjwS5Zs/L1P8vv9ca4Ju2gdfaKKo72a5JstqD8mrikmoLsLr73aqKM0yDOIq7DSDS/U8aBsZl0S0pJRrN2PgG7n7HfRw/9iLL83McfOEFpi8sECSacqkHaTpkMy7nZxbIl/ooFHvIuF4XUKt9CFIhOHaG3r4Benv6aTebZPJ5jhw+RqPVZrbSwvM84lgTRJoz0+colHrZdv1GzC6B09pGqRQA8jLTzDQNbMvCtGykNK/wzQvDSB063cYRXYP10lpaPc73uCeReWW7l+/SyVYJlngFvMEwsR2xZjEkcZr4uOrKNbqeR2kYoNMmColK6B3o5+z0KVp+TKAF84sVdu/ZTbl3ENtxyGZyFEtlspkclmkRxQFCXTqu7rq6DZn6KkrlMrlcjunz02hppomvZoO7Nm7Fcb01klbIFdmxYzc95d7LyJvo9jkQV+7fprGmtV4yaWPVa8f/d6PbI0hc6hC3GgZ7naelu4JVSYJKug9iuNytmXYK6DZ0SLXE4tICc/Nz+H6L8xfP02o2kUKSyRfo6xukvy8NmrRaLTqBn6Z3A4ZI1bRjO5i2hW2nDqpsNkcYdIiiiOWVJeZmZ1iuVtK4gZehv3+IgcERCqUSrut2kzUvhclX4wNSyNSWN1PtZXRN3zfE0C8HgDXBv4yp8TqBQHWfwqEuy0Ba83GnDGMt8VQrTScMaLWa+G0fv9MmASzTxnZcTCON8IVBRBQFKJ10hSMxTQPTsLDs1MowLavrgbOI4wjfb+P7Hdp+m0TFmIaNaZo4XgbHcVPHkFhNNrkUIkZKjC57l0b6M93m5BtM+N02fjpRl1rFviQIxOs6Q61U+uoWm1xSSJeif5eXP2mtiZOIOE7S4k3UWhxfaY1KktSlnKRby5qz05CYholpmFimgWXZqY+9ew69+t2kC0YuPWNQXdGiTXSJ26U9W4pLWsGQxvesndx3BwAq0WvhLiFef5m/ZA7qpWcXaa7sibeamHJlsEOvPcxBKY3SyZofYjUvUCXJZcke+rKkDiPVBqa1psIvJ1+XRxV1N8qoruoSrteyoi91/pJr28Ib5RGz3VVxxeMAVgHwUu4k8QaB6yX76LLctJcnrVqrNQFd/vSP1GeuLrlcRcoq1rxvUl5i6S+rrnUXEGrN67cK0iunt7o9yDeO8Fdn900cIFGaKwI+4g0CgO/CdnIZCODyjmOr6WJcavQoXt1Fr7Zyfan2tOIN1XL/KnjqK23zSxyAq1cX13pGv5YV9oacG5ep/ysBIF9W+JeDR18T8bd3g74ZpyqucgXrb86ouTa+38B55TOh5Ld1NV57fMD3NTD+XzRCsKtleXbUAAAAAElFTkSuQmCC

iVBORw0KGgoAAAANSUhEUgAAAIAAAABOCAYAAADo3B4PAAAvXklEQVR42u29eZRk113n+bn37bFH7nvWvpdUWkqyNku2ZWFjtzE2Bg/NAQ80TPsMHKCZhYbT9NBDA900nAOD8dhgGnA3tkFgxuBV1motJbRVqfYtq7KW3DNjjxdvu3f+eJFZiyVbkm2N5Kl7TpzMyIx47773+97f/f7WJ7TWmmvj/7dDXrsF1wBwbVwDwLVxDQDXxjUAXBvXAHBtXAPAtXENANfGNQBcG9cAcG1cA8C18f0+zDf7BegkAQ2I9L2QEoS46kMarVT6OXT6GfnN2NdKgVJrBxNG91hXfR8hEIbxfQEA8aYNBmn9zYJeHUpdEvDlv7/cZ77F8XSSvLSwV2/by83hmgZ4fYRff+Ahms88i+4EeDu3U3rfe5Gem35Ga5CSaHGJ+le+RnD2HEY+R+7uO8nesOdKIQpB4+l/pvX4U+hWG2tyguK778Ma6CdeqVD90lcIz0wjPZfsW24hf+ft3x6I1zTA90j4QFypMv0//xL1r36dpNFICU3GI7Pneib/9GN4WzYDUP3qA1z4lX9LeHYaFQQIw8DoKdP/r3+WkX/3q6km0Jrzv/rvWP70X6NqdXSSIG0bd9cOen/if2Dlc/fjv3AAFYYIKZGFPOUf/SATv/+7SNteA9A1ALwe8lcKIQRnfuajrHz2b7GHh8i//W6E69J4+DHC6XN4e65j24NfpnPyJCd+8IdRjSbujm1krttFeGGG9rPPkdTqjP6X32Hwoz/Lxd/8j8z/pz/A6CmTvXUv1uAAzX9+jujsNMhUsNboKLnbbiFeXqH51NPES0sM/tLPM/bb/yGdk3yT8mn9JhoqSbTWWreee0G/MLhO7x/frFf+7h/W/t984YA+eN1e/axb1tWvPKAXPvnn+hkzr4/9wPt0uLi0doxzv/Ef9POlIX341rfqcGFRH775Dv18eURf/J3fWztW59x5feSt79T7RzboQze8RfunT6/9b/aP/kS/MDipD2zYoTvT59I/duf2ZhtvLtiqVFm1Dh0mqdXwrttF+QM/hE4SdBiS3XMdxbe/DR0nrPzt35O/+06EbdH3Ex/G6utF+R2ElAz+65/FHBggOH6SzrFj5O64DeG5DP7CR9PTdDo442P0/cSHiZeWccbHcDdsQMcxaM3Az/009tgoyUqF4OTp1YX05vQDqDhKL0wloNUl8sQb94KEYaQMPggvvTdTPps0GxjFPM1HHkNkMmT33kxcqV4yEQEdBF3zUVP9py9Teu+7kZnM2j4uTBO0RmazICU6ikCp9DxCIJRCum7XNFRvckeQ6gpcXS74VeG/sUAguvtxds/1mKUS/pGjzP3hx9BRhJCSyhe+SP3rD2OWSkQLizQefpTen/xx5v/wY/jHTyAcm6ReZ/Z3fg/VbGGUitS+8gD2+DjOlk0ov3PZycSlqxfiSpOx6xu45gh63eEq0Urh7dxOz4//KAsf+7+Z/0+/T+0fv4i0HdoHD6N8H6NURHouK/d/nsk//H1mfu3fc+p9H8LdvZN4bp7g2HFwHIRtE06fxz9yhNJ7341q1KG35yrUvQzDfxMz/ytuqRACgVjzpMEb+8KEEKA0Y7/17xn46M+hhaDx5NPUH3mUpN2m+L73MPHJP0Z4Ho1HHydcXqb4wffjT52h9k9fpr3/RchlGfud/5PiB99PUquw8rm/I//Od4CXWdvLtdYQxyS+jwrDru9IXfp/GKZbiXpzawKhwlAL0QXAKqqF4DJEvAFNl0vTC48dp7X/RZIwJLt9G97emwDoHDuOozRicoLEkMRPPY0/fR7lufTc81YYHIB2G//YCaTn4mzb+k3AVysV4nPnkYUC5oZ1V5ii/rHjaN/H3bwJo1B40zqEpPimSYs35P5/9RS10qAUi329TN2wm76f/Jf4u3bw4Ne/ztLCAva2rewLOxw4M4XhujzuOVTe+y4KP/YjPHD0CFopHt+/n8bmDfjrJmn7PidOnODAgQMEYciFCxeICnmejkOm7dQV/Nhjj3Hq1CmElGR2bCd7042p8N/ELmGZBjcuX/1XA+GNqgRSN+/hZ5+lM7+IjmOOP/88F2dmqNRq1JZX+MyffYoDzz2H1pozBw7gBQEnDx/m9JEjCClp1evkhMGZI0eIoogoiiiXy8zPzdFsNlmam2Pq4EEWps+htWbfvn0cOnSIarVKrVJBX7YlvHldwXGkryA1b3T1f9UIgoD5+XkmJiaIoojZ2dm136MowrIsLMtCKYWUEt/36XQ6lMtlgiDAcRzCMMS27bXPR1GElBLDMDh37hwjIyMYhkEURQghiOMYwzCwbftNTwKFTmL9zaz2zc9uX8briRDfn9f2HWwBXLbqxZtWsN/u9zUL4lV67b7V8b4fRqoBrlD9+vtWA1wbL+UIEvKl7atXvQKv/m76/vVUuZev0O/Wea++ttfrel72nmq+q5FHoVXXk/Ea2P8r3VO/V3uv1hrVDQ/Ll7gpSZIAYLzK9K1v9b1vd87Xi6usgv07va+vDQBXOT2a9QrLCxcI/AZh4JMkCbZboH9ogr7Bke8JCFZZ/eoIo5hWs0XYZfKlUnE1lP+azx+GESuVCr7vY5oWuVyOcqlw2RwShJDfE3A3a8usLF6kE7TQSYJlOSANLMtjaGwDlu18V+6r+c0OoFcmfK0VF84e4+L0MZ55/HFGJ0cYHugjCAJqjQZ+oMjlyvQPDLDzhjvIFfu+5RajL0+4fAUrREpJrV7nySef4PDB/SzNX6BaXSFJFLl8hjC2GBoZ54477uKeu+9GSvFtb9bq/7/+4IM88vBDnD8/RdipE3QC0JJyTw+5Qg9bd1zHffe+k02bNr4ysGqN1jq9dd1Vm75e4rNJxFOPfZ3AryGSOkqB57gI0+D0kSPUlpfYevNb6B0YZ8uOvWTzxe+CBhCvDACrN6jZWOHgsw8ydeIYpVKBgy8eZXJynI0b1xF2OtSbLdpBgpfJ0Qk65LMet73tA+SLPWvHUFqzemop5RU3I1Hp/me8hIpN/fHw9NP7+Ku/+ATLixfIZkwKnkW93sYwTXZum+DA0bNMTS+ghcGmTbv5tV//DTZt2pCaPi+zXUgh+e3f/S0+//efI+uZDPRmGenvw28HNNoddmwepdXpcODoecLY5q577uWXfvGXKRTya0K9nAGpRCGFWItifvM5V7cSsaZRnnn8n5g6cYKe/lGymZh2q00hVwTL4MhTz2DaNr3jIySxxs6UuG7PzQxPbO2e+9VzOPnKV38qOL9V5dyJ5/AbFRzXxfcDPC9DdaVKEockKkGpmCROkAKCMOLZAwc4dODZNQEmKr0xpiExjFT4zSBgudEiUQmGFKnw9UuYYUIAis/8t49zfvo4UeCT8yyyWQ+NIIwVhmEw1N9DPmvjGJL9zz3Bpz75x13B65cUvmEYHHjxWb7w+b+mt+Dh2Cae41LIu2gUSSKwLINyKUMh65DzEr76xc/xiU/8CVJK9GV5AVprhNbptUnB6cU6X3nmJPc/cZIvPX2Cg1OztOMEw5BIKUiSBK3hwtmTPPboQygBjZZP2AmIww5JEhGHAZVKFTeXxzIsYiVQScjM2UNMH9tHHAWvicCbr8yHnSKrsnSR2sIZPMciX8hTa9SpVptkcxkqldqa8JVOsAwLv+Nz9NhRXDfLwux5EqXXiNX5aoN/fOIgj714gfNxjnPzFdqNKgOGYs/6Pj583x5+6NZtCC6pbqVS4f7Fpz7Ok088QblcxLBt8lmXfNbBNAVhoNFoeooZbMskjgJcx+aBr32Z9z/+fm678541ga8C0jAMFhZm+N//11+i1erQX8qiE4VrSYoFj9n5lVTAEizTQCUxnXYH1zF56vGvsvwzP0Nv30CXHKacIAE++eBRPvsP+3nmmWn8GqAcWHgIPIPJ3du592138DPv281tOyYBODs9Ravd5uLMBYpFTd4torVCSE3U6eA6DoVyiVqtSr0dsn2wjOt6tGrLnD6yj007b8cwrdfKAb71nt9u1Tl9cB+ZnEcmmyebyZHLuKwsLuPYDlGrjt/qYNlGyqINmyNHj+K3fZIEmu0OhhScnl3gdz79MPc/epLaieNQrcH4u8BR0F5hpVnn2MOn+OwXjnDfe2/kz3/xXkZLeeIkwTQMvvaVL/C7//m3GR7pJeuYaUImGscxEUKiVIjQCsM0SJTGNkwKeYe5xQq/9r/9G/7qM/czPrnhChYdBD7/8Td/ndMnp1g3OYAUCoVGSoFlmWidoLQiTjS2JbvaTeBZJlOnTvGLv/BR/utffgbDNBHAbNPnx3/973jkb05A7QI5N0ef0wc6pOG3iJsx00+f5VNP1/jUnz7Aj33kB/iDf3MvxYxFGEW4KuH8xSl6ilvIuKC1IPA7DI32E8Yd5paWWTcxRi7jIqRAK0Ft6QIXzx5mYtOeV0UM5StZ+wALM2eo15eJo4Ao9HEch1KhQC6bJQw77NlzMxMTmxifmKTU08fJqdNUqxUKxV6Wl2vcevMePv3oi9z0L/+IT/3Rg9SOLGI0IozmHM6FOfIXG7gzVbxKDTsCaynha3/yVf7Fb/4j9TD1zc/Pnuc///b/wchwDznPJl3rijhJyBcLuK5JomKkKbAdE4HANCWWKdmxYYhqdYE/+L3fouP7V6jrv/jUx3nk4YdYN95HKWvjmAZaK3J5l96BEmGkkIYgk3HIZi3QYFkCrRSjQ3089cRDfOLjf4SUko5K+Miv/j9840/+gfXBLBuNiP7OCkONRYZbSzhxh5wIGdIGvapJpqn53B/tZ++H/5op1UdvPkOr1cIyFYeOH6bearHz+hvYsmUHdqYHw3SYmFjH+OgIhrSQaLQKqNZrnD11EF6lVfCKM4IWF2Z49Kl9DPT2ccOe3QwNDZDN5ZGW4PY77mTzrr089+QDLC8ss//wIU5OXcBxbGZnT/DOe9/JU/4AP/nvH4AzCXYQYzYqyLBBJ6iQT6YYsQZpxnN0REhHGxgEKKPJC5/9Mv/1nnX84g+9hb/81MeYmZth7+71+H4EholpSjIZh80bhjl6bJpIJWRck4znkHFsoigkShT5rEtvX5F9zzzFF77weX70x34cgIcfeYQvffEfsWyDYs5N7XzAyTiYpomONYZpULAtevIOjiUxpMQ1TaphTNYz2LRumE/86f/Fj3zwAzxzrsPXPvHbbMqNYnYa5LRFohVFM8FEsKTrZPFwwgYtLSiJDMJoceGBZ/jpTshv/tQ9xPvu5/xyjVY7YPbCHHNzy6go4fqb9rJ95x5mLkwTx21c22JhYZ5DR06ysLTInj07ieMA03JfMSF8xQBI4phyPs/pqXOcOTPDuo3j+M0Wgoh61eeBBx5k3zMHCcOYVqvNyTMXiUKfH3jfB3jc282n/8t+5FSHYiAxGj5e3MAWPlUScmqaQUOTTxapaI0VZWjGS8yIGURnnse+tJs7R+HZp/eRz7p0ghhpGnSCiIyXY2GhyuEjZ7BMSTHrcnG2QpwIEhUTxDFKafxOiGeaqDjiy1/8Au+491309vbw95//e7ROyHkOcaLQWhFq8CybStXn7Ll5ygUXISQrdZ/l5TqWlWqIIArJYmLbknarwX//7H/n2LyHiE9xtrnIenOAHrcIdOjP+BhGwlSnwXjGJlQLZJWHiCW1cJGC9EmezvJb5kZ+6ra9HHzk45yfW+a2vTsJOoeJIsXp6fNEn/kMuazLyOgojWaHpaUVCoUsmzaMYZkOQhivyqw3XykBHBpdT6PeYKi/hGFazJyfY/rcBRaXahQKGW7as5Xrdmzk4sIC02fb3LhzI+WRTTw/tcjBmf2owxly9WNkwzp5EmLRoGC2MIVGGsuMlx0a0QoDGsIk5rGVKXzVxBAOc+dP8cBDIUkUUsy4hJ0IxzPQSrFUbdKHoNbwyWUcorwL0kSoBMsymVuuk3clHT8gjBOKhTxTZ6c4cuQwd911F88/t5/1QxmCpqQThhjSIAgiLGFi2wa2aaCVRhqCJNEorcl4DiuVJpZlEEYBSRTTmy/wz/v+mYMLBgYCkdQ5p1ps6R1mOK8oZSoomVCst+kvK3SSox10OF+fYzZssytzJ4gOxw4d4a/mz3Pv9XeybdcyWUuzUu0wOTnM1k2TnDwxxRNPvYD14hQ7tm9icqyfbNZlbmaOXXvuwjCt7y4HEN1YwbqNO7j19rdz7twctXqb2fkFnn3+aJqfN1ym0agzv7BEHJrccOPtjLzzp/jySoGjZ2YQF87Rv/Ai48qjnZwmsKZx3SaZTMjOnh4ydoOWPY12F6kwy4uNAzSTixTNGFPXiI02B17YT76QRRqCMEkII0Wl0cKUgsH+IkpDoxXSbIcEnRAtNKVSjkLWY7na5uJyi04QUyrlWVmuMb+whFIJU1NnMGwbx7Fp+TELK01c12NwoEg+5xFEEWEUEyeKJNYI0orhKE5IEmi1E5QWZFyTKGgRdOo4pqLHiDFVi+eXz3C4NksoF5noXWHbSMDOzXWEs8iJ5imOhUe5vb/EoNNhuvMo9YUv0Fyc5q8fnuEZ9z1kezaSyeQ5cOgkTz71LEEY0DfQw4HDx3l833OcOjnN9Ll5tu/Zy+6b7vhOPIHf1gvArXfex8DAEIcP7aflK3bv2s746ACFQg7HzTA0NsItN+2hGis+9LlzNBsm69Zt5+KLTzLfOoZ0rmPC1CypGZQFEsHm7DBnqLO/VkFowXyrTRAoiqaFrTtEmQxjGzdx4pHPc+fN25mdu0ArUizWahSLBUZHhoiUQduPaLc7+K0Y0zRwXA9Ek5GhHjzXYn6hRstvkcnnmVusYMjUXPM7LSq1FtJILYqtm8aYmBhCaDCkIAhjwlDjOQa5Yh7LsgjCkJVag4VKmhTqeAZeNkenXsca3o23UkGc3s9o0SZQiqYlOdIyOdrUGLZiJpCcbtU458dMFnK0jGUeWTqJn/g4cpL+vh4yCw1qT0xzw2+8nfvuXMfDjz3H/NwSHb9KpjBKsTSEkzG45aYbuXnvrYyOb8Zxsq86PvCKASCEQBgmY5ObmVy3kbff+wO0Gg2SJEYaJghJkgiKxSyFapUb5mY4dGQOa7KJrT3aaC4G+1gSFkXLAqmIcw4H7Wkybg4zTlBSMFb0WK4EVKtN2mjGd91KW3icn5nBtG7EtRyajTYb1w2xY9sWkgSiOMJzXdAKv93By3jkiyUuzizS9iMGegsM92ZZqjTpxBZLi0v09vUghKSvp4cDh07wkR+9m5nz0/T296YtArTC81y0loRRjGGmjqFOyydRUC7nyWZdjp+ZodUKGB8Z5/SJs/hZSe9dH6S5PE3Dr9A3MUDGc/ENAUqh0Rz1TTKDHhtUlZVKm5O1JiYwZuVoCcHWzQXecf0U+czT7N3+TkyvxJ133kq1Vse1DJqtDo5nMzjQh2l5xJFGWA6GaXzvNACA42ZoN+rEKkQaNvly76UUUq1I4ji9OT1lfvrmaV6oPEJjYgtfXBYkywLTytAJO3R0QrmQJ1vIUS7lSJIYOjFIQb5gIUUDrUKKO27hwumTlK97C5HSvHD4JNfv3Ipz7gQ7No3TaftYrodjG9iWiVHIMzezSBhE5PJ5clmXoBMQJzE6Drlhz/X8zZeexstmKRQKgGZkZIjHH3+SWlMzMjrMwkodx/HoLXkUCjn8TpDOT0Aul2NxaYlOJ0ArGOwrkUSa6elZ8oUyR09/g4ldA5x/9nm2vePHaBz7KkbUIJvNYhiaME6wDEEpl6UdhHRCaAbLDAlF3nGo1JuU7ngbt980yca8TWlkK7neAaIgwDAtBgb6AEGpV4CGOBbEcYgWklzee01BoVcVz7RsG9NaZZpp1wzVfWkNCIkQGsNw2Xbnzdz2/vXcuivP2973Vjq6TRj5mKZJoZQlW8jieA6ZjMvQYC/9fSUKOY+enMXo2BAb7343s2cu0pw/QyuSTKzbyMPfeJKJ9VvZs2snczML+EFAlCRIw2DL5kk2b1yP4xq4nsveW27CNC18v4MKEyY3b+Ebzx5j+uw5BvrKhEFIHCd0woBMxuMvP/cVDLtETzFHvdmm2miza8dWJsZGMU2DXD7HwMgocRQSRSGu4xAGMTIJuPuet/Dc4VNoDZnyOPVTz3Do65+neN0PU9i4h8FihoGeMuVymXy+SCZXwLJdTCeLkXFYDmLO1Vtk997LW3/2Fxl2NYXBG8j3XI9lumvBpCiKUYkijmLiuBuJlBJpmDiO+x2khL3SD0vZDUNKBHLN7Zn+lN2gjgQVUxq8nr7NP0Ss89x2y02885d/C+FlCOMQzxRkPZecazE+2sP6DUNsGuth09ggm+9+P8bNH+LpfSeozc2AECxeXKZvbCe5rMPH/+yvWb/1RtZt2oRA0aq3abQ6DA4PsmP3HhIgly/TNzBBs92mWCowNjHJQ08c4YFHn6avv49qrZlG55RiZmaBXCFPs9ngDz/5t1RbsG5slCSB0bF1bNy0g1zGZGLdRnbuvolGO6TtB4SdAB1HXH/jDUzPN3numf1M7LiRxmKMMCXt2jz7/u5veX4uw5HR+/Czw+SyWUb7exjqyeNYEtsSDPX18ZY7386eX/h9hn/544wYbarVDnZ+mHLvGFIYaUAJgWGYSGkipYWU1pqNZloW5qt0Ab+mLQDA8Tw6rRpoiSDpegr1FXRRqQTPy6CtAdqqiFi+wO0f/ldkdtzKzMN/T2bpFH0ZSU8+w8D6UXKlYZZHitRyI8xtfQsH7v8sUaOJ4dgkHR9naorliV7GrruNY089zP/0K7/JdTu3cv32cUb6y2TyLtlsgcl1W/Acj7HREXpKIxRLPbx4aIrPf/FpGu2AXK7AwnKVWrWG7dhESUynE1CpVCiWyuTzGe7/x2+wbfMYt928jTAKMcw0FjE+PozSGsfJMDkxgU4S5isN/vL+hzh85BSDExMYxe2IE8fQbR8pJSoJaNZCDuz5V5zwZymdf5Fy9SI9pkk4FtMcshnadSeVwW2c1gb32G2yF6bwQ0GQ2BSKPal2FRKBRq5lb4m1hacB28285pyAVw8A18VyXEK/mUbBVNK1EVLhawRagOd6LFeaKOlid2qo5TkY30HxI9ehmhVqfpUgCDgdQV1ZRIO9OFmXILLwlQBDonVKarZ4Z2gLEPkN/PzPb+TQsTNMTR3nmedeZHykn+1b11OphFjyAU5PLXD2L+7nD/740xw9Pg3CZPuu3ZR7e3nyiSeoVRsg0nyCJI5JkhgB+B2fG266nuHBQZ5/7gX+2988zKNPvMiG9cMY0uUf/uGrPPjg45y/uMDiUo0TU+epNToMj47wgQ+9H8Md4eTUPLv7znFYtcC0QYHI94Gy8LOT+DvWMdtqQRykutdyOGLYMN+k5AgGvAYF3aGTyxMESRr/kAZSpy7vS4QcpBAorTBsl0wm991ICPk2AaHuS6AplnqoJIoo7GAYBkKrbkmhRGpFGPgs15ZI4phSbz9Zt8j8yjIql+diWxFYLsobo5RV6CShqTVNLQibMU07geIIUmlQaah4eINB0/C4cP4cQ6N3Iu0CGzet5+KFi5w5fZbHnz7MAw8/Q6IUjutiGiaFcpGtO3czMjqM63rUajWiOAYt1tK9ojAiiZMudxFpkMcwuX7PdbQabWZmL/KNp4/T7oSEYQetFK7j4mYyjI1NsHdyknJPmZGRYU4cPMn6osn23QV4qA0UECqC3g3otomI62AaqZPKtFKdGSqkitBCM2ka9M3PsnPXRmYXM0ydPoGUko0bNlEqlrFMO41IdquWw1hhWjbFct9aPsH3BgBKoVWSRs+6ETTDMOgbHKJWreA3GwhpINC0Wg2mp6c5e3aKtt9CGILhwRFsw8CemqMzvI65WNEMI4RIWBQaS2j8WBEomQq800F7Y2Dlke0ltAavZyubh4bRjdNEsSCKQuJI0dfbT2+5lziK6EQBYZiWiXueh2WaaA2JSoiiCKUVQsu1rCPDMAijiDgJEUKBFtgy7QvQCSMsz2bjls2s37QRv9MhiUJAYDsWjuNhGiZCppHPTifGMpvcetN6dt+8E/g8Ku6A7IfsDbDsI0yNNhSg0OJSFl5CghELbmo22D00Q7Y0waTnEUURp04eYW5ujh07djI8NIxtuyRKE8QKz/MolHoxDIMkjruJJcarLlH7lgDQcYxKYpS+NGHZbZKgkoRsJotl2UxPn+bZZ57i4nxaUiWVpt1qMz4+yIXzp7Fdlw1CUJ/awD6zjyiTIIQiNNIZiEghY4XSEr2gkIdcvMgkMpoIw+B9P/xjCBVzauoYpkhDtKkAQ5IoBqUxTRvDTCuAkiTp9hLqElMpkEJ2+0FphBRYpkUYhqkGQCMkCMsEAYYh0VoTBiFKp5lJlumg0EAaDhaAZRiYpok0BLEw2bhrN3e89Qf5F+++mYP7X6S27OPsrzBXb6KGJeRFescloECH4DUU76bCh24/hh4OOHL0MK1mDcfOUK/5LK1Mc+7COYaGRti1aw8DAyMUimUK+RxxHKGVwrSsbrpZjGlZCGl85wDQcUwchVfElISU3X0/tfk1YFlpsuTo2DiGZRCFIagYCZhSc+7CObIYFIdKvK/xGPY/b+GvauPMlzxwJdgCHWr0coI932HHxZO8u+/LPFw+QVwe4Z33vYsffM97U1u9bWAaImXFQmAg0FKsNelYNUellOmWJLtpWhpMy8SyJaqlkSIVnFIKxGp5pMBx7PT7QqJ0N+lUK1Si0xwHeencQkqEITGkgTAk9VZIb/8oxVI/H/mpj/Kl0qdoLpzhtuKfc+jwMfafuo55e5B2xgFDkFcRG8wqbx2Z4r0/XENsG+PCXIE4vMDyygrDQxl27N6JZVokicIwTQyZOpOy2QyJUqkGSZJUowmDWCVpQq7jpgv1NQNAJcRRin7R3XPEKvsQAhWnWsE0DS7OnOf8ubNs2bSJ7Vs20Ww0WF5ZolGrUKlWyGTzuI5JLjeANwb/49BzXP/Vx3j0QD/nmkV8JZFxhyE9y00TJ7jpQ2fovXkE56n7qLTyvONdHwBMHNeh3fGJowTLtLCEJJIS3c25E5cHQJQAQ6d9D0jJkm1Z5PM5FucWKPf0UiwWaDYbWJaN77dxXQfXdVNQrCVMXhZUlSnrXgOASNPWTCsFkmNZ9JSKJFGHPXvvouFHzJ4/yLoNLW75oQMEZw+wOC2pVSykZVEsa4a2WgzduI649xZiNjGozrM4fwHHcdE6IZvNMDE2SS6bI1GKRquNtIwugVVpoxJScErTQJAS20D7uF7mFdUPvCQAVJykwr8qBXz1fQoMTRxHLM7Pcvz4EU4dP0ahmGFocIx22+fFw4fTfVJpDCEpFkvYXg+LyuPWn1tk7+wR2rMvoAMfaUmskoEq9dI0bufEXIZC/zIbdg5TLvdTq1awTAPXNqnW6ziZTFe1GwgRo6Xs9jhKEyO1UMjVqjckUhpEcYQEHMfippv3kM1miKKITZs2cuTIYSxLkiQJjutCHCERJFqjdar4hZSpGdZFhBACUxoYtk2n4+NZBj3lElEY0qitsGXzFlDw4tQMw4Pb2P22MrcPC4iqqESgzCLKXs/coknrok+pVCNb7GNwcJQo6OC3W5w4foxWs41jSkzLphMl9PQN0tMzgGkYKL3arUanHEem2i7pLmDLcb5tWNh8KdKXAl5cSsjUGn1Zz5zubSaOYoQ0yOcKzM5c5PTUSQYH5tm2czeLSytkMx59fQMMj28GTBbnzxGHMVG0jnVb30puY5V6bZ66HzA7W+Hsc/O0G8tI5nEzLs3GMtNnTlLu6SWbzSG0ZqWyzHihgDZSbSSE6BpIAiH0FaZS2vhCIaVJHEWEUYhlWxQLOeI4JpPxWLdunJOnT6bkKgzI5rLpMYVGSxBKrC0CIUB3+YTsBpMc06RaqaDihGyuQBBG1FaWOHX6KEli0GnVOXxogZmLDbxMjomJSdZv3EQ+X2Zm6iytxgyGFMzMVLAdh3L/EGGiOHt2mk7bp1qrc376FLaT+gX6B0ZS07u7z2shLlV1akALJOk2rRP1bXsamy8b+JGyG7xYS9pfK8aQhoGKU8ugVCpR7uklUTHZXJ4ojGg26mzavAXHcSmWevBcl2azThzFZDJZchmLysIyK8tLPP/iCywtLeE6Jo1GBa0EQ/0DhFGLudkVcpk8zXqNcm+Jnt5eqpUa6zYY6R4sRMqotLrU9bWr8vVlGcUCmbpPE0Wr3WLHtu0IAaYheMc73s6Xv/YAjusQR4okTjul6W6zLCHEquVIIsDsmoxSCEzTJJ/PM3vhIqWeHgzDoNlq4vstlpYWaTRaOI5LJlsGoZiZO02ifHr6ioSxTxA2yeXy+O02SoU0GjWCTodiXz/rDZcoikiSiOHRCVzPY3R0nL6+ge78urDXVxamXKo5kK+okdXLAsAQBspIC0B0V7WiNUkcIw0D07BRpqaQK7NucgP5XIFarUqz1aATdujrG8A2bXL5AtmMi2GaOD0e2VyRfC5HtbbC+vWj9PfnWVlZIgx9qpUqpmnTarU4P3t+zTYXQrIwP8fd99zNX336bzh88BBjE2O0mu1U7Yu0vlWpy3SUuHQtWqWma5zE3PKWW3nPe97FuTOnEVLwoQ+8n0OHD/HZv7m/m/mUXJZPs0owLyOXl7nFtVYcPXwE13V5+9vuobKyTJQoYqWxLBspfTKey4YNG9i6dSu2nSGMEuIoph0GbN22kygIqdcqdDo+URQQxzG2adPT20sQJRQKBTzHRgiJm8mSy+a7yaepj0QaEtOw1gpfDEMi6C7gV5YSdlXuWJfoCUmqSrS45Oy9DFBCShzXQ0qJ43n09PbTaNRpNuokKkZ3U8AzmWx68+MYy7JxXY8oDjk9dZqRgT76+4rkPYtYwZw1w8zsBYKgg2VaxFFErBPm5i7QbjeYmBjhhz/wHva/cJiw42MYsisc3V3tqbo2hECsvkWDUIRRxN69N/JzP/0RGvUqlZUFCoUSHd/n3/4vv8LI0DCPPvkUCL1mVaRFK6C0WKvoWb1VpmkRhjFBEHD3XbfS21vgwoVzeJk8juMihMC2LaIooN6oU681yOYEYRR3Yycmju1hWw6245LE8dqKXzVz40RQLOTJ5/NIaaTzMY01LnJ5MYruOulW//atClK+tQZY7YnXLW64tK+KK6vIUmqM7XkYlk0YdFBd5KeOoxSdjm0jpEhNGWlg2TaqlRAEPt944gn6enK4jsvI6DqOHD9GZbmCbdlESUQ2X6JY7qPRrGJiEHYidm3fwsjQAC8ePEanvYzj2iR+jEpSEAil0EojDBOjy5iXl5fZsnmS++69Bx1Dq9nAMCXV6gqtVot2u82HP/h+oqjNl776CDt37qQThGhi4iQ1raQUSMPAMAxMyyKKY8bHhrl+150UcxmqlVpazVStYjo22VIvjWabVqPJuJ3jyNHjtNo1coUipmnR3z/G2Ngktu1gmGZXwaZgNg0DQ0qSRGM7Nq7jYdnWVU6eVCMr1b3urpZOV38XGPK1JoWu9gu4ukT5JUvIBIYlsbTCSxSmaayZUlKm+6RhmKgkSZHZvYm9Pb1UaxVm5hdptRrkiv0srVRp1Jt4GZdCuZd16zZhmzaxitKLURB0Qvp6ern99ht56ol9PLHvBcp9fTiWhYoVQnZtfK2oLC8xO3MRzzUZvHUn9VoDKSS2aaFijSIm6qa5z8xdpJh36TRWeP7ZZ9i2ZQPSMukpF7Esh04QUK83UHFEdXmRu+68ldtuuZkkjuh0QtAGiYroBAFGaFIq9iKlTb26gmO7nDl9kijs0Gz69Az0UyyVMAwDwzDXilR01/Iyul1PTVL/xdqDK6667wiQhriyt+ea/F6VI0jzkkWir6JfkGlaCE9gxRaq6zpOlYmBYZporUmSGK0VlmUzNDhKu9XCczI0mw3qtTrDoxOUen2yXp6+nl4czyNOYkgEidJYtkGhWAIE1WqFsdEBdm7q4/TJaQpDA1Sbdd5x732Ue/r4y7/4U1ptH0nE5OQmWu02cRRgWg5xF4yr9kwUtgnjiFqtzlv27mR2bhkZ1BnqHeRHfvQDPPTg16g3fWrzs6g4YrhvkMmJUbxsmTDw0bTpBJ10K+rWBAopyWY9ekobSKKIdevWg0pwMnkGh0fo6e2/olRttdx8tTfR6t9Mw/wWEhBXaeTXEgvokqjvvNNAt17eMpFaopVeY+Fr1oM0UApM06Sntw+lFQsLc7T8Nn7Lx7EcbNslk8nguA6maWFbNrZl4zoOuWyeXKGA7/sks4pmo8PkxHrCMGRq6gymafD0448ghMHMxXmy+Rwqjgg6HQzTSusGZYyiy5JFauHESUySJJiWgwZGhgY4dXwKP+zwZ5/8GGdOnydfzNJoNDAk6AQqK3XyN5SJ4xxR2CHs+PgdnzAK0sRRKdFJ6oDq6e3rNp8KMS2PTDZDJptPBX3Zni2lxDTNtX1dCrmWu/i9Gt/FVrHp3iOVTEPCUl9ZMNkNIsmu2pMyTdzsHxyi0wmoVyvUqxUSrbAsC9t2sK20OAOREkrLcnE9F9NKWW+tXuHUyRM0GzXyuQILS1VOTx2ht6fA2NgoWzdv4LrrdjJ9cRbHdYniBNu0ECIGYaBllyxqTRzHlEpFTocxp06dZnx8BNc1mTp9Dj8I8BdTt/i977yDcrGXoaEBXM9FJw6R4+B5OfJJQqxjpJBdL6TGsR1KpTLZXK7rW+lGTQ1jTeWvmt2r8X7dDRcI2dUKQr6eAHiNPYJENyWMlDxqNGiBvupwsptcapgWluMSxzFhGOC5HsVCkagbdTNME7P7AolCYRkmlmXh2DYDvQOYWpB1LN56271s2LyRv7v/82zdEuI5LrWGz8JSBdOyCIKQQtnCMo01Zrzq4Nakdfu5bI44iJgcn6SnlOOmm29Ca7DlN7BsgzCM8f2A4aExRsfGyBfLZDI5kjjBUqkGWS13Nw1zjQM5jkPG88hkMpiGtaYtV3sM6m7bF31ZjwS5Zs/L1P8vv9ca4Ju2gdfaKKo72a5JstqD8mrikmoLsLr73aqKM0yDOIq7DSDS/U8aBsZl0S0pJRrN2PgG7n7HfRw/9iLL83McfOEFpi8sECSacqkHaTpkMy7nZxbIl/ooFHvIuF4XUKt9CFIhOHaG3r4Benv6aTebZPJ5jhw+RqPVZrbSwvM84lgTRJoz0+colHrZdv1GzC6B09pGqRQA8jLTzDQNbMvCtGykNK/wzQvDSB063cYRXYP10lpaPc73uCeReWW7l+/SyVYJlngFvMEwsR2xZjEkcZr4uOrKNbqeR2kYoNMmColK6B3o5+z0KVp+TKAF84sVdu/ZTbl3ENtxyGZyFEtlspkclmkRxQFCXTqu7rq6DZn6KkrlMrlcjunz02hppomvZoO7Nm7Fcb01klbIFdmxYzc95d7LyJvo9jkQV+7fprGmtV4yaWPVa8f/d6PbI0hc6hC3GgZ7naelu4JVSYJKug9iuNytmXYK6DZ0SLXE4tICc/Nz+H6L8xfP02o2kUKSyRfo6xukvy8NmrRaLTqBn6Z3A4ZI1bRjO5i2hW2nDqpsNkcYdIiiiOWVJeZmZ1iuVtK4gZehv3+IgcERCqUSrut2kzUvhclX4wNSyNSWN1PtZXRN3zfE0C8HgDXBv4yp8TqBQHWfwqEuy0Ba83GnDGMt8VQrTScMaLWa+G0fv9MmASzTxnZcTCON8IVBRBQFKJ10hSMxTQPTsLDs1MowLavrgbOI4wjfb+P7Hdp+m0TFmIaNaZo4XgbHcVPHkFhNNrkUIkZKjC57l0b6M93m5BtM+N02fjpRl1rFviQIxOs6Q61U+uoWm1xSSJeif5eXP2mtiZOIOE7S4k3UWhxfaY1KktSlnKRby5qz05CYholpmFimgWXZqY+9ew69+t2kC0YuPWNQXdGiTXSJ26U9W4pLWsGQxvesndx3BwAq0WvhLiFef5m/ZA7qpWcXaa7sibeamHJlsEOvPcxBKY3SyZofYjUvUCXJZcke+rKkDiPVBqa1psIvJ1+XRxV1N8qoruoSrteyoi91/pJr28Ib5RGz3VVxxeMAVgHwUu4k8QaB6yX76LLctJcnrVqrNQFd/vSP1GeuLrlcRcoq1rxvUl5i6S+rrnUXEGrN67cK0iunt7o9yDeO8Fdn900cIFGaKwI+4g0CgO/CdnIZCODyjmOr6WJcavQoXt1Fr7Zyfan2tOIN1XL/KnjqK23zSxyAq1cX13pGv5YV9oacG5ep/ysBIF9W+JeDR18T8bd3g74ZpyqucgXrb86ouTa+38B55TOh5Ld1NV57fMD3NTD+XzRCsKtleXbUAAAAAElFTkSuQmCC

iVBORw0KGgoAAAANSUhEUgAAAIAAAABOCAYAAADo3B4PAAAvXklEQVR42u29eZRk113n+bn37bFH7nvWvpdUWkqyNku2ZWFjtzE2Bg/NAQ80TPsMHKCZhYbT9NBDA900nAOD8dhgGnA3tkFgxuBV1motJbRVqfYtq7KW3DNjjxdvu3f+eJFZiyVbkm2N5Kl7TpzMyIx47773+97f/f7WJ7TWmmvj/7dDXrsF1wBwbVwDwLVxDQDXxjUAXBvXAHBtXAPAtXENANfGNQBcG9cAcG1cA8C18f0+zDf7BegkAQ2I9L2QEoS46kMarVT6OXT6GfnN2NdKgVJrBxNG91hXfR8hEIbxfQEA8aYNBmn9zYJeHUpdEvDlv7/cZ77F8XSSvLSwV2/by83hmgZ4fYRff+Ahms88i+4EeDu3U3rfe5Gem35Ga5CSaHGJ+le+RnD2HEY+R+7uO8nesOdKIQpB4+l/pvX4U+hWG2tyguK778Ma6CdeqVD90lcIz0wjPZfsW24hf+ft3x6I1zTA90j4QFypMv0//xL1r36dpNFICU3GI7Pneib/9GN4WzYDUP3qA1z4lX9LeHYaFQQIw8DoKdP/r3+WkX/3q6km0Jrzv/rvWP70X6NqdXSSIG0bd9cOen/if2Dlc/fjv3AAFYYIKZGFPOUf/SATv/+7SNteA9A1ALwe8lcKIQRnfuajrHz2b7GHh8i//W6E69J4+DHC6XN4e65j24NfpnPyJCd+8IdRjSbujm1krttFeGGG9rPPkdTqjP6X32Hwoz/Lxd/8j8z/pz/A6CmTvXUv1uAAzX9+jujsNMhUsNboKLnbbiFeXqH51NPES0sM/tLPM/bb/yGdk3yT8mn9JhoqSbTWWreee0G/MLhO7x/frFf+7h/W/t984YA+eN1e/axb1tWvPKAXPvnn+hkzr4/9wPt0uLi0doxzv/Ef9POlIX341rfqcGFRH775Dv18eURf/J3fWztW59x5feSt79T7RzboQze8RfunT6/9b/aP/kS/MDipD2zYoTvT59I/duf2ZhtvLtiqVFm1Dh0mqdXwrttF+QM/hE4SdBiS3XMdxbe/DR0nrPzt35O/+06EbdH3Ex/G6utF+R2ElAz+65/FHBggOH6SzrFj5O64DeG5DP7CR9PTdDo442P0/cSHiZeWccbHcDdsQMcxaM3Az/009tgoyUqF4OTp1YX05vQDqDhKL0wloNUl8sQb94KEYaQMPggvvTdTPps0GxjFPM1HHkNkMmT33kxcqV4yEQEdBF3zUVP9py9Teu+7kZnM2j4uTBO0RmazICU6ikCp9DxCIJRCum7XNFRvckeQ6gpcXS74VeG/sUAguvtxds/1mKUS/pGjzP3hx9BRhJCSyhe+SP3rD2OWSkQLizQefpTen/xx5v/wY/jHTyAcm6ReZ/Z3fg/VbGGUitS+8gD2+DjOlk0ov3PZycSlqxfiSpOx6xu45gh63eEq0Urh7dxOz4//KAsf+7+Z/0+/T+0fv4i0HdoHD6N8H6NURHouK/d/nsk//H1mfu3fc+p9H8LdvZN4bp7g2HFwHIRtE06fxz9yhNJ7341q1KG35yrUvQzDfxMz/ytuqRACgVjzpMEb+8KEEKA0Y7/17xn46M+hhaDx5NPUH3mUpN2m+L73MPHJP0Z4Ho1HHydcXqb4wffjT52h9k9fpr3/RchlGfud/5PiB99PUquw8rm/I//Od4CXWdvLtdYQxyS+jwrDru9IXfp/GKZbiXpzawKhwlAL0QXAKqqF4DJEvAFNl0vTC48dp7X/RZIwJLt9G97emwDoHDuOozRicoLEkMRPPY0/fR7lufTc81YYHIB2G//YCaTn4mzb+k3AVysV4nPnkYUC5oZ1V5ii/rHjaN/H3bwJo1B40zqEpPimSYs35P5/9RS10qAUi329TN2wm76f/Jf4u3bw4Ne/ztLCAva2rewLOxw4M4XhujzuOVTe+y4KP/YjPHD0CFopHt+/n8bmDfjrJmn7PidOnODAgQMEYciFCxeICnmejkOm7dQV/Nhjj3Hq1CmElGR2bCd7042p8N/ELmGZBjcuX/1XA+GNqgRSN+/hZ5+lM7+IjmOOP/88F2dmqNRq1JZX+MyffYoDzz2H1pozBw7gBQEnDx/m9JEjCClp1evkhMGZI0eIoogoiiiXy8zPzdFsNlmam2Pq4EEWps+htWbfvn0cOnSIarVKrVJBX7YlvHldwXGkryA1b3T1f9UIgoD5+XkmJiaIoojZ2dm136MowrIsLMtCKYWUEt/36XQ6lMtlgiDAcRzCMMS27bXPR1GElBLDMDh37hwjIyMYhkEURQghiOMYwzCwbftNTwKFTmL9zaz2zc9uX8briRDfn9f2HWwBXLbqxZtWsN/u9zUL4lV67b7V8b4fRqoBrlD9+vtWA1wbL+UIEvKl7atXvQKv/m76/vVUuZev0O/Wea++ttfrel72nmq+q5FHoVXXk/Ea2P8r3VO/V3uv1hrVDQ/Ll7gpSZIAYLzK9K1v9b1vd87Xi6usgv07va+vDQBXOT2a9QrLCxcI/AZh4JMkCbZboH9ogr7Bke8JCFZZ/eoIo5hWs0XYZfKlUnE1lP+azx+GESuVCr7vY5oWuVyOcqlw2RwShJDfE3A3a8usLF6kE7TQSYJlOSANLMtjaGwDlu18V+6r+c0OoFcmfK0VF84e4+L0MZ55/HFGJ0cYHugjCAJqjQZ+oMjlyvQPDLDzhjvIFfu+5RajL0+4fAUrREpJrV7nySef4PDB/SzNX6BaXSFJFLl8hjC2GBoZ54477uKeu+9GSvFtb9bq/7/+4IM88vBDnD8/RdipE3QC0JJyTw+5Qg9bd1zHffe+k02bNr4ysGqN1jq9dd1Vm75e4rNJxFOPfZ3AryGSOkqB57gI0+D0kSPUlpfYevNb6B0YZ8uOvWTzxe+CBhCvDACrN6jZWOHgsw8ydeIYpVKBgy8eZXJynI0b1xF2OtSbLdpBgpfJ0Qk65LMet73tA+SLPWvHUFqzemop5RU3I1Hp/me8hIpN/fHw9NP7+Ku/+ATLixfIZkwKnkW93sYwTXZum+DA0bNMTS+ghcGmTbv5tV//DTZt2pCaPi+zXUgh+e3f/S0+//efI+uZDPRmGenvw28HNNoddmwepdXpcODoecLY5q577uWXfvGXKRTya0K9nAGpRCGFWItifvM5V7cSsaZRnnn8n5g6cYKe/lGymZh2q00hVwTL4MhTz2DaNr3jIySxxs6UuG7PzQxPbO2e+9VzOPnKV38qOL9V5dyJ5/AbFRzXxfcDPC9DdaVKEockKkGpmCROkAKCMOLZAwc4dODZNQEmKr0xpiExjFT4zSBgudEiUQmGFKnw9UuYYUIAis/8t49zfvo4UeCT8yyyWQ+NIIwVhmEw1N9DPmvjGJL9zz3Bpz75x13B65cUvmEYHHjxWb7w+b+mt+Dh2Cae41LIu2gUSSKwLINyKUMh65DzEr76xc/xiU/8CVJK9GV5AVprhNbptUnB6cU6X3nmJPc/cZIvPX2Cg1OztOMEw5BIKUiSBK3hwtmTPPboQygBjZZP2AmIww5JEhGHAZVKFTeXxzIsYiVQScjM2UNMH9tHHAWvicCbr8yHnSKrsnSR2sIZPMciX8hTa9SpVptkcxkqldqa8JVOsAwLv+Nz9NhRXDfLwux5EqXXiNX5aoN/fOIgj714gfNxjnPzFdqNKgOGYs/6Pj583x5+6NZtCC6pbqVS4f7Fpz7Ok088QblcxLBt8lmXfNbBNAVhoNFoeooZbMskjgJcx+aBr32Z9z/+fm678541ga8C0jAMFhZm+N//11+i1erQX8qiE4VrSYoFj9n5lVTAEizTQCUxnXYH1zF56vGvsvwzP0Nv30CXHKacIAE++eBRPvsP+3nmmWn8GqAcWHgIPIPJ3du592138DPv281tOyYBODs9Ravd5uLMBYpFTd4torVCSE3U6eA6DoVyiVqtSr0dsn2wjOt6tGrLnD6yj007b8cwrdfKAb71nt9u1Tl9cB+ZnEcmmyebyZHLuKwsLuPYDlGrjt/qYNlGyqINmyNHj+K3fZIEmu0OhhScnl3gdz79MPc/epLaieNQrcH4u8BR0F5hpVnn2MOn+OwXjnDfe2/kz3/xXkZLeeIkwTQMvvaVL/C7//m3GR7pJeuYaUImGscxEUKiVIjQCsM0SJTGNkwKeYe5xQq/9r/9G/7qM/czPrnhChYdBD7/8Td/ndMnp1g3OYAUCoVGSoFlmWidoLQiTjS2JbvaTeBZJlOnTvGLv/BR/utffgbDNBHAbNPnx3/973jkb05A7QI5N0ef0wc6pOG3iJsx00+f5VNP1/jUnz7Aj33kB/iDf3MvxYxFGEW4KuH8xSl6ilvIuKC1IPA7DI32E8Yd5paWWTcxRi7jIqRAK0Ft6QIXzx5mYtOeV0UM5StZ+wALM2eo15eJo4Ao9HEch1KhQC6bJQw77NlzMxMTmxifmKTU08fJqdNUqxUKxV6Wl2vcevMePv3oi9z0L/+IT/3Rg9SOLGI0IozmHM6FOfIXG7gzVbxKDTsCaynha3/yVf7Fb/4j9TD1zc/Pnuc///b/wchwDznPJl3rijhJyBcLuK5JomKkKbAdE4HANCWWKdmxYYhqdYE/+L3fouP7V6jrv/jUx3nk4YdYN95HKWvjmAZaK3J5l96BEmGkkIYgk3HIZi3QYFkCrRSjQ3089cRDfOLjf4SUko5K+Miv/j9840/+gfXBLBuNiP7OCkONRYZbSzhxh5wIGdIGvapJpqn53B/tZ++H/5op1UdvPkOr1cIyFYeOH6bearHz+hvYsmUHdqYHw3SYmFjH+OgIhrSQaLQKqNZrnD11EF6lVfCKM4IWF2Z49Kl9DPT2ccOe3QwNDZDN5ZGW4PY77mTzrr089+QDLC8ss//wIU5OXcBxbGZnT/DOe9/JU/4AP/nvH4AzCXYQYzYqyLBBJ6iQT6YYsQZpxnN0REhHGxgEKKPJC5/9Mv/1nnX84g+9hb/81MeYmZth7+71+H4EholpSjIZh80bhjl6bJpIJWRck4znkHFsoigkShT5rEtvX5F9zzzFF77weX70x34cgIcfeYQvffEfsWyDYs5N7XzAyTiYpomONYZpULAtevIOjiUxpMQ1TaphTNYz2LRumE/86f/Fj3zwAzxzrsPXPvHbbMqNYnYa5LRFohVFM8FEsKTrZPFwwgYtLSiJDMJoceGBZ/jpTshv/tQ9xPvu5/xyjVY7YPbCHHNzy6go4fqb9rJ95x5mLkwTx21c22JhYZ5DR06ysLTInj07ieMA03JfMSF8xQBI4phyPs/pqXOcOTPDuo3j+M0Wgoh61eeBBx5k3zMHCcOYVqvNyTMXiUKfH3jfB3jc282n/8t+5FSHYiAxGj5e3MAWPlUScmqaQUOTTxapaI0VZWjGS8yIGURnnse+tJs7R+HZp/eRz7p0ghhpGnSCiIyXY2GhyuEjZ7BMSTHrcnG2QpwIEhUTxDFKafxOiGeaqDjiy1/8Au+491309vbw95//e7ROyHkOcaLQWhFq8CybStXn7Ll5ygUXISQrdZ/l5TqWlWqIIArJYmLbknarwX//7H/n2LyHiE9xtrnIenOAHrcIdOjP+BhGwlSnwXjGJlQLZJWHiCW1cJGC9EmezvJb5kZ+6ra9HHzk45yfW+a2vTsJOoeJIsXp6fNEn/kMuazLyOgojWaHpaUVCoUsmzaMYZkOQhivyqw3XykBHBpdT6PeYKi/hGFazJyfY/rcBRaXahQKGW7as5Xrdmzk4sIC02fb3LhzI+WRTTw/tcjBmf2owxly9WNkwzp5EmLRoGC2MIVGGsuMlx0a0QoDGsIk5rGVKXzVxBAOc+dP8cBDIUkUUsy4hJ0IxzPQSrFUbdKHoNbwyWUcorwL0kSoBMsymVuuk3clHT8gjBOKhTxTZ6c4cuQwd911F88/t5/1QxmCpqQThhjSIAgiLGFi2wa2aaCVRhqCJNEorcl4DiuVJpZlEEYBSRTTmy/wz/v+mYMLBgYCkdQ5p1ps6R1mOK8oZSoomVCst+kvK3SSox10OF+fYzZssytzJ4gOxw4d4a/mz3Pv9XeybdcyWUuzUu0wOTnM1k2TnDwxxRNPvYD14hQ7tm9icqyfbNZlbmaOXXvuwjCt7y4HEN1YwbqNO7j19rdz7twctXqb2fkFnn3+aJqfN1ym0agzv7BEHJrccOPtjLzzp/jySoGjZ2YQF87Rv/Ai48qjnZwmsKZx3SaZTMjOnh4ydoOWPY12F6kwy4uNAzSTixTNGFPXiI02B17YT76QRRqCMEkII0Wl0cKUgsH+IkpDoxXSbIcEnRAtNKVSjkLWY7na5uJyi04QUyrlWVmuMb+whFIJU1NnMGwbx7Fp+TELK01c12NwoEg+5xFEEWEUEyeKJNYI0orhKE5IEmi1E5QWZFyTKGgRdOo4pqLHiDFVi+eXz3C4NksoF5noXWHbSMDOzXWEs8iJ5imOhUe5vb/EoNNhuvMo9YUv0Fyc5q8fnuEZ9z1kezaSyeQ5cOgkTz71LEEY0DfQw4HDx3l833OcOjnN9Ll5tu/Zy+6b7vhOPIHf1gvArXfex8DAEIcP7aflK3bv2s746ACFQg7HzTA0NsItN+2hGis+9LlzNBsm69Zt5+KLTzLfOoZ0rmPC1CypGZQFEsHm7DBnqLO/VkFowXyrTRAoiqaFrTtEmQxjGzdx4pHPc+fN25mdu0ArUizWahSLBUZHhoiUQduPaLc7+K0Y0zRwXA9Ek5GhHjzXYn6hRstvkcnnmVusYMjUXPM7LSq1FtJILYqtm8aYmBhCaDCkIAhjwlDjOQa5Yh7LsgjCkJVag4VKmhTqeAZeNkenXsca3o23UkGc3s9o0SZQiqYlOdIyOdrUGLZiJpCcbtU458dMFnK0jGUeWTqJn/g4cpL+vh4yCw1qT0xzw2+8nfvuXMfDjz3H/NwSHb9KpjBKsTSEkzG45aYbuXnvrYyOb8Zxsq86PvCKASCEQBgmY5ObmVy3kbff+wO0Gg2SJEYaJghJkgiKxSyFapUb5mY4dGQOa7KJrT3aaC4G+1gSFkXLAqmIcw4H7Wkybg4zTlBSMFb0WK4EVKtN2mjGd91KW3icn5nBtG7EtRyajTYb1w2xY9sWkgSiOMJzXdAKv93By3jkiyUuzizS9iMGegsM92ZZqjTpxBZLi0v09vUghKSvp4cDh07wkR+9m5nz0/T296YtArTC81y0loRRjGGmjqFOyydRUC7nyWZdjp+ZodUKGB8Z5/SJs/hZSe9dH6S5PE3Dr9A3MUDGc/ENAUqh0Rz1TTKDHhtUlZVKm5O1JiYwZuVoCcHWzQXecf0U+czT7N3+TkyvxJ133kq1Vse1DJqtDo5nMzjQh2l5xJFGWA6GaXzvNACA42ZoN+rEKkQaNvly76UUUq1I4ji9OT1lfvrmaV6oPEJjYgtfXBYkywLTytAJO3R0QrmQJ1vIUS7lSJIYOjFIQb5gIUUDrUKKO27hwumTlK97C5HSvHD4JNfv3Ipz7gQ7No3TaftYrodjG9iWiVHIMzezSBhE5PJ5clmXoBMQJzE6Drlhz/X8zZeexstmKRQKgGZkZIjHH3+SWlMzMjrMwkodx/HoLXkUCjn8TpDOT0Aul2NxaYlOJ0ArGOwrkUSa6elZ8oUyR09/g4ldA5x/9nm2vePHaBz7KkbUIJvNYhiaME6wDEEpl6UdhHRCaAbLDAlF3nGo1JuU7ngbt980yca8TWlkK7neAaIgwDAtBgb6AEGpV4CGOBbEcYgWklzee01BoVcVz7RsG9NaZZpp1wzVfWkNCIkQGsNw2Xbnzdz2/vXcuivP2973Vjq6TRj5mKZJoZQlW8jieA6ZjMvQYC/9fSUKOY+enMXo2BAb7343s2cu0pw/QyuSTKzbyMPfeJKJ9VvZs2snczML+EFAlCRIw2DL5kk2b1yP4xq4nsveW27CNC18v4MKEyY3b+Ebzx5j+uw5BvrKhEFIHCd0woBMxuMvP/cVDLtETzFHvdmm2miza8dWJsZGMU2DXD7HwMgocRQSRSGu4xAGMTIJuPuet/Dc4VNoDZnyOPVTz3Do65+neN0PU9i4h8FihoGeMuVymXy+SCZXwLJdTCeLkXFYDmLO1Vtk997LW3/2Fxl2NYXBG8j3XI9lumvBpCiKUYkijmLiuBuJlBJpmDiO+x2khL3SD0vZDUNKBHLN7Zn+lN2gjgQVUxq8nr7NP0Ss89x2y02885d/C+FlCOMQzxRkPZecazE+2sP6DUNsGuth09ggm+9+P8bNH+LpfSeozc2AECxeXKZvbCe5rMPH/+yvWb/1RtZt2oRA0aq3abQ6DA4PsmP3HhIgly/TNzBBs92mWCowNjHJQ08c4YFHn6avv49qrZlG55RiZmaBXCFPs9ngDz/5t1RbsG5slCSB0bF1bNy0g1zGZGLdRnbuvolGO6TtB4SdAB1HXH/jDUzPN3numf1M7LiRxmKMMCXt2jz7/u5veX4uw5HR+/Czw+SyWUb7exjqyeNYEtsSDPX18ZY7386eX/h9hn/544wYbarVDnZ+mHLvGFIYaUAJgWGYSGkipYWU1pqNZloW5qt0Ab+mLQDA8Tw6rRpoiSDpegr1FXRRqQTPy6CtAdqqiFi+wO0f/ldkdtzKzMN/T2bpFH0ZSU8+w8D6UXKlYZZHitRyI8xtfQsH7v8sUaOJ4dgkHR9naorliV7GrruNY089zP/0K7/JdTu3cv32cUb6y2TyLtlsgcl1W/Acj7HREXpKIxRLPbx4aIrPf/FpGu2AXK7AwnKVWrWG7dhESUynE1CpVCiWyuTzGe7/x2+wbfMYt928jTAKMcw0FjE+PozSGsfJMDkxgU4S5isN/vL+hzh85BSDExMYxe2IE8fQbR8pJSoJaNZCDuz5V5zwZymdf5Fy9SI9pkk4FtMcshnadSeVwW2c1gb32G2yF6bwQ0GQ2BSKPal2FRKBRq5lb4m1hacB28285pyAVw8A18VyXEK/mUbBVNK1EVLhawRagOd6LFeaKOlid2qo5TkY30HxI9ehmhVqfpUgCDgdQV1ZRIO9OFmXILLwlQBDonVKarZ4Z2gLEPkN/PzPb+TQsTNMTR3nmedeZHykn+1b11OphFjyAU5PLXD2L+7nD/740xw9Pg3CZPuu3ZR7e3nyiSeoVRsg0nyCJI5JkhgB+B2fG266nuHBQZ5/7gX+2988zKNPvMiG9cMY0uUf/uGrPPjg45y/uMDiUo0TU+epNToMj47wgQ+9H8Md4eTUPLv7znFYtcC0QYHI94Gy8LOT+DvWMdtqQRykutdyOGLYMN+k5AgGvAYF3aGTyxMESRr/kAZSpy7vS4QcpBAorTBsl0wm991ICPk2AaHuS6AplnqoJIoo7GAYBkKrbkmhRGpFGPgs15ZI4phSbz9Zt8j8yjIql+diWxFYLsobo5RV6CShqTVNLQibMU07geIIUmlQaah4eINB0/C4cP4cQ6N3Iu0CGzet5+KFi5w5fZbHnz7MAw8/Q6IUjutiGiaFcpGtO3czMjqM63rUajWiOAYt1tK9ojAiiZMudxFpkMcwuX7PdbQabWZmL/KNp4/T7oSEYQetFK7j4mYyjI1NsHdyknJPmZGRYU4cPMn6osn23QV4qA0UECqC3g3otomI62AaqZPKtFKdGSqkitBCM2ka9M3PsnPXRmYXM0ydPoGUko0bNlEqlrFMO41IdquWw1hhWjbFct9aPsH3BgBKoVWSRs+6ETTDMOgbHKJWreA3GwhpINC0Wg2mp6c5e3aKtt9CGILhwRFsw8CemqMzvI65WNEMI4RIWBQaS2j8WBEomQq800F7Y2Dlke0ltAavZyubh4bRjdNEsSCKQuJI0dfbT2+5lziK6EQBYZiWiXueh2WaaA2JSoiiCKUVQsu1rCPDMAijiDgJEUKBFtgy7QvQCSMsz2bjls2s37QRv9MhiUJAYDsWjuNhGiZCppHPTifGMpvcetN6dt+8E/g8Ku6A7IfsDbDsI0yNNhSg0OJSFl5CghELbmo22D00Q7Y0waTnEUURp04eYW5ujh07djI8NIxtuyRKE8QKz/MolHoxDIMkjruJJcarLlH7lgDQcYxKYpS+NGHZbZKgkoRsJotl2UxPn+bZZ57i4nxaUiWVpt1qMz4+yIXzp7Fdlw1CUJ/awD6zjyiTIIQiNNIZiEghY4XSEr2gkIdcvMgkMpoIw+B9P/xjCBVzauoYpkhDtKkAQ5IoBqUxTRvDTCuAkiTp9hLqElMpkEJ2+0FphBRYpkUYhqkGQCMkCMsEAYYh0VoTBiFKp5lJlumg0EAaDhaAZRiYpok0BLEw2bhrN3e89Qf5F+++mYP7X6S27OPsrzBXb6KGJeRFescloECH4DUU76bCh24/hh4OOHL0MK1mDcfOUK/5LK1Mc+7COYaGRti1aw8DAyMUimUK+RxxHKGVwrSsbrpZjGlZCGl85wDQcUwchVfElISU3X0/tfk1YFlpsuTo2DiGZRCFIagYCZhSc+7CObIYFIdKvK/xGPY/b+GvauPMlzxwJdgCHWr0coI932HHxZO8u+/LPFw+QVwe4Z33vYsffM97U1u9bWAaImXFQmAg0FKsNelYNUellOmWJLtpWhpMy8SyJaqlkSIVnFIKxGp5pMBx7PT7QqJ0N+lUK1Si0xwHeencQkqEITGkgTAk9VZIb/8oxVI/H/mpj/Kl0qdoLpzhtuKfc+jwMfafuo55e5B2xgFDkFcRG8wqbx2Z4r0/XENsG+PCXIE4vMDyygrDQxl27N6JZVokicIwTQyZOpOy2QyJUqkGSZJUowmDWCVpQq7jpgv1NQNAJcRRin7R3XPEKvsQAhWnWsE0DS7OnOf8ubNs2bSJ7Vs20Ww0WF5ZolGrUKlWyGTzuI5JLjeANwb/49BzXP/Vx3j0QD/nmkV8JZFxhyE9y00TJ7jpQ2fovXkE56n7qLTyvONdHwBMHNeh3fGJowTLtLCEJJIS3c25E5cHQJQAQ6d9D0jJkm1Z5PM5FucWKPf0UiwWaDYbWJaN77dxXQfXdVNQrCVMXhZUlSnrXgOASNPWTCsFkmNZ9JSKJFGHPXvvouFHzJ4/yLoNLW75oQMEZw+wOC2pVSykZVEsa4a2WgzduI649xZiNjGozrM4fwHHcdE6IZvNMDE2SS6bI1GKRquNtIwugVVpoxJScErTQJAS20D7uF7mFdUPvCQAVJykwr8qBXz1fQoMTRxHLM7Pcvz4EU4dP0ahmGFocIx22+fFw4fTfVJpDCEpFkvYXg+LyuPWn1tk7+wR2rMvoAMfaUmskoEq9dI0bufEXIZC/zIbdg5TLvdTq1awTAPXNqnW6ziZTFe1GwgRo6Xs9jhKEyO1UMjVqjckUhpEcYQEHMfippv3kM1miKKITZs2cuTIYSxLkiQJjutCHCERJFqjdar4hZSpGdZFhBACUxoYtk2n4+NZBj3lElEY0qitsGXzFlDw4tQMw4Pb2P22MrcPC4iqqESgzCLKXs/coknrok+pVCNb7GNwcJQo6OC3W5w4foxWs41jSkzLphMl9PQN0tMzgGkYKL3arUanHEem2i7pLmDLcb5tWNh8KdKXAl5cSsjUGn1Zz5zubSaOYoQ0yOcKzM5c5PTUSQYH5tm2czeLSytkMx59fQMMj28GTBbnzxGHMVG0jnVb30puY5V6bZ66HzA7W+Hsc/O0G8tI5nEzLs3GMtNnTlLu6SWbzSG0ZqWyzHihgDZSbSSE6BpIAiH0FaZS2vhCIaVJHEWEUYhlWxQLOeI4JpPxWLdunJOnT6bkKgzI5rLpMYVGSxBKrC0CIUB3+YTsBpMc06RaqaDihGyuQBBG1FaWOHX6KEli0GnVOXxogZmLDbxMjomJSdZv3EQ+X2Zm6iytxgyGFMzMVLAdh3L/EGGiOHt2mk7bp1qrc376FLaT+gX6B0ZS07u7z2shLlV1akALJOk2rRP1bXsamy8b+JGyG7xYS9pfK8aQhoGKU8ugVCpR7uklUTHZXJ4ojGg26mzavAXHcSmWevBcl2azThzFZDJZchmLysIyK8tLPP/iCywtLeE6Jo1GBa0EQ/0DhFGLudkVcpk8zXqNcm+Jnt5eqpUa6zYY6R4sRMqotLrU9bWr8vVlGcUCmbpPE0Wr3WLHtu0IAaYheMc73s6Xv/YAjusQR4okTjul6W6zLCHEquVIIsDsmoxSCEzTJJ/PM3vhIqWeHgzDoNlq4vstlpYWaTRaOI5LJlsGoZiZO02ifHr6ioSxTxA2yeXy+O02SoU0GjWCTodiXz/rDZcoikiSiOHRCVzPY3R0nL6+ge78urDXVxamXKo5kK+okdXLAsAQBspIC0B0V7WiNUkcIw0D07BRpqaQK7NucgP5XIFarUqz1aATdujrG8A2bXL5AtmMi2GaOD0e2VyRfC5HtbbC+vWj9PfnWVlZIgx9qpUqpmnTarU4P3t+zTYXQrIwP8fd99zNX336bzh88BBjE2O0mu1U7Yu0vlWpy3SUuHQtWqWma5zE3PKWW3nPe97FuTOnEVLwoQ+8n0OHD/HZv7m/m/mUXJZPs0owLyOXl7nFtVYcPXwE13V5+9vuobKyTJQoYqWxLBspfTKey4YNG9i6dSu2nSGMEuIoph0GbN22kygIqdcqdDo+URQQxzG2adPT20sQJRQKBTzHRgiJm8mSy+a7yaepj0QaEtOw1gpfDEMi6C7gV5YSdlXuWJfoCUmqSrS45Oy9DFBCShzXQ0qJ43n09PbTaNRpNuokKkZ3U8AzmWx68+MYy7JxXY8oDjk9dZqRgT76+4rkPYtYwZw1w8zsBYKgg2VaxFFErBPm5i7QbjeYmBjhhz/wHva/cJiw42MYsisc3V3tqbo2hECsvkWDUIRRxN69N/JzP/0RGvUqlZUFCoUSHd/n3/4vv8LI0DCPPvkUCL1mVaRFK6C0WKvoWb1VpmkRhjFBEHD3XbfS21vgwoVzeJk8juMihMC2LaIooN6oU681yOYEYRR3Yycmju1hWw6245LE8dqKXzVz40RQLOTJ5/NIaaTzMY01LnJ5MYruOulW//atClK+tQZY7YnXLW64tK+KK6vIUmqM7XkYlk0YdFBd5KeOoxSdjm0jpEhNGWlg2TaqlRAEPt944gn6enK4jsvI6DqOHD9GZbmCbdlESUQ2X6JY7qPRrGJiEHYidm3fwsjQAC8ePEanvYzj2iR+jEpSEAil0EojDBOjy5iXl5fZsnmS++69Bx1Dq9nAMCXV6gqtVot2u82HP/h+oqjNl776CDt37qQThGhi4iQ1raQUSMPAMAxMyyKKY8bHhrl+150UcxmqlVpazVStYjo22VIvjWabVqPJuJ3jyNHjtNo1coUipmnR3z/G2Ngktu1gmGZXwaZgNg0DQ0qSRGM7Nq7jYdnWVU6eVCMr1b3urpZOV38XGPK1JoWu9gu4ukT5JUvIBIYlsbTCSxSmaayZUlKm+6RhmKgkSZHZvYm9Pb1UaxVm5hdptRrkiv0srVRp1Jt4GZdCuZd16zZhmzaxitKLURB0Qvp6ern99ht56ol9PLHvBcp9fTiWhYoVQnZtfK2oLC8xO3MRzzUZvHUn9VoDKSS2aaFijSIm6qa5z8xdpJh36TRWeP7ZZ9i2ZQPSMukpF7Esh04QUK83UHFEdXmRu+68ldtuuZkkjuh0QtAGiYroBAFGaFIq9iKlTb26gmO7nDl9kijs0Gz69Az0UyyVMAwDwzDXilR01/Iyul1PTVL/xdqDK6667wiQhriyt+ea/F6VI0jzkkWir6JfkGlaCE9gxRaq6zpOlYmBYZporUmSGK0VlmUzNDhKu9XCczI0mw3qtTrDoxOUen2yXp6+nl4czyNOYkgEidJYtkGhWAIE1WqFsdEBdm7q4/TJaQpDA1Sbdd5x732Ue/r4y7/4U1ptH0nE5OQmWu02cRRgWg5xF4yr9kwUtgnjiFqtzlv27mR2bhkZ1BnqHeRHfvQDPPTg16g3fWrzs6g4YrhvkMmJUbxsmTDw0bTpBJ10K+rWBAopyWY9ekobSKKIdevWg0pwMnkGh0fo6e2/olRttdx8tTfR6t9Mw/wWEhBXaeTXEgvokqjvvNNAt17eMpFaopVeY+Fr1oM0UApM06Sntw+lFQsLc7T8Nn7Lx7EcbNslk8nguA6maWFbNrZl4zoOuWyeXKGA7/sks4pmo8PkxHrCMGRq6gymafD0448ghMHMxXmy+Rwqjgg6HQzTSusGZYyiy5JFauHESUySJJiWgwZGhgY4dXwKP+zwZ5/8GGdOnydfzNJoNDAk6AQqK3XyN5SJ4xxR2CHs+PgdnzAK0sRRKdFJ6oDq6e3rNp8KMS2PTDZDJptPBX3Zni2lxDTNtX1dCrmWu/i9Gt/FVrHp3iOVTEPCUl9ZMNkNIsmu2pMyTdzsHxyi0wmoVyvUqxUSrbAsC9t2sK20OAOREkrLcnE9F9NKWW+tXuHUyRM0GzXyuQILS1VOTx2ht6fA2NgoWzdv4LrrdjJ9cRbHdYniBNu0ECIGYaBllyxqTRzHlEpFTocxp06dZnx8BNc1mTp9Dj8I8BdTt/i977yDcrGXoaEBXM9FJw6R4+B5OfJJQqxjpJBdL6TGsR1KpTLZXK7rW+lGTQ1jTeWvmt2r8X7dDRcI2dUKQr6eAHiNPYJENyWMlDxqNGiBvupwsptcapgWluMSxzFhGOC5HsVCkagbdTNME7P7AolCYRkmlmXh2DYDvQOYWpB1LN56271s2LyRv7v/82zdEuI5LrWGz8JSBdOyCIKQQtnCMo01Zrzq4Nakdfu5bI44iJgcn6SnlOOmm29Ca7DlN7BsgzCM8f2A4aExRsfGyBfLZDI5kjjBUqkGWS13Nw1zjQM5jkPG88hkMpiGtaYtV3sM6m7bF31ZjwS5Zs/L1P8vv9ca4Ju2gdfaKKo72a5JstqD8mrikmoLsLr73aqKM0yDOIq7DSDS/U8aBsZl0S0pJRrN2PgG7n7HfRw/9iLL83McfOEFpi8sECSacqkHaTpkMy7nZxbIl/ooFHvIuF4XUKt9CFIhOHaG3r4Benv6aTebZPJ5jhw+RqPVZrbSwvM84lgTRJoz0+colHrZdv1GzC6B09pGqRQA8jLTzDQNbMvCtGykNK/wzQvDSB063cYRXYP10lpaPc73uCeReWW7l+/SyVYJlngFvMEwsR2xZjEkcZr4uOrKNbqeR2kYoNMmColK6B3o5+z0KVp+TKAF84sVdu/ZTbl3ENtxyGZyFEtlspkclmkRxQFCXTqu7rq6DZn6KkrlMrlcjunz02hppomvZoO7Nm7Fcb01klbIFdmxYzc95d7LyJvo9jkQV+7fprGmtV4yaWPVa8f/d6PbI0hc6hC3GgZ7naelu4JVSYJKug9iuNytmXYK6DZ0SLXE4tICc/Nz+H6L8xfP02o2kUKSyRfo6xukvy8NmrRaLTqBn6Z3A4ZI1bRjO5i2hW2nDqpsNkcYdIiiiOWVJeZmZ1iuVtK4gZehv3+IgcERCqUSrut2kzUvhclX4wNSyNSWN1PtZXRN3zfE0C8HgDXBv4yp8TqBQHWfwqEuy0Ba83GnDGMt8VQrTScMaLWa+G0fv9MmASzTxnZcTCON8IVBRBQFKJ10hSMxTQPTsLDs1MowLavrgbOI4wjfb+P7Hdp+m0TFmIaNaZo4XgbHcVPHkFhNNrkUIkZKjC57l0b6M93m5BtM+N02fjpRl1rFviQIxOs6Q61U+uoWm1xSSJeif5eXP2mtiZOIOE7S4k3UWhxfaY1KktSlnKRby5qz05CYholpmFimgWXZqY+9ew69+t2kC0YuPWNQXdGiTXSJ26U9W4pLWsGQxvesndx3BwAq0WvhLiFef5m/ZA7qpWcXaa7sibeamHJlsEOvPcxBKY3SyZofYjUvUCXJZcke+rKkDiPVBqa1psIvJ1+XRxV1N8qoruoSrteyoi91/pJr28Ib5RGz3VVxxeMAVgHwUu4k8QaB6yX76LLctJcnrVqrNQFd/vSP1GeuLrlcRcoq1rxvUl5i6S+rrnUXEGrN67cK0iunt7o9yDeO8Fdn900cIFGaKwI+4g0CgO/CdnIZCODyjmOr6WJcavQoXt1Fr7Zyfan2tOIN1XL/KnjqK23zSxyAq1cX13pGv5YV9oacG5ep/ysBIF9W+JeDR18T8bd3g74ZpyqucgXrb86ouTa+38B55TOh5Ld1NV57fMD3NTD+XzRCsKtleXbUAAAAAElFTkSuQmCC

iVBORw0KGgoAAAANSUhEUgAAAIAAAABOCAYAAADo3B4PAAAvXklEQVR42u29eZRk113n+bn37bFH7nvWvpdUWkqyNku2ZWFjtzE2Bg/NAQ80TPsMHKCZhYbT9NBDA900nAOD8dhgGnA3tkFgxuBV1motJbRVqfYtq7KW3DNjjxdvu3f+eJFZiyVbkm2N5Kl7TpzMyIx47773+97f/f7WJ7TWmmvj/7dDXrsF1wBwbVwDwLVxDQDXxjUAXBvXAHBtXAPAtXENANfGNQBcG9cAcG1cA8C18f0+zDf7BegkAQ2I9L2QEoS46kMarVT6OXT6GfnN2NdKgVJrBxNG91hXfR8hEIbxfQEA8aYNBmn9zYJeHUpdEvDlv7/cZ77F8XSSvLSwV2/by83hmgZ4fYRff+Ahms88i+4EeDu3U3rfe5Gem35Ga5CSaHGJ+le+RnD2HEY+R+7uO8nesOdKIQpB4+l/pvX4U+hWG2tyguK778Ma6CdeqVD90lcIz0wjPZfsW24hf+ft3x6I1zTA90j4QFypMv0//xL1r36dpNFICU3GI7Pneib/9GN4WzYDUP3qA1z4lX9LeHYaFQQIw8DoKdP/r3+WkX/3q6km0Jrzv/rvWP70X6NqdXSSIG0bd9cOen/if2Dlc/fjv3AAFYYIKZGFPOUf/SATv/+7SNteA9A1ALwe8lcKIQRnfuajrHz2b7GHh8i//W6E69J4+DHC6XN4e65j24NfpnPyJCd+8IdRjSbujm1krttFeGGG9rPPkdTqjP6X32Hwoz/Lxd/8j8z/pz/A6CmTvXUv1uAAzX9+jujsNMhUsNboKLnbbiFeXqH51NPES0sM/tLPM/bb/yGdk3yT8mn9JhoqSbTWWreee0G/MLhO7x/frFf+7h/W/t984YA+eN1e/axb1tWvPKAXPvnn+hkzr4/9wPt0uLi0doxzv/Ef9POlIX341rfqcGFRH775Dv18eURf/J3fWztW59x5feSt79T7RzboQze8RfunT6/9b/aP/kS/MDipD2zYoTvT59I/duf2ZhtvLtiqVFm1Dh0mqdXwrttF+QM/hE4SdBiS3XMdxbe/DR0nrPzt35O/+06EbdH3Ex/G6utF+R2ElAz+65/FHBggOH6SzrFj5O64DeG5DP7CR9PTdDo442P0/cSHiZeWccbHcDdsQMcxaM3Az/009tgoyUqF4OTp1YX05vQDqDhKL0wloNUl8sQb94KEYaQMPggvvTdTPps0GxjFPM1HHkNkMmT33kxcqV4yEQEdBF3zUVP9py9Teu+7kZnM2j4uTBO0RmazICU6ikCp9DxCIJRCum7XNFRvckeQ6gpcXS74VeG/sUAguvtxds/1mKUS/pGjzP3hx9BRhJCSyhe+SP3rD2OWSkQLizQefpTen/xx5v/wY/jHTyAcm6ReZ/Z3fg/VbGGUitS+8gD2+DjOlk0ov3PZycSlqxfiSpOx6xu45gh63eEq0Urh7dxOz4//KAsf+7+Z/0+/T+0fv4i0HdoHD6N8H6NURHouK/d/nsk//H1mfu3fc+p9H8LdvZN4bp7g2HFwHIRtE06fxz9yhNJ7341q1KG35yrUvQzDfxMz/ytuqRACgVjzpMEb+8KEEKA0Y7/17xn46M+hhaDx5NPUH3mUpN2m+L73MPHJP0Z4Ho1HHydcXqb4wffjT52h9k9fpr3/RchlGfud/5PiB99PUquw8rm/I//Od4CXWdvLtdYQxyS+jwrDru9IXfp/GKZbiXpzawKhwlAL0QXAKqqF4DJEvAFNl0vTC48dp7X/RZIwJLt9G97emwDoHDuOozRicoLEkMRPPY0/fR7lufTc81YYHIB2G//YCaTn4mzb+k3AVysV4nPnkYUC5oZ1V5ii/rHjaN/H3bwJo1B40zqEpPimSYs35P5/9RS10qAUi329TN2wm76f/Jf4u3bw4Ne/ztLCAva2rewLOxw4M4XhujzuOVTe+y4KP/YjPHD0CFopHt+/n8bmDfjrJmn7PidOnODAgQMEYciFCxeICnmejkOm7dQV/Nhjj3Hq1CmElGR2bCd7042p8N/ELmGZBjcuX/1XA+GNqgRSN+/hZ5+lM7+IjmOOP/88F2dmqNRq1JZX+MyffYoDzz2H1pozBw7gBQEnDx/m9JEjCClp1evkhMGZI0eIoogoiiiXy8zPzdFsNlmam2Pq4EEWps+htWbfvn0cOnSIarVKrVJBX7YlvHldwXGkryA1b3T1f9UIgoD5+XkmJiaIoojZ2dm136MowrIsLMtCKYWUEt/36XQ6lMtlgiDAcRzCMMS27bXPR1GElBLDMDh37hwjIyMYhkEURQghiOMYwzCwbftNTwKFTmL9zaz2zc9uX8briRDfn9f2HWwBXLbqxZtWsN/u9zUL4lV67b7V8b4fRqoBrlD9+vtWA1wbL+UIEvKl7atXvQKv/m76/vVUuZev0O/Wea++ttfrel72nmq+q5FHoVXXk/Ea2P8r3VO/V3uv1hrVDQ/Ll7gpSZIAYLzK9K1v9b1vd87Xi6usgv07va+vDQBXOT2a9QrLCxcI/AZh4JMkCbZboH9ogr7Bke8JCFZZ/eoIo5hWs0XYZfKlUnE1lP+azx+GESuVCr7vY5oWuVyOcqlw2RwShJDfE3A3a8usLF6kE7TQSYJlOSANLMtjaGwDlu18V+6r+c0OoFcmfK0VF84e4+L0MZ55/HFGJ0cYHugjCAJqjQZ+oMjlyvQPDLDzhjvIFfu+5RajL0+4fAUrREpJrV7nySef4PDB/SzNX6BaXSFJFLl8hjC2GBoZ54477uKeu+9GSvFtb9bq/7/+4IM88vBDnD8/RdipE3QC0JJyTw+5Qg9bd1zHffe+k02bNr4ysGqN1jq9dd1Vm75e4rNJxFOPfZ3AryGSOkqB57gI0+D0kSPUlpfYevNb6B0YZ8uOvWTzxe+CBhCvDACrN6jZWOHgsw8ydeIYpVKBgy8eZXJynI0b1xF2OtSbLdpBgpfJ0Qk65LMet73tA+SLPWvHUFqzemop5RU3I1Hp/me8hIpN/fHw9NP7+Ku/+ATLixfIZkwKnkW93sYwTXZum+DA0bNMTS+ghcGmTbv5tV//DTZt2pCaPi+zXUgh+e3f/S0+//efI+uZDPRmGenvw28HNNoddmwepdXpcODoecLY5q577uWXfvGXKRTya0K9nAGpRCGFWItifvM5V7cSsaZRnnn8n5g6cYKe/lGymZh2q00hVwTL4MhTz2DaNr3jIySxxs6UuG7PzQxPbO2e+9VzOPnKV38qOL9V5dyJ5/AbFRzXxfcDPC9DdaVKEockKkGpmCROkAKCMOLZAwc4dODZNQEmKr0xpiExjFT4zSBgudEiUQmGFKnw9UuYYUIAis/8t49zfvo4UeCT8yyyWQ+NIIwVhmEw1N9DPmvjGJL9zz3Bpz75x13B65cUvmEYHHjxWb7w+b+mt+Dh2Cae41LIu2gUSSKwLINyKUMh65DzEr76xc/xiU/8CVJK9GV5AVprhNbptUnB6cU6X3nmJPc/cZIvPX2Cg1OztOMEw5BIKUiSBK3hwtmTPPboQygBjZZP2AmIww5JEhGHAZVKFTeXxzIsYiVQScjM2UNMH9tHHAWvicCbr8yHnSKrsnSR2sIZPMciX8hTa9SpVptkcxkqldqa8JVOsAwLv+Nz9NhRXDfLwux5EqXXiNX5aoN/fOIgj714gfNxjnPzFdqNKgOGYs/6Pj583x5+6NZtCC6pbqVS4f7Fpz7Ok088QblcxLBt8lmXfNbBNAVhoNFoeooZbMskjgJcx+aBr32Z9z/+fm678541ga8C0jAMFhZm+N//11+i1erQX8qiE4VrSYoFj9n5lVTAEizTQCUxnXYH1zF56vGvsvwzP0Nv30CXHKacIAE++eBRPvsP+3nmmWn8GqAcWHgIPIPJ3du592138DPv281tOyYBODs9Ravd5uLMBYpFTd4torVCSE3U6eA6DoVyiVqtSr0dsn2wjOt6tGrLnD6yj007b8cwrdfKAb71nt9u1Tl9cB+ZnEcmmyebyZHLuKwsLuPYDlGrjt/qYNlGyqINmyNHj+K3fZIEmu0OhhScnl3gdz79MPc/epLaieNQrcH4u8BR0F5hpVnn2MOn+OwXjnDfe2/kz3/xXkZLeeIkwTQMvvaVL/C7//m3GR7pJeuYaUImGscxEUKiVIjQCsM0SJTGNkwKeYe5xQq/9r/9G/7qM/czPrnhChYdBD7/8Td/ndMnp1g3OYAUCoVGSoFlmWidoLQiTjS2JbvaTeBZJlOnTvGLv/BR/utffgbDNBHAbNPnx3/973jkb05A7QI5N0ef0wc6pOG3iJsx00+f5VNP1/jUnz7Aj33kB/iDf3MvxYxFGEW4KuH8xSl6ilvIuKC1IPA7DI32E8Yd5paWWTcxRi7jIqRAK0Ft6QIXzx5mYtOeV0UM5StZ+wALM2eo15eJo4Ao9HEch1KhQC6bJQw77NlzMxMTmxifmKTU08fJqdNUqxUKxV6Wl2vcevMePv3oi9z0L/+IT/3Rg9SOLGI0IozmHM6FOfIXG7gzVbxKDTsCaynha3/yVf7Fb/4j9TD1zc/Pnuc///b/wchwDznPJl3rijhJyBcLuK5JomKkKbAdE4HANCWWKdmxYYhqdYE/+L3fouP7V6jrv/jUx3nk4YdYN95HKWvjmAZaK3J5l96BEmGkkIYgk3HIZi3QYFkCrRSjQ3089cRDfOLjf4SUko5K+Miv/j9840/+gfXBLBuNiP7OCkONRYZbSzhxh5wIGdIGvapJpqn53B/tZ++H/5op1UdvPkOr1cIyFYeOH6bearHz+hvYsmUHdqYHw3SYmFjH+OgIhrSQaLQKqNZrnD11EF6lVfCKM4IWF2Z49Kl9DPT2ccOe3QwNDZDN5ZGW4PY77mTzrr089+QDLC8ss//wIU5OXcBxbGZnT/DOe9/JU/4AP/nvH4AzCXYQYzYqyLBBJ6iQT6YYsQZpxnN0REhHGxgEKKPJC5/9Mv/1nnX84g+9hb/81MeYmZth7+71+H4EholpSjIZh80bhjl6bJpIJWRck4znkHFsoigkShT5rEtvX5F9zzzFF77weX70x34cgIcfeYQvffEfsWyDYs5N7XzAyTiYpomONYZpULAtevIOjiUxpMQ1TaphTNYz2LRumE/86f/Fj3zwAzxzrsPXPvHbbMqNYnYa5LRFohVFM8FEsKTrZPFwwgYtLSiJDMJoceGBZ/jpTshv/tQ9xPvu5/xyjVY7YPbCHHNzy6go4fqb9rJ95x5mLkwTx21c22JhYZ5DR06ysLTInj07ieMA03JfMSF8xQBI4phyPs/pqXOcOTPDuo3j+M0Wgoh61eeBBx5k3zMHCcOYVqvNyTMXiUKfH3jfB3jc282n/8t+5FSHYiAxGj5e3MAWPlUScmqaQUOTTxapaI0VZWjGS8yIGURnnse+tJs7R+HZp/eRz7p0ghhpGnSCiIyXY2GhyuEjZ7BMSTHrcnG2QpwIEhUTxDFKafxOiGeaqDjiy1/8Au+491309vbw95//e7ROyHkOcaLQWhFq8CybStXn7Ll5ygUXISQrdZ/l5TqWlWqIIArJYmLbknarwX//7H/n2LyHiE9xtrnIenOAHrcIdOjP+BhGwlSnwXjGJlQLZJWHiCW1cJGC9EmezvJb5kZ+6ra9HHzk45yfW+a2vTsJOoeJIsXp6fNEn/kMuazLyOgojWaHpaUVCoUsmzaMYZkOQhivyqw3XykBHBpdT6PeYKi/hGFazJyfY/rcBRaXahQKGW7as5Xrdmzk4sIC02fb3LhzI+WRTTw/tcjBmf2owxly9WNkwzp5EmLRoGC2MIVGGsuMlx0a0QoDGsIk5rGVKXzVxBAOc+dP8cBDIUkUUsy4hJ0IxzPQSrFUbdKHoNbwyWUcorwL0kSoBMsymVuuk3clHT8gjBOKhTxTZ6c4cuQwd911F88/t5/1QxmCpqQThhjSIAgiLGFi2wa2aaCVRhqCJNEorcl4DiuVJpZlEEYBSRTTmy/wz/v+mYMLBgYCkdQ5p1ps6R1mOK8oZSoomVCst+kvK3SSox10OF+fYzZssytzJ4gOxw4d4a/mz3Pv9XeybdcyWUuzUu0wOTnM1k2TnDwxxRNPvYD14hQ7tm9icqyfbNZlbmaOXXvuwjCt7y4HEN1YwbqNO7j19rdz7twctXqb2fkFnn3+aJqfN1ym0agzv7BEHJrccOPtjLzzp/jySoGjZ2YQF87Rv/Ai48qjnZwmsKZx3SaZTMjOnh4ydoOWPY12F6kwy4uNAzSTixTNGFPXiI02B17YT76QRRqCMEkII0Wl0cKUgsH+IkpDoxXSbIcEnRAtNKVSjkLWY7na5uJyi04QUyrlWVmuMb+whFIJU1NnMGwbx7Fp+TELK01c12NwoEg+5xFEEWEUEyeKJNYI0orhKE5IEmi1E5QWZFyTKGgRdOo4pqLHiDFVi+eXz3C4NksoF5noXWHbSMDOzXWEs8iJ5imOhUe5vb/EoNNhuvMo9YUv0Fyc5q8fnuEZ9z1kezaSyeQ5cOgkTz71LEEY0DfQw4HDx3l833OcOjnN9Ll5tu/Zy+6b7vhOPIHf1gvArXfex8DAEIcP7aflK3bv2s746ACFQg7HzTA0NsItN+2hGis+9LlzNBsm69Zt5+KLTzLfOoZ0rmPC1CypGZQFEsHm7DBnqLO/VkFowXyrTRAoiqaFrTtEmQxjGzdx4pHPc+fN25mdu0ArUizWahSLBUZHhoiUQduPaLc7+K0Y0zRwXA9Ek5GhHjzXYn6hRstvkcnnmVusYMjUXPM7LSq1FtJILYqtm8aYmBhCaDCkIAhjwlDjOQa5Yh7LsgjCkJVag4VKmhTqeAZeNkenXsca3o23UkGc3s9o0SZQiqYlOdIyOdrUGLZiJpCcbtU458dMFnK0jGUeWTqJn/g4cpL+vh4yCw1qT0xzw2+8nfvuXMfDjz3H/NwSHb9KpjBKsTSEkzG45aYbuXnvrYyOb8Zxsq86PvCKASCEQBgmY5ObmVy3kbff+wO0Gg2SJEYaJghJkgiKxSyFapUb5mY4dGQOa7KJrT3aaC4G+1gSFkXLAqmIcw4H7Wkybg4zTlBSMFb0WK4EVKtN2mjGd91KW3icn5nBtG7EtRyajTYb1w2xY9sWkgSiOMJzXdAKv93By3jkiyUuzizS9iMGegsM92ZZqjTpxBZLi0v09vUghKSvp4cDh07wkR+9m5nz0/T296YtArTC81y0loRRjGGmjqFOyydRUC7nyWZdjp+ZodUKGB8Z5/SJs/hZSe9dH6S5PE3Dr9A3MUDGc/ENAUqh0Rz1TTKDHhtUlZVKm5O1JiYwZuVoCcHWzQXecf0U+czT7N3+TkyvxJ133kq1Vse1DJqtDo5nMzjQh2l5xJFGWA6GaXzvNACA42ZoN+rEKkQaNvly76UUUq1I4ji9OT1lfvrmaV6oPEJjYgtfXBYkywLTytAJO3R0QrmQJ1vIUS7lSJIYOjFIQb5gIUUDrUKKO27hwumTlK97C5HSvHD4JNfv3Ipz7gQ7No3TaftYrodjG9iWiVHIMzezSBhE5PJ5clmXoBMQJzE6Drlhz/X8zZeexstmKRQKgGZkZIjHH3+SWlMzMjrMwkodx/HoLXkUCjn8TpDOT0Aul2NxaYlOJ0ArGOwrkUSa6elZ8oUyR09/g4ldA5x/9nm2vePHaBz7KkbUIJvNYhiaME6wDEEpl6UdhHRCaAbLDAlF3nGo1JuU7ngbt980yca8TWlkK7neAaIgwDAtBgb6AEGpV4CGOBbEcYgWklzee01BoVcVz7RsG9NaZZpp1wzVfWkNCIkQGsNw2Xbnzdz2/vXcuivP2973Vjq6TRj5mKZJoZQlW8jieA6ZjMvQYC/9fSUKOY+enMXo2BAb7343s2cu0pw/QyuSTKzbyMPfeJKJ9VvZs2snczML+EFAlCRIw2DL5kk2b1yP4xq4nsveW27CNC18v4MKEyY3b+Ebzx5j+uw5BvrKhEFIHCd0woBMxuMvP/cVDLtETzFHvdmm2miza8dWJsZGMU2DXD7HwMgocRQSRSGu4xAGMTIJuPuet/Dc4VNoDZnyOPVTz3Do65+neN0PU9i4h8FihoGeMuVymXy+SCZXwLJdTCeLkXFYDmLO1Vtk997LW3/2Fxl2NYXBG8j3XI9lumvBpCiKUYkijmLiuBuJlBJpmDiO+x2khL3SD0vZDUNKBHLN7Zn+lN2gjgQVUxq8nr7NP0Ss89x2y02885d/C+FlCOMQzxRkPZecazE+2sP6DUNsGuth09ggm+9+P8bNH+LpfSeozc2AECxeXKZvbCe5rMPH/+yvWb/1RtZt2oRA0aq3abQ6DA4PsmP3HhIgly/TNzBBs92mWCowNjHJQ08c4YFHn6avv49qrZlG55RiZmaBXCFPs9ngDz/5t1RbsG5slCSB0bF1bNy0g1zGZGLdRnbuvolGO6TtB4SdAB1HXH/jDUzPN3numf1M7LiRxmKMMCXt2jz7/u5veX4uw5HR+/Czw+SyWUb7exjqyeNYEtsSDPX18ZY7386eX/h9hn/544wYbarVDnZ+mHLvGFIYaUAJgWGYSGkipYWU1pqNZloW5qt0Ab+mLQDA8Tw6rRpoiSDpegr1FXRRqQTPy6CtAdqqiFi+wO0f/ldkdtzKzMN/T2bpFH0ZSU8+w8D6UXKlYZZHitRyI8xtfQsH7v8sUaOJ4dgkHR9naorliV7GrruNY089zP/0K7/JdTu3cv32cUb6y2TyLtlsgcl1W/Acj7HREXpKIxRLPbx4aIrPf/FpGu2AXK7AwnKVWrWG7dhESUynE1CpVCiWyuTzGe7/x2+wbfMYt928jTAKMcw0FjE+PozSGsfJMDkxgU4S5isN/vL+hzh85BSDExMYxe2IE8fQbR8pJSoJaNZCDuz5V5zwZymdf5Fy9SI9pkk4FtMcshnadSeVwW2c1gb32G2yF6bwQ0GQ2BSKPal2FRKBRq5lb4m1hacB28285pyAVw8A18VyXEK/mUbBVNK1EVLhawRagOd6LFeaKOlid2qo5TkY30HxI9ehmhVqfpUgCDgdQV1ZRIO9OFmXILLwlQBDonVKarZ4Z2gLEPkN/PzPb+TQsTNMTR3nmedeZHykn+1b11OphFjyAU5PLXD2L+7nD/740xw9Pg3CZPuu3ZR7e3nyiSeoVRsg0nyCJI5JkhgB+B2fG266nuHBQZ5/7gX+2988zKNPvMiG9cMY0uUf/uGrPPjg45y/uMDiUo0TU+epNToMj47wgQ+9H8Md4eTUPLv7znFYtcC0QYHI94Gy8LOT+DvWMdtqQRykutdyOGLYMN+k5AgGvAYF3aGTyxMESRr/kAZSpy7vS4QcpBAorTBsl0wm991ICPk2AaHuS6AplnqoJIoo7GAYBkKrbkmhRGpFGPgs15ZI4phSbz9Zt8j8yjIql+diWxFYLsobo5RV6CShqTVNLQibMU07geIIUmlQaah4eINB0/C4cP4cQ6N3Iu0CGzet5+KFi5w5fZbHnz7MAw8/Q6IUjutiGiaFcpGtO3czMjqM63rUajWiOAYt1tK9ojAiiZMudxFpkMcwuX7PdbQabWZmL/KNp4/T7oSEYQetFK7j4mYyjI1NsHdyknJPmZGRYU4cPMn6osn23QV4qA0UECqC3g3otomI62AaqZPKtFKdGSqkitBCM2ka9M3PsnPXRmYXM0ydPoGUko0bNlEqlrFMO41IdquWw1hhWjbFct9aPsH3BgBKoVWSRs+6ETTDMOgbHKJWreA3GwhpINC0Wg2mp6c5e3aKtt9CGILhwRFsw8CemqMzvI65WNEMI4RIWBQaS2j8WBEomQq800F7Y2Dlke0ltAavZyubh4bRjdNEsSCKQuJI0dfbT2+5lziK6EQBYZiWiXueh2WaaA2JSoiiCKUVQsu1rCPDMAijiDgJEUKBFtgy7QvQCSMsz2bjls2s37QRv9MhiUJAYDsWjuNhGiZCppHPTifGMpvcetN6dt+8E/g8Ku6A7IfsDbDsI0yNNhSg0OJSFl5CghELbmo22D00Q7Y0waTnEUURp04eYW5ujh07djI8NIxtuyRKE8QKz/MolHoxDIMkjruJJcarLlH7lgDQcYxKYpS+NGHZbZKgkoRsJotl2UxPn+bZZ57i4nxaUiWVpt1qMz4+yIXzp7Fdlw1CUJ/awD6zjyiTIIQiNNIZiEghY4XSEr2gkIdcvMgkMpoIw+B9P/xjCBVzauoYpkhDtKkAQ5IoBqUxTRvDTCuAkiTp9hLqElMpkEJ2+0FphBRYpkUYhqkGQCMkCMsEAYYh0VoTBiFKp5lJlumg0EAaDhaAZRiYpok0BLEw2bhrN3e89Qf5F+++mYP7X6S27OPsrzBXb6KGJeRFescloECH4DUU76bCh24/hh4OOHL0MK1mDcfOUK/5LK1Mc+7COYaGRti1aw8DAyMUimUK+RxxHKGVwrSsbrpZjGlZCGl85wDQcUwchVfElISU3X0/tfk1YFlpsuTo2DiGZRCFIagYCZhSc+7CObIYFIdKvK/xGPY/b+GvauPMlzxwJdgCHWr0coI932HHxZO8u+/LPFw+QVwe4Z33vYsffM97U1u9bWAaImXFQmAg0FKsNelYNUellOmWJLtpWhpMy8SyJaqlkSIVnFIKxGp5pMBx7PT7QqJ0N+lUK1Si0xwHeencQkqEITGkgTAk9VZIb/8oxVI/H/mpj/Kl0qdoLpzhtuKfc+jwMfafuo55e5B2xgFDkFcRG8wqbx2Z4r0/XENsG+PCXIE4vMDyygrDQxl27N6JZVokicIwTQyZOpOy2QyJUqkGSZJUowmDWCVpQq7jpgv1NQNAJcRRin7R3XPEKvsQAhWnWsE0DS7OnOf8ubNs2bSJ7Vs20Ww0WF5ZolGrUKlWyGTzuI5JLjeANwb/49BzXP/Vx3j0QD/nmkV8JZFxhyE9y00TJ7jpQ2fovXkE56n7qLTyvONdHwBMHNeh3fGJowTLtLCEJJIS3c25E5cHQJQAQ6d9D0jJkm1Z5PM5FucWKPf0UiwWaDYbWJaN77dxXQfXdVNQrCVMXhZUlSnrXgOASNPWTCsFkmNZ9JSKJFGHPXvvouFHzJ4/yLoNLW75oQMEZw+wOC2pVSykZVEsa4a2WgzduI649xZiNjGozrM4fwHHcdE6IZvNMDE2SS6bI1GKRquNtIwugVVpoxJScErTQJAS20D7uF7mFdUPvCQAVJykwr8qBXz1fQoMTRxHLM7Pcvz4EU4dP0ahmGFocIx22+fFw4fTfVJpDCEpFkvYXg+LyuPWn1tk7+wR2rMvoAMfaUmskoEq9dI0bufEXIZC/zIbdg5TLvdTq1awTAPXNqnW6ziZTFe1GwgRo6Xs9jhKEyO1UMjVqjckUhpEcYQEHMfippv3kM1miKKITZs2cuTIYSxLkiQJjutCHCERJFqjdar4hZSpGdZFhBACUxoYtk2n4+NZBj3lElEY0qitsGXzFlDw4tQMw4Pb2P22MrcPC4iqqESgzCLKXs/coknrok+pVCNb7GNwcJQo6OC3W5w4foxWs41jSkzLphMl9PQN0tMzgGkYKL3arUanHEem2i7pLmDLcb5tWNh8KdKXAl5cSsjUGn1Zz5zubSaOYoQ0yOcKzM5c5PTUSQYH5tm2czeLSytkMx59fQMMj28GTBbnzxGHMVG0jnVb30puY5V6bZ66HzA7W+Hsc/O0G8tI5nEzLs3GMtNnTlLu6SWbzSG0ZqWyzHihgDZSbSSE6BpIAiH0FaZS2vhCIaVJHEWEUYhlWxQLOeI4JpPxWLdunJOnT6bkKgzI5rLpMYVGSxBKrC0CIUB3+YTsBpMc06RaqaDihGyuQBBG1FaWOHX6KEli0GnVOXxogZmLDbxMjomJSdZv3EQ+X2Zm6iytxgyGFMzMVLAdh3L/EGGiOHt2mk7bp1qrc376FLaT+gX6B0ZS07u7z2shLlV1akALJOk2rRP1bXsamy8b+JGyG7xYS9pfK8aQhoGKU8ugVCpR7uklUTHZXJ4ojGg26mzavAXHcSmWevBcl2azThzFZDJZchmLysIyK8tLPP/iCywtLeE6Jo1GBa0EQ/0DhFGLudkVcpk8zXqNcm+Jnt5eqpUa6zYY6R4sRMqotLrU9bWr8vVlGcUCmbpPE0Wr3WLHtu0IAaYheMc73s6Xv/YAjusQR4okTjul6W6zLCHEquVIIsDsmoxSCEzTJJ/PM3vhIqWeHgzDoNlq4vstlpYWaTRaOI5LJlsGoZiZO02ifHr6ioSxTxA2yeXy+O02SoU0GjWCTodiXz/rDZcoikiSiOHRCVzPY3R0nL6+ge78urDXVxamXKo5kK+okdXLAsAQBspIC0B0V7WiNUkcIw0D07BRpqaQK7NucgP5XIFarUqz1aATdujrG8A2bXL5AtmMi2GaOD0e2VyRfC5HtbbC+vWj9PfnWVlZIgx9qpUqpmnTarU4P3t+zTYXQrIwP8fd99zNX336bzh88BBjE2O0mu1U7Yu0vlWpy3SUuHQtWqWma5zE3PKWW3nPe97FuTOnEVLwoQ+8n0OHD/HZv7m/m/mUXJZPs0owLyOXl7nFtVYcPXwE13V5+9vuobKyTJQoYqWxLBspfTKey4YNG9i6dSu2nSGMEuIoph0GbN22kygIqdcqdDo+URQQxzG2adPT20sQJRQKBTzHRgiJm8mSy+a7yaepj0QaEtOw1gpfDEMi6C7gV5YSdlXuWJfoCUmqSrS45Oy9DFBCShzXQ0qJ43n09PbTaNRpNuokKkZ3U8AzmWx68+MYy7JxXY8oDjk9dZqRgT76+4rkPYtYwZw1w8zsBYKgg2VaxFFErBPm5i7QbjeYmBjhhz/wHva/cJiw42MYsisc3V3tqbo2hECsvkWDUIRRxN69N/JzP/0RGvUqlZUFCoUSHd/n3/4vv8LI0DCPPvkUCL1mVaRFK6C0WKvoWb1VpmkRhjFBEHD3XbfS21vgwoVzeJk8juMihMC2LaIooN6oU681yOYEYRR3Yycmju1hWw6245LE8dqKXzVz40RQLOTJ5/NIaaTzMY01LnJ5MYruOulW//atClK+tQZY7YnXLW64tK+KK6vIUmqM7XkYlk0YdFBd5KeOoxSdjm0jpEhNGWlg2TaqlRAEPt944gn6enK4jsvI6DqOHD9GZbmCbdlESUQ2X6JY7qPRrGJiEHYidm3fwsjQAC8ePEanvYzj2iR+jEpSEAil0EojDBOjy5iXl5fZsnmS++69Bx1Dq9nAMCXV6gqtVot2u82HP/h+oqjNl776CDt37qQThGhi4iQ1raQUSMPAMAxMyyKKY8bHhrl+150UcxmqlVpazVStYjo22VIvjWabVqPJuJ3jyNHjtNo1coUipmnR3z/G2Ngktu1gmGZXwaZgNg0DQ0qSRGM7Nq7jYdnWVU6eVCMr1b3urpZOV38XGPK1JoWu9gu4ukT5JUvIBIYlsbTCSxSmaayZUlKm+6RhmKgkSZHZvYm9Pb1UaxVm5hdptRrkiv0srVRp1Jt4GZdCuZd16zZhmzaxitKLURB0Qvp6ern99ht56ol9PLHvBcp9fTiWhYoVQnZtfK2oLC8xO3MRzzUZvHUn9VoDKSS2aaFijSIm6qa5z8xdpJh36TRWeP7ZZ9i2ZQPSMukpF7Esh04QUK83UHFEdXmRu+68ldtuuZkkjuh0QtAGiYroBAFGaFIq9iKlTb26gmO7nDl9kijs0Gz69Az0UyyVMAwDwzDXilR01/Iyul1PTVL/xdqDK6667wiQhriyt+ea/F6VI0jzkkWir6JfkGlaCE9gxRaq6zpOlYmBYZporUmSGK0VlmUzNDhKu9XCczI0mw3qtTrDoxOUen2yXp6+nl4czyNOYkgEidJYtkGhWAIE1WqFsdEBdm7q4/TJaQpDA1Sbdd5x732Ue/r4y7/4U1ptH0nE5OQmWu02cRRgWg5xF4yr9kwUtgnjiFqtzlv27mR2bhkZ1BnqHeRHfvQDPPTg16g3fWrzs6g4YrhvkMmJUbxsmTDw0bTpBJ10K+rWBAopyWY9ekobSKKIdevWg0pwMnkGh0fo6e2/olRttdx8tTfR6t9Mw/wWEhBXaeTXEgvokqjvvNNAt17eMpFaopVeY+Fr1oM0UApM06Sntw+lFQsLc7T8Nn7Lx7EcbNslk8nguA6maWFbNrZl4zoOuWyeXKGA7/sks4pmo8PkxHrCMGRq6gymafD0448ghMHMxXmy+Rwqjgg6HQzTSusGZYyiy5JFauHESUySJJiWgwZGhgY4dXwKP+zwZ5/8GGdOnydfzNJoNDAk6AQqK3XyN5SJ4xxR2CHs+PgdnzAK0sRRKdFJ6oDq6e3rNp8KMS2PTDZDJptPBX3Zni2lxDTNtX1dCrmWu/i9Gt/FVrHp3iOVTEPCUl9ZMNkNIsmu2pMyTdzsHxyi0wmoVyvUqxUSrbAsC9t2sK20OAOREkrLcnE9F9NKWW+tXuHUyRM0GzXyuQILS1VOTx2ht6fA2NgoWzdv4LrrdjJ9cRbHdYniBNu0ECIGYaBllyxqTRzHlEpFTocxp06dZnx8BNc1mTp9Dj8I8BdTt/i977yDcrGXoaEBXM9FJw6R4+B5OfJJQqxjpJBdL6TGsR1KpTLZXK7rW+lGTQ1jTeWvmt2r8X7dDRcI2dUKQr6eAHiNPYJENyWMlDxqNGiBvupwsptcapgWluMSxzFhGOC5HsVCkagbdTNME7P7AolCYRkmlmXh2DYDvQOYWpB1LN56271s2LyRv7v/82zdEuI5LrWGz8JSBdOyCIKQQtnCMo01Zrzq4Nakdfu5bI44iJgcn6SnlOOmm29Ca7DlN7BsgzCM8f2A4aExRsfGyBfLZDI5kjjBUqkGWS13Nw1zjQM5jkPG88hkMpiGtaYtV3sM6m7bF31ZjwS5Zs/L1P8vv9ca4Ju2gdfaKKo72a5JstqD8mrikmoLsLr73aqKM0yDOIq7DSDS/U8aBsZl0S0pJRrN2PgG7n7HfRw/9iLL83McfOEFpi8sECSacqkHaTpkMy7nZxbIl/ooFHvIuF4XUKt9CFIhOHaG3r4Benv6aTebZPJ5jhw+RqPVZrbSwvM84lgTRJoz0+colHrZdv1GzC6B09pGqRQA8jLTzDQNbMvCtGykNK/wzQvDSB063cYRXYP10lpaPc73uCeReWW7l+/SyVYJlngFvMEwsR2xZjEkcZr4uOrKNbqeR2kYoNMmColK6B3o5+z0KVp+TKAF84sVdu/ZTbl3ENtxyGZyFEtlspkclmkRxQFCXTqu7rq6DZn6KkrlMrlcjunz02hppomvZoO7Nm7Fcb01klbIFdmxYzc95d7LyJvo9jkQV+7fprGmtV4yaWPVa8f/d6PbI0hc6hC3GgZ7naelu4JVSYJKug9iuNytmXYK6DZ0SLXE4tICc/Nz+H6L8xfP02o2kUKSyRfo6xukvy8NmrRaLTqBn6Z3A4ZI1bRjO5i2hW2nDqpsNkcYdIiiiOWVJeZmZ1iuVtK4gZehv3+IgcERCqUSrut2kzUvhclX4wNSyNSWN1PtZXRN3zfE0C8HgDXBv4yp8TqBQHWfwqEuy0Ba83GnDGMt8VQrTScMaLWa+G0fv9MmASzTxnZcTCON8IVBRBQFKJ10hSMxTQPTsLDs1MowLavrgbOI4wjfb+P7Hdp+m0TFmIaNaZo4XgbHcVPHkFhNNrkUIkZKjC57l0b6M93m5BtM+N02fjpRl1rFviQIxOs6Q61U+uoWm1xSSJeif5eXP2mtiZOIOE7S4k3UWhxfaY1KktSlnKRby5qz05CYholpmFimgWXZqY+9ew69+t2kC0YuPWNQXdGiTXSJ26U9W4pLWsGQxvesndx3BwAq0WvhLiFef5m/ZA7qpWcXaa7sibeamHJlsEOvPcxBKY3SyZofYjUvUCXJZcke+rKkDiPVBqa1psIvJ1+XRxV1N8qoruoSrteyoi91/pJr28Ib5RGz3VVxxeMAVgHwUu4k8QaB6yX76LLctJcnrVqrNQFd/vSP1GeuLrlcRcoq1rxvUl5i6S+rrnUXEGrN67cK0iunt7o9yDeO8Fdn900cIFGaKwI+4g0CgO/CdnIZCODyjmOr6WJcavQoXt1Fr7Zyfan2tOIN1XL/KnjqK23zSxyAq1cX13pGv5YV9oacG5ep/ysBIF9W+JeDR18T8bd3g74ZpyqucgXrb86ouTa+38B55TOh5Ld1NV57fMD3NTD+XzRCsKtleXbUAAAAAElFTkSuQmCC

iVBORw0KGgoAAAANSUhEUgAAAIAAAABOCAYAAADo3B4PAAAvXklEQVR42u29eZRk113n+bn37bFH7nvWvpdUWkqyNku2ZWFjtzE2Bg/NAQ80TPsMHKCZhYbT9NBDA900nAOD8dhgGnA3tkFgxuBV1motJbRVqfYtq7KW3DNjjxdvu3f+eJFZiyVbkm2N5Kl7TpzMyIx47773+97f/f7WJ7TWmmvj/7dDXrsF1wBwbVwDwLVxDQDXxjUAXBvXAHBtXAPAtXENANfGNQBcG9cAcG1cA8C18f0+zDf7BegkAQ2I9L2QEoS46kMarVT6OXT6GfnN2NdKgVJrBxNG91hXfR8hEIbxfQEA8aYNBmn9zYJeHUpdEvDlv7/cZ77F8XSSvLSwV2/by83hmgZ4fYRff+Ahms88i+4EeDu3U3rfe5Gem35Ga5CSaHGJ+le+RnD2HEY+R+7uO8nesOdKIQpB4+l/pvX4U+hWG2tyguK778Ma6CdeqVD90lcIz0wjPZfsW24hf+ft3x6I1zTA90j4QFypMv0//xL1r36dpNFICU3GI7Pneib/9GN4WzYDUP3qA1z4lX9LeHYaFQQIw8DoKdP/r3+WkX/3q6km0Jrzv/rvWP70X6NqdXSSIG0bd9cOen/if2Dlc/fjv3AAFYYIKZGFPOUf/SATv/+7SNteA9A1ALwe8lcKIQRnfuajrHz2b7GHh8i//W6E69J4+DHC6XN4e65j24NfpnPyJCd+8IdRjSbujm1krttFeGGG9rPPkdTqjP6X32Hwoz/Lxd/8j8z/pz/A6CmTvXUv1uAAzX9+jujsNMhUsNboKLnbbiFeXqH51NPES0sM/tLPM/bb/yGdk3yT8mn9JhoqSbTWWreee0G/MLhO7x/frFf+7h/W/t984YA+eN1e/axb1tWvPKAXPvnn+hkzr4/9wPt0uLi0doxzv/Ef9POlIX341rfqcGFRH775Dv18eURf/J3fWztW59x5feSt79T7RzboQze8RfunT6/9b/aP/kS/MDipD2zYoTvT59I/duf2ZhtvLtiqVFm1Dh0mqdXwrttF+QM/hE4SdBiS3XMdxbe/DR0nrPzt35O/+06EbdH3Ex/G6utF+R2ElAz+65/FHBggOH6SzrFj5O64DeG5DP7CR9PTdDo442P0/cSHiZeWccbHcDdsQMcxaM3Az/009tgoyUqF4OTp1YX05vQDqDhKL0wloNUl8sQb94KEYaQMPggvvTdTPps0GxjFPM1HHkNkMmT33kxcqV4yEQEdBF3zUVP9py9Teu+7kZnM2j4uTBO0RmazICU6ikCp9DxCIJRCum7XNFRvckeQ6gpcXS74VeG/sUAguvtxds/1mKUS/pGjzP3hx9BRhJCSyhe+SP3rD2OWSkQLizQefpTen/xx5v/wY/jHTyAcm6ReZ/Z3fg/VbGGUitS+8gD2+DjOlk0ov3PZycSlqxfiSpOx6xu45gh63eEq0Urh7dxOz4//KAsf+7+Z/0+/T+0fv4i0HdoHD6N8H6NURHouK/d/nsk//H1mfu3fc+p9H8LdvZN4bp7g2HFwHIRtE06fxz9yhNJ7341q1KG35yrUvQzDfxMz/ytuqRACgVjzpMEb+8KEEKA0Y7/17xn46M+hhaDx5NPUH3mUpN2m+L73MPHJP0Z4Ho1HHydcXqb4wffjT52h9k9fpr3/RchlGfud/5PiB99PUquw8rm/I//Od4CXWdvLtdYQxyS+jwrDru9IXfp/GKZbiXpzawKhwlAL0QXAKqqF4DJEvAFNl0vTC48dp7X/RZIwJLt9G97emwDoHDuOozRicoLEkMRPPY0/fR7lufTc81YYHIB2G//YCaTn4mzb+k3AVysV4nPnkYUC5oZ1V5ii/rHjaN/H3bwJo1B40zqEpPimSYs35P5/9RS10qAUi329TN2wm76f/Jf4u3bw4Ne/ztLCAva2rewLOxw4M4XhujzuOVTe+y4KP/YjPHD0CFopHt+/n8bmDfjrJmn7PidOnODAgQMEYciFCxeICnmejkOm7dQV/Nhjj3Hq1CmElGR2bCd7042p8N/ELmGZBjcuX/1XA+GNqgRSN+/hZ5+lM7+IjmOOP/88F2dmqNRq1JZX+MyffYoDzz2H1pozBw7gBQEnDx/m9JEjCClp1evkhMGZI0eIoogoiiiXy8zPzdFsNlmam2Pq4EEWps+htWbfvn0cOnSIarVKrVJBX7YlvHldwXGkryA1b3T1f9UIgoD5+XkmJiaIoojZ2dm136MowrIsLMtCKYWUEt/36XQ6lMtlgiDAcRzCMMS27bXPR1GElBLDMDh37hwjIyMYhkEURQghiOMYwzCwbftNTwKFTmL9zaz2zc9uX8briRDfn9f2HWwBXLbqxZtWsN/u9zUL4lV67b7V8b4fRqoBrlD9+vtWA1wbL+UIEvKl7atXvQKv/m76/vVUuZev0O/Wea++ttfrel72nmq+q5FHoVXXk/Ea2P8r3VO/V3uv1hrVDQ/Ll7gpSZIAYLzK9K1v9b1vd87Xi6usgv07va+vDQBXOT2a9QrLCxcI/AZh4JMkCbZboH9ogr7Bke8JCFZZ/eoIo5hWs0XYZfKlUnE1lP+azx+GESuVCr7vY5oWuVyOcqlw2RwShJDfE3A3a8usLF6kE7TQSYJlOSANLMtjaGwDlu18V+6r+c0OoFcmfK0VF84e4+L0MZ55/HFGJ0cYHugjCAJqjQZ+oMjlyvQPDLDzhjvIFfu+5RajL0+4fAUrREpJrV7nySef4PDB/SzNX6BaXSFJFLl8hjC2GBoZ54477uKeu+9GSvFtb9bq/7/+4IM88vBDnD8/RdipE3QC0JJyTw+5Qg9bd1zHffe+k02bNr4ysGqN1jq9dd1Vm75e4rNJxFOPfZ3AryGSOkqB57gI0+D0kSPUlpfYevNb6B0YZ8uOvWTzxe+CBhCvDACrN6jZWOHgsw8ydeIYpVKBgy8eZXJynI0b1xF2OtSbLdpBgpfJ0Qk65LMet73tA+SLPWvHUFqzemop5RU3I1Hp/me8hIpN/fHw9NP7+Ku/+ATLixfIZkwKnkW93sYwTXZum+DA0bNMTS+ghcGmTbv5tV//DTZt2pCaPi+zXUgh+e3f/S0+//efI+uZDPRmGenvw28HNNoddmwepdXpcODoecLY5q577uWXfvGXKRTya0K9nAGpRCGFWItifvM5V7cSsaZRnnn8n5g6cYKe/lGymZh2q00hVwTL4MhTz2DaNr3jIySxxs6UuG7PzQxPbO2e+9VzOPnKV38qOL9V5dyJ5/AbFRzXxfcDPC9DdaVKEockKkGpmCROkAKCMOLZAwc4dODZNQEmKr0xpiExjFT4zSBgudEiUQmGFKnw9UuYYUIAis/8t49zfvo4UeCT8yyyWQ+NIIwVhmEw1N9DPmvjGJL9zz3Bpz75x13B65cUvmEYHHjxWb7w+b+mt+Dh2Cae41LIu2gUSSKwLINyKUMh65DzEr76xc/xiU/8CVJK9GV5AVprhNbptUnB6cU6X3nmJPc/cZIvPX2Cg1OztOMEw5BIKUiSBK3hwtmTPPboQygBjZZP2AmIww5JEhGHAZVKFTeXxzIsYiVQScjM2UNMH9tHHAWvicCbr8yHnSKrsnSR2sIZPMciX8hTa9SpVptkcxkqldqa8JVOsAwLv+Nz9NhRXDfLwux5EqXXiNX5aoN/fOIgj714gfNxjnPzFdqNKgOGYs/6Pj583x5+6NZtCC6pbqVS4f7Fpz7Ok088QblcxLBt8lmXfNbBNAVhoNFoeooZbMskjgJcx+aBr32Z9z/+fm678541ga8C0jAMFhZm+N//11+i1erQX8qiE4VrSYoFj9n5lVTAEizTQCUxnXYH1zF56vGvsvwzP0Nv30CXHKacIAE++eBRPvsP+3nmmWn8GqAcWHgIPIPJ3du592138DPv281tOyYBODs9Ravd5uLMBYpFTd4torVCSE3U6eA6DoVyiVqtSr0dsn2wjOt6tGrLnD6yj007b8cwrdfKAb71nt9u1Tl9cB+ZnEcmmyebyZHLuKwsLuPYDlGrjt/qYNlGyqINmyNHj+K3fZIEmu0OhhScnl3gdz79MPc/epLaieNQrcH4u8BR0F5hpVnn2MOn+OwXjnDfe2/kz3/xXkZLeeIkwTQMvvaVL/C7//m3GR7pJeuYaUImGscxEUKiVIjQCsM0SJTGNkwKeYe5xQq/9r/9G/7qM/czPrnhChYdBD7/8Td/ndMnp1g3OYAUCoVGSoFlmWidoLQiTjS2JbvaTeBZJlOnTvGLv/BR/utffgbDNBHAbNPnx3/973jkb05A7QI5N0ef0wc6pOG3iJsx00+f5VNP1/jUnz7Aj33kB/iDf3MvxYxFGEW4KuH8xSl6ilvIuKC1IPA7DI32E8Yd5paWWTcxRi7jIqRAK0Ft6QIXzx5mYtOeV0UM5StZ+wALM2eo15eJo4Ao9HEch1KhQC6bJQw77NlzMxMTmxifmKTU08fJqdNUqxUKxV6Wl2vcevMePv3oi9z0L/+IT/3Rg9SOLGI0IozmHM6FOfIXG7gzVbxKDTsCaynha3/yVf7Fb/4j9TD1zc/Pnuc///b/wchwDznPJl3rijhJyBcLuK5JomKkKbAdE4HANCWWKdmxYYhqdYE/+L3fouP7V6jrv/jUx3nk4YdYN95HKWvjmAZaK3J5l96BEmGkkIYgk3HIZi3QYFkCrRSjQ3089cRDfOLjf4SUko5K+Miv/j9840/+gfXBLBuNiP7OCkONRYZbSzhxh5wIGdIGvapJpqn53B/tZ++H/5op1UdvPkOr1cIyFYeOH6bearHz+hvYsmUHdqYHw3SYmFjH+OgIhrSQaLQKqNZrnD11EF6lVfCKM4IWF2Z49Kl9DPT2ccOe3QwNDZDN5ZGW4PY77mTzrr089+QDLC8ss//wIU5OXcBxbGZnT/DOe9/JU/4AP/nvH4AzCXYQYzYqyLBBJ6iQT6YYsQZpxnN0REhHGxgEKKPJC5/9Mv/1nnX84g+9hb/81MeYmZth7+71+H4EholpSjIZh80bhjl6bJpIJWRck4znkHFsoigkShT5rEtvX5F9zzzFF77weX70x34cgIcfeYQvffEfsWyDYs5N7XzAyTiYpomONYZpULAtevIOjiUxpMQ1TaphTNYz2LRumE/86f/Fj3zwAzxzrsPXPvHbbMqNYnYa5LRFohVFM8FEsKTrZPFwwgYtLSiJDMJoceGBZ/jpTshv/tQ9xPvu5/xyjVY7YPbCHHNzy6go4fqb9rJ95x5mLkwTx21c22JhYZ5DR06ysLTInj07ieMA03JfMSF8xQBI4phyPs/pqXOcOTPDuo3j+M0Wgoh61eeBBx5k3zMHCcOYVqvNyTMXiUKfH3jfB3jc282n/8t+5FSHYiAxGj5e3MAWPlUScmqaQUOTTxapaI0VZWjGS8yIGURnnse+tJs7R+HZp/eRz7p0ghhpGnSCiIyXY2GhyuEjZ7BMSTHrcnG2QpwIEhUTxDFKafxOiGeaqDjiy1/8Au+491309vbw95//e7ROyHkOcaLQWhFq8CybStXn7Ll5ygUXISQrdZ/l5TqWlWqIIArJYmLbknarwX//7H/n2LyHiE9xtrnIenOAHrcIdOjP+BhGwlSnwXjGJlQLZJWHiCW1cJGC9EmezvJb5kZ+6ra9HHzk45yfW+a2vTsJOoeJIsXp6fNEn/kMuazLyOgojWaHpaUVCoUsmzaMYZkOQhivyqw3XykBHBpdT6PeYKi/hGFazJyfY/rcBRaXahQKGW7as5Xrdmzk4sIC02fb3LhzI+WRTTw/tcjBmf2owxly9WNkwzp5EmLRoGC2MIVGGsuMlx0a0QoDGsIk5rGVKXzVxBAOc+dP8cBDIUkUUsy4hJ0IxzPQSrFUbdKHoNbwyWUcorwL0kSoBMsymVuuk3clHT8gjBOKhTxTZ6c4cuQwd911F88/t5/1QxmCpqQThhjSIAgiLGFi2wa2aaCVRhqCJNEorcl4DiuVJpZlEEYBSRTTmy/wz/v+mYMLBgYCkdQ5p1ps6R1mOK8oZSoomVCst+kvK3SSox10OF+fYzZssytzJ4gOxw4d4a/mz3Pv9XeybdcyWUuzUu0wOTnM1k2TnDwxxRNPvYD14hQ7tm9icqyfbNZlbmaOXXvuwjCt7y4HEN1YwbqNO7j19rdz7twctXqb2fkFnn3+aJqfN1ym0agzv7BEHJrccOPtjLzzp/jySoGjZ2YQF87Rv/Ai48qjnZwmsKZx3SaZTMjOnh4ydoOWPY12F6kwy4uNAzSTixTNGFPXiI02B17YT76QRRqCMEkII0Wl0cKUgsH+IkpDoxXSbIcEnRAtNKVSjkLWY7na5uJyi04QUyrlWVmuMb+whFIJU1NnMGwbx7Fp+TELK01c12NwoEg+5xFEEWEUEyeKJNYI0orhKE5IEmi1E5QWZFyTKGgRdOo4pqLHiDFVi+eXz3C4NksoF5noXWHbSMDOzXWEs8iJ5imOhUe5vb/EoNNhuvMo9YUv0Fyc5q8fnuEZ9z1kezaSyeQ5cOgkTz71LEEY0DfQw4HDx3l833OcOjnN9Ll5tu/Zy+6b7vhOPIHf1gvArXfex8DAEIcP7aflK3bv2s746ACFQg7HzTA0NsItN+2hGis+9LlzNBsm69Zt5+KLTzLfOoZ0rmPC1CypGZQFEsHm7DBnqLO/VkFowXyrTRAoiqaFrTtEmQxjGzdx4pHPc+fN25mdu0ArUizWahSLBUZHhoiUQduPaLc7+K0Y0zRwXA9Ek5GhHjzXYn6hRstvkcnnmVusYMjUXPM7LSq1FtJILYqtm8aYmBhCaDCkIAhjwlDjOQa5Yh7LsgjCkJVag4VKmhTqeAZeNkenXsca3o23UkGc3s9o0SZQiqYlOdIyOdrUGLZiJpCcbtU458dMFnK0jGUeWTqJn/g4cpL+vh4yCw1qT0xzw2+8nfvuXMfDjz3H/NwSHb9KpjBKsTSEkzG45aYbuXnvrYyOb8Zxsq86PvCKASCEQBgmY5ObmVy3kbff+wO0Gg2SJEYaJghJkgiKxSyFapUb5mY4dGQOa7KJrT3aaC4G+1gSFkXLAqmIcw4H7Wkybg4zTlBSMFb0WK4EVKtN2mjGd91KW3icn5nBtG7EtRyajTYb1w2xY9sWkgSiOMJzXdAKv93By3jkiyUuzizS9iMGegsM92ZZqjTpxBZLi0v09vUghKSvp4cDh07wkR+9m5nz0/T296YtArTC81y0loRRjGGmjqFOyydRUC7nyWZdjp+ZodUKGB8Z5/SJs/hZSe9dH6S5PE3Dr9A3MUDGc/ENAUqh0Rz1TTKDHhtUlZVKm5O1JiYwZuVoCcHWzQXecf0U+czT7N3+TkyvxJ133kq1Vse1DJqtDo5nMzjQh2l5xJFGWA6GaXzvNACA42ZoN+rEKkQaNvly76UUUq1I4ji9OT1lfvrmaV6oPEJjYgtfXBYkywLTytAJO3R0QrmQJ1vIUS7lSJIYOjFIQb5gIUUDrUKKO27hwumTlK97C5HSvHD4JNfv3Ipz7gQ7No3TaftYrodjG9iWiVHIMzezSBhE5PJ5clmXoBMQJzE6Drlhz/X8zZeexstmKRQKgGZkZIjHH3+SWlMzMjrMwkodx/HoLXkUCjn8TpDOT0Aul2NxaYlOJ0ArGOwrkUSa6elZ8oUyR09/g4ldA5x/9nm2vePHaBz7KkbUIJvNYhiaME6wDEEpl6UdhHRCaAbLDAlF3nGo1JuU7ngbt980yca8TWlkK7neAaIgwDAtBgb6AEGpV4CGOBbEcYgWklzee01BoVcVz7RsG9NaZZpp1wzVfWkNCIkQGsNw2Xbnzdz2/vXcuivP2973Vjq6TRj5mKZJoZQlW8jieA6ZjMvQYC/9fSUKOY+enMXo2BAb7343s2cu0pw/QyuSTKzbyMPfeJKJ9VvZs2snczML+EFAlCRIw2DL5kk2b1yP4xq4nsveW27CNC18v4MKEyY3b+Ebzx5j+uw5BvrKhEFIHCd0woBMxuMvP/cVDLtETzFHvdmm2miza8dWJsZGMU2DXD7HwMgocRQSRSGu4xAGMTIJuPuet/Dc4VNoDZnyOPVTz3Do65+neN0PU9i4h8FihoGeMuVymXy+SCZXwLJdTCeLkXFYDmLO1Vtk997LW3/2Fxl2NYXBG8j3XI9lumvBpCiKUYkijmLiuBuJlBJpmDiO+x2khL3SD0vZDUNKBHLN7Zn+lN2gjgQVUxq8nr7NP0Ss89x2y02885d/C+FlCOMQzxRkPZecazE+2sP6DUNsGuth09ggm+9+P8bNH+LpfSeozc2AECxeXKZvbCe5rMPH/+yvWb/1RtZt2oRA0aq3abQ6DA4PsmP3HhIgly/TNzBBs92mWCowNjHJQ08c4YFHn6avv49qrZlG55RiZmaBXCFPs9ngDz/5t1RbsG5slCSB0bF1bNy0g1zGZGLdRnbuvolGO6TtB4SdAB1HXH/jDUzPN3numf1M7LiRxmKMMCXt2jz7/u5veX4uw5HR+/Czw+SyWUb7exjqyeNYEtsSDPX18ZY7386eX/h9hn/544wYbarVDnZ+mHLvGFIYaUAJgWGYSGkipYWU1pqNZloW5qt0Ab+mLQDA8Tw6rRpoiSDpegr1FXRRqQTPy6CtAdqqiFi+wO0f/ldkdtzKzMN/T2bpFH0ZSU8+w8D6UXKlYZZHitRyI8xtfQsH7v8sUaOJ4dgkHR9naorliV7GrruNY089zP/0K7/JdTu3cv32cUb6y2TyLtlsgcl1W/Acj7HREXpKIxRLPbx4aIrPf/FpGu2AXK7AwnKVWrWG7dhESUynE1CpVCiWyuTzGe7/x2+wbfMYt928jTAKMcw0FjE+PozSGsfJMDkxgU4S5isN/vL+hzh85BSDExMYxe2IE8fQbR8pJSoJaNZCDuz5V5zwZymdf5Fy9SI9pkk4FtMcshnadSeVwW2c1gb32G2yF6bwQ0GQ2BSKPal2FRKBRq5lb4m1hacB28285pyAVw8A18VyXEK/mUbBVNK1EVLhawRagOd6LFeaKOlid2qo5TkY30HxI9ehmhVqfpUgCDgdQV1ZRIO9OFmXILLwlQBDonVKarZ4Z2gLEPkN/PzPb+TQsTNMTR3nmedeZHykn+1b11OphFjyAU5PLXD2L+7nD/740xw9Pg3CZPuu3ZR7e3nyiSeoVRsg0nyCJI5JkhgB+B2fG266nuHBQZ5/7gX+2988zKNPvMiG9cMY0uUf/uGrPPjg45y/uMDiUo0TU+epNToMj47wgQ+9H8Md4eTUPLv7znFYtcC0QYHI94Gy8LOT+DvWMdtqQRykutdyOGLYMN+k5AgGvAYF3aGTyxMESRr/kAZSpy7vS4QcpBAorTBsl0wm991ICPk2AaHuS6AplnqoJIoo7GAYBkKrbkmhRGpFGPgs15ZI4phSbz9Zt8j8yjIql+diWxFYLsobo5RV6CShqTVNLQibMU07geIIUmlQaah4eINB0/C4cP4cQ6N3Iu0CGzet5+KFi5w5fZbHnz7MAw8/Q6IUjutiGiaFcpGtO3czMjqM63rUajWiOAYt1tK9ojAiiZMudxFpkMcwuX7PdbQabWZmL/KNp4/T7oSEYQetFK7j4mYyjI1NsHdyknJPmZGRYU4cPMn6osn23QV4qA0UECqC3g3otomI62AaqZPKtFKdGSqkitBCM2ka9M3PsnPXRmYXM0ydPoGUko0bNlEqlrFMO41IdquWw1hhWjbFct9aPsH3BgBKoVWSRs+6ETTDMOgbHKJWreA3GwhpINC0Wg2mp6c5e3aKtt9CGILhwRFsw8CemqMzvI65WNEMI4RIWBQaS2j8WBEomQq800F7Y2Dlke0ltAavZyubh4bRjdNEsSCKQuJI0dfbT2+5lziK6EQBYZiWiXueh2WaaA2JSoiiCKUVQsu1rCPDMAijiDgJEUKBFtgy7QvQCSMsz2bjls2s37QRv9MhiUJAYDsWjuNhGiZCppHPTifGMpvcetN6dt+8E/g8Ku6A7IfsDbDsI0yNNhSg0OJSFl5CghELbmo22D00Q7Y0waTnEUURp04eYW5ujh07djI8NIxtuyRKE8QKz/MolHoxDIMkjruJJcarLlH7lgDQcYxKYpS+NGHZbZKgkoRsJotl2UxPn+bZZ57i4nxaUiWVpt1qMz4+yIXzp7Fdlw1CUJ/awD6zjyiTIIQiNNIZiEghY4XSEr2gkIdcvMgkMpoIw+B9P/xjCBVzauoYpkhDtKkAQ5IoBqUxTRvDTCuAkiTp9hLqElMpkEJ2+0FphBRYpkUYhqkGQCMkCMsEAYYh0VoTBiFKp5lJlumg0EAaDhaAZRiYpok0BLEw2bhrN3e89Qf5F+++mYP7X6S27OPsrzBXb6KGJeRFescloECH4DUU76bCh24/hh4OOHL0MK1mDcfOUK/5LK1Mc+7COYaGRti1aw8DAyMUimUK+RxxHKGVwrSsbrpZjGlZCGl85wDQcUwchVfElISU3X0/tfk1YFlpsuTo2DiGZRCFIagYCZhSc+7CObIYFIdKvK/xGPY/b+GvauPMlzxwJdgCHWr0coI932HHxZO8u+/LPFw+QVwe4Z33vYsffM97U1u9bWAaImXFQmAg0FKsNelYNUellOmWJLtpWhpMy8SyJaqlkSIVnFIKxGp5pMBx7PT7QqJ0N+lUK1Si0xwHeencQkqEITGkgTAk9VZIb/8oxVI/H/mpj/Kl0qdoLpzhtuKfc+jwMfafuo55e5B2xgFDkFcRG8wqbx2Z4r0/XENsG+PCXIE4vMDyygrDQxl27N6JZVokicIwTQyZOpOy2QyJUqkGSZJUowmDWCVpQq7jpgv1NQNAJcRRin7R3XPEKvsQAhWnWsE0DS7OnOf8ubNs2bSJ7Vs20Ww0WF5ZolGrUKlWyGTzuI5JLjeANwb/49BzXP/Vx3j0QD/nmkV8JZFxhyE9y00TJ7jpQ2fovXkE56n7qLTyvONdHwBMHNeh3fGJowTLtLCEJJIS3c25E5cHQJQAQ6d9D0jJkm1Z5PM5FucWKPf0UiwWaDYbWJaN77dxXQfXdVNQrCVMXhZUlSnrXgOASNPWTCsFkmNZ9JSKJFGHPXvvouFHzJ4/yLoNLW75oQMEZw+wOC2pVSykZVEsa4a2WgzduI649xZiNjGozrM4fwHHcdE6IZvNMDE2SS6bI1GKRquNtIwugVVpoxJScErTQJAS20D7uF7mFdUPvCQAVJykwr8qBXz1fQoMTRxHLM7Pcvz4EU4dP0ahmGFocIx22+fFw4fTfVJpDCEpFkvYXg+LyuPWn1tk7+wR2rMvoAMfaUmskoEq9dI0bufEXIZC/zIbdg5TLvdTq1awTAPXNqnW6ziZTFe1GwgRo6Xs9jhKEyO1UMjVqjckUhpEcYQEHMfippv3kM1miKKITZs2cuTIYSxLkiQJjutCHCERJFqjdar4hZSpGdZFhBACUxoYtk2n4+NZBj3lElEY0qitsGXzFlDw4tQMw4Pb2P22MrcPC4iqqESgzCLKXs/coknrok+pVCNb7GNwcJQo6OC3W5w4foxWs41jSkzLphMl9PQN0tMzgGkYKL3arUanHEem2i7pLmDLcb5tWNh8KdKXAl5cSsjUGn1Zz5zubSaOYoQ0yOcKzM5c5PTUSQYH5tm2czeLSytkMx59fQMMj28GTBbnzxGHMVG0jnVb30puY5V6bZ66HzA7W+Hsc/O0G8tI5nEzLs3GMtNnTlLu6SWbzSG0ZqWyzHihgDZSbSSE6BpIAiH0FaZS2vhCIaVJHEWEUYhlWxQLOeI4JpPxWLdunJOnT6bkKgzI5rLpMYVGSxBKrC0CIUB3+YTsBpMc06RaqaDihGyuQBBG1FaWOHX6KEli0GnVOXxogZmLDbxMjomJSdZv3EQ+X2Zm6iytxgyGFMzMVLAdh3L/EGGiOHt2mk7bp1qrc376FLaT+gX6B0ZS07u7z2shLlV1akALJOk2rRP1bXsamy8b+JGyG7xYS9pfK8aQhoGKU8ugVCpR7uklUTHZXJ4ojGg26mzavAXHcSmWevBcl2azThzFZDJZchmLysIyK8tLPP/iCywtLeE6Jo1GBa0EQ/0DhFGLudkVcpk8zXqNcm+Jnt5eqpUa6zYY6R4sRMqotLrU9bWr8vVlGcUCmbpPE0Wr3WLHtu0IAaYheMc73s6Xv/YAjusQR4okTjul6W6zLCHEquVIIsDsmoxSCEzTJJ/PM3vhIqWeHgzDoNlq4vstlpYWaTRaOI5LJlsGoZiZO02ifHr6ioSxTxA2yeXy+O02SoU0GjWCTodiXz/rDZcoikiSiOHRCVzPY3R0nL6+ge78urDXVxamXKo5kK+okdXLAsAQBspIC0B0V7WiNUkcIw0D07BRpqaQK7NucgP5XIFarUqz1aATdujrG8A2bXL5AtmMi2GaOD0e2VyRfC5HtbbC+vWj9PfnWVlZIgx9qpUqpmnTarU4P3t+zTYXQrIwP8fd99zNX336bzh88BBjE2O0mu1U7Yu0vlWpy3SUuHQtWqWma5zE3PKWW3nPe97FuTOnEVLwoQ+8n0OHD/HZv7m/m/mUXJZPs0owLyOXl7nFtVYcPXwE13V5+9vuobKyTJQoYqWxLBspfTKey4YNG9i6dSu2nSGMEuIoph0GbN22kygIqdcqdDo+URQQxzG2adPT20sQJRQKBTzHRgiJm8mSy+a7yaepj0QaEtOw1gpfDEMi6C7gV5YSdlXuWJfoCUmqSrS45Oy9DFBCShzXQ0qJ43n09PbTaNRpNuokKkZ3U8AzmWx68+MYy7JxXY8oDjk9dZqRgT76+4rkPYtYwZw1w8zsBYKgg2VaxFFErBPm5i7QbjeYmBjhhz/wHva/cJiw42MYsisc3V3tqbo2hECsvkWDUIRRxN69N/JzP/0RGvUqlZUFCoUSHd/n3/4vv8LI0DCPPvkUCL1mVaRFK6C0WKvoWb1VpmkRhjFBEHD3XbfS21vgwoVzeJk8juMihMC2LaIooN6oU681yOYEYRR3Yycmju1hWw6245LE8dqKXzVz40RQLOTJ5/NIaaTzMY01LnJ5MYruOulW//atClK+tQZY7YnXLW64tK+KK6vIUmqM7XkYlk0YdFBd5KeOoxSdjm0jpEhNGWlg2TaqlRAEPt944gn6enK4jsvI6DqOHD9GZbmCbdlESUQ2X6JY7qPRrGJiEHYidm3fwsjQAC8ePEanvYzj2iR+jEpSEAil0EojDBOjy5iXl5fZsnmS++69Bx1Dq9nAMCXV6gqtVot2u82HP/h+oqjNl776CDt37qQThGhi4iQ1raQUSMPAMAxMyyKKY8bHhrl+150UcxmqlVpazVStYjo22VIvjWabVqPJuJ3jyNHjtNo1coUipmnR3z/G2Ngktu1gmGZXwaZgNg0DQ0qSRGM7Nq7jYdnWVU6eVCMr1b3urpZOV38XGPK1JoWu9gu4ukT5JUvIBIYlsbTCSxSmaayZUlKm+6RhmKgkSZHZvYm9Pb1UaxVm5hdptRrkiv0srVRp1Jt4GZdCuZd16zZhmzaxitKLURB0Qvp6ern99ht56ol9PLHvBcp9fTiWhYoVQnZtfK2oLC8xO3MRzzUZvHUn9VoDKSS2aaFijSIm6qa5z8xdpJh36TRWeP7ZZ9i2ZQPSMukpF7Esh04QUK83UHFEdXmRu+68ldtuuZkkjuh0QtAGiYroBAFGaFIq9iKlTb26gmO7nDl9kijs0Gz69Az0UyyVMAwDwzDXilR01/Iyul1PTVL/xdqDK6667wiQhriyt+ea/F6VI0jzkkWir6JfkGlaCE9gxRaq6zpOlYmBYZporUmSGK0VlmUzNDhKu9XCczI0mw3qtTrDoxOUen2yXp6+nl4czyNOYkgEidJYtkGhWAIE1WqFsdEBdm7q4/TJaQpDA1Sbdd5x732Ue/r4y7/4U1ptH0nE5OQmWu02cRRgWg5xF4yr9kwUtgnjiFqtzlv27mR2bhkZ1BnqHeRHfvQDPPTg16g3fWrzs6g4YrhvkMmJUbxsmTDw0bTpBJ10K+rWBAopyWY9ekobSKKIdevWg0pwMnkGh0fo6e2/olRttdx8tTfR6t9Mw/wWEhBXaeTXEgvokqjvvNNAt17eMpFaopVeY+Fr1oM0UApM06Sntw+lFQsLc7T8Nn7Lx7EcbNslk8nguA6maWFbNrZl4zoOuWyeXKGA7/sks4pmo8PkxHrCMGRq6gymafD0448ghMHMxXmy+Rwqjgg6HQzTSusGZYyiy5JFauHESUySJJiWgwZGhgY4dXwKP+zwZ5/8GGdOnydfzNJoNDAk6AQqK3XyN5SJ4xxR2CHs+PgdnzAK0sRRKdFJ6oDq6e3rNp8KMS2PTDZDJptPBX3Zni2lxDTNtX1dCrmWu/i9Gt/FVrHp3iOVTEPCUl9ZMNkNIsmu2pMyTdzsHxyi0wmoVyvUqxUSrbAsC9t2sK20OAOREkrLcnE9F9NKWW+tXuHUyRM0GzXyuQILS1VOTx2ht6fA2NgoWzdv4LrrdjJ9cRbHdYniBNu0ECIGYaBllyxqTRzHlEpFTocxp06dZnx8BNc1mTp9Dj8I8BdTt/i977yDcrGXoaEBXM9FJw6R4+B5OfJJQqxjpJBdL6TGsR1KpTLZXK7rW+lGTQ1jTeWvmt2r8X7dDRcI2dUKQr6eAHiNPYJENyWMlDxqNGiBvupwsptcapgWluMSxzFhGOC5HsVCkagbdTNME7P7AolCYRkmlmXh2DYDvQOYWpB1LN56271s2LyRv7v/82zdEuI5LrWGz8JSBdOyCIKQQtnCMo01Zrzq4Nakdfu5bI44iJgcn6SnlOOmm29Ca7DlN7BsgzCM8f2A4aExRsfGyBfLZDI5kjjBUqkGWS13Nw1zjQM5jkPG88hkMpiGtaYtV3sM6m7bF31ZjwS5Zs/L1P8vv9ca4Ju2gdfaKKo72a5JstqD8mrikmoLsLr73aqKM0yDOIq7DSDS/U8aBsZl0S0pJRrN2PgG7n7HfRw/9iLL83McfOEFpi8sECSacqkHaTpkMy7nZxbIl/ooFHvIuF4XUKt9CFIhOHaG3r4Benv6aTebZPJ5jhw+RqPVZrbSwvM84lgTRJoz0+colHrZdv1GzC6B09pGqRQA8jLTzDQNbMvCtGykNK/wzQvDSB063cYRXYP10lpaPc73uCeReWW7l+/SyVYJlngFvMEwsR2xZjEkcZr4uOrKNbqeR2kYoNMmColK6B3o5+z0KVp+TKAF84sVdu/ZTbl3ENtxyGZyFEtlspkclmkRxQFCXTqu7rq6DZn6KkrlMrlcjunz02hppomvZoO7Nm7Fcb01klbIFdmxYzc95d7LyJvo9jkQV+7fprGmtV4yaWPVa8f/d6PbI0hc6hC3GgZ7naelu4JVSYJKug9iuNytmXYK6DZ0SLXE4tICc/Nz+H6L8xfP02o2kUKSyRfo6xukvy8NmrRaLTqBn6Z3A4ZI1bRjO5i2hW2nDqpsNkcYdIiiiOWVJeZmZ1iuVtK4gZehv3+IgcERCqUSrut2kzUvhclX4wNSyNSWN1PtZXRN3zfE0C8HgDXBv4yp8TqBQHWfwqEuy0Ba83GnDGMt8VQrTScMaLWa+G0fv9MmASzTxnZcTCON8IVBRBQFKJ10hSMxTQPTsLDs1MowLavrgbOI4wjfb+P7Hdp+m0TFmIaNaZo4XgbHcVPHkFhNNrkUIkZKjC57l0b6M93m5BtM+N02fjpRl1rFviQIxOs6Q61U+uoWm1xSSJeif5eXP2mtiZOIOE7S4k3UWhxfaY1KktSlnKRby5qz05CYholpmFimgWXZqY+9ew69+t2kC0YuPWNQXdGiTXSJ26U9W4pLWsGQxvesndx3BwAq0WvhLiFef5m/ZA7qpWcXaa7sibeamHJlsEOvPcxBKY3SyZofYjUvUCXJZcke+rKkDiPVBqa1psIvJ1+XRxV1N8qoruoSrteyoi91/pJr28Ib5RGz3VVxxeMAVgHwUu4k8QaB6yX76LLctJcnrVqrNQFd/vSP1GeuLrlcRcoq1rxvUl5i6S+rrnUXEGrN67cK0iunt7o9yDeO8Fdn900cIFGaKwI+4g0CgO/CdnIZCODyjmOr6WJcavQoXt1Fr7Zyfan2tOIN1XL/KnjqK23zSxyAq1cX13pGv5YV9oacG5ep/ysBIF9W+JeDR18T8bd3g74ZpyqucgXrb86ouTa+38B55TOh5Ld1NV57fMD3NTD+XzRCsKtleXbUAAAAAElFTkSuQmCC

iVBORw0KGgoAAAANSUhEUgAAAIAAAABOCAYAAADo3B4PAAAvXklEQVR42u29eZRk113n+bn37bFH7nvWvpdUWkqyNku2ZWFjtzE2Bg/NAQ80TPsMHKCZhYbT9NBDA900nAOD8dhgGnA3tkFgxuBV1motJbRVqfYtq7KW3DNjjxdvu3f+eJFZiyVbkm2N5Kl7TpzMyIx47773+97f/f7WJ7TWmmvj/7dDXrsF1wBwbVwDwLVxDQDXxjUAXBvXAHBtXAPAtXENANfGNQBcG9cAcG1cA8C18f0+zDf7BegkAQ2I9L2QEoS46kMarVT6OXT6GfnN2NdKgVJrBxNG91hXfR8hEIbxfQEA8aYNBmn9zYJeHUpdEvDlv7/cZ77F8XSSvLSwV2/by83hmgZ4fYRff+Ahms88i+4EeDu3U3rfe5Gem35Ga5CSaHGJ+le+RnD2HEY+R+7uO8nesOdKIQpB4+l/pvX4U+hWG2tyguK778Ma6CdeqVD90lcIz0wjPZfsW24hf+ft3x6I1zTA90j4QFypMv0//xL1r36dpNFICU3GI7Pneib/9GN4WzYDUP3qA1z4lX9LeHYaFQQIw8DoKdP/r3+WkX/3q6km0Jrzv/rvWP70X6NqdXSSIG0bd9cOen/if2Dlc/fjv3AAFYYIKZGFPOUf/SATv/+7SNteA9A1ALwe8lcKIQRnfuajrHz2b7GHh8i//W6E69J4+DHC6XN4e65j24NfpnPyJCd+8IdRjSbujm1krttFeGGG9rPPkdTqjP6X32Hwoz/Lxd/8j8z/pz/A6CmTvXUv1uAAzX9+jujsNMhUsNboKLnbbiFeXqH51NPES0sM/tLPM/bb/yGdk3yT8mn9JhoqSbTWWreee0G/MLhO7x/frFf+7h/W/t984YA+eN1e/axb1tWvPKAXPvnn+hkzr4/9wPt0uLi0doxzv/Ef9POlIX341rfqcGFRH775Dv18eURf/J3fWztW59x5feSt79T7RzboQze8RfunT6/9b/aP/kS/MDipD2zYoTvT59I/duf2ZhtvLtiqVFm1Dh0mqdXwrttF+QM/hE4SdBiS3XMdxbe/DR0nrPzt35O/+06EbdH3Ex/G6utF+R2ElAz+65/FHBggOH6SzrFj5O64DeG5DP7CR9PTdDo442P0/cSHiZeWccbHcDdsQMcxaM3Az/009tgoyUqF4OTp1YX05vQDqDhKL0wloNUl8sQb94KEYaQMPggvvTdTPps0GxjFPM1HHkNkMmT33kxcqV4yEQEdBF3zUVP9py9Teu+7kZnM2j4uTBO0RmazICU6ikCp9DxCIJRCum7XNFRvckeQ6gpcXS74VeG/sUAguvtxds/1mKUS/pGjzP3hx9BRhJCSyhe+SP3rD2OWSkQLizQefpTen/xx5v/wY/jHTyAcm6ReZ/Z3fg/VbGGUitS+8gD2+DjOlk0ov3PZycSlqxfiSpOx6xu45gh63eEq0Urh7dxOz4//KAsf+7+Z/0+/T+0fv4i0HdoHD6N8H6NURHouK/d/nsk//H1mfu3fc+p9H8LdvZN4bp7g2HFwHIRtE06fxz9yhNJ7341q1KG35yrUvQzDfxMz/ytuqRACgVjzpMEb+8KEEKA0Y7/17xn46M+hhaDx5NPUH3mUpN2m+L73MPHJP0Z4Ho1HHydcXqb4wffjT52h9k9fpr3/RchlGfud/5PiB99PUquw8rm/I//Od4CXWdvLtdYQxyS+jwrDru9IXfp/GKZbiXpzawKhwlAL0QXAKqqF4DJEvAFNl0vTC48dp7X/RZIwJLt9G97emwDoHDuOozRicoLEkMRPPY0/fR7lufTc81YYHIB2G//YCaTn4mzb+k3AVysV4nPnkYUC5oZ1V5ii/rHjaN/H3bwJo1B40zqEpPimSYs35P5/9RS10qAUi329TN2wm76f/Jf4u3bw4Ne/ztLCAva2rewLOxw4M4XhujzuOVTe+y4KP/YjPHD0CFopHt+/n8bmDfjrJmn7PidOnODAgQMEYciFCxeICnmejkOm7dQV/Nhjj3Hq1CmElGR2bCd7042p8N/ELmGZBjcuX/1XA+GNqgRSN+/hZ5+lM7+IjmOOP/88F2dmqNRq1JZX+MyffYoDzz2H1pozBw7gBQEnDx/m9JEjCClp1evkhMGZI0eIoogoiiiXy8zPzdFsNlmam2Pq4EEWps+htWbfvn0cOnSIarVKrVJBX7YlvHldwXGkryA1b3T1f9UIgoD5+XkmJiaIoojZ2dm136MowrIsLMtCKYWUEt/36XQ6lMtlgiDAcRzCMMS27bXPR1GElBLDMDh37hwjIyMYhkEURQghiOMYwzCwbftNTwKFTmL9zaz2zc9uX8briRDfn9f2HWwBXLbqxZtWsN/u9zUL4lV67b7V8b4fRqoBrlD9+vtWA1wbL+UIEvKl7atXvQKv/m76/vVUuZev0O/Wea++ttfrel72nmq+q5FHoVXXk/Ea2P8r3VO/V3uv1hrVDQ/Ll7gpSZIAYLzK9K1v9b1vd87Xi6usgv07va+vDQBXOT2a9QrLCxcI/AZh4JMkCbZboH9ogr7Bke8JCFZZ/eoIo5hWs0XYZfKlUnE1lP+azx+GESuVCr7vY5oWuVyOcqlw2RwShJDfE3A3a8usLF6kE7TQSYJlOSANLMtjaGwDlu18V+6r+c0OoFcmfK0VF84e4+L0MZ55/HFGJ0cYHugjCAJqjQZ+oMjlyvQPDLDzhjvIFfu+5RajL0+4fAUrREpJrV7nySef4PDB/SzNX6BaXSFJFLl8hjC2GBoZ54477uKeu+9GSvFtb9bq/7/+4IM88vBDnD8/RdipE3QC0JJyTw+5Qg9bd1zHffe+k02bNr4ysGqN1jq9dd1Vm75e4rNJxFOPfZ3AryGSOkqB57gI0+D0kSPUlpfYevNb6B0YZ8uOvWTzxe+CBhCvDACrN6jZWOHgsw8ydeIYpVKBgy8eZXJynI0b1xF2OtSbLdpBgpfJ0Qk65LMet73tA+SLPWvHUFqzemop5RU3I1Hp/me8hIpN/fHw9NP7+Ku/+ATLixfIZkwKnkW93sYwTXZum+DA0bNMTS+ghcGmTbv5tV//DTZt2pCaPi+zXUgh+e3f/S0+//efI+uZDPRmGenvw28HNNoddmwepdXpcODoecLY5q577uWXfvGXKRTya0K9nAGpRCGFWItifvM5V7cSsaZRnnn8n5g6cYKe/lGymZh2q00hVwTL4MhTz2DaNr3jIySxxs6UuG7PzQxPbO2e+9VzOPnKV38qOL9V5dyJ5/AbFRzXxfcDPC9DdaVKEockKkGpmCROkAKCMOLZAwc4dODZNQEmKr0xpiExjFT4zSBgudEiUQmGFKnw9UuYYUIAis/8t49zfvo4UeCT8yyyWQ+NIIwVhmEw1N9DPmvjGJL9zz3Bpz75x13B65cUvmEYHHjxWb7w+b+mt+Dh2Cae41LIu2gUSSKwLINyKUMh65DzEr76xc/xiU/8CVJK9GV5AVprhNbptUnB6cU6X3nmJPc/cZIvPX2Cg1OztOMEw5BIKUiSBK3hwtmTPPboQygBjZZP2AmIww5JEhGHAZVKFTeXxzIsYiVQScjM2UNMH9tHHAWvicCbr8yHnSKrsnSR2sIZPMciX8hTa9SpVptkcxkqldqa8JVOsAwLv+Nz9NhRXDfLwux5EqXXiNX5aoN/fOIgj714gfNxjnPzFdqNKgOGYs/6Pj583x5+6NZtCC6pbqVS4f7Fpz7Ok088QblcxLBt8lmXfNbBNAVhoNFoeooZbMskjgJcx+aBr32Z9z/+fm678541ga8C0jAMFhZm+N//11+i1erQX8qiE4VrSYoFj9n5lVTAEizTQCUxnXYH1zF56vGvsvwzP0Nv30CXHKacIAE++eBRPvsP+3nmmWn8GqAcWHgIPIPJ3du592138DPv281tOyYBODs9Ravd5uLMBYpFTd4torVCSE3U6eA6DoVyiVqtSr0dsn2wjOt6tGrLnD6yj007b8cwrdfKAb71nt9u1Tl9cB+ZnEcmmyebyZHLuKwsLuPYDlGrjt/qYNlGyqINmyNHj+K3fZIEmu0OhhScnl3gdz79MPc/epLaieNQrcH4u8BR0F5hpVnn2MOn+OwXjnDfe2/kz3/xXkZLeeIkwTQMvvaVL/C7//m3GR7pJeuYaUImGscxEUKiVIjQCsM0SJTGNkwKeYe5xQq/9r/9G/7qM/czPrnhChYdBD7/8Td/ndMnp1g3OYAUCoVGSoFlmWidoLQiTjS2JbvaTeBZJlOnTvGLv/BR/utffgbDNBHAbNPnx3/973jkb05A7QI5N0ef0wc6pOG3iJsx00+f5VNP1/jUnz7Aj33kB/iDf3MvxYxFGEW4KuH8xSl6ilvIuKC1IPA7DI32E8Yd5paWWTcxRi7jIqRAK0Ft6QIXzx5mYtOeV0UM5StZ+wALM2eo15eJo4Ao9HEch1KhQC6bJQw77NlzMxMTmxifmKTU08fJqdNUqxUKxV6Wl2vcevMePv3oi9z0L/+IT/3Rg9SOLGI0IozmHM6FOfIXG7gzVbxKDTsCaynha3/yVf7Fb/4j9TD1zc/Pnuc///b/wchwDznPJl3rijhJyBcLuK5JomKkKbAdE4HANCWWKdmxYYhqdYE/+L3fouP7V6jrv/jUx3nk4YdYN95HKWvjmAZaK3J5l96BEmGkkIYgk3HIZi3QYFkCrRSjQ3089cRDfOLjf4SUko5K+Miv/j9840/+gfXBLBuNiP7OCkONRYZbSzhxh5wIGdIGvapJpqn53B/tZ++H/5op1UdvPkOr1cIyFYeOH6bearHz+hvYsmUHdqYHw3SYmFjH+OgIhrSQaLQKqNZrnD11EF6lVfCKM4IWF2Z49Kl9DPT2ccOe3QwNDZDN5ZGW4PY77mTzrr089+QDLC8ss//wIU5OXcBxbGZnT/DOe9/JU/4AP/nvH4AzCXYQYzYqyLBBJ6iQT6YYsQZpxnN0REhHGxgEKKPJC5/9Mv/1nnX84g+9hb/81MeYmZth7+71+H4EholpSjIZh80bhjl6bJpIJWRck4znkHFsoigkShT5rEtvX5F9zzzFF77weX70x34cgIcfeYQvffEfsWyDYs5N7XzAyTiYpomONYZpULAtevIOjiUxpMQ1TaphTNYz2LRumE/86f/Fj3zwAzxzrsPXPvHbbMqNYnYa5LRFohVFM8FEsKTrZPFwwgYtLSiJDMJoceGBZ/jpTshv/tQ9xPvu5/xyjVY7YPbCHHNzy6go4fqb9rJ95x5mLkwTx21c22JhYZ5DR06ysLTInj07ieMA03JfMSF8xQBI4phyPs/pqXOcOTPDuo3j+M0Wgoh61eeBBx5k3zMHCcOYVqvNyTMXiUKfH3jfB3jc282n/8t+5FSHYiAxGj5e3MAWPlUScmqaQUOTTxapaI0VZWjGS8yIGURnnse+tJs7R+HZp/eRz7p0ghhpGnSCiIyXY2GhyuEjZ7BMSTHrcnG2QpwIEhUTxDFKafxOiGeaqDjiy1/8Au+491309vbw95//e7ROyHkOcaLQWhFq8CybStXn7Ll5ygUXISQrdZ/l5TqWlWqIIArJYmLbknarwX//7H/n2LyHiE9xtrnIenOAHrcIdOjP+BhGwlSnwXjGJlQLZJWHiCW1cJGC9EmezvJb5kZ+6ra9HHzk45yfW+a2vTsJOoeJIsXp6fNEn/kMuazLyOgojWaHpaUVCoUsmzaMYZkOQhivyqw3XykBHBpdT6PeYKi/hGFazJyfY/rcBRaXahQKGW7as5Xrdmzk4sIC02fb3LhzI+WRTTw/tcjBmf2owxly9WNkwzp5EmLRoGC2MIVGGsuMlx0a0QoDGsIk5rGVKXzVxBAOc+dP8cBDIUkUUsy4hJ0IxzPQSrFUbdKHoNbwyWUcorwL0kSoBMsymVuuk3clHT8gjBOKhTxTZ6c4cuQwd911F88/t5/1QxmCpqQThhjSIAgiLGFi2wa2aaCVRhqCJNEorcl4DiuVJpZlEEYBSRTTmy/wz/v+mYMLBgYCkdQ5p1ps6R1mOK8oZSoomVCst+kvK3SSox10OF+fYzZssytzJ4gOxw4d4a/mz3Pv9XeybdcyWUuzUu0wOTnM1k2TnDwxxRNPvYD14hQ7tm9icqyfbNZlbmaOXXvuwjCt7y4HEN1YwbqNO7j19rdz7twctXqb2fkFnn3+aJqfN1ym0agzv7BEHJrccOPtjLzzp/jySoGjZ2YQF87Rv/Ai48qjnZwmsKZx3SaZTMjOnh4ydoOWPY12F6kwy4uNAzSTixTNGFPXiI02B17YT76QRRqCMEkII0Wl0cKUgsH+IkpDoxXSbIcEnRAtNKVSjkLWY7na5uJyi04QUyrlWVmuMb+whFIJU1NnMGwbx7Fp+TELK01c12NwoEg+5xFEEWEUEyeKJNYI0orhKE5IEmi1E5QWZFyTKGgRdOo4pqLHiDFVi+eXz3C4NksoF5noXWHbSMDOzXWEs8iJ5imOhUe5vb/EoNNhuvMo9YUv0Fyc5q8fnuEZ9z1kezaSyeQ5cOgkTz71LEEY0DfQw4HDx3l833OcOjnN9Ll5tu/Zy+6b7vhOPIHf1gvArXfex8DAEIcP7aflK3bv2s746ACFQg7HzTA0NsItN+2hGis+9LlzNBsm69Zt5+KLTzLfOoZ0rmPC1CypGZQFEsHm7DBnqLO/VkFowXyrTRAoiqaFrTtEmQxjGzdx4pHPc+fN25mdu0ArUizWahSLBUZHhoiUQduPaLc7+K0Y0zRwXA9Ek5GhHjzXYn6hRstvkcnnmVusYMjUXPM7LSq1FtJILYqtm8aYmBhCaDCkIAhjwlDjOQa5Yh7LsgjCkJVag4VKmhTqeAZeNkenXsca3o23UkGc3s9o0SZQiqYlOdIyOdrUGLZiJpCcbtU458dMFnK0jGUeWTqJn/g4cpL+vh4yCw1qT0xzw2+8nfvuXMfDjz3H/NwSHb9KpjBKsTSEkzG45aYbuXnvrYyOb8Zxsq86PvCKASCEQBgmY5ObmVy3kbff+wO0Gg2SJEYaJghJkgiKxSyFapUb5mY4dGQOa7KJrT3aaC4G+1gSFkXLAqmIcw4H7Wkybg4zTlBSMFb0WK4EVKtN2mjGd91KW3icn5nBtG7EtRyajTYb1w2xY9sWkgSiOMJzXdAKv93By3jkiyUuzizS9iMGegsM92ZZqjTpxBZLi0v09vUghKSvp4cDh07wkR+9m5nz0/T296YtArTC81y0loRRjGGmjqFOyydRUC7nyWZdjp+ZodUKGB8Z5/SJs/hZSe9dH6S5PE3Dr9A3MUDGc/ENAUqh0Rz1TTKDHhtUlZVKm5O1JiYwZuVoCcHWzQXecf0U+czT7N3+TkyvxJ133kq1Vse1DJqtDo5nMzjQh2l5xJFGWA6GaXzvNACA42ZoN+rEKkQaNvly76UUUq1I4ji9OT1lfvrmaV6oPEJjYgtfXBYkywLTytAJO3R0QrmQJ1vIUS7lSJIYOjFIQb5gIUUDrUKKO27hwumTlK97C5HSvHD4JNfv3Ipz7gQ7No3TaftYrodjG9iWiVHIMzezSBhE5PJ5clmXoBMQJzE6Drlhz/X8zZeexstmKRQKgGZkZIjHH3+SWlMzMjrMwkodx/HoLXkUCjn8TpDOT0Aul2NxaYlOJ0ArGOwrkUSa6elZ8oUyR09/g4ldA5x/9nm2vePHaBz7KkbUIJvNYhiaME6wDEEpl6UdhHRCaAbLDAlF3nGo1JuU7ngbt980yca8TWlkK7neAaIgwDAtBgb6AEGpV4CGOBbEcYgWklzee01BoVcVz7RsG9NaZZpp1wzVfWkNCIkQGsNw2Xbnzdz2/vXcuivP2973Vjq6TRj5mKZJoZQlW8jieA6ZjMvQYC/9fSUKOY+enMXo2BAb7343s2cu0pw/QyuSTKzbyMPfeJKJ9VvZs2snczML+EFAlCRIw2DL5kk2b1yP4xq4nsveW27CNC18v4MKEyY3b+Ebzx5j+uw5BvrKhEFIHCd0woBMxuMvP/cVDLtETzFHvdmm2miza8dWJsZGMU2DXD7HwMgocRQSRSGu4xAGMTIJuPuet/Dc4VNoDZnyOPVTz3Do65+neN0PU9i4h8FihoGeMuVymXy+SCZXwLJdTCeLkXFYDmLO1Vtk997LW3/2Fxl2NYXBG8j3XI9lumvBpCiKUYkijmLiuBuJlBJpmDiO+x2khL3SD0vZDUNKBHLN7Zn+lN2gjgQVUxq8nr7NP0Ss89x2y02885d/C+FlCOMQzxRkPZecazE+2sP6DUNsGuth09ggm+9+P8bNH+LpfSeozc2AECxeXKZvbCe5rMPH/+yvWb/1RtZt2oRA0aq3abQ6DA4PsmP3HhIgly/TNzBBs92mWCowNjHJQ08c4YFHn6avv49qrZlG55RiZmaBXCFPs9ngDz/5t1RbsG5slCSB0bF1bNy0g1zGZGLdRnbuvolGO6TtB4SdAB1HXH/jDUzPN3numf1M7LiRxmKMMCXt2jz7/u5veX4uw5HR+/Czw+SyWUb7exjqyeNYEtsSDPX18ZY7386eX/h9hn/544wYbarVDnZ+mHLvGFIYaUAJgWGYSGkipYWU1pqNZloW5qt0Ab+mLQDA8Tw6rRpoiSDpegr1FXRRqQTPy6CtAdqqiFi+wO0f/ldkdtzKzMN/T2bpFH0ZSU8+w8D6UXKlYZZHitRyI8xtfQsH7v8sUaOJ4dgkHR9naorliV7GrruNY089zP/0K7/JdTu3cv32cUb6y2TyLtlsgcl1W/Acj7HREXpKIxRLPbx4aIrPf/FpGu2AXK7AwnKVWrWG7dhESUynE1CpVCiWyuTzGe7/x2+wbfMYt928jTAKMcw0FjE+PozSGsfJMDkxgU4S5isN/vL+hzh85BSDExMYxe2IE8fQbR8pJSoJaNZCDuz5V5zwZymdf5Fy9SI9pkk4FtMcshnadSeVwW2c1gb32G2yF6bwQ0GQ2BSKPal2FRKBRq5lb4m1hacB28285pyAVw8A18VyXEK/mUbBVNK1EVLhawRagOd6LFeaKOlid2qo5TkY30HxI9ehmhVqfpUgCDgdQV1ZRIO9OFmXILLwlQBDonVKarZ4Z2gLEPkN/PzPb+TQsTNMTR3nmedeZHykn+1b11OphFjyAU5PLXD2L+7nD/740xw9Pg3CZPuu3ZR7e3nyiSeoVRsg0nyCJI5JkhgB+B2fG266nuHBQZ5/7gX+2988zKNPvMiG9cMY0uUf/uGrPPjg45y/uMDiUo0TU+epNToMj47wgQ+9H8Md4eTUPLv7znFYtcC0QYHI94Gy8LOT+DvWMdtqQRykutdyOGLYMN+k5AgGvAYF3aGTyxMESRr/kAZSpy7vS4QcpBAorTBsl0wm991ICPk2AaHuS6AplnqoJIoo7GAYBkKrbkmhRGpFGPgs15ZI4phSbz9Zt8j8yjIql+diWxFYLsobo5RV6CShqTVNLQibMU07geIIUmlQaah4eINB0/C4cP4cQ6N3Iu0CGzet5+KFi5w5fZbHnz7MAw8/Q6IUjutiGiaFcpGtO3czMjqM63rUajWiOAYt1tK9ojAiiZMudxFpkMcwuX7PdbQabWZmL/KNp4/T7oSEYQetFK7j4mYyjI1NsHdyknJPmZGRYU4cPMn6osn23QV4qA0UECqC3g3otomI62AaqZPKtFKdGSqkitBCM2ka9M3PsnPXRmYXM0ydPoGUko0bNlEqlrFMO41IdquWw1hhWjbFct9aPsH3BgBKoVWSRs+6ETTDMOgbHKJWreA3GwhpINC0Wg2mp6c5e3aKtt9CGILhwRFsw8CemqMzvI65WNEMI4RIWBQaS2j8WBEomQq800F7Y2Dlke0ltAavZyubh4bRjdNEsSCKQuJI0dfbT2+5lziK6EQBYZiWiXueh2WaaA2JSoiiCKUVQsu1rCPDMAijiDgJEUKBFtgy7QvQCSMsz2bjls2s37QRv9MhiUJAYDsWjuNhGiZCppHPTifGMpvcetN6dt+8E/g8Ku6A7IfsDbDsI0yNNhSg0OJSFl5CghELbmo22D00Q7Y0waTnEUURp04eYW5ujh07djI8NIxtuyRKE8QKz/MolHoxDIMkjruJJcarLlH7lgDQcYxKYpS+NGHZbZKgkoRsJotl2UxPn+bZZ57i4nxaUiWVpt1qMz4+yIXzp7Fdlw1CUJ/awD6zjyiTIIQiNNIZiEghY4XSEr2gkIdcvMgkMpoIw+B9P/xjCBVzauoYpkhDtKkAQ5IoBqUxTRvDTCuAkiTp9hLqElMpkEJ2+0FphBRYpkUYhqkGQCMkCMsEAYYh0VoTBiFKp5lJlumg0EAaDhaAZRiYpok0BLEw2bhrN3e89Qf5F+++mYP7X6S27OPsrzBXb6KGJeRFescloECH4DUU76bCh24/hh4OOHL0MK1mDcfOUK/5LK1Mc+7COYaGRti1aw8DAyMUimUK+RxxHKGVwrSsbrpZjGlZCGl85wDQcUwchVfElISU3X0/tfk1YFlpsuTo2DiGZRCFIagYCZhSc+7CObIYFIdKvK/xGPY/b+GvauPMlzxwJdgCHWr0coI932HHxZO8u+/LPFw+QVwe4Z33vYsffM97U1u9bWAaImXFQmAg0FKsNelYNUellOmWJLtpWhpMy8SyJaqlkSIVnFIKxGp5pMBx7PT7QqJ0N+lUK1Si0xwHeencQkqEITGkgTAk9VZIb/8oxVI/H/mpj/Kl0qdoLpzhtuKfc+jwMfafuo55e5B2xgFDkFcRG8wqbx2Z4r0/XENsG+PCXIE4vMDyygrDQxl27N6JZVokicIwTQyZOpOy2QyJUqkGSZJUowmDWCVpQq7jpgv1NQNAJcRRin7R3XPEKvsQAhWnWsE0DS7OnOf8ubNs2bSJ7Vs20Ww0WF5ZolGrUKlWyGTzuI5JLjeANwb/49BzXP/Vx3j0QD/nmkV8JZFxhyE9y00TJ7jpQ2fovXkE56n7qLTyvONdHwBMHNeh3fGJowTLtLCEJJIS3c25E5cHQJQAQ6d9D0jJkm1Z5PM5FucWKPf0UiwWaDYbWJaN77dxXQfXdVNQrCVMXhZUlSnrXgOASNPWTCsFkmNZ9JSKJFGHPXvvouFHzJ4/yLoNLW75oQMEZw+wOC2pVSykZVEsa4a2WgzduI649xZiNjGozrM4fwHHcdE6IZvNMDE2SS6bI1GKRquNtIwugVVpoxJScErTQJAS20D7uF7mFdUPvCQAVJykwr8qBXz1fQoMTRxHLM7Pcvz4EU4dP0ahmGFocIx22+fFw4fTfVJpDCEpFkvYXg+LyuPWn1tk7+wR2rMvoAMfaUmskoEq9dI0bufEXIZC/zIbdg5TLvdTq1awTAPXNqnW6ziZTFe1GwgRo6Xs9jhKEyO1UMjVqjckUhpEcYQEHMfippv3kM1miKKITZs2cuTIYSxLkiQJjutCHCERJFqjdar4hZSpGdZFhBACUxoYtk2n4+NZBj3lElEY0qitsGXzFlDw4tQMw4Pb2P22MrcPC4iqqESgzCLKXs/coknrok+pVCNb7GNwcJQo6OC3W5w4foxWs41jSkzLphMl9PQN0tMzgGkYKL3arUanHEem2i7pLmDLcb5tWNh8KdKXAl5cSsjUGn1Zz5zubSaOYoQ0yOcKzM5c5PTUSQYH5tm2czeLSytkMx59fQMMj28GTBbnzxGHMVG0jnVb30puY5V6bZ66HzA7W+Hsc/O0G8tI5nEzLs3GMtNnTlLu6SWbzSG0ZqWyzHihgDZSbSSE6BpIAiH0FaZS2vhCIaVJHEWEUYhlWxQLOeI4JpPxWLdunJOnT6bkKgzI5rLpMYVGSxBKrC0CIUB3+YTsBpMc06RaqaDihGyuQBBG1FaWOHX6KEli0GnVOXxogZmLDbxMjomJSdZv3EQ+X2Zm6iytxgyGFMzMVLAdh3L/EGGiOHt2mk7bp1qrc376FLaT+gX6B0ZS07u7z2shLlV1akALJOk2rRP1bXsamy8b+JGyG7xYS9pfK8aQhoGKU8ugVCpR7uklUTHZXJ4ojGg26mzavAXHcSmWevBcl2azThzFZDJZchmLysIyK8tLPP/iCywtLeE6Jo1GBa0EQ/0DhFGLudkVcpk8zXqNcm+Jnt5eqpUa6zYY6R4sRMqotLrU9bWr8vVlGcUCmbpPE0Wr3WLHtu0IAaYheMc73s6Xv/YAjusQR4okTjul6W6zLCHEquVIIsDsmoxSCEzTJJ/PM3vhIqWeHgzDoNlq4vstlpYWaTRaOI5LJlsGoZiZO02ifHr6ioSxTxA2yeXy+O02SoU0GjWCTodiXz/rDZcoikiSiOHRCVzPY3R0nL6+ge78urDXVxamXKo5kK+okdXLAsAQBspIC0B0V7WiNUkcIw0D07BRpqaQK7NucgP5XIFarUqz1aATdujrG8A2bXL5AtmMi2GaOD0e2VyRfC5HtbbC+vWj9PfnWVlZIgx9qpUqpmnTarU4P3t+zTYXQrIwP8fd99zNX336bzh88BBjE2O0mu1U7Yu0vlWpy3SUuHQtWqWma5zE3PKWW3nPe97FuTOnEVLwoQ+8n0OHD/HZv7m/m/mUXJZPs0owLyOXl7nFtVYcPXwE13V5+9vuobKyTJQoYqWxLBspfTKey4YNG9i6dSu2nSGMEuIoph0GbN22kygIqdcqdDo+URQQxzG2adPT20sQJRQKBTzHRgiJm8mSy+a7yaepj0QaEtOw1gpfDEMi6C7gV5YSdlXuWJfoCUmqSrS45Oy9DFBCShzXQ0qJ43n09PbTaNRpNuokKkZ3U8AzmWx68+MYy7JxXY8oDjk9dZqRgT76+4rkPYtYwZw1w8zsBYKgg2VaxFFErBPm5i7QbjeYmBjhhz/wHva/cJiw42MYsisc3V3tqbo2hECsvkWDUIRRxN69N/JzP/0RGvUqlZUFCoUSHd/n3/4vv8LI0DCPPvkUCL1mVaRFK6C0WKvoWb1VpmkRhjFBEHD3XbfS21vgwoVzeJk8juMihMC2LaIooN6oU681yOYEYRR3Yycmju1hWw6245LE8dqKXzVz40RQLOTJ5/NIaaTzMY01LnJ5MYruOulW//atClK+tQZY7YnXLW64tK+KK6vIUmqM7XkYlk0YdFBd5KeOoxSdjm0jpEhNGWlg2TaqlRAEPt944gn6enK4jsvI6DqOHD9GZbmCbdlESUQ2X6JY7qPRrGJiEHYidm3fwsjQAC8ePEanvYzj2iR+jEpSEAil0EojDBOjy5iXl5fZsnmS++69Bx1Dq9nAMCXV6gqtVot2u82HP/h+oqjNl776CDt37qQThGhi4iQ1raQUSMPAMAxMyyKKY8bHhrl+150UcxmqlVpazVStYjo22VIvjWabVqPJuJ3jyNHjtNo1coUipmnR3z/G2Ngktu1gmGZXwaZgNg0DQ0qSRGM7Nq7jYdnWVU6eVCMr1b3urpZOV38XGPK1JoWu9gu4ukT5JUvIBIYlsbTCSxSmaayZUlKm+6RhmKgkSZHZvYm9Pb1UaxVm5hdptRrkiv0srVRp1Jt4GZdCuZd16zZhmzaxitKLURB0Qvp6ern99ht56ol9PLHvBcp9fTiWhYoVQnZtfK2oLC8xO3MRzzUZvHUn9VoDKSS2aaFijSIm6qa5z8xdpJh36TRWeP7ZZ9i2ZQPSMukpF7Esh04QUK83UHFEdXmRu+68ldtuuZkkjuh0QtAGiYroBAFGaFIq9iKlTb26gmO7nDl9kijs0Gz69Az0UyyVMAwDwzDXilR01/Iyul1PTVL/xdqDK6667wiQhriyt+ea/F6VI0jzkkWir6JfkGlaCE9gxRaq6zpOlYmBYZporUmSGK0VlmUzNDhKu9XCczI0mw3qtTrDoxOUen2yXp6+nl4czyNOYkgEidJYtkGhWAIE1WqFsdEBdm7q4/TJaQpDA1Sbdd5x732Ue/r4y7/4U1ptH0nE5OQmWu02cRRgWg5xF4yr9kwUtgnjiFqtzlv27mR2bhkZ1BnqHeRHfvQDPPTg16g3fWrzs6g4YrhvkMmJUbxsmTDw0bTpBJ10K+rWBAopyWY9ekobSKKIdevWg0pwMnkGh0fo6e2/olRttdx8tTfR6t9Mw/wWEhBXaeTXEgvokqjvvNNAt17eMpFaopVeY+Fr1oM0UApM06Sntw+lFQsLc7T8Nn7Lx7EcbNslk8nguA6maWFbNrZl4zoOuWyeXKGA7/sks4pmo8PkxHrCMGRq6gymafD0448ghMHMxXmy+Rwqjgg6HQzTSusGZYyiy5JFauHESUySJJiWgwZGhgY4dXwKP+zwZ5/8GGdOnydfzNJoNDAk6AQqK3XyN5SJ4xxR2CHs+PgdnzAK0sRRKdFJ6oDq6e3rNp8KMS2PTDZDJptPBX3Zni2lxDTNtX1dCrmWu/i9Gt/FVrHp3iOVTEPCUl9ZMNkNIsmu2pMyTdzsHxyi0wmoVyvUqxUSrbAsC9t2sK20OAOREkrLcnE9F9NKWW+tXuHUyRM0GzXyuQILS1VOTx2ht6fA2NgoWzdv4LrrdjJ9cRbHdYniBNu0ECIGYaBllyxqTRzHlEpFTocxp06dZnx8BNc1mTp9Dj8I8BdTt/i977yDcrGXoaEBXM9FJw6R4+B5OfJJQqxjpJBdL6TGsR1KpTLZXK7rW+lGTQ1jTeWvmt2r8X7dDRcI2dUKQr6eAHiNPYJENyWMlDxqNGiBvupwsptcapgWluMSxzFhGOC5HsVCkagbdTNME7P7AolCYRkmlmXh2DYDvQOYWpB1LN56271s2LyRv7v/82zdEuI5LrWGz8JSBdOyCIKQQtnCMo01Zrzq4Nakdfu5bI44iJgcn6SnlOOmm29Ca7DlN7BsgzCM8f2A4aExRsfGyBfLZDI5kjjBUqkGWS13Nw1zjQM5jkPG88hkMpiGtaYtV3sM6m7bF31ZjwS5Zs/L1P8vv9ca4Ju2gdfaKKo72a5JstqD8mrikmoLsLr73aqKM0yDOIq7DSDS/U8aBsZl0S0pJRrN2PgG7n7HfRw/9iLL83McfOEFpi8sECSacqkHaTpkMy7nZxbIl/ooFHvIuF4XUKt9CFIhOHaG3r4Benv6aTebZPJ5jhw+RqPVZrbSwvM84lgTRJoz0+colHrZdv1GzC6B09pGqRQA8jLTzDQNbMvCtGykNK/wzQvDSB063cYRXYP10lpaPc73uCeReWW7l+/SyVYJlngFvMEwsR2xZjEkcZr4uOrKNbqeR2kYoNMmColK6B3o5+z0KVp+TKAF84sVdu/ZTbl3ENtxyGZyFEtlspkclmkRxQFCXTqu7rq6DZn6KkrlMrlcjunz02hppomvZoO7Nm7Fcb01klbIFdmxYzc95d7LyJvo9jkQV+7fprGmtV4yaWPVa8f/d6PbI0hc6hC3GgZ7naelu4JVSYJKug9iuNytmXYK6DZ0SLXE4tICc/Nz+H6L8xfP02o2kUKSyRfo6xukvy8NmrRaLTqBn6Z3A4ZI1bRjO5i2hW2nDqpsNkcYdIiiiOWVJeZmZ1iuVtK4gZehv3+IgcERCqUSrut2kzUvhclX4wNSyNSWN1PtZXRN3zfE0C8HgDXBv4yp8TqBQHWfwqEuy0Ba83GnDGMt8VQrTScMaLWa+G0fv9MmASzTxnZcTCON8IVBRBQFKJ10hSMxTQPTsLDs1MowLavrgbOI4wjfb+P7Hdp+m0TFmIaNaZo4XgbHcVPHkFhNNrkUIkZKjC57l0b6M93m5BtM+N02fjpRl1rFviQIxOs6Q61U+uoWm1xSSJeif5eXP2mtiZOIOE7S4k3UWhxfaY1KktSlnKRby5qz05CYholpmFimgWXZqY+9ew69+t2kC0YuPWNQXdGiTXSJ26U9W4pLWsGQxvesndx3BwAq0WvhLiFef5m/ZA7qpWcXaa7sibeamHJlsEOvPcxBKY3SyZofYjUvUCXJZcke+rKkDiPVBqa1psIvJ1+XRxV1N8qoruoSrteyoi91/pJr28Ib5RGz3VVxxeMAVgHwUu4k8QaB6yX76LLctJcnrVqrNQFd/vSP1GeuLrlcRcoq1rxvUl5i6S+rrnUXEGrN67cK0iunt7o9yDeO8Fdn900cIFGaKwI+4g0CgO/CdnIZCODyjmOr6WJcavQoXt1Fr7Zyfan2tOIN1XL/KnjqK23zSxyAq1cX13pGv5YV9oacG5ep/ysBIF9W+JeDR18T8bd3g74ZpyqucgXrb86ouTa+38B55TOh5Ld1NV57fMD3NTD+XzRCsKtleXbUAAAAAElFTkSuQmCC

iVBORw0KGgoAAAANSUhEUgAAAIAAAABOCAYAAADo3B4PAAAvXklEQVR42u29eZRk113n+bn37bFH7nvWvpdUWkqyNku2ZWFjtzE2Bg/NAQ80TPsMHKCZhYbT9NBDA900nAOD8dhgGnA3tkFgxuBV1motJbRVqfYtq7KW3DNjjxdvu3f+eJFZiyVbkm2N5Kl7TpzMyIx47773+97f/f7WJ7TWmmvj/7dDXrsF1wBwbVwDwLVxDQDXxjUAXBvXAHBtXAPAtXENANfGNQBcG9cAcG1cA8C18f0+zDf7BegkAQ2I9L2QEoS46kMarVT6OXT6GfnN2NdKgVJrBxNG91hXfR8hEIbxfQEA8aYNBmn9zYJeHUpdEvDlv7/cZ77F8XSSvLSwV2/by83hmgZ4fYRff+Ahms88i+4EeDu3U3rfe5Gem35Ga5CSaHGJ+le+RnD2HEY+R+7uO8nesOdKIQpB4+l/pvX4U+hWG2tyguK778Ma6CdeqVD90lcIz0wjPZfsW24hf+ft3x6I1zTA90j4QFypMv0//xL1r36dpNFICU3GI7Pneib/9GN4WzYDUP3qA1z4lX9LeHYaFQQIw8DoKdP/r3+WkX/3q6km0Jrzv/rvWP70X6NqdXSSIG0bd9cOen/if2Dlc/fjv3AAFYYIKZGFPOUf/SATv/+7SNteA9A1ALwe8lcKIQRnfuajrHz2b7GHh8i//W6E69J4+DHC6XN4e65j24NfpnPyJCd+8IdRjSbujm1krttFeGGG9rPPkdTqjP6X32Hwoz/Lxd/8j8z/pz/A6CmTvXUv1uAAzX9+jujsNMhUsNboKLnbbiFeXqH51NPES0sM/tLPM/bb/yGdk3yT8mn9JhoqSbTWWreee0G/MLhO7x/frFf+7h/W/t984YA+eN1e/axb1tWvPKAXPvnn+hkzr4/9wPt0uLi0doxzv/Ef9POlIX341rfqcGFRH775Dv18eURf/J3fWztW59x5feSt79T7RzboQze8RfunT6/9b/aP/kS/MDipD2zYoTvT59I/duf2ZhtvLtiqVFm1Dh0mqdXwrttF+QM/hE4SdBiS3XMdxbe/DR0nrPzt35O/+06EbdH3Ex/G6utF+R2ElAz+65/FHBggOH6SzrFj5O64DeG5DP7CR9PTdDo442P0/cSHiZeWccbHcDdsQMcxaM3Az/009tgoyUqF4OTp1YX05vQDqDhKL0wloNUl8sQb94KEYaQMPggvvTdTPps0GxjFPM1HHkNkMmT33kxcqV4yEQEdBF3zUVP9py9Teu+7kZnM2j4uTBO0RmazICU6ikCp9DxCIJRCum7XNFRvckeQ6gpcXS74VeG/sUAguvtxds/1mKUS/pGjzP3hx9BRhJCSyhe+SP3rD2OWSkQLizQefpTen/xx5v/wY/jHTyAcm6ReZ/Z3fg/VbGGUitS+8gD2+DjOlk0ov3PZycSlqxfiSpOx6xu45gh63eEq0Urh7dxOz4//KAsf+7+Z/0+/T+0fv4i0HdoHD6N8H6NURHouK/d/nsk//H1mfu3fc+p9H8LdvZN4bp7g2HFwHIRtE06fxz9yhNJ7341q1KG35yrUvQzDfxMz/ytuqRACgVjzpMEb+8KEEKA0Y7/17xn46M+hhaDx5NPUH3mUpN2m+L73MPHJP0Z4Ho1HHydcXqb4wffjT52h9k9fpr3/RchlGfud/5PiB99PUquw8rm/I//Od4CXWdvLtdYQxyS+jwrDru9IXfp/GKZbiXpzawKhwlAL0QXAKqqF4DJEvAFNl0vTC48dp7X/RZIwJLt9G97emwDoHDuOozRicoLEkMRPPY0/fR7lufTc81YYHIB2G//YCaTn4mzb+k3AVysV4nPnkYUC5oZ1V5ii/rHjaN/H3bwJo1B40zqEpPimSYs35P5/9RS10qAUi329TN2wm76f/Jf4u3bw4Ne/ztLCAva2rewLOxw4M4XhujzuOVTe+y4KP/YjPHD0CFopHt+/n8bmDfjrJmn7PidOnODAgQMEYciFCxeICnmejkOm7dQV/Nhjj3Hq1CmElGR2bCd7042p8N/ELmGZBjcuX/1XA+GNqgRSN+/hZ5+lM7+IjmOOP/88F2dmqNRq1JZX+MyffYoDzz2H1pozBw7gBQEnDx/m9JEjCClp1evkhMGZI0eIoogoiiiXy8zPzdFsNlmam2Pq4EEWps+htWbfvn0cOnSIarVKrVJBX7YlvHldwXGkryA1b3T1f9UIgoD5+XkmJiaIoojZ2dm136MowrIsLMtCKYWUEt/36XQ6lMtlgiDAcRzCMMS27bXPR1GElBLDMDh37hwjIyMYhkEURQghiOMYwzCwbftNTwKFTmL9zaz2zc9uX8briRDfn9f2HWwBXLbqxZtWsN/u9zUL4lV67b7V8b4fRqoBrlD9+vtWA1wbL+UIEvKl7atXvQKv/m76/vVUuZev0O/Wea++ttfrel72nmq+q5FHoVXXk/Ea2P8r3VO/V3uv1hrVDQ/Ll7gpSZIAYLzK9K1v9b1vd87Xi6usgv07va+vDQBXOT2a9QrLCxcI/AZh4JMkCbZboH9ogr7Bke8JCFZZ/eoIo5hWs0XYZfKlUnE1lP+azx+GESuVCr7vY5oWuVyOcqlw2RwShJDfE3A3a8usLF6kE7TQSYJlOSANLMtjaGwDlu18V+6r+c0OoFcmfK0VF84e4+L0MZ55/HFGJ0cYHugjCAJqjQZ+oMjlyvQPDLDzhjvIFfu+5RajL0+4fAUrREpJrV7nySef4PDB/SzNX6BaXSFJFLl8hjC2GBoZ54477uKeu+9GSvFtb9bq/7/+4IM88vBDnD8/RdipE3QC0JJyTw+5Qg9bd1zHffe+k02bNr4ysGqN1jq9dd1Vm75e4rNJxFOPfZ3AryGSOkqB57gI0+D0kSPUlpfYevNb6B0YZ8uOvWTzxe+CBhCvDACrN6jZWOHgsw8ydeIYpVKBgy8eZXJynI0b1xF2OtSbLdpBgpfJ0Qk65LMet73tA+SLPWvHUFqzemop5RU3I1Hp/me8hIpN/fHw9NP7+Ku/+ATLixfIZkwKnkW93sYwTXZum+DA0bNMTS+ghcGmTbv5tV//DTZt2pCaPi+zXUgh+e3f/S0+//efI+uZDPRmGenvw28HNNoddmwepdXpcODoecLY5q577uWXfvGXKRTya0K9nAGpRCGFWItifvM5V7cSsaZRnnn8n5g6cYKe/lGymZh2q00hVwTL4MhTz2DaNr3jIySxxs6UuG7PzQxPbO2e+9VzOPnKV38qOL9V5dyJ5/AbFRzXxfcDPC9DdaVKEockKkGpmCROkAKCMOLZAwc4dODZNQEmKr0xpiExjFT4zSBgudEiUQmGFKnw9UuYYUIAis/8t49zfvo4UeCT8yyyWQ+NIIwVhmEw1N9DPmvjGJL9zz3Bpz75x13B65cUvmEYHHjxWb7w+b+mt+Dh2Cae41LIu2gUSSKwLINyKUMh65DzEr76xc/xiU/8CVJK9GV5AVprhNbptUnB6cU6X3nmJPc/cZIvPX2Cg1OztOMEw5BIKUiSBK3hwtmTPPboQygBjZZP2AmIww5JEhGHAZVKFTeXxzIsYiVQScjM2UNMH9tHHAWvicCbr8yHnSKrsnSR2sIZPMciX8hTa9SpVptkcxkqldqa8JVOsAwLv+Nz9NhRXDfLwux5EqXXiNX5aoN/fOIgj714gfNxjnPzFdqNKgOGYs/6Pj583x5+6NZtCC6pbqVS4f7Fpz7Ok088QblcxLBt8lmXfNbBNAVhoNFoeooZbMskjgJcx+aBr32Z9z/+fm678541ga8C0jAMFhZm+N//11+i1erQX8qiE4VrSYoFj9n5lVTAEizTQCUxnXYH1zF56vGvsvwzP0Nv30CXHKacIAE++eBRPvsP+3nmmWn8GqAcWHgIPIPJ3du592138DPv281tOyYBODs9Ravd5uLMBYpFTd4torVCSE3U6eA6DoVyiVqtSr0dsn2wjOt6tGrLnD6yj007b8cwrdfKAb71nt9u1Tl9cB+ZnEcmmyebyZHLuKwsLuPYDlGrjt/qYNlGyqINmyNHj+K3fZIEmu0OhhScnl3gdz79MPc/epLaieNQrcH4u8BR0F5hpVnn2MOn+OwXjnDfe2/kz3/xXkZLeeIkwTQMvvaVL/C7//m3GR7pJeuYaUImGscxEUKiVIjQCsM0SJTGNkwKeYe5xQq/9r/9G/7qM/czPrnhChYdBD7/8Td/ndMnp1g3OYAUCoVGSoFlmWidoLQiTjS2JbvaTeBZJlOnTvGLv/BR/utffgbDNBHAbNPnx3/973jkb05A7QI5N0ef0wc6pOG3iJsx00+f5VNP1/jUnz7Aj33kB/iDf3MvxYxFGEW4KuH8xSl6ilvIuKC1IPA7DI32E8Yd5paWWTcxRi7jIqRAK0Ft6QIXzx5mYtOeV0UM5StZ+wALM2eo15eJo4Ao9HEch1KhQC6bJQw77NlzMxMTmxifmKTU08fJqdNUqxUKxV6Wl2vcevMePv3oi9z0L/+IT/3Rg9SOLGI0IozmHM6FOfIXG7gzVbxKDTsCaynha3/yVf7Fb/4j9TD1zc/Pnuc///b/wchwDznPJl3rijhJyBcLuK5JomKkKbAdE4HANCWWKdmxYYhqdYE/+L3fouP7V6jrv/jUx3nk4YdYN95HKWvjmAZaK3J5l96BEmGkkIYgk3HIZi3QYFkCrRSjQ3089cRDfOLjf4SUko5K+Miv/j9840/+gfXBLBuNiP7OCkONRYZbSzhxh5wIGdIGvapJpqn53B/tZ++H/5op1UdvPkOr1cIyFYeOH6bearHz+hvYsmUHdqYHw3SYmFjH+OgIhrSQaLQKqNZrnD11EF6lVfCKM4IWF2Z49Kl9DPT2ccOe3QwNDZDN5ZGW4PY77mTzrr089+QDLC8ss//wIU5OXcBxbGZnT/DOe9/JU/4AP/nvH4AzCXYQYzYqyLBBJ6iQT6YYsQZpxnN0REhHGxgEKKPJC5/9Mv/1nnX84g+9hb/81MeYmZth7+71+H4EholpSjIZh80bhjl6bJpIJWRck4znkHFsoigkShT5rEtvX5F9zzzFF77weX70x34cgIcfeYQvffEfsWyDYs5N7XzAyTiYpomONYZpULAtevIOjiUxpMQ1TaphTNYz2LRumE/86f/Fj3zwAzxzrsPXPvHbbMqNYnYa5LRFohVFM8FEsKTrZPFwwgYtLSiJDMJoceGBZ/jpTshv/tQ9xPvu5/xyjVY7YPbCHHNzy6go4fqb9rJ95x5mLkwTx21c22JhYZ5DR06ysLTInj07ieMA03JfMSF8xQBI4phyPs/pqXOcOTPDuo3j+M0Wgoh61eeBBx5k3zMHCcOYVqvNyTMXiUKfH3jfB3jc282n/8t+5FSHYiAxGj5e3MAWPlUScmqaQUOTTxapaI0VZWjGS8yIGURnnse+tJs7R+HZp/eRz7p0ghhpGnSCiIyXY2GhyuEjZ7BMSTHrcnG2QpwIEhUTxDFKafxOiGeaqDjiy1/8Au+491309vbw95//e7ROyHkOcaLQWhFq8CybStXn7Ll5ygUXISQrdZ/l5TqWlWqIIArJYmLbknarwX//7H/n2LyHiE9xtrnIenOAHrcIdOjP+BhGwlSnwXjGJlQLZJWHiCW1cJGC9EmezvJb5kZ+6ra9HHzk45yfW+a2vTsJOoeJIsXp6fNEn/kMuazLyOgojWaHpaUVCoUsmzaMYZkOQhivyqw3XykBHBpdT6PeYKi/hGFazJyfY/rcBRaXahQKGW7as5Xrdmzk4sIC02fb3LhzI+WRTTw/tcjBmf2owxly9WNkwzp5EmLRoGC2MIVGGsuMlx0a0QoDGsIk5rGVKXzVxBAOc+dP8cBDIUkUUsy4hJ0IxzPQSrFUbdKHoNbwyWUcorwL0kSoBMsymVuuk3clHT8gjBOKhTxTZ6c4cuQwd911F88/t5/1QxmCpqQThhjSIAgiLGFi2wa2aaCVRhqCJNEorcl4DiuVJpZlEEYBSRTTmy/wz/v+mYMLBgYCkdQ5p1ps6R1mOK8oZSoomVCst+kvK3SSox10OF+fYzZssytzJ4gOxw4d4a/mz3Pv9XeybdcyWUuzUu0wOTnM1k2TnDwxxRNPvYD14hQ7tm9icqyfbNZlbmaOXXvuwjCt7y4HEN1YwbqNO7j19rdz7twctXqb2fkFnn3+aJqfN1ym0agzv7BEHJrccOPtjLzzp/jySoGjZ2YQF87Rv/Ai48qjnZwmsKZx3SaZTMjOnh4ydoOWPY12F6kwy4uNAzSTixTNGFPXiI02B17YT76QRRqCMEkII0Wl0cKUgsH+IkpDoxXSbIcEnRAtNKVSjkLWY7na5uJyi04QUyrlWVmuMb+whFIJU1NnMGwbx7Fp+TELK01c12NwoEg+5xFEEWEUEyeKJNYI0orhKE5IEmi1E5QWZFyTKGgRdOo4pqLHiDFVi+eXz3C4NksoF5noXWHbSMDOzXWEs8iJ5imOhUe5vb/EoNNhuvMo9YUv0Fyc5q8fnuEZ9z1kezaSyeQ5cOgkTz71LEEY0DfQw4HDx3l833OcOjnN9Ll5tu/Zy+6b7vhOPIHf1gvArXfex8DAEIcP7aflK3bv2s746ACFQg7HzTA0NsItN+2hGis+9LlzNBsm69Zt5+KLTzLfOoZ0rmPC1CypGZQFEsHm7DBnqLO/VkFowXyrTRAoiqaFrTtEmQxjGzdx4pHPc+fN25mdu0ArUizWahSLBUZHhoiUQduPaLc7+K0Y0zRwXA9Ek5GhHjzXYn6hRstvkcnnmVusYMjUXPM7LSq1FtJILYqtm8aYmBhCaDCkIAhjwlDjOQa5Yh7LsgjCkJVag4VKmhTqeAZeNkenXsca3o23UkGc3s9o0SZQiqYlOdIyOdrUGLZiJpCcbtU458dMFnK0jGUeWTqJn/g4cpL+vh4yCw1qT0xzw2+8nfvuXMfDjz3H/NwSHb9KpjBKsTSEkzG45aYbuXnvrYyOb8Zxsq86PvCKASCEQBgmY5ObmVy3kbff+wO0Gg2SJEYaJghJkgiKxSyFapUb5mY4dGQOa7KJrT3aaC4G+1gSFkXLAqmIcw4H7Wkybg4zTlBSMFb0WK4EVKtN2mjGd91KW3icn5nBtG7EtRyajTYb1w2xY9sWkgSiOMJzXdAKv93By3jkiyUuzizS9iMGegsM92ZZqjTpxBZLi0v09vUghKSvp4cDh07wkR+9m5nz0/T296YtArTC81y0loRRjGGmjqFOyydRUC7nyWZdjp+ZodUKGB8Z5/SJs/hZSe9dH6S5PE3Dr9A3MUDGc/ENAUqh0Rz1TTKDHhtUlZVKm5O1JiYwZuVoCcHWzQXecf0U+czT7N3+TkyvxJ133kq1Vse1DJqtDo5nMzjQh2l5xJFGWA6GaXzvNACA42ZoN+rEKkQaNvly76UUUq1I4ji9OT1lfvrmaV6oPEJjYgtfXBYkywLTytAJO3R0QrmQJ1vIUS7lSJIYOjFIQb5gIUUDrUKKO27hwumTlK97C5HSvHD4JNfv3Ipz7gQ7No3TaftYrodjG9iWiVHIMzezSBhE5PJ5clmXoBMQJzE6Drlhz/X8zZeexstmKRQKgGZkZIjHH3+SWlMzMjrMwkodx/HoLXkUCjn8TpDOT0Aul2NxaYlOJ0ArGOwrkUSa6elZ8oUyR09/g4ldA5x/9nm2vePHaBz7KkbUIJvNYhiaME6wDEEpl6UdhHRCaAbLDAlF3nGo1JuU7ngbt980yca8TWlkK7neAaIgwDAtBgb6AEGpV4CGOBbEcYgWklzee01BoVcVz7RsG9NaZZpp1wzVfWkNCIkQGsNw2Xbnzdz2/vXcuivP2973Vjq6TRj5mKZJoZQlW8jieA6ZjMvQYC/9fSUKOY+enMXo2BAb7343s2cu0pw/QyuSTKzbyMPfeJKJ9VvZs2snczML+EFAlCRIw2DL5kk2b1yP4xq4nsveW27CNC18v4MKEyY3b+Ebzx5j+uw5BvrKhEFIHCd0woBMxuMvP/cVDLtETzFHvdmm2miza8dWJsZGMU2DXD7HwMgocRQSRSGu4xAGMTIJuPuet/Dc4VNoDZnyOPVTz3Do65+neN0PU9i4h8FihoGeMuVymXy+SCZXwLJdTCeLkXFYDmLO1Vtk997LW3/2Fxl2NYXBG8j3XI9lumvBpCiKUYkijmLiuBuJlBJpmDiO+x2khL3SD0vZDUNKBHLN7Zn+lN2gjgQVUxq8nr7NP0Ss89x2y02885d/C+FlCOMQzxRkPZecazE+2sP6DUNsGuth09ggm+9+P8bNH+LpfSeozc2AECxeXKZvbCe5rMPH/+yvWb/1RtZt2oRA0aq3abQ6DA4PsmP3HhIgly/TNzBBs92mWCowNjHJQ08c4YFHn6avv49qrZlG55RiZmaBXCFPs9ngDz/5t1RbsG5slCSB0bF1bNy0g1zGZGLdRnbuvolGO6TtB4SdAB1HXH/jDUzPN3numf1M7LiRxmKMMCXt2jz7/u5veX4uw5HR+/Czw+SyWUb7exjqyeNYEtsSDPX18ZY7386eX/h9hn/544wYbarVDnZ+mHLvGFIYaUAJgWGYSGkipYWU1pqNZloW5qt0Ab+mLQDA8Tw6rRpoiSDpegr1FXRRqQTPy6CtAdqqiFi+wO0f/ldkdtzKzMN/T2bpFH0ZSU8+w8D6UXKlYZZHitRyI8xtfQsH7v8sUaOJ4dgkHR9naorliV7GrruNY089zP/0K7/JdTu3cv32cUb6y2TyLtlsgcl1W/Acj7HREXpKIxRLPbx4aIrPf/FpGu2AXK7AwnKVWrWG7dhESUynE1CpVCiWyuTzGe7/x2+wbfMYt928jTAKMcw0FjE+PozSGsfJMDkxgU4S5isN/vL+hzh85BSDExMYxe2IE8fQbR8pJSoJaNZCDuz5V5zwZymdf5Fy9SI9pkk4FtMcshnadSeVwW2c1gb32G2yF6bwQ0GQ2BSKPal2FRKBRq5lb4m1hacB28285pyAVw8A18VyXEK/mUbBVNK1EVLhawRagOd6LFeaKOlid2qo5TkY30HxI9ehmhVqfpUgCDgdQV1ZRIO9OFmXILLwlQBDonVKarZ4Z2gLEPkN/PzPb+TQsTNMTR3nmedeZHykn+1b11OphFjyAU5PLXD2L+7nD/740xw9Pg3CZPuu3ZR7e3nyiSeoVRsg0nyCJI5JkhgB+B2fG266nuHBQZ5/7gX+2988zKNPvMiG9cMY0uUf/uGrPPjg45y/uMDiUo0TU+epNToMj47wgQ+9H8Md4eTUPLv7znFYtcC0QYHI94Gy8LOT+DvWMdtqQRykutdyOGLYMN+k5AgGvAYF3aGTyxMESRr/kAZSpy7vS4QcpBAorTBsl0wm991ICPk2AaHuS6AplnqoJIoo7GAYBkKrbkmhRGpFGPgs15ZI4phSbz9Zt8j8yjIql+diWxFYLsobo5RV6CShqTVNLQibMU07geIIUmlQaah4eINB0/C4cP4cQ6N3Iu0CGzet5+KFi5w5fZbHnz7MAw8/Q6IUjutiGiaFcpGtO3czMjqM63rUajWiOAYt1tK9ojAiiZMudxFpkMcwuX7PdbQabWZmL/KNp4/T7oSEYQetFK7j4mYyjI1NsHdyknJPmZGRYU4cPMn6osn23QV4qA0UECqC3g3otomI62AaqZPKtFKdGSqkitBCM2ka9M3PsnPXRmYXM0ydPoGUko0bNlEqlrFMO41IdquWw1hhWjbFct9aPsH3BgBKoVWSRs+6ETTDMOgbHKJWreA3GwhpINC0Wg2mp6c5e3aKtt9CGILhwRFsw8CemqMzvI65WNEMI4RIWBQaS2j8WBEomQq800F7Y2Dlke0ltAavZyubh4bRjdNEsSCKQuJI0dfbT2+5lziK6EQBYZiWiXueh2WaaA2JSoiiCKUVQsu1rCPDMAijiDgJEUKBFtgy7QvQCSMsz2bjls2s37QRv9MhiUJAYDsWjuNhGiZCppHPTifGMpvcetN6dt+8E/g8Ku6A7IfsDbDsI0yNNhSg0OJSFl5CghELbmo22D00Q7Y0waTnEUURp04eYW5ujh07djI8NIxtuyRKE8QKz/MolHoxDIMkjruJJcarLlH7lgDQcYxKYpS+NGHZbZKgkoRsJotl2UxPn+bZZ57i4nxaUiWVpt1qMz4+yIXzp7Fdlw1CUJ/awD6zjyiTIIQiNNIZiEghY4XSEr2gkIdcvMgkMpoIw+B9P/xjCBVzauoYpkhDtKkAQ5IoBqUxTRvDTCuAkiTp9hLqElMpkEJ2+0FphBRYpkUYhqkGQCMkCMsEAYYh0VoTBiFKp5lJlumg0EAaDhaAZRiYpok0BLEw2bhrN3e89Qf5F+++mYP7X6S27OPsrzBXb6KGJeRFescloECH4DUU76bCh24/hh4OOHL0MK1mDcfOUK/5LK1Mc+7COYaGRti1aw8DAyMUimUK+RxxHKGVwrSsbrpZjGlZCGl85wDQcUwchVfElISU3X0/tfk1YFlpsuTo2DiGZRCFIagYCZhSc+7CObIYFIdKvK/xGPY/b+GvauPMlzxwJdgCHWr0coI932HHxZO8u+/LPFw+QVwe4Z33vYsffM97U1u9bWAaImXFQmAg0FKsNelYNUellOmWJLtpWhpMy8SyJaqlkSIVnFIKxGp5pMBx7PT7QqJ0N+lUK1Si0xwHeencQkqEITGkgTAk9VZIb/8oxVI/H/mpj/Kl0qdoLpzhtuKfc+jwMfafuo55e5B2xgFDkFcRG8wqbx2Z4r0/XENsG+PCXIE4vMDyygrDQxl27N6JZVokicIwTQyZOpOy2QyJUqkGSZJUowmDWCVpQq7jpgv1NQNAJcRRin7R3XPEKvsQAhWnWsE0DS7OnOf8ubNs2bSJ7Vs20Ww0WF5ZolGrUKlWyGTzuI5JLjeANwb/49BzXP/Vx3j0QD/nmkV8JZFxhyE9y00TJ7jpQ2fovXkE56n7qLTyvONdHwBMHNeh3fGJowTLtLCEJJIS3c25E5cHQJQAQ6d9D0jJkm1Z5PM5FucWKPf0UiwWaDYbWJaN77dxXQfXdVNQrCVMXhZUlSnrXgOASNPWTCsFkmNZ9JSKJFGHPXvvouFHzJ4/yLoNLW75oQMEZw+wOC2pVSykZVEsa4a2WgzduI649xZiNjGozrM4fwHHcdE6IZvNMDE2SS6bI1GKRquNtIwugVVpoxJScErTQJAS20D7uF7mFdUPvCQAVJykwr8qBXz1fQoMTRxHLM7Pcvz4EU4dP0ahmGFocIx22+fFw4fTfVJpDCEpFkvYXg+LyuPWn1tk7+wR2rMvoAMfaUmskoEq9dI0bufEXIZC/zIbdg5TLvdTq1awTAPXNqnW6ziZTFe1GwgRo6Xs9jhKEyO1UMjVqjckUhpEcYQEHMfippv3kM1miKKITZs2cuTIYSxLkiQJjutCHCERJFqjdar4hZSpGdZFhBACUxoYtk2n4+NZBj3lElEY0qitsGXzFlDw4tQMw4Pb2P22MrcPC4iqqESgzCLKXs/coknrok+pVCNb7GNwcJQo6OC3W5w4foxWs41jSkzLphMl9PQN0tMzgGkYKL3arUanHEem2i7pLmDLcb5tWNh8KdKXAl5cSsjUGn1Zz5zubSaOYoQ0yOcKzM5c5PTUSQYH5tm2czeLSytkMx59fQMMj28GTBbnzxGHMVG0jnVb30puY5V6bZ66HzA7W+Hsc/O0G8tI5nEzLs3GMtNnTlLu6SWbzSG0ZqWyzHihgDZSbSSE6BpIAiH0FaZS2vhCIaVJHEWEUYhlWxQLOeI4JpPxWLdunJOnT6bkKgzI5rLpMYVGSxBKrC0CIUB3+YTsBpMc06RaqaDihGyuQBBG1FaWOHX6KEli0GnVOXxogZmLDbxMjomJSdZv3EQ+X2Zm6iytxgyGFMzMVLAdh3L/EGGiOHt2mk7bp1qrc376FLaT+gX6B0ZS07u7z2shLlV1akALJOk2rRP1bXsamy8b+JGyG7xYS9pfK8aQhoGKU8ugVCpR7uklUTHZXJ4ojGg26mzavAXHcSmWevBcl2azThzFZDJZchmLysIyK8tLPP/iCywtLeE6Jo1GBa0EQ/0DhFGLudkVcpk8zXqNcm+Jnt5eqpUa6zYY6R4sRMqotLrU9bWr8vVlGcUCmbpPE0Wr3WLHtu0IAaYheMc73s6Xv/YAjusQR4okTjul6W6zLCHEquVIIsDsmoxSCEzTJJ/PM3vhIqWeHgzDoNlq4vstlpYWaTRaOI5LJlsGoZiZO02ifHr6ioSxTxA2yeXy+O02SoU0GjWCTodiXz/rDZcoikiSiOHRCVzPY3R0nL6+ge78urDXVxamXKo5kK+okdXLAsAQBspIC0B0V7WiNUkcIw0D07BRpqaQK7NucgP5XIFarUqz1aATdujrG8A2bXL5AtmMi2GaOD0e2VyRfC5HtbbC+vWj9PfnWVlZIgx9qpUqpmnTarU4P3t+zTYXQrIwP8fd99zNX336bzh88BBjE2O0mu1U7Yu0vlWpy3SUuHQtWqWma5zE3PKWW3nPe97FuTOnEVLwoQ+8n0OHD/HZv7m/m/mUXJZPs0owLyOXl7nFtVYcPXwE13V5+9vuobKyTJQoYqWxLBspfTKey4YNG9i6dSu2nSGMEuIoph0GbN22kygIqdcqdDo+URQQxzG2adPT20sQJRQKBTzHRgiJm8mSy+a7yaepj0QaEtOw1gpfDEMi6C7gV5YSdlXuWJfoCUmqSrS45Oy9DFBCShzXQ0qJ43n09PbTaNRpNuokKkZ3U8AzmWx68+MYy7JxXY8oDjk9dZqRgT76+4rkPYtYwZw1w8zsBYKgg2VaxFFErBPm5i7QbjeYmBjhhz/wHva/cJiw42MYsisc3V3tqbo2hECsvkWDUIRRxN69N/JzP/0RGvUqlZUFCoUSHd/n3/4vv8LI0DCPPvkUCL1mVaRFK6C0WKvoWb1VpmkRhjFBEHD3XbfS21vgwoVzeJk8juMihMC2LaIooN6oU681yOYEYRR3Yycmju1hWw6245LE8dqKXzVz40RQLOTJ5/NIaaTzMY01LnJ5MYruOulW//atClK+tQZY7YnXLW64tK+KK6vIUmqM7XkYlk0YdFBd5KeOoxSdjm0jpEhNGWlg2TaqlRAEPt944gn6enK4jsvI6DqOHD9GZbmCbdlESUQ2X6JY7qPRrGJiEHYidm3fwsjQAC8ePEanvYzj2iR+jEpSEAil0EojDBOjy5iXl5fZsnmS++69Bx1Dq9nAMCXV6gqtVot2u82HP/h+oqjNl776CDt37qQThGhi4iQ1raQUSMPAMAxMyyKKY8bHhrl+150UcxmqlVpazVStYjo22VIvjWabVqPJuJ3jyNHjtNo1coUipmnR3z/G2Ngktu1gmGZXwaZgNg0DQ0qSRGM7Nq7jYdnWVU6eVCMr1b3urpZOV38XGPK1JoWu9gu4ukT5JUvIBIYlsbTCSxSmaayZUlKm+6RhmKgkSZHZvYm9Pb1UaxVm5hdptRrkiv0srVRp1Jt4GZdCuZd16zZhmzaxitKLURB0Qvp6ern99ht56ol9PLHvBcp9fTiWhYoVQnZtfK2oLC8xO3MRzzUZvHUn9VoDKSS2aaFijSIm6qa5z8xdpJh36TRWeP7ZZ9i2ZQPSMukpF7Esh04QUK83UHFEdXmRu+68ldtuuZkkjuh0QtAGiYroBAFGaFIq9iKlTb26gmO7nDl9kijs0Gz69Az0UyyVMAwDwzDXilR01/Iyul1PTVL/xdqDK6667wiQhriyt+ea/F6VI0jzkkWir6JfkGlaCE9gxRaq6zpOlYmBYZporUmSGK0VlmUzNDhKu9XCczI0mw3qtTrDoxOUen2yXp6+nl4czyNOYkgEidJYtkGhWAIE1WqFsdEBdm7q4/TJaQpDA1Sbdd5x732Ue/r4y7/4U1ptH0nE5OQmWu02cRRgWg5xF4yr9kwUtgnjiFqtzlv27mR2bhkZ1BnqHeRHfvQDPPTg16g3fWrzs6g4YrhvkMmJUbxsmTDw0bTpBJ10K+rWBAopyWY9ekobSKKIdevWg0pwMnkGh0fo6e2/olRttdx8tTfR6t9Mw/wWEhBXaeTXEgvokqjvvNNAt17eMpFaopVeY+Fr1oM0UApM06Sntw+lFQsLc7T8Nn7Lx7EcbNslk8nguA6maWFbNrZl4zoOuWyeXKGA7/sks4pmo8PkxHrCMGRq6gymafD0448ghMHMxXmy+Rwqjgg6HQzTSusGZYyiy5JFauHESUySJJiWgwZGhgY4dXwKP+zwZ5/8GGdOnydfzNJoNDAk6AQqK3XyN5SJ4xxR2CHs+PgdnzAK0sRRKdFJ6oDq6e3rNp8KMS2PTDZDJptPBX3Zni2lxDTNtX1dCrmWu/i9Gt/FVrHp3iOVTEPCUl9ZMNkNIsmu2pMyTdzsHxyi0wmoVyvUqxUSrbAsC9t2sK20OAOREkrLcnE9F9NKWW+tXuHUyRM0GzXyuQILS1VOTx2ht6fA2NgoWzdv4LrrdjJ9cRbHdYniBNu0ECIGYaBllyxqTRzHlEpFTocxp06dZnx8BNc1mTp9Dj8I8BdTt/i977yDcrGXoaEBXM9FJw6R4+B5OfJJQqxjpJBdL6TGsR1KpTLZXK7rW+lGTQ1jTeWvmt2r8X7dDRcI2dUKQr6eAHiNPYJENyWMlDxqNGiBvupwsptcapgWluMSxzFhGOC5HsVCkagbdTNME7P7AolCYRkmlmXh2DYDvQOYWpB1LN56271s2LyRv7v/82zdEuI5LrWGz8JSBdOyCIKQQtnCMo01Zrzq4Nakdfu5bI44iJgcn6SnlOOmm29Ca7DlN7BsgzCM8f2A4aExRsfGyBfLZDI5kjjBUqkGWS13Nw1zjQM5jkPG88hkMpiGtaYtV3sM6m7bF31ZjwS5Zs/L1P8vv9ca4Ju2gdfaKKo72a5JstqD8mrikmoLsLr73aqKM0yDOIq7DSDS/U8aBsZl0S0pJRrN2PgG7n7HfRw/9iLL83McfOEFpi8sECSacqkHaTpkMy7nZxbIl/ooFHvIuF4XUKt9CFIhOHaG3r4Benv6aTebZPJ5jhw+RqPVZrbSwvM84lgTRJoz0+colHrZdv1GzC6B09pGqRQA8jLTzDQNbMvCtGykNK/wzQvDSB063cYRXYP10lpaPc73uCeReWW7l+/SyVYJlngFvMEwsR2xZjEkcZr4uOrKNbqeR2kYoNMmColK6B3o5+z0KVp+TKAF84sVdu/ZTbl3ENtxyGZyFEtlspkclmkRxQFCXTqu7rq6DZn6KkrlMrlcjunz02hppomvZoO7Nm7Fcb01klbIFdmxYzc95d7LyJvo9jkQV+7fprGmtV4yaWPVa8f/d6PbI0hc6hC3GgZ7naelu4JVSYJKug9iuNytmXYK6DZ0SLXE4tICc/Nz+H6L8xfP02o2kUKSyRfo6xukvy8NmrRaLTqBn6Z3A4ZI1bRjO5i2hW2nDqpsNkcYdIiiiOWVJeZmZ1iuVtK4gZehv3+IgcERCqUSrut2kzUvhclX4wNSyNSWN1PtZXRN3zfE0C8HgDXBv4yp8TqBQHWfwqEuy0Ba83GnDGMt8VQrTScMaLWa+G0fv9MmASzTxnZcTCON8IVBRBQFKJ10hSMxTQPTsLDs1MowLavrgbOI4wjfb+P7Hdp+m0TFmIaNaZo4XgbHcVPHkFhNNrkUIkZKjC57l0b6M93m5BtM+N02fjpRl1rFviQIxOs6Q61U+uoWm1xSSJeif5eXP2mtiZOIOE7S4k3UWhxfaY1KktSlnKRby5qz05CYholpmFimgWXZqY+9ew69+t2kC0YuPWNQXdGiTXSJ26U9W4pLWsGQxvesndx3BwAq0WvhLiFef5m/ZA7qpWcXaa7sibeamHJlsEOvPcxBKY3SyZofYjUvUCXJZcke+rKkDiPVBqa1psIvJ1+XRxV1N8qoruoSrteyoi91/pJr28Ib5RGz3VVxxeMAVgHwUu4k8QaB6yX76LLctJcnrVqrNQFd/vSP1GeuLrlcRcoq1rxvUl5i6S+rrnUXEGrN67cK0iunt7o9yDeO8Fdn900cIFGaKwI+4g0CgO/CdnIZCODyjmOr6WJcavQoXt1Fr7Zyfan2tOIN1XL/KnjqK23zSxyAq1cX13pGv5YV9oacG5ep/ysBIF9W+JeDR18T8bd3g74ZpyqucgXrb86ouTa+38B55TOh5Ld1NV57fMD3NTD+XzRCsKtleXbUAAAAAElFTkSuQmCC

iVBORw0KGgoAAAANSUhEUgAAAIAAAABOCAYAAADo3B4PAAAvXklEQVR42u29eZRk113n+bn37bFH7nvWvpdUWkqyNku2ZWFjtzE2Bg/NAQ80TPsMHKCZhYbT9NBDA900nAOD8dhgGnA3tkFgxuBV1motJbRVqfYtq7KW3DNjjxdvu3f+eJFZiyVbkm2N5Kl7TpzMyIx47773+97f/f7WJ7TWmmvj/7dDXrsF1wBwbVwDwLVxDQDXxjUAXBvXAHBtXAPAtXENANfGNQBcG9cAcG1cA8C18f0+zDf7BegkAQ2I9L2QEoS46kMarVT6OXT6GfnN2NdKgVJrBxNG91hXfR8hEIbxfQEA8aYNBmn9zYJeHUpdEvDlv7/cZ77F8XSSvLSwV2/by83hmgZ4fYRff+Ahms88i+4EeDu3U3rfe5Gem35Ga5CSaHGJ+le+RnD2HEY+R+7uO8nesOdKIQpB4+l/pvX4U+hWG2tyguK778Ma6CdeqVD90lcIz0wjPZfsW24hf+ft3x6I1zTA90j4QFypMv0//xL1r36dpNFICU3GI7Pneib/9GN4WzYDUP3qA1z4lX9LeHYaFQQIw8DoKdP/r3+WkX/3q6km0Jrzv/rvWP70X6NqdXSSIG0bd9cOen/if2Dlc/fjv3AAFYYIKZGFPOUf/SATv/+7SNteA9A1ALwe8lcKIQRnfuajrHz2b7GHh8i//W6E69J4+DHC6XN4e65j24NfpnPyJCd+8IdRjSbujm1krttFeGGG9rPPkdTqjP6X32Hwoz/Lxd/8j8z/pz/A6CmTvXUv1uAAzX9+jujsNMhUsNboKLnbbiFeXqH51NPES0sM/tLPM/bb/yGdk3yT8mn9JhoqSbTWWreee0G/MLhO7x/frFf+7h/W/t984YA+eN1e/axb1tWvPKAXPvnn+hkzr4/9wPt0uLi0doxzv/Ef9POlIX341rfqcGFRH775Dv18eURf/J3fWztW59x5feSt79T7RzboQze8RfunT6/9b/aP/kS/MDipD2zYoTvT59I/duf2ZhtvLtiqVFm1Dh0mqdXwrttF+QM/hE4SdBiS3XMdxbe/DR0nrPzt35O/+06EbdH3Ex/G6utF+R2ElAz+65/FHBggOH6SzrFj5O64DeG5DP7CR9PTdDo442P0/cSHiZeWccbHcDdsQMcxaM3Az/009tgoyUqF4OTp1YX05vQDqDhKL0wloNUl8sQb94KEYaQMPggvvTdTPps0GxjFPM1HHkNkMmT33kxcqV4yEQEdBF3zUVP9py9Teu+7kZnM2j4uTBO0RmazICU6ikCp9DxCIJRCum7XNFRvckeQ6gpcXS74VeG/sUAguvtxds/1mKUS/pGjzP3hx9BRhJCSyhe+SP3rD2OWSkQLizQefpTen/xx5v/wY/jHTyAcm6ReZ/Z3fg/VbGGUitS+8gD2+DjOlk0ov3PZycSlqxfiSpOx6xu45gh63eEq0Urh7dxOz4//KAsf+7+Z/0+/T+0fv4i0HdoHD6N8H6NURHouK/d/nsk//H1mfu3fc+p9H8LdvZN4bp7g2HFwHIRtE06fxz9yhNJ7341q1KG35yrUvQzDfxMz/ytuqRACgVjzpMEb+8KEEKA0Y7/17xn46M+hhaDx5NPUH3mUpN2m+L73MPHJP0Z4Ho1HHydcXqb4wffjT52h9k9fpr3/RchlGfud/5PiB99PUquw8rm/I//Od4CXWdvLtdYQxyS+jwrDru9IXfp/GKZbiXpzawKhwlAL0QXAKqqF4DJEvAFNl0vTC48dp7X/RZIwJLt9G97emwDoHDuOozRicoLEkMRPPY0/fR7lufTc81YYHIB2G//YCaTn4mzb+k3AVysV4nPnkYUC5oZ1V5ii/rHjaN/H3bwJo1B40zqEpPimSYs35P5/9RS10qAUi329TN2wm76f/Jf4u3bw4Ne/ztLCAva2rewLOxw4M4XhujzuOVTe+y4KP/YjPHD0CFopHt+/n8bmDfjrJmn7PidOnODAgQMEYciFCxeICnmejkOm7dQV/Nhjj3Hq1CmElGR2bCd7042p8N/ELmGZBjcuX/1XA+GNqgRSN+/hZ5+lM7+IjmOOP/88F2dmqNRq1JZX+MyffYoDzz2H1pozBw7gBQEnDx/m9JEjCClp1evkhMGZI0eIoogoiiiXy8zPzdFsNlmam2Pq4EEWps+htWbfvn0cOnSIarVKrVJBX7YlvHldwXGkryA1b3T1f9UIgoD5+XkmJiaIoojZ2dm136MowrIsLMtCKYWUEt/36XQ6lMtlgiDAcRzCMMS27bXPR1GElBLDMDh37hwjIyMYhkEURQghiOMYwzCwbftNTwKFTmL9zaz2zc9uX8briRDfn9f2HWwBXLbqxZtWsN/u9zUL4lV67b7V8b4fRqoBrlD9+vtWA1wbL+UIEvKl7atXvQKv/m76/vVUuZev0O/Wea++ttfrel72nmq+q5FHoVXXk/Ea2P8r3VO/V3uv1hrVDQ/Ll7gpSZIAYLzK9K1v9b1vd87Xi6usgv07va+vDQBXOT2a9QrLCxcI/AZh4JMkCbZboH9ogr7Bke8JCFZZ/eoIo5hWs0XYZfKlUnE1lP+azx+GESuVCr7vY5oWuVyOcqlw2RwShJDfE3A3a8usLF6kE7TQSYJlOSANLMtjaGwDlu18V+6r+c0OoFcmfK0VF84e4+L0MZ55/HFGJ0cYHugjCAJqjQZ+oMjlyvQPDLDzhjvIFfu+5RajL0+4fAUrREpJrV7nySef4PDB/SzNX6BaXSFJFLl8hjC2GBoZ54477uKeu+9GSvFtb9bq/7/+4IM88vBDnD8/RdipE3QC0JJyTw+5Qg9bd1zHffe+k02bNr4ysGqN1jq9dd1Vm75e4rNJxFOPfZ3AryGSOkqB57gI0+D0kSPUlpfYevNb6B0YZ8uOvWTzxe+CBhCvDACrN6jZWOHgsw8ydeIYpVKBgy8eZXJynI0b1xF2OtSbLdpBgpfJ0Qk65LMet73tA+SLPWvHUFqzemop5RU3I1Hp/me8hIpN/fHw9NP7+Ku/+ATLixfIZkwKnkW93sYwTXZum+DA0bNMTS+ghcGmTbv5tV//DTZt2pCaPi+zXUgh+e3f/S0+//efI+uZDPRmGenvw28HNNoddmwepdXpcODoecLY5q577uWXfvGXKRTya0K9nAGpRCGFWItifvM5V7cSsaZRnnn8n5g6cYKe/lGymZh2q00hVwTL4MhTz2DaNr3jIySxxs6UuG7PzQxPbO2e+9VzOPnKV38qOL9V5dyJ5/AbFRzXxfcDPC9DdaVKEockKkGpmCROkAKCMOLZAwc4dODZNQEmKr0xpiExjFT4zSBgudEiUQmGFKnw9UuYYUIAis/8t49zfvo4UeCT8yyyWQ+NIIwVhmEw1N9DPmvjGJL9zz3Bpz75x13B65cUvmEYHHjxWb7w+b+mt+Dh2Cae41LIu2gUSSKwLINyKUMh65DzEr76xc/xiU/8CVJK9GV5AVprhNbptUnB6cU6X3nmJPc/cZIvPX2Cg1OztOMEw5BIKUiSBK3hwtmTPPboQygBjZZP2AmIww5JEhGHAZVKFTeXxzIsYiVQScjM2UNMH9tHHAWvicCbr8yHnSKrsnSR2sIZPMciX8hTa9SpVptkcxkqldqa8JVOsAwLv+Nz9NhRXDfLwux5EqXXiNX5aoN/fOIgj714gfNxjnPzFdqNKgOGYs/6Pj583x5+6NZtCC6pbqVS4f7Fpz7Ok088QblcxLBt8lmXfNbBNAVhoNFoeooZbMskjgJcx+aBr32Z9z/+fm678541ga8C0jAMFhZm+N//11+i1erQX8qiE4VrSYoFj9n5lVTAEizTQCUxnXYH1zF56vGvsvwzP0Nv30CXHKacIAE++eBRPvsP+3nmmWn8GqAcWHgIPIPJ3du592138DPv281tOyYBODs9Ravd5uLMBYpFTd4torVCSE3U6eA6DoVyiVqtSr0dsn2wjOt6tGrLnD6yj007b8cwrdfKAb71nt9u1Tl9cB+ZnEcmmyebyZHLuKwsLuPYDlGrjt/qYNlGyqINmyNHj+K3fZIEmu0OhhScnl3gdz79MPc/epLaieNQrcH4u8BR0F5hpVnn2MOn+OwXjnDfe2/kz3/xXkZLeeIkwTQMvvaVL/C7//m3GR7pJeuYaUImGscxEUKiVIjQCsM0SJTGNkwKeYe5xQq/9r/9G/7qM/czPrnhChYdBD7/8Td/ndMnp1g3OYAUCoVGSoFlmWidoLQiTjS2JbvaTeBZJlOnTvGLv/BR/utffgbDNBHAbNPnx3/973jkb05A7QI5N0ef0wc6pOG3iJsx00+f5VNP1/jUnz7Aj33kB/iDf3MvxYxFGEW4KuH8xSl6ilvIuKC1IPA7DI32E8Yd5paWWTcxRi7jIqRAK0Ft6QIXzx5mYtOeV0UM5StZ+wALM2eo15eJo4Ao9HEch1KhQC6bJQw77NlzMxMTmxifmKTU08fJqdNUqxUKxV6Wl2vcevMePv3oi9z0L/+IT/3Rg9SOLGI0IozmHM6FOfIXG7gzVbxKDTsCaynha3/yVf7Fb/4j9TD1zc/Pnuc///b/wchwDznPJl3rijhJyBcLuK5JomKkKbAdE4HANCWWKdmxYYhqdYE/+L3fouP7V6jrv/jUx3nk4YdYN95HKWvjmAZaK3J5l96BEmGkkIYgk3HIZi3QYFkCrRSjQ3089cRDfOLjf4SUko5K+Miv/j9840/+gfXBLBuNiP7OCkONRYZbSzhxh5wIGdIGvapJpqn53B/tZ++H/5op1UdvPkOr1cIyFYeOH6bearHz+hvYsmUHdqYHw3SYmFjH+OgIhrSQaLQKqNZrnD11EF6lVfCKM4IWF2Z49Kl9DPT2ccOe3QwNDZDN5ZGW4PY77mTzrr089+QDLC8ss//wIU5OXcBxbGZnT/DOe9/JU/4AP/nvH4AzCXYQYzYqyLBBJ6iQT6YYsQZpxnN0REhHGxgEKKPJC5/9Mv/1nnX84g+9hb/81MeYmZth7+71+H4EholpSjIZh80bhjl6bJpIJWRck4znkHFsoigkShT5rEtvX5F9zzzFF77weX70x34cgIcfeYQvffEfsWyDYs5N7XzAyTiYpomONYZpULAtevIOjiUxpMQ1TaphTNYz2LRumE/86f/Fj3zwAzxzrsPXPvHbbMqNYnYa5LRFohVFM8FEsKTrZPFwwgYtLSiJDMJoceGBZ/jpTshv/tQ9xPvu5/xyjVY7YPbCHHNzy6go4fqb9rJ95x5mLkwTx21c22JhYZ5DR06ysLTInj07ieMA03JfMSF8xQBI4phyPs/pqXOcOTPDuo3j+M0Wgoh61eeBBx5k3zMHCcOYVqvNyTMXiUKfH3jfB3jc282n/8t+5FSHYiAxGj5e3MAWPlUScmqaQUOTTxapaI0VZWjGS8yIGURnnse+tJs7R+HZp/eRz7p0ghhpGnSCiIyXY2GhyuEjZ7BMSTHrcnG2QpwIEhUTxDFKafxOiGeaqDjiy1/8Au+491309vbw95//e7ROyHkOcaLQWhFq8CybStXn7Ll5ygUXISQrdZ/l5TqWlWqIIArJYmLbknarwX//7H/n2LyHiE9xtrnIenOAHrcIdOjP+BhGwlSnwXjGJlQLZJWHiCW1cJGC9EmezvJb5kZ+6ra9HHzk45yfW+a2vTsJOoeJIsXp6fNEn/kMuazLyOgojWaHpaUVCoUsmzaMYZkOQhivyqw3XykBHBpdT6PeYKi/hGFazJyfY/rcBRaXahQKGW7as5Xrdmzk4sIC02fb3LhzI+WRTTw/tcjBmf2owxly9WNkwzp5EmLRoGC2MIVGGsuMlx0a0QoDGsIk5rGVKXzVxBAOc+dP8cBDIUkUUsy4hJ0IxzPQSrFUbdKHoNbwyWUcorwL0kSoBMsymVuuk3clHT8gjBOKhTxTZ6c4cuQwd911F88/t5/1QxmCpqQThhjSIAgiLGFi2wa2aaCVRhqCJNEorcl4DiuVJpZlEEYBSRTTmy/wz/v+mYMLBgYCkdQ5p1ps6R1mOK8oZSoomVCst+kvK3SSox10OF+fYzZssytzJ4gOxw4d4a/mz3Pv9XeybdcyWUuzUu0wOTnM1k2TnDwxxRNPvYD14hQ7tm9icqyfbNZlbmaOXXvuwjCt7y4HEN1YwbqNO7j19rdz7twctXqb2fkFnn3+aJqfN1ym0agzv7BEHJrccOPtjLzzp/jySoGjZ2YQF87Rv/Ai48qjnZwmsKZx3SaZTMjOnh4ydoOWPY12F6kwy4uNAzSTixTNGFPXiI02B17YT76QRRqCMEkII0Wl0cKUgsH+IkpDoxXSbIcEnRAtNKVSjkLWY7na5uJyi04QUyrlWVmuMb+whFIJU1NnMGwbx7Fp+TELK01c12NwoEg+5xFEEWEUEyeKJNYI0orhKE5IEmi1E5QWZFyTKGgRdOo4pqLHiDFVi+eXz3C4NksoF5noXWHbSMDOzXWEs8iJ5imOhUe5vb/EoNNhuvMo9YUv0Fyc5q8fnuEZ9z1kezaSyeQ5cOgkTz71LEEY0DfQw4HDx3l833OcOjnN9Ll5tu/Zy+6b7vhOPIHf1gvArXfex8DAEIcP7aflK3bv2s746ACFQg7HzTA0NsItN+2hGis+9LlzNBsm69Zt5+KLTzLfOoZ0rmPC1CypGZQFEsHm7DBnqLO/VkFowXyrTRAoiqaFrTtEmQxjGzdx4pHPc+fN25mdu0ArUizWahSLBUZHhoiUQduPaLc7+K0Y0zRwXA9Ek5GhHjzXYn6hRstvkcnnmVusYMjUXPM7LSq1FtJILYqtm8aYmBhCaDCkIAhjwlDjOQa5Yh7LsgjCkJVag4VKmhTqeAZeNkenXsca3o23UkGc3s9o0SZQiqYlOdIyOdrUGLZiJpCcbtU458dMFnK0jGUeWTqJn/g4cpL+vh4yCw1qT0xzw2+8nfvuXMfDjz3H/NwSHb9KpjBKsTSEkzG45aYbuXnvrYyOb8Zxsq86PvCKASCEQBgmY5ObmVy3kbff+wO0Gg2SJEYaJghJkgiKxSyFapUb5mY4dGQOa7KJrT3aaC4G+1gSFkXLAqmIcw4H7Wkybg4zTlBSMFb0WK4EVKtN2mjGd91KW3icn5nBtG7EtRyajTYb1w2xY9sWkgSiOMJzXdAKv93By3jkiyUuzizS9iMGegsM92ZZqjTpxBZLi0v09vUghKSvp4cDh07wkR+9m5nz0/T296YtArTC81y0loRRjGGmjqFOyydRUC7nyWZdjp+ZodUKGB8Z5/SJs/hZSe9dH6S5PE3Dr9A3MUDGc/ENAUqh0Rz1TTKDHhtUlZVKm5O1JiYwZuVoCcHWzQXecf0U+czT7N3+TkyvxJ133kq1Vse1DJqtDo5nMzjQh2l5xJFGWA6GaXzvNACA42ZoN+rEKkQaNvly76UUUq1I4ji9OT1lfvrmaV6oPEJjYgtfXBYkywLTytAJO3R0QrmQJ1vIUS7lSJIYOjFIQb5gIUUDrUKKO27hwumTlK97C5HSvHD4JNfv3Ipz7gQ7No3TaftYrodjG9iWiVHIMzezSBhE5PJ5clmXoBMQJzE6Drlhz/X8zZeexstmKRQKgGZkZIjHH3+SWlMzMjrMwkodx/HoLXkUCjn8TpDOT0Aul2NxaYlOJ0ArGOwrkUSa6elZ8oUyR09/g4ldA5x/9nm2vePHaBz7KkbUIJvNYhiaME6wDEEpl6UdhHRCaAbLDAlF3nGo1JuU7ngbt980yca8TWlkK7neAaIgwDAtBgb6AEGpV4CGOBbEcYgWklzee01BoVcVz7RsG9NaZZpp1wzVfWkNCIkQGsNw2Xbnzdz2/vXcuivP2973Vjq6TRj5mKZJoZQlW8jieA6ZjMvQYC/9fSUKOY+enMXo2BAb7343s2cu0pw/QyuSTKzbyMPfeJKJ9VvZs2snczML+EFAlCRIw2DL5kk2b1yP4xq4nsveW27CNC18v4MKEyY3b+Ebzx5j+uw5BvrKhEFIHCd0woBMxuMvP/cVDLtETzFHvdmm2miza8dWJsZGMU2DXD7HwMgocRQSRSGu4xAGMTIJuPuet/Dc4VNoDZnyOPVTz3Do65+neN0PU9i4h8FihoGeMuVymXy+SCZXwLJdTCeLkXFYDmLO1Vtk997LW3/2Fxl2NYXBG8j3XI9lumvBpCiKUYkijmLiuBuJlBJpmDiO+x2khL3SD0vZDUNKBHLN7Zn+lN2gjgQVUxq8nr7NP0Ss89x2y02885d/C+FlCOMQzxRkPZecazE+2sP6DUNsGuth09ggm+9+P8bNH+LpfSeozc2AECxeXKZvbCe5rMPH/+yvWb/1RtZt2oRA0aq3abQ6DA4PsmP3HhIgly/TNzBBs92mWCowNjHJQ08c4YFHn6avv49qrZlG55RiZmaBXCFPs9ngDz/5t1RbsG5slCSB0bF1bNy0g1zGZGLdRnbuvolGO6TtB4SdAB1HXH/jDUzPN3numf1M7LiRxmKMMCXt2jz7/u5veX4uw5HR+/Czw+SyWUb7exjqyeNYEtsSDPX18ZY7386eX/h9hn/544wYbarVDnZ+mHLvGFIYaUAJgWGYSGkipYWU1pqNZloW5qt0Ab+mLQDA8Tw6rRpoiSDpegr1FXRRqQTPy6CtAdqqiFi+wO0f/ldkdtzKzMN/T2bpFH0ZSU8+w8D6UXKlYZZHitRyI8xtfQsH7v8sUaOJ4dgkHR9naorliV7GrruNY089zP/0K7/JdTu3cv32cUb6y2TyLtlsgcl1W/Acj7HREXpKIxRLPbx4aIrPf/FpGu2AXK7AwnKVWrWG7dhESUynE1CpVCiWyuTzGe7/x2+wbfMYt928jTAKMcw0FjE+PozSGsfJMDkxgU4S5isN/vL+hzh85BSDExMYxe2IE8fQbR8pJSoJaNZCDuz5V5zwZymdf5Fy9SI9pkk4FtMcshnadSeVwW2c1gb32G2yF6bwQ0GQ2BSKPal2FRKBRq5lb4m1hacB28285pyAVw8A18VyXEK/mUbBVNK1EVLhawRagOd6LFeaKOlid2qo5TkY30HxI9ehmhVqfpUgCDgdQV1ZRIO9OFmXILLwlQBDonVKarZ4Z2gLEPkN/PzPb+TQsTNMTR3nmedeZHykn+1b11OphFjyAU5PLXD2L+7nD/740xw9Pg3CZPuu3ZR7e3nyiSeoVRsg0nyCJI5JkhgB+B2fG266nuHBQZ5/7gX+2988zKNPvMiG9cMY0uUf/uGrPPjg45y/uMDiUo0TU+epNToMj47wgQ+9H8Md4eTUPLv7znFYtcC0QYHI94Gy8LOT+DvWMdtqQRykutdyOGLYMN+k5AgGvAYF3aGTyxMESRr/kAZSpy7vS4QcpBAorTBsl0wm991ICPk2AaHuS6AplnqoJIoo7GAYBkKrbkmhRGpFGPgs15ZI4phSbz9Zt8j8yjIql+diWxFYLsobo5RV6CShqTVNLQibMU07geIIUmlQaah4eINB0/C4cP4cQ6N3Iu0CGzet5+KFi5w5fZbHnz7MAw8/Q6IUjutiGiaFcpGtO3czMjqM63rUajWiOAYt1tK9ojAiiZMudxFpkMcwuX7PdbQabWZmL/KNp4/T7oSEYQetFK7j4mYyjI1NsHdyknJPmZGRYU4cPMn6osn23QV4qA0UECqC3g3otomI62AaqZPKtFKdGSqkitBCM2ka9M3PsnPXRmYXM0ydPoGUko0bNlEqlrFMO41IdquWw1hhWjbFct9aPsH3BgBKoVWSRs+6ETTDMOgbHKJWreA3GwhpINC0Wg2mp6c5e3aKtt9CGILhwRFsw8CemqMzvI65WNEMI4RIWBQaS2j8WBEomQq800F7Y2Dlke0ltAavZyubh4bRjdNEsSCKQuJI0dfbT2+5lziK6EQBYZiWiXueh2WaaA2JSoiiCKUVQsu1rCPDMAijiDgJEUKBFtgy7QvQCSMsz2bjls2s37QRv9MhiUJAYDsWjuNhGiZCppHPTifGMpvcetN6dt+8E/g8Ku6A7IfsDbDsI0yNNhSg0OJSFl5CghELbmo22D00Q7Y0waTnEUURp04eYW5ujh07djI8NIxtuyRKE8QKz/MolHoxDIMkjruJJcarLlH7lgDQcYxKYpS+NGHZbZKgkoRsJotl2UxPn+bZZ57i4nxaUiWVpt1qMz4+yIXzp7Fdlw1CUJ/awD6zjyiTIIQiNNIZiEghY4XSEr2gkIdcvMgkMpoIw+B9P/xjCBVzauoYpkhDtKkAQ5IoBqUxTRvDTCuAkiTp9hLqElMpkEJ2+0FphBRYpkUYhqkGQCMkCMsEAYYh0VoTBiFKp5lJlumg0EAaDhaAZRiYpok0BLEw2bhrN3e89Qf5F+++mYP7X6S27OPsrzBXb6KGJeRFescloECH4DUU76bCh24/hh4OOHL0MK1mDcfOUK/5LK1Mc+7COYaGRti1aw8DAyMUimUK+RxxHKGVwrSsbrpZjGlZCGl85wDQcUwchVfElISU3X0/tfk1YFlpsuTo2DiGZRCFIagYCZhSc+7CObIYFIdKvK/xGPY/b+GvauPMlzxwJdgCHWr0coI932HHxZO8u+/LPFw+QVwe4Z33vYsffM97U1u9bWAaImXFQmAg0FKsNelYNUellOmWJLtpWhpMy8SyJaqlkSIVnFIKxGp5pMBx7PT7QqJ0N+lUK1Si0xwHeencQkqEITGkgTAk9VZIb/8oxVI/H/mpj/Kl0qdoLpzhtuKfc+jwMfafuo55e5B2xgFDkFcRG8wqbx2Z4r0/XENsG+PCXIE4vMDyygrDQxl27N6JZVokicIwTQyZOpOy2QyJUqkGSZJUowmDWCVpQq7jpgv1NQNAJcRRin7R3XPEKvsQAhWnWsE0DS7OnOf8ubNs2bSJ7Vs20Ww0WF5ZolGrUKlWyGTzuI5JLjeANwb/49BzXP/Vx3j0QD/nmkV8JZFxhyE9y00TJ7jpQ2fovXkE56n7qLTyvONdHwBMHNeh3fGJowTLtLCEJJIS3c25E5cHQJQAQ6d9D0jJkm1Z5PM5FucWKPf0UiwWaDYbWJaN77dxXQfXdVNQrCVMXhZUlSnrXgOASNPWTCsFkmNZ9JSKJFGHPXvvouFHzJ4/yLoNLW75oQMEZw+wOC2pVSykZVEsa4a2WgzduI649xZiNjGozrM4fwHHcdE6IZvNMDE2SS6bI1GKRquNtIwugVVpoxJScErTQJAS20D7uF7mFdUPvCQAVJykwr8qBXz1fQoMTRxHLM7Pcvz4EU4dP0ahmGFocIx22+fFw4fTfVJpDCEpFkvYXg+LyuPWn1tk7+wR2rMvoAMfaUmskoEq9dI0bufEXIZC/zIbdg5TLvdTq1awTAPXNqnW6ziZTFe1GwgRo6Xs9jhKEyO1UMjVqjckUhpEcYQEHMfippv3kM1miKKITZs2cuTIYSxLkiQJjutCHCERJFqjdar4hZSpGdZFhBACUxoYtk2n4+NZBj3lElEY0qitsGXzFlDw4tQMw4Pb2P22MrcPC4iqqESgzCLKXs/coknrok+pVCNb7GNwcJQo6OC3W5w4foxWs41jSkzLphMl9PQN0tMzgGkYKL3arUanHEem2i7pLmDLcb5tWNh8KdKXAl5cSsjUGn1Zz5zubSaOYoQ0yOcKzM5c5PTUSQYH5tm2czeLSytkMx59fQMMj28GTBbnzxGHMVG0jnVb30puY5V6bZ66HzA7W+Hsc/O0G8tI5nEzLs3GMtNnTlLu6SWbzSG0ZqWyzHihgDZSbSSE6BpIAiH0FaZS2vhCIaVJHEWEUYhlWxQLOeI4JpPxWLdunJOnT6bkKgzI5rLpMYVGSxBKrC0CIUB3+YTsBpMc06RaqaDihGyuQBBG1FaWOHX6KEli0GnVOXxogZmLDbxMjomJSdZv3EQ+X2Zm6iytxgyGFMzMVLAdh3L/EGGiOHt2mk7bp1qrc376FLaT+gX6B0ZS07u7z2shLlV1akALJOk2rRP1bXsamy8b+JGyG7xYS9pfK8aQhoGKU8ugVCpR7uklUTHZXJ4ojGg26mzavAXHcSmWevBcl2azThzFZDJZchmLysIyK8tLPP/iCywtLeE6Jo1GBa0EQ/0DhFGLudkVcpk8zXqNcm+Jnt5eqpUa6zYY6R4sRMqotLrU9bWr8vVlGcUCmbpPE0Wr3WLHtu0IAaYheMc73s6Xv/YAjusQR4okTjul6W6zLCHEquVIIsDsmoxSCEzTJJ/PM3vhIqWeHgzDoNlq4vstlpYWaTRaOI5LJlsGoZiZO02ifHr6ioSxTxA2yeXy+O02SoU0GjWCTodiXz/rDZcoikiSiOHRCVzPY3R0nL6+ge78urDXVxamXKo5kK+okdXLAsAQBspIC0B0V7WiNUkcIw0D07BRpqaQK7NucgP5XIFarUqz1aATdujrG8A2bXL5AtmMi2GaOD0e2VyRfC5HtbbC+vWj9PfnWVlZIgx9qpUqpmnTarU4P3t+zTYXQrIwP8fd99zNX336bzh88BBjE2O0mu1U7Yu0vlWpy3SUuHQtWqWma5zE3PKWW3nPe97FuTOnEVLwoQ+8n0OHD/HZv7m/m/mUXJZPs0owLyOXl7nFtVYcPXwE13V5+9vuobKyTJQoYqWxLBspfTKey4YNG9i6dSu2nSGMEuIoph0GbN22kygIqdcqdDo+URQQxzG2adPT20sQJRQKBTzHRgiJm8mSy+a7yaepj0QaEtOw1gpfDEMi6C7gV5YSdlXuWJfoCUmqSrS45Oy9DFBCShzXQ0qJ43n09PbTaNRpNuokKkZ3U8AzmWx68+MYy7JxXY8oDjk9dZqRgT76+4rkPYtYwZw1w8zsBYKgg2VaxFFErBPm5i7QbjeYmBjhhz/wHva/cJiw42MYsisc3V3tqbo2hECsvkWDUIRRxN69N/JzP/0RGvUqlZUFCoUSHd/n3/4vv8LI0DCPPvkUCL1mVaRFK6C0WKvoWb1VpmkRhjFBEHD3XbfS21vgwoVzeJk8juMihMC2LaIooN6oU681yOYEYRR3Yycmju1hWw6245LE8dqKXzVz40RQLOTJ5/NIaaTzMY01LnJ5MYruOulW//atClK+tQZY7YnXLW64tK+KK6vIUmqM7XkYlk0YdFBd5KeOoxSdjm0jpEhNGWlg2TaqlRAEPt944gn6enK4jsvI6DqOHD9GZbmCbdlESUQ2X6JY7qPRrGJiEHYidm3fwsjQAC8ePEanvYzj2iR+jEpSEAil0EojDBOjy5iXl5fZsnmS++69Bx1Dq9nAMCXV6gqtVot2u82HP/h+oqjNl776CDt37qQThGhi4iQ1raQUSMPAMAxMyyKKY8bHhrl+150UcxmqlVpazVStYjo22VIvjWabVqPJuJ3jyNHjtNo1coUipmnR3z/G2Ngktu1gmGZXwaZgNg0DQ0qSRGM7Nq7jYdnWVU6eVCMr1b3urpZOV38XGPK1JoWu9gu4ukT5JUvIBIYlsbTCSxSmaayZUlKm+6RhmKgkSZHZvYm9Pb1UaxVm5hdptRrkiv0srVRp1Jt4GZdCuZd16zZhmzaxitKLURB0Qvp6ern99ht56ol9PLHvBcp9fTiWhYoVQnZtfK2oLC8xO3MRzzUZvHUn9VoDKSS2aaFijSIm6qa5z8xdpJh36TRWeP7ZZ9i2ZQPSMukpF7Esh04QUK83UHFEdXmRu+68ldtuuZkkjuh0QtAGiYroBAFGaFIq9iKlTb26gmO7nDl9kijs0Gz69Az0UyyVMAwDwzDXilR01/Iyul1PTVL/xdqDK6667wiQhriyt+ea/F6VI0jzkkWir6JfkGlaCE9gxRaq6zpOlYmBYZporUmSGK0VlmUzNDhKu9XCczI0mw3qtTrDoxOUen2yXp6+nl4czyNOYkgEidJYtkGhWAIE1WqFsdEBdm7q4/TJaQpDA1Sbdd5x732Ue/r4y7/4U1ptH0nE5OQmWu02cRRgWg5xF4yr9kwUtgnjiFqtzlv27mR2bhkZ1BnqHeRHfvQDPPTg16g3fWrzs6g4YrhvkMmJUbxsmTDw0bTpBJ10K+rWBAopyWY9ekobSKKIdevWg0pwMnkGh0fo6e2/olRttdx8tTfR6t9Mw/wWEhBXaeTXEgvokqjvvNNAt17eMpFaopVeY+Fr1oM0UApM06Sntw+lFQsLc7T8Nn7Lx7EcbNslk8nguA6maWFbNrZl4zoOuWyeXKGA7/sks4pmo8PkxHrCMGRq6gymafD0448ghMHMxXmy+Rwqjgg6HQzTSusGZYyiy5JFauHESUySJJiWgwZGhgY4dXwKP+zwZ5/8GGdOnydfzNJoNDAk6AQqK3XyN5SJ4xxR2CHs+PgdnzAK0sRRKdFJ6oDq6e3rNp8KMS2PTDZDJptPBX3Zni2lxDTNtX1dCrmWu/i9Gt/FVrHp3iOVTEPCUl9ZMNkNIsmu2pMyTdzsHxyi0wmoVyvUqxUSrbAsC9t2sK20OAOREkrLcnE9F9NKWW+tXuHUyRM0GzXyuQILS1VOTx2ht6fA2NgoWzdv4LrrdjJ9cRbHdYniBNu0ECIGYaBllyxqTRzHlEpFTocxp06dZnx8BNc1mTp9Dj8I8BdTt/i977yDcrGXoaEBXM9FJw6R4+B5OfJJQqxjpJBdL6TGsR1KpTLZXK7rW+lGTQ1jTeWvmt2r8X7dDRcI2dUKQr6eAHiNPYJENyWMlDxqNGiBvupwsptcapgWluMSxzFhGOC5HsVCkagbdTNME7P7AolCYRkmlmXh2DYDvQOYWpB1LN56271s2LyRv7v/82zdEuI5LrWGz8JSBdOyCIKQQtnCMo01Zrzq4Nakdfu5bI44iJgcn6SnlOOmm29Ca7DlN7BsgzCM8f2A4aExRsfGyBfLZDI5kjjBUqkGWS13Nw1zjQM5jkPG88hkMpiGtaYtV3sM6m7bF31ZjwS5Zs/L1P8vv9ca4Ju2gdfaKKo72a5JstqD8mrikmoLsLr73aqKM0yDOIq7DSDS/U8aBsZl0S0pJRrN2PgG7n7HfRw/9iLL83McfOEFpi8sECSacqkHaTpkMy7nZxbIl/ooFHvIuF4XUKt9CFIhOHaG3r4Benv6aTebZPJ5jhw+RqPVZrbSwvM84lgTRJoz0+colHrZdv1GzC6B09pGqRQA8jLTzDQNbMvCtGykNK/wzQvDSB063cYRXYP10lpaPc73uCeReWW7l+/SyVYJlngFvMEwsR2xZjEkcZr4uOrKNbqeR2kYoNMmColK6B3o5+z0KVp+TKAF84sVdu/ZTbl3ENtxyGZyFEtlspkclmkRxQFCXTqu7rq6DZn6KkrlMrlcjunz02hppomvZoO7Nm7Fcb01klbIFdmxYzc95d7LyJvo9jkQV+7fprGmtV4yaWPVa8f/d6PbI0hc6hC3GgZ7naelu4JVSYJKug9iuNytmXYK6DZ0SLXE4tICc/Nz+H6L8xfP02o2kUKSyRfo6xukvy8NmrRaLTqBn6Z3A4ZI1bRjO5i2hW2nDqpsNkcYdIiiiOWVJeZmZ1iuVtK4gZehv3+IgcERCqUSrut2kzUvhclX4wNSyNSWN1PtZXRN3zfE0C8HgDXBv4yp8TqBQHWfwqEuy0Ba83GnDGMt8VQrTScMaLWa+G0fv9MmASzTxnZcTCON8IVBRBQFKJ10hSMxTQPTsLDs1MowLavrgbOI4wjfb+P7Hdp+m0TFmIaNaZo4XgbHcVPHkFhNNrkUIkZKjC57l0b6M93m5BtM+N02fjpRl1rFviQIxOs6Q61U+uoWm1xSSJeif5eXP2mtiZOIOE7S4k3UWhxfaY1KktSlnKRby5qz05CYholpmFimgWXZqY+9ew69+t2kC0YuPWNQXdGiTXSJ26U9W4pLWsGQxvesndx3BwAq0WvhLiFef5m/ZA7qpWcXaa7sibeamHJlsEOvPcxBKY3SyZofYjUvUCXJZcke+rKkDiPVBqa1psIvJ1+XRxV1N8qoruoSrteyoi91/pJr28Ib5RGz3VVxxeMAVgHwUu4k8QaB6yX76LLctJcnrVqrNQFd/vSP1GeuLrlcRcoq1rxvUl5i6S+rrnUXEGrN67cK0iunt7o9yDeO8Fdn900cIFGaKwI+4g0CgO/CdnIZCODyjmOr6WJcavQoXt1Fr7Zyfan2tOIN1XL/KnjqK23zSxyAq1cX13pGv5YV9oacG5ep/ysBIF9W+JeDR18T8bd3g74ZpyqucgXrb86ouTa+38B55TOh5Ld1NV57fMD3NTD+XzRCsKtleXbUAAAAAElFTkSuQmCC

iVBORw0KGgoAAAANSUhEUgAAAIAAAABOCAYAAADo3B4PAAAvXklEQVR42u29eZRk113n+bn37bFH7nvWvpdUWkqyNku2ZWFjtzE2Bg/NAQ80TPsMHKCZhYbT9NBDA900nAOD8dhgGnA3tkFgxuBV1motJbRVqfYtq7KW3DNjjxdvu3f+eJFZiyVbkm2N5Kl7TpzMyIx47773+97f/f7WJ7TWmmvj/7dDXrsF1wBwbVwDwLVxDQDXxjUAXBvXAHBtXAPAtXENANfGNQBcG9cAcG1cA8C18f0+zDf7BegkAQ2I9L2QEoS46kMarVT6OXT6GfnN2NdKgVJrBxNG91hXfR8hEIbxfQEA8aYNBmn9zYJeHUpdEvDlv7/cZ77F8XSSvLSwV2/by83hmgZ4fYRff+Ahms88i+4EeDu3U3rfe5Gem35Ga5CSaHGJ+le+RnD2HEY+R+7uO8nesOdKIQpB4+l/pvX4U+hWG2tyguK778Ma6CdeqVD90lcIz0wjPZfsW24hf+ft3x6I1zTA90j4QFypMv0//xL1r36dpNFICU3GI7Pneib/9GN4WzYDUP3qA1z4lX9LeHYaFQQIw8DoKdP/r3+WkX/3q6km0Jrzv/rvWP70X6NqdXSSIG0bd9cOen/if2Dlc/fjv3AAFYYIKZGFPOUf/SATv/+7SNteA9A1ALwe8lcKIQRnfuajrHz2b7GHh8i//W6E69J4+DHC6XN4e65j24NfpnPyJCd+8IdRjSbujm1krttFeGGG9rPPkdTqjP6X32Hwoz/Lxd/8j8z/pz/A6CmTvXUv1uAAzX9+jujsNMhUsNboKLnbbiFeXqH51NPES0sM/tLPM/bb/yGdk3yT8mn9JhoqSbTWWreee0G/MLhO7x/frFf+7h/W/t984YA+eN1e/axb1tWvPKAXPvnn+hkzr4/9wPt0uLi0doxzv/Ef9POlIX341rfqcGFRH775Dv18eURf/J3fWztW59x5feSt79T7RzboQze8RfunT6/9b/aP/kS/MDipD2zYoTvT59I/duf2ZhtvLtiqVFm1Dh0mqdXwrttF+QM/hE4SdBiS3XMdxbe/DR0nrPzt35O/+06EbdH3Ex/G6utF+R2ElAz+65/FHBggOH6SzrFj5O64DeG5DP7CR9PTdDo442P0/cSHiZeWccbHcDdsQMcxaM3Az/009tgoyUqF4OTp1YX05vQDqDhKL0wloNUl8sQb94KEYaQMPggvvTdTPps0GxjFPM1HHkNkMmT33kxcqV4yEQEdBF3zUVP9py9Teu+7kZnM2j4uTBO0RmazICU6ikCp9DxCIJRCum7XNFRvckeQ6gpcXS74VeG/sUAguvtxds/1mKUS/pGjzP3hx9BRhJCSyhe+SP3rD2OWSkQLizQefpTen/xx5v/wY/jHTyAcm6ReZ/Z3fg/VbGGUitS+8gD2+DjOlk0ov3PZycSlqxfiSpOx6xu45gh63eEq0Urh7dxOz4//KAsf+7+Z/0+/T+0fv4i0HdoHD6N8H6NURHouK/d/nsk//H1mfu3fc+p9H8LdvZN4bp7g2HFwHIRtE06fxz9yhNJ7341q1KG35yrUvQzDfxMz/ytuqRACgVjzpMEb+8KEEKA0Y7/17xn46M+hhaDx5NPUH3mUpN2m+L73MPHJP0Z4Ho1HHydcXqb4wffjT52h9k9fpr3/RchlGfud/5PiB99PUquw8rm/I//Od4CXWdvLtdYQxyS+jwrDru9IXfp/GKZbiXpzawKhwlAL0QXAKqqF4DJEvAFNl0vTC48dp7X/RZIwJLt9G97emwDoHDuOozRicoLEkMRPPY0/fR7lufTc81YYHIB2G//YCaTn4mzb+k3AVysV4nPnkYUC5oZ1V5ii/rHjaN/H3bwJo1B40zqEpPimSYs35P5/9RS10qAUi329TN2wm76f/Jf4u3bw4Ne/ztLCAva2rewLOxw4M4XhujzuOVTe+y4KP/YjPHD0CFopHt+/n8bmDfjrJmn7PidOnODAgQMEYciFCxeICnmejkOm7dQV/Nhjj3Hq1CmElGR2bCd7042p8N/ELmGZBjcuX/1XA+GNqgRSN+/hZ5+lM7+IjmOOP/88F2dmqNRq1JZX+MyffYoDzz2H1pozBw7gBQEnDx/m9JEjCClp1evkhMGZI0eIoogoiiiXy8zPzdFsNlmam2Pq4EEWps+htWbfvn0cOnSIarVKrVJBX7YlvHldwXGkryA1b3T1f9UIgoD5+XkmJiaIoojZ2dm136MowrIsLMtCKYWUEt/36XQ6lMtlgiDAcRzCMMS27bXPR1GElBLDMDh37hwjIyMYhkEURQghiOMYwzCwbftNTwKFTmL9zaz2zc9uX8briRDfn9f2HWwBXLbqxZtWsN/u9zUL4lV67b7V8b4fRqoBrlD9+vtWA1wbL+UIEvKl7atXvQKv/m76/vVUuZev0O/Wea++ttfrel72nmq+q5FHoVXXk/Ea2P8r3VO/V3uv1hrVDQ/Ll7gpSZIAYLzK9K1v9b1vd87Xi6usgv07va+vDQBXOT2a9QrLCxcI/AZh4JMkCbZboH9ogr7Bke8JCFZZ/eoIo5hWs0XYZfKlUnE1lP+azx+GESuVCr7vY5oWuVyOcqlw2RwShJDfE3A3a8usLF6kE7TQSYJlOSANLMtjaGwDlu18V+6r+c0OoFcmfK0VF84e4+L0MZ55/HFGJ0cYHugjCAJqjQZ+oMjlyvQPDLDzhjvIFfu+5RajL0+4fAUrREpJrV7nySef4PDB/SzNX6BaXSFJFLl8hjC2GBoZ54477uKeu+9GSvFtb9bq/7/+4IM88vBDnD8/RdipE3QC0JJyTw+5Qg9bd1zHffe+k02bNr4ysGqN1jq9dd1Vm75e4rNJxFOPfZ3AryGSOkqB57gI0+D0kSPUlpfYevNb6B0YZ8uOvWTzxe+CBhCvDACrN6jZWOHgsw8ydeIYpVKBgy8eZXJynI0b1xF2OtSbLdpBgpfJ0Qk65LMet73tA+SLPWvHUFqzemop5RU3I1Hp/me8hIpN/fHw9NP7+Ku/+ATLixfIZkwKnkW93sYwTXZum+DA0bNMTS+ghcGmTbv5tV//DTZt2pCaPi+zXUgh+e3f/S0+//efI+uZDPRmGenvw28HNNoddmwepdXpcODoecLY5q577uWXfvGXKRTya0K9nAGpRCGFWItifvM5V7cSsaZRnnn8n5g6cYKe/lGymZh2q00hVwTL4MhTz2DaNr3jIySxxs6UuG7PzQxPbO2e+9VzOPnKV38qOL9V5dyJ5/AbFRzXxfcDPC9DdaVKEockKkGpmCROkAKCMOLZAwc4dODZNQEmKr0xpiExjFT4zSBgudEiUQmGFKnw9UuYYUIAis/8t49zfvo4UeCT8yyyWQ+NIIwVhmEw1N9DPmvjGJL9zz3Bpz75x13B65cUvmEYHHjxWb7w+b+mt+Dh2Cae41LIu2gUSSKwLINyKUMh65DzEr76xc/xiU/8CVJK9GV5AVprhNbptUnB6cU6X3nmJPc/cZIvPX2Cg1OztOMEw5BIKUiSBK3hwtmTPPboQygBjZZP2AmIww5JEhGHAZVKFTeXxzIsYiVQScjM2UNMH9tHHAWvicCbr8yHnSKrsnSR2sIZPMciX8hTa9SpVptkcxkqldqa8JVOsAwLv+Nz9NhRXDfLwux5EqXXiNX5aoN/fOIgj714gfNxjnPzFdqNKgOGYs/6Pj583x5+6NZtCC6pbqVS4f7Fpz7Ok088QblcxLBt8lmXfNbBNAVhoNFoeooZbMskjgJcx+aBr32Z9z/+fm678541ga8C0jAMFhZm+N//11+i1erQX8qiE4VrSYoFj9n5lVTAEizTQCUxnXYH1zF56vGvsvwzP0Nv30CXHKacIAE++eBRPvsP+3nmmWn8GqAcWHgIPIPJ3du592138DPv281tOyYBODs9Ravd5uLMBYpFTd4torVCSE3U6eA6DoVyiVqtSr0dsn2wjOt6tGrLnD6yj007b8cwrdfKAb71nt9u1Tl9cB+ZnEcmmyebyZHLuKwsLuPYDlGrjt/qYNlGyqINmyNHj+K3fZIEmu0OhhScnl3gdz79MPc/epLaieNQrcH4u8BR0F5hpVnn2MOn+OwXjnDfe2/kz3/xXkZLeeIkwTQMvvaVL/C7//m3GR7pJeuYaUImGscxEUKiVIjQCsM0SJTGNkwKeYe5xQq/9r/9G/7qM/czPrnhChYdBD7/8Td/ndMnp1g3OYAUCoVGSoFlmWidoLQiTjS2JbvaTeBZJlOnTvGLv/BR/utffgbDNBHAbNPnx3/973jkb05A7QI5N0ef0wc6pOG3iJsx00+f5VNP1/jUnz7Aj33kB/iDf3MvxYxFGEW4KuH8xSl6ilvIuKC1IPA7DI32E8Yd5paWWTcxRi7jIqRAK0Ft6QIXzx5mYtOeV0UM5StZ+wALM2eo15eJo4Ao9HEch1KhQC6bJQw77NlzMxMTmxifmKTU08fJqdNUqxUKxV6Wl2vcevMePv3oi9z0L/+IT/3Rg9SOLGI0IozmHM6FOfIXG7gzVbxKDTsCaynha3/yVf7Fb/4j9TD1zc/Pnuc///b/wchwDznPJl3rijhJyBcLuK5JomKkKbAdE4HANCWWKdmxYYhqdYE/+L3fouP7V6jrv/jUx3nk4YdYN95HKWvjmAZaK3J5l96BEmGkkIYgk3HIZi3QYFkCrRSjQ3089cRDfOLjf4SUko5K+Miv/j9840/+gfXBLBuNiP7OCkONRYZbSzhxh5wIGdIGvapJpqn53B/tZ++H/5op1UdvPkOr1cIyFYeOH6bearHz+hvYsmUHdqYHw3SYmFjH+OgIhrSQaLQKqNZrnD11EF6lVfCKM4IWF2Z49Kl9DPT2ccOe3QwNDZDN5ZGW4PY77mTzrr089+QDLC8ss//wIU5OXcBxbGZnT/DOe9/JU/4AP/nvH4AzCXYQYzYqyLBBJ6iQT6YYsQZpxnN0REhHGxgEKKPJC5/9Mv/1nnX84g+9hb/81MeYmZth7+71+H4EholpSjIZh80bhjl6bJpIJWRck4znkHFsoigkShT5rEtvX5F9zzzFF77weX70x34cgIcfeYQvffEfsWyDYs5N7XzAyTiYpomONYZpULAtevIOjiUxpMQ1TaphTNYz2LRumE/86f/Fj3zwAzxzrsPXPvHbbMqNYnYa5LRFohVFM8FEsKTrZPFwwgYtLSiJDMJoceGBZ/jpTshv/tQ9xPvu5/xyjVY7YPbCHHNzy6go4fqb9rJ95x5mLkwTx21c22JhYZ5DR06ysLTInj07ieMA03JfMSF8xQBI4phyPs/pqXOcOTPDuo3j+M0Wgoh61eeBBx5k3zMHCcOYVqvNyTMXiUKfH3jfB3jc282n/8t+5FSHYiAxGj5e3MAWPlUScmqaQUOTTxapaI0VZWjGS8yIGURnnse+tJs7R+HZp/eRz7p0ghhpGnSCiIyXY2GhyuEjZ7BMSTHrcnG2QpwIEhUTxDFKafxOiGeaqDjiy1/8Au+491309vbw95//e7ROyHkOcaLQWhFq8CybStXn7Ll5ygUXISQrdZ/l5TqWlWqIIArJYmLbknarwX//7H/n2LyHiE9xtrnIenOAHrcIdOjP+BhGwlSnwXjGJlQLZJWHiCW1cJGC9EmezvJb5kZ+6ra9HHzk45yfW+a2vTsJOoeJIsXp6fNEn/kMuazLyOgojWaHpaUVCoUsmzaMYZkOQhivyqw3XykBHBpdT6PeYKi/hGFazJyfY/rcBRaXahQKGW7as5Xrdmzk4sIC02fb3LhzI+WRTTw/tcjBmf2owxly9WNkwzp5EmLRoGC2MIVGGsuMlx0a0QoDGsIk5rGVKXzVxBAOc+dP8cBDIUkUUsy4hJ0IxzPQSrFUbdKHoNbwyWUcorwL0kSoBMsymVuuk3clHT8gjBOKhTxTZ6c4cuQwd911F88/t5/1QxmCpqQThhjSIAgiLGFi2wa2aaCVRhqCJNEorcl4DiuVJpZlEEYBSRTTmy/wz/v+mYMLBgYCkdQ5p1ps6R1mOK8oZSoomVCst+kvK3SSox10OF+fYzZssytzJ4gOxw4d4a/mz3Pv9XeybdcyWUuzUu0wOTnM1k2TnDwxxRNPvYD14hQ7tm9icqyfbNZlbmaOXXvuwjCt7y4HEN1YwbqNO7j19rdz7twctXqb2fkFnn3+aJqfN1ym0agzv7BEHJrccOPtjLzzp/jySoGjZ2YQF87Rv/Ai48qjnZwmsKZx3SaZTMjOnh4ydoOWPY12F6kwy4uNAzSTixTNGFPXiI02B17YT76QRRqCMEkII0Wl0cKUgsH+IkpDoxXSbIcEnRAtNKVSjkLWY7na5uJyi04QUyrlWVmuMb+whFIJU1NnMGwbx7Fp+TELK01c12NwoEg+5xFEEWEUEyeKJNYI0orhKE5IEmi1E5QWZFyTKGgRdOo4pqLHiDFVi+eXz3C4NksoF5noXWHbSMDOzXWEs8iJ5imOhUe5vb/EoNNhuvMo9YUv0Fyc5q8fnuEZ9z1kezaSyeQ5cOgkTz71LEEY0DfQw4HDx3l833OcOjnN9Ll5tu/Zy+6b7vhOPIHf1gvArXfex8DAEIcP7aflK3bv2s746ACFQg7HzTA0NsItN+2hGis+9LlzNBsm69Zt5+KLTzLfOoZ0rmPC1CypGZQFEsHm7DBnqLO/VkFowXyrTRAoiqaFrTtEmQxjGzdx4pHPc+fN25mdu0ArUizWahSLBUZHhoiUQduPaLc7+K0Y0zRwXA9Ek5GhHjzXYn6hRstvkcnnmVusYMjUXPM7LSq1FtJILYqtm8aYmBhCaDCkIAhjwlDjOQa5Yh7LsgjCkJVag4VKmhTqeAZeNkenXsca3o23UkGc3s9o0SZQiqYlOdIyOdrUGLZiJpCcbtU458dMFnK0jGUeWTqJn/g4cpL+vh4yCw1qT0xzw2+8nfvuXMfDjz3H/NwSHb9KpjBKsTSEkzG45aYbuXnvrYyOb8Zxsq86PvCKASCEQBgmY5ObmVy3kbff+wO0Gg2SJEYaJghJkgiKxSyFapUb5mY4dGQOa7KJrT3aaC4G+1gSFkXLAqmIcw4H7Wkybg4zTlBSMFb0WK4EVKtN2mjGd91KW3icn5nBtG7EtRyajTYb1w2xY9sWkgSiOMJzXdAKv93By3jkiyUuzizS9iMGegsM92ZZqjTpxBZLi0v09vUghKSvp4cDh07wkR+9m5nz0/T296YtArTC81y0loRRjGGmjqFOyydRUC7nyWZdjp+ZodUKGB8Z5/SJs/hZSe9dH6S5PE3Dr9A3MUDGc/ENAUqh0Rz1TTKDHhtUlZVKm5O1JiYwZuVoCcHWzQXecf0U+czT7N3+TkyvxJ133kq1Vse1DJqtDo5nMzjQh2l5xJFGWA6GaXzvNACA42ZoN+rEKkQaNvly76UUUq1I4ji9OT1lfvrmaV6oPEJjYgtfXBYkywLTytAJO3R0QrmQJ1vIUS7lSJIYOjFIQb5gIUUDrUKKO27hwumTlK97C5HSvHD4JNfv3Ipz7gQ7No3TaftYrodjG9iWiVHIMzezSBhE5PJ5clmXoBMQJzE6Drlhz/X8zZeexstmKRQKgGZkZIjHH3+SWlMzMjrMwkodx/HoLXkUCjn8TpDOT0Aul2NxaYlOJ0ArGOwrkUSa6elZ8oUyR09/g4ldA5x/9nm2vePHaBz7KkbUIJvNYhiaME6wDEEpl6UdhHRCaAbLDAlF3nGo1JuU7ngbt980yca8TWlkK7neAaIgwDAtBgb6AEGpV4CGOBbEcYgWklzee01BoVcVz7RsG9NaZZpp1wzVfWkNCIkQGsNw2Xbnzdz2/vXcuivP2973Vjq6TRj5mKZJoZQlW8jieA6ZjMvQYC/9fSUKOY+enMXo2BAb7343s2cu0pw/QyuSTKzbyMPfeJKJ9VvZs2snczML+EFAlCRIw2DL5kk2b1yP4xq4nsveW27CNC18v4MKEyY3b+Ebzx5j+uw5BvrKhEFIHCd0woBMxuMvP/cVDLtETzFHvdmm2miza8dWJsZGMU2DXD7HwMgocRQSRSGu4xAGMTIJuPuet/Dc4VNoDZnyOPVTz3Do65+neN0PU9i4h8FihoGeMuVymXy+SCZXwLJdTCeLkXFYDmLO1Vtk997LW3/2Fxl2NYXBG8j3XI9lumvBpCiKUYkijmLiuBuJlBJpmDiO+x2khL3SD0vZDUNKBHLN7Zn+lN2gjgQVUxq8nr7NP0Ss89x2y02885d/C+FlCOMQzxRkPZecazE+2sP6DUNsGuth09ggm+9+P8bNH+LpfSeozc2AECxeXKZvbCe5rMPH/+yvWb/1RtZt2oRA0aq3abQ6DA4PsmP3HhIgly/TNzBBs92mWCowNjHJQ08c4YFHn6avv49qrZlG55RiZmaBXCFPs9ngDz/5t1RbsG5slCSB0bF1bNy0g1zGZGLdRnbuvolGO6TtB4SdAB1HXH/jDUzPN3numf1M7LiRxmKMMCXt2jz7/u5veX4uw5HR+/Czw+SyWUb7exjqyeNYEtsSDPX18ZY7386eX/h9hn/544wYbarVDnZ+mHLvGFIYaUAJgWGYSGkipYWU1pqNZloW5qt0Ab+mLQDA8Tw6rRpoiSDpegr1FXRRqQTPy6CtAdqqiFi+wO0f/ldkdtzKzMN/T2bpFH0ZSU8+w8D6UXKlYZZHitRyI8xtfQsH7v8sUaOJ4dgkHR9naorliV7GrruNY089zP/0K7/JdTu3cv32cUb6y2TyLtlsgcl1W/Acj7HREXpKIxRLPbx4aIrPf/FpGu2AXK7AwnKVWrWG7dhESUynE1CpVCiWyuTzGe7/x2+wbfMYt928jTAKMcw0FjE+PozSGsfJMDkxgU4S5isN/vL+hzh85BSDExMYxe2IE8fQbR8pJSoJaNZCDuz5V5zwZymdf5Fy9SI9pkk4FtMcshnadSeVwW2c1gb32G2yF6bwQ0GQ2BSKPal2FRKBRq5lb4m1hacB28285pyAVw8A18VyXEK/mUbBVNK1EVLhawRagOd6LFeaKOlid2qo5TkY30HxI9ehmhVqfpUgCDgdQV1ZRIO9OFmXILLwlQBDonVKarZ4Z2gLEPkN/PzPb+TQsTNMTR3nmedeZHykn+1b11OphFjyAU5PLXD2L+7nD/740xw9Pg3CZPuu3ZR7e3nyiSeoVRsg0nyCJI5JkhgB+B2fG266nuHBQZ5/7gX+2988zKNPvMiG9cMY0uUf/uGrPPjg45y/uMDiUo0TU+epNToMj47wgQ+9H8Md4eTUPLv7znFYtcC0QYHI94Gy8LOT+DvWMdtqQRykutdyOGLYMN+k5AgGvAYF3aGTyxMESRr/kAZSpy7vS4QcpBAorTBsl0wm991ICPk2AaHuS6AplnqoJIoo7GAYBkKrbkmhRGpFGPgs15ZI4phSbz9Zt8j8yjIql+diWxFYLsobo5RV6CShqTVNLQibMU07geIIUmlQaah4eINB0/C4cP4cQ6N3Iu0CGzet5+KFi5w5fZbHnz7MAw8/Q6IUjutiGiaFcpGtO3czMjqM63rUajWiOAYt1tK9ojAiiZMudxFpkMcwuX7PdbQabWZmL/KNp4/T7oSEYQetFK7j4mYyjI1NsHdyknJPmZGRYU4cPMn6osn23QV4qA0UECqC3g3otomI62AaqZPKtFKdGSqkitBCM2ka9M3PsnPXRmYXM0ydPoGUko0bNlEqlrFMO41IdquWw1hhWjbFct9aPsH3BgBKoVWSRs+6ETTDMOgbHKJWreA3GwhpINC0Wg2mp6c5e3aKtt9CGILhwRFsw8CemqMzvI65WNEMI4RIWBQaS2j8WBEomQq800F7Y2Dlke0ltAavZyubh4bRjdNEsSCKQuJI0dfbT2+5lziK6EQBYZiWiXueh2WaaA2JSoiiCKUVQsu1rCPDMAijiDgJEUKBFtgy7QvQCSMsz2bjls2s37QRv9MhiUJAYDsWjuNhGiZCppHPTifGMpvcetN6dt+8E/g8Ku6A7IfsDbDsI0yNNhSg0OJSFl5CghELbmo22D00Q7Y0waTnEUURp04eYW5ujh07djI8NIxtuyRKE8QKz/MolHoxDIMkjruJJcarLlH7lgDQcYxKYpS+NGHZbZKgkoRsJotl2UxPn+bZZ57i4nxaUiWVpt1qMz4+yIXzp7Fdlw1CUJ/awD6zjyiTIIQiNNIZiEghY4XSEr2gkIdcvMgkMpoIw+B9P/xjCBVzauoYpkhDtKkAQ5IoBqUxTRvDTCuAkiTp9hLqElMpkEJ2+0FphBRYpkUYhqkGQCMkCMsEAYYh0VoTBiFKp5lJlumg0EAaDhaAZRiYpok0BLEw2bhrN3e89Qf5F+++mYP7X6S27OPsrzBXb6KGJeRFescloECH4DUU76bCh24/hh4OOHL0MK1mDcfOUK/5LK1Mc+7COYaGRti1aw8DAyMUimUK+RxxHKGVwrSsbrpZjGlZCGl85wDQcUwchVfElISU3X0/tfk1YFlpsuTo2DiGZRCFIagYCZhSc+7CObIYFIdKvK/xGPY/b+GvauPMlzxwJdgCHWr0coI932HHxZO8u+/LPFw+QVwe4Z33vYsffM97U1u9bWAaImXFQmAg0FKsNelYNUellOmWJLtpWhpMy8SyJaqlkSIVnFIKxGp5pMBx7PT7QqJ0N+lUK1Si0xwHeencQkqEITGkgTAk9VZIb/8oxVI/H/mpj/Kl0qdoLpzhtuKfc+jwMfafuo55e5B2xgFDkFcRG8wqbx2Z4r0/XENsG+PCXIE4vMDyygrDQxl27N6JZVokicIwTQyZOpOy2QyJUqkGSZJUowmDWCVpQq7jpgv1NQNAJcRRin7R3XPEKvsQAhWnWsE0DS7OnOf8ubNs2bSJ7Vs20Ww0WF5ZolGrUKlWyGTzuI5JLjeANwb/49BzXP/Vx3j0QD/nmkV8JZFxhyE9y00TJ7jpQ2fovXkE56n7qLTyvONdHwBMHNeh3fGJowTLtLCEJJIS3c25E5cHQJQAQ6d9D0jJkm1Z5PM5FucWKPf0UiwWaDYbWJaN77dxXQfXdVNQrCVMXhZUlSnrXgOASNPWTCsFkmNZ9JSKJFGHPXvvouFHzJ4/yLoNLW75oQMEZw+wOC2pVSykZVEsa4a2WgzduI649xZiNjGozrM4fwHHcdE6IZvNMDE2SS6bI1GKRquNtIwugVVpoxJScErTQJAS20D7uF7mFdUPvCQAVJykwr8qBXz1fQoMTRxHLM7Pcvz4EU4dP0ahmGFocIx22+fFw4fTfVJpDCEpFkvYXg+LyuPWn1tk7+wR2rMvoAMfaUmskoEq9dI0bufEXIZC/zIbdg5TLvdTq1awTAPXNqnW6ziZTFe1GwgRo6Xs9jhKEyO1UMjVqjckUhpEcYQEHMfippv3kM1miKKITZs2cuTIYSxLkiQJjutCHCERJFqjdar4hZSpGdZFhBACUxoYtk2n4+NZBj3lElEY0qitsGXzFlDw4tQMw4Pb2P22MrcPC4iqqESgzCLKXs/coknrok+pVCNb7GNwcJQo6OC3W5w4foxWs41jSkzLphMl9PQN0tMzgGkYKL3arUanHEem2i7pLmDLcb5tWNh8KdKXAl5cSsjUGn1Zz5zubSaOYoQ0yOcKzM5c5PTUSQYH5tm2czeLSytkMx59fQMMj28GTBbnzxGHMVG0jnVb30puY5V6bZ66HzA7W+Hsc/O0G8tI5nEzLs3GMtNnTlLu6SWbzSG0ZqWyzHihgDZSbSSE6BpIAiH0FaZS2vhCIaVJHEWEUYhlWxQLOeI4JpPxWLdunJOnT6bkKgzI5rLpMYVGSxBKrC0CIUB3+YTsBpMc06RaqaDihGyuQBBG1FaWOHX6KEli0GnVOXxogZmLDbxMjomJSdZv3EQ+X2Zm6iytxgyGFMzMVLAdh3L/EGGiOHt2mk7bp1qrc376FLaT+gX6B0ZS07u7z2shLlV1akALJOk2rRP1bXsamy8b+JGyG7xYS9pfK8aQhoGKU8ugVCpR7uklUTHZXJ4ojGg26mzavAXHcSmWevBcl2azThzFZDJZchmLysIyK8tLPP/iCywtLeE6Jo1GBa0EQ/0DhFGLudkVcpk8zXqNcm+Jnt5eqpUa6zYY6R4sRMqotLrU9bWr8vVlGcUCmbpPE0Wr3WLHtu0IAaYheMc73s6Xv/YAjusQR4okTjul6W6zLCHEquVIIsDsmoxSCEzTJJ/PM3vhIqWeHgzDoNlq4vstlpYWaTRaOI5LJlsGoZiZO02ifHr6ioSxTxA2yeXy+O02SoU0GjWCTodiXz/rDZcoikiSiOHRCVzPY3R0nL6+ge78urDXVxamXKo5kK+okdXLAsAQBspIC0B0V7WiNUkcIw0D07BRpqaQK7NucgP5XIFarUqz1aATdujrG8A2bXL5AtmMi2GaOD0e2VyRfC5HtbbC+vWj9PfnWVlZIgx9qpUqpmnTarU4P3t+zTYXQrIwP8fd99zNX336bzh88BBjE2O0mu1U7Yu0vlWpy3SUuHQtWqWma5zE3PKWW3nPe97FuTOnEVLwoQ+8n0OHD/HZv7m/m/mUXJZPs0owLyOXl7nFtVYcPXwE13V5+9vuobKyTJQoYqWxLBspfTKey4YNG9i6dSu2nSGMEuIoph0GbN22kygIqdcqdDo+URQQxzG2adPT20sQJRQKBTzHRgiJm8mSy+a7yaepj0QaEtOw1gpfDEMi6C7gV5YSdlXuWJfoCUmqSrS45Oy9DFBCShzXQ0qJ43n09PbTaNRpNuokKkZ3U8AzmWx68+MYy7JxXY8oDjk9dZqRgT76+4rkPYtYwZw1w8zsBYKgg2VaxFFErBPm5i7QbjeYmBjhhz/wHva/cJiw42MYsisc3V3tqbo2hECsvkWDUIRRxN69N/JzP/0RGvUqlZUFCoUSHd/n3/4vv8LI0DCPPvkUCL1mVaRFK6C0WKvoWb1VpmkRhjFBEHD3XbfS21vgwoVzeJk8juMihMC2LaIooN6oU681yOYEYRR3Yycmju1hWw6245LE8dqKXzVz40RQLOTJ5/NIaaTzMY01LnJ5MYruOulW//atClK+tQZY7YnXLW64tK+KK6vIUmqM7XkYlk0YdFBd5KeOoxSdjm0jpEhNGWlg2TaqlRAEPt944gn6enK4jsvI6DqOHD9GZbmCbdlESUQ2X6JY7qPRrGJiEHYidm3fwsjQAC8ePEanvYzj2iR+jEpSEAil0EojDBOjy5iXl5fZsnmS++69Bx1Dq9nAMCXV6gqtVot2u82HP/h+oqjNl776CDt37qQThGhi4iQ1raQUSMPAMAxMyyKKY8bHhrl+150UcxmqlVpazVStYjo22VIvjWabVqPJuJ3jyNHjtNo1coUipmnR3z/G2Ngktu1gmGZXwaZgNg0DQ0qSRGM7Nq7jYdnWVU6eVCMr1b3urpZOV38XGPK1JoWu9gu4ukT5JUvIBIYlsbTCSxSmaayZUlKm+6RhmKgkSZHZvYm9Pb1UaxVm5hdptRrkiv0srVRp1Jt4GZdCuZd16zZhmzaxitKLURB0Qvp6ern99ht56ol9PLHvBcp9fTiWhYoVQnZtfK2oLC8xO3MRzzUZvHUn9VoDKSS2aaFijSIm6qa5z8xdpJh36TRWeP7ZZ9i2ZQPSMukpF7Esh04QUK83UHFEdXmRu+68ldtuuZkkjuh0QtAGiYroBAFGaFIq9iKlTb26gmO7nDl9kijs0Gz69Az0UyyVMAwDwzDXilR01/Iyul1PTVL/xdqDK6667wiQhriyt+ea/F6VI0jzkkWir6JfkGlaCE9gxRaq6zpOlYmBYZporUmSGK0VlmUzNDhKu9XCczI0mw3qtTrDoxOUen2yXp6+nl4czyNOYkgEidJYtkGhWAIE1WqFsdEBdm7q4/TJaQpDA1Sbdd5x732Ue/r4y7/4U1ptH0nE5OQmWu02cRRgWg5xF4yr9kwUtgnjiFqtzlv27mR2bhkZ1BnqHeRHfvQDPPTg16g3fWrzs6g4YrhvkMmJUbxsmTDw0bTpBJ10K+rWBAopyWY9ekobSKKIdevWg0pwMnkGh0fo6e2/olRttdx8tTfR6t9Mw/wWEhBXaeTXEgvokqjvvNNAt17eMpFaopVeY+Fr1oM0UApM06Sntw+lFQsLc7T8Nn7Lx7EcbNslk8nguA6maWFbNrZl4zoOuWyeXKGA7/sks4pmo8PkxHrCMGRq6gymafD0448ghMHMxXmy+Rwqjgg6HQzTSusGZYyiy5JFauHESUySJJiWgwZGhgY4dXwKP+zwZ5/8GGdOnydfzNJoNDAk6AQqK3XyN5SJ4xxR2CHs+PgdnzAK0sRRKdFJ6oDq6e3rNp8KMS2PTDZDJptPBX3Zni2lxDTNtX1dCrmWu/i9Gt/FVrHp3iOVTEPCUl9ZMNkNIsmu2pMyTdzsHxyi0wmoVyvUqxUSrbAsC9t2sK20OAOREkrLcnE9F9NKWW+tXuHUyRM0GzXyuQILS1VOTx2ht6fA2NgoWzdv4LrrdjJ9cRbHdYniBNu0ECIGYaBllyxqTRzHlEpFTocxp06dZnx8BNc1mTp9Dj8I8BdTt/i977yDcrGXoaEBXM9FJw6R4+B5OfJJQqxjpJBdL6TGsR1KpTLZXK7rW+lGTQ1jTeWvmt2r8X7dDRcI2dUKQr6eAHiNPYJENyWMlDxqNGiBvupwsptcapgWluMSxzFhGOC5HsVCkagbdTNME7P7AolCYRkmlmXh2DYDvQOYWpB1LN56271s2LyRv7v/82zdEuI5LrWGz8JSBdOyCIKQQtnCMo01Zrzq4Nakdfu5bI44iJgcn6SnlOOmm29Ca7DlN7BsgzCM8f2A4aExRsfGyBfLZDI5kjjBUqkGWS13Nw1zjQM5jkPG88hkMpiGtaYtV3sM6m7bF31ZjwS5Zs/L1P8vv9ca4Ju2gdfaKKo72a5JstqD8mrikmoLsLr73aqKM0yDOIq7DSDS/U8aBsZl0S0pJRrN2PgG7n7HfRw/9iLL83McfOEFpi8sECSacqkHaTpkMy7nZxbIl/ooFHvIuF4XUKt9CFIhOHaG3r4Benv6aTebZPJ5jhw+RqPVZrbSwvM84lgTRJoz0+colHrZdv1GzC6B09pGqRQA8jLTzDQNbMvCtGykNK/wzQvDSB063cYRXYP10lpaPc73uCeReWW7l+/SyVYJlngFvMEwsR2xZjEkcZr4uOrKNbqeR2kYoNMmColK6B3o5+z0KVp+TKAF84sVdu/ZTbl3ENtxyGZyFEtlspkclmkRxQFCXTqu7rq6DZn6KkrlMrlcjunz02hppomvZoO7Nm7Fcb01klbIFdmxYzc95d7LyJvo9jkQV+7fprGmtV4yaWPVa8f/d6PbI0hc6hC3GgZ7naelu4JVSYJKug9iuNytmXYK6DZ0SLXE4tICc/Nz+H6L8xfP02o2kUKSyRfo6xukvy8NmrRaLTqBn6Z3A4ZI1bRjO5i2hW2nDqpsNkcYdIiiiOWVJeZmZ1iuVtK4gZehv3+IgcERCqUSrut2kzUvhclX4wNSyNSWN1PtZXRN3zfE0C8HgDXBv4yp8TqBQHWfwqEuy0Ba83GnDGMt8VQrTScMaLWa+G0fv9MmASzTxnZcTCON8IVBRBQFKJ10hSMxTQPTsLDs1MowLavrgbOI4wjfb+P7Hdp+m0TFmIaNaZo4XgbHcVPHkFhNNrkUIkZKjC57l0b6M93m5BtM+N02fjpRl1rFviQIxOs6Q61U+uoWm1xSSJeif5eXP2mtiZOIOE7S4k3UWhxfaY1KktSlnKRby5qz05CYholpmFimgWXZqY+9ew69+t2kC0YuPWNQXdGiTXSJ26U9W4pLWsGQxvesndx3BwAq0WvhLiFef5m/ZA7qpWcXaa7sibeamHJlsEOvPcxBKY3SyZofYjUvUCXJZcke+rKkDiPVBqa1psIvJ1+XRxV1N8qoruoSrteyoi91/pJr28Ib5RGz3VVxxeMAVgHwUu4k8QaB6yX76LLctJcnrVqrNQFd/vSP1GeuLrlcRcoq1rxvUl5i6S+rrnUXEGrN67cK0iunt7o9yDeO8Fdn900cIFGaKwI+4g0CgO/CdnIZCODyjmOr6WJcavQoXt1Fr7Zyfan2tOIN1XL/KnjqK23zSxyAq1cX13pGv5YV9oacG5ep/ysBIF9W+JeDR18T8bd3g74ZpyqucgXrb86ouTa+38B55TOh5Ld1NV57fMD3NTD+XzRCsKtleXbUAAAAAElFTkSuQmCC

iVBORw0KGgoAAAANSUhEUgAAAIAAAABOCAYAAADo3B4PAAAvXklEQVR42u29eZRk113n+bn37bFH7nvWvpdUWkqyNku2ZWFjtzE2Bg/NAQ80TPsMHKCZhYbT9NBDA900nAOD8dhgGnA3tkFgxuBV1motJbRVqfYtq7KW3DNjjxdvu3f+eJFZiyVbkm2N5Kl7TpzMyIx47773+97f/f7WJ7TWmmvj/7dDXrsF1wBwbVwDwLVxDQDXxjUAXBvXAHBtXAPAtXENANfGNQBcG9cAcG1cA8C18f0+zDf7BegkAQ2I9L2QEoS46kMarVT6OXT6GfnN2NdKgVJrBxNG91hXfR8hEIbxfQEA8aYNBmn9zYJeHUpdEvDlv7/cZ77F8XSSvLSwV2/by83hmgZ4fYRff+Ahms88i+4EeDu3U3rfe5Gem35Ga5CSaHGJ+le+RnD2HEY+R+7uO8nesOdKIQpB4+l/pvX4U+hWG2tyguK778Ma6CdeqVD90lcIz0wjPZfsW24hf+ft3x6I1zTA90j4QFypMv0//xL1r36dpNFICU3GI7Pneib/9GN4WzYDUP3qA1z4lX9LeHYaFQQIw8DoKdP/r3+WkX/3q6km0Jrzv/rvWP70X6NqdXSSIG0bd9cOen/if2Dlc/fjv3AAFYYIKZGFPOUf/SATv/+7SNteA9A1ALwe8lcKIQRnfuajrHz2b7GHh8i//W6E69J4+DHC6XN4e65j24NfpnPyJCd+8IdRjSbujm1krttFeGGG9rPPkdTqjP6X32Hwoz/Lxd/8j8z/pz/A6CmTvXUv1uAAzX9+jujsNMhUsNboKLnbbiFeXqH51NPES0sM/tLPM/bb/yGdk3yT8mn9JhoqSbTWWreee0G/MLhO7x/frFf+7h/W/t984YA+eN1e/axb1tWvPKAXPvnn+hkzr4/9wPt0uLi0doxzv/Ef9POlIX341rfqcGFRH775Dv18eURf/J3fWztW59x5feSt79T7RzboQze8RfunT6/9b/aP/kS/MDipD2zYoTvT59I/duf2ZhtvLtiqVFm1Dh0mqdXwrttF+QM/hE4SdBiS3XMdxbe/DR0nrPzt35O/+06EbdH3Ex/G6utF+R2ElAz+65/FHBggOH6SzrFj5O64DeG5DP7CR9PTdDo442P0/cSHiZeWccbHcDdsQMcxaM3Az/009tgoyUqF4OTp1YX05vQDqDhKL0wloNUl8sQb94KEYaQMPggvvTdTPps0GxjFPM1HHkNkMmT33kxcqV4yEQEdBF3zUVP9py9Teu+7kZnM2j4uTBO0RmazICU6ikCp9DxCIJRCum7XNFRvckeQ6gpcXS74VeG/sUAguvtxds/1mKUS/pGjzP3hx9BRhJCSyhe+SP3rD2OWSkQLizQefpTen/xx5v/wY/jHTyAcm6ReZ/Z3fg/VbGGUitS+8gD2+DjOlk0ov3PZycSlqxfiSpOx6xu45gh63eEq0Urh7dxOz4//KAsf+7+Z/0+/T+0fv4i0HdoHD6N8H6NURHouK/d/nsk//H1mfu3fc+p9H8LdvZN4bp7g2HFwHIRtE06fxz9yhNJ7341q1KG35yrUvQzDfxMz/ytuqRACgVjzpMEb+8KEEKA0Y7/17xn46M+hhaDx5NPUH3mUpN2m+L73MPHJP0Z4Ho1HHydcXqb4wffjT52h9k9fpr3/RchlGfud/5PiB99PUquw8rm/I//Od4CXWdvLtdYQxyS+jwrDru9IXfp/GKZbiXpzawKhwlAL0QXAKqqF4DJEvAFNl0vTC48dp7X/RZIwJLt9G97emwDoHDuOozRicoLEkMRPPY0/fR7lufTc81YYHIB2G//YCaTn4mzb+k3AVysV4nPnkYUC5oZ1V5ii/rHjaN/H3bwJo1B40zqEpPimSYs35P5/9RS10qAUi329TN2wm76f/Jf4u3bw4Ne/ztLCAva2rewLOxw4M4XhujzuOVTe+y4KP/YjPHD0CFopHt+/n8bmDfjrJmn7PidOnODAgQMEYciFCxeICnmejkOm7dQV/Nhjj3Hq1CmElGR2bCd7042p8N/ELmGZBjcuX/1XA+GNqgRSN+/hZ5+lM7+IjmOOP/88F2dmqNRq1JZX+MyffYoDzz2H1pozBw7gBQEnDx/m9JEjCClp1evkhMGZI0eIoogoiiiXy8zPzdFsNlmam2Pq4EEWps+htWbfvn0cOnSIarVKrVJBX7YlvHldwXGkryA1b3T1f9UIgoD5+XkmJiaIoojZ2dm136MowrIsLMtCKYWUEt/36XQ6lMtlgiDAcRzCMMS27bXPR1GElBLDMDh37hwjIyMYhkEURQghiOMYwzCwbftNTwKFTmL9zaz2zc9uX8briRDfn9f2HWwBXLbqxZtWsN/u9zUL4lV67b7V8b4fRqoBrlD9+vtWA1wbL+UIEvKl7atXvQKv/m76/vVUuZev0O/Wea++ttfrel72nmq+q5FHoVXXk/Ea2P8r3VO/V3uv1hrVDQ/Ll7gpSZIAYLzK9K1v9b1vd87Xi6usgv07va+vDQBXOT2a9QrLCxcI/AZh4JMkCbZboH9ogr7Bke8JCFZZ/eoIo5hWs0XYZfKlUnE1lP+azx+GESuVCr7vY5oWuVyOcqlw2RwShJDfE3A3a8usLF6kE7TQSYJlOSANLMtjaGwDlu18V+6r+c0OoFcmfK0VF84e4+L0MZ55/HFGJ0cYHugjCAJqjQZ+oMjlyvQPDLDzhjvIFfu+5RajL0+4fAUrREpJrV7nySef4PDB/SzNX6BaXSFJFLl8hjC2GBoZ54477uKeu+9GSvFtb9bq/7/+4IM88vBDnD8/RdipE3QC0JJyTw+5Qg9bd1zHffe+k02bNr4ysGqN1jq9dd1Vm75e4rNJxFOPfZ3AryGSOkqB57gI0+D0kSPUlpfYevNb6B0YZ8uOvWTzxe+CBhCvDACrN6jZWOHgsw8ydeIYpVKBgy8eZXJynI0b1xF2OtSbLdpBgpfJ0Qk65LMet73tA+SLPWvHUFqzemop5RU3I1Hp/me8hIpN/fHw9NP7+Ku/+ATLixfIZkwKnkW93sYwTXZum+DA0bNMTS+ghcGmTbv5tV//DTZt2pCaPi+zXUgh+e3f/S0+//efI+uZDPRmGenvw28HNNoddmwepdXpcODoecLY5q577uWXfvGXKRTya0K9nAGpRCGFWItifvM5V7cSsaZRnnn8n5g6cYKe/lGymZh2q00hVwTL4MhTz2DaNr3jIySxxs6UuG7PzQxPbO2e+9VzOPnKV38qOL9V5dyJ5/AbFRzXxfcDPC9DdaVKEockKkGpmCROkAKCMOLZAwc4dODZNQEmKr0xpiExjFT4zSBgudEiUQmGFKnw9UuYYUIAis/8t49zfvo4UeCT8yyyWQ+NIIwVhmEw1N9DPmvjGJL9zz3Bpz75x13B65cUvmEYHHjxWb7w+b+mt+Dh2Cae41LIu2gUSSKwLINyKUMh65DzEr76xc/xiU/8CVJK9GV5AVprhNbptUnB6cU6X3nmJPc/cZIvPX2Cg1OztOMEw5BIKUiSBK3hwtmTPPboQygBjZZP2AmIww5JEhGHAZVKFTeXxzIsYiVQScjM2UNMH9tHHAWvicCbr8yHnSKrsnSR2sIZPMciX8hTa9SpVptkcxkqldqa8JVOsAwLv+Nz9NhRXDfLwux5EqXXiNX5aoN/fOIgj714gfNxjnPzFdqNKgOGYs/6Pj583x5+6NZtCC6pbqVS4f7Fpz7Ok088QblcxLBt8lmXfNbBNAVhoNFoeooZbMskjgJcx+aBr32Z9z/+fm678541ga8C0jAMFhZm+N//11+i1erQX8qiE4VrSYoFj9n5lVTAEizTQCUxnXYH1zF56vGvsvwzP0Nv30CXHKacIAE++eBRPvsP+3nmmWn8GqAcWHgIPIPJ3du592138DPv281tOyYBODs9Ravd5uLMBYpFTd4torVCSE3U6eA6DoVyiVqtSr0dsn2wjOt6tGrLnD6yj007b8cwrdfKAb71nt9u1Tl9cB+ZnEcmmyebyZHLuKwsLuPYDlGrjt/qYNlGyqINmyNHj+K3fZIEmu0OhhScnl3gdz79MPc/epLaieNQrcH4u8BR0F5hpVnn2MOn+OwXjnDfe2/kz3/xXkZLeeIkwTQMvvaVL/C7//m3GR7pJeuYaUImGscxEUKiVIjQCsM0SJTGNkwKeYe5xQq/9r/9G/7qM/czPrnhChYdBD7/8Td/ndMnp1g3OYAUCoVGSoFlmWidoLQiTjS2JbvaTeBZJlOnTvGLv/BR/utffgbDNBHAbNPnx3/973jkb05A7QI5N0ef0wc6pOG3iJsx00+f5VNP1/jUnz7Aj33kB/iDf3MvxYxFGEW4KuH8xSl6ilvIuKC1IPA7DI32E8Yd5paWWTcxRi7jIqRAK0Ft6QIXzx5mYtOeV0UM5StZ+wALM2eo15eJo4Ao9HEch1KhQC6bJQw77NlzMxMTmxifmKTU08fJqdNUqxUKxV6Wl2vcevMePv3oi9z0L/+IT/3Rg9SOLGI0IozmHM6FOfIXG7gzVbxKDTsCaynha3/yVf7Fb/4j9TD1zc/Pnuc///b/wchwDznPJl3rijhJyBcLuK5JomKkKbAdE4HANCWWKdmxYYhqdYE/+L3fouP7V6jrv/jUx3nk4YdYN95HKWvjmAZaK3J5l96BEmGkkIYgk3HIZi3QYFkCrRSjQ3089cRDfOLjf4SUko5K+Miv/j9840/+gfXBLBuNiP7OCkONRYZbSzhxh5wIGdIGvapJpqn53B/tZ++H/5op1UdvPkOr1cIyFYeOH6bearHz+hvYsmUHdqYHw3SYmFjH+OgIhrSQaLQKqNZrnD11EF6lVfCKM4IWF2Z49Kl9DPT2ccOe3QwNDZDN5ZGW4PY77mTzrr089+QDLC8ss//wIU5OXcBxbGZnT/DOe9/JU/4AP/nvH4AzCXYQYzYqyLBBJ6iQT6YYsQZpxnN0REhHGxgEKKPJC5/9Mv/1nnX84g+9hb/81MeYmZth7+71+H4EholpSjIZh80bhjl6bJpIJWRck4znkHFsoigkShT5rEtvX5F9zzzFF77weX70x34cgIcfeYQvffEfsWyDYs5N7XzAyTiYpomONYZpULAtevIOjiUxpMQ1TaphTNYz2LRumE/86f/Fj3zwAzxzrsPXPvHbbMqNYnYa5LRFohVFM8FEsKTrZPFwwgYtLSiJDMJoceGBZ/jpTshv/tQ9xPvu5/xyjVY7YPbCHHNzy6go4fqb9rJ95x5mLkwTx21c22JhYZ5DR06ysLTInj07ieMA03JfMSF8xQBI4phyPs/pqXOcOTPDuo3j+M0Wgoh61eeBBx5k3zMHCcOYVqvNyTMXiUKfH3jfB3jc282n/8t+5FSHYiAxGj5e3MAWPlUScmqaQUOTTxapaI0VZWjGS8yIGURnnse+tJs7R+HZp/eRz7p0ghhpGnSCiIyXY2GhyuEjZ7BMSTHrcnG2QpwIEhUTxDFKafxOiGeaqDjiy1/8Au+491309vbw95//e7ROyHkOcaLQWhFq8CybStXn7Ll5ygUXISQrdZ/l5TqWlWqIIArJYmLbknarwX//7H/n2LyHiE9xtrnIenOAHrcIdOjP+BhGwlSnwXjGJlQLZJWHiCW1cJGC9EmezvJb5kZ+6ra9HHzk45yfW+a2vTsJOoeJIsXp6fNEn/kMuazLyOgojWaHpaUVCoUsmzaMYZkOQhivyqw3XykBHBpdT6PeYKi/hGFazJyfY/rcBRaXahQKGW7as5Xrdmzk4sIC02fb3LhzI+WRTTw/tcjBmf2owxly9WNkwzp5EmLRoGC2MIVGGsuMlx0a0QoDGsIk5rGVKXzVxBAOc+dP8cBDIUkUUsy4hJ0IxzPQSrFUbdKHoNbwyWUcorwL0kSoBMsymVuuk3clHT8gjBOKhTxTZ6c4cuQwd911F88/t5/1QxmCpqQThhjSIAgiLGFi2wa2aaCVRhqCJNEorcl4DiuVJpZlEEYBSRTTmy/wz/v+mYMLBgYCkdQ5p1ps6R1mOK8oZSoomVCst+kvK3SSox10OF+fYzZssytzJ4gOxw4d4a/mz3Pv9XeybdcyWUuzUu0wOTnM1k2TnDwxxRNPvYD14hQ7tm9icqyfbNZlbmaOXXvuwjCt7y4HEN1YwbqNO7j19rdz7twctXqb2fkFnn3+aJqfN1ym0agzv7BEHJrccOPtjLzzp/jySoGjZ2YQF87Rv/Ai48qjnZwmsKZx3SaZTMjOnh4ydoOWPY12F6kwy4uNAzSTixTNGFPXiI02B17YT76QRRqCMEkII0Wl0cKUgsH+IkpDoxXSbIcEnRAtNKVSjkLWY7na5uJyi04QUyrlWVmuMb+whFIJU1NnMGwbx7Fp+TELK01c12NwoEg+5xFEEWEUEyeKJNYI0orhKE5IEmi1E5QWZFyTKGgRdOo4pqLHiDFVi+eXz3C4NksoF5noXWHbSMDOzXWEs8iJ5imOhUe5vb/EoNNhuvMo9YUv0Fyc5q8fnuEZ9z1kezaSyeQ5cOgkTz71LEEY0DfQw4HDx3l833OcOjnN9Ll5tu/Zy+6b7vhOPIHf1gvArXfex8DAEIcP7aflK3bv2s746ACFQg7HzTA0NsItN+2hGis+9LlzNBsm69Zt5+KLTzLfOoZ0rmPC1CypGZQFEsHm7DBnqLO/VkFowXyrTRAoiqaFrTtEmQxjGzdx4pHPc+fN25mdu0ArUizWahSLBUZHhoiUQduPaLc7+K0Y0zRwXA9Ek5GhHjzXYn6hRstvkcnnmVusYMjUXPM7LSq1FtJILYqtm8aYmBhCaDCkIAhjwlDjOQa5Yh7LsgjCkJVag4VKmhTqeAZeNkenXsca3o23UkGc3s9o0SZQiqYlOdIyOdrUGLZiJpCcbtU458dMFnK0jGUeWTqJn/g4cpL+vh4yCw1qT0xzw2+8nfvuXMfDjz3H/NwSHb9KpjBKsTSEkzG45aYbuXnvrYyOb8Zxsq86PvCKASCEQBgmY5ObmVy3kbff+wO0Gg2SJEYaJghJkgiKxSyFapUb5mY4dGQOa7KJrT3aaC4G+1gSFkXLAqmIcw4H7Wkybg4zTlBSMFb0WK4EVKtN2mjGd91KW3icn5nBtG7EtRyajTYb1w2xY9sWkgSiOMJzXdAKv93By3jkiyUuzizS9iMGegsM92ZZqjTpxBZLi0v09vUghKSvp4cDh07wkR+9m5nz0/T296YtArTC81y0loRRjGGmjqFOyydRUC7nyWZdjp+ZodUKGB8Z5/SJs/hZSe9dH6S5PE3Dr9A3MUDGc/ENAUqh0Rz1TTKDHhtUlZVKm5O1JiYwZuVoCcHWzQXecf0U+czT7N3+TkyvxJ133kq1Vse1DJqtDo5nMzjQh2l5xJFGWA6GaXzvNACA42ZoN+rEKkQaNvly76UUUq1I4ji9OT1lfvrmaV6oPEJjYgtfXBYkywLTytAJO3R0QrmQJ1vIUS7lSJIYOjFIQb5gIUUDrUKKO27hwumTlK97C5HSvHD4JNfv3Ipz7gQ7No3TaftYrodjG9iWiVHIMzezSBhE5PJ5clmXoBMQJzE6Drlhz/X8zZeexstmKRQKgGZkZIjHH3+SWlMzMjrMwkodx/HoLXkUCjn8TpDOT0Aul2NxaYlOJ0ArGOwrkUSa6elZ8oUyR09/g4ldA5x/9nm2vePHaBz7KkbUIJvNYhiaME6wDEEpl6UdhHRCaAbLDAlF3nGo1JuU7ngbt980yca8TWlkK7neAaIgwDAtBgb6AEGpV4CGOBbEcYgWklzee01BoVcVz7RsG9NaZZpp1wzVfWkNCIkQGsNw2Xbnzdz2/vXcuivP2973Vjq6TRj5mKZJoZQlW8jieA6ZjMvQYC/9fSUKOY+enMXo2BAb7343s2cu0pw/QyuSTKzbyMPfeJKJ9VvZs2snczML+EFAlCRIw2DL5kk2b1yP4xq4nsveW27CNC18v4MKEyY3b+Ebzx5j+uw5BvrKhEFIHCd0woBMxuMvP/cVDLtETzFHvdmm2miza8dWJsZGMU2DXD7HwMgocRQSRSGu4xAGMTIJuPuet/Dc4VNoDZnyOPVTz3Do65+neN0PU9i4h8FihoGeMuVymXy+SCZXwLJdTCeLkXFYDmLO1Vtk997LW3/2Fxl2NYXBG8j3XI9lumvBpCiKUYkijmLiuBuJlBJpmDiO+x2khL3SD0vZDUNKBHLN7Zn+lN2gjgQVUxq8nr7NP0Ss89x2y02885d/C+FlCOMQzxRkPZecazE+2sP6DUNsGuth09ggm+9+P8bNH+LpfSeozc2AECxeXKZvbCe5rMPH/+yvWb/1RtZt2oRA0aq3abQ6DA4PsmP3HhIgly/TNzBBs92mWCowNjHJQ08c4YFHn6avv49qrZlG55RiZmaBXCFPs9ngDz/5t1RbsG5slCSB0bF1bNy0g1zGZGLdRnbuvolGO6TtB4SdAB1HXH/jDUzPN3numf1M7LiRxmKMMCXt2jz7/u5veX4uw5HR+/Czw+SyWUb7exjqyeNYEtsSDPX18ZY7386eX/h9hn/544wYbarVDnZ+mHLvGFIYaUAJgWGYSGkipYWU1pqNZloW5qt0Ab+mLQDA8Tw6rRpoiSDpegr1FXRRqQTPy6CtAdqqiFi+wO0f/ldkdtzKzMN/T2bpFH0ZSU8+w8D6UXKlYZZHitRyI8xtfQsH7v8sUaOJ4dgkHR9naorliV7GrruNY089zP/0K7/JdTu3cv32cUb6y2TyLtlsgcl1W/Acj7HREXpKIxRLPbx4aIrPf/FpGu2AXK7AwnKVWrWG7dhESUynE1CpVCiWyuTzGe7/x2+wbfMYt928jTAKMcw0FjE+PozSGsfJMDkxgU4S5isN/vL+hzh85BSDExMYxe2IE8fQbR8pJSoJaNZCDuz5V5zwZymdf5Fy9SI9pkk4FtMcshnadSeVwW2c1gb32G2yF6bwQ0GQ2BSKPal2FRKBRq5lb4m1hacB28285pyAVw8A18VyXEK/mUbBVNK1EVLhawRagOd6LFeaKOlid2qo5TkY30HxI9ehmhVqfpUgCDgdQV1ZRIO9OFmXILLwlQBDonVKarZ4Z2gLEPkN/PzPb+TQsTNMTR3nmedeZHykn+1b11OphFjyAU5PLXD2L+7nD/740xw9Pg3CZPuu3ZR7e3nyiSeoVRsg0nyCJI5JkhgB+B2fG266nuHBQZ5/7gX+2988zKNPvMiG9cMY0uUf/uGrPPjg45y/uMDiUo0TU+epNToMj47wgQ+9H8Md4eTUPLv7znFYtcC0QYHI94Gy8LOT+DvWMdtqQRykutdyOGLYMN+k5AgGvAYF3aGTyxMESRr/kAZSpy7vS4QcpBAorTBsl0wm991ICPk2AaHuS6AplnqoJIoo7GAYBkKrbkmhRGpFGPgs15ZI4phSbz9Zt8j8yjIql+diWxFYLsobo5RV6CShqTVNLQibMU07geIIUmlQaah4eINB0/C4cP4cQ6N3Iu0CGzet5+KFi5w5fZbHnz7MAw8/Q6IUjutiGiaFcpGtO3czMjqM63rUajWiOAYt1tK9ojAiiZMudxFpkMcwuX7PdbQabWZmL/KNp4/T7oSEYQetFK7j4mYyjI1NsHdyknJPmZGRYU4cPMn6osn23QV4qA0UECqC3g3otomI62AaqZPKtFKdGSqkitBCM2ka9M3PsnPXRmYXM0ydPoGUko0bNlEqlrFMO41IdquWw1hhWjbFct9aPsH3BgBKoVWSRs+6ETTDMOgbHKJWreA3GwhpINC0Wg2mp6c5e3aKtt9CGILhwRFsw8CemqMzvI65WNEMI4RIWBQaS2j8WBEomQq800F7Y2Dlke0ltAavZyubh4bRjdNEsSCKQuJI0dfbT2+5lziK6EQBYZiWiXueh2WaaA2JSoiiCKUVQsu1rCPDMAijiDgJEUKBFtgy7QvQCSMsz2bjls2s37QRv9MhiUJAYDsWjuNhGiZCppHPTifGMpvcetN6dt+8E/g8Ku6A7IfsDbDsI0yNNhSg0OJSFl5CghELbmo22D00Q7Y0waTnEUURp04eYW5ujh07djI8NIxtuyRKE8QKz/MolHoxDIMkjruJJcarLlH7lgDQcYxKYpS+NGHZbZKgkoRsJotl2UxPn+bZZ57i4nxaUiWVpt1qMz4+yIXzp7Fdlw1CUJ/awD6zjyiTIIQiNNIZiEghY4XSEr2gkIdcvMgkMpoIw+B9P/xjCBVzauoYpkhDtKkAQ5IoBqUxTRvDTCuAkiTp9hLqElMpkEJ2+0FphBRYpkUYhqkGQCMkCMsEAYYh0VoTBiFKp5lJlumg0EAaDhaAZRiYpok0BLEw2bhrN3e89Qf5F+++mYP7X6S27OPsrzBXb6KGJeRFescloECH4DUU76bCh24/hh4OOHL0MK1mDcfOUK/5LK1Mc+7COYaGRti1aw8DAyMUimUK+RxxHKGVwrSsbrpZjGlZCGl85wDQcUwchVfElISU3X0/tfk1YFlpsuTo2DiGZRCFIagYCZhSc+7CObIYFIdKvK/xGPY/b+GvauPMlzxwJdgCHWr0coI932HHxZO8u+/LPFw+QVwe4Z33vYsffM97U1u9bWAaImXFQmAg0FKsNelYNUellOmWJLtpWhpMy8SyJaqlkSIVnFIKxGp5pMBx7PT7QqJ0N+lUK1Si0xwHeencQkqEITGkgTAk9VZIb/8oxVI/H/mpj/Kl0qdoLpzhtuKfc+jwMfafuo55e5B2xgFDkFcRG8wqbx2Z4r0/XENsG+PCXIE4vMDyygrDQxl27N6JZVokicIwTQyZOpOy2QyJUqkGSZJUowmDWCVpQq7jpgv1NQNAJcRRin7R3XPEKvsQAhWnWsE0DS7OnOf8ubNs2bSJ7Vs20Ww0WF5ZolGrUKlWyGTzuI5JLjeANwb/49BzXP/Vx3j0QD/nmkV8JZFxhyE9y00TJ7jpQ2fovXkE56n7qLTyvONdHwBMHNeh3fGJowTLtLCEJJIS3c25E5cHQJQAQ6d9D0jJkm1Z5PM5FucWKPf0UiwWaDYbWJaN77dxXQfXdVNQrCVMXhZUlSnrXgOASNPWTCsFkmNZ9JSKJFGHPXvvouFHzJ4/yLoNLW75oQMEZw+wOC2pVSykZVEsa4a2WgzduI649xZiNjGozrM4fwHHcdE6IZvNMDE2SS6bI1GKRquNtIwugVVpoxJScErTQJAS20D7uF7mFdUPvCQAVJykwr8qBXz1fQoMTRxHLM7Pcvz4EU4dP0ahmGFocIx22+fFw4fTfVJpDCEpFkvYXg+LyuPWn1tk7+wR2rMvoAMfaUmskoEq9dI0bufEXIZC/zIbdg5TLvdTq1awTAPXNqnW6ziZTFe1GwgRo6Xs9jhKEyO1UMjVqjckUhpEcYQEHMfippv3kM1miKKITZs2cuTIYSxLkiQJjutCHCERJFqjdar4hZSpGdZFhBACUxoYtk2n4+NZBj3lElEY0qitsGXzFlDw4tQMw4Pb2P22MrcPC4iqqESgzCLKXs/coknrok+pVCNb7GNwcJQo6OC3W5w4foxWs41jSkzLphMl9PQN0tMzgGkYKL3arUanHEem2i7pLmDLcb5tWNh8KdKXAl5cSsjUGn1Zz5zubSaOYoQ0yOcKzM5c5PTUSQYH5tm2czeLSytkMx59fQMMj28GTBbnzxGHMVG0jnVb30puY5V6bZ66HzA7W+Hsc/O0G8tI5nEzLs3GMtNnTlLu6SWbzSG0ZqWyzHihgDZSbSSE6BpIAiH0FaZS2vhCIaVJHEWEUYhlWxQLOeI4JpPxWLdunJOnT6bkKgzI5rLpMYVGSxBKrC0CIUB3+YTsBpMc06RaqaDihGyuQBBG1FaWOHX6KEli0GnVOXxogZmLDbxMjomJSdZv3EQ+X2Zm6iytxgyGFMzMVLAdh3L/EGGiOHt2mk7bp1qrc376FLaT+gX6B0ZS07u7z2shLlV1akALJOk2rRP1bXsamy8b+JGyG7xYS9pfK8aQhoGKU8ugVCpR7uklUTHZXJ4ojGg26mzavAXHcSmWevBcl2azThzFZDJZchmLysIyK8tLPP/iCywtLeE6Jo1GBa0EQ/0DhFGLudkVcpk8zXqNcm+Jnt5eqpUa6zYY6R4sRMqotLrU9bWr8vVlGcUCmbpPE0Wr3WLHtu0IAaYheMc73s6Xv/YAjusQR4okTjul6W6zLCHEquVIIsDsmoxSCEzTJJ/PM3vhIqWeHgzDoNlq4vstlpYWaTRaOI5LJlsGoZiZO02ifHr6ioSxTxA2yeXy+O02SoU0GjWCTodiXz/rDZcoikiSiOHRCVzPY3R0nL6+ge78urDXVxamXKo5kK+okdXLAsAQBspIC0B0V7WiNUkcIw0D07BRpqaQK7NucgP5XIFarUqz1aATdujrG8A2bXL5AtmMi2GaOD0e2VyRfC5HtbbC+vWj9PfnWVlZIgx9qpUqpmnTarU4P3t+zTYXQrIwP8fd99zNX336bzh88BBjE2O0mu1U7Yu0vlWpy3SUuHQtWqWma5zE3PKWW3nPe97FuTOnEVLwoQ+8n0OHD/HZv7m/m/mUXJZPs0owLyOXl7nFtVYcPXwE13V5+9vuobKyTJQoYqWxLBspfTKey4YNG9i6dSu2nSGMEuIoph0GbN22kygIqdcqdDo+URQQxzG2adPT20sQJRQKBTzHRgiJm8mSy+a7yaepj0QaEtOw1gpfDEMi6C7gV5YSdlXuWJfoCUmqSrS45Oy9DFBCShzXQ0qJ43n09PbTaNRpNuokKkZ3U8AzmWx68+MYy7JxXY8oDjk9dZqRgT76+4rkPYtYwZw1w8zsBYKgg2VaxFFErBPm5i7QbjeYmBjhhz/wHva/cJiw42MYsisc3V3tqbo2hECsvkWDUIRRxN69N/JzP/0RGvUqlZUFCoUSHd/n3/4vv8LI0DCPPvkUCL1mVaRFK6C0WKvoWb1VpmkRhjFBEHD3XbfS21vgwoVzeJk8juMihMC2LaIooN6oU681yOYEYRR3Yycmju1hWw6245LE8dqKXzVz40RQLOTJ5/NIaaTzMY01LnJ5MYruOulW//atClK+tQZY7YnXLW64tK+KK6vIUmqM7XkYlk0YdFBd5KeOoxSdjm0jpEhNGWlg2TaqlRAEPt944gn6enK4jsvI6DqOHD9GZbmCbdlESUQ2X6JY7qPRrGJiEHYidm3fwsjQAC8ePEanvYzj2iR+jEpSEAil0EojDBOjy5iXl5fZsnmS++69Bx1Dq9nAMCXV6gqtVot2u82HP/h+oqjNl776CDt37qQThGhi4iQ1raQUSMPAMAxMyyKKY8bHhrl+150UcxmqlVpazVStYjo22VIvjWabVqPJuJ3jyNHjtNo1coUipmnR3z/G2Ngktu1gmGZXwaZgNg0DQ0qSRGM7Nq7jYdnWVU6eVCMr1b3urpZOV38XGPK1JoWu9gu4ukT5JUvIBIYlsbTCSxSmaayZUlKm+6RhmKgkSZHZvYm9Pb1UaxVm5hdptRrkiv0srVRp1Jt4GZdCuZd16zZhmzaxitKLURB0Qvp6ern99ht56ol9PLHvBcp9fTiWhYoVQnZtfK2oLC8xO3MRzzUZvHUn9VoDKSS2aaFijSIm6qa5z8xdpJh36TRWeP7ZZ9i2ZQPSMukpF7Esh04QUK83UHFEdXmRu+68ldtuuZkkjuh0QtAGiYroBAFGaFIq9iKlTb26gmO7nDl9kijs0Gz69Az0UyyVMAwDwzDXilR01/Iyul1PTVL/xdqDK6667wiQhriyt+ea/F6VI0jzkkWir6JfkGlaCE9gxRaq6zpOlYmBYZporUmSGK0VlmUzNDhKu9XCczI0mw3qtTrDoxOUen2yXp6+nl4czyNOYkgEidJYtkGhWAIE1WqFsdEBdm7q4/TJaQpDA1Sbdd5x732Ue/r4y7/4U1ptH0nE5OQmWu02cRRgWg5xF4yr9kwUtgnjiFqtzlv27mR2bhkZ1BnqHeRHfvQDPPTg16g3fWrzs6g4YrhvkMmJUbxsmTDw0bTpBJ10K+rWBAopyWY9ekobSKKIdevWg0pwMnkGh0fo6e2/olRttdx8tTfR6t9Mw/wWEhBXaeTXEgvokqjvvNNAt17eMpFaopVeY+Fr1oM0UApM06Sntw+lFQsLc7T8Nn7Lx7EcbNslk8nguA6maWFbNrZl4zoOuWyeXKGA7/sks4pmo8PkxHrCMGRq6gymafD0448ghMHMxXmy+Rwqjgg6HQzTSusGZYyiy5JFauHESUySJJiWgwZGhgY4dXwKP+zwZ5/8GGdOnydfzNJoNDAk6AQqK3XyN5SJ4xxR2CHs+PgdnzAK0sRRKdFJ6oDq6e3rNp8KMS2PTDZDJptPBX3Zni2lxDTNtX1dCrmWu/i9Gt/FVrHp3iOVTEPCUl9ZMNkNIsmu2pMyTdzsHxyi0wmoVyvUqxUSrbAsC9t2sK20OAOREkrLcnE9F9NKWW+tXuHUyRM0GzXyuQILS1VOTx2ht6fA2NgoWzdv4LrrdjJ9cRbHdYniBNu0ECIGYaBllyxqTRzHlEpFTocxp06dZnx8BNc1mTp9Dj8I8BdTt/i977yDcrGXoaEBXM9FJw6R4+B5OfJJQqxjpJBdL6TGsR1KpTLZXK7rW+lGTQ1jTeWvmt2r8X7dDRcI2dUKQr6eAHiNPYJENyWMlDxqNGiBvupwsptcapgWluMSxzFhGOC5HsVCkagbdTNME7P7AolCYRkmlmXh2DYDvQOYWpB1LN56271s2LyRv7v/82zdEuI5LrWGz8JSBdOyCIKQQtnCMo01Zrzq4Nakdfu5bI44iJgcn6SnlOOmm29Ca7DlN7BsgzCM8f2A4aExRsfGyBfLZDI5kjjBUqkGWS13Nw1zjQM5jkPG88hkMpiGtaYtV3sM6m7bF31ZjwS5Zs/L1P8vv9ca4Ju2gdfaKKo72a5JstqD8mrikmoLsLr73aqKM0yDOIq7DSDS/U8aBsZl0S0pJRrN2PgG7n7HfRw/9iLL83McfOEFpi8sECSacqkHaTpkMy7nZxbIl/ooFHvIuF4XUKt9CFIhOHaG3r4Benv6aTebZPJ5jhw+RqPVZrbSwvM84lgTRJoz0+colHrZdv1GzC6B09pGqRQA8jLTzDQNbMvCtGykNK/wzQvDSB063cYRXYP10lpaPc73uCeReWW7l+/SyVYJlngFvMEwsR2xZjEkcZr4uOrKNbqeR2kYoNMmColK6B3o5+z0KVp+TKAF84sVdu/ZTbl3ENtxyGZyFEtlspkclmkRxQFCXTqu7rq6DZn6KkrlMrlcjunz02hppomvZoO7Nm7Fcb01klbIFdmxYzc95d7LyJvo9jkQV+7fprGmtV4yaWPVa8f/d6PbI0hc6hC3GgZ7naelu4JVSYJKug9iuNytmXYK6DZ0SLXE4tICc/Nz+H6L8xfP02o2kUKSyRfo6xukvy8NmrRaLTqBn6Z3A4ZI1bRjO5i2hW2nDqpsNkcYdIiiiOWVJeZmZ1iuVtK4gZehv3+IgcERCqUSrut2kzUvhclX4wNSyNSWN1PtZXRN3zfE0C8HgDXBv4yp8TqBQHWfwqEuy0Ba83GnDGMt8VQrTScMaLWa+G0fv9MmASzTxnZcTCON8IVBRBQFKJ10hSMxTQPTsLDs1MowLavrgbOI4wjfb+P7Hdp+m0TFmIaNaZo4XgbHcVPHkFhNNrkUIkZKjC57l0b6M93m5BtM+N02fjpRl1rFviQIxOs6Q61U+uoWm1xSSJeif5eXP2mtiZOIOE7S4k3UWhxfaY1KktSlnKRby5qz05CYholpmFimgWXZqY+9ew69+t2kC0YuPWNQXdGiTXSJ26U9W4pLWsGQxvesndx3BwAq0WvhLiFef5m/ZA7qpWcXaa7sibeamHJlsEOvPcxBKY3SyZofYjUvUCXJZcke+rKkDiPVBqa1psIvJ1+XRxV1N8qoruoSrteyoi91/pJr28Ib5RGz3VVxxeMAVgHwUu4k8QaB6yX76LLctJcnrVqrNQFd/vSP1GeuLrlcRcoq1rxvUl5i6S+rrnUXEGrN67cK0iunt7o9yDeO8Fdn900cIFGaKwI+4g0CgO/CdnIZCODyjmOr6WJcavQoXt1Fr7Zyfan2tOIN1XL/KnjqK23zSxyAq1cX13pGv5YV9oacG5ep/ysBIF9W+JeDR18T8bd3g74ZpyqucgXrb86ouTa+38B55TOh5Ld1NV57fMD3NTD+XzRCsKtleXbUAAAAAElFTkSuQmCC

iVBORw0KGgoAAAANSUhEUgAAAIAAAABOCAYAAADo3B4PAAAvXklEQVR42u29eZRk113n+bn37bFH7nvWvpdUWkqyNku2ZWFjtzE2Bg/NAQ80TPsMHKCZhYbT9NBDA900nAOD8dhgGnA3tkFgxuBV1motJbRVqfYtq7KW3DNjjxdvu3f+eJFZiyVbkm2N5Kl7TpzMyIx47773+97f/f7WJ7TWmmvj/7dDXrsF1wBwbVwDwLVxDQDXxjUAXBvXAHBtXAPAtXENANfGNQBcG9cAcG1cA8C18f0+zDf7BegkAQ2I9L2QEoS46kMarVT6OXT6GfnN2NdKgVJrBxNG91hXfR8hEIbxfQEA8aYNBmn9zYJeHUpdEvDlv7/cZ77F8XSSvLSwV2/by83hmgZ4fYRff+Ahms88i+4EeDu3U3rfe5Gem35Ga5CSaHGJ+le+RnD2HEY+R+7uO8nesOdKIQpB4+l/pvX4U+hWG2tyguK778Ma6CdeqVD90lcIz0wjPZfsW24hf+ft3x6I1zTA90j4QFypMv0//xL1r36dpNFICU3GI7Pneib/9GN4WzYDUP3qA1z4lX9LeHYaFQQIw8DoKdP/r3+WkX/3q6km0Jrzv/rvWP70X6NqdXSSIG0bd9cOen/if2Dlc/fjv3AAFYYIKZGFPOUf/SATv/+7SNteA9A1ALwe8lcKIQRnfuajrHz2b7GHh8i//W6E69J4+DHC6XN4e65j24NfpnPyJCd+8IdRjSbujm1krttFeGGG9rPPkdTqjP6X32Hwoz/Lxd/8j8z/pz/A6CmTvXUv1uAAzX9+jujsNMhUsNboKLnbbiFeXqH51NPES0sM/tLPM/bb/yGdk3yT8mn9JhoqSbTWWreee0G/MLhO7x/frFf+7h/W/t984YA+eN1e/axb1tWvPKAXPvnn+hkzr4/9wPt0uLi0doxzv/Ef9POlIX341rfqcGFRH775Dv18eURf/J3fWztW59x5feSt79T7RzboQze8RfunT6/9b/aP/kS/MDipD2zYoTvT59I/duf2ZhtvLtiqVFm1Dh0mqdXwrttF+QM/hE4SdBiS3XMdxbe/DR0nrPzt35O/+06EbdH3Ex/G6utF+R2ElAz+65/FHBggOH6SzrFj5O64DeG5DP7CR9PTdDo442P0/cSHiZeWccbHcDdsQMcxaM3Az/009tgoyUqF4OTp1YX05vQDqDhKL0wloNUl8sQb94KEYaQMPggvvTdTPps0GxjFPM1HHkNkMmT33kxcqV4yEQEdBF3zUVP9py9Teu+7kZnM2j4uTBO0RmazICU6ikCp9DxCIJRCum7XNFRvckeQ6gpcXS74VeG/sUAguvtxds/1mKUS/pGjzP3hx9BRhJCSyhe+SP3rD2OWSkQLizQefpTen/xx5v/wY/jHTyAcm6ReZ/Z3fg/VbGGUitS+8gD2+DjOlk0ov3PZycSlqxfiSpOx6xu45gh63eEq0Urh7dxOz4//KAsf+7+Z/0+/T+0fv4i0HdoHD6N8H6NURHouK/d/nsk//H1mfu3fc+p9H8LdvZN4bp7g2HFwHIRtE06fxz9yhNJ7341q1KG35yrUvQzDfxMz/ytuqRACgVjzpMEb+8KEEKA0Y7/17xn46M+hhaDx5NPUH3mUpN2m+L73MPHJP0Z4Ho1HHydcXqb4wffjT52h9k9fpr3/RchlGfud/5PiB99PUquw8rm/I//Od4CXWdvLtdYQxyS+jwrDru9IXfp/GKZbiXpzawKhwlAL0QXAKqqF4DJEvAFNl0vTC48dp7X/RZIwJLt9G97emwDoHDuOozRicoLEkMRPPY0/fR7lufTc81YYHIB2G//YCaTn4mzb+k3AVysV4nPnkYUC5oZ1V5ii/rHjaN/H3bwJo1B40zqEpPimSYs35P5/9RS10qAUi329TN2wm76f/Jf4u3bw4Ne/ztLCAva2rewLOxw4M4XhujzuOVTe+y4KP/YjPHD0CFopHt+/n8bmDfjrJmn7PidOnODAgQMEYciFCxeICnmejkOm7dQV/Nhjj3Hq1CmElGR2bCd7042p8N/ELmGZBjcuX/1XA+GNqgRSN+/hZ5+lM7+IjmOOP/88F2dmqNRq1JZX+MyffYoDzz2H1pozBw7gBQEnDx/m9JEjCClp1evkhMGZI0eIoogoiiiXy8zPzdFsNlmam2Pq4EEWps+htWbfvn0cOnSIarVKrVJBX7YlvHldwXGkryA1b3T1f9UIgoD5+XkmJiaIoojZ2dm136MowrIsLMtCKYWUEt/36XQ6lMtlgiDAcRzCMMS27bXPR1GElBLDMDh37hwjIyMYhkEURQghiOMYwzCwbftNTwKFTmL9zaz2zc9uX8briRDfn9f2HWwBXLbqxZtWsN/u9zUL4lV67b7V8b4fRqoBrlD9+vtWA1wbL+UIEvKl7atXvQKv/m76/vVUuZev0O/Wea++ttfrel72nmq+q5FHoVXXk/Ea2P8r3VO/V3uv1hrVDQ/Ll7gpSZIAYLzK9K1v9b1vd87Xi6usgv07va+vDQBXOT2a9QrLCxcI/AZh4JMkCbZboH9ogr7Bke8JCFZZ/eoIo5hWs0XYZfKlUnE1lP+azx+GESuVCr7vY5oWuVyOcqlw2RwShJDfE3A3a8usLF6kE7TQSYJlOSANLMtjaGwDlu18V+6r+c0OoFcmfK0VF84e4+L0MZ55/HFGJ0cYHugjCAJqjQZ+oMjlyvQPDLDzhjvIFfu+5RajL0+4fAUrREpJrV7nySef4PDB/SzNX6BaXSFJFLl8hjC2GBoZ54477uKeu+9GSvFtb9bq/7/+4IM88vBDnD8/RdipE3QC0JJyTw+5Qg9bd1zHffe+k02bNr4ysGqN1jq9dd1Vm75e4rNJxFOPfZ3AryGSOkqB57gI0+D0kSPUlpfYevNb6B0YZ8uOvWTzxe+CBhCvDACrN6jZWOHgsw8ydeIYpVKBgy8eZXJynI0b1xF2OtSbLdpBgpfJ0Qk65LMet73tA+SLPWvHUFqzemop5RU3I1Hp/me8hIpN/fHw9NP7+Ku/+ATLixfIZkwKnkW93sYwTXZum+DA0bNMTS+ghcGmTbv5tV//DTZt2pCaPi+zXUgh+e3f/S0+//efI+uZDPRmGenvw28HNNoddmwepdXpcODoecLY5q577uWXfvGXKRTya0K9nAGpRCGFWItifvM5V7cSsaZRnnn8n5g6cYKe/lGymZh2q00hVwTL4MhTz2DaNr3jIySxxs6UuG7PzQxPbO2e+9VzOPnKV38qOL9V5dyJ5/AbFRzXxfcDPC9DdaVKEockKkGpmCROkAKCMOLZAwc4dODZNQEmKr0xpiExjFT4zSBgudEiUQmGFKnw9UuYYUIAis/8t49zfvo4UeCT8yyyWQ+NIIwVhmEw1N9DPmvjGJL9zz3Bpz75x13B65cUvmEYHHjxWb7w+b+mt+Dh2Cae41LIu2gUSSKwLINyKUMh65DzEr76xc/xiU/8CVJK9GV5AVprhNbptUnB6cU6X3nmJPc/cZIvPX2Cg1OztOMEw5BIKUiSBK3hwtmTPPboQygBjZZP2AmIww5JEhGHAZVKFTeXxzIsYiVQScjM2UNMH9tHHAWvicCbr8yHnSKrsnSR2sIZPMciX8hTa9SpVptkcxkqldqa8JVOsAwLv+Nz9NhRXDfLwux5EqXXiNX5aoN/fOIgj714gfNxjnPzFdqNKgOGYs/6Pj583x5+6NZtCC6pbqVS4f7Fpz7Ok088QblcxLBt8lmXfNbBNAVhoNFoeooZbMskjgJcx+aBr32Z9z/+fm678541ga8C0jAMFhZm+N//11+i1erQX8qiE4VrSYoFj9n5lVTAEizTQCUxnXYH1zF56vGvsvwzP0Nv30CXHKacIAE++eBRPvsP+3nmmWn8GqAcWHgIPIPJ3du592138DPv281tOyYBODs9Ravd5uLMBYpFTd4torVCSE3U6eA6DoVyiVqtSr0dsn2wjOt6tGrLnD6yj007b8cwrdfKAb71nt9u1Tl9cB+ZnEcmmyebyZHLuKwsLuPYDlGrjt/qYNlGyqINmyNHj+K3fZIEmu0OhhScnl3gdz79MPc/epLaieNQrcH4u8BR0F5hpVnn2MOn+OwXjnDfe2/kz3/xXkZLeeIkwTQMvvaVL/C7//m3GR7pJeuYaUImGscxEUKiVIjQCsM0SJTGNkwKeYe5xQq/9r/9G/7qM/czPrnhChYdBD7/8Td/ndMnp1g3OYAUCoVGSoFlmWidoLQiTjS2JbvaTeBZJlOnTvGLv/BR/utffgbDNBHAbNPnx3/973jkb05A7QI5N0ef0wc6pOG3iJsx00+f5VNP1/jUnz7Aj33kB/iDf3MvxYxFGEW4KuH8xSl6ilvIuKC1IPA7DI32E8Yd5paWWTcxRi7jIqRAK0Ft6QIXzx5mYtOeV0UM5StZ+wALM2eo15eJo4Ao9HEch1KhQC6bJQw77NlzMxMTmxifmKTU08fJqdNUqxUKxV6Wl2vcevMePv3oi9z0L/+IT/3Rg9SOLGI0IozmHM6FOfIXG7gzVbxKDTsCaynha3/yVf7Fb/4j9TD1zc/Pnuc///b/wchwDznPJl3rijhJyBcLuK5JomKkKbAdE4HANCWWKdmxYYhqdYE/+L3fouP7V6jrv/jUx3nk4YdYN95HKWvjmAZaK3J5l96BEmGkkIYgk3HIZi3QYFkCrRSjQ3089cRDfOLjf4SUko5K+Miv/j9840/+gfXBLBuNiP7OCkONRYZbSzhxh5wIGdIGvapJpqn53B/tZ++H/5op1UdvPkOr1cIyFYeOH6bearHz+hvYsmUHdqYHw3SYmFjH+OgIhrSQaLQKqNZrnD11EF6lVfCKM4IWF2Z49Kl9DPT2ccOe3QwNDZDN5ZGW4PY77mTzrr089+QDLC8ss//wIU5OXcBxbGZnT/DOe9/JU/4AP/nvH4AzCXYQYzYqyLBBJ6iQT6YYsQZpxnN0REhHGxgEKKPJC5/9Mv/1nnX84g+9hb/81MeYmZth7+71+H4EholpSjIZh80bhjl6bJpIJWRck4znkHFsoigkShT5rEtvX5F9zzzFF77weX70x34cgIcfeYQvffEfsWyDYs5N7XzAyTiYpomONYZpULAtevIOjiUxpMQ1TaphTNYz2LRumE/86f/Fj3zwAzxzrsPXPvHbbMqNYnYa5LRFohVFM8FEsKTrZPFwwgYtLSiJDMJoceGBZ/jpTshv/tQ9xPvu5/xyjVY7YPbCHHNzy6go4fqb9rJ95x5mLkwTx21c22JhYZ5DR06ysLTInj07ieMA03JfMSF8xQBI4phyPs/pqXOcOTPDuo3j+M0Wgoh61eeBBx5k3zMHCcOYVqvNyTMXiUKfH3jfB3jc282n/8t+5FSHYiAxGj5e3MAWPlUScmqaQUOTTxapaI0VZWjGS8yIGURnnse+tJs7R+HZp/eRz7p0ghhpGnSCiIyXY2GhyuEjZ7BMSTHrcnG2QpwIEhUTxDFKafxOiGeaqDjiy1/8Au+491309vbw95//e7ROyHkOcaLQWhFq8CybStXn7Ll5ygUXISQrdZ/l5TqWlWqIIArJYmLbknarwX//7H/n2LyHiE9xtrnIenOAHrcIdOjP+BhGwlSnwXjGJlQLZJWHiCW1cJGC9EmezvJb5kZ+6ra9HHzk45yfW+a2vTsJOoeJIsXp6fNEn/kMuazLyOgojWaHpaUVCoUsmzaMYZkOQhivyqw3XykBHBpdT6PeYKi/hGFazJyfY/rcBRaXahQKGW7as5Xrdmzk4sIC02fb3LhzI+WRTTw/tcjBmf2owxly9WNkwzp5EmLRoGC2MIVGGsuMlx0a0QoDGsIk5rGVKXzVxBAOc+dP8cBDIUkUUsy4hJ0IxzPQSrFUbdKHoNbwyWUcorwL0kSoBMsymVuuk3clHT8gjBOKhTxTZ6c4cuQwd911F88/t5/1QxmCpqQThhjSIAgiLGFi2wa2aaCVRhqCJNEorcl4DiuVJpZlEEYBSRTTmy/wz/v+mYMLBgYCkdQ5p1ps6R1mOK8oZSoomVCst+kvK3SSox10OF+fYzZssytzJ4gOxw4d4a/mz3Pv9XeybdcyWUuzUu0wOTnM1k2TnDwxxRNPvYD14hQ7tm9icqyfbNZlbmaOXXvuwjCt7y4HEN1YwbqNO7j19rdz7twctXqb2fkFnn3+aJqfN1ym0agzv7BEHJrccOPtjLzzp/jySoGjZ2YQF87Rv/Ai48qjnZwmsKZx3SaZTMjOnh4ydoOWPY12F6kwy4uNAzSTixTNGFPXiI02B17YT76QRRqCMEkII0Wl0cKUgsH+IkpDoxXSbIcEnRAtNKVSjkLWY7na5uJyi04QUyrlWVmuMb+whFIJU1NnMGwbx7Fp+TELK01c12NwoEg+5xFEEWEUEyeKJNYI0orhKE5IEmi1E5QWZFyTKGgRdOo4pqLHiDFVi+eXz3C4NksoF5noXWHbSMDOzXWEs8iJ5imOhUe5vb/EoNNhuvMo9YUv0Fyc5q8fnuEZ9z1kezaSyeQ5cOgkTz71LEEY0DfQw4HDx3l833OcOjnN9Ll5tu/Zy+6b7vhOPIHf1gvArXfex8DAEIcP7aflK3bv2s746ACFQg7HzTA0NsItN+2hGis+9LlzNBsm69Zt5+KLTzLfOoZ0rmPC1CypGZQFEsHm7DBnqLO/VkFowXyrTRAoiqaFrTtEmQxjGzdx4pHPc+fN25mdu0ArUizWahSLBUZHhoiUQduPaLc7+K0Y0zRwXA9Ek5GhHjzXYn6hRstvkcnnmVusYMjUXPM7LSq1FtJILYqtm8aYmBhCaDCkIAhjwlDjOQa5Yh7LsgjCkJVag4VKmhTqeAZeNkenXsca3o23UkGc3s9o0SZQiqYlOdIyOdrUGLZiJpCcbtU458dMFnK0jGUeWTqJn/g4cpL+vh4yCw1qT0xzw2+8nfvuXMfDjz3H/NwSHb9KpjBKsTSEkzG45aYbuXnvrYyOb8Zxsq86PvCKASCEQBgmY5ObmVy3kbff+wO0Gg2SJEYaJghJkgiKxSyFapUb5mY4dGQOa7KJrT3aaC4G+1gSFkXLAqmIcw4H7Wkybg4zTlBSMFb0WK4EVKtN2mjGd91KW3icn5nBtG7EtRyajTYb1w2xY9sWkgSiOMJzXdAKv93By3jkiyUuzizS9iMGegsM92ZZqjTpxBZLi0v09vUghKSvp4cDh07wkR+9m5nz0/T296YtArTC81y0loRRjGGmjqFOyydRUC7nyWZdjp+ZodUKGB8Z5/SJs/hZSe9dH6S5PE3Dr9A3MUDGc/ENAUqh0Rz1TTKDHhtUlZVKm5O1JiYwZuVoCcHWzQXecf0U+czT7N3+TkyvxJ133kq1Vse1DJqtDo5nMzjQh2l5xJFGWA6GaXzvNACA42ZoN+rEKkQaNvly76UUUq1I4ji9OT1lfvrmaV6oPEJjYgtfXBYkywLTytAJO3R0QrmQJ1vIUS7lSJIYOjFIQb5gIUUDrUKKO27hwumTlK97C5HSvHD4JNfv3Ipz7gQ7No3TaftYrodjG9iWiVHIMzezSBhE5PJ5clmXoBMQJzE6Drlhz/X8zZeexstmKRQKgGZkZIjHH3+SWlMzMjrMwkodx/HoLXkUCjn8TpDOT0Aul2NxaYlOJ0ArGOwrkUSa6elZ8oUyR09/g4ldA5x/9nm2vePHaBz7KkbUIJvNYhiaME6wDEEpl6UdhHRCaAbLDAlF3nGo1JuU7ngbt980yca8TWlkK7neAaIgwDAtBgb6AEGpV4CGOBbEcYgWklzee01BoVcVz7RsG9NaZZpp1wzVfWkNCIkQGsNw2Xbnzdz2/vXcuivP2973Vjq6TRj5mKZJoZQlW8jieA6ZjMvQYC/9fSUKOY+enMXo2BAb7343s2cu0pw/QyuSTKzbyMPfeJKJ9VvZs2snczML+EFAlCRIw2DL5kk2b1yP4xq4nsveW27CNC18v4MKEyY3b+Ebzx5j+uw5BvrKhEFIHCd0woBMxuMvP/cVDLtETzFHvdmm2miza8dWJsZGMU2DXD7HwMgocRQSRSGu4xAGMTIJuPuet/Dc4VNoDZnyOPVTz3Do65+neN0PU9i4h8FihoGeMuVymXy+SCZXwLJdTCeLkXFYDmLO1Vtk997LW3/2Fxl2NYXBG8j3XI9lumvBpCiKUYkijmLiuBuJlBJpmDiO+x2khL3SD0vZDUNKBHLN7Zn+lN2gjgQVUxq8nr7NP0Ss89x2y02885d/C+FlCOMQzxRkPZecazE+2sP6DUNsGuth09ggm+9+P8bNH+LpfSeozc2AECxeXKZvbCe5rMPH/+yvWb/1RtZt2oRA0aq3abQ6DA4PsmP3HhIgly/TNzBBs92mWCowNjHJQ08c4YFHn6avv49qrZlG55RiZmaBXCFPs9ngDz/5t1RbsG5slCSB0bF1bNy0g1zGZGLdRnbuvolGO6TtB4SdAB1HXH/jDUzPN3numf1M7LiRxmKMMCXt2jz7/u5veX4uw5HR+/Czw+SyWUb7exjqyeNYEtsSDPX18ZY7386eX/h9hn/544wYbarVDnZ+mHLvGFIYaUAJgWGYSGkipYWU1pqNZloW5qt0Ab+mLQDA8Tw6rRpoiSDpegr1FXRRqQTPy6CtAdqqiFi+wO0f/ldkdtzKzMN/T2bpFH0ZSU8+w8D6UXKlYZZHitRyI8xtfQsH7v8sUaOJ4dgkHR9naorliV7GrruNY089zP/0K7/JdTu3cv32cUb6y2TyLtlsgcl1W/Acj7HREXpKIxRLPbx4aIrPf/FpGu2AXK7AwnKVWrWG7dhESUynE1CpVCiWyuTzGe7/x2+wbfMYt928jTAKMcw0FjE+PozSGsfJMDkxgU4S5isN/vL+hzh85BSDExMYxe2IE8fQbR8pJSoJaNZCDuz5V5zwZymdf5Fy9SI9pkk4FtMcshnadSeVwW2c1gb32G2yF6bwQ0GQ2BSKPal2FRKBRq5lb4m1hacB28285pyAVw8A18VyXEK/mUbBVNK1EVLhawRagOd6LFeaKOlid2qo5TkY30HxI9ehmhVqfpUgCDgdQV1ZRIO9OFmXILLwlQBDonVKarZ4Z2gLEPkN/PzPb+TQsTNMTR3nmedeZHykn+1b11OphFjyAU5PLXD2L+7nD/740xw9Pg3CZPuu3ZR7e3nyiSeoVRsg0nyCJI5JkhgB+B2fG266nuHBQZ5/7gX+2988zKNPvMiG9cMY0uUf/uGrPPjg45y/uMDiUo0TU+epNToMj47wgQ+9H8Md4eTUPLv7znFYtcC0QYHI94Gy8LOT+DvWMdtqQRykutdyOGLYMN+k5AgGvAYF3aGTyxMESRr/kAZSpy7vS4QcpBAorTBsl0wm991ICPk2AaHuS6AplnqoJIoo7GAYBkKrbkmhRGpFGPgs15ZI4phSbz9Zt8j8yjIql+diWxFYLsobo5RV6CShqTVNLQibMU07geIIUmlQaah4eINB0/C4cP4cQ6N3Iu0CGzet5+KFi5w5fZbHnz7MAw8/Q6IUjutiGiaFcpGtO3czMjqM63rUajWiOAYt1tK9ojAiiZMudxFpkMcwuX7PdbQabWZmL/KNp4/T7oSEYQetFK7j4mYyjI1NsHdyknJPmZGRYU4cPMn6osn23QV4qA0UECqC3g3otomI62AaqZPKtFKdGSqkitBCM2ka9M3PsnPXRmYXM0ydPoGUko0bNlEqlrFMO41IdquWw1hhWjbFct9aPsH3BgBKoVWSRs+6ETTDMOgbHKJWreA3GwhpINC0Wg2mp6c5e3aKtt9CGILhwRFsw8CemqMzvI65WNEMI4RIWBQaS2j8WBEomQq800F7Y2Dlke0ltAavZyubh4bRjdNEsSCKQuJI0dfbT2+5lziK6EQBYZiWiXueh2WaaA2JSoiiCKUVQsu1rCPDMAijiDgJEUKBFtgy7QvQCSMsz2bjls2s37QRv9MhiUJAYDsWjuNhGiZCppHPTifGMpvcetN6dt+8E/g8Ku6A7IfsDbDsI0yNNhSg0OJSFl5CghELbmo22D00Q7Y0waTnEUURp04eYW5ujh07djI8NIxtuyRKE8QKz/MolHoxDIMkjruJJcarLlH7lgDQcYxKYpS+NGHZbZKgkoRsJotl2UxPn+bZZ57i4nxaUiWVpt1qMz4+yIXzp7Fdlw1CUJ/awD6zjyiTIIQiNNIZiEghY4XSEr2gkIdcvMgkMpoIw+B9P/xjCBVzauoYpkhDtKkAQ5IoBqUxTRvDTCuAkiTp9hLqElMpkEJ2+0FphBRYpkUYhqkGQCMkCMsEAYYh0VoTBiFKp5lJlumg0EAaDhaAZRiYpok0BLEw2bhrN3e89Qf5F+++mYP7X6S27OPsrzBXb6KGJeRFescloECH4DUU76bCh24/hh4OOHL0MK1mDcfOUK/5LK1Mc+7COYaGRti1aw8DAyMUimUK+RxxHKGVwrSsbrpZjGlZCGl85wDQcUwchVfElISU3X0/tfk1YFlpsuTo2DiGZRCFIagYCZhSc+7CObIYFIdKvK/xGPY/b+GvauPMlzxwJdgCHWr0coI932HHxZO8u+/LPFw+QVwe4Z33vYsffM97U1u9bWAaImXFQmAg0FKsNelYNUellOmWJLtpWhpMy8SyJaqlkSIVnFIKxGp5pMBx7PT7QqJ0N+lUK1Si0xwHeencQkqEITGkgTAk9VZIb/8oxVI/H/mpj/Kl0qdoLpzhtuKfc+jwMfafuo55e5B2xgFDkFcRG8wqbx2Z4r0/XENsG+PCXIE4vMDyygrDQxl27N6JZVokicIwTQyZOpOy2QyJUqkGSZJUowmDWCVpQq7jpgv1NQNAJcRRin7R3XPEKvsQAhWnWsE0DS7OnOf8ubNs2bSJ7Vs20Ww0WF5ZolGrUKlWyGTzuI5JLjeANwb/49BzXP/Vx3j0QD/nmkV8JZFxhyE9y00TJ7jpQ2fovXkE56n7qLTyvONdHwBMHNeh3fGJowTLtLCEJJIS3c25E5cHQJQAQ6d9D0jJkm1Z5PM5FucWKPf0UiwWaDYbWJaN77dxXQfXdVNQrCVMXhZUlSnrXgOASNPWTCsFkmNZ9JSKJFGHPXvvouFHzJ4/yLoNLW75oQMEZw+wOC2pVSykZVEsa4a2WgzduI649xZiNjGozrM4fwHHcdE6IZvNMDE2SS6bI1GKRquNtIwugVVpoxJScErTQJAS20D7uF7mFdUPvCQAVJykwr8qBXz1fQoMTRxHLM7Pcvz4EU4dP0ahmGFocIx22+fFw4fTfVJpDCEpFkvYXg+LyuPWn1tk7+wR2rMvoAMfaUmskoEq9dI0bufEXIZC/zIbdg5TLvdTq1awTAPXNqnW6ziZTFe1GwgRo6Xs9jhKEyO1UMjVqjckUhpEcYQEHMfippv3kM1miKKITZs2cuTIYSxLkiQJjutCHCERJFqjdar4hZSpGdZFhBACUxoYtk2n4+NZBj3lElEY0qitsGXzFlDw4tQMw4Pb2P22MrcPC4iqqESgzCLKXs/coknrok+pVCNb7GNwcJQo6OC3W5w4foxWs41jSkzLphMl9PQN0tMzgGkYKL3arUanHEem2i7pLmDLcb5tWNh8KdKXAl5cSsjUGn1Zz5zubSaOYoQ0yOcKzM5c5PTUSQYH5tm2czeLSytkMx59fQMMj28GTBbnzxGHMVG0jnVb30puY5V6bZ66HzA7W+Hsc/O0G8tI5nEzLs3GMtNnTlLu6SWbzSG0ZqWyzHihgDZSbSSE6BpIAiH0FaZS2vhCIaVJHEWEUYhlWxQLOeI4JpPxWLdunJOnT6bkKgzI5rLpMYVGSxBKrC0CIUB3+YTsBpMc06RaqaDihGyuQBBG1FaWOHX6KEli0GnVOXxogZmLDbxMjomJSdZv3EQ+X2Zm6iytxgyGFMzMVLAdh3L/EGGiOHt2mk7bp1qrc376FLaT+gX6B0ZS07u7z2shLlV1akALJOk2rRP1bXsamy8b+JGyG7xYS9pfK8aQhoGKU8ugVCpR7uklUTHZXJ4ojGg26mzavAXHcSmWevBcl2azThzFZDJZchmLysIyK8tLPP/iCywtLeE6Jo1GBa0EQ/0DhFGLudkVcpk8zXqNcm+Jnt5eqpUa6zYY6R4sRMqotLrU9bWr8vVlGcUCmbpPE0Wr3WLHtu0IAaYheMc73s6Xv/YAjusQR4okTjul6W6zLCHEquVIIsDsmoxSCEzTJJ/PM3vhIqWeHgzDoNlq4vstlpYWaTRaOI5LJlsGoZiZO02ifHr6ioSxTxA2yeXy+O02SoU0GjWCTodiXz/rDZcoikiSiOHRCVzPY3R0nL6+ge78urDXVxamXKo5kK+okdXLAsAQBspIC0B0V7WiNUkcIw0D07BRpqaQK7NucgP5XIFarUqz1aATdujrG8A2bXL5AtmMi2GaOD0e2VyRfC5HtbbC+vWj9PfnWVlZIgx9qpUqpmnTarU4P3t+zTYXQrIwP8fd99zNX336bzh88BBjE2O0mu1U7Yu0vlWpy3SUuHQtWqWma5zE3PKWW3nPe97FuTOnEVLwoQ+8n0OHD/HZv7m/m/mUXJZPs0owLyOXl7nFtVYcPXwE13V5+9vuobKyTJQoYqWxLBspfTKey4YNG9i6dSu2nSGMEuIoph0GbN22kygIqdcqdDo+URQQxzG2adPT20sQJRQKBTzHRgiJm8mSy+a7yaepj0QaEtOw1gpfDEMi6C7gV5YSdlXuWJfoCUmqSrS45Oy9DFBCShzXQ0qJ43n09PbTaNRpNuokKkZ3U8AzmWx68+MYy7JxXY8oDjk9dZqRgT76+4rkPYtYwZw1w8zsBYKgg2VaxFFErBPm5i7QbjeYmBjhhz/wHva/cJiw42MYsisc3V3tqbo2hECsvkWDUIRRxN69N/JzP/0RGvUqlZUFCoUSHd/n3/4vv8LI0DCPPvkUCL1mVaRFK6C0WKvoWb1VpmkRhjFBEHD3XbfS21vgwoVzeJk8juMihMC2LaIooN6oU681yOYEYRR3Yycmju1hWw6245LE8dqKXzVz40RQLOTJ5/NIaaTzMY01LnJ5MYruOulW//atClK+tQZY7YnXLW64tK+KK6vIUmqM7XkYlk0YdFBd5KeOoxSdjm0jpEhNGWlg2TaqlRAEPt944gn6enK4jsvI6DqOHD9GZbmCbdlESUQ2X6JY7qPRrGJiEHYidm3fwsjQAC8ePEanvYzj2iR+jEpSEAil0EojDBOjy5iXl5fZsnmS++69Bx1Dq9nAMCXV6gqtVot2u82HP/h+oqjNl776CDt37qQThGhi4iQ1raQUSMPAMAxMyyKKY8bHhrl+150UcxmqlVpazVStYjo22VIvjWabVqPJuJ3jyNHjtNo1coUipmnR3z/G2Ngktu1gmGZXwaZgNg0DQ0qSRGM7Nq7jYdnWVU6eVCMr1b3urpZOV38XGPK1JoWu9gu4ukT5JUvIBIYlsbTCSxSmaayZUlKm+6RhmKgkSZHZvYm9Pb1UaxVm5hdptRrkiv0srVRp1Jt4GZdCuZd16zZhmzaxitKLURB0Qvp6ern99ht56ol9PLHvBcp9fTiWhYoVQnZtfK2oLC8xO3MRzzUZvHUn9VoDKSS2aaFijSIm6qa5z8xdpJh36TRWeP7ZZ9i2ZQPSMukpF7Esh04QUK83UHFEdXmRu+68ldtuuZkkjuh0QtAGiYroBAFGaFIq9iKlTb26gmO7nDl9kijs0Gz69Az0UyyVMAwDwzDXilR01/Iyul1PTVL/xdqDK6667wiQhriyt+ea/F6VI0jzkkWir6JfkGlaCE9gxRaq6zpOlYmBYZporUmSGK0VlmUzNDhKu9XCczI0mw3qtTrDoxOUen2yXp6+nl4czyNOYkgEidJYtkGhWAIE1WqFsdEBdm7q4/TJaQpDA1Sbdd5x732Ue/r4y7/4U1ptH0nE5OQmWu02cRRgWg5xF4yr9kwUtgnjiFqtzlv27mR2bhkZ1BnqHeRHfvQDPPTg16g3fWrzs6g4YrhvkMmJUbxsmTDw0bTpBJ10K+rWBAopyWY9ekobSKKIdevWg0pwMnkGh0fo6e2/olRttdx8tTfR6t9Mw/wWEhBXaeTXEgvokqjvvNNAt17eMpFaopVeY+Fr1oM0UApM06Sntw+lFQsLc7T8Nn7Lx7EcbNslk8nguA6maWFbNrZl4zoOuWyeXKGA7/sks4pmo8PkxHrCMGRq6gymafD0448ghMHMxXmy+Rwqjgg6HQzTSusGZYyiy5JFauHESUySJJiWgwZGhgY4dXwKP+zwZ5/8GGdOnydfzNJoNDAk6AQqK3XyN5SJ4xxR2CHs+PgdnzAK0sRRKdFJ6oDq6e3rNp8KMS2PTDZDJptPBX3Zni2lxDTNtX1dCrmWu/i9Gt/FVrHp3iOVTEPCUl9ZMNkNIsmu2pMyTdzsHxyi0wmoVyvUqxUSrbAsC9t2sK20OAOREkrLcnE9F9NKWW+tXuHUyRM0GzXyuQILS1VOTx2ht6fA2NgoWzdv4LrrdjJ9cRbHdYniBNu0ECIGYaBllyxqTRzHlEpFTocxp06dZnx8BNc1mTp9Dj8I8BdTt/i977yDcrGXoaEBXM9FJw6R4+B5OfJJQqxjpJBdL6TGsR1KpTLZXK7rW+lGTQ1jTeWvmt2r8X7dDRcI2dUKQr6eAHiNPYJENyWMlDxqNGiBvupwsptcapgWluMSxzFhGOC5HsVCkagbdTNME7P7AolCYRkmlmXh2DYDvQOYWpB1LN56271s2LyRv7v/82zdEuI5LrWGz8JSBdOyCIKQQtnCMo01Zrzq4Nakdfu5bI44iJgcn6SnlOOmm29Ca7DlN7BsgzCM8f2A4aExRsfGyBfLZDI5kjjBUqkGWS13Nw1zjQM5jkPG88hkMpiGtaYtV3sM6m7bF31ZjwS5Zs/L1P8vv9ca4Ju2gdfaKKo72a5JstqD8mrikmoLsLr73aqKM0yDOIq7DSDS/U8aBsZl0S0pJRrN2PgG7n7HfRw/9iLL83McfOEFpi8sECSacqkHaTpkMy7nZxbIl/ooFHvIuF4XUKt9CFIhOHaG3r4Benv6aTebZPJ5jhw+RqPVZrbSwvM84lgTRJoz0+colHrZdv1GzC6B09pGqRQA8jLTzDQNbMvCtGykNK/wzQvDSB063cYRXYP10lpaPc73uCeReWW7l+/SyVYJlngFvMEwsR2xZjEkcZr4uOrKNbqeR2kYoNMmColK6B3o5+z0KVp+TKAF84sVdu/ZTbl3ENtxyGZyFEtlspkclmkRxQFCXTqu7rq6DZn6KkrlMrlcjunz02hppomvZoO7Nm7Fcb01klbIFdmxYzc95d7LyJvo9jkQV+7fprGmtV4yaWPVa8f/d6PbI0hc6hC3GgZ7naelu4JVSYJKug9iuNytmXYK6DZ0SLXE4tICc/Nz+H6L8xfP02o2kUKSyRfo6xukvy8NmrRaLTqBn6Z3A4ZI1bRjO5i2hW2nDqpsNkcYdIiiiOWVJeZmZ1iuVtK4gZehv3+IgcERCqUSrut2kzUvhclX4wNSyNSWN1PtZXRN3zfE0C8HgDXBv4yp8TqBQHWfwqEuy0Ba83GnDGMt8VQrTScMaLWa+G0fv9MmASzTxnZcTCON8IVBRBQFKJ10hSMxTQPTsLDs1MowLavrgbOI4wjfb+P7Hdp+m0TFmIaNaZo4XgbHcVPHkFhNNrkUIkZKjC57l0b6M93m5BtM+N02fjpRl1rFviQIxOs6Q61U+uoWm1xSSJeif5eXP2mtiZOIOE7S4k3UWhxfaY1KktSlnKRby5qz05CYholpmFimgWXZqY+9ew69+t2kC0YuPWNQXdGiTXSJ26U9W4pLWsGQxvesndx3BwAq0WvhLiFef5m/ZA7qpWcXaa7sibeamHJlsEOvPcxBKY3SyZofYjUvUCXJZcke+rKkDiPVBqa1psIvJ1+XRxV1N8qoruoSrteyoi91/pJr28Ib5RGz3VVxxeMAVgHwUu4k8QaB6yX76LLctJcnrVqrNQFd/vSP1GeuLrlcRcoq1rxvUl5i6S+rrnUXEGrN67cK0iunt7o9yDeO8Fdn900cIFGaKwI+4g0CgO/CdnIZCODyjmOr6WJcavQoXt1Fr7Zyfan2tOIN1XL/KnjqK23zSxyAq1cX13pGv5YV9oacG5ep/ysBIF9W+JeDR18T8bd3g74ZpyqucgXrb86ouTa+38B55TOh5Ld1NV57fMD3NTD+XzRCsKtleXbUAAAAAElFTkSuQmCC

iVBORw0KGgoAAAANSUhEUgAAAIAAAABOCAYAAADo3B4PAAAvXklEQVR42u29eZRk113n+bn37bFH7nvWvpdUWkqyNku2ZWFjtzE2Bg/NAQ80TPsMHKCZhYbT9NBDA900nAOD8dhgGnA3tkFgxuBV1motJbRVqfYtq7KW3DNjjxdvu3f+eJFZiyVbkm2N5Kl7TpzMyIx47773+97f/f7WJ7TWmmvj/7dDXrsF1wBwbVwDwLVxDQDXxjUAXBvXAHBtXAPAtXENANfGNQBcG9cAcG1cA8C18f0+zDf7BegkAQ2I9L2QEoS46kMarVT6OXT6GfnN2NdKgVJrBxNG91hXfR8hEIbxfQEA8aYNBmn9zYJeHUpdEvDlv7/cZ77F8XSSvLSwV2/by83hmgZ4fYRff+Ahms88i+4EeDu3U3rfe5Gem35Ga5CSaHGJ+le+RnD2HEY+R+7uO8nesOdKIQpB4+l/pvX4U+hWG2tyguK778Ma6CdeqVD90lcIz0wjPZfsW24hf+ft3x6I1zTA90j4QFypMv0//xL1r36dpNFICU3GI7Pneib/9GN4WzYDUP3qA1z4lX9LeHYaFQQIw8DoKdP/r3+WkX/3q6km0Jrzv/rvWP70X6NqdXSSIG0bd9cOen/if2Dlc/fjv3AAFYYIKZGFPOUf/SATv/+7SNteA9A1ALwe8lcKIQRnfuajrHz2b7GHh8i//W6E69J4+DHC6XN4e65j24NfpnPyJCd+8IdRjSbujm1krttFeGGG9rPPkdTqjP6X32Hwoz/Lxd/8j8z/pz/A6CmTvXUv1uAAzX9+jujsNMhUsNboKLnbbiFeXqH51NPES0sM/tLPM/bb/yGdk3yT8mn9JhoqSbTWWreee0G/MLhO7x/frFf+7h/W/t984YA+eN1e/axb1tWvPKAXPvnn+hkzr4/9wPt0uLi0doxzv/Ef9POlIX341rfqcGFRH775Dv18eURf/J3fWztW59x5feSt79T7RzboQze8RfunT6/9b/aP/kS/MDipD2zYoTvT59I/duf2ZhtvLtiqVFm1Dh0mqdXwrttF+QM/hE4SdBiS3XMdxbe/DR0nrPzt35O/+06EbdH3Ex/G6utF+R2ElAz+65/FHBggOH6SzrFj5O64DeG5DP7CR9PTdDo442P0/cSHiZeWccbHcDdsQMcxaM3Az/009tgoyUqF4OTp1YX05vQDqDhKL0wloNUl8sQb94KEYaQMPggvvTdTPps0GxjFPM1HHkNkMmT33kxcqV4yEQEdBF3zUVP9py9Teu+7kZnM2j4uTBO0RmazICU6ikCp9DxCIJRCum7XNFRvckeQ6gpcXS74VeG/sUAguvtxds/1mKUS/pGjzP3hx9BRhJCSyhe+SP3rD2OWSkQLizQefpTen/xx5v/wY/jHTyAcm6ReZ/Z3fg/VbGGUitS+8gD2+DjOlk0ov3PZycSlqxfiSpOx6xu45gh63eEq0Urh7dxOz4//KAsf+7+Z/0+/T+0fv4i0HdoHD6N8H6NURHouK/d/nsk//H1mfu3fc+p9H8LdvZN4bp7g2HFwHIRtE06fxz9yhNJ7341q1KG35yrUvQzDfxMz/ytuqRACgVjzpMEb+8KEEKA0Y7/17xn46M+hhaDx5NPUH3mUpN2m+L73MPHJP0Z4Ho1HHydcXqb4wffjT52h9k9fpr3/RchlGfud/5PiB99PUquw8rm/I//Od4CXWdvLtdYQxyS+jwrDru9IXfp/GKZbiXpzawKhwlAL0QXAKqqF4DJEvAFNl0vTC48dp7X/RZIwJLt9G97emwDoHDuOozRicoLEkMRPPY0/fR7lufTc81YYHIB2G//YCaTn4mzb+k3AVysV4nPnkYUC5oZ1V5ii/rHjaN/H3bwJo1B40zqEpPimSYs35P5/9RS10qAUi329TN2wm76f/Jf4u3bw4Ne/ztLCAva2rewLOxw4M4XhujzuOVTe+y4KP/YjPHD0CFopHt+/n8bmDfjrJmn7PidOnODAgQMEYciFCxeICnmejkOm7dQV/Nhjj3Hq1CmElGR2bCd7042p8N/ELmGZBjcuX/1XA+GNqgRSN+/hZ5+lM7+IjmOOP/88F2dmqNRq1JZX+MyffYoDzz2H1pozBw7gBQEnDx/m9JEjCClp1evkhMGZI0eIoogoiiiXy8zPzdFsNlmam2Pq4EEWps+htWbfvn0cOnSIarVKrVJBX7YlvHldwXGkryA1b3T1f9UIgoD5+XkmJiaIoojZ2dm136MowrIsLMtCKYWUEt/36XQ6lMtlgiDAcRzCMMS27bXPR1GElBLDMDh37hwjIyMYhkEURQghiOMYwzCwbftNTwKFTmL9zaz2zc9uX8briRDfn9f2HWwBXLbqxZtWsN/u9zUL4lV67b7V8b4fRqoBrlD9+vtWA1wbL+UIEvKl7atXvQKv/m76/vVUuZev0O/Wea++ttfrel72nmq+q5FHoVXXk/Ea2P8r3VO/V3uv1hrVDQ/Ll7gpSZIAYLzK9K1v9b1vd87Xi6usgv07va+vDQBXOT2a9QrLCxcI/AZh4JMkCbZboH9ogr7Bke8JCFZZ/eoIo5hWs0XYZfKlUnE1lP+azx+GESuVCr7vY5oWuVyOcqlw2RwShJDfE3A3a8usLF6kE7TQSYJlOSANLMtjaGwDlu18V+6r+c0OoFcmfK0VF84e4+L0MZ55/HFGJ0cYHugjCAJqjQZ+oMjlyvQPDLDzhjvIFfu+5RajL0+4fAUrREpJrV7nySef4PDB/SzNX6BaXSFJFLl8hjC2GBoZ54477uKeu+9GSvFtb9bq/7/+4IM88vBDnD8/RdipE3QC0JJyTw+5Qg9bd1zHffe+k02bNr4ysGqN1jq9dd1Vm75e4rNJxFOPfZ3AryGSOkqB57gI0+D0kSPUlpfYevNb6B0YZ8uOvWTzxe+CBhCvDACrN6jZWOHgsw8ydeIYpVKBgy8eZXJynI0b1xF2OtSbLdpBgpfJ0Qk65LMet73tA+SLPWvHUFqzemop5RU3I1Hp/me8hIpN/fHw9NP7+Ku/+ATLixfIZkwKnkW93sYwTXZum+DA0bNMTS+ghcGmTbv5tV//DTZt2pCaPi+zXUgh+e3f/S0+//efI+uZDPRmGenvw28HNNoddmwepdXpcODoecLY5q577uWXfvGXKRTya0K9nAGpRCGFWItifvM5V7cSsaZRnnn8n5g6cYKe/lGymZh2q00hVwTL4MhTz2DaNr3jIySxxs6UuG7PzQxPbO2e+9VzOPnKV38qOL9V5dyJ5/AbFRzXxfcDPC9DdaVKEockKkGpmCROkAKCMOLZAwc4dODZNQEmKr0xpiExjFT4zSBgudEiUQmGFKnw9UuYYUIAis/8t49zfvo4UeCT8yyyWQ+NIIwVhmEw1N9DPmvjGJL9zz3Bpz75x13B65cUvmEYHHjxWb7w+b+mt+Dh2Cae41LIu2gUSSKwLINyKUMh65DzEr76xc/xiU/8CVJK9GV5AVprhNbptUnB6cU6X3nmJPc/cZIvPX2Cg1OztOMEw5BIKUiSBK3hwtmTPPboQygBjZZP2AmIww5JEhGHAZVKFTeXxzIsYiVQScjM2UNMH9tHHAWvicCbr8yHnSKrsnSR2sIZPMciX8hTa9SpVptkcxkqldqa8JVOsAwLv+Nz9NhRXDfLwux5EqXXiNX5aoN/fOIgj714gfNxjnPzFdqNKgOGYs/6Pj583x5+6NZtCC6pbqVS4f7Fpz7Ok088QblcxLBt8lmXfNbBNAVhoNFoeooZbMskjgJcx+aBr32Z9z/+fm678541ga8C0jAMFhZm+N//11+i1erQX8qiE4VrSYoFj9n5lVTAEizTQCUxnXYH1zF56vGvsvwzP0Nv30CXHKacIAE++eBRPvsP+3nmmWn8GqAcWHgIPIPJ3du592138DPv281tOyYBODs9Ravd5uLMBYpFTd4torVCSE3U6eA6DoVyiVqtSr0dsn2wjOt6tGrLnD6yj007b8cwrdfKAb71nt9u1Tl9cB+ZnEcmmyebyZHLuKwsLuPYDlGrjt/qYNlGyqINmyNHj+K3fZIEmu0OhhScnl3gdz79MPc/epLaieNQrcH4u8BR0F5hpVnn2MOn+OwXjnDfe2/kz3/xXkZLeeIkwTQMvvaVL/C7//m3GR7pJeuYaUImGscxEUKiVIjQCsM0SJTGNkwKeYe5xQq/9r/9G/7qM/czPrnhChYdBD7/8Td/ndMnp1g3OYAUCoVGSoFlmWidoLQiTjS2JbvaTeBZJlOnTvGLv/BR/utffgbDNBHAbNPnx3/973jkb05A7QI5N0ef0wc6pOG3iJsx00+f5VNP1/jUnz7Aj33kB/iDf3MvxYxFGEW4KuH8xSl6ilvIuKC1IPA7DI32E8Yd5paWWTcxRi7jIqRAK0Ft6QIXzx5mYtOeV0UM5StZ+wALM2eo15eJo4Ao9HEch1KhQC6bJQw77NlzMxMTmxifmKTU08fJqdNUqxUKxV6Wl2vcevMePv3oi9z0L/+IT/3Rg9SOLGI0IozmHM6FOfIXG7gzVbxKDTsCaynha3/yVf7Fb/4j9TD1zc/Pnuc///b/wchwDznPJl3rijhJyBcLuK5JomKkKbAdE4HANCWWKdmxYYhqdYE/+L3fouP7V6jrv/jUx3nk4YdYN95HKWvjmAZaK3J5l96BEmGkkIYgk3HIZi3QYFkCrRSjQ3089cRDfOLjf4SUko5K+Miv/j9840/+gfXBLBuNiP7OCkONRYZbSzhxh5wIGdIGvapJpqn53B/tZ++H/5op1UdvPkOr1cIyFYeOH6bearHz+hvYsmUHdqYHw3SYmFjH+OgIhrSQaLQKqNZrnD11EF6lVfCKM4IWF2Z49Kl9DPT2ccOe3QwNDZDN5ZGW4PY77mTzrr089+QDLC8ss//wIU5OXcBxbGZnT/DOe9/JU/4AP/nvH4AzCXYQYzYqyLBBJ6iQT6YYsQZpxnN0REhHGxgEKKPJC5/9Mv/1nnX84g+9hb/81MeYmZth7+71+H4EholpSjIZh80bhjl6bJpIJWRck4znkHFsoigkShT5rEtvX5F9zzzFF77weX70x34cgIcfeYQvffEfsWyDYs5N7XzAyTiYpomONYZpULAtevIOjiUxpMQ1TaphTNYz2LRumE/86f/Fj3zwAzxzrsPXPvHbbMqNYnYa5LRFohVFM8FEsKTrZPFwwgYtLSiJDMJoceGBZ/jpTshv/tQ9xPvu5/xyjVY7YPbCHHNzy6go4fqb9rJ95x5mLkwTx21c22JhYZ5DR06ysLTInj07ieMA03JfMSF8xQBI4phyPs/pqXOcOTPDuo3j+M0Wgoh61eeBBx5k3zMHCcOYVqvNyTMXiUKfH3jfB3jc282n/8t+5FSHYiAxGj5e3MAWPlUScmqaQUOTTxapaI0VZWjGS8yIGURnnse+tJs7R+HZp/eRz7p0ghhpGnSCiIyXY2GhyuEjZ7BMSTHrcnG2QpwIEhUTxDFKafxOiGeaqDjiy1/8Au+491309vbw95//e7ROyHkOcaLQWhFq8CybStXn7Ll5ygUXISQrdZ/l5TqWlWqIIArJYmLbknarwX//7H/n2LyHiE9xtrnIenOAHrcIdOjP+BhGwlSnwXjGJlQLZJWHiCW1cJGC9EmezvJb5kZ+6ra9HHzk45yfW+a2vTsJOoeJIsXp6fNEn/kMuazLyOgojWaHpaUVCoUsmzaMYZkOQhivyqw3XykBHBpdT6PeYKi/hGFazJyfY/rcBRaXahQKGW7as5Xrdmzk4sIC02fb3LhzI+WRTTw/tcjBmf2owxly9WNkwzp5EmLRoGC2MIVGGsuMlx0a0QoDGsIk5rGVKXzVxBAOc+dP8cBDIUkUUsy4hJ0IxzPQSrFUbdKHoNbwyWUcorwL0kSoBMsymVuuk3clHT8gjBOKhTxTZ6c4cuQwd911F88/t5/1QxmCpqQThhjSIAgiLGFi2wa2aaCVRhqCJNEorcl4DiuVJpZlEEYBSRTTmy/wz/v+mYMLBgYCkdQ5p1ps6R1mOK8oZSoomVCst+kvK3SSox10OF+fYzZssytzJ4gOxw4d4a/mz3Pv9XeybdcyWUuzUu0wOTnM1k2TnDwxxRNPvYD14hQ7tm9icqyfbNZlbmaOXXvuwjCt7y4HEN1YwbqNO7j19rdz7twctXqb2fkFnn3+aJqfN1ym0agzv7BEHJrccOPtjLzzp/jySoGjZ2YQF87Rv/Ai48qjnZwmsKZx3SaZTMjOnh4ydoOWPY12F6kwy4uNAzSTixTNGFPXiI02B17YT76QRRqCMEkII0Wl0cKUgsH+IkpDoxXSbIcEnRAtNKVSjkLWY7na5uJyi04QUyrlWVmuMb+whFIJU1NnMGwbx7Fp+TELK01c12NwoEg+5xFEEWEUEyeKJNYI0orhKE5IEmi1E5QWZFyTKGgRdOo4pqLHiDFVi+eXz3C4NksoF5noXWHbSMDOzXWEs8iJ5imOhUe5vb/EoNNhuvMo9YUv0Fyc5q8fnuEZ9z1kezaSyeQ5cOgkTz71LEEY0DfQw4HDx3l833OcOjnN9Ll5tu/Zy+6b7vhOPIHf1gvArXfex8DAEIcP7aflK3bv2s746ACFQg7HzTA0NsItN+2hGis+9LlzNBsm69Zt5+KLTzLfOoZ0rmPC1CypGZQFEsHm7DBnqLO/VkFowXyrTRAoiqaFrTtEmQxjGzdx4pHPc+fN25mdu0ArUizWahSLBUZHhoiUQduPaLc7+K0Y0zRwXA9Ek5GhHjzXYn6hRstvkcnnmVusYMjUXPM7LSq1FtJILYqtm8aYmBhCaDCkIAhjwlDjOQa5Yh7LsgjCkJVag4VKmhTqeAZeNkenXsca3o23UkGc3s9o0SZQiqYlOdIyOdrUGLZiJpCcbtU458dMFnK0jGUeWTqJn/g4cpL+vh4yCw1qT0xzw2+8nfvuXMfDjz3H/NwSHb9KpjBKsTSEkzG45aYbuXnvrYyOb8Zxsq86PvCKASCEQBgmY5ObmVy3kbff+wO0Gg2SJEYaJghJkgiKxSyFapUb5mY4dGQOa7KJrT3aaC4G+1gSFkXLAqmIcw4H7Wkybg4zTlBSMFb0WK4EVKtN2mjGd91KW3icn5nBtG7EtRyajTYb1w2xY9sWkgSiOMJzXdAKv93By3jkiyUuzizS9iMGegsM92ZZqjTpxBZLi0v09vUghKSvp4cDh07wkR+9m5nz0/T296YtArTC81y0loRRjGGmjqFOyydRUC7nyWZdjp+ZodUKGB8Z5/SJs/hZSe9dH6S5PE3Dr9A3MUDGc/ENAUqh0Rz1TTKDHhtUlZVKm5O1JiYwZuVoCcHWzQXecf0U+czT7N3+TkyvxJ133kq1Vse1DJqtDo5nMzjQh2l5xJFGWA6GaXzvNACA42ZoN+rEKkQaNvly76UUUq1I4ji9OT1lfvrmaV6oPEJjYgtfXBYkywLTytAJO3R0QrmQJ1vIUS7lSJIYOjFIQb5gIUUDrUKKO27hwumTlK97C5HSvHD4JNfv3Ipz7gQ7No3TaftYrodjG9iWiVHIMzezSBhE5PJ5clmXoBMQJzE6Drlhz/X8zZeexstmKRQKgGZkZIjHH3+SWlMzMjrMwkodx/HoLXkUCjn8TpDOT0Aul2NxaYlOJ0ArGOwrkUSa6elZ8oUyR09/g4ldA5x/9nm2vePHaBz7KkbUIJvNYhiaME6wDEEpl6UdhHRCaAbLDAlF3nGo1JuU7ngbt980yca8TWlkK7neAaIgwDAtBgb6AEGpV4CGOBbEcYgWklzee01BoVcVz7RsG9NaZZpp1wzVfWkNCIkQGsNw2Xbnzdz2/vXcuivP2973Vjq6TRj5mKZJoZQlW8jieA6ZjMvQYC/9fSUKOY+enMXo2BAb7343s2cu0pw/QyuSTKzbyMPfeJKJ9VvZs2snczML+EFAlCRIw2DL5kk2b1yP4xq4nsveW27CNC18v4MKEyY3b+Ebzx5j+uw5BvrKhEFIHCd0woBMxuMvP/cVDLtETzFHvdmm2miza8dWJsZGMU2DXD7HwMgocRQSRSGu4xAGMTIJuPuet/Dc4VNoDZnyOPVTz3Do65+neN0PU9i4h8FihoGeMuVymXy+SCZXwLJdTCeLkXFYDmLO1Vtk997LW3/2Fxl2NYXBG8j3XI9lumvBpCiKUYkijmLiuBuJlBJpmDiO+x2khL3SD0vZDUNKBHLN7Zn+lN2gjgQVUxq8nr7NP0Ss89x2y02885d/C+FlCOMQzxRkPZecazE+2sP6DUNsGuth09ggm+9+P8bNH+LpfSeozc2AECxeXKZvbCe5rMPH/+yvWb/1RtZt2oRA0aq3abQ6DA4PsmP3HhIgly/TNzBBs92mWCowNjHJQ08c4YFHn6avv49qrZlG55RiZmaBXCFPs9ngDz/5t1RbsG5slCSB0bF1bNy0g1zGZGLdRnbuvolGO6TtB4SdAB1HXH/jDUzPN3numf1M7LiRxmKMMCXt2jz7/u5veX4uw5HR+/Czw+SyWUb7exjqyeNYEtsSDPX18ZY7386eX/h9hn/544wYbarVDnZ+mHLvGFIYaUAJgWGYSGkipYWU1pqNZloW5qt0Ab+mLQDA8Tw6rRpoiSDpegr1FXRRqQTPy6CtAdqqiFi+wO0f/ldkdtzKzMN/T2bpFH0ZSU8+w8D6UXKlYZZHitRyI8xtfQsH7v8sUaOJ4dgkHR9naorliV7GrruNY089zP/0K7/JdTu3cv32cUb6y2TyLtlsgcl1W/Acj7HREXpKIxRLPbx4aIrPf/FpGu2AXK7AwnKVWrWG7dhESUynE1CpVCiWyuTzGe7/x2+wbfMYt928jTAKMcw0FjE+PozSGsfJMDkxgU4S5isN/vL+hzh85BSDExMYxe2IE8fQbR8pJSoJaNZCDuz5V5zwZymdf5Fy9SI9pkk4FtMcshnadSeVwW2c1gb32G2yF6bwQ0GQ2BSKPal2FRKBRq5lb4m1hacB28285pyAVw8A18VyXEK/mUbBVNK1EVLhawRagOd6LFeaKOlid2qo5TkY30HxI9ehmhVqfpUgCDgdQV1ZRIO9OFmXILLwlQBDonVKarZ4Z2gLEPkN/PzPb+TQsTNMTR3nmedeZHykn+1b11OphFjyAU5PLXD2L+7nD/740xw9Pg3CZPuu3ZR7e3nyiSeoVRsg0nyCJI5JkhgB+B2fG266nuHBQZ5/7gX+2988zKNPvMiG9cMY0uUf/uGrPPjg45y/uMDiUo0TU+epNToMj47wgQ+9H8Md4eTUPLv7znFYtcC0QYHI94Gy8LOT+DvWMdtqQRykutdyOGLYMN+k5AgGvAYF3aGTyxMESRr/kAZSpy7vS4QcpBAorTBsl0wm991ICPk2AaHuS6AplnqoJIoo7GAYBkKrbkmhRGpFGPgs15ZI4phSbz9Zt8j8yjIql+diWxFYLsobo5RV6CShqTVNLQibMU07geIIUmlQaah4eINB0/C4cP4cQ6N3Iu0CGzet5+KFi5w5fZbHnz7MAw8/Q6IUjutiGiaFcpGtO3czMjqM63rUajWiOAYt1tK9ojAiiZMudxFpkMcwuX7PdbQabWZmL/KNp4/T7oSEYQetFK7j4mYyjI1NsHdyknJPmZGRYU4cPMn6osn23QV4qA0UECqC3g3otomI62AaqZPKtFKdGSqkitBCM2ka9M3PsnPXRmYXM0ydPoGUko0bNlEqlrFMO41IdquWw1hhWjbFct9aPsH3BgBKoVWSRs+6ETTDMOgbHKJWreA3GwhpINC0Wg2mp6c5e3aKtt9CGILhwRFsw8CemqMzvI65WNEMI4RIWBQaS2j8WBEomQq800F7Y2Dlke0ltAavZyubh4bRjdNEsSCKQuJI0dfbT2+5lziK6EQBYZiWiXueh2WaaA2JSoiiCKUVQsu1rCPDMAijiDgJEUKBFtgy7QvQCSMsz2bjls2s37QRv9MhiUJAYDsWjuNhGiZCppHPTifGMpvcetN6dt+8E/g8Ku6A7IfsDbDsI0yNNhSg0OJSFl5CghELbmo22D00Q7Y0waTnEUURp04eYW5ujh07djI8NIxtuyRKE8QKz/MolHoxDIMkjruJJcarLlH7lgDQcYxKYpS+NGHZbZKgkoRsJotl2UxPn+bZZ57i4nxaUiWVpt1qMz4+yIXzp7Fdlw1CUJ/awD6zjyiTIIQiNNIZiEghY4XSEr2gkIdcvMgkMpoIw+B9P/xjCBVzauoYpkhDtKkAQ5IoBqUxTRvDTCuAkiTp9hLqElMpkEJ2+0FphBRYpkUYhqkGQCMkCMsEAYYh0VoTBiFKp5lJlumg0EAaDhaAZRiYpok0BLEw2bhrN3e89Qf5F+++mYP7X6S27OPsrzBXb6KGJeRFescloECH4DUU76bCh24/hh4OOHL0MK1mDcfOUK/5LK1Mc+7COYaGRti1aw8DAyMUimUK+RxxHKGVwrSsbrpZjGlZCGl85wDQcUwchVfElISU3X0/tfk1YFlpsuTo2DiGZRCFIagYCZhSc+7CObIYFIdKvK/xGPY/b+GvauPMlzxwJdgCHWr0coI932HHxZO8u+/LPFw+QVwe4Z33vYsffM97U1u9bWAaImXFQmAg0FKsNelYNUellOmWJLtpWhpMy8SyJaqlkSIVnFIKxGp5pMBx7PT7QqJ0N+lUK1Si0xwHeencQkqEITGkgTAk9VZIb/8oxVI/H/mpj/Kl0qdoLpzhtuKfc+jwMfafuo55e5B2xgFDkFcRG8wqbx2Z4r0/XENsG+PCXIE4vMDyygrDQxl27N6JZVokicIwTQyZOpOy2QyJUqkGSZJUowmDWCVpQq7jpgv1NQNAJcRRin7R3XPEKvsQAhWnWsE0DS7OnOf8ubNs2bSJ7Vs20Ww0WF5ZolGrUKlWyGTzuI5JLjeANwb/49BzXP/Vx3j0QD/nmkV8JZFxhyE9y00TJ7jpQ2fovXkE56n7qLTyvONdHwBMHNeh3fGJowTLtLCEJJIS3c25E5cHQJQAQ6d9D0jJkm1Z5PM5FucWKPf0UiwWaDYbWJaN77dxXQfXdVNQrCVMXhZUlSnrXgOASNPWTCsFkmNZ9JSKJFGHPXvvouFHzJ4/yLoNLW75oQMEZw+wOC2pVSykZVEsa4a2WgzduI649xZiNjGozrM4fwHHcdE6IZvNMDE2SS6bI1GKRquNtIwugVVpoxJScErTQJAS20D7uF7mFdUPvCQAVJykwr8qBXz1fQoMTRxHLM7Pcvz4EU4dP0ahmGFocIx22+fFw4fTfVJpDCEpFkvYXg+LyuPWn1tk7+wR2rMvoAMfaUmskoEq9dI0bufEXIZC/zIbdg5TLvdTq1awTAPXNqnW6ziZTFe1GwgRo6Xs9jhKEyO1UMjVqjckUhpEcYQEHMfippv3kM1miKKITZs2cuTIYSxLkiQJjutCHCERJFqjdar4hZSpGdZFhBACUxoYtk2n4+NZBj3lElEY0qitsGXzFlDw4tQMw4Pb2P22MrcPC4iqqESgzCLKXs/coknrok+pVCNb7GNwcJQo6OC3W5w4foxWs41jSkzLphMl9PQN0tMzgGkYKL3arUanHEem2i7pLmDLcb5tWNh8KdKXAl5cSsjUGn1Zz5zubSaOYoQ0yOcKzM5c5PTUSQYH5tm2czeLSytkMx59fQMMj28GTBbnzxGHMVG0jnVb30puY5V6bZ66HzA7W+Hsc/O0G8tI5nEzLs3GMtNnTlLu6SWbzSG0ZqWyzHihgDZSbSSE6BpIAiH0FaZS2vhCIaVJHEWEUYhlWxQLOeI4JpPxWLdunJOnT6bkKgzI5rLpMYVGSxBKrC0CIUB3+YTsBpMc06RaqaDihGyuQBBG1FaWOHX6KEli0GnVOXxogZmLDbxMjomJSdZv3EQ+X2Zm6iytxgyGFMzMVLAdh3L/EGGiOHt2mk7bp1qrc376FLaT+gX6B0ZS07u7z2shLlV1akALJOk2rRP1bXsamy8b+JGyG7xYS9pfK8aQhoGKU8ugVCpR7uklUTHZXJ4ojGg26mzavAXHcSmWevBcl2azThzFZDJZchmLysIyK8tLPP/iCywtLeE6Jo1GBa0EQ/0DhFGLudkVcpk8zXqNcm+Jnt5eqpUa6zYY6R4sRMqotLrU9bWr8vVlGcUCmbpPE0Wr3WLHtu0IAaYheMc73s6Xv/YAjusQR4okTjul6W6zLCHEquVIIsDsmoxSCEzTJJ/PM3vhIqWeHgzDoNlq4vstlpYWaTRaOI5LJlsGoZiZO02ifHr6ioSxTxA2yeXy+O02SoU0GjWCTodiXz/rDZcoikiSiOHRCVzPY3R0nL6+ge78urDXVxamXKo5kK+okdXLAsAQBspIC0B0V7WiNUkcIw0D07BRpqaQK7NucgP5XIFarUqz1aATdujrG8A2bXL5AtmMi2GaOD0e2VyRfC5HtbbC+vWj9PfnWVlZIgx9qpUqpmnTarU4P3t+zTYXQrIwP8fd99zNX336bzh88BBjE2O0mu1U7Yu0vlWpy3SUuHQtWqWma5zE3PKWW3nPe97FuTOnEVLwoQ+8n0OHD/HZv7m/m/mUXJZPs0owLyOXl7nFtVYcPXwE13V5+9vuobKyTJQoYqWxLBspfTKey4YNG9i6dSu2nSGMEuIoph0GbN22kygIqdcqdDo+URQQxzG2adPT20sQJRQKBTzHRgiJm8mSy+a7yaepj0QaEtOw1gpfDEMi6C7gV5YSdlXuWJfoCUmqSrS45Oy9DFBCShzXQ0qJ43n09PbTaNRpNuokKkZ3U8AzmWx68+MYy7JxXY8oDjk9dZqRgT76+4rkPYtYwZw1w8zsBYKgg2VaxFFErBPm5i7QbjeYmBjhhz/wHva/cJiw42MYsisc3V3tqbo2hECsvkWDUIRRxN69N/JzP/0RGvUqlZUFCoUSHd/n3/4vv8LI0DCPPvkUCL1mVaRFK6C0WKvoWb1VpmkRhjFBEHD3XbfS21vgwoVzeJk8juMihMC2LaIooN6oU681yOYEYRR3Yycmju1hWw6245LE8dqKXzVz40RQLOTJ5/NIaaTzMY01LnJ5MYruOulW//atClK+tQZY7YnXLW64tK+KK6vIUmqM7XkYlk0YdFBd5KeOoxSdjm0jpEhNGWlg2TaqlRAEPt944gn6enK4jsvI6DqOHD9GZbmCbdlESUQ2X6JY7qPRrGJiEHYidm3fwsjQAC8ePEanvYzj2iR+jEpSEAil0EojDBOjy5iXl5fZsnmS++69Bx1Dq9nAMCXV6gqtVot2u82HP/h+oqjNl776CDt37qQThGhi4iQ1raQUSMPAMAxMyyKKY8bHhrl+150UcxmqlVpazVStYjo22VIvjWabVqPJuJ3jyNHjtNo1coUipmnR3z/G2Ngktu1gmGZXwaZgNg0DQ0qSRGM7Nq7jYdnWVU6eVCMr1b3urpZOV38XGPK1JoWu9gu4ukT5JUvIBIYlsbTCSxSmaayZUlKm+6RhmKgkSZHZvYm9Pb1UaxVm5hdptRrkiv0srVRp1Jt4GZdCuZd16zZhmzaxitKLURB0Qvp6ern99ht56ol9PLHvBcp9fTiWhYoVQnZtfK2oLC8xO3MRzzUZvHUn9VoDKSS2aaFijSIm6qa5z8xdpJh36TRWeP7ZZ9i2ZQPSMukpF7Esh04QUK83UHFEdXmRu+68ldtuuZkkjuh0QtAGiYroBAFGaFIq9iKlTb26gmO7nDl9kijs0Gz69Az0UyyVMAwDwzDXilR01/Iyul1PTVL/xdqDK6667wiQhriyt+ea/F6VI0jzkkWir6JfkGlaCE9gxRaq6zpOlYmBYZporUmSGK0VlmUzNDhKu9XCczI0mw3qtTrDoxOUen2yXp6+nl4czyNOYkgEidJYtkGhWAIE1WqFsdEBdm7q4/TJaQpDA1Sbdd5x732Ue/r4y7/4U1ptH0nE5OQmWu02cRRgWg5xF4yr9kwUtgnjiFqtzlv27mR2bhkZ1BnqHeRHfvQDPPTg16g3fWrzs6g4YrhvkMmJUbxsmTDw0bTpBJ10K+rWBAopyWY9ekobSKKIdevWg0pwMnkGh0fo6e2/olRttdx8tTfR6t9Mw/wWEhBXaeTXEgvokqjvvNNAt17eMpFaopVeY+Fr1oM0UApM06Sntw+lFQsLc7T8Nn7Lx7EcbNslk8nguA6maWFbNrZl4zoOuWyeXKGA7/sks4pmo8PkxHrCMGRq6gymafD0448ghMHMxXmy+Rwqjgg6HQzTSusGZYyiy5JFauHESUySJJiWgwZGhgY4dXwKP+zwZ5/8GGdOnydfzNJoNDAk6AQqK3XyN5SJ4xxR2CHs+PgdnzAK0sRRKdFJ6oDq6e3rNp8KMS2PTDZDJptPBX3Zni2lxDTNtX1dCrmWu/i9Gt/FVrHp3iOVTEPCUl9ZMNkNIsmu2pMyTdzsHxyi0wmoVyvUqxUSrbAsC9t2sK20OAOREkrLcnE9F9NKWW+tXuHUyRM0GzXyuQILS1VOTx2ht6fA2NgoWzdv4LrrdjJ9cRbHdYniBNu0ECIGYaBllyxqTRzHlEpFTocxp06dZnx8BNc1mTp9Dj8I8BdTt/i977yDcrGXoaEBXM9FJw6R4+B5OfJJQqxjpJBdL6TGsR1KpTLZXK7rW+lGTQ1jTeWvmt2r8X7dDRcI2dUKQr6eAHiNPYJENyWMlDxqNGiBvupwsptcapgWluMSxzFhGOC5HsVCkagbdTNME7P7AolCYRkmlmXh2DYDvQOYWpB1LN56271s2LyRv7v/82zdEuI5LrWGz8JSBdOyCIKQQtnCMo01Zrzq4Nakdfu5bI44iJgcn6SnlOOmm29Ca7DlN7BsgzCM8f2A4aExRsfGyBfLZDI5kjjBUqkGWS13Nw1zjQM5jkPG88hkMpiGtaYtV3sM6m7bF31ZjwS5Zs/L1P8vv9ca4Ju2gdfaKKo72a5JstqD8mrikmoLsLr73aqKM0yDOIq7DSDS/U8aBsZl0S0pJRrN2PgG7n7HfRw/9iLL83McfOEFpi8sECSacqkHaTpkMy7nZxbIl/ooFHvIuF4XUKt9CFIhOHaG3r4Benv6aTebZPJ5jhw+RqPVZrbSwvM84lgTRJoz0+colHrZdv1GzC6B09pGqRQA8jLTzDQNbMvCtGykNK/wzQvDSB063cYRXYP10lpaPc73uCeReWW7l+/SyVYJlngFvMEwsR2xZjEkcZr4uOrKNbqeR2kYoNMmColK6B3o5+z0KVp+TKAF84sVdu/ZTbl3ENtxyGZyFEtlspkclmkRxQFCXTqu7rq6DZn6KkrlMrlcjunz02hppomvZoO7Nm7Fcb01klbIFdmxYzc95d7LyJvo9jkQV+7fprGmtV4yaWPVa8f/d6PbI0hc6hC3GgZ7naelu4JVSYJKug9iuNytmXYK6DZ0SLXE4tICc/Nz+H6L8xfP02o2kUKSyRfo6xukvy8NmrRaLTqBn6Z3A4ZI1bRjO5i2hW2nDqpsNkcYdIiiiOWVJeZmZ1iuVtK4gZehv3+IgcERCqUSrut2kzUvhclX4wNSyNSWN1PtZXRN3zfE0C8HgDXBv4yp8TqBQHWfwqEuy0Ba83GnDGMt8VQrTScMaLWa+G0fv9MmASzTxnZcTCON8IVBRBQFKJ10hSMxTQPTsLDs1MowLavrgbOI4wjfb+P7Hdp+m0TFmIaNaZo4XgbHcVPHkFhNNrkUIkZKjC57l0b6M93m5BtM+N02fjpRl1rFviQIxOs6Q61U+uoWm1xSSJeif5eXP2mtiZOIOE7S4k3UWhxfaY1KktSlnKRby5qz05CYholpmFimgWXZqY+9ew69+t2kC0YuPWNQXdGiTXSJ26U9W4pLWsGQxvesndx3BwAq0WvhLiFef5m/ZA7qpWcXaa7sibeamHJlsEOvPcxBKY3SyZofYjUvUCXJZcke+rKkDiPVBqa1psIvJ1+XRxV1N8qoruoSrteyoi91/pJr28Ib5RGz3VVxxeMAVgHwUu4k8QaB6yX76LLctJcnrVqrNQFd/vSP1GeuLrlcRcoq1rxvUl5i6S+rrnUXEGrN67cK0iunt7o9yDeO8Fdn900cIFGaKwI+4g0CgO/CdnIZCODyjmOr6WJcavQoXt1Fr7Zyfan2tOIN1XL/KnjqK23zSxyAq1cX13pGv5YV9oacG5ep/ysBIF9W+JeDR18T8bd3g74ZpyqucgXrb86ouTa+38B55TOh5Ld1NV57fMD3NTD+XzRCsKtleXbUAAAAAElFTkSuQmCC

iVBORw0KGgoAAAANSUhEUgAAAIAAAABOCAYAAADo3B4PAAAvXklEQVR42u29eZRk113n+bn37bFH7nvWvpdUWkqyNku2ZWFjtzE2Bg/NAQ80TPsMHKCZhYbT9NBDA900nAOD8dhgGnA3tkFgxuBV1motJbRVqfYtq7KW3DNjjxdvu3f+eJFZiyVbkm2N5Kl7TpzMyIx47773+97f/f7WJ7TWmmvj/7dDXrsF1wBwbVwDwLVxDQDXxjUAXBvXAHBtXAPAtXENANfGNQBcG9cAcG1cA8C18f0+zDf7BegkAQ2I9L2QEoS46kMarVT6OXT6GfnN2NdKgVJrBxNG91hXfR8hEIbxfQEA8aYNBmn9zYJeHUpdEvDlv7/cZ77F8XSSvLSwV2/by83hmgZ4fYRff+Ahms88i+4EeDu3U3rfe5Gem35Ga5CSaHGJ+le+RnD2HEY+R+7uO8nesOdKIQpB4+l/pvX4U+hWG2tyguK778Ma6CdeqVD90lcIz0wjPZfsW24hf+ft3x6I1zTA90j4QFypMv0//xL1r36dpNFICU3GI7Pneib/9GN4WzYDUP3qA1z4lX9LeHYaFQQIw8DoKdP/r3+WkX/3q6km0Jrzv/rvWP70X6NqdXSSIG0bd9cOen/if2Dlc/fjv3AAFYYIKZGFPOUf/SATv/+7SNteA9A1ALwe8lcKIQRnfuajrHz2b7GHh8i//W6E69J4+DHC6XN4e65j24NfpnPyJCd+8IdRjSbujm1krttFeGGG9rPPkdTqjP6X32Hwoz/Lxd/8j8z/pz/A6CmTvXUv1uAAzX9+jujsNMhUsNboKLnbbiFeXqH51NPES0sM/tLPM/bb/yGdk3yT8mn9JhoqSbTWWreee0G/MLhO7x/frFf+7h/W/t984YA+eN1e/axb1tWvPKAXPvnn+hkzr4/9wPt0uLi0doxzv/Ef9POlIX341rfqcGFRH775Dv18eURf/J3fWztW59x5feSt79T7RzboQze8RfunT6/9b/aP/kS/MDipD2zYoTvT59I/duf2ZhtvLtiqVFm1Dh0mqdXwrttF+QM/hE4SdBiS3XMdxbe/DR0nrPzt35O/+06EbdH3Ex/G6utF+R2ElAz+65/FHBggOH6SzrFj5O64DeG5DP7CR9PTdDo442P0/cSHiZeWccbHcDdsQMcxaM3Az/009tgoyUqF4OTp1YX05vQDqDhKL0wloNUl8sQb94KEYaQMPggvvTdTPps0GxjFPM1HHkNkMmT33kxcqV4yEQEdBF3zUVP9py9Teu+7kZnM2j4uTBO0RmazICU6ikCp9DxCIJRCum7XNFRvckeQ6gpcXS74VeG/sUAguvtxds/1mKUS/pGjzP3hx9BRhJCSyhe+SP3rD2OWSkQLizQefpTen/xx5v/wY/jHTyAcm6ReZ/Z3fg/VbGGUitS+8gD2+DjOlk0ov3PZycSlqxfiSpOx6xu45gh63eEq0Urh7dxOz4//KAsf+7+Z/0+/T+0fv4i0HdoHD6N8H6NURHouK/d/nsk//H1mfu3fc+p9H8LdvZN4bp7g2HFwHIRtE06fxz9yhNJ7341q1KG35yrUvQzDfxMz/ytuqRACgVjzpMEb+8KEEKA0Y7/17xn46M+hhaDx5NPUH3mUpN2m+L73MPHJP0Z4Ho1HHydcXqb4wffjT52h9k9fpr3/RchlGfud/5PiB99PUquw8rm/I//Od4CXWdvLtdYQxyS+jwrDru9IXfp/GKZbiXpzawKhwlAL0QXAKqqF4DJEvAFNl0vTC48dp7X/RZIwJLt9G97emwDoHDuOozRicoLEkMRPPY0/fR7lufTc81YYHIB2G//YCaTn4mzb+k3AVysV4nPnkYUC5oZ1V5ii/rHjaN/H3bwJo1B40zqEpPimSYs35P5/9RS10qAUi329TN2wm76f/Jf4u3bw4Ne/ztLCAva2rewLOxw4M4XhujzuOVTe+y4KP/YjPHD0CFopHt+/n8bmDfjrJmn7PidOnODAgQMEYciFCxeICnmejkOm7dQV/Nhjj3Hq1CmElGR2bCd7042p8N/ELmGZBjcuX/1XA+GNqgRSN+/hZ5+lM7+IjmOOP/88F2dmqNRq1JZX+MyffYoDzz2H1pozBw7gBQEnDx/m9JEjCClp1evkhMGZI0eIoogoiiiXy8zPzdFsNlmam2Pq4EEWps+htWbfvn0cOnSIarVKrVJBX7YlvHldwXGkryA1b3T1f9UIgoD5+XkmJiaIoojZ2dm136MowrIsLMtCKYWUEt/36XQ6lMtlgiDAcRzCMMS27bXPR1GElBLDMDh37hwjIyMYhkEURQghiOMYwzCwbftNTwKFTmL9zaz2zc9uX8briRDfn9f2HWwBXLbqxZtWsN/u9zUL4lV67b7V8b4fRqoBrlD9+vtWA1wbL+UIEvKl7atXvQKv/m76/vVUuZev0O/Wea++ttfrel72nmq+q5FHoVXXk/Ea2P8r3VO/V3uv1hrVDQ/Ll7gpSZIAYLzK9K1v9b1vd87Xi6usgv07va+vDQBXOT2a9QrLCxcI/AZh4JMkCbZboH9ogr7Bke8JCFZZ/eoIo5hWs0XYZfKlUnE1lP+azx+GESuVCr7vY5oWuVyOcqlw2RwShJDfE3A3a8usLF6kE7TQSYJlOSANLMtjaGwDlu18V+6r+c0OoFcmfK0VF84e4+L0MZ55/HFGJ0cYHugjCAJqjQZ+oMjlyvQPDLDzhjvIFfu+5RajL0+4fAUrREpJrV7nySef4PDB/SzNX6BaXSFJFLl8hjC2GBoZ54477uKeu+9GSvFtb9bq/7/+4IM88vBDnD8/RdipE3QC0JJyTw+5Qg9bd1zHffe+k02bNr4ysGqN1jq9dd1Vm75e4rNJxFOPfZ3AryGSOkqB57gI0+D0kSPUlpfYevNb6B0YZ8uOvWTzxe+CBhCvDACrN6jZWOHgsw8ydeIYpVKBgy8eZXJynI0b1xF2OtSbLdpBgpfJ0Qk65LMet73tA+SLPWvHUFqzemop5RU3I1Hp/me8hIpN/fHw9NP7+Ku/+ATLixfIZkwKnkW93sYwTXZum+DA0bNMTS+ghcGmTbv5tV//DTZt2pCaPi+zXUgh+e3f/S0+//efI+uZDPRmGenvw28HNNoddmwepdXpcODoecLY5q577uWXfvGXKRTya0K9nAGpRCGFWItifvM5V7cSsaZRnnn8n5g6cYKe/lGymZh2q00hVwTL4MhTz2DaNr3jIySxxs6UuG7PzQxPbO2e+9VzOPnKV38qOL9V5dyJ5/AbFRzXxfcDPC9DdaVKEockKkGpmCROkAKCMOLZAwc4dODZNQEmKr0xpiExjFT4zSBgudEiUQmGFKnw9UuYYUIAis/8t49zfvo4UeCT8yyyWQ+NIIwVhmEw1N9DPmvjGJL9zz3Bpz75x13B65cUvmEYHHjxWb7w+b+mt+Dh2Cae41LIu2gUSSKwLINyKUMh65DzEr76xc/xiU/8CVJK9GV5AVprhNbptUnB6cU6X3nmJPc/cZIvPX2Cg1OztOMEw5BIKUiSBK3hwtmTPPboQygBjZZP2AmIww5JEhGHAZVKFTeXxzIsYiVQScjM2UNMH9tHHAWvicCbr8yHnSKrsnSR2sIZPMciX8hTa9SpVptkcxkqldqa8JVOsAwLv+Nz9NhRXDfLwux5EqXXiNX5aoN/fOIgj714gfNxjnPzFdqNKgOGYs/6Pj583x5+6NZtCC6pbqVS4f7Fpz7Ok088QblcxLBt8lmXfNbBNAVhoNFoeooZbMskjgJcx+aBr32Z9z/+fm678541ga8C0jAMFhZm+N//11+i1erQX8qiE4VrSYoFj9n5lVTAEizTQCUxnXYH1zF56vGvsvwzP0Nv30CXHKacIAE++eBRPvsP+3nmmWn8GqAcWHgIPIPJ3du592138DPv281tOyYBODs9Ravd5uLMBYpFTd4torVCSE3U6eA6DoVyiVqtSr0dsn2wjOt6tGrLnD6yj007b8cwrdfKAb71nt9u1Tl9cB+ZnEcmmyebyZHLuKwsLuPYDlGrjt/qYNlGyqINmyNHj+K3fZIEmu0OhhScnl3gdz79MPc/epLaieNQrcH4u8BR0F5hpVnn2MOn+OwXjnDfe2/kz3/xXkZLeeIkwTQMvvaVL/C7//m3GR7pJeuYaUImGscxEUKiVIjQCsM0SJTGNkwKeYe5xQq/9r/9G/7qM/czPrnhChYdBD7/8Td/ndMnp1g3OYAUCoVGSoFlmWidoLQiTjS2JbvaTeBZJlOnTvGLv/BR/utffgbDNBHAbNPnx3/973jkb05A7QI5N0ef0wc6pOG3iJsx00+f5VNP1/jUnz7Aj33kB/iDf3MvxYxFGEW4KuH8xSl6ilvIuKC1IPA7DI32E8Yd5paWWTcxRi7jIqRAK0Ft6QIXzx5mYtOeV0UM5StZ+wALM2eo15eJo4Ao9HEch1KhQC6bJQw77NlzMxMTmxifmKTU08fJqdNUqxUKxV6Wl2vcevMePv3oi9z0L/+IT/3Rg9SOLGI0IozmHM6FOfIXG7gzVbxKDTsCaynha3/yVf7Fb/4j9TD1zc/Pnuc///b/wchwDznPJl3rijhJyBcLuK5JomKkKbAdE4HANCWWKdmxYYhqdYE/+L3fouP7V6jrv/jUx3nk4YdYN95HKWvjmAZaK3J5l96BEmGkkIYgk3HIZi3QYFkCrRSjQ3089cRDfOLjf4SUko5K+Miv/j9840/+gfXBLBuNiP7OCkONRYZbSzhxh5wIGdIGvapJpqn53B/tZ++H/5op1UdvPkOr1cIyFYeOH6bearHz+hvYsmUHdqYHw3SYmFjH+OgIhrSQaLQKqNZrnD11EF6lVfCKM4IWF2Z49Kl9DPT2ccOe3QwNDZDN5ZGW4PY77mTzrr089+QDLC8ss//wIU5OXcBxbGZnT/DOe9/JU/4AP/nvH4AzCXYQYzYqyLBBJ6iQT6YYsQZpxnN0REhHGxgEKKPJC5/9Mv/1nnX84g+9hb/81MeYmZth7+71+H4EholpSjIZh80bhjl6bJpIJWRck4znkHFsoigkShT5rEtvX5F9zzzFF77weX70x34cgIcfeYQvffEfsWyDYs5N7XzAyTiYpomONYZpULAtevIOjiUxpMQ1TaphTNYz2LRumE/86f/Fj3zwAzxzrsPXPvHbbMqNYnYa5LRFohVFM8FEsKTrZPFwwgYtLSiJDMJoceGBZ/jpTshv/tQ9xPvu5/xyjVY7YPbCHHNzy6go4fqb9rJ95x5mLkwTx21c22JhYZ5DR06ysLTInj07ieMA03JfMSF8xQBI4phyPs/pqXOcOTPDuo3j+M0Wgoh61eeBBx5k3zMHCcOYVqvNyTMXiUKfH3jfB3jc282n/8t+5FSHYiAxGj5e3MAWPlUScmqaQUOTTxapaI0VZWjGS8yIGURnnse+tJs7R+HZp/eRz7p0ghhpGnSCiIyXY2GhyuEjZ7BMSTHrcnG2QpwIEhUTxDFKafxOiGeaqDjiy1/8Au+491309vbw95//e7ROyHkOcaLQWhFq8CybStXn7Ll5ygUXISQrdZ/l5TqWlWqIIArJYmLbknarwX//7H/n2LyHiE9xtrnIenOAHrcIdOjP+BhGwlSnwXjGJlQLZJWHiCW1cJGC9EmezvJb5kZ+6ra9HHzk45yfW+a2vTsJOoeJIsXp6fNEn/kMuazLyOgojWaHpaUVCoUsmzaMYZkOQhivyqw3XykBHBpdT6PeYKi/hGFazJyfY/rcBRaXahQKGW7as5Xrdmzk4sIC02fb3LhzI+WRTTw/tcjBmf2owxly9WNkwzp5EmLRoGC2MIVGGsuMlx0a0QoDGsIk5rGVKXzVxBAOc+dP8cBDIUkUUsy4hJ0IxzPQSrFUbdKHoNbwyWUcorwL0kSoBMsymVuuk3clHT8gjBOKhTxTZ6c4cuQwd911F88/t5/1QxmCpqQThhjSIAgiLGFi2wa2aaCVRhqCJNEorcl4DiuVJpZlEEYBSRTTmy/wz/v+mYMLBgYCkdQ5p1ps6R1mOK8oZSoomVCst+kvK3SSox10OF+fYzZssytzJ4gOxw4d4a/mz3Pv9XeybdcyWUuzUu0wOTnM1k2TnDwxxRNPvYD14hQ7tm9icqyfbNZlbmaOXXvuwjCt7y4HEN1YwbqNO7j19rdz7twctXqb2fkFnn3+aJqfN1ym0agzv7BEHJrccOPtjLzzp/jySoGjZ2YQF87Rv/Ai48qjnZwmsKZx3SaZTMjOnh4ydoOWPY12F6kwy4uNAzSTixTNGFPXiI02B17YT76QRRqCMEkII0Wl0cKUgsH+IkpDoxXSbIcEnRAtNKVSjkLWY7na5uJyi04QUyrlWVmuMb+whFIJU1NnMGwbx7Fp+TELK01c12NwoEg+5xFEEWEUEyeKJNYI0orhKE5IEmi1E5QWZFyTKGgRdOo4pqLHiDFVi+eXz3C4NksoF5noXWHbSMDOzXWEs8iJ5imOhUe5vb/EoNNhuvMo9YUv0Fyc5q8fnuEZ9z1kezaSyeQ5cOgkTz71LEEY0DfQw4HDx3l833OcOjnN9Ll5tu/Zy+6b7vhOPIHf1gvArXfex8DAEIcP7aflK3bv2s746ACFQg7HzTA0NsItN+2hGis+9LlzNBsm69Zt5+KLTzLfOoZ0rmPC1CypGZQFEsHm7DBnqLO/VkFowXyrTRAoiqaFrTtEmQxjGzdx4pHPc+fN25mdu0ArUizWahSLBUZHhoiUQduPaLc7+K0Y0zRwXA9Ek5GhHjzXYn6hRstvkcnnmVusYMjUXPM7LSq1FtJILYqtm8aYmBhCaDCkIAhjwlDjOQa5Yh7LsgjCkJVag4VKmhTqeAZeNkenXsca3o23UkGc3s9o0SZQiqYlOdIyOdrUGLZiJpCcbtU458dMFnK0jGUeWTqJn/g4cpL+vh4yCw1qT0xzw2+8nfvuXMfDjz3H/NwSHb9KpjBKsTSEkzG45aYbuXnvrYyOb8Zxsq86PvCKASCEQBgmY5ObmVy3kbff+wO0Gg2SJEYaJghJkgiKxSyFapUb5mY4dGQOa7KJrT3aaC4G+1gSFkXLAqmIcw4H7Wkybg4zTlBSMFb0WK4EVKtN2mjGd91KW3icn5nBtG7EtRyajTYb1w2xY9sWkgSiOMJzXdAKv93By3jkiyUuzizS9iMGegsM92ZZqjTpxBZLi0v09vUghKSvp4cDh07wkR+9m5nz0/T296YtArTC81y0loRRjGGmjqFOyydRUC7nyWZdjp+ZodUKGB8Z5/SJs/hZSe9dH6S5PE3Dr9A3MUDGc/ENAUqh0Rz1TTKDHhtUlZVKm5O1JiYwZuVoCcHWzQXecf0U+czT7N3+TkyvxJ133kq1Vse1DJqtDo5nMzjQh2l5xJFGWA6GaXzvNACA42ZoN+rEKkQaNvly76UUUq1I4ji9OT1lfvrmaV6oPEJjYgtfXBYkywLTytAJO3R0QrmQJ1vIUS7lSJIYOjFIQb5gIUUDrUKKO27hwumTlK97C5HSvHD4JNfv3Ipz7gQ7No3TaftYrodjG9iWiVHIMzezSBhE5PJ5clmXoBMQJzE6Drlhz/X8zZeexstmKRQKgGZkZIjHH3+SWlMzMjrMwkodx/HoLXkUCjn8TpDOT0Aul2NxaYlOJ0ArGOwrkUSa6elZ8oUyR09/g4ldA5x/9nm2vePHaBz7KkbUIJvNYhiaME6wDEEpl6UdhHRCaAbLDAlF3nGo1JuU7ngbt980yca8TWlkK7neAaIgwDAtBgb6AEGpV4CGOBbEcYgWklzee01BoVcVz7RsG9NaZZpp1wzVfWkNCIkQGsNw2Xbnzdz2/vXcuivP2973Vjq6TRj5mKZJoZQlW8jieA6ZjMvQYC/9fSUKOY+enMXo2BAb7343s2cu0pw/QyuSTKzbyMPfeJKJ9VvZs2snczML+EFAlCRIw2DL5kk2b1yP4xq4nsveW27CNC18v4MKEyY3b+Ebzx5j+uw5BvrKhEFIHCd0woBMxuMvP/cVDLtETzFHvdmm2miza8dWJsZGMU2DXD7HwMgocRQSRSGu4xAGMTIJuPuet/Dc4VNoDZnyOPVTz3Do65+neN0PU9i4h8FihoGeMuVymXy+SCZXwLJdTCeLkXFYDmLO1Vtk997LW3/2Fxl2NYXBG8j3XI9lumvBpCiKUYkijmLiuBuJlBJpmDiO+x2khL3SD0vZDUNKBHLN7Zn+lN2gjgQVUxq8nr7NP0Ss89x2y02885d/C+FlCOMQzxRkPZecazE+2sP6DUNsGuth09ggm+9+P8bNH+LpfSeozc2AECxeXKZvbCe5rMPH/+yvWb/1RtZt2oRA0aq3abQ6DA4PsmP3HhIgly/TNzBBs92mWCowNjHJQ08c4YFHn6avv49qrZlG55RiZmaBXCFPs9ngDz/5t1RbsG5slCSB0bF1bNy0g1zGZGLdRnbuvolGO6TtB4SdAB1HXH/jDUzPN3numf1M7LiRxmKMMCXt2jz7/u5veX4uw5HR+/Czw+SyWUb7exjqyeNYEtsSDPX18ZY7386eX/h9hn/544wYbarVDnZ+mHLvGFIYaUAJgWGYSGkipYWU1pqNZloW5qt0Ab+mLQDA8Tw6rRpoiSDpegr1FXRRqQTPy6CtAdqqiFi+wO0f/ldkdtzKzMN/T2bpFH0ZSU8+w8D6UXKlYZZHitRyI8xtfQsH7v8sUaOJ4dgkHR9naorliV7GrruNY089zP/0K7/JdTu3cv32cUb6y2TyLtlsgcl1W/Acj7HREXpKIxRLPbx4aIrPf/FpGu2AXK7AwnKVWrWG7dhESUynE1CpVCiWyuTzGe7/x2+wbfMYt928jTAKMcw0FjE+PozSGsfJMDkxgU4S5isN/vL+hzh85BSDExMYxe2IE8fQbR8pJSoJaNZCDuz5V5zwZymdf5Fy9SI9pkk4FtMcshnadSeVwW2c1gb32G2yF6bwQ0GQ2BSKPal2FRKBRq5lb4m1hacB28285pyAVw8A18VyXEK/mUbBVNK1EVLhawRagOd6LFeaKOlid2qo5TkY30HxI9ehmhVqfpUgCDgdQV1ZRIO9OFmXILLwlQBDonVKarZ4Z2gLEPkN/PzPb+TQsTNMTR3nmedeZHykn+1b11OphFjyAU5PLXD2L+7nD/740xw9Pg3CZPuu3ZR7e3nyiSeoVRsg0nyCJI5JkhgB+B2fG266nuHBQZ5/7gX+2988zKNPvMiG9cMY0uUf/uGrPPjg45y/uMDiUo0TU+epNToMj47wgQ+9H8Md4eTUPLv7znFYtcC0QYHI94Gy8LOT+DvWMdtqQRykutdyOGLYMN+k5AgGvAYF3aGTyxMESRr/kAZSpy7vS4QcpBAorTBsl0wm991ICPk2AaHuS6AplnqoJIoo7GAYBkKrbkmhRGpFGPgs15ZI4phSbz9Zt8j8yjIql+diWxFYLsobo5RV6CShqTVNLQibMU07geIIUmlQaah4eINB0/C4cP4cQ6N3Iu0CGzet5+KFi5w5fZbHnz7MAw8/Q6IUjutiGiaFcpGtO3czMjqM63rUajWiOAYt1tK9ojAiiZMudxFpkMcwuX7PdbQabWZmL/KNp4/T7oSEYQetFK7j4mYyjI1NsHdyknJPmZGRYU4cPMn6osn23QV4qA0UECqC3g3otomI62AaqZPKtFKdGSqkitBCM2ka9M3PsnPXRmYXM0ydPoGUko0bNlEqlrFMO41IdquWw1hhWjbFct9aPsH3BgBKoVWSRs+6ETTDMOgbHKJWreA3GwhpINC0Wg2mp6c5e3aKtt9CGILhwRFsw8CemqMzvI65WNEMI4RIWBQaS2j8WBEomQq800F7Y2Dlke0ltAavZyubh4bRjdNEsSCKQuJI0dfbT2+5lziK6EQBYZiWiXueh2WaaA2JSoiiCKUVQsu1rCPDMAijiDgJEUKBFtgy7QvQCSMsz2bjls2s37QRv9MhiUJAYDsWjuNhGiZCppHPTifGMpvcetN6dt+8E/g8Ku6A7IfsDbDsI0yNNhSg0OJSFl5CghELbmo22D00Q7Y0waTnEUURp04eYW5ujh07djI8NIxtuyRKE8QKz/MolHoxDIMkjruJJcarLlH7lgDQcYxKYpS+NGHZbZKgkoRsJotl2UxPn+bZZ57i4nxaUiWVpt1qMz4+yIXzp7Fdlw1CUJ/awD6zjyiTIIQiNNIZiEghY4XSEr2gkIdcvMgkMpoIw+B9P/xjCBVzauoYpkhDtKkAQ5IoBqUxTRvDTCuAkiTp9hLqElMpkEJ2+0FphBRYpkUYhqkGQCMkCMsEAYYh0VoTBiFKp5lJlumg0EAaDhaAZRiYpok0BLEw2bhrN3e89Qf5F+++mYP7X6S27OPsrzBXb6KGJeRFescloECH4DUU76bCh24/hh4OOHL0MK1mDcfOUK/5LK1Mc+7COYaGRti1aw8DAyMUimUK+RxxHKGVwrSsbrpZjGlZCGl85wDQcUwchVfElISU3X0/tfk1YFlpsuTo2DiGZRCFIagYCZhSc+7CObIYFIdKvK/xGPY/b+GvauPMlzxwJdgCHWr0coI932HHxZO8u+/LPFw+QVwe4Z33vYsffM97U1u9bWAaImXFQmAg0FKsNelYNUellOmWJLtpWhpMy8SyJaqlkSIVnFIKxGp5pMBx7PT7QqJ0N+lUK1Si0xwHeencQkqEITGkgTAk9VZIb/8oxVI/H/mpj/Kl0qdoLpzhtuKfc+jwMfafuo55e5B2xgFDkFcRG8wqbx2Z4r0/XENsG+PCXIE4vMDyygrDQxl27N6JZVokicIwTQyZOpOy2QyJUqkGSZJUowmDWCVpQq7jpgv1NQNAJcRRin7R3XPEKvsQAhWnWsE0DS7OnOf8ubNs2bSJ7Vs20Ww0WF5ZolGrUKlWyGTzuI5JLjeANwb/49BzXP/Vx3j0QD/nmkV8JZFxhyE9y00TJ7jpQ2fovXkE56n7qLTyvONdHwBMHNeh3fGJowTLtLCEJJIS3c25E5cHQJQAQ6d9D0jJkm1Z5PM5FucWKPf0UiwWaDYbWJaN77dxXQfXdVNQrCVMXhZUlSnrXgOASNPWTCsFkmNZ9JSKJFGHPXvvouFHzJ4/yLoNLW75oQMEZw+wOC2pVSykZVEsa4a2WgzduI649xZiNjGozrM4fwHHcdE6IZvNMDE2SS6bI1GKRquNtIwugVVpoxJScErTQJAS20D7uF7mFdUPvCQAVJykwr8qBXz1fQoMTRxHLM7Pcvz4EU4dP0ahmGFocIx22+fFw4fTfVJpDCEpFkvYXg+LyuPWn1tk7+wR2rMvoAMfaUmskoEq9dI0bufEXIZC/zIbdg5TLvdTq1awTAPXNqnW6ziZTFe1GwgRo6Xs9jhKEyO1UMjVqjckUhpEcYQEHMfippv3kM1miKKITZs2cuTIYSxLkiQJjutCHCERJFqjdar4hZSpGdZFhBACUxoYtk2n4+NZBj3lElEY0qitsGXzFlDw4tQMw4Pb2P22MrcPC4iqqESgzCLKXs/coknrok+pVCNb7GNwcJQo6OC3W5w4foxWs41jSkzLphMl9PQN0tMzgGkYKL3arUanHEem2i7pLmDLcb5tWNh8KdKXAl5cSsjUGn1Zz5zubSaOYoQ0yOcKzM5c5PTUSQYH5tm2czeLSytkMx59fQMMj28GTBbnzxGHMVG0jnVb30puY5V6bZ66HzA7W+Hsc/O0G8tI5nEzLs3GMtNnTlLu6SWbzSG0ZqWyzHihgDZSbSSE6BpIAiH0FaZS2vhCIaVJHEWEUYhlWxQLOeI4JpPxWLdunJOnT6bkKgzI5rLpMYVGSxBKrC0CIUB3+YTsBpMc06RaqaDihGyuQBBG1FaWOHX6KEli0GnVOXxogZmLDbxMjomJSdZv3EQ+X2Zm6iytxgyGFMzMVLAdh3L/EGGiOHt2mk7bp1qrc376FLaT+gX6B0ZS07u7z2shLlV1akALJOk2rRP1bXsamy8b+JGyG7xYS9pfK8aQhoGKU8ugVCpR7uklUTHZXJ4ojGg26mzavAXHcSmWevBcl2azThzFZDJZchmLysIyK8tLPP/iCywtLeE6Jo1GBa0EQ/0DhFGLudkVcpk8zXqNcm+Jnt5eqpUa6zYY6R4sRMqotLrU9bWr8vVlGcUCmbpPE0Wr3WLHtu0IAaYheMc73s6Xv/YAjusQR4okTjul6W6zLCHEquVIIsDsmoxSCEzTJJ/PM3vhIqWeHgzDoNlq4vstlpYWaTRaOI5LJlsGoZiZO02ifHr6ioSxTxA2yeXy+O02SoU0GjWCTodiXz/rDZcoikiSiOHRCVzPY3R0nL6+ge78urDXVxamXKo5kK+okdXLAsAQBspIC0B0V7WiNUkcIw0D07BRpqaQK7NucgP5XIFarUqz1aATdujrG8A2bXL5AtmMi2GaOD0e2VyRfC5HtbbC+vWj9PfnWVlZIgx9qpUqpmnTarU4P3t+zTYXQrIwP8fd99zNX336bzh88BBjE2O0mu1U7Yu0vlWpy3SUuHQtWqWma5zE3PKWW3nPe97FuTOnEVLwoQ+8n0OHD/HZv7m/m/mUXJZPs0owLyOXl7nFtVYcPXwE13V5+9vuobKyTJQoYqWxLBspfTKey4YNG9i6dSu2nSGMEuIoph0GbN22kygIqdcqdDo+URQQxzG2adPT20sQJRQKBTzHRgiJm8mSy+a7yaepj0QaEtOw1gpfDEMi6C7gV5YSdlXuWJfoCUmqSrS45Oy9DFBCShzXQ0qJ43n09PbTaNRpNuokKkZ3U8AzmWx68+MYy7JxXY8oDjk9dZqRgT76+4rkPYtYwZw1w8zsBYKgg2VaxFFErBPm5i7QbjeYmBjhhz/wHva/cJiw42MYsisc3V3tqbo2hECsvkWDUIRRxN69N/JzP/0RGvUqlZUFCoUSHd/n3/4vv8LI0DCPPvkUCL1mVaRFK6C0WKvoWb1VpmkRhjFBEHD3XbfS21vgwoVzeJk8juMihMC2LaIooN6oU681yOYEYRR3Yycmju1hWw6245LE8dqKXzVz40RQLOTJ5/NIaaTzMY01LnJ5MYruOulW//atClK+tQZY7YnXLW64tK+KK6vIUmqM7XkYlk0YdFBd5KeOoxSdjm0jpEhNGWlg2TaqlRAEPt944gn6enK4jsvI6DqOHD9GZbmCbdlESUQ2X6JY7qPRrGJiEHYidm3fwsjQAC8ePEanvYzj2iR+jEpSEAil0EojDBOjy5iXl5fZsnmS++69Bx1Dq9nAMCXV6gqtVot2u82HP/h+oqjNl776CDt37qQThGhi4iQ1raQUSMPAMAxMyyKKY8bHhrl+150UcxmqlVpazVStYjo22VIvjWabVqPJuJ3jyNHjtNo1coUipmnR3z/G2Ngktu1gmGZXwaZgNg0DQ0qSRGM7Nq7jYdnWVU6eVCMr1b3urpZOV38XGPK1JoWu9gu4ukT5JUvIBIYlsbTCSxSmaayZUlKm+6RhmKgkSZHZvYm9Pb1UaxVm5hdptRrkiv0srVRp1Jt4GZdCuZd16zZhmzaxitKLURB0Qvp6ern99ht56ol9PLHvBcp9fTiWhYoVQnZtfK2oLC8xO3MRzzUZvHUn9VoDKSS2aaFijSIm6qa5z8xdpJh36TRWeP7ZZ9i2ZQPSMukpF7Esh04QUK83UHFEdXmRu+68ldtuuZkkjuh0QtAGiYroBAFGaFIq9iKlTb26gmO7nDl9kijs0Gz69Az0UyyVMAwDwzDXilR01/Iyul1PTVL/xdqDK6667wiQhriyt+ea/F6VI0jzkkWir6JfkGlaCE9gxRaq6zpOlYmBYZporUmSGK0VlmUzNDhKu9XCczI0mw3qtTrDoxOUen2yXp6+nl4czyNOYkgEidJYtkGhWAIE1WqFsdEBdm7q4/TJaQpDA1Sbdd5x732Ue/r4y7/4U1ptH0nE5OQmWu02cRRgWg5xF4yr9kwUtgnjiFqtzlv27mR2bhkZ1BnqHeRHfvQDPPTg16g3fWrzs6g4YrhvkMmJUbxsmTDw0bTpBJ10K+rWBAopyWY9ekobSKKIdevWg0pwMnkGh0fo6e2/olRttdx8tTfR6t9Mw/wWEhBXaeTXEgvokqjvvNNAt17eMpFaopVeY+Fr1oM0UApM06Sntw+lFQsLc7T8Nn7Lx7EcbNslk8nguA6maWFbNrZl4zoOuWyeXKGA7/sks4pmo8PkxHrCMGRq6gymafD0448ghMHMxXmy+Rwqjgg6HQzTSusGZYyiy5JFauHESUySJJiWgwZGhgY4dXwKP+zwZ5/8GGdOnydfzNJoNDAk6AQqK3XyN5SJ4xxR2CHs+PgdnzAK0sRRKdFJ6oDq6e3rNp8KMS2PTDZDJptPBX3Zni2lxDTNtX1dCrmWu/i9Gt/FVrHp3iOVTEPCUl9ZMNkNIsmu2pMyTdzsHxyi0wmoVyvUqxUSrbAsC9t2sK20OAOREkrLcnE9F9NKWW+tXuHUyRM0GzXyuQILS1VOTx2ht6fA2NgoWzdv4LrrdjJ9cRbHdYniBNu0ECIGYaBllyxqTRzHlEpFTocxp06dZnx8BNc1mTp9Dj8I8BdTt/i977yDcrGXoaEBXM9FJw6R4+B5OfJJQqxjpJBdL6TGsR1KpTLZXK7rW+lGTQ1jTeWvmt2r8X7dDRcI2dUKQr6eAHiNPYJENyWMlDxqNGiBvupwsptcapgWluMSxzFhGOC5HsVCkagbdTNME7P7AolCYRkmlmXh2DYDvQOYWpB1LN56271s2LyRv7v/82zdEuI5LrWGz8JSBdOyCIKQQtnCMo01Zrzq4Nakdfu5bI44iJgcn6SnlOOmm29Ca7DlN7BsgzCM8f2A4aExRsfGyBfLZDI5kjjBUqkGWS13Nw1zjQM5jkPG88hkMpiGtaYtV3sM6m7bF31ZjwS5Zs/L1P8vv9ca4Ju2gdfaKKo72a5JstqD8mrikmoLsLr73aqKM0yDOIq7DSDS/U8aBsZl0S0pJRrN2PgG7n7HfRw/9iLL83McfOEFpi8sECSacqkHaTpkMy7nZxbIl/ooFHvIuF4XUKt9CFIhOHaG3r4Benv6aTebZPJ5jhw+RqPVZrbSwvM84lgTRJoz0+colHrZdv1GzC6B09pGqRQA8jLTzDQNbMvCtGykNK/wzQvDSB063cYRXYP10lpaPc73uCeReWW7l+/SyVYJlngFvMEwsR2xZjEkcZr4uOrKNbqeR2kYoNMmColK6B3o5+z0KVp+TKAF84sVdu/ZTbl3ENtxyGZyFEtlspkclmkRxQFCXTqu7rq6DZn6KkrlMrlcjunz02hppomvZoO7Nm7Fcb01klbIFdmxYzc95d7LyJvo9jkQV+7fprGmtV4yaWPVa8f/d6PbI0hc6hC3GgZ7naelu4JVSYJKug9iuNytmXYK6DZ0SLXE4tICc/Nz+H6L8xfP02o2kUKSyRfo6xukvy8NmrRaLTqBn6Z3A4ZI1bRjO5i2hW2nDqpsNkcYdIiiiOWVJeZmZ1iuVtK4gZehv3+IgcERCqUSrut2kzUvhclX4wNSyNSWN1PtZXRN3zfE0C8HgDXBv4yp8TqBQHWfwqEuy0Ba83GnDGMt8VQrTScMaLWa+G0fv9MmASzTxnZcTCON8IVBRBQFKJ10hSMxTQPTsLDs1MowLavrgbOI4wjfb+P7Hdp+m0TFmIaNaZo4XgbHcVPHkFhNNrkUIkZKjC57l0b6M93m5BtM+N02fjpRl1rFviQIxOs6Q61U+uoWm1xSSJeif5eXP2mtiZOIOE7S4k3UWhxfaY1KktSlnKRby5qz05CYholpmFimgWXZqY+9ew69+t2kC0YuPWNQXdGiTXSJ26U9W4pLWsGQxvesndx3BwAq0WvhLiFef5m/ZA7qpWcXaa7sibeamHJlsEOvPcxBKY3SyZofYjUvUCXJZcke+rKkDiPVBqa1psIvJ1+XRxV1N8qoruoSrteyoi91/pJr28Ib5RGz3VVxxeMAVgHwUu4k8QaB6yX76LLctJcnrVqrNQFd/vSP1GeuLrlcRcoq1rxvUl5i6S+rrnUXEGrN67cK0iunt7o9yDeO8Fdn900cIFGaKwI+4g0CgO/CdnIZCODyjmOr6WJcavQoXt1Fr7Zyfan2tOIN1XL/KnjqK23zSxyAq1cX13pGv5YV9oacG5ep/ysBIF9W+JeDR18T8bd3g74ZpyqucgXrb86ouTa+38B55TOh5Ld1NV57fMD3NTD+XzRCsKtleXbUAAAAAElFTkSuQmCC

iVBORw0KGgoAAAANSUhEUgAAAIAAAABOCAYAAADo3B4PAAAvXklEQVR42u29eZRk113n+bn37bFH7nvWvpdUWkqyNku2ZWFjtzE2Bg/NAQ80TPsMHKCZhYbT9NBDA900nAOD8dhgGnA3tkFgxuBV1motJbRVqfYtq7KW3DNjjxdvu3f+eJFZiyVbkm2N5Kl7TpzMyIx47773+97f/f7WJ7TWmmvj/7dDXrsF1wBwbVwDwLVxDQDXxjUAXBvXAHBtXAPAtXENANfGNQBcG9cAcG1cA8C18f0+zDf7BegkAQ2I9L2QEoS46kMarVT6OXT6GfnN2NdKgVJrBxNG91hXfR8hEIbxfQEA8aYNBmn9zYJeHUpdEvDlv7/cZ77F8XSSvLSwV2/by83hmgZ4fYRff+Ahms88i+4EeDu3U3rfe5Gem35Ga5CSaHGJ+le+RnD2HEY+R+7uO8nesOdKIQpB4+l/pvX4U+hWG2tyguK778Ma6CdeqVD90lcIz0wjPZfsW24hf+ft3x6I1zTA90j4QFypMv0//xL1r36dpNFICU3GI7Pneib/9GN4WzYDUP3qA1z4lX9LeHYaFQQIw8DoKdP/r3+WkX/3q6km0Jrzv/rvWP70X6NqdXSSIG0bd9cOen/if2Dlc/fjv3AAFYYIKZGFPOUf/SATv/+7SNteA9A1ALwe8lcKIQRnfuajrHz2b7GHh8i//W6E69J4+DHC6XN4e65j24NfpnPyJCd+8IdRjSbujm1krttFeGGG9rPPkdTqjP6X32Hwoz/Lxd/8j8z/pz/A6CmTvXUv1uAAzX9+jujsNMhUsNboKLnbbiFeXqH51NPES0sM/tLPM/bb/yGdk3yT8mn9JhoqSbTWWreee0G/MLhO7x/frFf+7h/W/t984YA+eN1e/axb1tWvPKAXPvnn+hkzr4/9wPt0uLi0doxzv/Ef9POlIX341rfqcGFRH775Dv18eURf/J3fWztW59x5feSt79T7RzboQze8RfunT6/9b/aP/kS/MDipD2zYoTvT59I/duf2ZhtvLtiqVFm1Dh0mqdXwrttF+QM/hE4SdBiS3XMdxbe/DR0nrPzt35O/+06EbdH3Ex/G6utF+R2ElAz+65/FHBggOH6SzrFj5O64DeG5DP7CR9PTdDo442P0/cSHiZeWccbHcDdsQMcxaM3Az/009tgoyUqF4OTp1YX05vQDqDhKL0wloNUl8sQb94KEYaQMPggvvTdTPps0GxjFPM1HHkNkMmT33kxcqV4yEQEdBF3zUVP9py9Teu+7kZnM2j4uTBO0RmazICU6ikCp9DxCIJRCum7XNFRvckeQ6gpcXS74VeG/sUAguvtxds/1mKUS/pGjzP3hx9BRhJCSyhe+SP3rD2OWSkQLizQefpTen/xx5v/wY/jHTyAcm6ReZ/Z3fg/VbGGUitS+8gD2+DjOlk0ov3PZycSlqxfiSpOx6xu45gh63eEq0Urh7dxOz4//KAsf+7+Z/0+/T+0fv4i0HdoHD6N8H6NURHouK/d/nsk//H1mfu3fc+p9H8LdvZN4bp7g2HFwHIRtE06fxz9yhNJ7341q1KG35yrUvQzDfxMz/ytuqRACgVjzpMEb+8KEEKA0Y7/17xn46M+hhaDx5NPUH3mUpN2m+L73MPHJP0Z4Ho1HHydcXqb4wffjT52h9k9fpr3/RchlGfud/5PiB99PUquw8rm/I//Od4CXWdvLtdYQxyS+jwrDru9IXfp/GKZbiXpzawKhwlAL0QXAKqqF4DJEvAFNl0vTC48dp7X/RZIwJLt9G97emwDoHDuOozRicoLEkMRPPY0/fR7lufTc81YYHIB2G//YCaTn4mzb+k3AVysV4nPnkYUC5oZ1V5ii/rHjaN/H3bwJo1B40zqEpPimSYs35P5/9RS10qAUi329TN2wm76f/Jf4u3bw4Ne/ztLCAva2rewLOxw4M4XhujzuOVTe+y4KP/YjPHD0CFopHt+/n8bmDfjrJmn7PidOnODAgQMEYciFCxeICnmejkOm7dQV/Nhjj3Hq1CmElGR2bCd7042p8N/ELmGZBjcuX/1XA+GNqgRSN+/hZ5+lM7+IjmOOP/88F2dmqNRq1JZX+MyffYoDzz2H1pozBw7gBQEnDx/m9JEjCClp1evkhMGZI0eIoogoiiiXy8zPzdFsNlmam2Pq4EEWps+htWbfvn0cOnSIarVKrVJBX7YlvHldwXGkryA1b3T1f9UIgoD5+XkmJiaIoojZ2dm136MowrIsLMtCKYWUEt/36XQ6lMtlgiDAcRzCMMS27bXPR1GElBLDMDh37hwjIyMYhkEURQghiOMYwzCwbftNTwKFTmL9zaz2zc9uX8briRDfn9f2HWwBXLbqxZtWsN/u9zUL4lV67b7V8b4fRqoBrlD9+vtWA1wbL+UIEvKl7atXvQKv/m76/vVUuZev0O/Wea++ttfrel72nmq+q5FHoVXXk/Ea2P8r3VO/V3uv1hrVDQ/Ll7gpSZIAYLzK9K1v9b1vd87Xi6usgv07va+vDQBXOT2a9QrLCxcI/AZh4JMkCbZboH9ogr7Bke8JCFZZ/eoIo5hWs0XYZfKlUnE1lP+azx+GESuVCr7vY5oWuVyOcqlw2RwShJDfE3A3a8usLF6kE7TQSYJlOSANLMtjaGwDlu18V+6r+c0OoFcmfK0VF84e4+L0MZ55/HFGJ0cYHugjCAJqjQZ+oMjlyvQPDLDzhjvIFfu+5RajL0+4fAUrREpJrV7nySef4PDB/SzNX6BaXSFJFLl8hjC2GBoZ54477uKeu+9GSvFtb9bq/7/+4IM88vBDnD8/RdipE3QC0JJyTw+5Qg9bd1zHffe+k02bNr4ysGqN1jq9dd1Vm75e4rNJxFOPfZ3AryGSOkqB57gI0+D0kSPUlpfYevNb6B0YZ8uOvWTzxe+CBhCvDACrN6jZWOHgsw8ydeIYpVKBgy8eZXJynI0b1xF2OtSbLdpBgpfJ0Qk65LMet73tA+SLPWvHUFqzemop5RU3I1Hp/me8hIpN/fHw9NP7+Ku/+ATLixfIZkwKnkW93sYwTXZum+DA0bNMTS+ghcGmTbv5tV//DTZt2pCaPi+zXUgh+e3f/S0+//efI+uZDPRmGenvw28HNNoddmwepdXpcODoecLY5q577uWXfvGXKRTya0K9nAGpRCGFWItifvM5V7cSsaZRnnn8n5g6cYKe/lGymZh2q00hVwTL4MhTz2DaNr3jIySxxs6UuG7PzQxPbO2e+9VzOPnKV38qOL9V5dyJ5/AbFRzXxfcDPC9DdaVKEockKkGpmCROkAKCMOLZAwc4dODZNQEmKr0xpiExjFT4zSBgudEiUQmGFKnw9UuYYUIAis/8t49zfvo4UeCT8yyyWQ+NIIwVhmEw1N9DPmvjGJL9zz3Bpz75x13B65cUvmEYHHjxWb7w+b+mt+Dh2Cae41LIu2gUSSKwLINyKUMh65DzEr76xc/xiU/8CVJK9GV5AVprhNbptUnB6cU6X3nmJPc/cZIvPX2Cg1OztOMEw5BIKUiSBK3hwtmTPPboQygBjZZP2AmIww5JEhGHAZVKFTeXxzIsYiVQScjM2UNMH9tHHAWvicCbr8yHnSKrsnSR2sIZPMciX8hTa9SpVptkcxkqldqa8JVOsAwLv+Nz9NhRXDfLwux5EqXXiNX5aoN/fOIgj714gfNxjnPzFdqNKgOGYs/6Pj583x5+6NZtCC6pbqVS4f7Fpz7Ok088QblcxLBt8lmXfNbBNAVhoNFoeooZbMskjgJcx+aBr32Z9z/+fm678541ga8C0jAMFhZm+N//11+i1erQX8qiE4VrSYoFj9n5lVTAEizTQCUxnXYH1zF56vGvsvwzP0Nv30CXHKacIAE++eBRPvsP+3nmmWn8GqAcWHgIPIPJ3du592138DPv281tOyYBODs9Ravd5uLMBYpFTd4torVCSE3U6eA6DoVyiVqtSr0dsn2wjOt6tGrLnD6yj007b8cwrdfKAb71nt9u1Tl9cB+ZnEcmmyebyZHLuKwsLuPYDlGrjt/qYNlGyqINmyNHj+K3fZIEmu0OhhScnl3gdz79MPc/epLaieNQrcH4u8BR0F5hpVnn2MOn+OwXjnDfe2/kz3/xXkZLeeIkwTQMvvaVL/C7//m3GR7pJeuYaUImGscxEUKiVIjQCsM0SJTGNkwKeYe5xQq/9r/9G/7qM/czPrnhChYdBD7/8Td/ndMnp1g3OYAUCoVGSoFlmWidoLQiTjS2JbvaTeBZJlOnTvGLv/BR/utffgbDNBHAbNPnx3/973jkb05A7QI5N0ef0wc6pOG3iJsx00+f5VNP1/jUnz7Aj33kB/iDf3MvxYxFGEW4KuH8xSl6ilvIuKC1IPA7DI32E8Yd5paWWTcxRi7jIqRAK0Ft6QIXzx5mYtOeV0UM5StZ+wALM2eo15eJo4Ao9HEch1KhQC6bJQw77NlzMxMTmxifmKTU08fJqdNUqxUKxV6Wl2vcevMePv3oi9z0L/+IT/3Rg9SOLGI0IozmHM6FOfIXG7gzVbxKDTsCaynha3/yVf7Fb/4j9TD1zc/Pnuc///b/wchwDznPJl3rijhJyBcLuK5JomKkKbAdE4HANCWWKdmxYYhqdYE/+L3fouP7V6jrv/jUx3nk4YdYN95HKWvjmAZaK3J5l96BEmGkkIYgk3HIZi3QYFkCrRSjQ3089cRDfOLjf4SUko5K+Miv/j9840/+gfXBLBuNiP7OCkONRYZbSzhxh5wIGdIGvapJpqn53B/tZ++H/5op1UdvPkOr1cIyFYeOH6bearHz+hvYsmUHdqYHw3SYmFjH+OgIhrSQaLQKqNZrnD11EF6lVfCKM4IWF2Z49Kl9DPT2ccOe3QwNDZDN5ZGW4PY77mTzrr089+QDLC8ss//wIU5OXcBxbGZnT/DOe9/JU/4AP/nvH4AzCXYQYzYqyLBBJ6iQT6YYsQZpxnN0REhHGxgEKKPJC5/9Mv/1nnX84g+9hb/81MeYmZth7+71+H4EholpSjIZh80bhjl6bJpIJWRck4znkHFsoigkShT5rEtvX5F9zzzFF77weX70x34cgIcfeYQvffEfsWyDYs5N7XzAyTiYpomONYZpULAtevIOjiUxpMQ1TaphTNYz2LRumE/86f/Fj3zwAzxzrsPXPvHbbMqNYnYa5LRFohVFM8FEsKTrZPFwwgYtLSiJDMJoceGBZ/jpTshv/tQ9xPvu5/xyjVY7YPbCHHNzy6go4fqb9rJ95x5mLkwTx21c22JhYZ5DR06ysLTInj07ieMA03JfMSF8xQBI4phyPs/pqXOcOTPDuo3j+M0Wgoh61eeBBx5k3zMHCcOYVqvNyTMXiUKfH3jfB3jc282n/8t+5FSHYiAxGj5e3MAWPlUScmqaQUOTTxapaI0VZWjGS8yIGURnnse+tJs7R+HZp/eRz7p0ghhpGnSCiIyXY2GhyuEjZ7BMSTHrcnG2QpwIEhUTxDFKafxOiGeaqDjiy1/8Au+491309vbw95//e7ROyHkOcaLQWhFq8CybStXn7Ll5ygUXISQrdZ/l5TqWlWqIIArJYmLbknarwX//7H/n2LyHiE9xtrnIenOAHrcIdOjP+BhGwlSnwXjGJlQLZJWHiCW1cJGC9EmezvJb5kZ+6ra9HHzk45yfW+a2vTsJOoeJIsXp6fNEn/kMuazLyOgojWaHpaUVCoUsmzaMYZkOQhivyqw3XykBHBpdT6PeYKi/hGFazJyfY/rcBRaXahQKGW7as5Xrdmzk4sIC02fb3LhzI+WRTTw/tcjBmf2owxly9WNkwzp5EmLRoGC2MIVGGsuMlx0a0QoDGsIk5rGVKXzVxBAOc+dP8cBDIUkUUsy4hJ0IxzPQSrFUbdKHoNbwyWUcorwL0kSoBMsymVuuk3clHT8gjBOKhTxTZ6c4cuQwd911F88/t5/1QxmCpqQThhjSIAgiLGFi2wa2aaCVRhqCJNEorcl4DiuVJpZlEEYBSRTTmy/wz/v+mYMLBgYCkdQ5p1ps6R1mOK8oZSoomVCst+kvK3SSox10OF+fYzZssytzJ4gOxw4d4a/mz3Pv9XeybdcyWUuzUu0wOTnM1k2TnDwxxRNPvYD14hQ7tm9icqyfbNZlbmaOXXvuwjCt7y4HEN1YwbqNO7j19rdz7twctXqb2fkFnn3+aJqfN1ym0agzv7BEHJrccOPtjLzzp/jySoGjZ2YQF87Rv/Ai48qjnZwmsKZx3SaZTMjOnh4ydoOWPY12F6kwy4uNAzSTixTNGFPXiI02B17YT76QRRqCMEkII0Wl0cKUgsH+IkpDoxXSbIcEnRAtNKVSjkLWY7na5uJyi04QUyrlWVmuMb+whFIJU1NnMGwbx7Fp+TELK01c12NwoEg+5xFEEWEUEyeKJNYI0orhKE5IEmi1E5QWZFyTKGgRdOo4pqLHiDFVi+eXz3C4NksoF5noXWHbSMDOzXWEs8iJ5imOhUe5vb/EoNNhuvMo9YUv0Fyc5q8fnuEZ9z1kezaSyeQ5cOgkTz71LEEY0DfQw4HDx3l833OcOjnN9Ll5tu/Zy+6b7vhOPIHf1gvArXfex8DAEIcP7aflK3bv2s746ACFQg7HzTA0NsItN+2hGis+9LlzNBsm69Zt5+KLTzLfOoZ0rmPC1CypGZQFEsHm7DBnqLO/VkFowXyrTRAoiqaFrTtEmQxjGzdx4pHPc+fN25mdu0ArUizWahSLBUZHhoiUQduPaLc7+K0Y0zRwXA9Ek5GhHjzXYn6hRstvkcnnmVusYMjUXPM7LSq1FtJILYqtm8aYmBhCaDCkIAhjwlDjOQa5Yh7LsgjCkJVag4VKmhTqeAZeNkenXsca3o23UkGc3s9o0SZQiqYlOdIyOdrUGLZiJpCcbtU458dMFnK0jGUeWTqJn/g4cpL+vh4yCw1qT0xzw2+8nfvuXMfDjz3H/NwSHb9KpjBKsTSEkzG45aYbuXnvrYyOb8Zxsq86PvCKASCEQBgmY5ObmVy3kbff+wO0Gg2SJEYaJghJkgiKxSyFapUb5mY4dGQOa7KJrT3aaC4G+1gSFkXLAqmIcw4H7Wkybg4zTlBSMFb0WK4EVKtN2mjGd91KW3icn5nBtG7EtRyajTYb1w2xY9sWkgSiOMJzXdAKv93By3jkiyUuzizS9iMGegsM92ZZqjTpxBZLi0v09vUghKSvp4cDh07wkR+9m5nz0/T296YtArTC81y0loRRjGGmjqFOyydRUC7nyWZdjp+ZodUKGB8Z5/SJs/hZSe9dH6S5PE3Dr9A3MUDGc/ENAUqh0Rz1TTKDHhtUlZVKm5O1JiYwZuVoCcHWzQXecf0U+czT7N3+TkyvxJ133kq1Vse1DJqtDo5nMzjQh2l5xJFGWA6GaXzvNACA42ZoN+rEKkQaNvly76UUUq1I4ji9OT1lfvrmaV6oPEJjYgtfXBYkywLTytAJO3R0QrmQJ1vIUS7lSJIYOjFIQb5gIUUDrUKKO27hwumTlK97C5HSvHD4JNfv3Ipz7gQ7No3TaftYrodjG9iWiVHIMzezSBhE5PJ5clmXoBMQJzE6Drlhz/X8zZeexstmKRQKgGZkZIjHH3+SWlMzMjrMwkodx/HoLXkUCjn8TpDOT0Aul2NxaYlOJ0ArGOwrkUSa6elZ8oUyR09/g4ldA5x/9nm2vePHaBz7KkbUIJvNYhiaME6wDEEpl6UdhHRCaAbLDAlF3nGo1JuU7ngbt980yca8TWlkK7neAaIgwDAtBgb6AEGpV4CGOBbEcYgWklzee01BoVcVz7RsG9NaZZpp1wzVfWkNCIkQGsNw2Xbnzdz2/vXcuivP2973Vjq6TRj5mKZJoZQlW8jieA6ZjMvQYC/9fSUKOY+enMXo2BAb7343s2cu0pw/QyuSTKzbyMPfeJKJ9VvZs2snczML+EFAlCRIw2DL5kk2b1yP4xq4nsveW27CNC18v4MKEyY3b+Ebzx5j+uw5BvrKhEFIHCd0woBMxuMvP/cVDLtETzFHvdmm2miza8dWJsZGMU2DXD7HwMgocRQSRSGu4xAGMTIJuPuet/Dc4VNoDZnyOPVTz3Do65+neN0PU9i4h8FihoGeMuVymXy+SCZXwLJdTCeLkXFYDmLO1Vtk997LW3/2Fxl2NYXBG8j3XI9lumvBpCiKUYkijmLiuBuJlBJpmDiO+x2khL3SD0vZDUNKBHLN7Zn+lN2gjgQVUxq8nr7NP0Ss89x2y02885d/C+FlCOMQzxRkPZecazE+2sP6DUNsGuth09ggm+9+P8bNH+LpfSeozc2AECxeXKZvbCe5rMPH/+yvWb/1RtZt2oRA0aq3abQ6DA4PsmP3HhIgly/TNzBBs92mWCowNjHJQ08c4YFHn6avv49qrZlG55RiZmaBXCFPs9ngDz/5t1RbsG5slCSB0bF1bNy0g1zGZGLdRnbuvolGO6TtB4SdAB1HXH/jDUzPN3numf1M7LiRxmKMMCXt2jz7/u5veX4uw5HR+/Czw+SyWUb7exjqyeNYEtsSDPX18ZY7386eX/h9hn/544wYbarVDnZ+mHLvGFIYaUAJgWGYSGkipYWU1pqNZloW5qt0Ab+mLQDA8Tw6rRpoiSDpegr1FXRRqQTPy6CtAdqqiFi+wO0f/ldkdtzKzMN/T2bpFH0ZSU8+w8D6UXKlYZZHitRyI8xtfQsH7v8sUaOJ4dgkHR9naorliV7GrruNY089zP/0K7/JdTu3cv32cUb6y2TyLtlsgcl1W/Acj7HREXpKIxRLPbx4aIrPf/FpGu2AXK7AwnKVWrWG7dhESUynE1CpVCiWyuTzGe7/x2+wbfMYt928jTAKMcw0FjE+PozSGsfJMDkxgU4S5isN/vL+hzh85BSDExMYxe2IE8fQbR8pJSoJaNZCDuz5V5zwZymdf5Fy9SI9pkk4FtMcshnadSeVwW2c1gb32G2yF6bwQ0GQ2BSKPal2FRKBRq5lb4m1hacB28285pyAVw8A18VyXEK/mUbBVNK1EVLhawRagOd6LFeaKOlid2qo5TkY30HxI9ehmhVqfpUgCDgdQV1ZRIO9OFmXILLwlQBDonVKarZ4Z2gLEPkN/PzPb+TQsTNMTR3nmedeZHykn+1b11OphFjyAU5PLXD2L+7nD/740xw9Pg3CZPuu3ZR7e3nyiSeoVRsg0nyCJI5JkhgB+B2fG266nuHBQZ5/7gX+2988zKNPvMiG9cMY0uUf/uGrPPjg45y/uMDiUo0TU+epNToMj47wgQ+9H8Md4eTUPLv7znFYtcC0QYHI94Gy8LOT+DvWMdtqQRykutdyOGLYMN+k5AgGvAYF3aGTyxMESRr/kAZSpy7vS4QcpBAorTBsl0wm991ICPk2AaHuS6AplnqoJIoo7GAYBkKrbkmhRGpFGPgs15ZI4phSbz9Zt8j8yjIql+diWxFYLsobo5RV6CShqTVNLQibMU07geIIUmlQaah4eINB0/C4cP4cQ6N3Iu0CGzet5+KFi5w5fZbHnz7MAw8/Q6IUjutiGiaFcpGtO3czMjqM63rUajWiOAYt1tK9ojAiiZMudxFpkMcwuX7PdbQabWZmL/KNp4/T7oSEYQetFK7j4mYyjI1NsHdyknJPmZGRYU4cPMn6osn23QV4qA0UECqC3g3otomI62AaqZPKtFKdGSqkitBCM2ka9M3PsnPXRmYXM0ydPoGUko0bNlEqlrFMO41IdquWw1hhWjbFct9aPsH3BgBKoVWSRs+6ETTDMOgbHKJWreA3GwhpINC0Wg2mp6c5e3aKtt9CGILhwRFsw8CemqMzvI65WNEMI4RIWBQaS2j8WBEomQq800F7Y2Dlke0ltAavZyubh4bRjdNEsSCKQuJI0dfbT2+5lziK6EQBYZiWiXueh2WaaA2JSoiiCKUVQsu1rCPDMAijiDgJEUKBFtgy7QvQCSMsz2bjls2s37QRv9MhiUJAYDsWjuNhGiZCppHPTifGMpvcetN6dt+8E/g8Ku6A7IfsDbDsI0yNNhSg0OJSFl5CghELbmo22D00Q7Y0waTnEUURp04eYW5ujh07djI8NIxtuyRKE8QKz/MolHoxDIMkjruJJcarLlH7lgDQcYxKYpS+NGHZbZKgkoRsJotl2UxPn+bZZ57i4nxaUiWVpt1qMz4+yIXzp7Fdlw1CUJ/awD6zjyiTIIQiNNIZiEghY4XSEr2gkIdcvMgkMpoIw+B9P/xjCBVzauoYpkhDtKkAQ5IoBqUxTRvDTCuAkiTp9hLqElMpkEJ2+0FphBRYpkUYhqkGQCMkCMsEAYYh0VoTBiFKp5lJlumg0EAaDhaAZRiYpok0BLEw2bhrN3e89Qf5F+++mYP7X6S27OPsrzBXb6KGJeRFescloECH4DUU76bCh24/hh4OOHL0MK1mDcfOUK/5LK1Mc+7COYaGRti1aw8DAyMUimUK+RxxHKGVwrSsbrpZjGlZCGl85wDQcUwchVfElISU3X0/tfk1YFlpsuTo2DiGZRCFIagYCZhSc+7CObIYFIdKvK/xGPY/b+GvauPMlzxwJdgCHWr0coI932HHxZO8u+/LPFw+QVwe4Z33vYsffM97U1u9bWAaImXFQmAg0FKsNelYNUellOmWJLtpWhpMy8SyJaqlkSIVnFIKxGp5pMBx7PT7QqJ0N+lUK1Si0xwHeencQkqEITGkgTAk9VZIb/8oxVI/H/mpj/Kl0qdoLpzhtuKfc+jwMfafuo55e5B2xgFDkFcRG8wqbx2Z4r0/XENsG+PCXIE4vMDyygrDQxl27N6JZVokicIwTQyZOpOy2QyJUqkGSZJUowmDWCVpQq7jpgv1NQNAJcRRin7R3XPEKvsQAhWnWsE0DS7OnOf8ubNs2bSJ7Vs20Ww0WF5ZolGrUKlWyGTzuI5JLjeANwb/49BzXP/Vx3j0QD/nmkV8JZFxhyE9y00TJ7jpQ2fovXkE56n7qLTyvONdHwBMHNeh3fGJowTLtLCEJJIS3c25E5cHQJQAQ6d9D0jJkm1Z5PM5FucWKPf0UiwWaDYbWJaN77dxXQfXdVNQrCVMXhZUlSnrXgOASNPWTCsFkmNZ9JSKJFGHPXvvouFHzJ4/yLoNLW75oQMEZw+wOC2pVSykZVEsa4a2WgzduI649xZiNjGozrM4fwHHcdE6IZvNMDE2SS6bI1GKRquNtIwugVVpoxJScErTQJAS20D7uF7mFdUPvCQAVJykwr8qBXz1fQoMTRxHLM7Pcvz4EU4dP0ahmGFocIx22+fFw4fTfVJpDCEpFkvYXg+LyuPWn1tk7+wR2rMvoAMfaUmskoEq9dI0bufEXIZC/zIbdg5TLvdTq1awTAPXNqnW6ziZTFe1GwgRo6Xs9jhKEyO1UMjVqjckUhpEcYQEHMfippv3kM1miKKITZs2cuTIYSxLkiQJjutCHCERJFqjdar4hZSpGdZFhBACUxoYtk2n4+NZBj3lElEY0qitsGXzFlDw4tQMw4Pb2P22MrcPC4iqqESgzCLKXs/coknrok+pVCNb7GNwcJQo6OC3W5w4foxWs41jSkzLphMl9PQN0tMzgGkYKL3arUanHEem2i7pLmDLcb5tWNh8KdKXAl5cSsjUGn1Zz5zubSaOYoQ0yOcKzM5c5PTUSQYH5tm2czeLSytkMx59fQMMj28GTBbnzxGHMVG0jnVb30puY5V6bZ66HzA7W+Hsc/O0G8tI5nEzLs3GMtNnTlLu6SWbzSG0ZqWyzHihgDZSbSSE6BpIAiH0FaZS2vhCIaVJHEWEUYhlWxQLOeI4JpPxWLdunJOnT6bkKgzI5rLpMYVGSxBKrC0CIUB3+YTsBpMc06RaqaDihGyuQBBG1FaWOHX6KEli0GnVOXxogZmLDbxMjomJSdZv3EQ+X2Zm6iytxgyGFMzMVLAdh3L/EGGiOHt2mk7bp1qrc376FLaT+gX6B0ZS07u7z2shLlV1akALJOk2rRP1bXsamy8b+JGyG7xYS9pfK8aQhoGKU8ugVCpR7uklUTHZXJ4ojGg26mzavAXHcSmWevBcl2azThzFZDJZchmLysIyK8tLPP/iCywtLeE6Jo1GBa0EQ/0DhFGLudkVcpk8zXqNcm+Jnt5eqpUa6zYY6R4sRMqotLrU9bWr8vVlGcUCmbpPE0Wr3WLHtu0IAaYheMc73s6Xv/YAjusQR4okTjul6W6zLCHEquVIIsDsmoxSCEzTJJ/PM3vhIqWeHgzDoNlq4vstlpYWaTRaOI5LJlsGoZiZO02ifHr6ioSxTxA2yeXy+O02SoU0GjWCTodiXz/rDZcoikiSiOHRCVzPY3R0nL6+ge78urDXVxamXKo5kK+okdXLAsAQBspIC0B0V7WiNUkcIw0D07BRpqaQK7NucgP5XIFarUqz1aATdujrG8A2bXL5AtmMi2GaOD0e2VyRfC5HtbbC+vWj9PfnWVlZIgx9qpUqpmnTarU4P3t+zTYXQrIwP8fd99zNX336bzh88BBjE2O0mu1U7Yu0vlWpy3SUuHQtWqWma5zE3PKWW3nPe97FuTOnEVLwoQ+8n0OHD/HZv7m/m/mUXJZPs0owLyOXl7nFtVYcPXwE13V5+9vuobKyTJQoYqWxLBspfTKey4YNG9i6dSu2nSGMEuIoph0GbN22kygIqdcqdDo+URQQxzG2adPT20sQJRQKBTzHRgiJm8mSy+a7yaepj0QaEtOw1gpfDEMi6C7gV5YSdlXuWJfoCUmqSrS45Oy9DFBCShzXQ0qJ43n09PbTaNRpNuokKkZ3U8AzmWx68+MYy7JxXY8oDjk9dZqRgT76+4rkPYtYwZw1w8zsBYKgg2VaxFFErBPm5i7QbjeYmBjhhz/wHva/cJiw42MYsisc3V3tqbo2hECsvkWDUIRRxN69N/JzP/0RGvUqlZUFCoUSHd/n3/4vv8LI0DCPPvkUCL1mVaRFK6C0WKvoWb1VpmkRhjFBEHD3XbfS21vgwoVzeJk8juMihMC2LaIooN6oU681yOYEYRR3Yycmju1hWw6245LE8dqKXzVz40RQLOTJ5/NIaaTzMY01LnJ5MYruOulW//atClK+tQZY7YnXLW64tK+KK6vIUmqM7XkYlk0YdFBd5KeOoxSdjm0jpEhNGWlg2TaqlRAEPt944gn6enK4jsvI6DqOHD9GZbmCbdlESUQ2X6JY7qPRrGJiEHYidm3fwsjQAC8ePEanvYzj2iR+jEpSEAil0EojDBOjy5iXl5fZsnmS++69Bx1Dq9nAMCXV6gqtVot2u82HP/h+oqjNl776CDt37qQThGhi4iQ1raQUSMPAMAxMyyKKY8bHhrl+150UcxmqlVpazVStYjo22VIvjWabVqPJuJ3jyNHjtNo1coUipmnR3z/G2Ngktu1gmGZXwaZgNg0DQ0qSRGM7Nq7jYdnWVU6eVCMr1b3urpZOV38XGPK1JoWu9gu4ukT5JUvIBIYlsbTCSxSmaayZUlKm+6RhmKgkSZHZvYm9Pb1UaxVm5hdptRrkiv0srVRp1Jt4GZdCuZd16zZhmzaxitKLURB0Qvp6ern99ht56ol9PLHvBcp9fTiWhYoVQnZtfK2oLC8xO3MRzzUZvHUn9VoDKSS2aaFijSIm6qa5z8xdpJh36TRWeP7ZZ9i2ZQPSMukpF7Esh04QUK83UHFEdXmRu+68ldtuuZkkjuh0QtAGiYroBAFGaFIq9iKlTb26gmO7nDl9kijs0Gz69Az0UyyVMAwDwzDXilR01/Iyul1PTVL/xdqDK6667wiQhriyt+ea/F6VI0jzkkWir6JfkGlaCE9gxRaq6zpOlYmBYZporUmSGK0VlmUzNDhKu9XCczI0mw3qtTrDoxOUen2yXp6+nl4czyNOYkgEidJYtkGhWAIE1WqFsdEBdm7q4/TJaQpDA1Sbdd5x732Ue/r4y7/4U1ptH0nE5OQmWu02cRRgWg5xF4yr9kwUtgnjiFqtzlv27mR2bhkZ1BnqHeRHfvQDPPTg16g3fWrzs6g4YrhvkMmJUbxsmTDw0bTpBJ10K+rWBAopyWY9ekobSKKIdevWg0pwMnkGh0fo6e2/olRttdx8tTfR6t9Mw/wWEhBXaeTXEgvokqjvvNNAt17eMpFaopVeY+Fr1oM0UApM06Sntw+lFQsLc7T8Nn7Lx7EcbNslk8nguA6maWFbNrZl4zoOuWyeXKGA7/sks4pmo8PkxHrCMGRq6gymafD0448ghMHMxXmy+Rwqjgg6HQzTSusGZYyiy5JFauHESUySJJiWgwZGhgY4dXwKP+zwZ5/8GGdOnydfzNJoNDAk6AQqK3XyN5SJ4xxR2CHs+PgdnzAK0sRRKdFJ6oDq6e3rNp8KMS2PTDZDJptPBX3Zni2lxDTNtX1dCrmWu/i9Gt/FVrHp3iOVTEPCUl9ZMNkNIsmu2pMyTdzsHxyi0wmoVyvUqxUSrbAsC9t2sK20OAOREkrLcnE9F9NKWW+tXuHUyRM0GzXyuQILS1VOTx2ht6fA2NgoWzdv4LrrdjJ9cRbHdYniBNu0ECIGYaBllyxqTRzHlEpFTocxp06dZnx8BNc1mTp9Dj8I8BdTt/i977yDcrGXoaEBXM9FJw6R4+B5OfJJQqxjpJBdL6TGsR1KpTLZXK7rW+lGTQ1jTeWvmt2r8X7dDRcI2dUKQr6eAHiNPYJENyWMlDxqNGiBvupwsptcapgWluMSxzFhGOC5HsVCkagbdTNME7P7AolCYRkmlmXh2DYDvQOYWpB1LN56271s2LyRv7v/82zdEuI5LrWGz8JSBdOyCIKQQtnCMo01Zrzq4Nakdfu5bI44iJgcn6SnlOOmm29Ca7DlN7BsgzCM8f2A4aExRsfGyBfLZDI5kjjBUqkGWS13Nw1zjQM5jkPG88hkMpiGtaYtV3sM6m7bF31ZjwS5Zs/L1P8vv9ca4Ju2gdfaKKo72a5JstqD8mrikmoLsLr73aqKM0yDOIq7DSDS/U8aBsZl0S0pJRrN2PgG7n7HfRw/9iLL83McfOEFpi8sECSacqkHaTpkMy7nZxbIl/ooFHvIuF4XUKt9CFIhOHaG3r4Benv6aTebZPJ5jhw+RqPVZrbSwvM84lgTRJoz0+colHrZdv1GzC6B09pGqRQA8jLTzDQNbMvCtGykNK/wzQvDSB063cYRXYP10lpaPc73uCeReWW7l+/SyVYJlngFvMEwsR2xZjEkcZr4uOrKNbqeR2kYoNMmColK6B3o5+z0KVp+TKAF84sVdu/ZTbl3ENtxyGZyFEtlspkclmkRxQFCXTqu7rq6DZn6KkrlMrlcjunz02hppomvZoO7Nm7Fcb01klbIFdmxYzc95d7LyJvo9jkQV+7fprGmtV4yaWPVa8f/d6PbI0hc6hC3GgZ7naelu4JVSYJKug9iuNytmXYK6DZ0SLXE4tICc/Nz+H6L8xfP02o2kUKSyRfo6xukvy8NmrRaLTqBn6Z3A4ZI1bRjO5i2hW2nDqpsNkcYdIiiiOWVJeZmZ1iuVtK4gZehv3+IgcERCqUSrut2kzUvhclX4wNSyNSWN1PtZXRN3zfE0C8HgDXBv4yp8TqBQHWfwqEuy0Ba83GnDGMt8VQrTScMaLWa+G0fv9MmASzTxnZcTCON8IVBRBQFKJ10hSMxTQPTsLDs1MowLavrgbOI4wjfb+P7Hdp+m0TFmIaNaZo4XgbHcVPHkFhNNrkUIkZKjC57l0b6M93m5BtM+N02fjpRl1rFviQIxOs6Q61U+uoWm1xSSJeif5eXP2mtiZOIOE7S4k3UWhxfaY1KktSlnKRby5qz05CYholpmFimgWXZqY+9ew69+t2kC0YuPWNQXdGiTXSJ26U9W4pLWsGQxvesndx3BwAq0WvhLiFef5m/ZA7qpWcXaa7sibeamHJlsEOvPcxBKY3SyZofYjUvUCXJZcke+rKkDiPVBqa1psIvJ1+XRxV1N8qoruoSrteyoi91/pJr28Ib5RGz3VVxxeMAVgHwUu4k8QaB6yX76LLctJcnrVqrNQFd/vSP1GeuLrlcRcoq1rxvUl5i6S+rrnUXEGrN67cK0iunt7o9yDeO8Fdn900cIFGaKwI+4g0CgO/CdnIZCODyjmOr6WJcavQoXt1Fr7Zyfan2tOIN1XL/KnjqK23zSxyAq1cX13pGv5YV9oacG5ep/ysBIF9W+JeDR18T8bd3g74ZpyqucgXrb86ouTa+38B55TOh5Ld1NV57fMD3NTD+XzRCsKtleXbUAAAAAElFTkSuQmCC

iVBORw0KGgoAAAANSUhEUgAAAIAAAABOCAYAAADo3B4PAAAvXklEQVR42u29eZRk113n+bn37bFH7nvWvpdUWkqyNku2ZWFjtzE2Bg/NAQ80TPsMHKCZhYbT9NBDA900nAOD8dhgGnA3tkFgxuBV1motJbRVqfYtq7KW3DNjjxdvu3f+eJFZiyVbkm2N5Kl7TpzMyIx47773+97f/f7WJ7TWmmvj/7dDXrsF1wBwbVwDwLVxDQDXxjUAXBvXAHBtXAPAtXENANfGNQBcG9cAcG1cA8C18f0+zDf7BegkAQ2I9L2QEoS46kMarVT6OXT6GfnN2NdKgVJrBxNG91hXfR8hEIbxfQEA8aYNBmn9zYJeHUpdEvDlv7/cZ77F8XSSvLSwV2/by83hmgZ4fYRff+Ahms88i+4EeDu3U3rfe5Gem35Ga5CSaHGJ+le+RnD2HEY+R+7uO8nesOdKIQpB4+l/pvX4U+hWG2tyguK778Ma6CdeqVD90lcIz0wjPZfsW24hf+ft3x6I1zTA90j4QFypMv0//xL1r36dpNFICU3GI7Pneib/9GN4WzYDUP3qA1z4lX9LeHYaFQQIw8DoKdP/r3+WkX/3q6km0Jrzv/rvWP70X6NqdXSSIG0bd9cOen/if2Dlc/fjv3AAFYYIKZGFPOUf/SATv/+7SNteA9A1ALwe8lcKIQRnfuajrHz2b7GHh8i//W6E69J4+DHC6XN4e65j24NfpnPyJCd+8IdRjSbujm1krttFeGGG9rPPkdTqjP6X32Hwoz/Lxd/8j8z/pz/A6CmTvXUv1uAAzX9+jujsNMhUsNboKLnbbiFeXqH51NPES0sM/tLPM/bb/yGdk3yT8mn9JhoqSbTWWreee0G/MLhO7x/frFf+7h/W/t984YA+eN1e/axb1tWvPKAXPvnn+hkzr4/9wPt0uLi0doxzv/Ef9POlIX341rfqcGFRH775Dv18eURf/J3fWztW59x5feSt79T7RzboQze8RfunT6/9b/aP/kS/MDipD2zYoTvT59I/duf2ZhtvLtiqVFm1Dh0mqdXwrttF+QM/hE4SdBiS3XMdxbe/DR0nrPzt35O/+06EbdH3Ex/G6utF+R2ElAz+65/FHBggOH6SzrFj5O64DeG5DP7CR9PTdDo442P0/cSHiZeWccbHcDdsQMcxaM3Az/009tgoyUqF4OTp1YX05vQDqDhKL0wloNUl8sQb94KEYaQMPggvvTdTPps0GxjFPM1HHkNkMmT33kxcqV4yEQEdBF3zUVP9py9Teu+7kZnM2j4uTBO0RmazICU6ikCp9DxCIJRCum7XNFRvckeQ6gpcXS74VeG/sUAguvtxds/1mKUS/pGjzP3hx9BRhJCSyhe+SP3rD2OWSkQLizQefpTen/xx5v/wY/jHTyAcm6ReZ/Z3fg/VbGGUitS+8gD2+DjOlk0ov3PZycSlqxfiSpOx6xu45gh63eEq0Urh7dxOz4//KAsf+7+Z/0+/T+0fv4i0HdoHD6N8H6NURHouK/d/nsk//H1mfu3fc+p9H8LdvZN4bp7g2HFwHIRtE06fxz9yhNJ7341q1KG35yrUvQzDfxMz/ytuqRACgVjzpMEb+8KEEKA0Y7/17xn46M+hhaDx5NPUH3mUpN2m+L73MPHJP0Z4Ho1HHydcXqb4wffjT52h9k9fpr3/RchlGfud/5PiB99PUquw8rm/I//Od4CXWdvLtdYQxyS+jwrDru9IXfp/GKZbiXpzawKhwlAL0QXAKqqF4DJEvAFNl0vTC48dp7X/RZIwJLt9G97emwDoHDuOozRicoLEkMRPPY0/fR7lufTc81YYHIB2G//YCaTn4mzb+k3AVysV4nPnkYUC5oZ1V5ii/rHjaN/H3bwJo1B40zqEpPimSYs35P5/9RS10qAUi329TN2wm76f/Jf4u3bw4Ne/ztLCAva2rewLOxw4M4XhujzuOVTe+y4KP/YjPHD0CFopHt+/n8bmDfjrJmn7PidOnODAgQMEYciFCxeICnmejkOm7dQV/Nhjj3Hq1CmElGR2bCd7042p8N/ELmGZBjcuX/1XA+GNqgRSN+/hZ5+lM7+IjmOOP/88F2dmqNRq1JZX+MyffYoDzz2H1pozBw7gBQEnDx/m9JEjCClp1evkhMGZI0eIoogoiiiXy8zPzdFsNlmam2Pq4EEWps+htWbfvn0cOnSIarVKrVJBX7YlvHldwXGkryA1b3T1f9UIgoD5+XkmJiaIoojZ2dm136MowrIsLMtCKYWUEt/36XQ6lMtlgiDAcRzCMMS27bXPR1GElBLDMDh37hwjIyMYhkEURQghiOMYwzCwbftNTwKFTmL9zaz2zc9uX8briRDfn9f2HWwBXLbqxZtWsN/u9zUL4lV67b7V8b4fRqoBrlD9+vtWA1wbL+UIEvKl7atXvQKv/m76/vVUuZev0O/Wea++ttfrel72nmq+q5FHoVXXk/Ea2P8r3VO/V3uv1hrVDQ/Ll7gpSZIAYLzK9K1v9b1vd87Xi6usgv07va+vDQBXOT2a9QrLCxcI/AZh4JMkCbZboH9ogr7Bke8JCFZZ/eoIo5hWs0XYZfKlUnE1lP+azx+GESuVCr7vY5oWuVyOcqlw2RwShJDfE3A3a8usLF6kE7TQSYJlOSANLMtjaGwDlu18V+6r+c0OoFcmfK0VF84e4+L0MZ55/HFGJ0cYHugjCAJqjQZ+oMjlyvQPDLDzhjvIFfu+5RajL0+4fAUrREpJrV7nySef4PDB/SzNX6BaXSFJFLl8hjC2GBoZ54477uKeu+9GSvFtb9bq/7/+4IM88vBDnD8/RdipE3QC0JJyTw+5Qg9bd1zHffe+k02bNr4ysGqN1jq9dd1Vm75e4rNJxFOPfZ3AryGSOkqB57gI0+D0kSPUlpfYevNb6B0YZ8uOvWTzxe+CBhCvDACrN6jZWOHgsw8ydeIYpVKBgy8eZXJynI0b1xF2OtSbLdpBgpfJ0Qk65LMet73tA+SLPWvHUFqzemop5RU3I1Hp/me8hIpN/fHw9NP7+Ku/+ATLixfIZkwKnkW93sYwTXZum+DA0bNMTS+ghcGmTbv5tV//DTZt2pCaPi+zXUgh+e3f/S0+//efI+uZDPRmGenvw28HNNoddmwepdXpcODoecLY5q577uWXfvGXKRTya0K9nAGpRCGFWItifvM5V7cSsaZRnnn8n5g6cYKe/lGymZh2q00hVwTL4MhTz2DaNr3jIySxxs6UuG7PzQxPbO2e+9VzOPnKV38qOL9V5dyJ5/AbFRzXxfcDPC9DdaVKEockKkGpmCROkAKCMOLZAwc4dODZNQEmKr0xpiExjFT4zSBgudEiUQmGFKnw9UuYYUIAis/8t49zfvo4UeCT8yyyWQ+NIIwVhmEw1N9DPmvjGJL9zz3Bpz75x13B65cUvmEYHHjxWb7w+b+mt+Dh2Cae41LIu2gUSSKwLINyKUMh65DzEr76xc/xiU/8CVJK9GV5AVprhNbptUnB6cU6X3nmJPc/cZIvPX2Cg1OztOMEw5BIKUiSBK3hwtmTPPboQygBjZZP2AmIww5JEhGHAZVKFTeXxzIsYiVQScjM2UNMH9tHHAWvicCbr8yHnSKrsnSR2sIZPMciX8hTa9SpVptkcxkqldqa8JVOsAwLv+Nz9NhRXDfLwux5EqXXiNX5aoN/fOIgj714gfNxjnPzFdqNKgOGYs/6Pj583x5+6NZtCC6pbqVS4f7Fpz7Ok088QblcxLBt8lmXfNbBNAVhoNFoeooZbMskjgJcx+aBr32Z9z/+fm678541ga8C0jAMFhZm+N//11+i1erQX8qiE4VrSYoFj9n5lVTAEizTQCUxnXYH1zF56vGvsvwzP0Nv30CXHKacIAE++eBRPvsP+3nmmWn8GqAcWHgIPIPJ3du592138DPv281tOyYBODs9Ravd5uLMBYpFTd4torVCSE3U6eA6DoVyiVqtSr0dsn2wjOt6tGrLnD6yj007b8cwrdfKAb71nt9u1Tl9cB+ZnEcmmyebyZHLuKwsLuPYDlGrjt/qYNlGyqINmyNHj+K3fZIEmu0OhhScnl3gdz79MPc/epLaieNQrcH4u8BR0F5hpVnn2MOn+OwXjnDfe2/kz3/xXkZLeeIkwTQMvvaVL/C7//m3GR7pJeuYaUImGscxEUKiVIjQCsM0SJTGNkwKeYe5xQq/9r/9G/7qM/czPrnhChYdBD7/8Td/ndMnp1g3OYAUCoVGSoFlmWidoLQiTjS2JbvaTeBZJlOnTvGLv/BR/utffgbDNBHAbNPnx3/973jkb05A7QI5N0ef0wc6pOG3iJsx00+f5VNP1/jUnz7Aj33kB/iDf3MvxYxFGEW4KuH8xSl6ilvIuKC1IPA7DI32E8Yd5paWWTcxRi7jIqRAK0Ft6QIXzx5mYtOeV0UM5StZ+wALM2eo15eJo4Ao9HEch1KhQC6bJQw77NlzMxMTmxifmKTU08fJqdNUqxUKxV6Wl2vcevMePv3oi9z0L/+IT/3Rg9SOLGI0IozmHM6FOfIXG7gzVbxKDTsCaynha3/yVf7Fb/4j9TD1zc/Pnuc///b/wchwDznPJl3rijhJyBcLuK5JomKkKbAdE4HANCWWKdmxYYhqdYE/+L3fouP7V6jrv/jUx3nk4YdYN95HKWvjmAZaK3J5l96BEmGkkIYgk3HIZi3QYFkCrRSjQ3089cRDfOLjf4SUko5K+Miv/j9840/+gfXBLBuNiP7OCkONRYZbSzhxh5wIGdIGvapJpqn53B/tZ++H/5op1UdvPkOr1cIyFYeOH6bearHz+hvYsmUHdqYHw3SYmFjH+OgIhrSQaLQKqNZrnD11EF6lVfCKM4IWF2Z49Kl9DPT2ccOe3QwNDZDN5ZGW4PY77mTzrr089+QDLC8ss//wIU5OXcBxbGZnT/DOe9/JU/4AP/nvH4AzCXYQYzYqyLBBJ6iQT6YYsQZpxnN0REhHGxgEKKPJC5/9Mv/1nnX84g+9hb/81MeYmZth7+71+H4EholpSjIZh80bhjl6bJpIJWRck4znkHFsoigkShT5rEtvX5F9zzzFF77weX70x34cgIcfeYQvffEfsWyDYs5N7XzAyTiYpomONYZpULAtevIOjiUxpMQ1TaphTNYz2LRumE/86f/Fj3zwAzxzrsPXPvHbbMqNYnYa5LRFohVFM8FEsKTrZPFwwgYtLSiJDMJoceGBZ/jpTshv/tQ9xPvu5/xyjVY7YPbCHHNzy6go4fqb9rJ95x5mLkwTx21c22JhYZ5DR06ysLTInj07ieMA03JfMSF8xQBI4phyPs/pqXOcOTPDuo3j+M0Wgoh61eeBBx5k3zMHCcOYVqvNyTMXiUKfH3jfB3jc282n/8t+5FSHYiAxGj5e3MAWPlUScmqaQUOTTxapaI0VZWjGS8yIGURnnse+tJs7R+HZp/eRz7p0ghhpGnSCiIyXY2GhyuEjZ7BMSTHrcnG2QpwIEhUTxDFKafxOiGeaqDjiy1/8Au+491309vbw95//e7ROyHkOcaLQWhFq8CybStXn7Ll5ygUXISQrdZ/l5TqWlWqIIArJYmLbknarwX//7H/n2LyHiE9xtrnIenOAHrcIdOjP+BhGwlSnwXjGJlQLZJWHiCW1cJGC9EmezvJb5kZ+6ra9HHzk45yfW+a2vTsJOoeJIsXp6fNEn/kMuazLyOgojWaHpaUVCoUsmzaMYZkOQhivyqw3XykBHBpdT6PeYKi/hGFazJyfY/rcBRaXahQKGW7as5Xrdmzk4sIC02fb3LhzI+WRTTw/tcjBmf2owxly9WNkwzp5EmLRoGC2MIVGGsuMlx0a0QoDGsIk5rGVKXzVxBAOc+dP8cBDIUkUUsy4hJ0IxzPQSrFUbdKHoNbwyWUcorwL0kSoBMsymVuuk3clHT8gjBOKhTxTZ6c4cuQwd911F88/t5/1QxmCpqQThhjSIAgiLGFi2wa2aaCVRhqCJNEorcl4DiuVJpZlEEYBSRTTmy/wz/v+mYMLBgYCkdQ5p1ps6R1mOK8oZSoomVCst+kvK3SSox10OF+fYzZssytzJ4gOxw4d4a/mz3Pv9XeybdcyWUuzUu0wOTnM1k2TnDwxxRNPvYD14hQ7tm9icqyfbNZlbmaOXXvuwjCt7y4HEN1YwbqNO7j19rdz7twctXqb2fkFnn3+aJqfN1ym0agzv7BEHJrccOPtjLzzp/jySoGjZ2YQF87Rv/Ai48qjnZwmsKZx3SaZTMjOnh4ydoOWPY12F6kwy4uNAzSTixTNGFPXiI02B17YT76QRRqCMEkII0Wl0cKUgsH+IkpDoxXSbIcEnRAtNKVSjkLWY7na5uJyi04QUyrlWVmuMb+whFIJU1NnMGwbx7Fp+TELK01c12NwoEg+5xFEEWEUEyeKJNYI0orhKE5IEmi1E5QWZFyTKGgRdOo4pqLHiDFVi+eXz3C4NksoF5noXWHbSMDOzXWEs8iJ5imOhUe5vb/EoNNhuvMo9YUv0Fyc5q8fnuEZ9z1kezaSyeQ5cOgkTz71LEEY0DfQw4HDx3l833OcOjnN9Ll5tu/Zy+6b7vhOPIHf1gvArXfex8DAEIcP7aflK3bv2s746ACFQg7HzTA0NsItN+2hGis+9LlzNBsm69Zt5+KLTzLfOoZ0rmPC1CypGZQFEsHm7DBnqLO/VkFowXyrTRAoiqaFrTtEmQxjGzdx4pHPc+fN25mdu0ArUizWahSLBUZHhoiUQduPaLc7+K0Y0zRwXA9Ek5GhHjzXYn6hRstvkcnnmVusYMjUXPM7LSq1FtJILYqtm8aYmBhCaDCkIAhjwlDjOQa5Yh7LsgjCkJVag4VKmhTqeAZeNkenXsca3o23UkGc3s9o0SZQiqYlOdIyOdrUGLZiJpCcbtU458dMFnK0jGUeWTqJn/g4cpL+vh4yCw1qT0xzw2+8nfvuXMfDjz3H/NwSHb9KpjBKsTSEkzG45aYbuXnvrYyOb8Zxsq86PvCKASCEQBgmY5ObmVy3kbff+wO0Gg2SJEYaJghJkgiKxSyFapUb5mY4dGQOa7KJrT3aaC4G+1gSFkXLAqmIcw4H7Wkybg4zTlBSMFb0WK4EVKtN2mjGd91KW3icn5nBtG7EtRyajTYb1w2xY9sWkgSiOMJzXdAKv93By3jkiyUuzizS9iMGegsM92ZZqjTpxBZLi0v09vUghKSvp4cDh07wkR+9m5nz0/T296YtArTC81y0loRRjGGmjqFOyydRUC7nyWZdjp+ZodUKGB8Z5/SJs/hZSe9dH6S5PE3Dr9A3MUDGc/ENAUqh0Rz1TTKDHhtUlZVKm5O1JiYwZuVoCcHWzQXecf0U+czT7N3+TkyvxJ133kq1Vse1DJqtDo5nMzjQh2l5xJFGWA6GaXzvNACA42ZoN+rEKkQaNvly76UUUq1I4ji9OT1lfvrmaV6oPEJjYgtfXBYkywLTytAJO3R0QrmQJ1vIUS7lSJIYOjFIQb5gIUUDrUKKO27hwumTlK97C5HSvHD4JNfv3Ipz7gQ7No3TaftYrodjG9iWiVHIMzezSBhE5PJ5clmXoBMQJzE6Drlhz/X8zZeexstmKRQKgGZkZIjHH3+SWlMzMjrMwkodx/HoLXkUCjn8TpDOT0Aul2NxaYlOJ0ArGOwrkUSa6elZ8oUyR09/g4ldA5x/9nm2vePHaBz7KkbUIJvNYhiaME6wDEEpl6UdhHRCaAbLDAlF3nGo1JuU7ngbt980yca8TWlkK7neAaIgwDAtBgb6AEGpV4CGOBbEcYgWklzee01BoVcVz7RsG9NaZZpp1wzVfWkNCIkQGsNw2Xbnzdz2/vXcuivP2973Vjq6TRj5mKZJoZQlW8jieA6ZjMvQYC/9fSUKOY+enMXo2BAb7343s2cu0pw/QyuSTKzbyMPfeJKJ9VvZs2snczML+EFAlCRIw2DL5kk2b1yP4xq4nsveW27CNC18v4MKEyY3b+Ebzx5j+uw5BvrKhEFIHCd0woBMxuMvP/cVDLtETzFHvdmm2miza8dWJsZGMU2DXD7HwMgocRQSRSGu4xAGMTIJuPuet/Dc4VNoDZnyOPVTz3Do65+neN0PU9i4h8FihoGeMuVymXy+SCZXwLJdTCeLkXFYDmLO1Vtk997LW3/2Fxl2NYXBG8j3XI9lumvBpCiKUYkijmLiuBuJlBJpmDiO+x2khL3SD0vZDUNKBHLN7Zn+lN2gjgQVUxq8nr7NP0Ss89x2y02885d/C+FlCOMQzxRkPZecazE+2sP6DUNsGuth09ggm+9+P8bNH+LpfSeozc2AECxeXKZvbCe5rMPH/+yvWb/1RtZt2oRA0aq3abQ6DA4PsmP3HhIgly/TNzBBs92mWCowNjHJQ08c4YFHn6avv49qrZlG55RiZmaBXCFPs9ngDz/5t1RbsG5slCSB0bF1bNy0g1zGZGLdRnbuvolGO6TtB4SdAB1HXH/jDUzPN3numf1M7LiRxmKMMCXt2jz7/u5veX4uw5HR+/Czw+SyWUb7exjqyeNYEtsSDPX18ZY7386eX/h9hn/544wYbarVDnZ+mHLvGFIYaUAJgWGYSGkipYWU1pqNZloW5qt0Ab+mLQDA8Tw6rRpoiSDpegr1FXRRqQTPy6CtAdqqiFi+wO0f/ldkdtzKzMN/T2bpFH0ZSU8+w8D6UXKlYZZHitRyI8xtfQsH7v8sUaOJ4dgkHR9naorliV7GrruNY089zP/0K7/JdTu3cv32cUb6y2TyLtlsgcl1W/Acj7HREXpKIxRLPbx4aIrPf/FpGu2AXK7AwnKVWrWG7dhESUynE1CpVCiWyuTzGe7/x2+wbfMYt928jTAKMcw0FjE+PozSGsfJMDkxgU4S5isN/vL+hzh85BSDExMYxe2IE8fQbR8pJSoJaNZCDuz5V5zwZymdf5Fy9SI9pkk4FtMcshnadSeVwW2c1gb32G2yF6bwQ0GQ2BSKPal2FRKBRq5lb4m1hacB28285pyAVw8A18VyXEK/mUbBVNK1EVLhawRagOd6LFeaKOlid2qo5TkY30HxI9ehmhVqfpUgCDgdQV1ZRIO9OFmXILLwlQBDonVKarZ4Z2gLEPkN/PzPb+TQsTNMTR3nmedeZHykn+1b11OphFjyAU5PLXD2L+7nD/740xw9Pg3CZPuu3ZR7e3nyiSeoVRsg0nyCJI5JkhgB+B2fG266nuHBQZ5/7gX+2988zKNPvMiG9cMY0uUf/uGrPPjg45y/uMDiUo0TU+epNToMj47wgQ+9H8Md4eTUPLv7znFYtcC0QYHI94Gy8LOT+DvWMdtqQRykutdyOGLYMN+k5AgGvAYF3aGTyxMESRr/kAZSpy7vS4QcpBAorTBsl0wm991ICPk2AaHuS6AplnqoJIoo7GAYBkKrbkmhRGpFGPgs15ZI4phSbz9Zt8j8yjIql+diWxFYLsobo5RV6CShqTVNLQibMU07geIIUmlQaah4eINB0/C4cP4cQ6N3Iu0CGzet5+KFi5w5fZbHnz7MAw8/Q6IUjutiGiaFcpGtO3czMjqM63rUajWiOAYt1tK9ojAiiZMudxFpkMcwuX7PdbQabWZmL/KNp4/T7oSEYQetFK7j4mYyjI1NsHdyknJPmZGRYU4cPMn6osn23QV4qA0UECqC3g3otomI62AaqZPKtFKdGSqkitBCM2ka9M3PsnPXRmYXM0ydPoGUko0bNlEqlrFMO41IdquWw1hhWjbFct9aPsH3BgBKoVWSRs+6ETTDMOgbHKJWreA3GwhpINC0Wg2mp6c5e3aKtt9CGILhwRFsw8CemqMzvI65WNEMI4RIWBQaS2j8WBEomQq800F7Y2Dlke0ltAavZyubh4bRjdNEsSCKQuJI0dfbT2+5lziK6EQBYZiWiXueh2WaaA2JSoiiCKUVQsu1rCPDMAijiDgJEUKBFtgy7QvQCSMsz2bjls2s37QRv9MhiUJAYDsWjuNhGiZCppHPTifGMpvcetN6dt+8E/g8Ku6A7IfsDbDsI0yNNhSg0OJSFl5CghELbmo22D00Q7Y0waTnEUURp04eYW5ujh07djI8NIxtuyRKE8QKz/MolHoxDIMkjruJJcarLlH7lgDQcYxKYpS+NGHZbZKgkoRsJotl2UxPn+bZZ57i4nxaUiWVpt1qMz4+yIXzp7Fdlw1CUJ/awD6zjyiTIIQiNNIZiEghY4XSEr2gkIdcvMgkMpoIw+B9P/xjCBVzauoYpkhDtKkAQ5IoBqUxTRvDTCuAkiTp9hLqElMpkEJ2+0FphBRYpkUYhqkGQCMkCMsEAYYh0VoTBiFKp5lJlumg0EAaDhaAZRiYpok0BLEw2bhrN3e89Qf5F+++mYP7X6S27OPsrzBXb6KGJeRFescloECH4DUU76bCh24/hh4OOHL0MK1mDcfOUK/5LK1Mc+7COYaGRti1aw8DAyMUimUK+RxxHKGVwrSsbrpZjGlZCGl85wDQcUwchVfElISU3X0/tfk1YFlpsuTo2DiGZRCFIagYCZhSc+7CObIYFIdKvK/xGPY/b+GvauPMlzxwJdgCHWr0coI932HHxZO8u+/LPFw+QVwe4Z33vYsffM97U1u9bWAaImXFQmAg0FKsNelYNUellOmWJLtpWhpMy8SyJaqlkSIVnFIKxGp5pMBx7PT7QqJ0N+lUK1Si0xwHeencQkqEITGkgTAk9VZIb/8oxVI/H/mpj/Kl0qdoLpzhtuKfc+jwMfafuo55e5B2xgFDkFcRG8wqbx2Z4r0/XENsG+PCXIE4vMDyygrDQxl27N6JZVokicIwTQyZOpOy2QyJUqkGSZJUowmDWCVpQq7jpgv1NQNAJcRRin7R3XPEKvsQAhWnWsE0DS7OnOf8ubNs2bSJ7Vs20Ww0WF5ZolGrUKlWyGTzuI5JLjeANwb/49BzXP/Vx3j0QD/nmkV8JZFxhyE9y00TJ7jpQ2fovXkE56n7qLTyvONdHwBMHNeh3fGJowTLtLCEJJIS3c25E5cHQJQAQ6d9D0jJkm1Z5PM5FucWKPf0UiwWaDYbWJaN77dxXQfXdVNQrCVMXhZUlSnrXgOASNPWTCsFkmNZ9JSKJFGHPXvvouFHzJ4/yLoNLW75oQMEZw+wOC2pVSykZVEsa4a2WgzduI649xZiNjGozrM4fwHHcdE6IZvNMDE2SS6bI1GKRquNtIwugVVpoxJScErTQJAS20D7uF7mFdUPvCQAVJykwr8qBXz1fQoMTRxHLM7Pcvz4EU4dP0ahmGFocIx22+fFw4fTfVJpDCEpFkvYXg+LyuPWn1tk7+wR2rMvoAMfaUmskoEq9dI0bufEXIZC/zIbdg5TLvdTq1awTAPXNqnW6ziZTFe1GwgRo6Xs9jhKEyO1UMjVqjckUhpEcYQEHMfippv3kM1miKKITZs2cuTIYSxLkiQJjutCHCERJFqjdar4hZSpGdZFhBACUxoYtk2n4+NZBj3lElEY0qitsGXzFlDw4tQMw4Pb2P22MrcPC4iqqESgzCLKXs/coknrok+pVCNb7GNwcJQo6OC3W5w4foxWs41jSkzLphMl9PQN0tMzgGkYKL3arUanHEem2i7pLmDLcb5tWNh8KdKXAl5cSsjUGn1Zz5zubSaOYoQ0yOcKzM5c5PTUSQYH5tm2czeLSytkMx59fQMMj28GTBbnzxGHMVG0jnVb30puY5V6bZ66HzA7W+Hsc/O0G8tI5nEzLs3GMtNnTlLu6SWbzSG0ZqWyzHihgDZSbSSE6BpIAiH0FaZS2vhCIaVJHEWEUYhlWxQLOeI4JpPxWLdunJOnT6bkKgzI5rLpMYVGSxBKrC0CIUB3+YTsBpMc06RaqaDihGyuQBBG1FaWOHX6KEli0GnVOXxogZmLDbxMjomJSdZv3EQ+X2Zm6iytxgyGFMzMVLAdh3L/EGGiOHt2mk7bp1qrc376FLaT+gX6B0ZS07u7z2shLlV1akALJOk2rRP1bXsamy8b+JGyG7xYS9pfK8aQhoGKU8ugVCpR7uklUTHZXJ4ojGg26mzavAXHcSmWevBcl2azThzFZDJZchmLysIyK8tLPP/iCywtLeE6Jo1GBa0EQ/0DhFGLudkVcpk8zXqNcm+Jnt5eqpUa6zYY6R4sRMqotLrU9bWr8vVlGcUCmbpPE0Wr3WLHtu0IAaYheMc73s6Xv/YAjusQR4okTjul6W6zLCHEquVIIsDsmoxSCEzTJJ/PM3vhIqWeHgzDoNlq4vstlpYWaTRaOI5LJlsGoZiZO02ifHr6ioSxTxA2yeXy+O02SoU0GjWCTodiXz/rDZcoikiSiOHRCVzPY3R0nL6+ge78urDXVxamXKo5kK+okdXLAsAQBspIC0B0V7WiNUkcIw0D07BRpqaQK7NucgP5XIFarUqz1aATdujrG8A2bXL5AtmMi2GaOD0e2VyRfC5HtbbC+vWj9PfnWVlZIgx9qpUqpmnTarU4P3t+zTYXQrIwP8fd99zNX336bzh88BBjE2O0mu1U7Yu0vlWpy3SUuHQtWqWma5zE3PKWW3nPe97FuTOnEVLwoQ+8n0OHD/HZv7m/m/mUXJZPs0owLyOXl7nFtVYcPXwE13V5+9vuobKyTJQoYqWxLBspfTKey4YNG9i6dSu2nSGMEuIoph0GbN22kygIqdcqdDo+URQQxzG2adPT20sQJRQKBTzHRgiJm8mSy+a7yaepj0QaEtOw1gpfDEMi6C7gV5YSdlXuWJfoCUmqSrS45Oy9DFBCShzXQ0qJ43n09PbTaNRpNuokKkZ3U8AzmWx68+MYy7JxXY8oDjk9dZqRgT76+4rkPYtYwZw1w8zsBYKgg2VaxFFErBPm5i7QbjeYmBjhhz/wHva/cJiw42MYsisc3V3tqbo2hECsvkWDUIRRxN69N/JzP/0RGvUqlZUFCoUSHd/n3/4vv8LI0DCPPvkUCL1mVaRFK6C0WKvoWb1VpmkRhjFBEHD3XbfS21vgwoVzeJk8juMihMC2LaIooN6oU681yOYEYRR3Yycmju1hWw6245LE8dqKXzVz40RQLOTJ5/NIaaTzMY01LnJ5MYruOulW//atClK+tQZY7YnXLW64tK+KK6vIUmqM7XkYlk0YdFBd5KeOoxSdjm0jpEhNGWlg2TaqlRAEPt944gn6enK4jsvI6DqOHD9GZbmCbdlESUQ2X6JY7qPRrGJiEHYidm3fwsjQAC8ePEanvYzj2iR+jEpSEAil0EojDBOjy5iXl5fZsnmS++69Bx1Dq9nAMCXV6gqtVot2u82HP/h+oqjNl776CDt37qQThGhi4iQ1raQUSMPAMAxMyyKKY8bHhrl+150UcxmqlVpazVStYjo22VIvjWabVqPJuJ3jyNHjtNo1coUipmnR3z/G2Ngktu1gmGZXwaZgNg0DQ0qSRGM7Nq7jYdnWVU6eVCMr1b3urpZOV38XGPK1JoWu9gu4ukT5JUvIBIYlsbTCSxSmaayZUlKm+6RhmKgkSZHZvYm9Pb1UaxVm5hdptRrkiv0srVRp1Jt4GZdCuZd16zZhmzaxitKLURB0Qvp6ern99ht56ol9PLHvBcp9fTiWhYoVQnZtfK2oLC8xO3MRzzUZvHUn9VoDKSS2aaFijSIm6qa5z8xdpJh36TRWeP7ZZ9i2ZQPSMukpF7Esh04QUK83UHFEdXmRu+68ldtuuZkkjuh0QtAGiYroBAFGaFIq9iKlTb26gmO7nDl9kijs0Gz69Az0UyyVMAwDwzDXilR01/Iyul1PTVL/xdqDK6667wiQhriyt+ea/F6VI0jzkkWir6JfkGlaCE9gxRaq6zpOlYmBYZporUmSGK0VlmUzNDhKu9XCczI0mw3qtTrDoxOUen2yXp6+nl4czyNOYkgEidJYtkGhWAIE1WqFsdEBdm7q4/TJaQpDA1Sbdd5x732Ue/r4y7/4U1ptH0nE5OQmWu02cRRgWg5xF4yr9kwUtgnjiFqtzlv27mR2bhkZ1BnqHeRHfvQDPPTg16g3fWrzs6g4YrhvkMmJUbxsmTDw0bTpBJ10K+rWBAopyWY9ekobSKKIdevWg0pwMnkGh0fo6e2/olRttdx8tTfR6t9Mw/wWEhBXaeTXEgvokqjvvNNAt17eMpFaopVeY+Fr1oM0UApM06Sntw+lFQsLc7T8Nn7Lx7EcbNslk8nguA6maWFbNrZl4zoOuWyeXKGA7/sks4pmo8PkxHrCMGRq6gymafD0448ghMHMxXmy+Rwqjgg6HQzTSusGZYyiy5JFauHESUySJJiWgwZGhgY4dXwKP+zwZ5/8GGdOnydfzNJoNDAk6AQqK3XyN5SJ4xxR2CHs+PgdnzAK0sRRKdFJ6oDq6e3rNp8KMS2PTDZDJptPBX3Zni2lxDTNtX1dCrmWu/i9Gt/FVrHp3iOVTEPCUl9ZMNkNIsmu2pMyTdzsHxyi0wmoVyvUqxUSrbAsC9t2sK20OAOREkrLcnE9F9NKWW+tXuHUyRM0GzXyuQILS1VOTx2ht6fA2NgoWzdv4LrrdjJ9cRbHdYniBNu0ECIGYaBllyxqTRzHlEpFTocxp06dZnx8BNc1mTp9Dj8I8BdTt/i977yDcrGXoaEBXM9FJw6R4+B5OfJJQqxjpJBdL6TGsR1KpTLZXK7rW+lGTQ1jTeWvmt2r8X7dDRcI2dUKQr6eAHiNPYJENyWMlDxqNGiBvupwsptcapgWluMSxzFhGOC5HsVCkagbdTNME7P7AolCYRkmlmXh2DYDvQOYWpB1LN56271s2LyRv7v/82zdEuI5LrWGz8JSBdOyCIKQQtnCMo01Zrzq4Nakdfu5bI44iJgcn6SnlOOmm29Ca7DlN7BsgzCM8f2A4aExRsfGyBfLZDI5kjjBUqkGWS13Nw1zjQM5jkPG88hkMpiGtaYtV3sM6m7bF31ZjwS5Zs/L1P8vv9ca4Ju2gdfaKKo72a5JstqD8mrikmoLsLr73aqKM0yDOIq7DSDS/U8aBsZl0S0pJRrN2PgG7n7HfRw/9iLL83McfOEFpi8sECSacqkHaTpkMy7nZxbIl/ooFHvIuF4XUKt9CFIhOHaG3r4Benv6aTebZPJ5jhw+RqPVZrbSwvM84lgTRJoz0+colHrZdv1GzC6B09pGqRQA8jLTzDQNbMvCtGykNK/wzQvDSB063cYRXYP10lpaPc73uCeReWW7l+/SyVYJlngFvMEwsR2xZjEkcZr4uOrKNbqeR2kYoNMmColK6B3o5+z0KVp+TKAF84sVdu/ZTbl3ENtxyGZyFEtlspkclmkRxQFCXTqu7rq6DZn6KkrlMrlcjunz02hppomvZoO7Nm7Fcb01klbIFdmxYzc95d7LyJvo9jkQV+7fprGmtV4yaWPVa8f/d6PbI0hc6hC3GgZ7naelu4JVSYJKug9iuNytmXYK6DZ0SLXE4tICc/Nz+H6L8xfP02o2kUKSyRfo6xukvy8NmrRaLTqBn6Z3A4ZI1bRjO5i2hW2nDqpsNkcYdIiiiOWVJeZmZ1iuVtK4gZehv3+IgcERCqUSrut2kzUvhclX4wNSyNSWN1PtZXRN3zfE0C8HgDXBv4yp8TqBQHWfwqEuy0Ba83GnDGMt8VQrTScMaLWa+G0fv9MmASzTxnZcTCON8IVBRBQFKJ10hSMxTQPTsLDs1MowLavrgbOI4wjfb+P7Hdp+m0TFmIaNaZo4XgbHcVPHkFhNNrkUIkZKjC57l0b6M93m5BtM+N02fjpRl1rFviQIxOs6Q61U+uoWm1xSSJeif5eXP2mtiZOIOE7S4k3UWhxfaY1KktSlnKRby5qz05CYholpmFimgWXZqY+9ew69+t2kC0YuPWNQXdGiTXSJ26U9W4pLWsGQxvesndx3BwAq0WvhLiFef5m/ZA7qpWcXaa7sibeamHJlsEOvPcxBKY3SyZofYjUvUCXJZcke+rKkDiPVBqa1psIvJ1+XRxV1N8qoruoSrteyoi91/pJr28Ib5RGz3VVxxeMAVgHwUu4k8QaB6yX76LLctJcnrVqrNQFd/vSP1GeuLrlcRcoq1rxvUl5i6S+rrnUXEGrN67cK0iunt7o9yDeO8Fdn900cIFGaKwI+4g0CgO/CdnIZCODyjmOr6WJcavQoXt1Fr7Zyfan2tOIN1XL/KnjqK23zSxyAq1cX13pGv5YV9oacG5ep/ysBIF9W+JeDR18T8bd3g74ZpyqucgXrb86ouTa+38B55TOh5Ld1NV57fMD3NTD+XzRCsKtleXbUAAAAAElFTkSuQmCC
AAM Competition Axle Back Exhaust System and S-Line Midpipe
3
AAM Competition Axle Back Exhaust System and S-Line Midpipe
The AAM Competition S-LINE Axleback is built from 304 stainless steel and features a twin muffler design that nicely tucks under the rear of the car. This Axleback replaces the factory rear section to improve exhaust flow while adding a subtle increase to your exhaust note. AAM Competition S-Line Midpipe is handcrafted with mandrel bent 2.5" 16 gauge T-304 stainless steel. The system consists of a 2.5" H-Pipe and a 2.5" resonated intermediate pipe. This makes it perfect for those who want the added performance of an upgraded midpipe but want to keep the factory muffler to keep exhaust volume down, or those who already have our short tails and would like to continue the rest of their exhaust system. Produced in our US facility, the AAM Competition S-LINE Axleback exhaust with S-Line Midpipe upgrade is a great addition to your 370Z.
RECENTLY SOLD 370Z PRODUCTS
Your Dynamic Snippet will be displayed here... This message is displayed because you did not provided both a filter and a template to use.

Specifications
Tip Options

4" Stainless Steel Tips

or

4" Titanium Burnt Tips

or

4" Carbon Fiber Tips

To install this Web App in your iPhone/iPad press
and then Add to Home Screen.