Introduction
Attention all Nissan Z owners! As Black Friday gears up, AAM Competition is turbocharging the holiday shopping season with incredible deals on performance upgrades for your ride. Check out our latest product release—the AAM Competition Nissan Z 3.0T 3" True Dual Exhaust System.
The AAM Competition Nissan Z 3.0T 3" True Dual Exhaust System - A Symphony of Power
This Black Friday, elevate your Nissan Z with the exhaust system that's music to any gearhead's ears—now at a 10% discount on November 24th, 2023. Our True Dual Exhaust System is engineered for the ultimate flow, boasting horsepower gains of up to 50HP with tuning. Its mandrel-bent tubing ensures maximum, unrestricted flow, translating to huge torque gains and drastically improved throttle response. All this performance is wrapped in a sleek, aggressive sound that's sure to turn heads as you roar by.

The Benefits of a 3" True Dual Exhaust System
For a Nissan Z owner, the AAM Competition Nissan Z 3.0T 3" True Dual Exhaust System is a coveted upgrade for several reasons:
Enhanced Performance: The system promises significant horsepower gains (up to 50HP with tuning) and a considerable increase in torque, transforming the vehicle's driving dynamics.

Optimized Flow and Response: Its twin 3" exhaust piping ensures maximum, unrestricted flow, leading to drastically improved turbo spool and throttle response.

Aggressive Sound Profile: It not only boosts performance but also enhances the exhaust note, producing a sportier and throatier sound, adding to the overall driving experience.

Durability and Fitment: Constructed with T-304 grade stainless steel, the system ensures durability and has been engineered for a true stock-like OEM fitment, requiring no modification to surrounding components.
This exhaust system is ideal for Nissan Z enthusiasts who are passionate about elevating their vehicle's performance and auditory appeal. 

Complement Your Exhaust with These Must-Have Upgrades!

Full Downpipes - High Flow Cat
For the owner of a 2023 Nissan Z, the AAM Competition Nissan Z 3.0T Cast Widemouth Full Downpipes - High Flow Cat offer a transformative upgrade to their vehicle's performance. These downpipes are essential for those seeking to unleash the true potential of their Z, as they provide significant enhancements including:
Increased Horsepower and Performance: Offering gains of up to 25 HP, these downpipes optimize the power band, resulting in a remarkable improvement in speed and acceleration.

Faster Turbo Spool and Throttle Response: By reducing restrictions in the exhaust flow, these downpipes enable quicker turbo spooling, leading to a more responsive and exhilarating driving experience.

Enhanced Exhaust Note: These downpipes contribute to a more pronounced and sportier exhaust note, creating an aggressive sound that complements the performance gains.

Durability and Reliability: The unique casting process used for the widemouth primary pipe section, combined with the full 3" T304 stainless construction, ensures exceptional strength, durability, and resistance to high temperatures.
Pairing these downpipes with the AAM Competition Nissan Z 3.0T 3" True Dual Exhaust System creates an optimal setup for the Z. The exhaust system enhances the benefits of the downpipes, ensuring maximum flow and further amplifying the power gains. Together, they form a cohesive, high-performance package that not only boosts the car's power and sound but also maintains OEM-like fitment and reliability. This combination is ideal for the Nissan Z owner who desires a notable upgrade in both performance and auditory experience, making their vehicle stand out both on the road and at car meets.
Tuning your Z with EcuTek
For a Nissan Z owner, the AAM Competition Nissan Z 3.0T EcuTek Tuning Package - ECU Connect is a game-changer, providing a substantial upgrade to the vehicle's performance. Here's why this tuning package is a must-have:
Significant Power Boost: With potential gains of 80-100+ horsepower and torque, this package transforms the Nissan Z into a significantly more powerful machine, enhancing the driving experience.

Customizable Performance: The package offers adjustable boost control, launch control, and four power levels, allowing the driver to tailor the vehicle's performance to their preference.

Enhanced Driving Dynamics: The package improves throttle response and shifting performance, making the car more responsive and enjoyable to drive.
Pairing the EcuTek Tuning Package with the AAM Competition Full Downpipes and the 3" True Dual Exhaust System maximizes the performance enhancements. The downpipes increase exhaust flow and turbo spool, while the exhaust system further amplifies horsepower gains and improves the exhaust note. Together, they create a comprehensive performance upgrade, ensuring the Nissan Z is not just faster but also more efficient and engaging to drive. This combination makes the Z a standout performer, appealing to both enthusiasts seeking exhilarating driving dynamics and those who appreciate a finely tuned machine.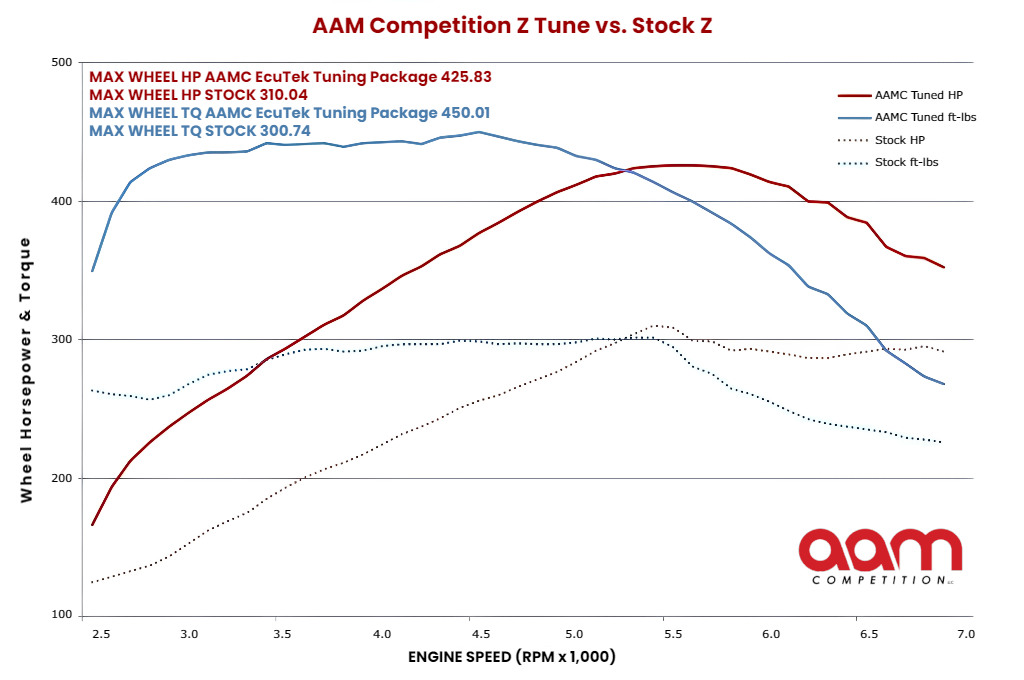 Black Friday: The Best Day to Upgrade Your Z
Mark your calendars and set your alarms. Remember, the AAM Competition Nissan Z 3.0T 3" True Dual Exhaust System retails for $1,904.99. Use promo code: BLACLFRIDAY2023 and you can get yours for $1,714.50!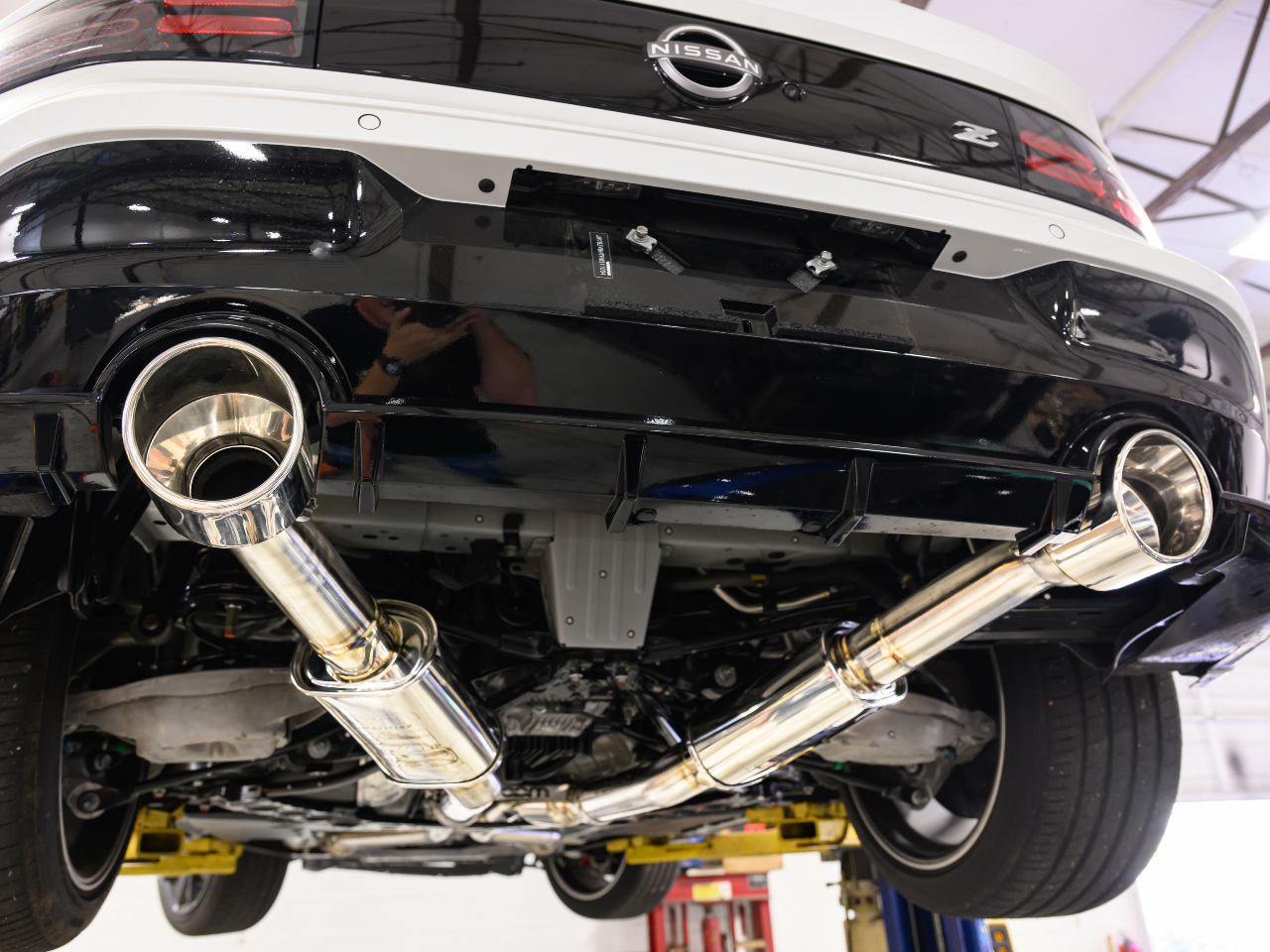 Why Choose AAM Competition?
AAM Competition isn't just another parts retailer. We are your Nissan and Infiniti performance specialists, committed to designing and engineering the highest quality innovative performance products​​. With a range of options from exhaust systems to turbo kits and engine tuning, we have everything you need to elevate your driving experience​